Air fryer Italian sausage makes for a quick & easy meal that everyone will love!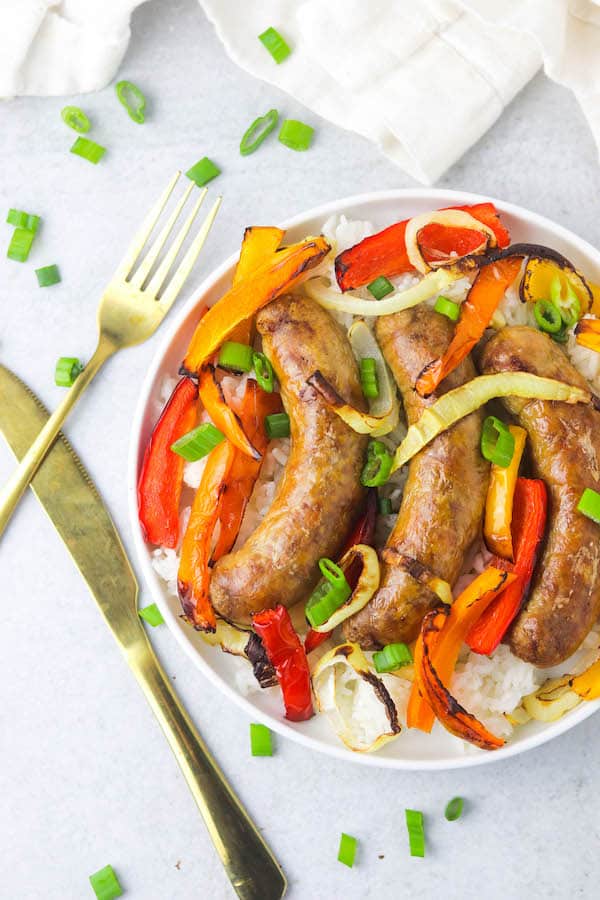 Why Air Fryer Sausages Are Great
One of the best things about an air fryer, in my opinion, is that it cooks things SO FAST! Plus, cooking sausages in airfryers gives you the perfect crisp outside and soft, meaty inside. Yet another bonus? Clean up when using an air fryer is SO EASY!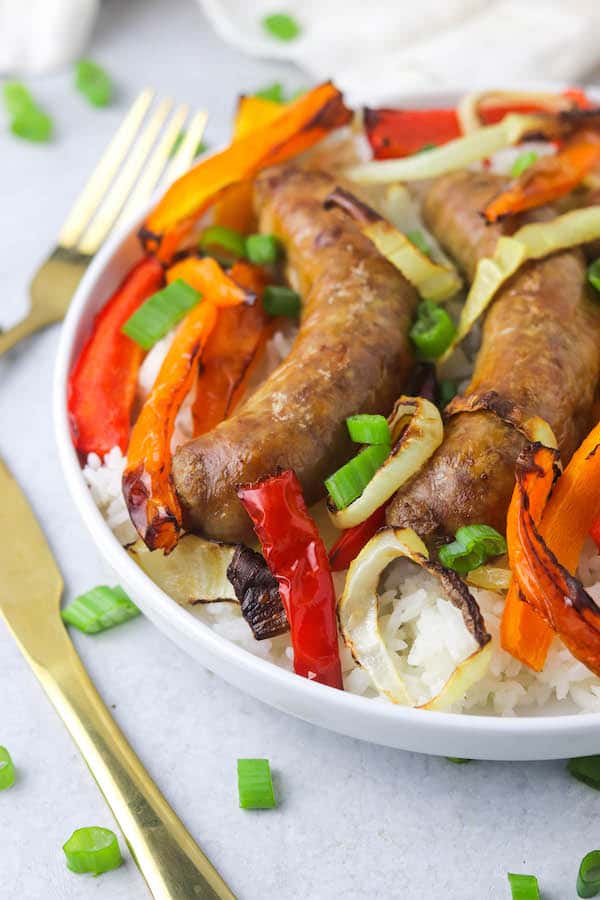 I have a Gourmia air fryer. I bought it as Costco a few years ago, but I found a similar air fryer to the one I have, you can find that Gourmia air fryer in this post!
Making The Air Fryer Peppers
What's so great about this air fryer sausage & peppers meal is that you cook it all in the same place. You'll cook the sausage for 10 minutes and then flip them over. And when you flip them over you add in the peppers. No need to cook the air fryer peppers separately!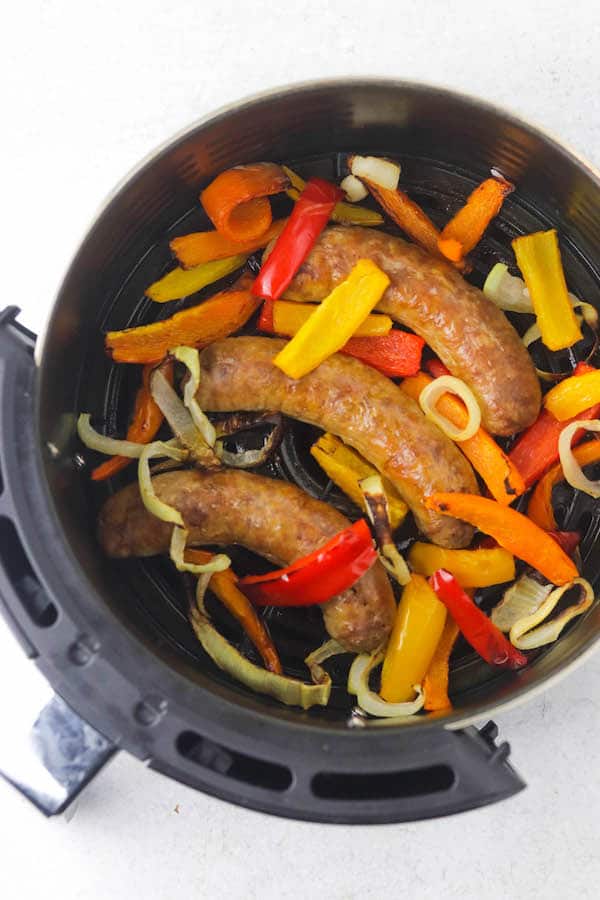 How To Make Sausage In Air Fryers
To make sausages in airfryers there really is no prep. All you have to do is spray your air fryer basket with non-stick spray, plot them in there, and cook!
You'll cook them at 370 for 10 minutes, then flip them over to cook for another 10 minutes. When you flip them over is when you'll add the peppers. Secret? I like to add some onion as well as peppers if I have them on hand!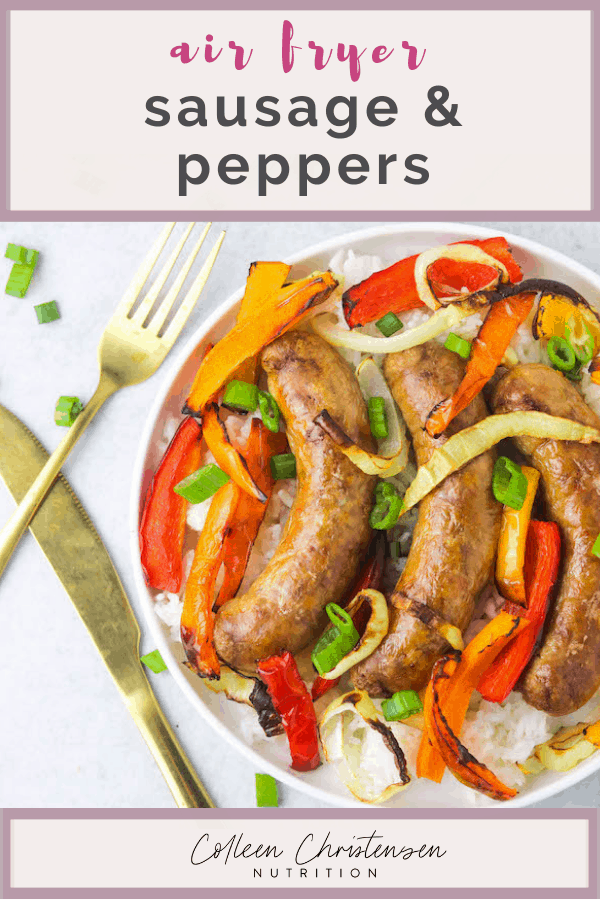 How Do You Eat Air Fryer Italian Sausages?
I like to serve my air fryer sausage with a starch, either rice or mashed potatoes usually. You could also turn these into tacos and serve them in a tortilla! You can also serve these with a batch of my seasoned air fryer potatoes or crispy air fryer sweet potato fries!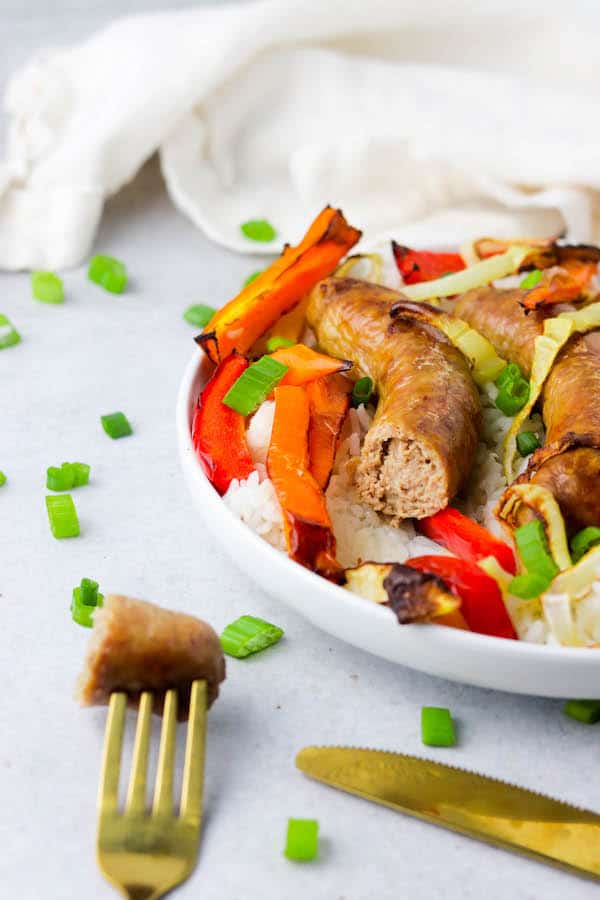 FAQ's About Cooking Sausages In Air Fryers
Do I have to use Italian Sausages?
Nope! You can use whatever sausages you want. I also really like using turkey sausage for a more lean option. It makes me feel a little better than the greasier versions of sausage.
Can I use breakfast sausage?
Yeah! For these I would cut the cooking time down by 5-10 minutes since they're likely to be smaller in size and cook faster.
Can I freeze these air fryer sausages?
Sure thing! Throw these into a freezer bag (be sure to get all of the air out!) and pull them out whenever you're ready to eat! Totally meal prep-able!
Leave a comment with how you'd eat these air fryer Italian sausages! Would you eat them with potatoes, rice, or even tacos?! Be sure to leave a star rating if you enjoyed this recipe to help others see it, too!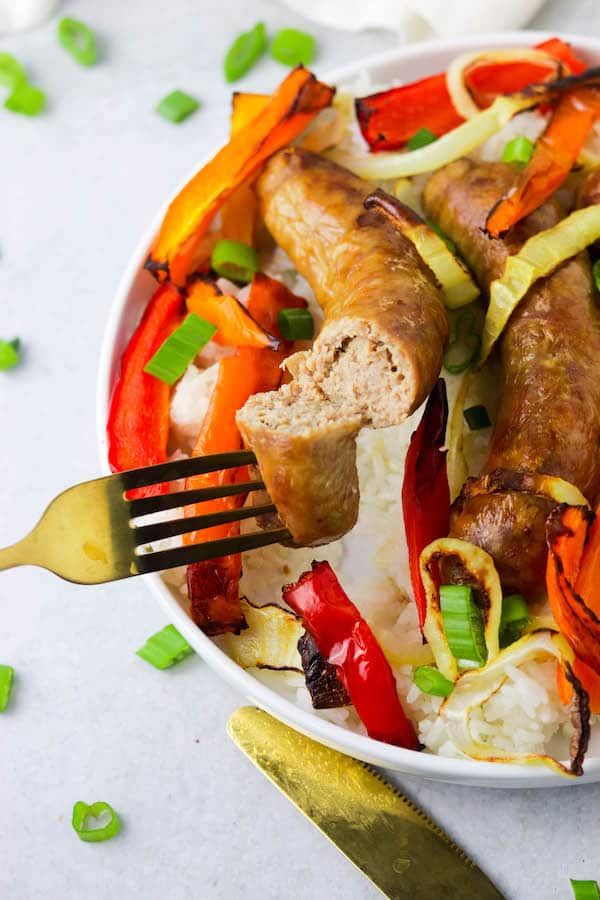 Air Fryer Sausage & Peppers
Author:
Prep time:
Cook time:
Total time:
Perfectly crips sausages & tender peppers made in the air fryer in just 20 minutes!
Ingredients
1 package sausage links, I used sweet Italian turkey sausage
1 pepper per sausage, any color, sliced into strips
1 onion, sliced, optional
Instructions
Cook sausage (as many as will fit, I did 3) in the air fryer at 370 for 10 minutes
Flip sausages, add peppers and onion (is using) cook for an additional 10 minutes
Enjoy!
Calories:
198
Fat:
10.3
Carbohydrates:
9
Protein:
18.2
Notes
*May sub any sausage you like. For smaller links or patties you may need to reduce time.[br]**Nutrition info is provided for Google. You may determine your own portion size.
To make this in the oven, simple bake at 350 for 20-25 minutes, then flip sausages & peppers and bake for another 20-25 minutes. It's a good idea to use a meat thermometer!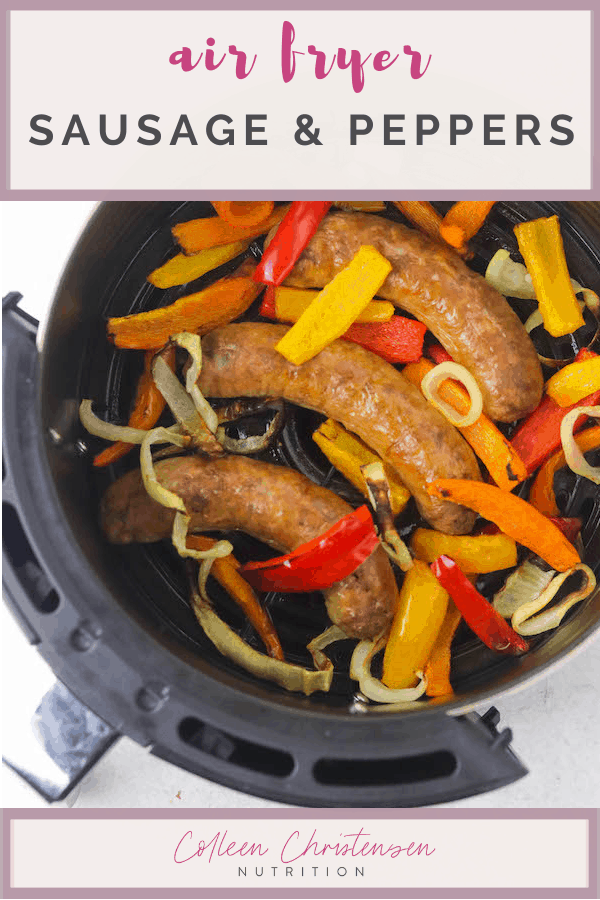 Happy eating & food rule breaking!
XOXO
-Colleen
Want more recipes like this? You might like these: