You guys, I could NOT be happier that it's Friday. How is it that shorter weeks seem to to drag on and onnnn? It makes no sense! I had Monday off for Labor Day and only a half day on Thursday, so you'd think it would have flown by, right? Wrong. Instead, I feel like this week was actually a month in disguise. Anyone else feel that way about shorter weeks? The good news is that we made it to Fri-YAY! The better news? I've go the recipe for some PHENOMONAL chia tahini banana mini muffins for you!
I've seen tahini used in SO many baked goods lately and, honestly, was super weirded out by it. I mean, it goes in HUMMUS for goodness sake! But, the more I thought about it, the more I wanted to give it a try. I felt like maybe, just maybe, it would actually add a nutty flavor and give you that sweet-and-salty combo. Spoiler alert: It totally does and it's super fab.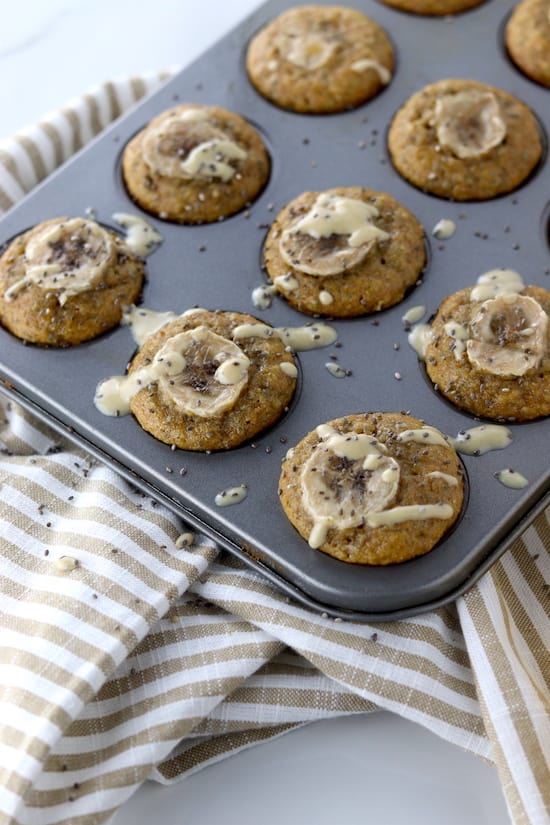 Chia seeds also make a guest appearance in this recipe, which provides Omega-3's, fiber, and protein. But, if I'm totally honest with you, I wouldn't really count on one of these muffins being your sole source of those nutrients since there is only 1 teaspoon in the entire recipe. The seeds are more for a little flavor, texture and aesthetics (i.e. looks super pretty). Keep this in mind any time you see a recipe touted as having chia, flax, hemp hearts, etc, etc. A lot of times when you break down the amount of these "superfoods" per serving, the amount you're actually going to eat is pretty minimal.
These chia tahini banana mini muffins are low fat, low added sugar and made with whole wheat flour. A lot of times muffins are more like cupcakes and really may not be the best option for a breakfast. However, these babies are loaded with goodness that will get your day started off on the right foot and keep you energized all morning.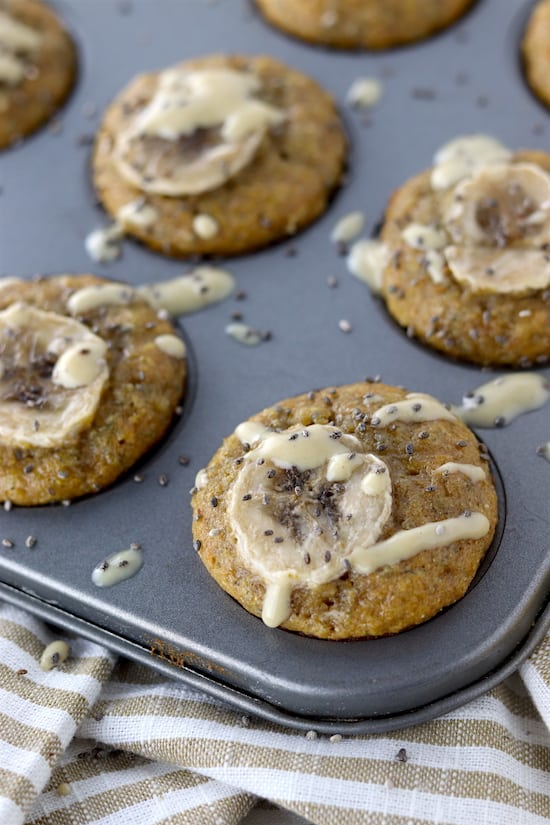 Here are a few ways you can eat these muffins:
Place in mouth. Sometimes eating them plain and simple is the best! Be sure to pair them with a source of protein, like a hardboiled egg, for a well-rounded breakfast.
Mixed into greek yogurt. This can kill ALL the birds with one stone: Protein, carbs, fat, BOOM.
As a smoothie bowl topping. Totes insta-worthy!
Basically, I could pop about eight of these muffins at a time, they're THAT good. Addictive.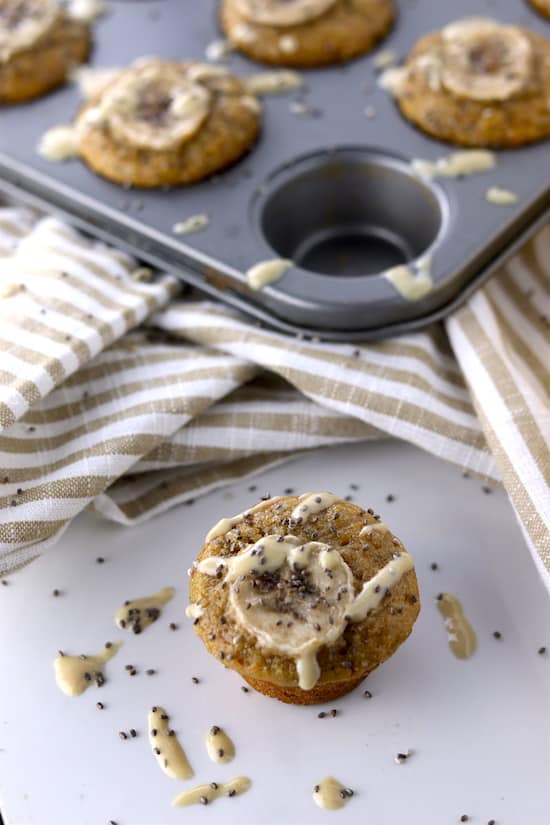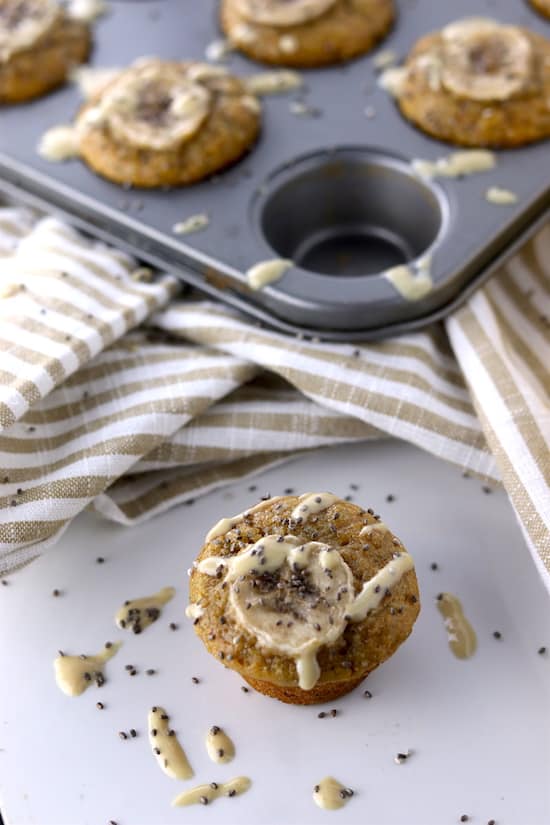 Not to mention they're MINI! Which makes them THAT MUCH CUTER! I know that I'm totally not the only one who thinks that anything in mini form tastes 20x better than the full-size version!
These chia tahini banana mini muffins are such a fun twist on regular banana muffins and they're just as easy! And how much more impressive does "Chia Tahini Banana Mini Muffins" sound VS "Banana Bread". I mean come onnnnn! Not even a question.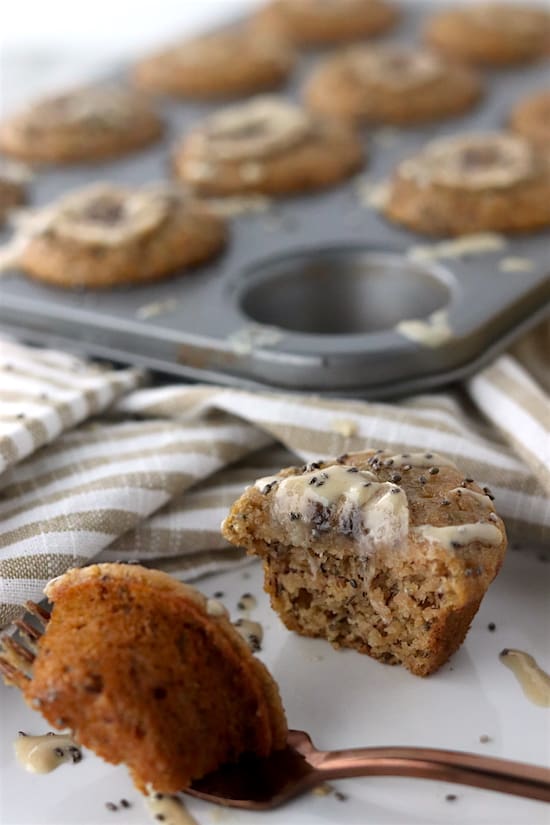 When you head to the store this weekend (and ALL times) be sure to buy a couple extra bananas to make these. Never have I EVER been mad about having to make banana muffins because I've got some over-ripe bananas to use up. Have you?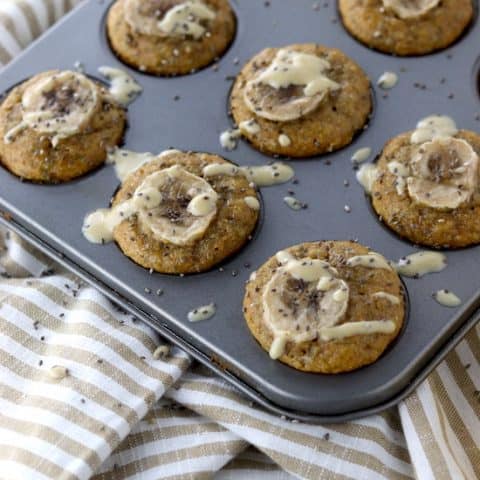 Chia Tahini Banana Mini Muffins
Yield: 16 mini muffins

Prep Time: 5 minutes

Cook Time: 12 minutes

Total Time: 17 minutes

These muffins are the perfect way to start your day! They're low fat, whole wheat, and only 57 calories each. Pair them with a source of protein for a well rounded breakfast!
Ingredients
1 very ripe banana
1/4 unsweetened applesauce
1 egg
1 tablespoon tahini
1/2 tsp vanilla
1 cup whole wheat flour
1/4 cup sugar
1 tsp chia seeds
1/2 tsp baking soda
1/8 tsp salt
Instructions
Preheat oven to 350 degrees. Grease a mini muffin pan and set aside.
In a large bowl mash banana with a potato masher.
Add applesauce, egg, tahini and vanilla to mashed bananas, mixing well.
Add remaining ingredients and stir until just combined.
Pour batter into prepared mini muffin pan. Optional: top each muffin with a slice of banana.
Bake for ~12 minutes, until golden brown and toothpick comes out clean.
Allow to cool fully and top with additional tahini and chia seeds if desired.
Enjoy!
Notes
I recommend using rotary beaters to combine bananas with remaining wet ingredients.
Due to high moisture, I recommend storing these in the fridge to 5-7 days, or freezing!
Nutrition Information:

Amount Per Serving: Calories: 57Total Fat: 1.1gCarbohydrates: 11gProtein: 1.7g


Happy eating!
-Colleen
Be sure to pin this recipe to your Pinterest board so you don't lose it!
If you liked this recipe you may want to check out these!
One Bowl Healthier Banana Bread
Loaded Chocolate Zucchini Banana Muffins