When it comes to my meals I'm all about the 3 F's: Fresh, flavorful and fast. Finding all 3 in a restaurant can be TOUGH. Usually they're either fresh and flavorful- but not exactly the snappiest of delivery. Or, they're fast in the truest sense of the word, meaning greasy and heavy. Finally, I've found one that checks all of the boxes: CoreLife Eatery.
CoreLife Eatery is a restaurant that is passionate about convenient ways to provide our bodies with whole, nourishing foods. Their dishes are prepared on the spot, right in front of your eyes, using all fresh ingredients free of trans fat, artificial flavors, GMO's, sweeteners and other artificial additives. Their menu features a wide variety of options ranging from grain, green and broth bowls to power plates and hand crafted beverages.
I had been watching as their latest location in Grand Rapids, MI was undergoing construction, eagerly awaiting it's completion. Before seeing this location I had never really heard of CoreLife, but after a quick google search I knew it would be a place that I needed to try. When a friend of mine asked if I wanted to catch up over dinner, suggesting we try CoreLife, I immediately said yes!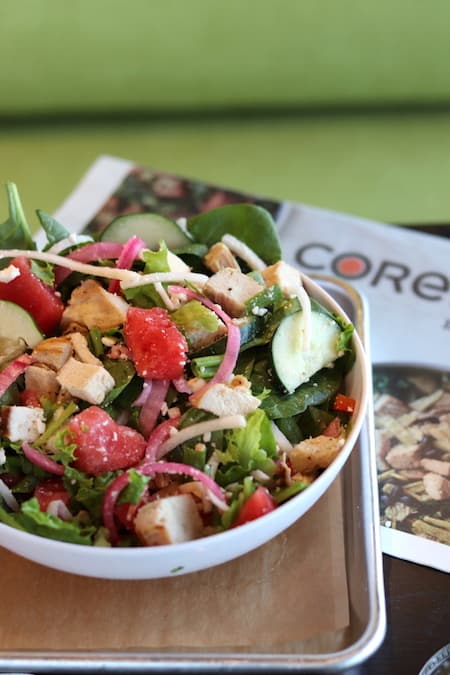 So, what did I think of it? TO be quite blunt- I'm obsessed. First off, the atmosphere was so fresh, organic and fun. With bright colors, large windows and industrial outdoor patio lights the entire vibe was contagious. Walking up to the counter you could actually see all of the ingredients that would be used to make your meal right there in front of you. The staff were all so friendly, and didn't mind that I was indecisive on what to order- it all looked so good! Actually, they even happily helped give me guidance on what I might like.
Ultimately, I ended up ordering the seasonal watermelon feta chicken bowl. I ordered it as-is, minus the request of dressing on the side. As you probably know, dressings are usually where most of the calories come from with salads and I find that too much can easily mask the flavors of what is actually IN the salad. I want to taste the salad, not drink the dressing. Also, with salads that have fruit on them you usually are able to use less dressing, since the fruit adds some extra moisture and juice. Having it on the side let me be the boss.
My thoughts on the dish itself? Fabulous! I was honestly shocked that they had thought to use watermelon as a salad topping. It's something that I had been hooked on for the past few months but always seemed to get a strange look from co-workers when I busted out my lunchtime greens. Seeing this sort of creativity and outside-of-the-box thinking from a restaurant really impressed me. All of the ingredients tasted super fresh and were nice and crispy, not soggy and lifeless like some other places I've been to. You can definitely tell that they focus on high quality foods. And who doesn't love that.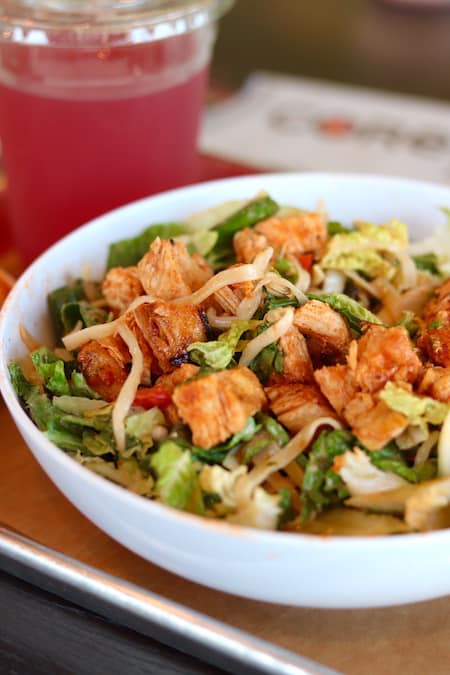 I also got a spicy thai chicken & rice noodle grain bowl to have for lunch the next day. Which, to no surprise at this point, was also delicious. I'm not one for a ton of heat in my dishes, I like a little kick, but that's it. This bowl had just the right amount of spice to it, making my nose run juuuust a touch, the way a little heat always does, but in the best way possible. The chicken on both of the bowls I ordered was super juicy and not at all dry and flavorless- definitely something I am always looking for.
Also, CoreLife has a super convenient app where you can order and pay for your meals. I am one of the LEAST tech savvy people out there, but even I figured out how to add my credit card and scan the QR code. This is definitely going to come in handy when running a little behind schedule and the hanger sets in. Bonus? For using it you can earn rewards. Lord knows I live a good discount!
I'm so happy that this location opened up in Breton Village. Since moving back to Grand Rapids a year ago my fiance  Joe, has been saying that the village needed a casual, fast and healthy dining option. Well, we got it in the form of CoreLife Eatery!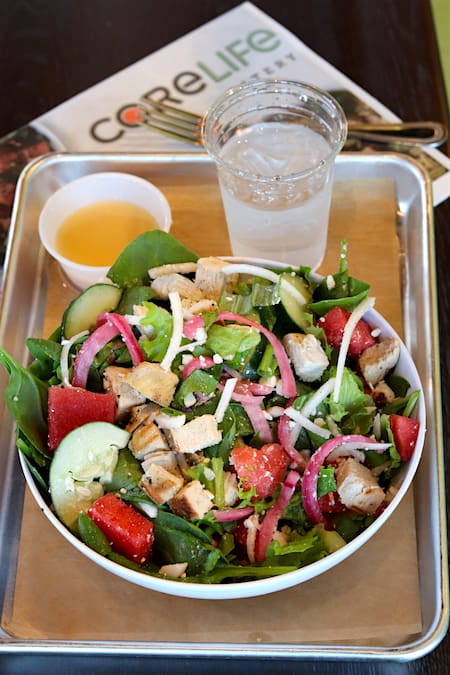 Do you have a CoreLife if your area? What's your go-to order? Let me know!
Happy Eating,
-Colleen
Want more tips about eating out? Check out my 5 simple intuitive eating tips for dining out!