It's that time of year again, when you're constantly wracking your brain trying to think of the perfect gifts to give! If you're anything like me you want to get your shopping done EARLY. And by early, I mean yesterday. So, let me help you a little bit by giving you some ideas!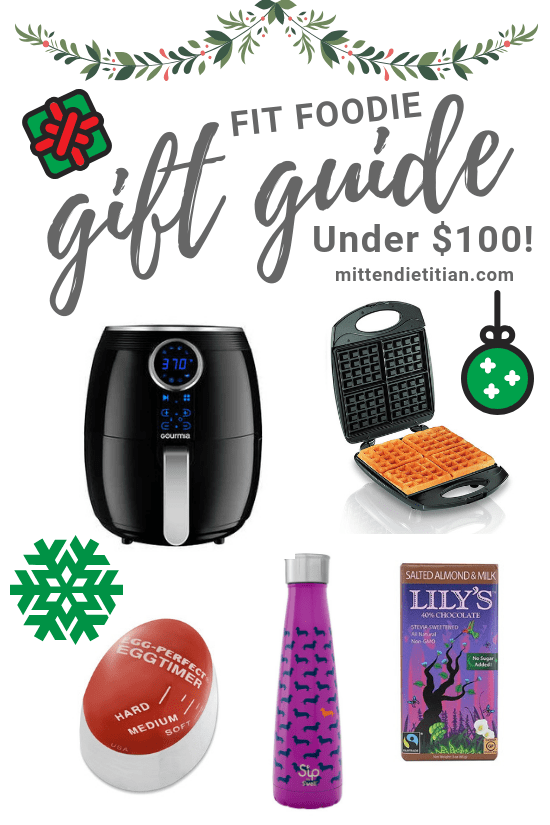 I've complied a list of my must haves and the most common items readers are constantly asking me about. Nothing on this list is over $100. Actually, only a few are over $50! Because, let's be real.. we got budgets.
Take a gander and let me know which ones you'll be purchasing!!
STOCKING STUFFERS
Egg Timer.
I use this ALL the time! I'm always getting asked how I made perfectly soft boiled eggs, well, this is my secret! And, it's super affordable!
Reusable Snack Bags.
I hate wasting snack bags! Reusable ones are a great option for anyone looking to be a little more eco friendly or even trying to save a few bucks.
Lily's Sweets Chocolate Bars
I'm addicted to these no sugar added chocolate bars! This salted almond and milk chocolate is amazing. They also have such good dark chocolate varieties!
FOODIE GIFTS
Air Fryer.
You all know how obsessed I am with my air fryer. I have a Gourmia and I LOVE it!!
Waffle Maker.
Seriously, what can you NOT make in a waffle maker? Most people (including me!) won't buy this for themselves, but would LOVE to have one given as a gift!
Steam Basket.
I use mine daily! It's the perfect gift for the health nut in your life or someone who is trying to eat a little more of the veggies. It makes steaming them SO easy.

Ninja Blender.
Okay, this one is a little bit of a splurge- you've gotta really like the person, haha! But I honestly don't know what I did before my Ninja. It makes Frosty like shakes that I look forward to after every workout!
SoYoung Modern Lunch Poche.
See ya later traditional boring lunch boxes. Hello stylish lunch poche! These are seriously the most adorable way to take your lunch to work and they're so functional! Mine wipes clean so easily. I know this because I still pretty much daily. Oopsie.
Confidence In The Kitchen Kickstart 2019.
Have someone who wants to eat healthier, but has no idea where to start? I created this program JUST for them! Throughout the month of January they will learn how to build a balanced breakfast, lunch, and dinner, get suggested grocery lists, kitchen tips, and get to be a part of a supportive Facebook community where I'll go Live weekly to answer questions personally!
Confidence In The Kitchen Program
FITNESS GIFTS
Swell Water Bottle.
This thing is indestructible! I've seriously dropped it a million times and it does not dent! Obvi, I have the dog one.
Gaiam Metro Gym Bag.
I've had this bag for years and love it. It's sleek and polished looking, yet fits ALL of the things you need for your sweat sesh. Plus, you can keep your shoes on the outside (straps for them on the bottom) if they, ya know, need to be aired out….
There you have it! I kept this list short and simple, only giving my MUST haves! My top choices? The air fryer and egg timer. Serious kitchen staples!
Happy eating (and giving!)
-Colleen
**Please note that some of the above links are affiliate thinks and I may earn a small commission from purchases*