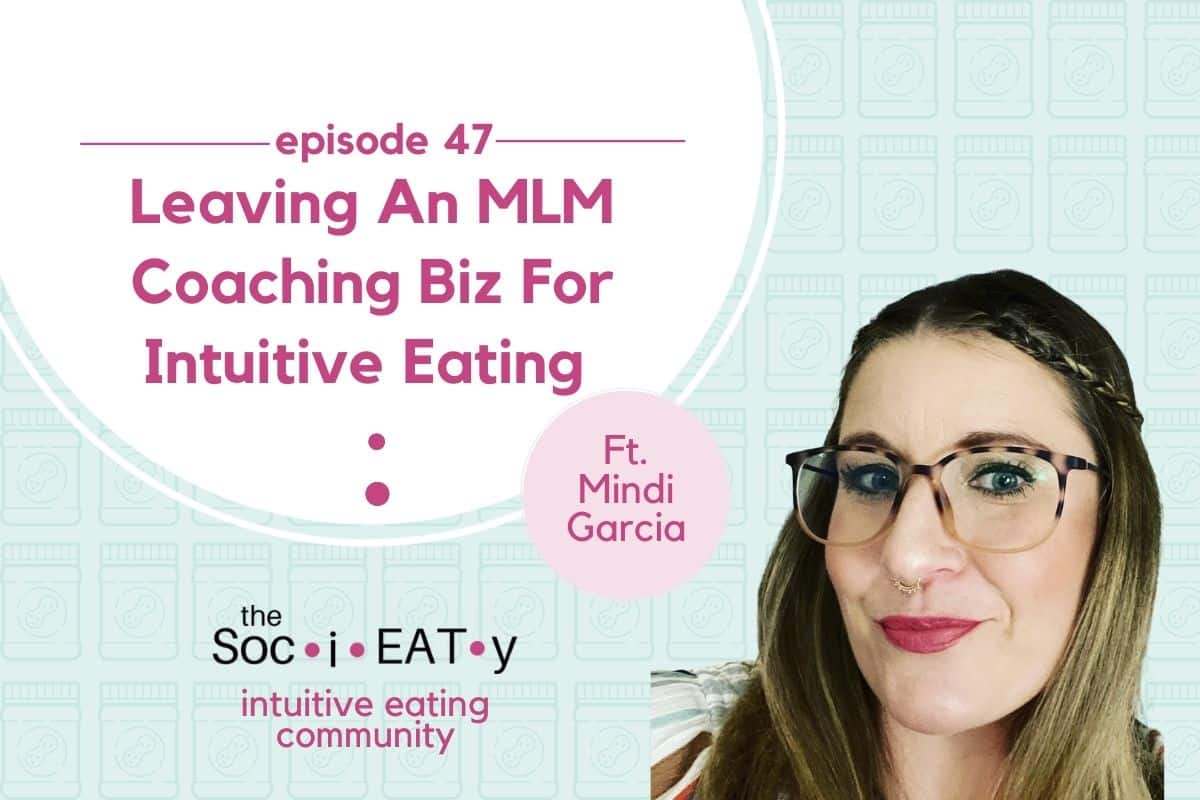 You might recognize today's guest's voice from a previous episode in which she and Nicole talked about what it's like to be in The SociEATy, and if you haven't listened to that conversation yet, I highly recommend that you bring that episode up next because we had such a fun time having that conversation! Mindi joins me today, though, to more specifically discuss her story and her intuitive eating journey!
Mindi is a self-care practitioner with a passion for helping women connect to what she calls their power within. Her background is so interesting and fascinating, having gotten her college degree in Psychology but eventually becoming a dieting coach. She enthusiastically reflects on various aspects of her journey and topics such as people's struggles during the pandemic and how and why she found intuitive eating and married that with her love for coaching.
We also talk about what it was like for Mindi to change not only her career but also her values and how she loves to learn. She affirms that we don't need to go on apology tours after our values change because it's okay to learn and grow, and she encourages us to be honest about our stories! Mindi, having been diagnosed with Fibromyalgia, also suffers from chronic pain and inflammation, and she talks about how that relates to her journey as an intuitive eater, and we also discuss other important topics such as finding the balance between applying gentle nutrition while also maintaining a healthy relationship with food.
I had such a blast talking with Mindi, especially since her energy is so infectious! I would love it if you would reach out to us to let us know what about Mindi's insight especially resonated with you and to share your own love menus with us! I would also be so grateful if you were to leave a review on whatever platform that you use to listen as I read each and every one of your reviews and it helps us continue to do this. If you aren't already, be sure to also subscribe to The SociEATy Podcast so that you never miss an episode!
Time Stamps
[1:10] – Returning guest Mindi Garcia is announced as this episode's special guest!
[3:52] – Mindi gives us some more information about herself and her story.
[7:42] – Mindi reveals what it was like to coach once she found clients.
[11:58] – We learn that Mindi is certified in reiki and is learning tarot and that she has built a business!
[16:07] – Colleen discusses the problematic nature of the word healthy.
[21:58] – Mindi thinks back on what the transition toward intuitive eating was like for her.
[28:36] – Colleen reminds us why she created The SociEATy.
[32:38] – Mindi talks about what the intuitive eating dynamic is like between her and her husband.
[38:06] – Mindi addresses her fibromyalgia and how she deals with it as an intuitive eater.
[46:49] – We are encouraged to find health care providers who will listen to and understand us.
[50:11] – Mindi gives us some actionable tips such as remembering your why and creating a nourishment menu.
Links and Resources
Mindi Garcia's Instagram Page (@selfcarebymindig)
Colleen Christensen Nutrition – Website
The SociEATy – Become a Member
The SociEATy Podcast – "What It's Like to Be in The SociEATy!"
The SociEATy Podcast – "WTF Is Energy Healing?!"
The Safe + Fair Food Company – Website
Other Episodes You Might Like: