Let's play a game.
First word that comes to mind when I say …
Creamy Pasta
Chances are you either thought 1. Delicious or 2. Fatty
If you're in camp number 1, you're on point and I like you. If you are in camp number 2, I am about to make you really happy- because creamy pasta does NOT always mean fatty. Enter in the secret weapon of plain, non-fat Greek yogurt. Greek yogurt is protein-packed, fat-free, and oh so versatile.
When paired with fresh summer staples, like lemon and basil (such a power couple), and the comfort of carbs in the form of angel hair pasta- you'll be in foodie heaven.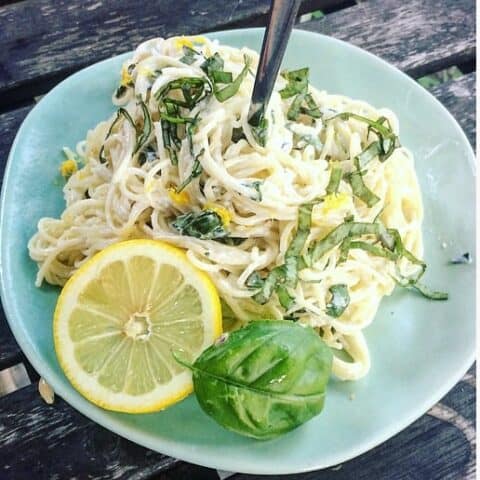 Lemon-Basil Angel Hair Pasta
Yield: 2

Prep Time: 5 minutes

Cook Time: 15 minutes

Total Time: 20 minutes
Ingredients
4 oz angel hair pasta, uncooked
¼ cup plain, non-fat Greek yogurt
2 tbsp milk of choice (I used unsweetened cashew)
2 cloves garlic
½ tsp onion powder
¼ tsp salt
½ of a lemon
¼ cup chopped basil, fresh
Instructions
Boil a large pot of water. Once at a rolling boil, cook pasta for ~7 minutes. Drain once finished.
While pasta is cooking, in a small-medium sized bowl whisk together, yogurt, milk, garlic (Either use a press or finely chop), onion powder and salt.

Add about 1-2 tsp lemon zest from the ½ lemon, add juice from entire ½ of lemon

Coat drained pasta with yogurt sauce

Fold in basil to coated pasta

This pasta can be served warm or cold. Top with protein source of your choice, if desired (Ideas: salmon or grilled chicken)
Nutrition Information:
Yield: 2 Serving Size: 1
Amount Per Serving: Calories: 300Total Fat: 2gSaturated Fat: 0gTrans Fat: 0gUnsaturated Fat: 1gCholesterol: 7mgSodium: 344mgCarbohydrates: 51gFiber: 3gSugar: 6gProtein: 20g

Enjoy the sweet taste of summer!!!