I consider myself someone who has pretty good self-control in life. I don't usually act on a whim or do things without thinking. However, there is one specific time when that ALL goes out the window: trips to Hobby Lobby. And I know I'm not the only one! I mean, it's all so cute and there is ALWAYS a sale. There was one time a few months ago when I went HAM and bought a whole bunch of stuff that, let's be honest, I totally didn't need. One of those items was a mini cast iron skillet. I envisioned myself making the cutest little cookie cakes with it, so I HAD to have it. Well, it sat there until recently when I forced myself (okay, totally didn't take that much convincing) to finally use it. The result? This low-sugar dark chocolate chip cookie cake skillet.
Let me just tell you, this skillet is amazing. And for so many reasons. Firstly, it tastes delicious, obviously a necessity. Secondly, it's low fat. Thirdly, it's low calorie (only 80 per serving!). Fourthly, it's whole wheat. The list seriously just goes on and on.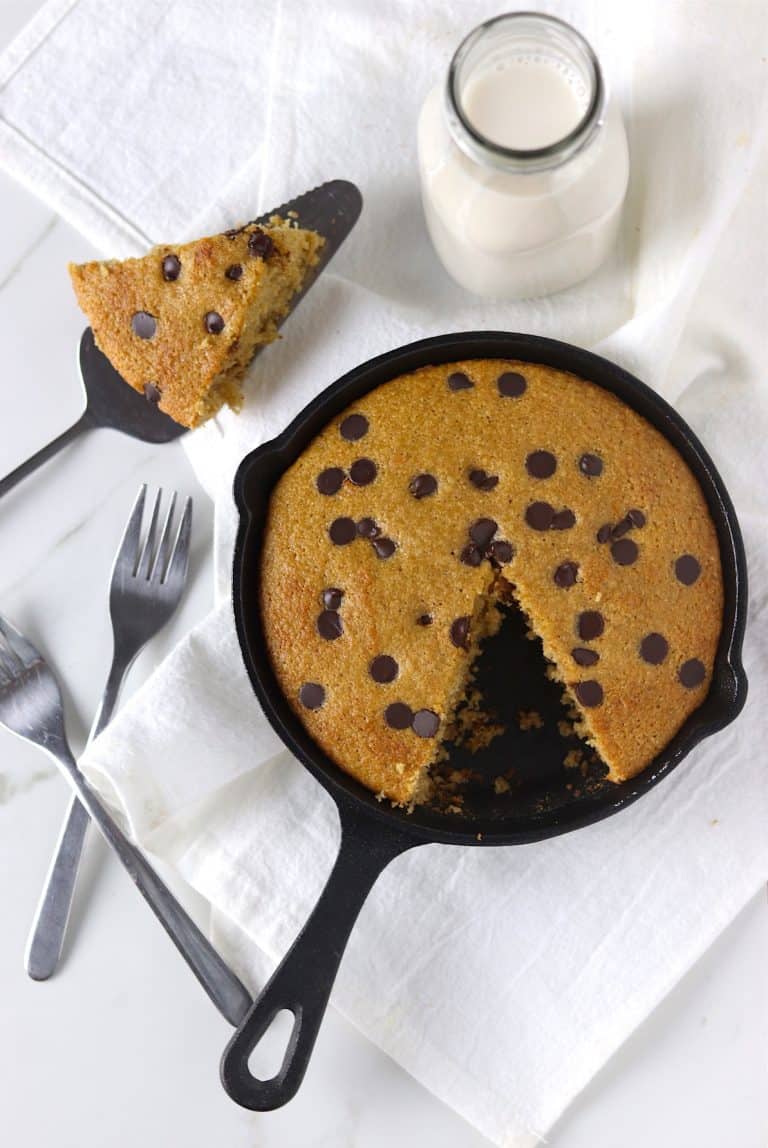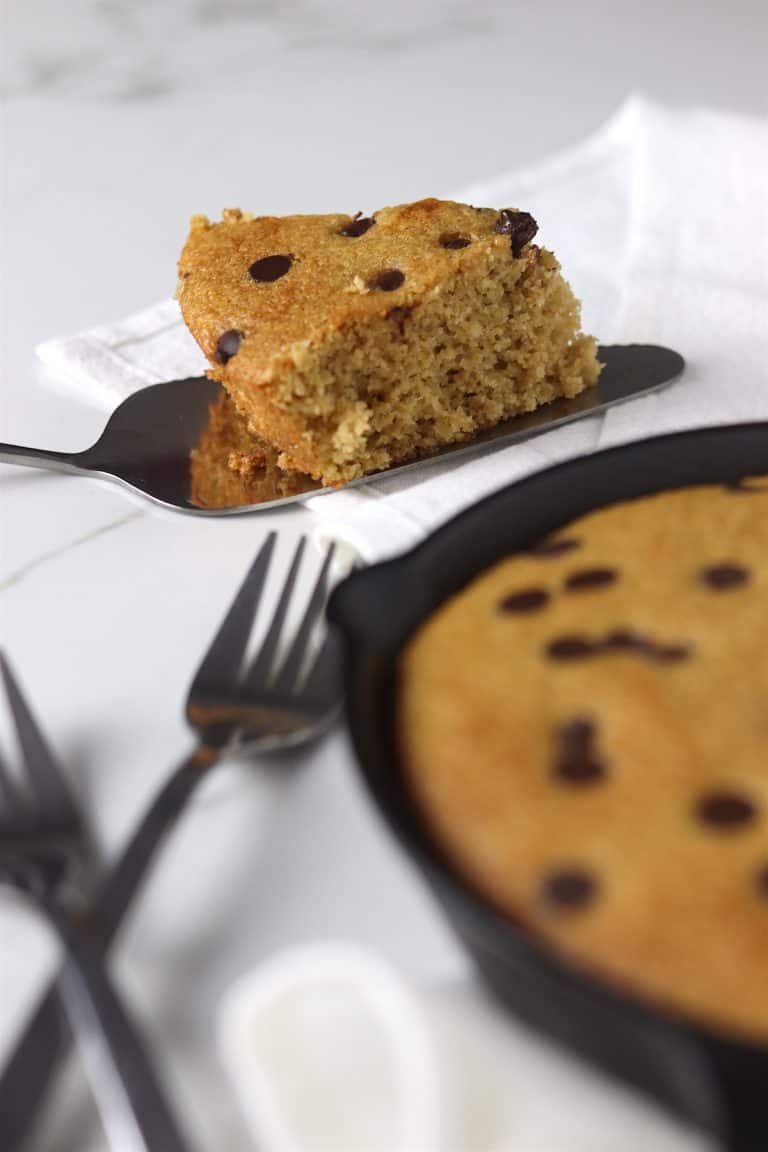 Want more? It's made in ONE bowl, so you won't have a massive sink-full of dishes. And it bakes in 20 minutes. Cause ya know what? Sometimes (most of the time), ya need a sweet treat FAST.
For this skillet I used Lily's Sweets no-sugar added dark chocolate chips. I recently started using their products and I'm HOOKED. They've got about 25% less calories than regular baking chips, and trust me, you won't be able to tell a difference. I'm also OBSESSED with their chocolate bars. So far, the caramelized & salted milk chocolate one has been my fave. You can check out more of their products here.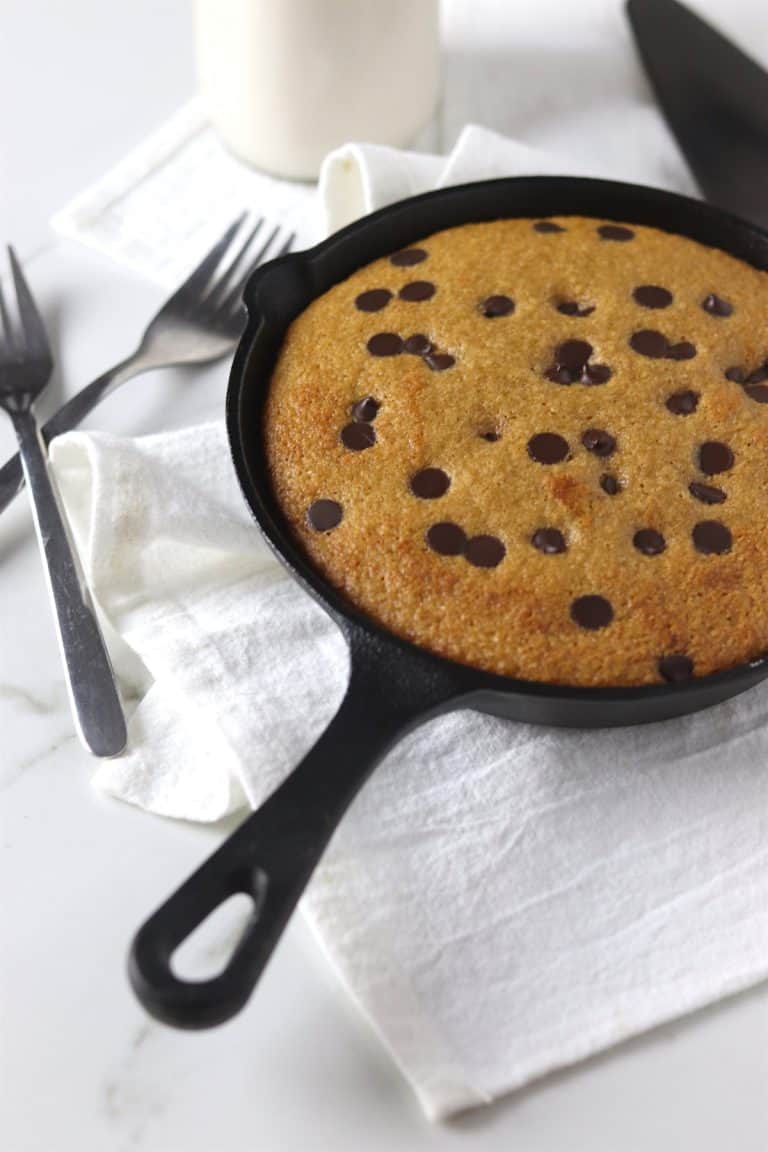 Give this low-sugar dark chocolate chip cookie cake skillet a try and let me know what you think! I'm pretty confident you won't be able to make it just once!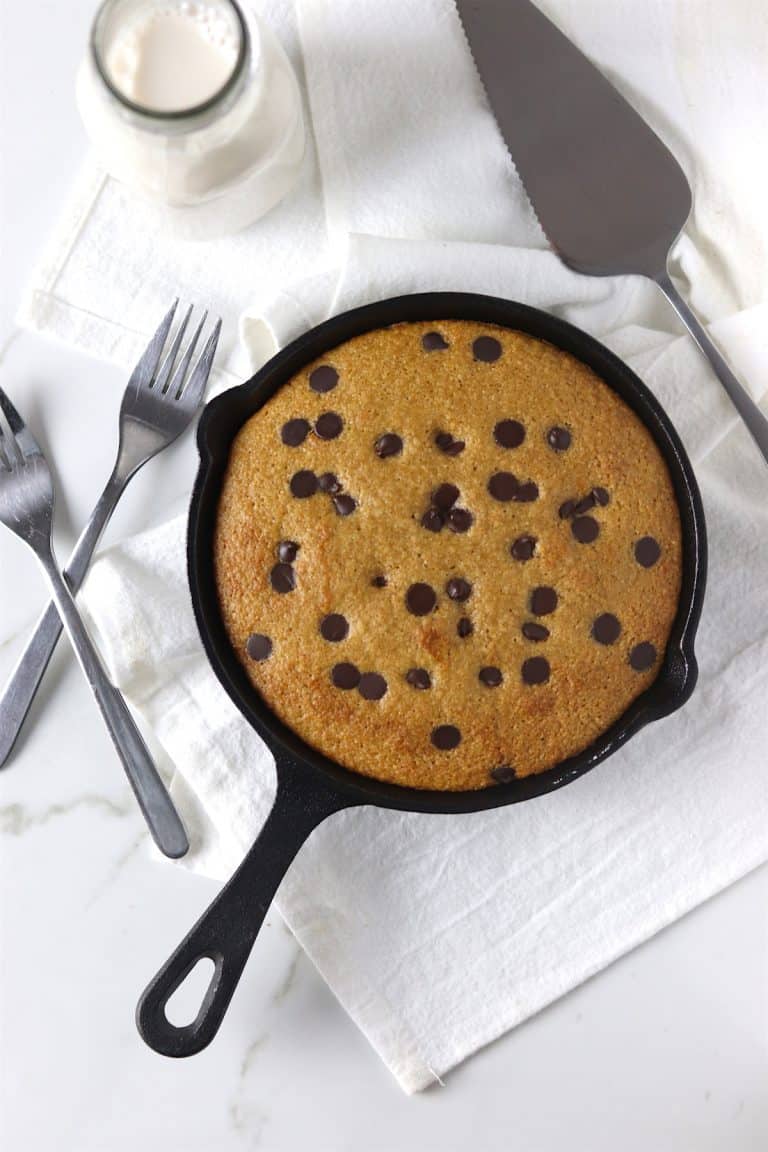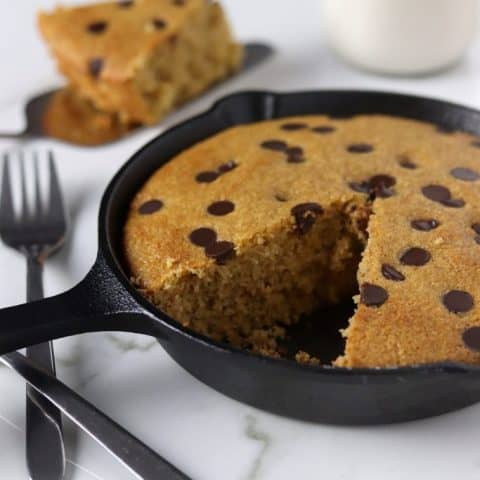 Low-Sugar Dark Chocolate Chip Cookie Cake Skillet
Yield: 6 servings

Prep Time: 5 minutes

Cook Time: 20 minutes

Total Time: 25 minutes

This easy and healthy low-sugar dark chocolate cookie cake skillet will have you hooked! You'd never know that it's also low-fat and low-calorie!
Ingredients
1 egg
1/4 cup applesauce
1 tsp vanilla
1/4 cup whole wheat flour
1/4 cup brown sugar
1 tbsp powdered peanut butter
1 tsp baking powder
1 tbsp dark chocolate chips
Instructions
Preheat oven to 350 degrees. Lightly spray a mini cast iron skillet with non-stick spray, set aside.
In a medium sized bowl combine egg, applesauce and vanilla.
Next, add in flour, sugar, powdered peanut butter and baking powder. Mix well.
Pour batter into the prepared skillet and sprinkle with dark chocolate chips.
Bake for ~20 minutes until golden brown and a toothpick comes out clean.
Notes
I used Lily's Sweets no-sugar added dark chocolate baking chips.
Nutrition Information:

Amount Per Serving: Calories: 80Total Fat: 2gCarbohydrates: 14gProtein: 3g


Happy eating,
-Colleen