YOU GUYS. I get married in ONE MONTH!! Surprisingly, I'm not too stressed. I'm super Type-A, So i've pretty much has everything planned out for a while. Now, it's just a matter of executing everything. Sounds easy enough, right? Sure, if you take into account that I will have ZERO free time. It's totally time.
So, since all of my time is devoted to doing calligraphy, spray painting ALL of the things, and tracking down RSVP's (Yeah, I'm looking at YOU! ) dinner time in my house has been SUPER simple. I have a standard dinner "template" that I use for these crazy busy times, and I wanted to share it with you because I think you'll find it very helpful too.
Here it is folks, my quick, no-time-for-dinner dinner "template":
1/4 plate of complex carbohydrate
1/4 plate of lean protein
1/2 plate of non-starchy vegetable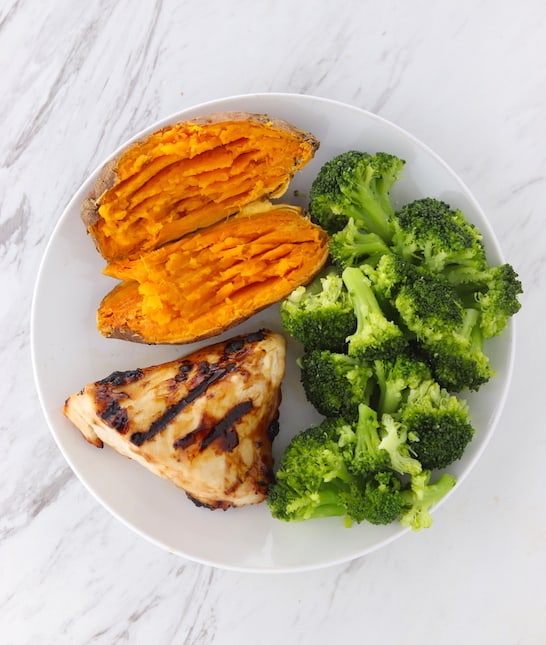 How simple is THAT? Take it a step further and make it even EASIER by cutting corners with these tricks:
Buy frozen, microwavable bags of veggies. Broccoli is my fave. It literally takes ~5 minutes and has NO dishes!
Pre-portion your protein. I buy chicken breasts in bulk and pre-portion them into sandwich bags. Then, just take one out of the freezer as needed to thaw. Also, fish filets that are individually packed are fabulous.
Use your microwave to cook potatoes. I LOVE a good sweet 

potato, 

but HATE how long it takes to bake them. I like to cut time by chopping and microwaving for ~5 minutes in a bowl of water, then mashing OR piercing and wrapping in a wet paper towel and microwaving for ~5 minutes. 

SO 

much faster!
Even though I use this same template over and over, never does one dinner look the same. I alternate carbs between potatoes,  quinoa, brown rice and whole wheat spaghetti. Protein changes between chicken, tilapia, salmon, ground turkey and pork loin. Then, I mix up the veggies by cycling through broccoli, green beans, brussels sprouts and greens. Plus, you can use different sauces like barbecue sauce or simmer sauces (curry, tikka masala, etc) to totally change the flavor of the dish. Fresh herbs are also a game changer!
See, eating healthy does not have to mean these crazy, impossible Pinterest Recipes. It can be as simple as following this standard dinner "template" and simply swapping around a variety of items.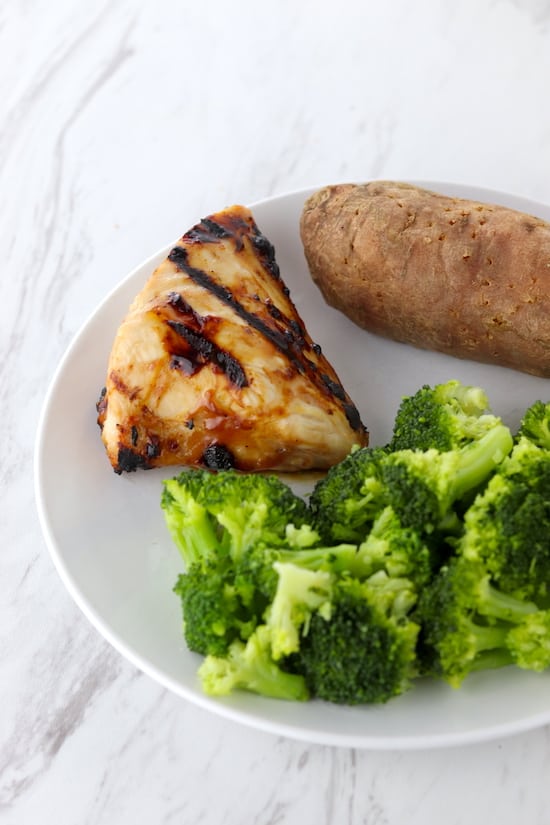 So, I'm curious. Which combo sounds the best to you? Right now I'm totally loving tilapia, quinoa, and broccoli. YUM! All ready in about 15 minutes, seriously.
Happy eating,
-Colleen
Want more meal planning posts like this? You might like these!
#1 Tip To Save Money When Cooking