I've never exactly been someone with a green thumb. Actually, that's a huge understatement. I pretty much have killed everything I've ever tried to grow. Except this year. This year my herb plants are BOOMIN'! Or should I say bloomin'. You see what I did there, huh? Anyway, since my herbs are basically trees, it knew it was time for….. PESTO!
If you've never made your own pesto stop reading right now and bookmark this post! I want you to do to that before you forget because after you finish reading you'll be dying to make it. Pesto is so simple to make and really only takes a few ingredients. You quite literally just process them all together. It doesn't get much easier than that.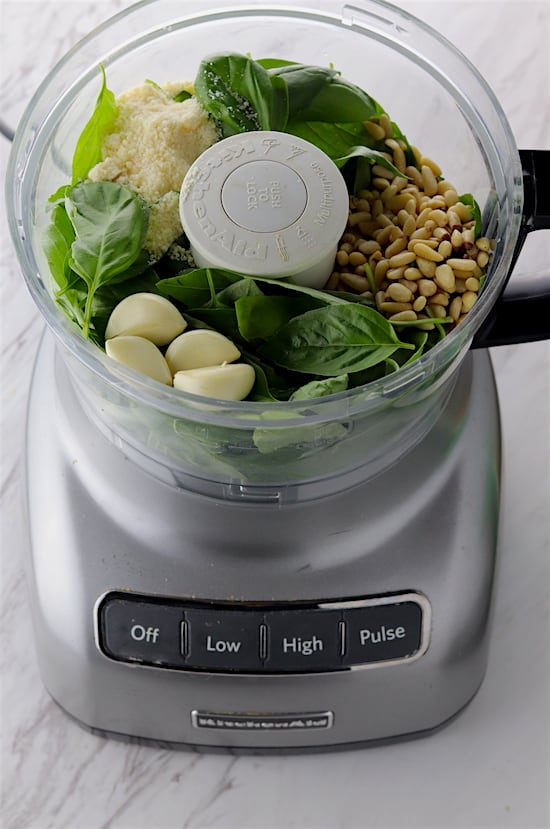 Pesto is a great source of heart healthy fats, because it is made with olive oil and pine nuts. Besides the health benefits it's such a simple way to add flavor to basically anything!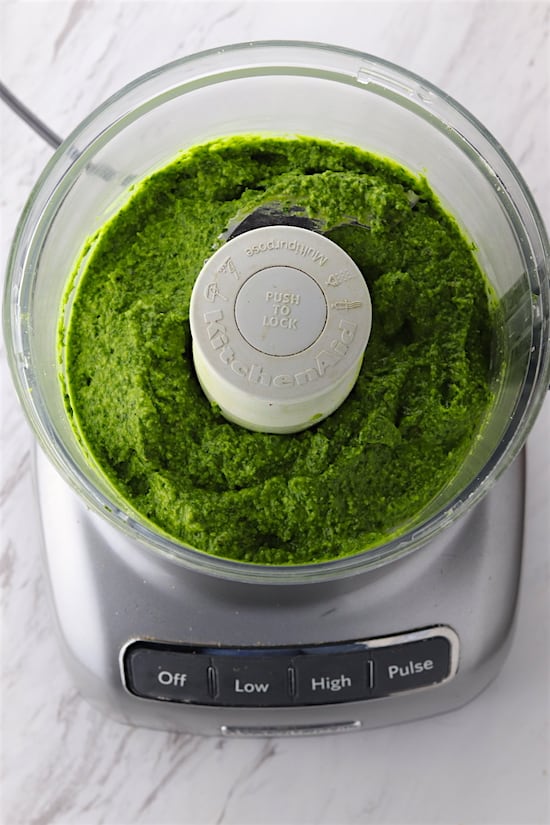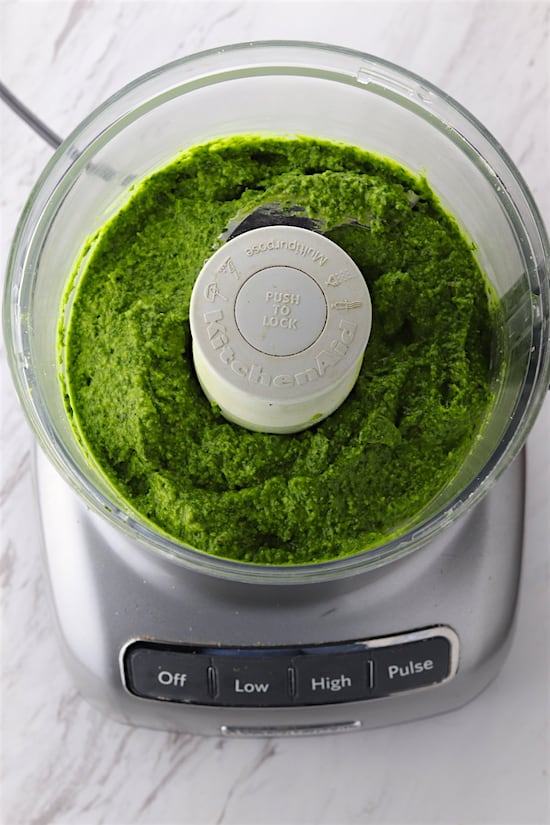 Need another reason to make pesto? It's a legit whole home air freshener. Well, if you like the basil-y garlic smell. I loooove it.
Once you make some of this green goodness here are some ways to put it to work:
As a pasta sauce
Spread on toast or crackers
To dip veggies in
In an omelette
On top of cottage cheese
As a marinade
For a salad dressing
This list could go on and on, it's that versatile.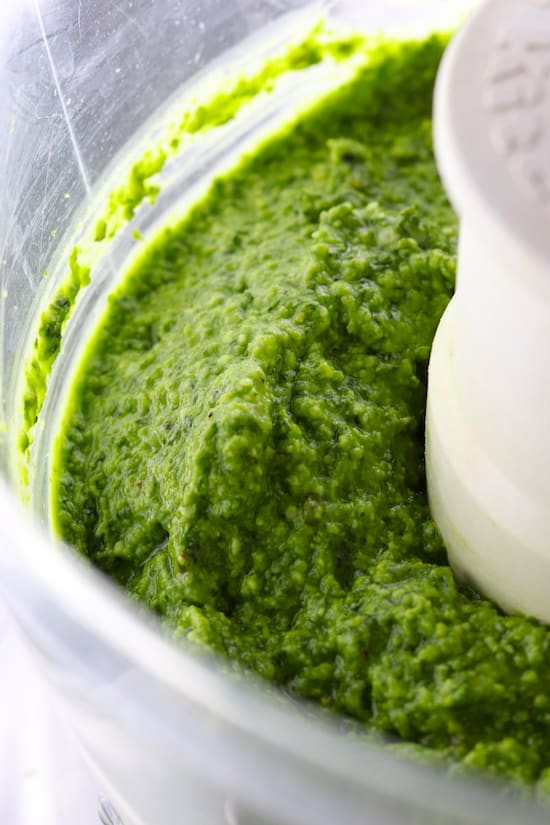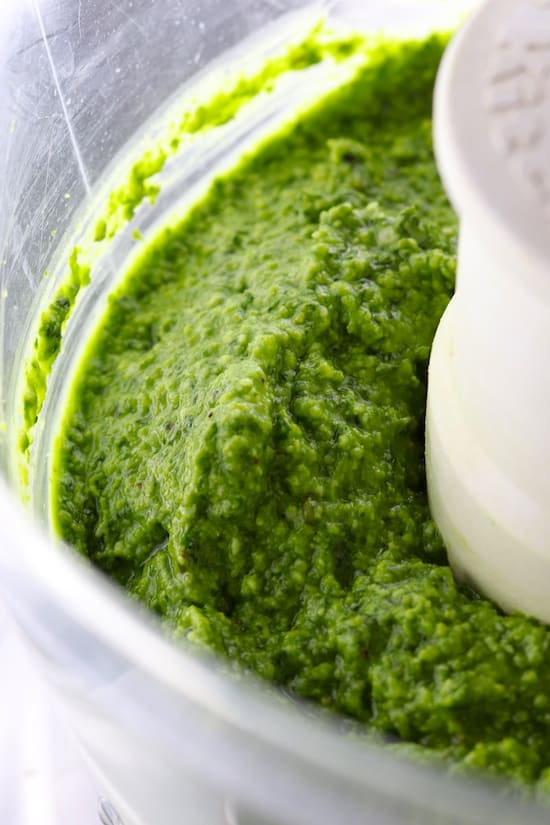 Now, in all honesty, pine nuts can get expensive. Look for a store that sells them in bulk and buy just the amount you need. I went to a few stores and they only sold $12-$20 containers. No that, I like to be able to pay my mortgage AND eat.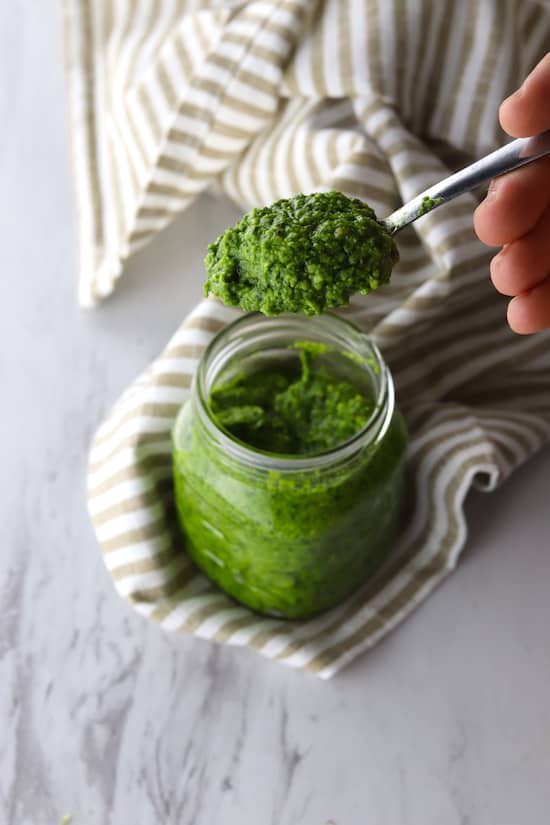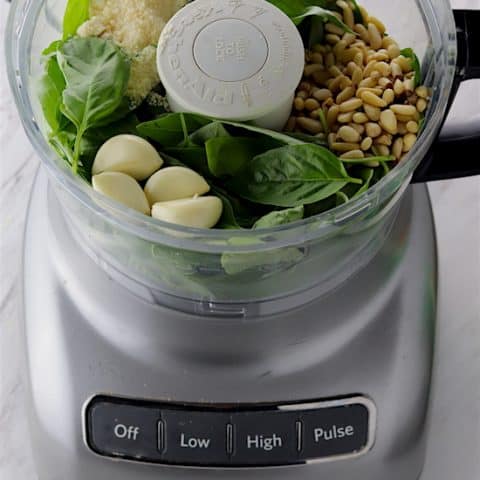 Simple Pesto
Yield: ~1 cup

Prep Time: 5 minutes

Total Time: 5 minutes

This simple pesto is packed with flavor and a cinch to make.
Ingredients
4 cups fresh basil
1/3 cup parmesan cheese
¼ cup pine nuts
4 cloves garlic
3 tbsp olive oil
3 tbsp water
¼ tsp salt
Dash of pepper
Instructions
Combine basil, cheese, nuts, and garlic in a food processor. Process until just blended, it should still be a little chunky
Stream in olive oil and water slows, while food processor is running
Continue processing on high until smooth, stopping to add a dash of salt and pepper
Ta-da! Pesto!
Notes
Store in the fridge after making.
Nutrition Information:

Amount Per Serving: Carbohydrates: 0.9g



So, what way will you use your fresh batch of pesto? Eating it from the food processor is totally an option!
Happy Eating!
-Colleen
Don't let this recipe get lost- pin it recipe for later!
If you're in the market for a food processor- I'm obsessed with my kitchen aid!
**this post may contain affiliate links where I may earn a small comission**