In case you missed it, I recently posted my recipe for lower calorie pesto, which is AMAZE. You guys gave such positive feedback for that recipe that I'm SUPER excited to share this one with you because, guess what? It uses that pesto! Behold: Spinach and artichoke whole wheat pesto pasta salad.
Like pesto, pasta salads can be quite calorie dense. I mean, really, a lot of times you are coating noodles with dressing- not exactly the lightest dishes, right? But, you can totally craft a lower calorie pasta salad by using these few simple tricks:
Bulk up the veggies
Use a light dressing
Dial back the dressing using just enough to coat the pasta – not douse it
This spinach and artichoke whole wheat pesto pasta salad uses ALL THREE of those tricks. Now, you know I'll never sacrifice flavor for a lower calorie version of something. I'll take the extra calories for a tastier dish. But, I like to be smart about my calories and use just enough to satisfy without going overboard, bringing the recipe right to that edge. That being said, this lower calorie pasta salad is DELISH!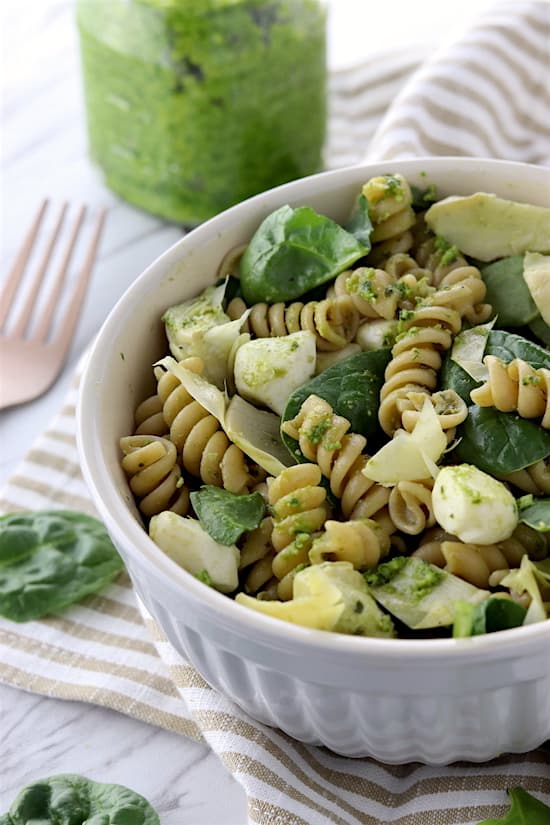 The spinach is what really bulks up this recipe, breaking up the calorie dense noodles. Plus, it adds loads of vitamins and minerals, and who doesn't love that? Artichokes, besides being totally delicious, also provide loads of nutritional benefits, like antioxidants and fiber.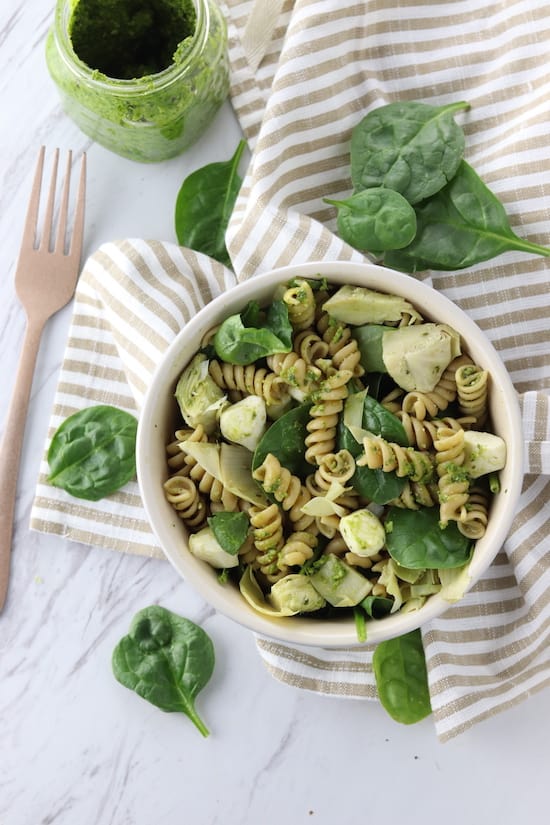 Whip up this salad for your next get together, or make it on a Sunday as part of your meal prep and enjoy it throughout the week for lunches topped with your favorite source of protein (grilled chicken, tofu, or even shrimp- yuuuum!)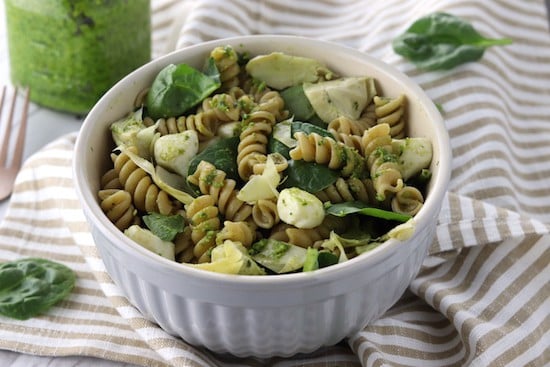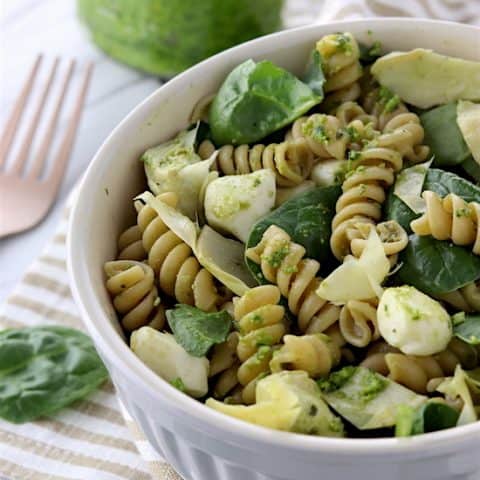 Spinach and Artichoke Whole Wheat Pesto Pasta Salad
Yield: ~12 cups

Prep Time: 5 minutes

Cook Time: 10 minutes

Total Time: 15 minutes

This spinach and artichoke whole wheat pesto pasta salad is loaded with veggies and uses less oil, making it lower in calories than most traditional pasta salads.
Ingredients
1 box whole grain rotini
¼ cup pesto
1, 12oz jar of artichoke hearts, roughly chopped
6 oz (~1/2 - 2/3 cup) Mozzarella pearls
3 cups fresh spinach
Instructions
Cook pasta according to package directions until al dente, drain and cool
Coat pasta evenly with pesto
Next, add in artichoke hearts, mozzarella, and spinach
Dive in!
Notes
This recipe is using my recipe for lower calorie pesto
Nutrition Information:

Amount Per Serving: Calories: 169Total Fat: 1.35gCarbohydrates: 25.8gProtein: 8.3g


Happy eating!
-Colleen