Carbs + Vodka = WANT.
Throw in 100% plant based and it gets taken up to NEED.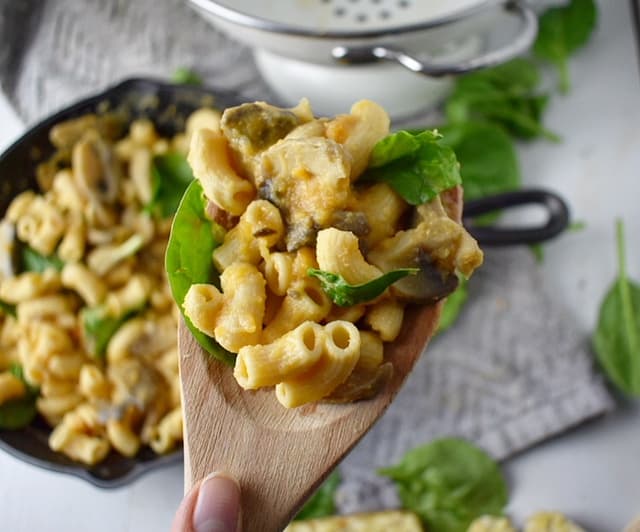 I used to get so stressed about Meatless Mondays, which I've committed to do every week, because I felt like it was tough to A.) get a lot of protein and B.) not have beans of some sort on repeat each week. And since, Joe and I are VERY active, it's important to me that we get enough to help our muscles recover. Over the past few months I started using Banza Pasta which has been a LIFESAVER when it comes to packing in protein, 14g to be exact, plus feel-full fiber (30% of your daily needs!). It's really a no brainer, so I try to keep a box in the house at all times.
I've been really trying to cut down on food waste, and I'll admit that it's mostly because I am so frugal, but the whole environment and being a good person stuff counts, too. So, before I plan my meals for the week I make sure to take a peek at what I already have on hand and what needs to be used. I had the same lonely sweet potato sitting in my produce basket all week and knew it was becoming time to eat it or throw it out. Of course the cheap Dutch girl inside of me told me to use it!
Pureeing vegetables for creamy pasta sauces creates such a healthy alternative to the typical store bought ones that are super high in saturated fat (the bad stuff) and calories, and low in actual nutrients. Then, I decided to make it a Vodka Sauce, because, well, balance right? I also added spinach and mushrooms to bulk up the dish.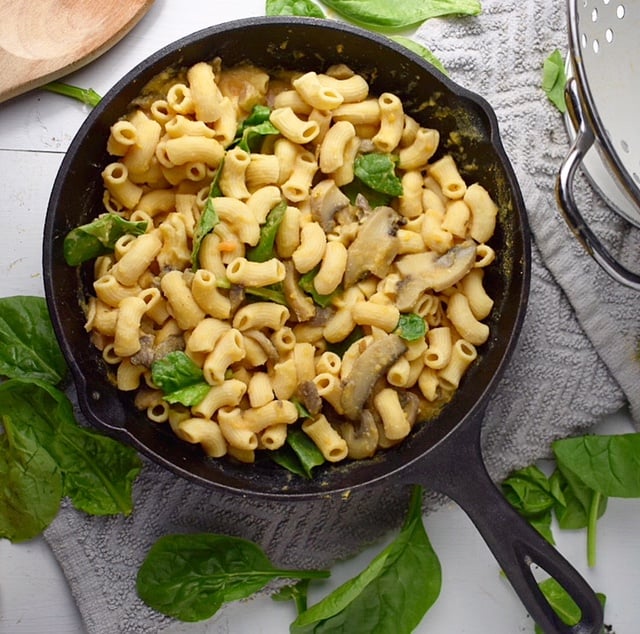 Result? Fab. I topped ours with some grilled tempeh for extra protein and healthy fats.
Sweet Potato Vodka Sauce Soaked Pasta with Spinach and Mushrooms
Delicious vodka soaked pasta packed with veggies!
Ingredients
1 box Banza Pasta- shape of choice
½ medium sweet potato, peeled and chopped
1/3 cup onions, diced
2-3 garlic cloves
¼ cup milk of choice*
2 oz Vodka**
1/3 cup water
1 cup canned mushrooms
2 cups fresh spinach, roughly chopped
½ tsp + Dash of salt
Dash of pepper
Instructions
Begin boiling a pot of water and cook Banza according to package directions
Place sweet potato in a medium bowl and fill with water until fully covered and microwave for ~5 minutes, until very soft
While potato is in the microwave, sauté onions and garlic in a small saucepan until onions are translucent***
In a food processor combine drained sweet potato, onions and garlic, milk, vodka and ½ tsp salt and process until smooth, adding water slowly
Pour sauce into a large skillet set to medium high heat and simmer for ~3 minutes, until slightly reduced. Add in pasta and mushrooms, heat through
Fold in spinach, add salt and pepper as desired
*I used unsweetened cashew
** HIGHLY recommend Titos Vodka
*** May need to add a few tablespoons of water
Add this recipe to you meal plan and let me know what you think!
Happy eating!