Two things I am loving right now: dark chocolate and candy cane. Okay, so the dark chocolate isn't new or ground breaking, I love that stuff on the reg. BUT, the candy cane is totes seasonal and giving me all of the festive vibes. I always forget how great this combo is until the holiday season and immediately wonder why I am not eating this stuff year round. I've had a super strong hankering for this dynamic duo the other day so I whipped up a batch of these sweet & salty dark chocolate candy cane crackers.
I'll be totally honest with you, these things are STUPID easy to make. But they're super impressive looking. They'd make a great hostess gift if you put them in a cute little mason jar or would make a fab addition to a treat holiday party treat tray.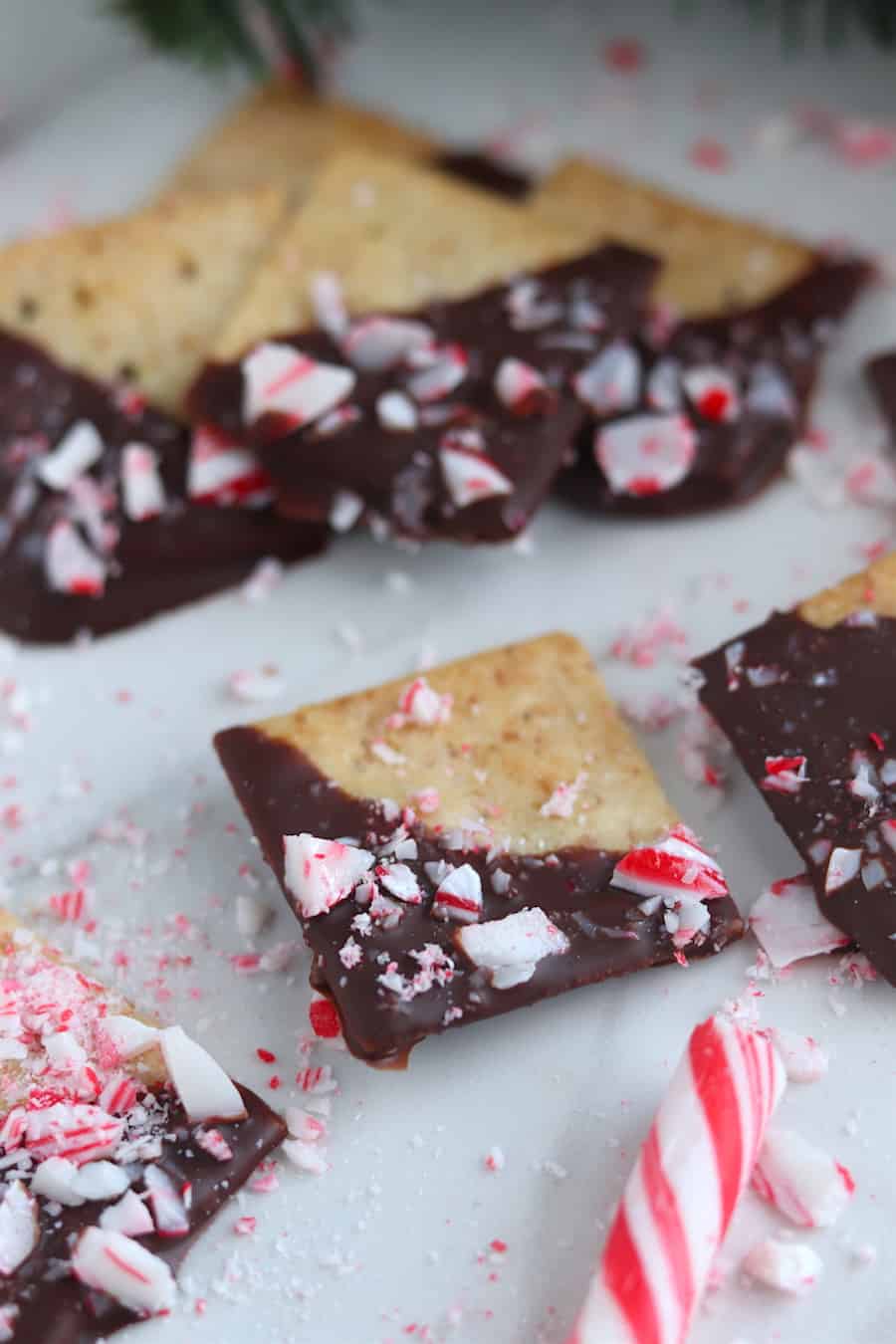 I'm also totally digging how natural these sweet & salty dark chocolate candy cane crackers are. I mean, did anyone else literally melt wax into chocolate chips to create hard, chocolate coating? I totally did! This recipe uses chocolate chips and coconut oil, which will give you the same end result, minus having to literally melt wax into your chocolate. Isn't that, like, the most strange thing when you really think about it?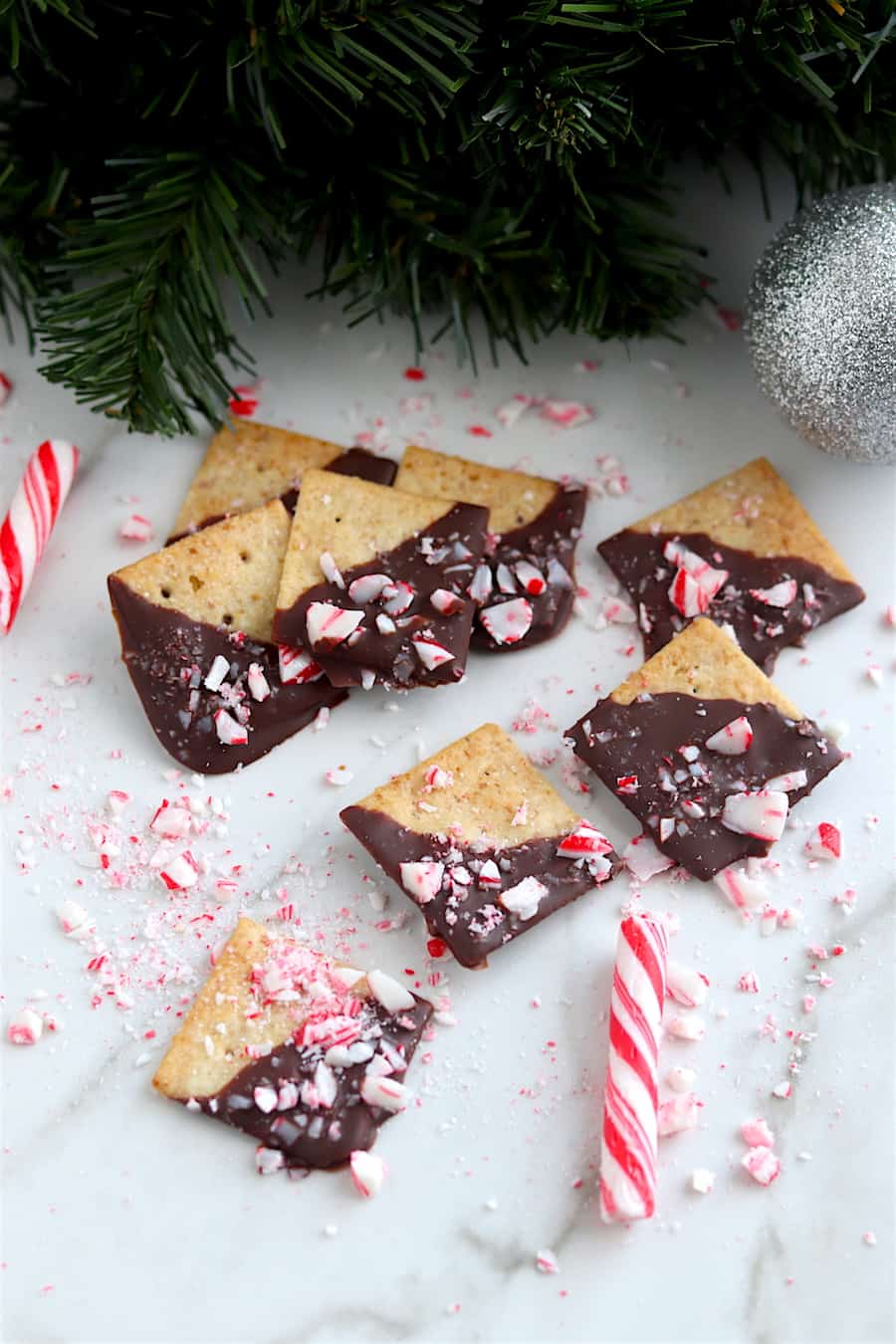 I used SimpleMills sea salt almond flour crackers for this recipe (I'm in the midst of a serious addiction to these bad boys) but you could totally use whatever crackers you prefer.  A buttery ritz would DEF not be a bad choice! Even a simple saltine would totally do the trick. BUT. If you guys haven't tried the almond flour ones… Ya gotta!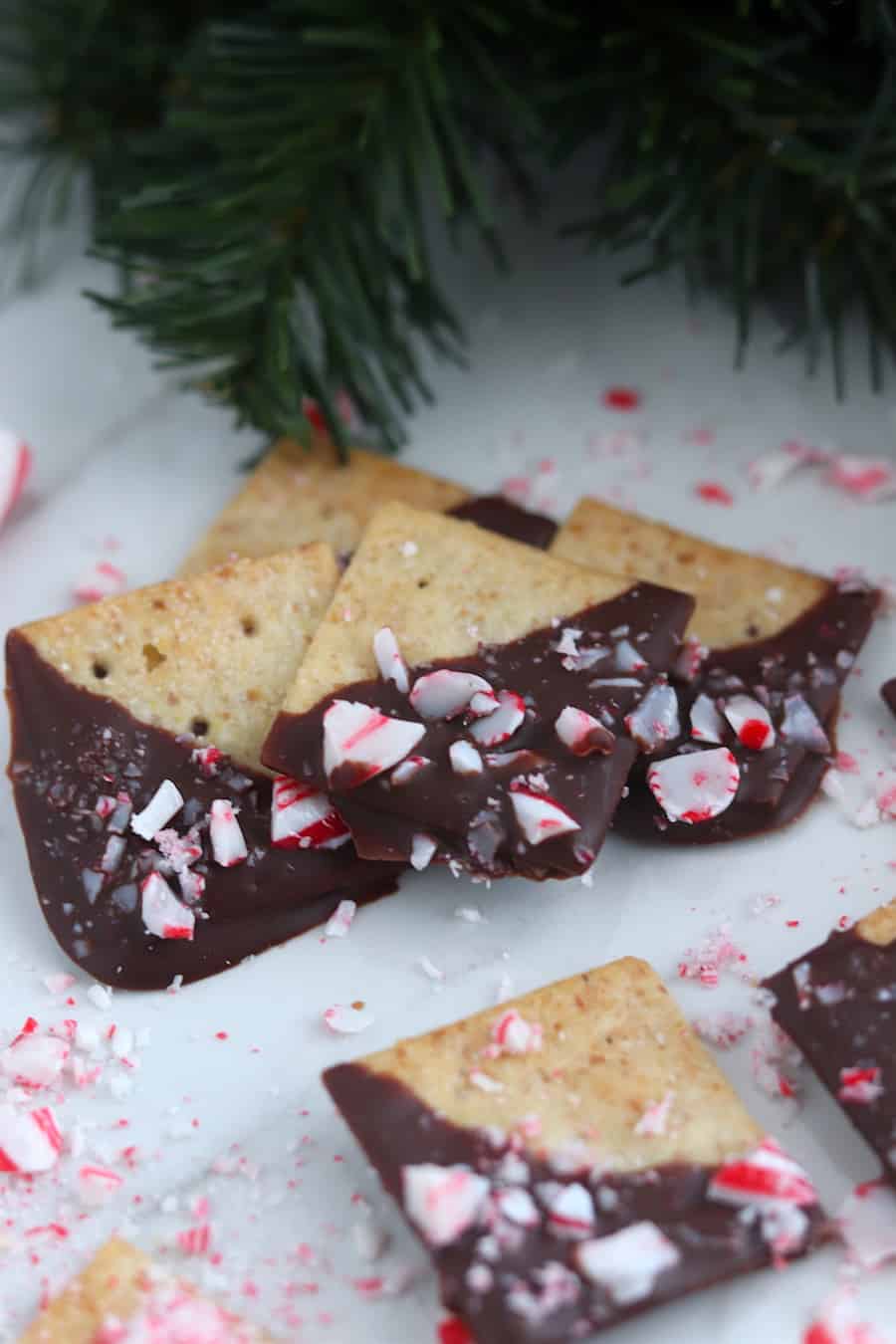 I'll for sure be making more of these before Santa comes down the chimney because, well, I ate them all. HA! I regret nothing.
Give them a try and let me know what you think! Like I said, STUPID easy. You can whip them up before you run out the door! People will think you spent HOURS on these!
Happy Holidays Friends!!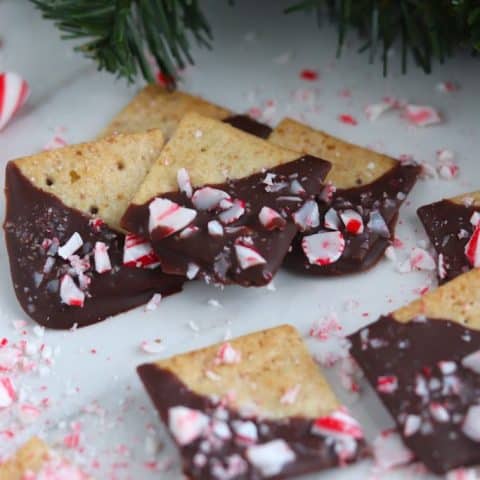 Sweet & Salty Dark Chocolate Candy Cane Crackers
Yield: ~68 crackers

Prep Time: 10 minutes

Total Time: 10 minutes

These sweet & salt dark chocolate sea salt candy cane crackers are SO simple and quick to make, but look like you spent hours on them!
Ingredients
1/2 cup dark chocolate chips
2 tbsp coconut oil
1 box SimpleMills Sea Salt Almond Flour Crackers
3 candy canes, crushed
Instructions
In a microwave safe bowl combine chocolate and oil. Heat in the microwave for ~2 minutes, stopping every ~30 seconds to stir.
Dip crackers into the chocolate, coating halfway. Place onto a parchment paper (or spill matt) lined baking sheet and sprinkle with candy cane pieces.
Repeat for remaining crackers.
Refrigerate until chocolate is hardened.
Enjoy!
Notes
I used Lily's Sweets Sugar Free Dark Chocolate Chips
Nutrition Information:

Amount Per Serving: Calories: 20Total Fat: 1.4gCarbohydrates: 2.6gProtein: 0.3g



Happy eating,
-Colleen
PS. Don't forget to pin this recipe for later! Everyone will be asking how you made them 😉
Want more chocolatey goodness? You might like these recipes:
High protein chocolate cake batter dip
Dark chocolate almond butter bark
Low-Sugar Dark Chocolate Chip Cookie Cake Skillet