Here we go! Another full day of intuitive eating eats! If you follow me on Instagram you know what on Wednesdays I take you along with me in my Insta stories to show you everything I eat in a day. This is intended to show you that every day truly is different and that "perfect" eaters do not exist! Here is a re-cap of the most recent What I Ate Wednesday series!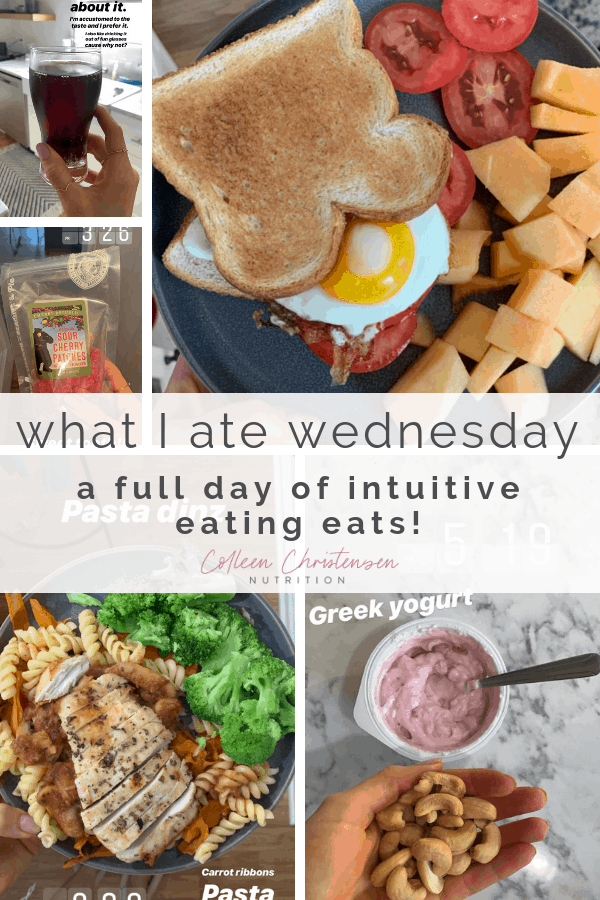 The morning started off by missing my workout, bummer but no big deal. Didn't let it ruin my day or alter what I had planned! That includes NOT changing the way I ate! I started with a little morning snack of crackers and cottage cheese.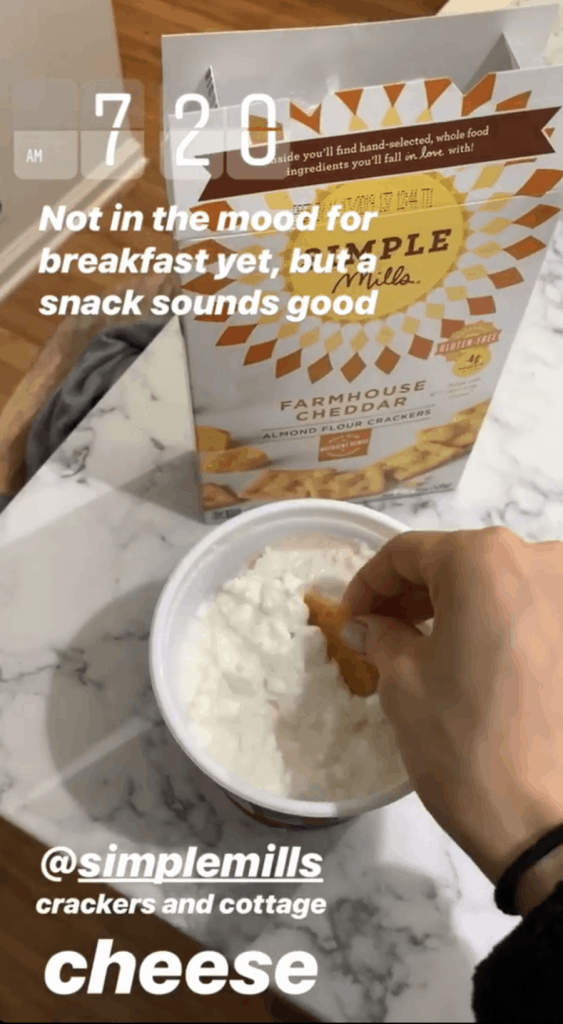 When I felt a little more awake and ready to cook breakfast I made a lil' breakfast sammie with some cantaloupe.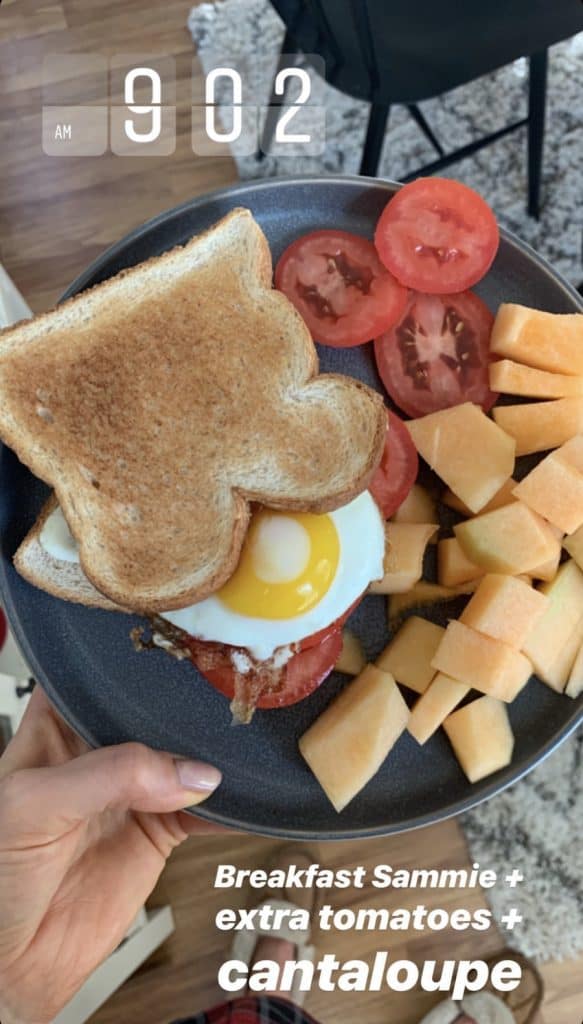 Next mid-morning I got hungry again and had a RANDOM snack of leftover Kodiak Cakes mini cornbread muffins (You can get some here!)  I had made a few days earlier to go with chili, some more cottage cheese (What can I say, it sounded good!) and some cauliflower I had chopped.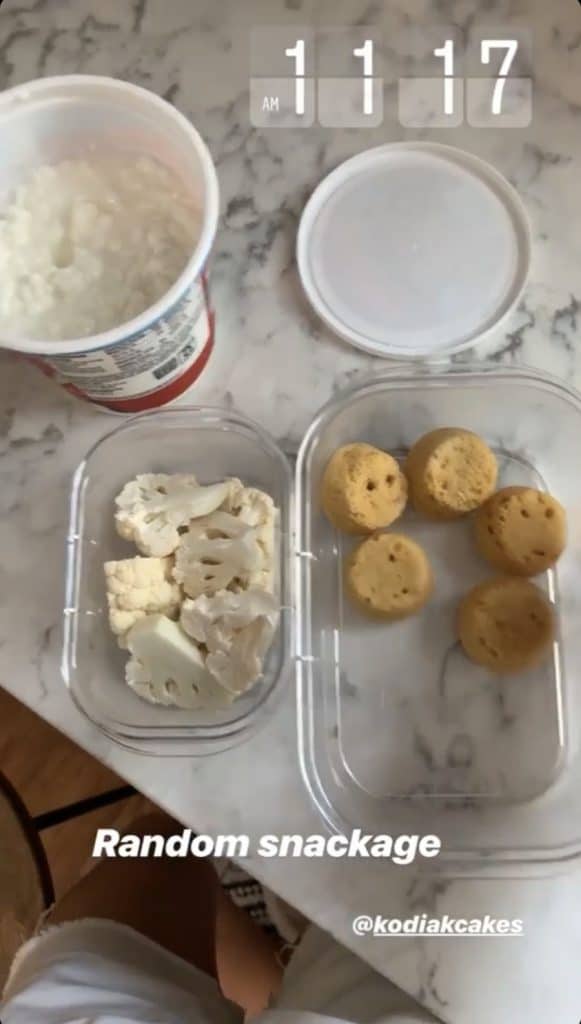 For lunch I had another sandwich. Yup. Multiple pieces of bread in a day. TOTES fine, guys. This was easy and quick, so that's what I went with. This sandwich was tuna salad (I have a killer cranberry pistachio tuna salad recipe here) with tomatoes and some more cantaloupe on the side.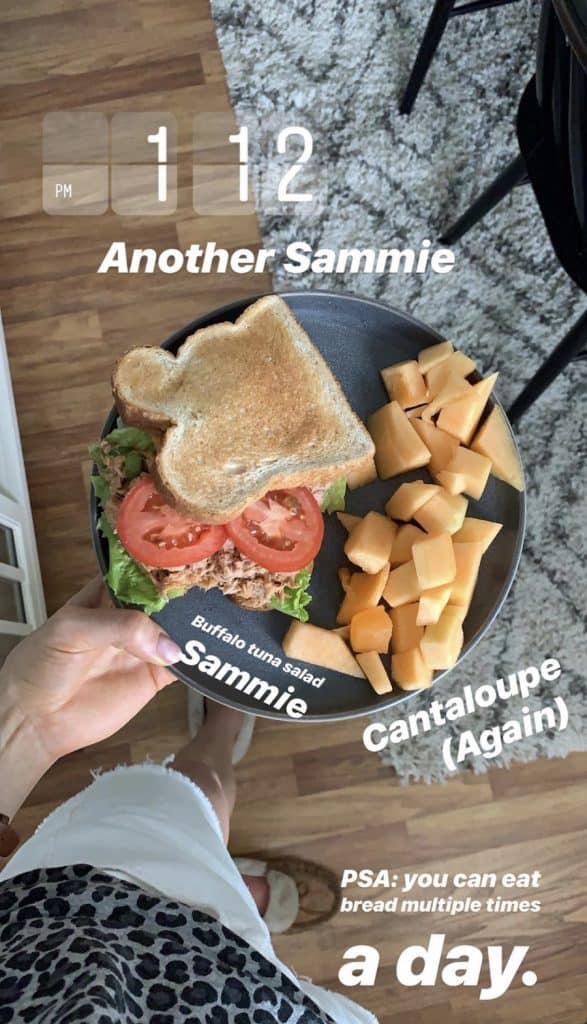 Then, I had some diet coke. YUP. DIET COKE. Personally, I enjoy diet coke. I grew up drinking it and have developed a taste for it VS the regular. It satisfies me. Now, you might be thinking "But diet! Diet culture is telling you you need to drink that!" But, no. Sure it started out that way, but like I said, I've developed a preference for it. Wouldn't it be just a rule-y for me to say I CAN'T have diet coke as it would for me to say I HAVE to have diet coke? Having no food rules is all about YOU making the decisions here. And that's what I did here. I wanted some, so I had some. Moving on.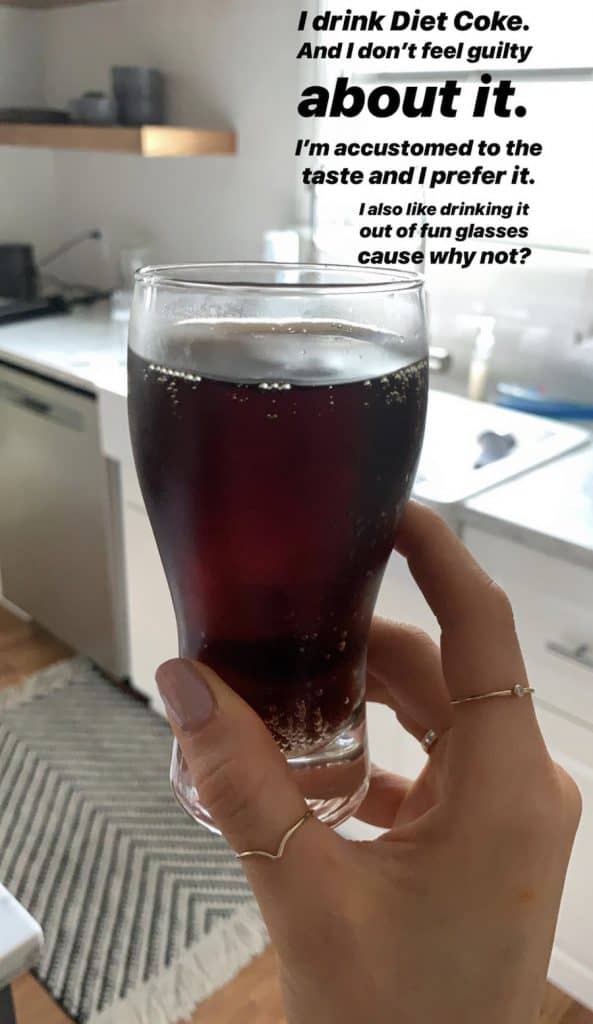 Mid-afternoon I had a hankering for a sweet treat. We had some of these Cherry Republic deliciousness in our pantry so I snagged a few of those between seeing clients.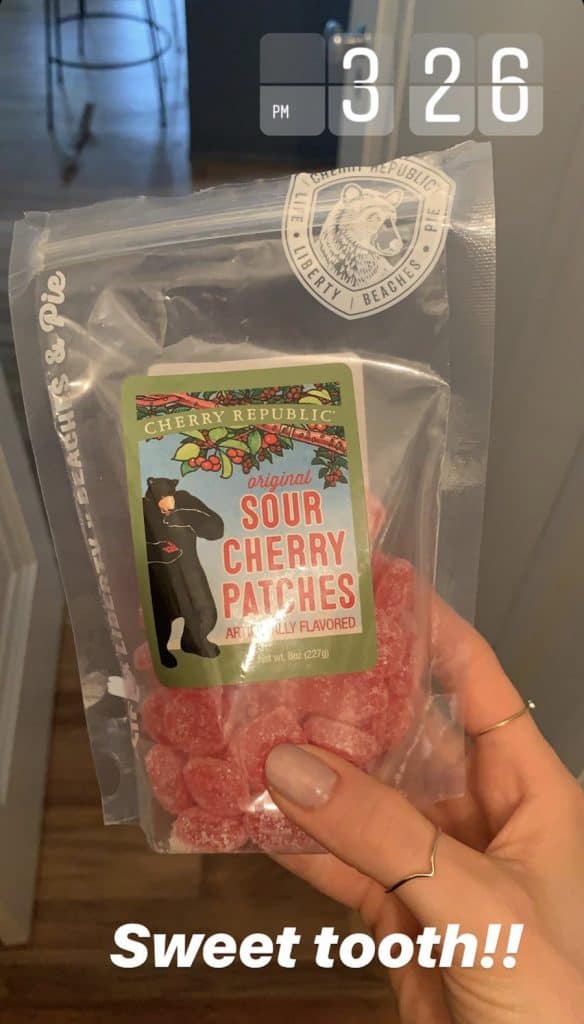 Pre-dog walk I usually always have a snack. Today's was yogurt and cashews. I've been LOVING cashews lately. They were something that I used to seriously fear because they were higher in calories and fat than I was comfortable with, but now with no food rules I can enjoy them again! And they're freakishly delicious and filling!
If you're in the phase where you couldn't possibly think about eating something that high in calories and fat be sure to download my free e-book, which will walk you through how to break your food rules and find food freedoms so you can enjoy things like cashews again too! Snag your copy here.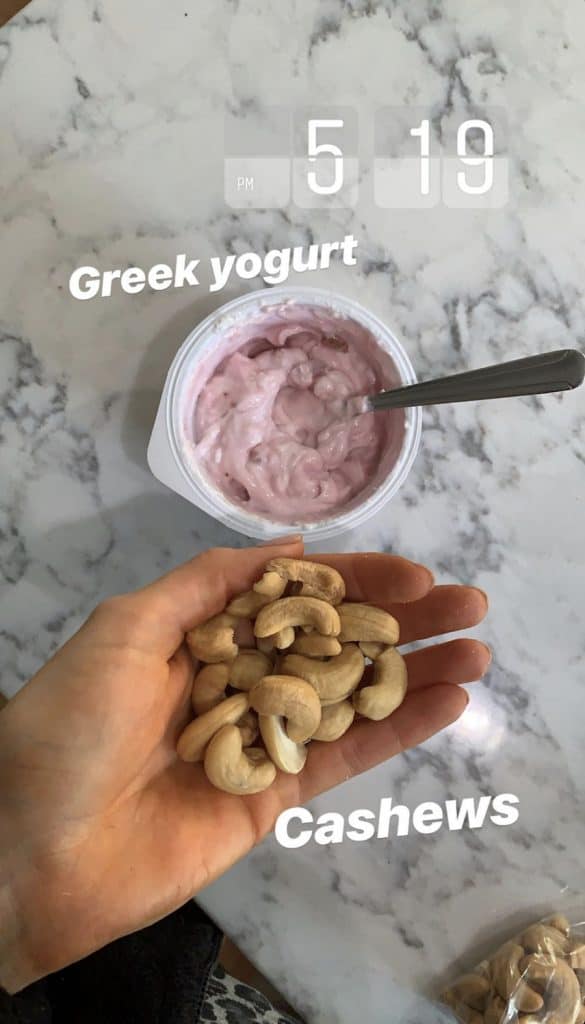 Now DINNAH! Random dinner of carrot ribbons, pasta, chicken, and broccoli. Now I know pasta replacements are, like, all the range. But…just don't. Sure I love carrot ribbons and zoodles but they are NOT pasta. I ALWAYS eat them with real pasta. And this was just plain white pasta, not even whole wheat. Why? I literally wanted to eat this shape. We had whole wheat pasta and high protein chickpea pasta, too. But, this is what sounded best to me so I had that!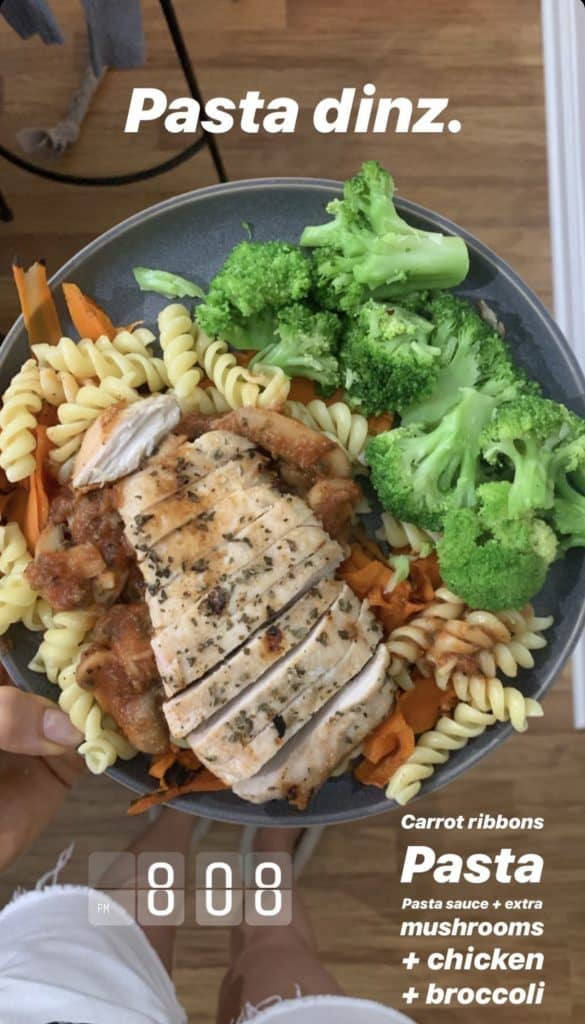 And that's a wrap for this week's what I ate Wednesday!
Let me know what you think of this day in the comments and if you got any new meal or snack ideas!
XOXO
-Colleen
For More What I Ate Wednesdays take a look at these: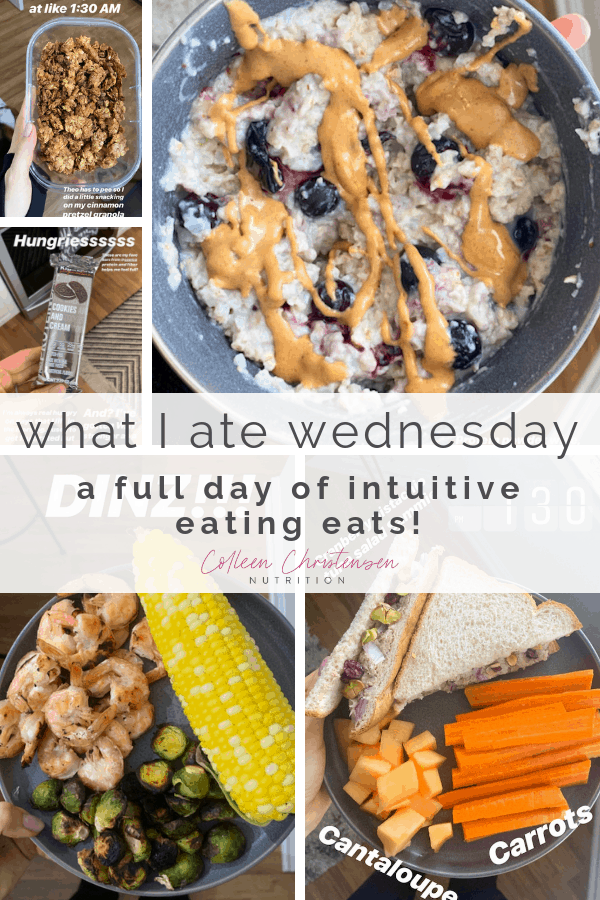 This blog post contains affiliate links, which means that if you click on a product link, I may receive a commission. All opinions are my own, and all brands featured represent what I personally like and support. This blog is a participant in the Amazon Services LLC Associates Program, an affiliate advertising program where I earn advertising fees by linking to amazon.com.