On Sundays, we eat pizza.
This has held true for the past three years.
Exceptions: Major holidays that fall on Sunday…. mmm, Yep, that's about it.
Usually, if I am being honest, it is a frozen thin crust pizza paired with soup or broccoli and mac n cheese. And I am talking the canned condensed soup and florescent elbows. And I love it. I know this might actually appall some people, but I am okay with that.
Nutrition 101: It's about balance- all foods fit.
We do get creative and make our own pies now and again, but pizza crust has always been something that has intimidated me. I worked in a pizza kitchen for a hot second right after college- and I am pretty sure I made the pizza dough wrong each time- Whoops!
Trader Joe's pizza crust is a LIFESAVER for home made pizza pies. Plus, they have whole wheat dough, which this RD digs. Try this super simple recipe in place of your next pizza night instead of reaching for the cardboard box. With how easy this crust is to work with, we will definitely be doing less frozen ones.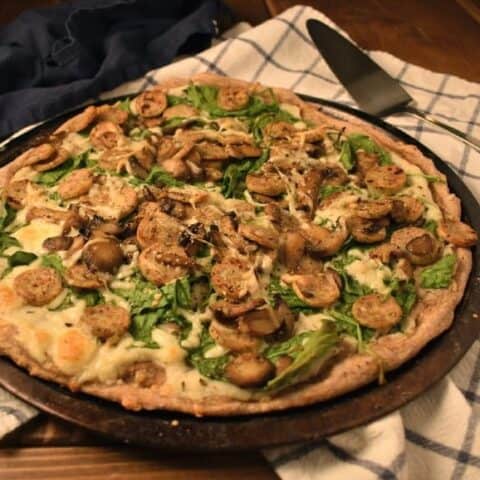 Whole Wheat Chicken Sausage, Spinach and Mushroom Pizza With Creamy Cauliflower Sauce
Ingredients
8 oz whole wheat pizza crust
1.5 cups cauliflower, steamed
1/4 cup milk of choice
1/2 tsp onion powder
1/2 tsp garlic powder
3 cups fresh spinach
1/2 cup canned mushrooms
2 chicken sausages
2 oz low fat mozzarella
Instructions
Preheat oven to 400 degrees F
Stretch pizza dough until you have a thin, 12" crust. Place on lightly greased and floured pizza pan
In a food processor or blender, combine steamed cauliflower, milk, onion and garlic powders until smooth and creamy.
Slice chicken sausage and sautee in a stovetop pan with mushrooms for 2-3 minutes
Assemble pizza by first spreading cauliflower sauce, next sprinkle spinach followed by 3/4 of the cheese, sausage/mushroom mixture, top with remaining 1/4 cheese. Top with a dash of salt and pepper.
Bake for 12-15 minutes, until crust is golden and crisp.
Nutrition Information:
Yield:

8
Serving Size:

1
Amount Per Serving:
Calories:

689
Total Fat:

17g
Saturated Fat:

4g
Trans Fat:

0g
Unsaturated Fat:

10g
Cholesterol:

47mg
Sodium:

1054mg
Carbohydrates:

105g
Fiber:

12g
Sugar:

3g
Protein:

33g