Like most kids, no matter what restaurant my parents took me to I always ordered the chicken strips. I know I'm not the only on! I bet you did too, right? Even now, in my mid-twenties, I STILL enjoy some finger lickin' strips. I think they are just one of those foods that you'll never totally grow out of, they always hit the spot. Well, our fave fingers have gotten a little makeover. Ready for it? These baked turmeric chicken tenders are a healthier version of that classic childhood basket of goodness!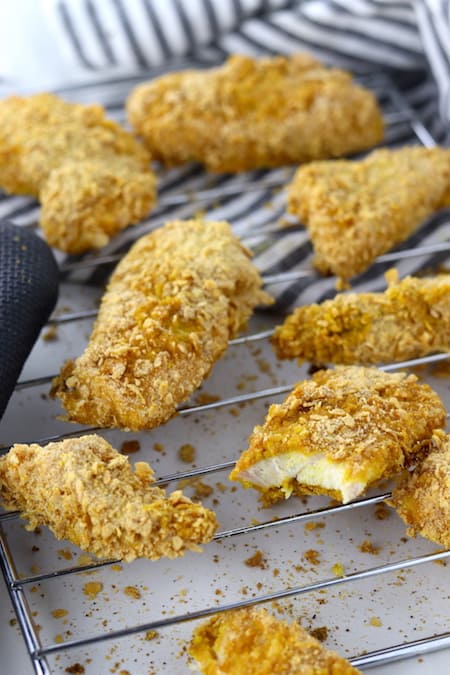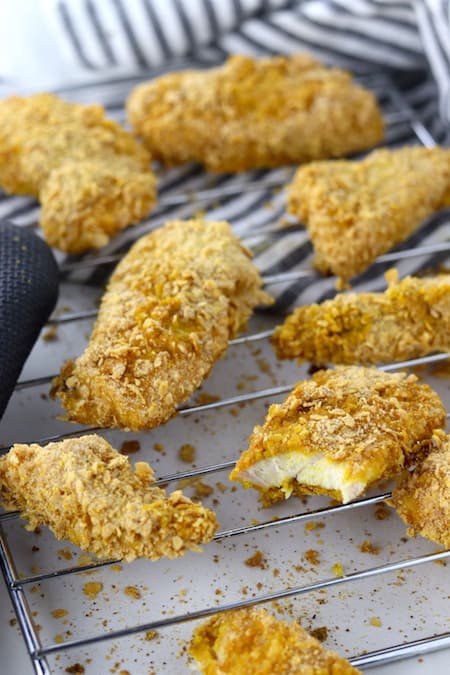 First of all, you may be thinking: "What the heck is turmeric?" If that's you, then let me fill you in.
Tumeric is a spice with loads of nutritional benefits. It's in the same family as ginger and gives dishes a super vibrant yellow-orange color and a great earthy flavor. Curcumin is the compound in turmeric that gives it most of its prized health status. Here are some of the benefits that may go along with it:
Powerful antioxidant
Improved memory
Lower risk of heart disease
Ease arthritis
Now, I'm not saying that these are miracle chicken tenders and if you eat them you'll never forget where your keys are again. These are simply potential benefits of the spice. It's important to note that in order to increase the bioavailability of the curcumin (i.e. make sure it is available for your body to use) you should pair it with pepper, which can increase bioavailability by up to 2000%. Woah. So, don't skip the pepper in this recipe!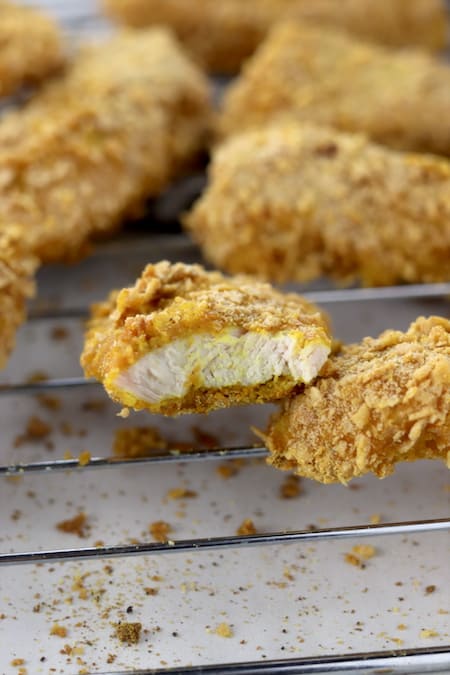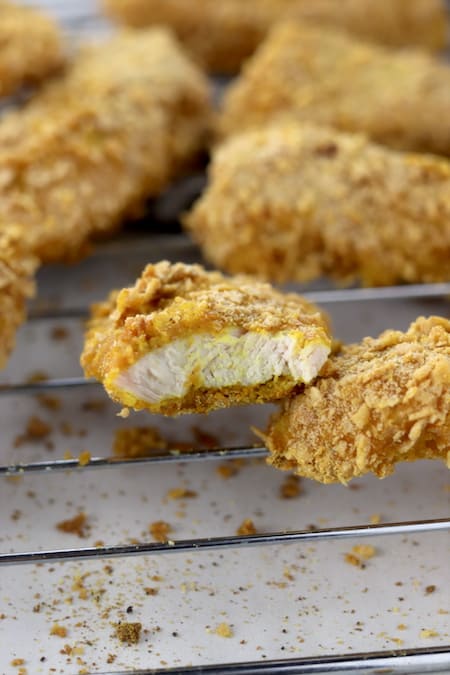 Additionally, these tenders are bakes VS fried, lowering the amount of fat in them. Using whole wheat VS white flour is another little simple switch making these strips a healthier option.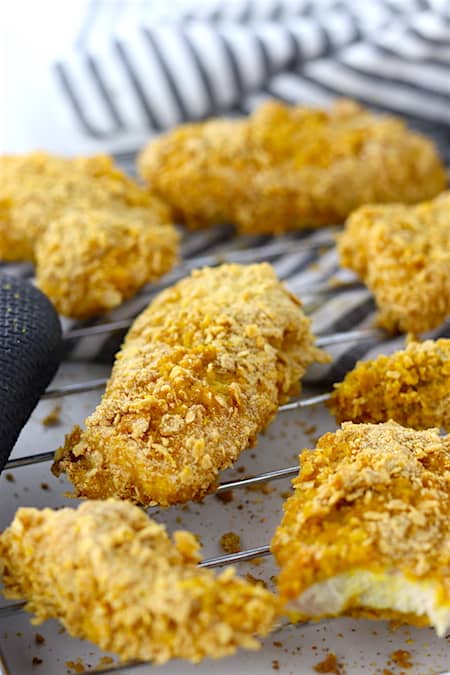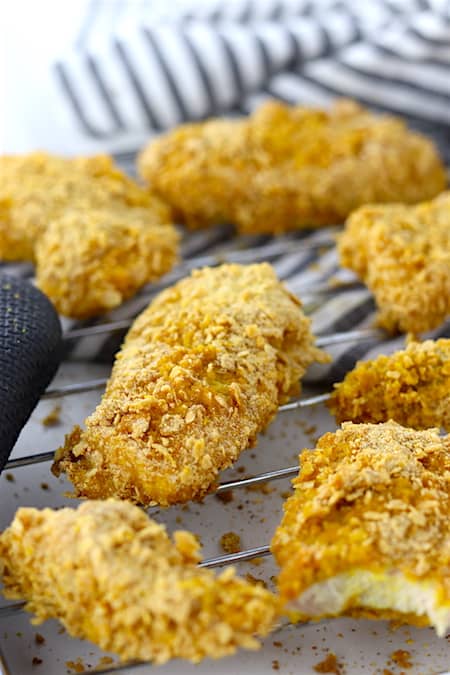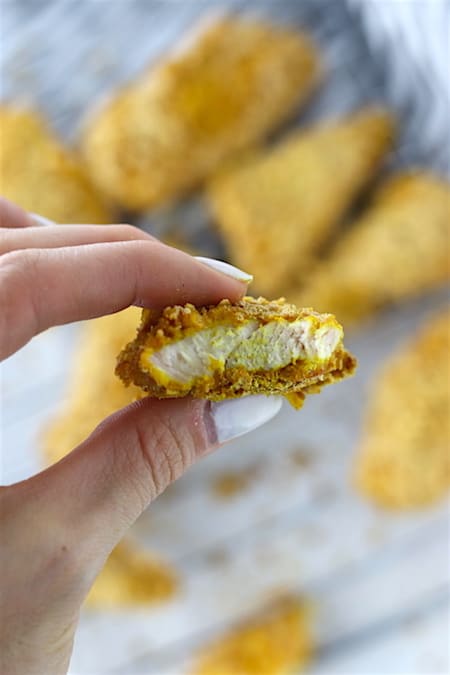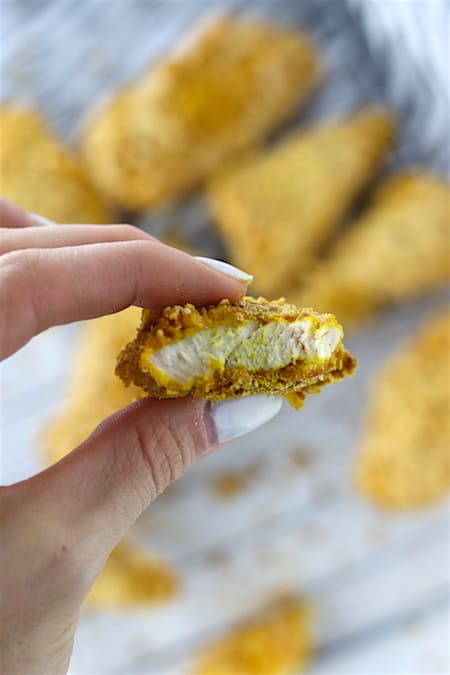 All the health stuff aside, these things are GOOD. There is no double that these go over well with adults and kiddos alike. You can use a dipping sauce if you like, but really, you won't need to. The turmeric and onion powder give them so much flavor. I could literally eat these morning, noon and night. Food jags aren't just for those under 10! Make them and see for yourself, don't take my word for it!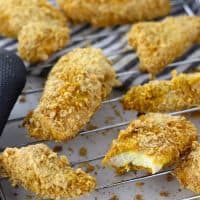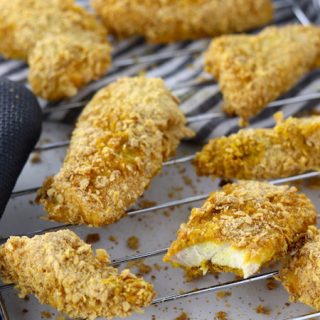 Baked Turmeric Chicken Tenders
A childhood favorite gets a healthy makeover in the form of these bakes turmeric chicken tenders! They're lower in fat and calories, but you'd never know!
PRINT RECIPE
Ingredients
1

lbs

boneless

skinless chicken breasts, sliced lengthwise into strips (1/2 – 1")

1

egg

1.5

cups

Corn Flakes

3

tbsp

whole wheat flour

1

tbsp

ground turmeric

1

tsp

onion powder

Salt and pepper to taste
Instructions
Preheat oven to 350 degrees and lightly coat a baking sheet with non-stick spray

In a food processesor or blender combine cornflakes, flour, turmeric, onion powder and salt and pepper. Pulse a few times until lightly ground, you want larger chunks of cornflakes still remain. Pour this mixture into a wide mouth shallow dish or onto a large plate (preferably with raised sides)

Wisk egg in a bowl to create a wash for the chicken

Follow these steps to bread the chicken: Submerse chicken strip into egg wash. Next, roll the egg washed chicken into the cornflake mix, fully coating. Place on baking sheet.

Repeat the above steps for all chicken strips.

Bake trips for ~35 minutes

Remove from oven and enjoy!
click To display nutrition info
Nutrition Facts
Nutrition Facts
Baked Turmeric Chicken Tenders
Amount per Serving
% Daily Value*
* Percent Daily Values are based on a 2000 calorie diet.
Happy eating!
-Colleen
Pin this recipe to your dinner Pinterest board so you don't lose track of these baked turmeric chicken tenders!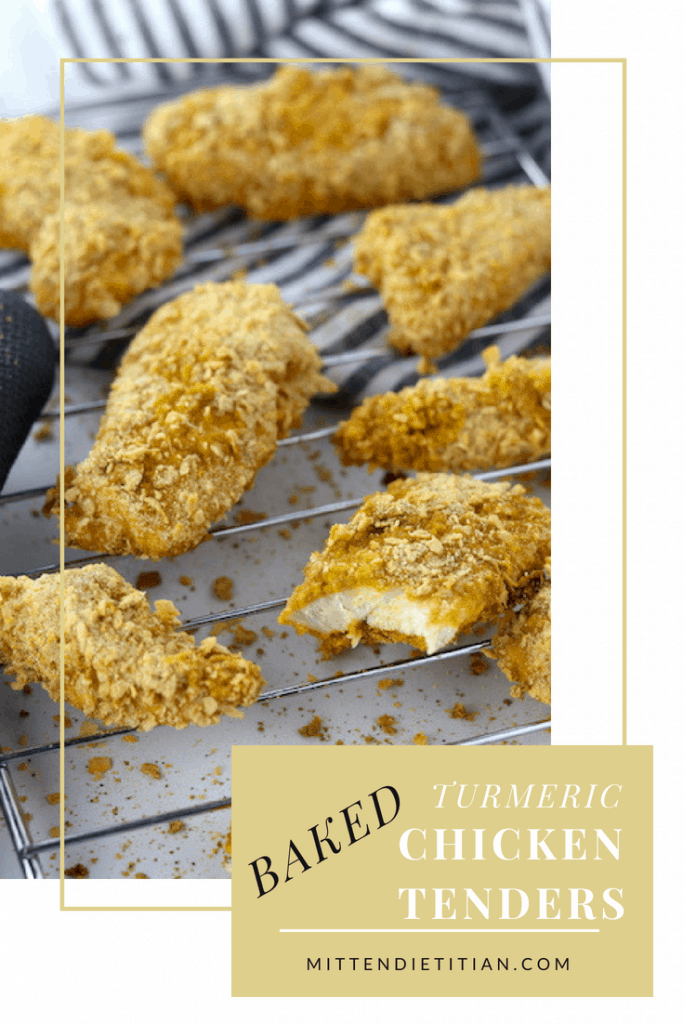 Looking for more comfort food? You might like this vegan broccoli mac and "cheese"!!