Quick, healthy, and delicious weeknight dinners. They're like GOLD, am I right? I'm always searching for new ways to change up my weekly dinner routine because, honestly, even I get into ruts! Have you ever found yourself in the same boat? If you said "yes", then this recipe for simple & quick turkey bolognese is for you! And if you said "no"? PUH-LEASE teach me your ways!
Bolognese sounds super impressive to me. It makes me think of Julia Child or a fancy Italian restaurant. In other words, it sort of makes me think who the HECK am I, a simple mid-western girl, to be making such a fancy dish? The answer to that question: the perfect person! Seriously guys, "bolognese" sounds intimidating, but it's sort of stupid simple.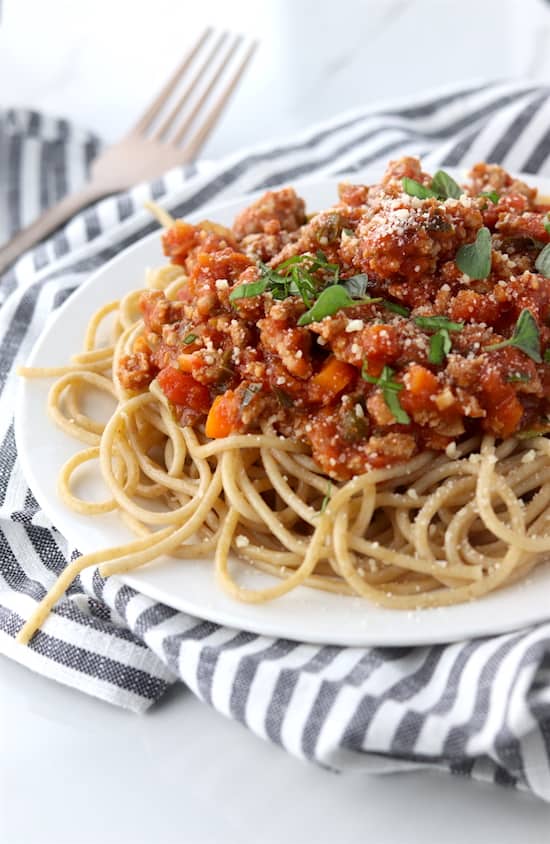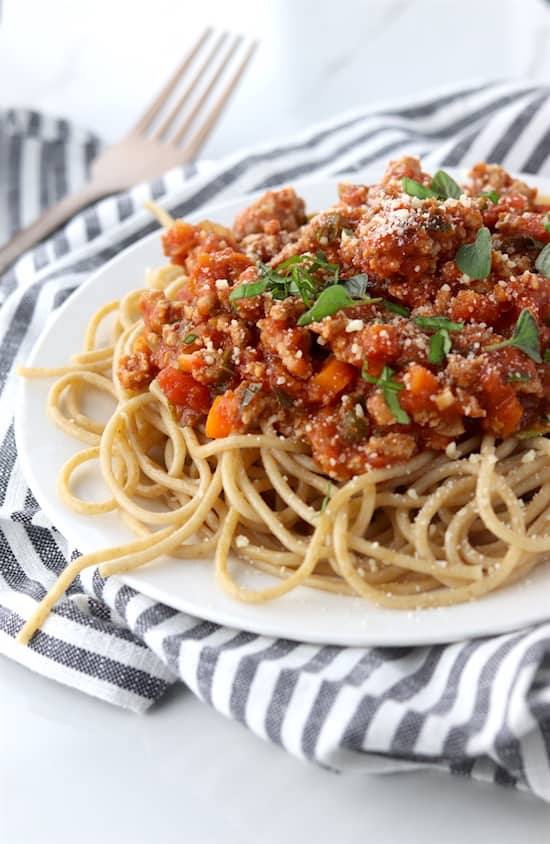 One of the best parts of this recipe is that I literally had to buy NOTHING for it. The ingredients are pantry staples that you likely already have, like canned tomatoes, garlic, and onion.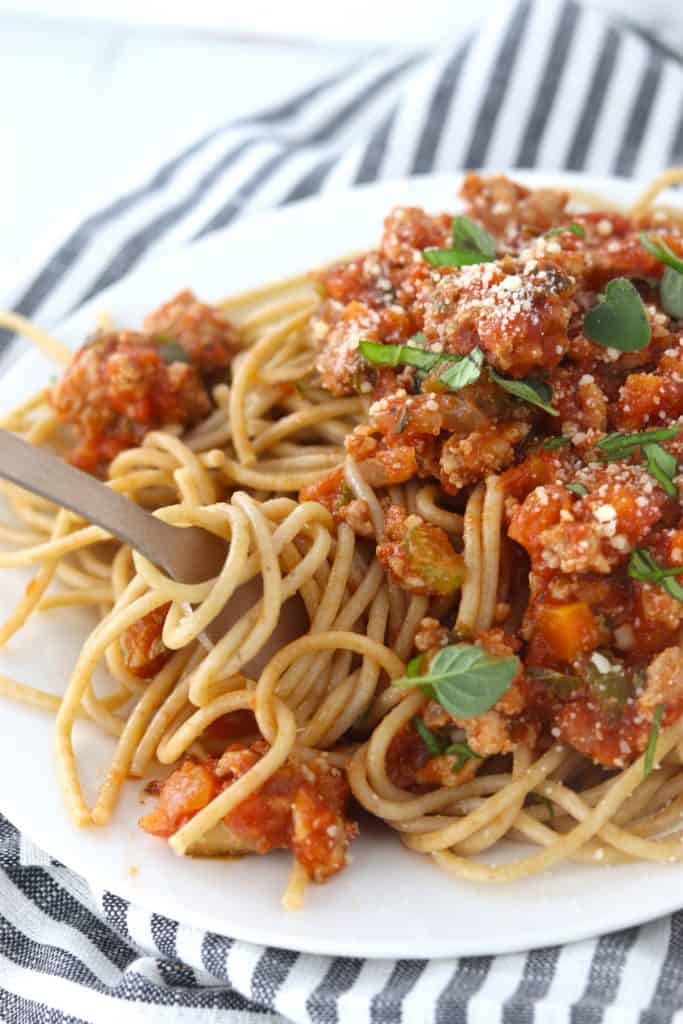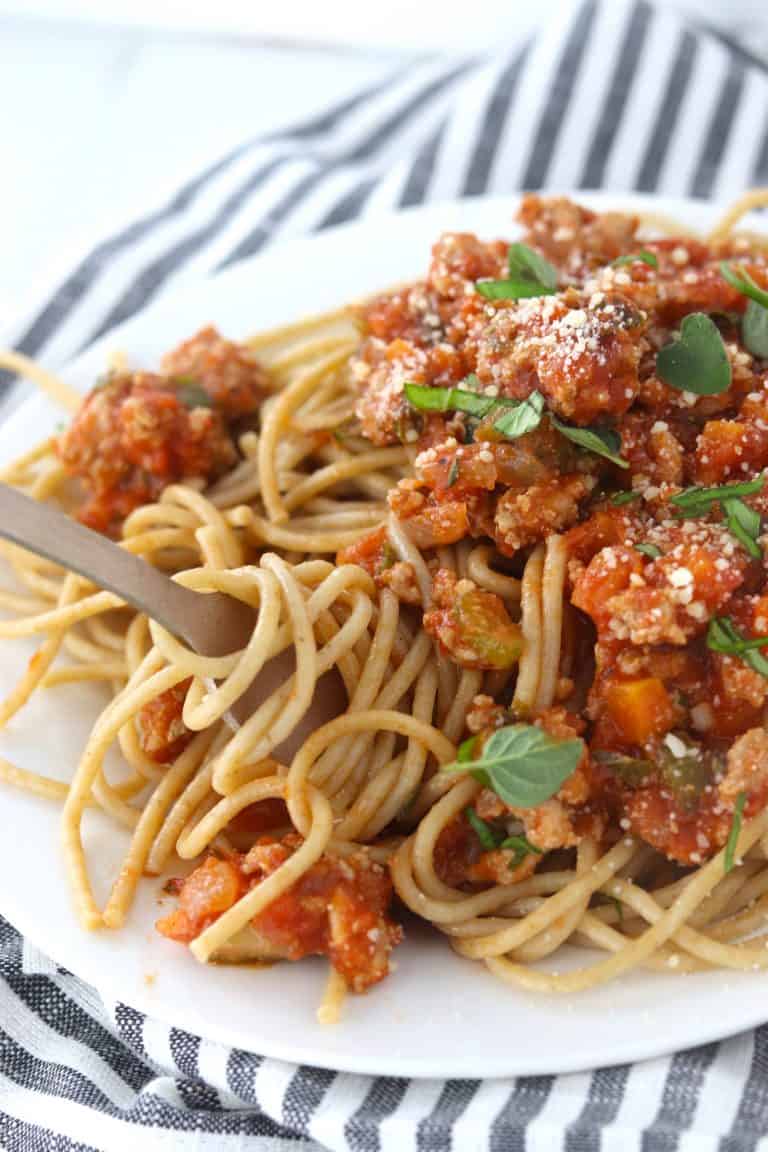 Here are a few reasons that I'm totally obsessed with this dish:
Like I mentioned, it's crazy easy. You need zero expert cooking skills to make it!
No added sugar. Most of the pasta sauces out there that you buys in the grocery store have added sugar, which is such a bummer. This recipe doesn't have ANY!
Loaded with veggies. And if you want to add more, I totally won't stop you! Adding more bulk by doubling the veggies is a great way to sneak in a few extra servings and reduce caloric intake.
High protein and low fat. Using lean, ground turkey is a great substitute for standard ground beef if you're looking to keep it on the lighter side.
Um, it's delicious! Obviously it's got to pass the taste test, and it sure did!
This simple & quick turkey bolognese is like classic spaghetti got a makeover. Fresh, wholesome ingredients, delicious taste and packed with nutrition! I'm. In. Love.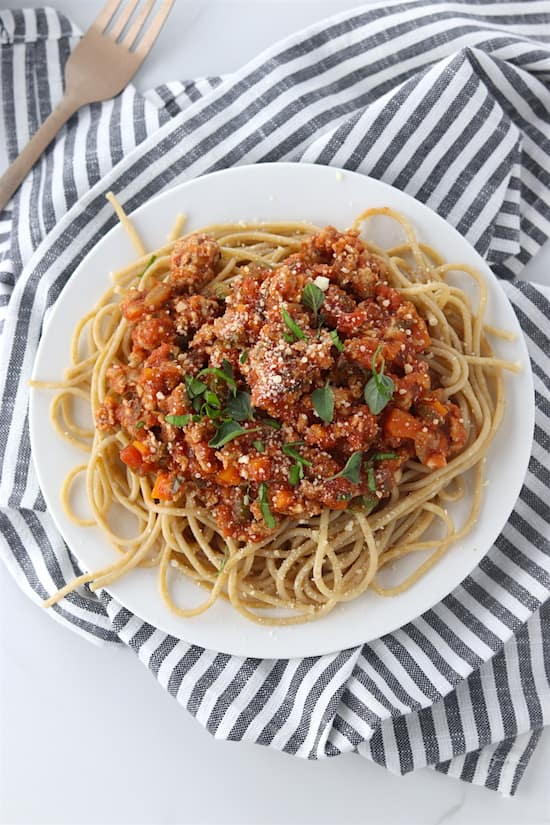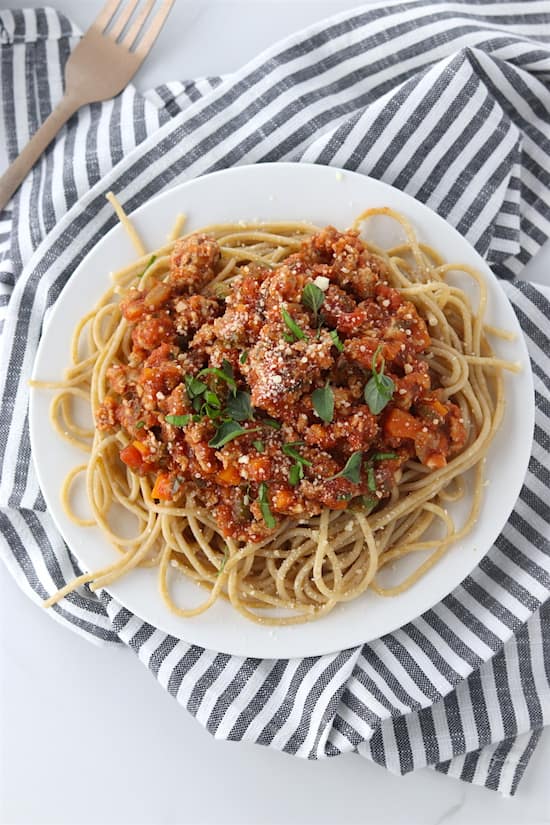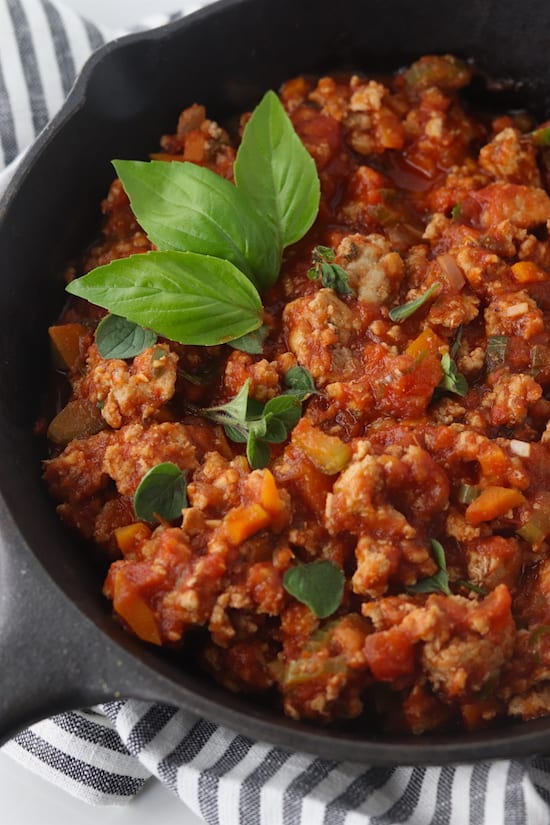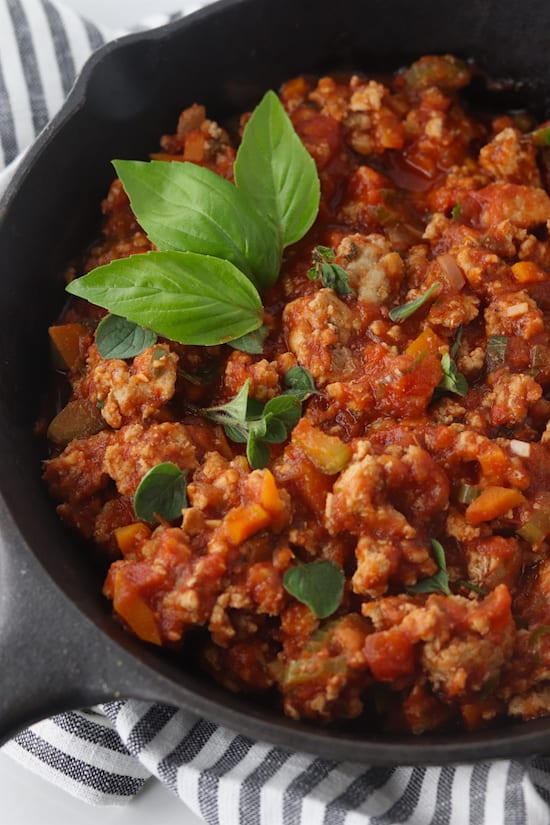 After you make this recipe once you'll want to work it into your meal routine EVERY week! it's that good guys.

Simple & Quick Turkey Bolognese
Prep time:
Cook time:
Total time:
This simple & quick turkey bolognese is the perfect weeknight meal! It's packed with fresh, wholesome ingredients and will be sure to impress!
Ingredients
2 large garlic cloves, minced
1 small onion, diced
1 lb lean ground turkey
1 medium carrot, diced
1 stalk of celery, diced
4 cups crushed tomatoes
¼ cup fresh oregano, roughly chopped
¼ cup fresh basil, roughly chopped
Instructions
In a large saucepan over medium-high heat, simmer garlic and onion in ~1/4 cup water until translucent and aromatic, ~2 minutes
Add ground turkey to the saucepan and cook for ~5minutes, breaking up with a spatula and incorporating onions. Turkey should lose it's pinkness.
Add in carrot and celery, cook for an additional ~3 minutes, mixing all saucepan contents together until evenly distributed. You may need to add a few tablespoons of water here in order for veggies to soften.
Lastly add crushed tomatoes, salt and pepper. Let simmer for 1-2 minutes until tomatoes thicken slightly to create a sauce.
Serve over pasta of choice!
Notes
You may substitute died basil and/or oregano. Use ~2 tbsp dried of each in place of ¼ cup fresh.
Nutrition Information
Calories:
232
Fat:
10.3
Carbohydrates:
13.3
Protein:
24
Be sure to stash this little piece of gold away on your Pinterest board so you don't lose it! Honestly, you might cry if you do- and I'd probably cry for you.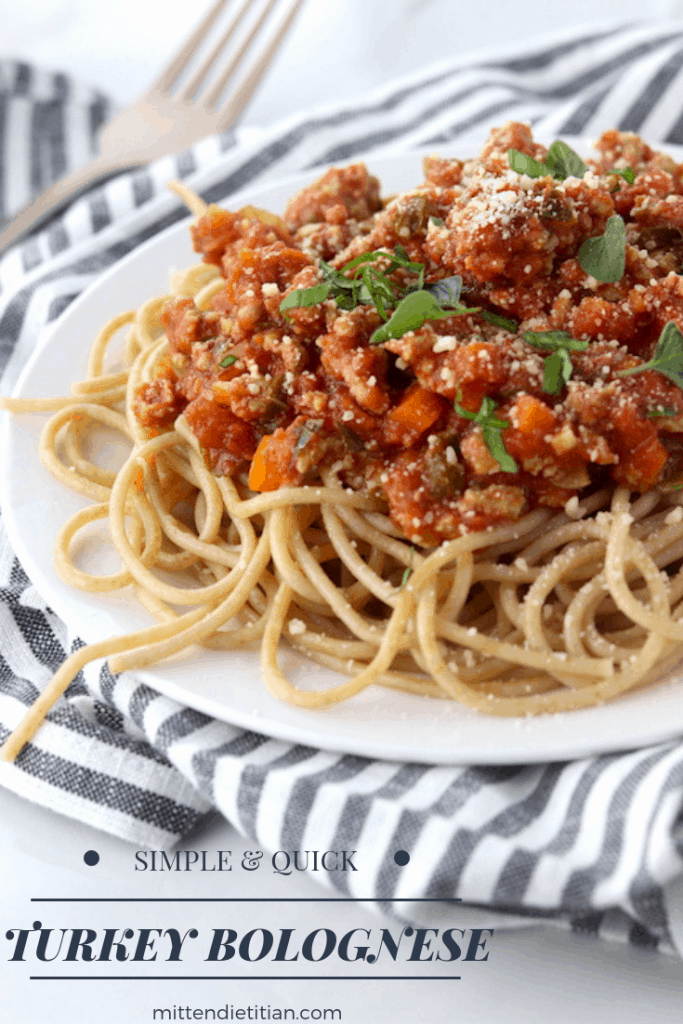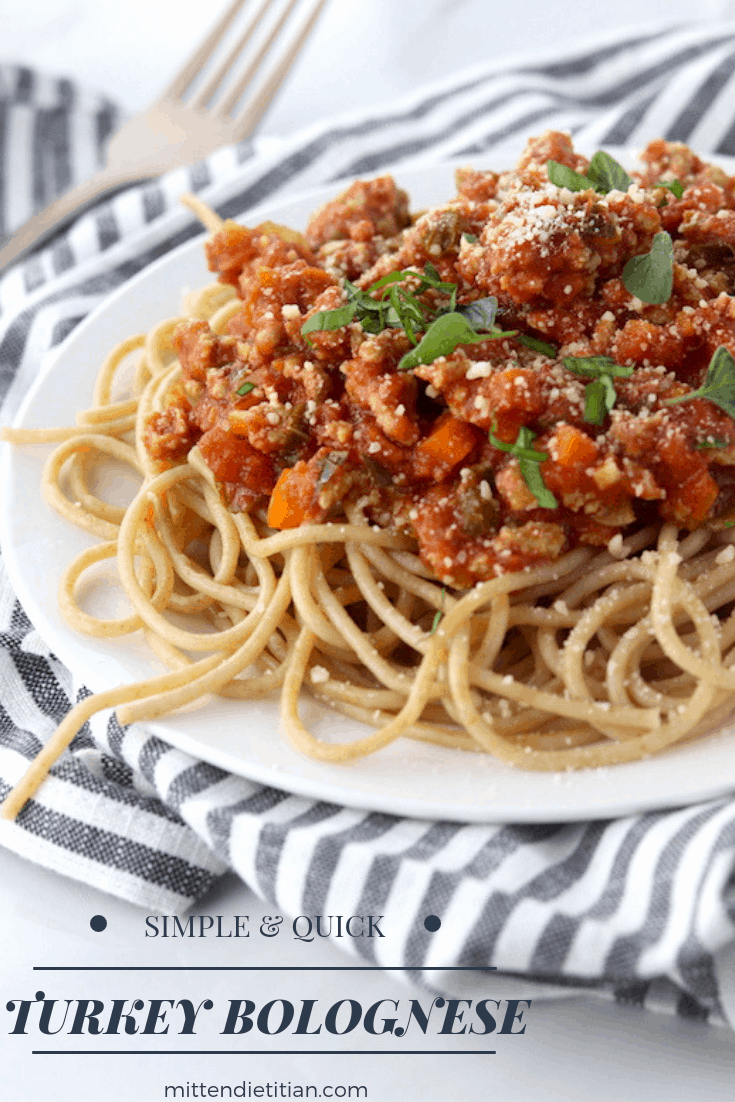 Happy eating,
-Colleen