I'd like to preface this post with two things. Firstly, I am not a vegan. I am a hard-core carnivore all the way. Secondly, I may get thrown in the dog house for posting this. Seriously, so just know that is how much I like you guys. Okay, now that we have those little housekeeping tidbits out of the way, it's time for you to get excited, because I'm ecstatic! I love all food, but these vegan sloppy joe sweet potatoes give me ALL of the feels!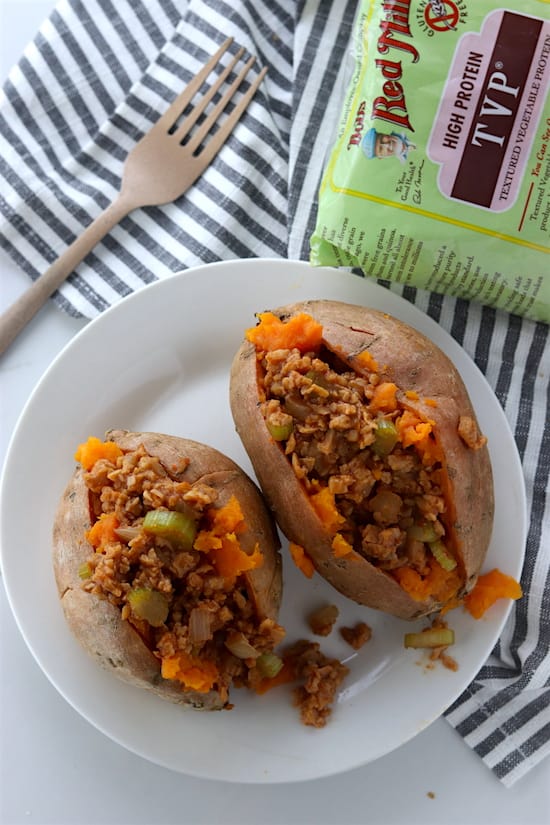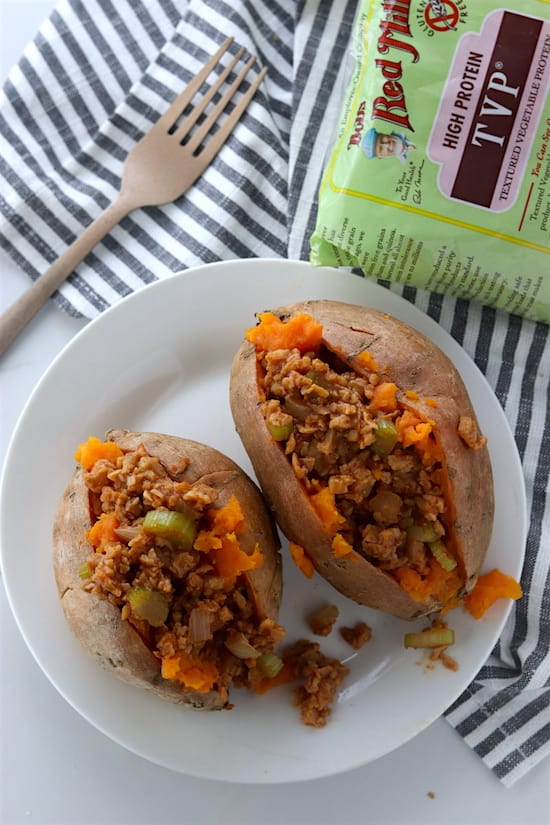 Before we delve into the goodness of this recipe I think I owe you an explanation about the whole dog house thing. You see, my fiance's name is Joe. And Joe really doesn't like the term "sloppy Joes". The first thing he said to me when he walked into the kitchen when I made this recipe was "Now, Colleen, what are these called?" I unsuccessfully tried to hide my smirk as I answered "clean Betties". So, keep me in your thoughts since I'm choosing to keep the traditional name of "sloppy joe". I'm mostly kidding guys, he'll understand. However, the story of what happened in the kitchen is 100% truth.
Like I said, I'm totally not a vegan by any means, but I am a devoted Meatless Monday-er. So, every week we have at least one entirely plant based meal, sometimes more. A plant based diet is great for both the environment, by reducing fuel emissions, and also your health, by helping to lower saturated fat intake. Plus, it can actually save you money since plant based foods like bean, lentil and grain products can be much less expensive than meat. I don't know about you, but I'm all about a little extra change in the bank.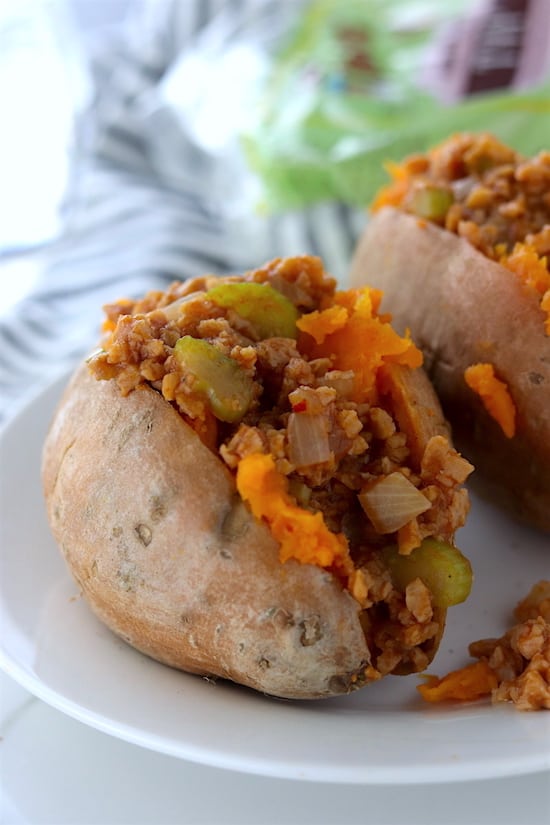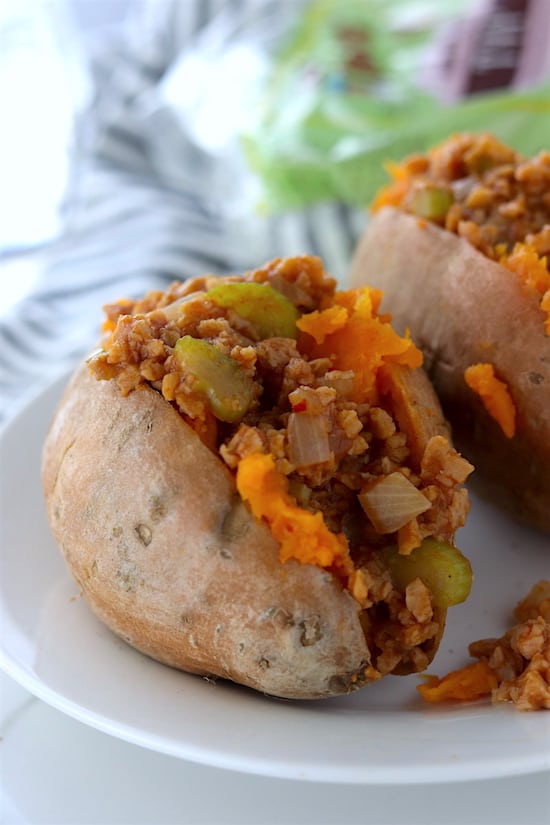 Whenever I plan a meatless meal I make sure that it has a good protein source. Protein is important for maintaining (and gaining) muscle mass, keeping you full, and stabilizing blood sugar. When I'm looking for my protein source I always aim for a complete protein, meaning that it provides all essential amino acids (the ones our body can't make), which are the building block of protein.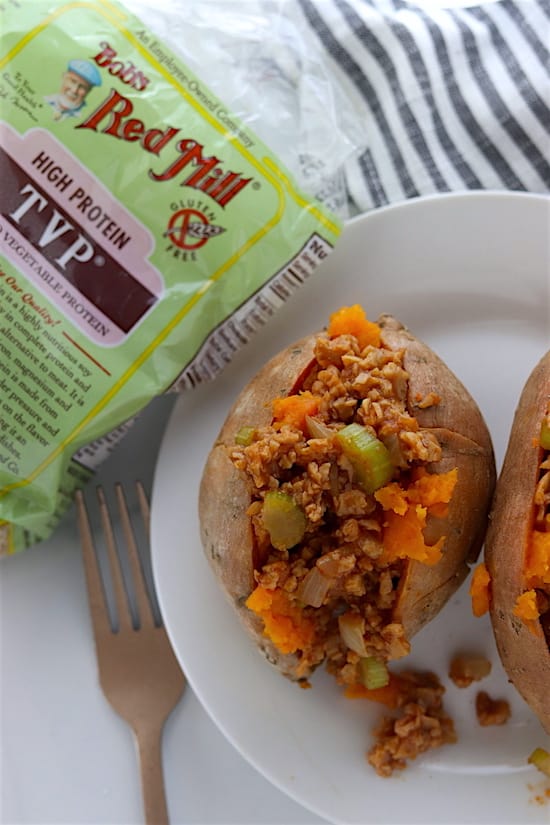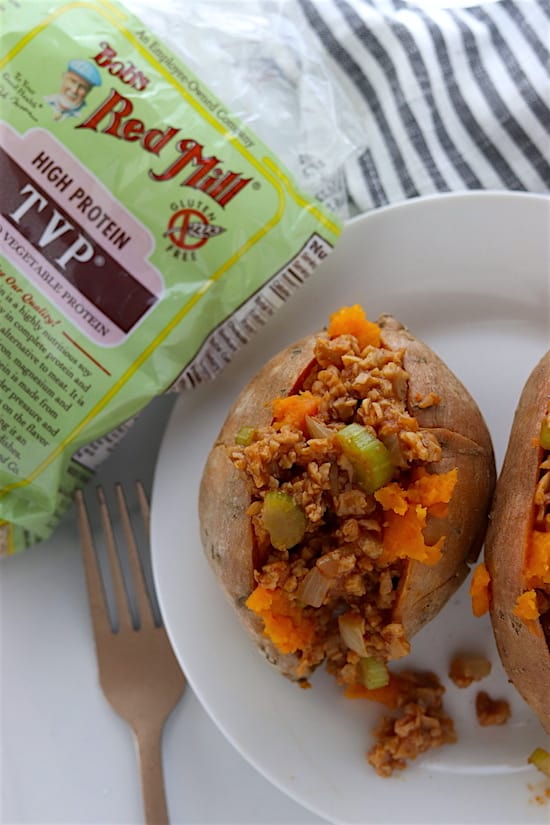 Recently, I tried Bob's Red Mill Textured Vegetable Protein (TVP) and let me just tell you guys flat out, I am IN LOVE! This vegan meat substitute hits ALL of the marks. I love that it's high in protein while being low in calories and fat (12g protein, 80 calories, and 0g fat). It's a great sub for any recipe that calls for ground meat, or you can totally use it in addition to meat for a little extra plant based protein punch.
Now that I've thoroughly professed my love for Bob's Red Mill TVP, let's get to the reason you're all here, shall we? Like I said, these vegan sloppy joe sweet potatoes make me giddy. They're a total comfort food while still being super healthy and nutritious. Best of both worlds, huh? And the texture and taste of TVP is phenomenal, you'd never know it's vegan!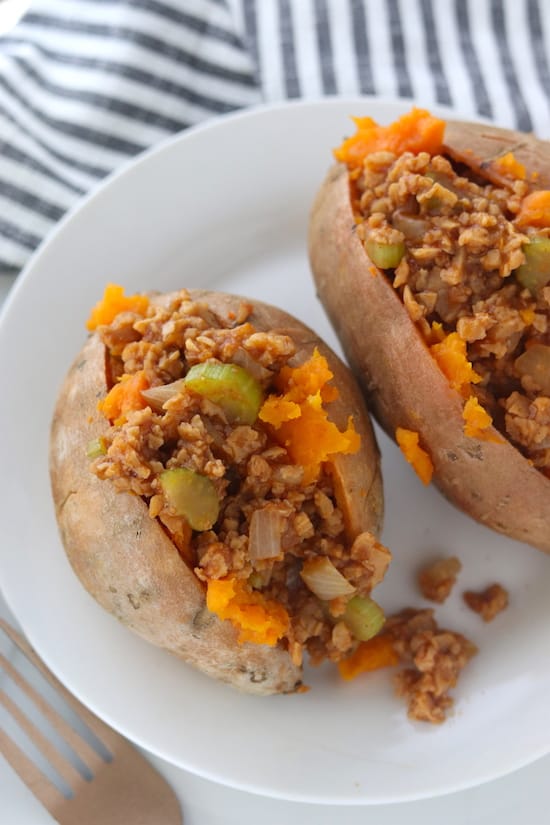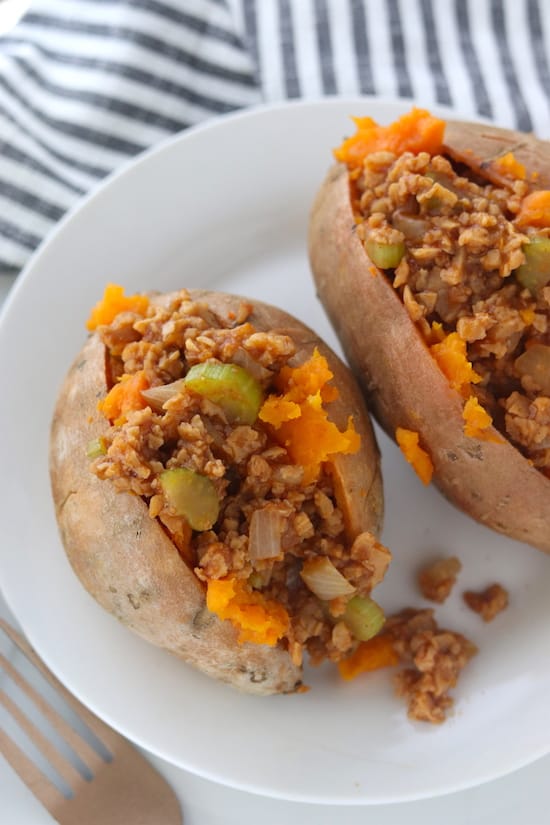 Another great thing about them? You can throw them together in 20 minutes! Are you guys dancing in your seats right now? Cause I am!
You'll win over everyone when you add these to your weekly dinner repertoire. Or, you can totally meal prep these for lunches during the week! You'd be the talk of the lunch room like "Oh, she fancy, huh?" Darn right.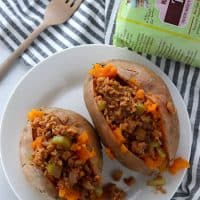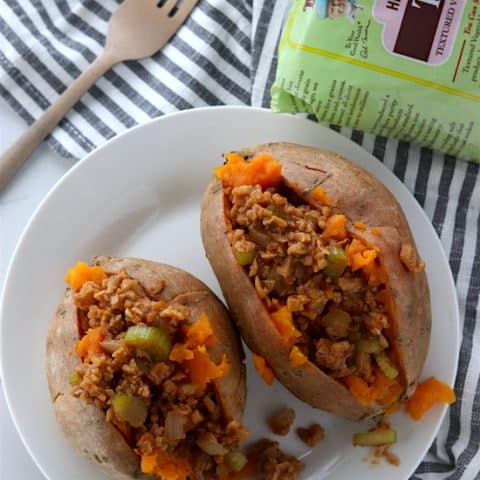 Vegan Sloppy Joe Sweet Potatoes
PRINT RECIPE
Ingredients
4

medium sweet potatoes

washed & scrubbed

1

cup

Bob's Red Mill textured vegetable protein

dry

1

small onion

diced

2

stalks celery

chopped

2

cloves

garlic

minced

1/3

cup

water

1

cup

of tomato sauce *

1

tbsp

brown sugar

½

tsp

chili powder

¼

tsp

red pepper flakes

1

tbsp

worsterschier sauce

Salt and pepper to taste
Instructions
Pierce sweet potatoes with a fork and wrap each individually in a wet paper towel, set aside.

In a medium sized bowl combine 1 cup TVP with 1 cup of water and cover with plastic wrap.

Microwave both potatoes and TVP for 5-6 minutes. Remove TVP and continue cooking sweet potatoes for an additional 3-4 minutes, until soft.

In a large skillet sauté onion, celery, garlic and water for ~2 minutes, until translucent.

Add in tomato sauce, brown sugar, chili powder, red pepper flakes, and worsterchire, stirrin until combined.

Add in TVP, cooking for an additional 1-2 minutes. Season with a dash of salt and pepper.

Slice sweet potatoes lengthwise, creating a pocket. Stuff each potato with ¼ of the TVP mixture.

Serve warm and enjoy!
Notes
*Can also sub 1/2 cup ketchup + 1/2 cup water for tomato sauce
Extra TVP can be added to this recipe to increase protein content, if desired
click To display nutrition info
Nutrition Facts
Nutrition Facts
Vegan Sloppy Joe Sweet Potatoes
Amount per Serving
% Daily Value*
* Percent Daily Values are based on a 2000 calorie diet.
Take a second, wipe the drool, and use the
Bob's Red Mill store locator
to find a retailer near you! Try it and see for yourself. I have a feeling that you'll be just as smitten as I am!
Don't forget to pin this recipe to your Pinterest board for later! You won't want to lose it!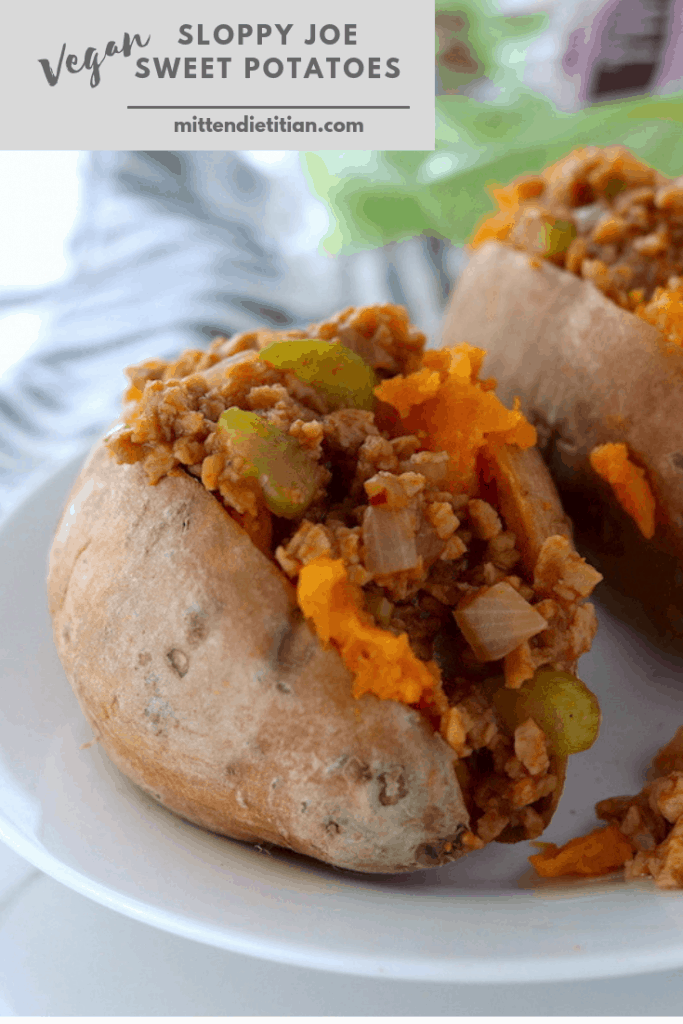 Happy eating,
Colleen
**This post has been sponsored with product by Bob's Red Mill. However, all thoughts and opinions are my own**