I'll admit, I am not a big V-day person. I've never really been super mushy and I've definitely never been called a "romantic". My husband and I don't go out for a special date night on the 14th or sip champagne staring into each other's eyes. Oh, no. We are usually at home in bed with tea and a 30lb loaf of beagle, and me in my paint stained purple sweatpants. Sexy, huh? What I DO try to do each Valentine's day is make a special treat, because, well, that's how I show my love. Shocking, right? Didn't think so. This year I whipped up these whole wheat brown sugar SunButter blossom cookies and Oh. My. GOSH. These babies are the key to anyone's heart!
Don't let the fact that these cookies are whole wheat make you think that they'll taste "healthy". You know what I mean, when it makes them taste more like a slice of bread than a cookie. There is nothing more disappointing than biting into a delicious looking cookie and having it fool you, being more of a doughy cracker. BUMMER! Swapping regular, white flour for white whole wheat flour is a super easy way to up your fiber and whole grain intake without really much effort!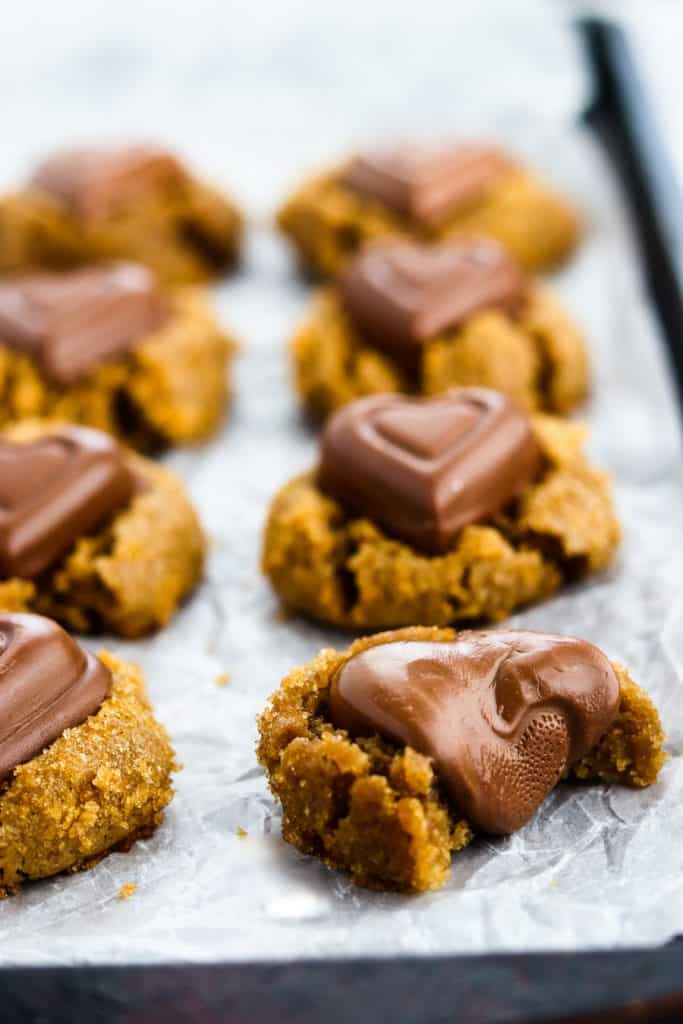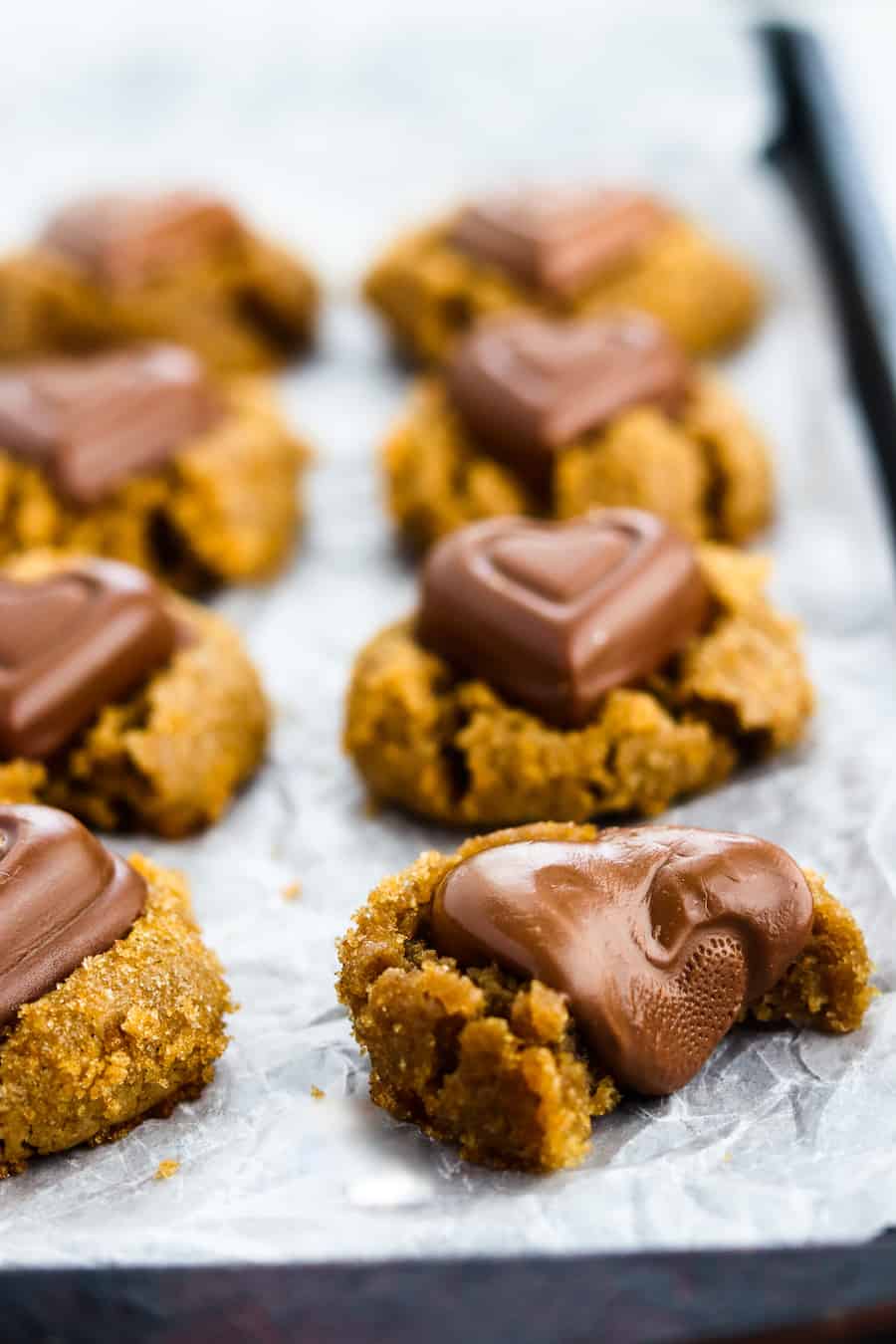 I also used SunButter in these cookies in place of the standard peanut butter you'd think of when you imagine a blossom cookie. I have been LOVING the slathering all of the things in it recently. It's important to include a variety of foods in your diet to provide a wide range of nutrients. Swapping nut butters for SunButter is a delicious and super simple way to do that! SunButter also gives you a little extra boost of Vitamin E, which is a powerful antioxidant which can help protect the body's cells from harmful free radical damage. I can also help skin retain moister- SUPER helpful this time of year with frigid temps and whipping winds! Basically, these cookies should be part of your beauty care routine. (kidding!)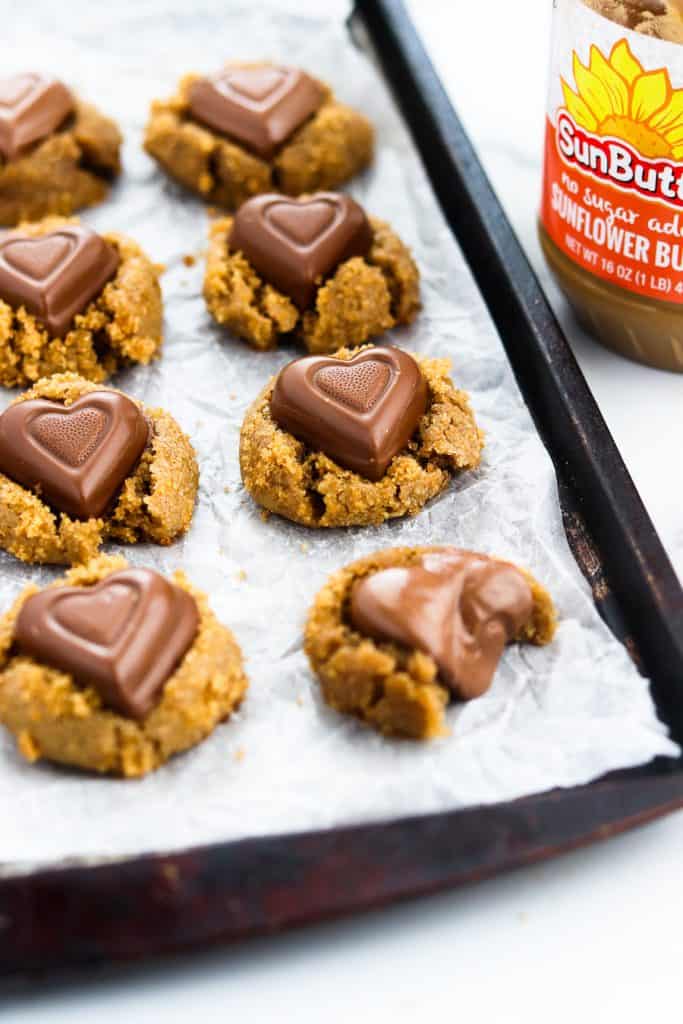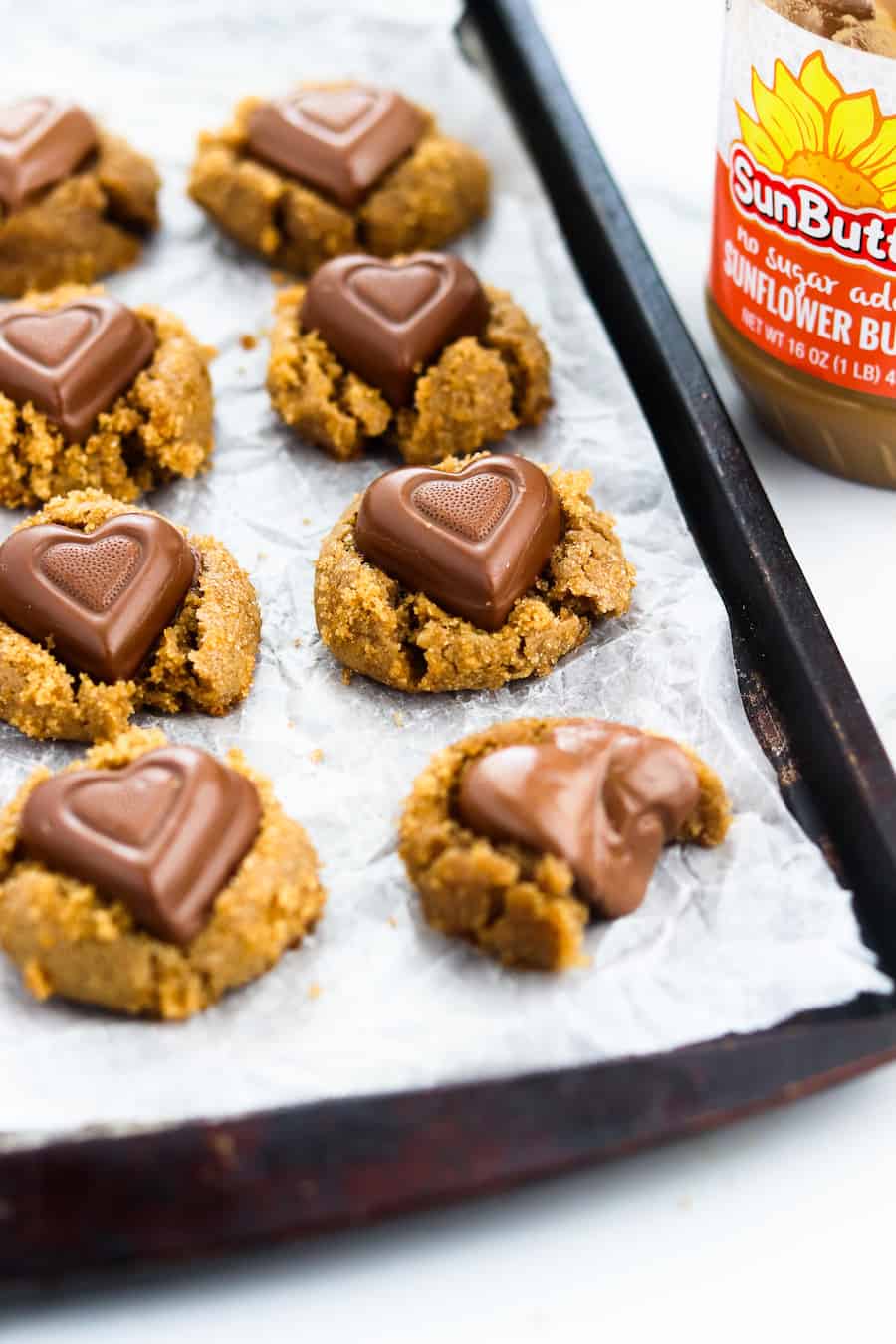 If you're looking to give someone special a little extra lovin' snag some chocolate hearts from the store and whip these bad boys UP. Milk chocolate, dark chocolate, while chocolate, caramel filled.. the choice is yours! My lover boy loves classic milk and any and all things cookies and cream- so I went with those two! Which kind would you go with? Let me know in the comments!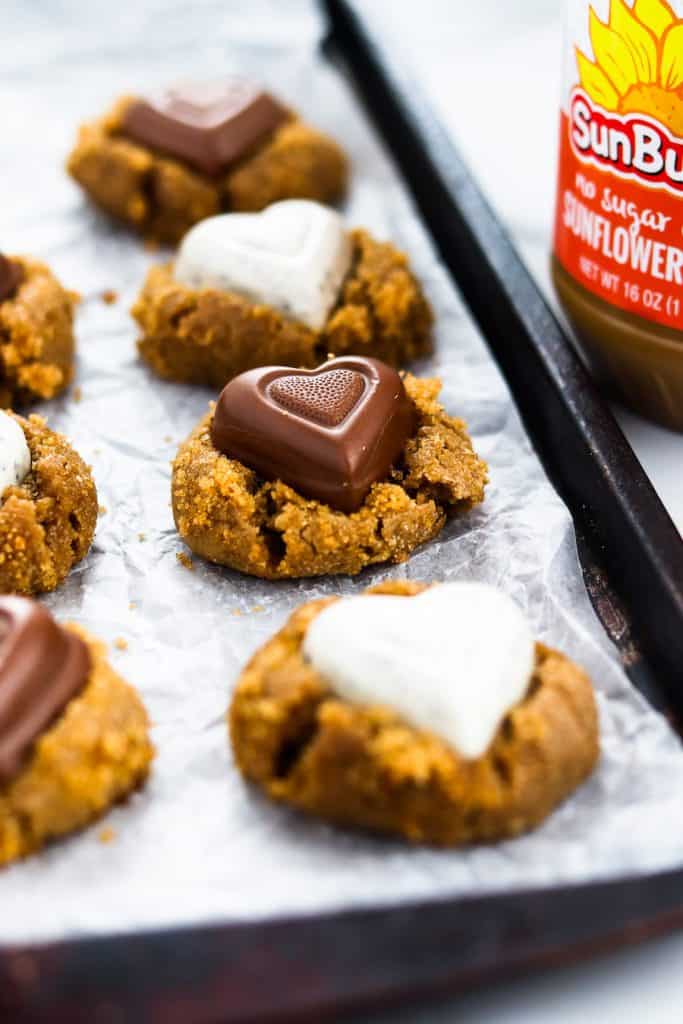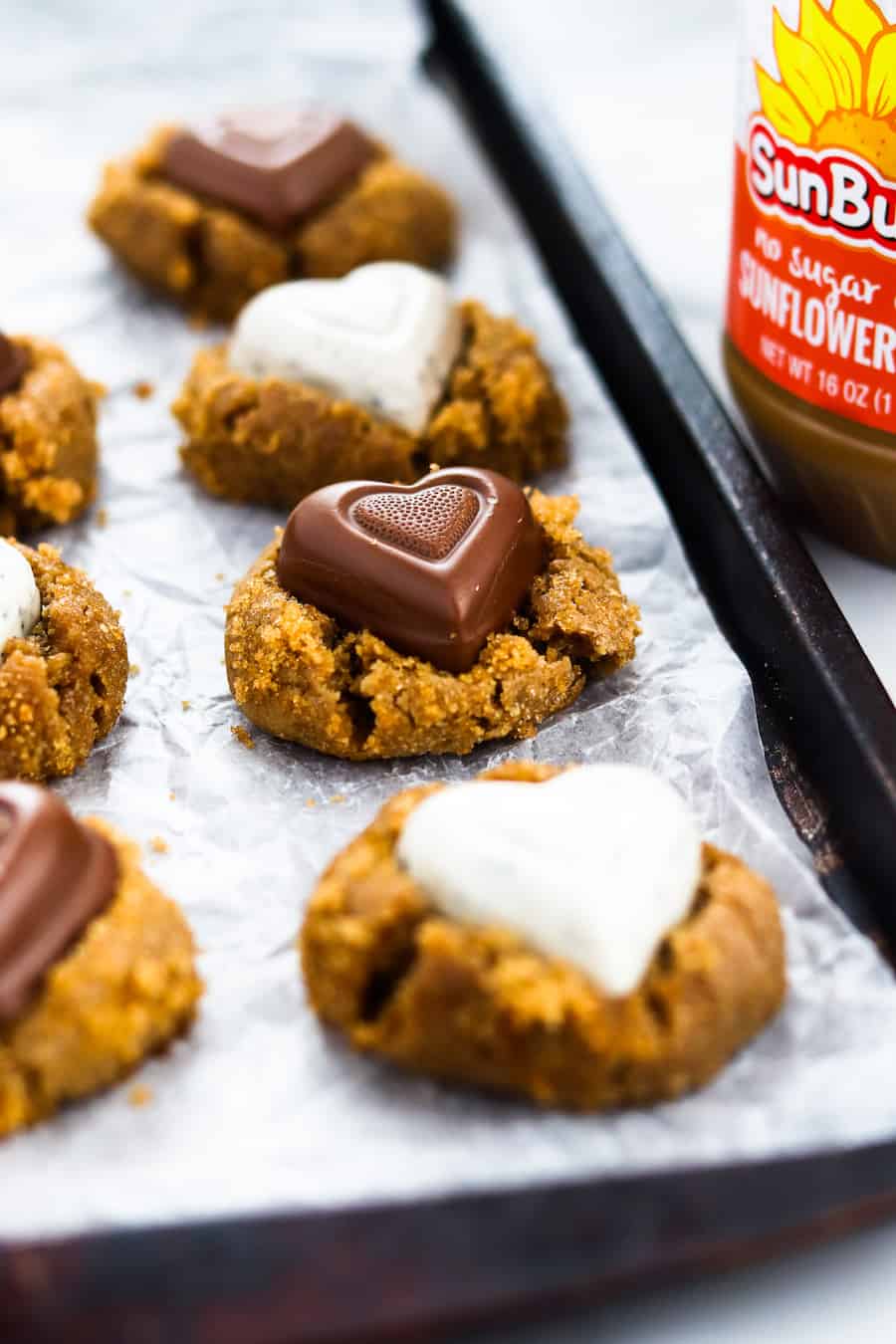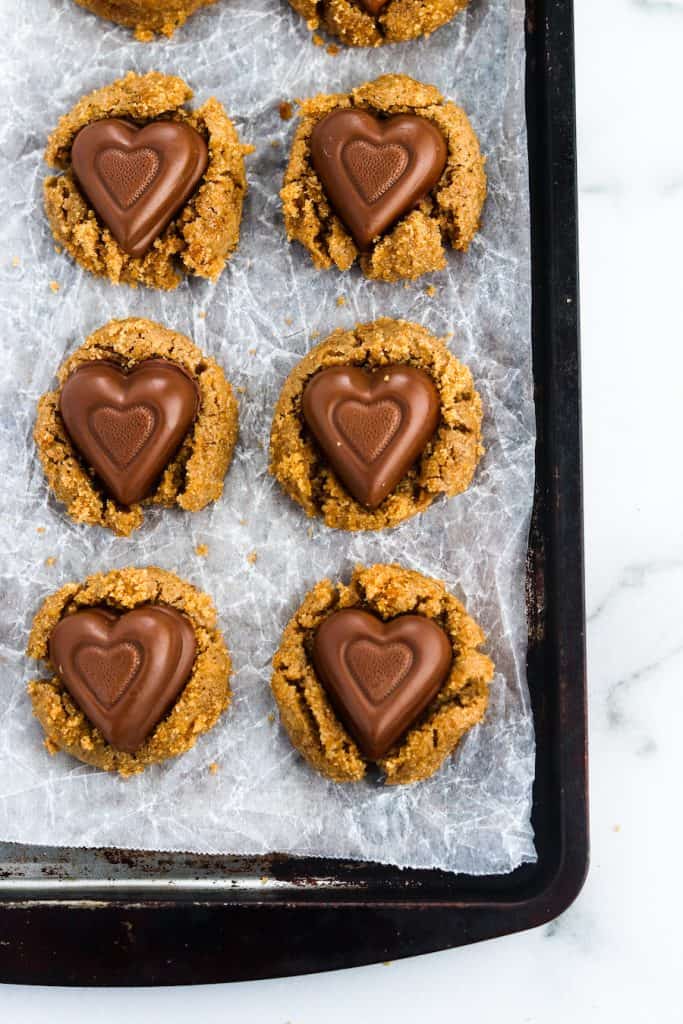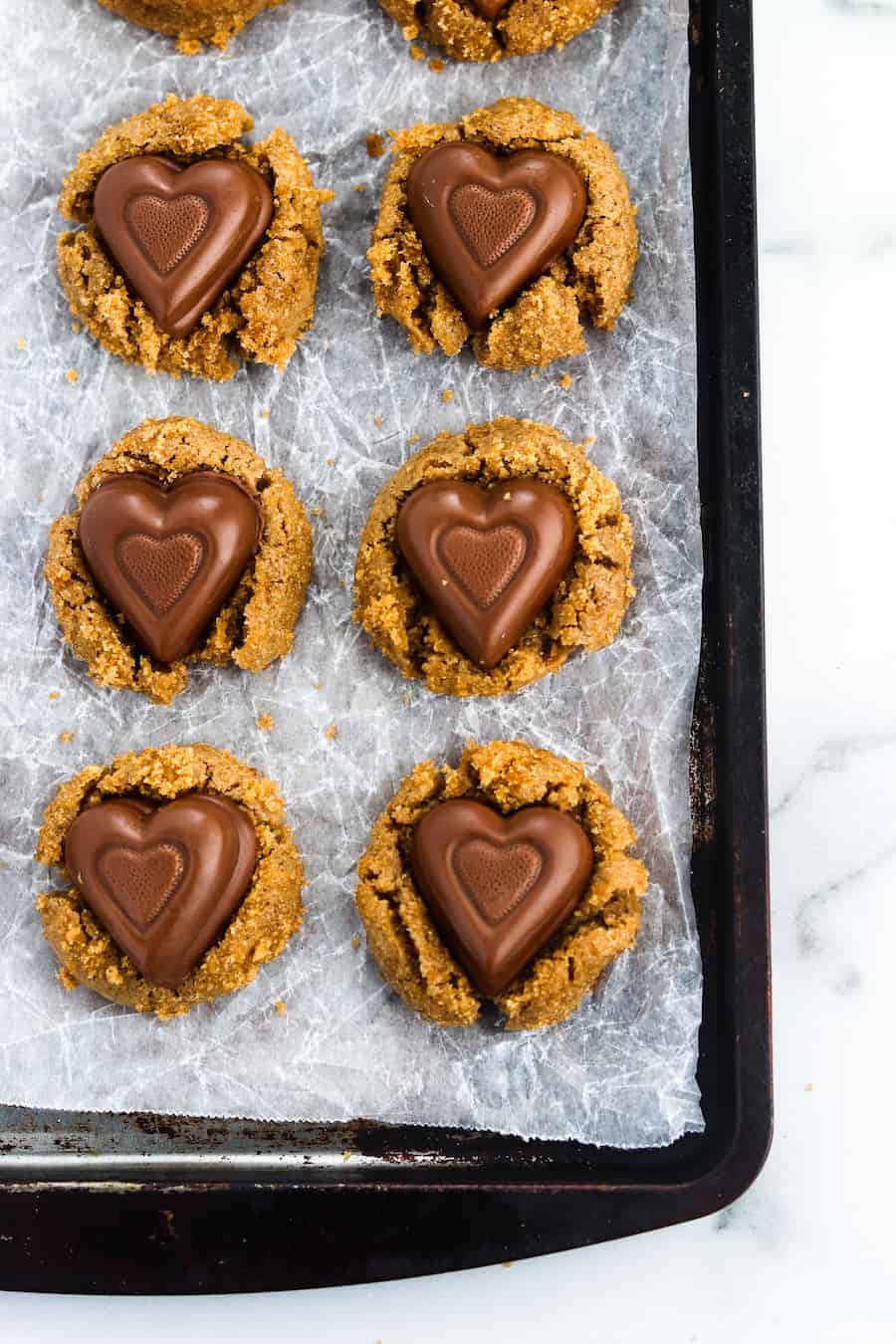 Don't forget to pin this recipe for later! You can totally make these cookies any time of the year and make then for any holiday by swapping out the chocolate for seasonal flavors!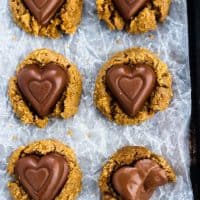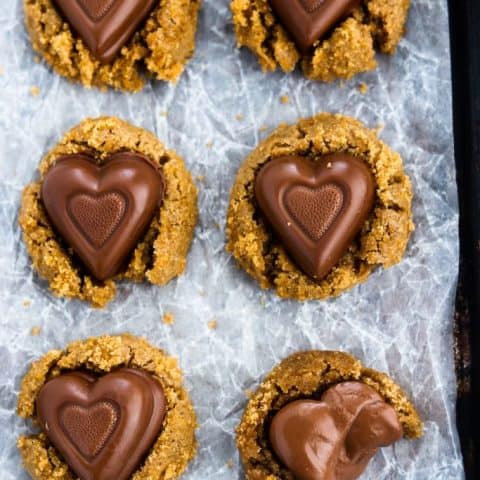 Whole Wheat Brown Sugar SunButter Blossom Cookies
These whole wheat brown sugar SunButter blossoms are sure to be the key to anyone's heart!
PRINT RECIPE
Ingredients
1/2

cup

butter

softened

1/2

cup

SunButter

2/3

cup

brown sugar

1

egg

2

tbsp

applesauce

1

tsp

vanilla

1/4

tsp

salt

1

cup

flour

1/4

cup

brown sugar

1-2

bags of chocolate hearts
Instructions
In a large bowl or stand mixer cream together butter, SunButter, and brown sugar

Once well creamed, add in vanilla, egg and applesauce. Mix well

Next, add in flour and salt. Mix until evenly combined. Cookie dough will be relatively thick and firm

Refrigerate cookie dough for 30 minutes-2 hours

Preheat oven to 350 Degrees and line a baking sheet with a spill mat or parchment paper

Place the remaining 1/4 cup brown sugar into a small dish- be sure sugar is not packed

Take a spoonful of dough (~1.5 tbsp) and roll it into a ball and place it in the brown sugar dish and roll it around to lightly coat. Place on cookie sheet

Repeat this process with remaining dough

Bake cookies for 10 minutes

Remove cookies from the oven and immediately place a chocolate onto the center of the cookie and light press it down. Repeat for all cookies

Allow cookies to cool fully, and enjoy!
Notes
The cookie dough needs time to chill, be sure to take this into account when making these!
The number of bags of chocolate hearts will depend on which brand you purchase and how many come in the bag.
click To display nutrition info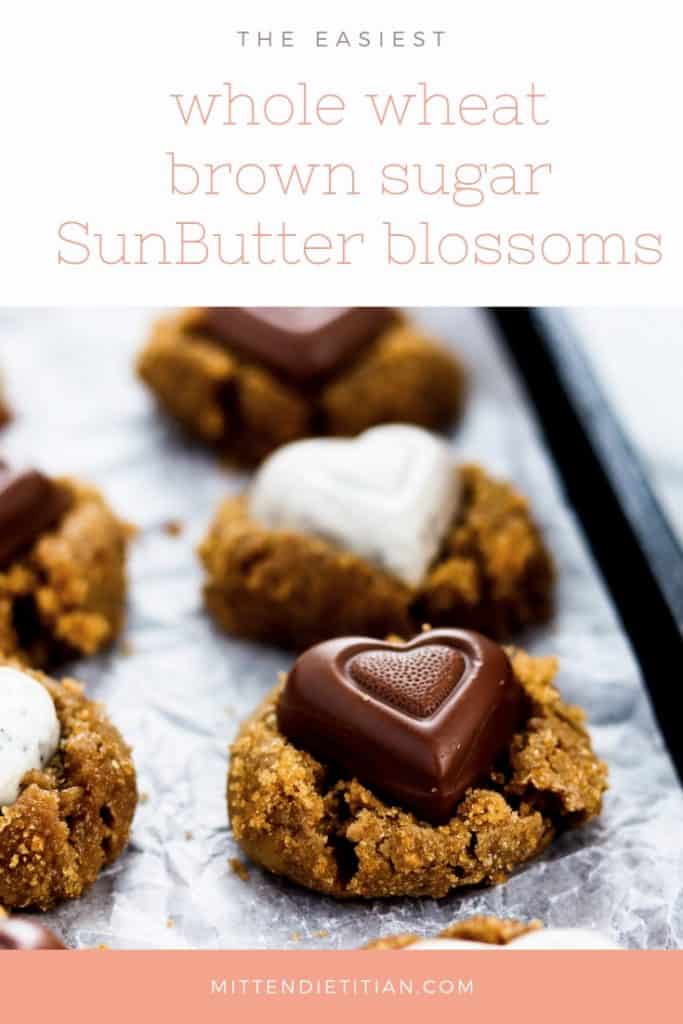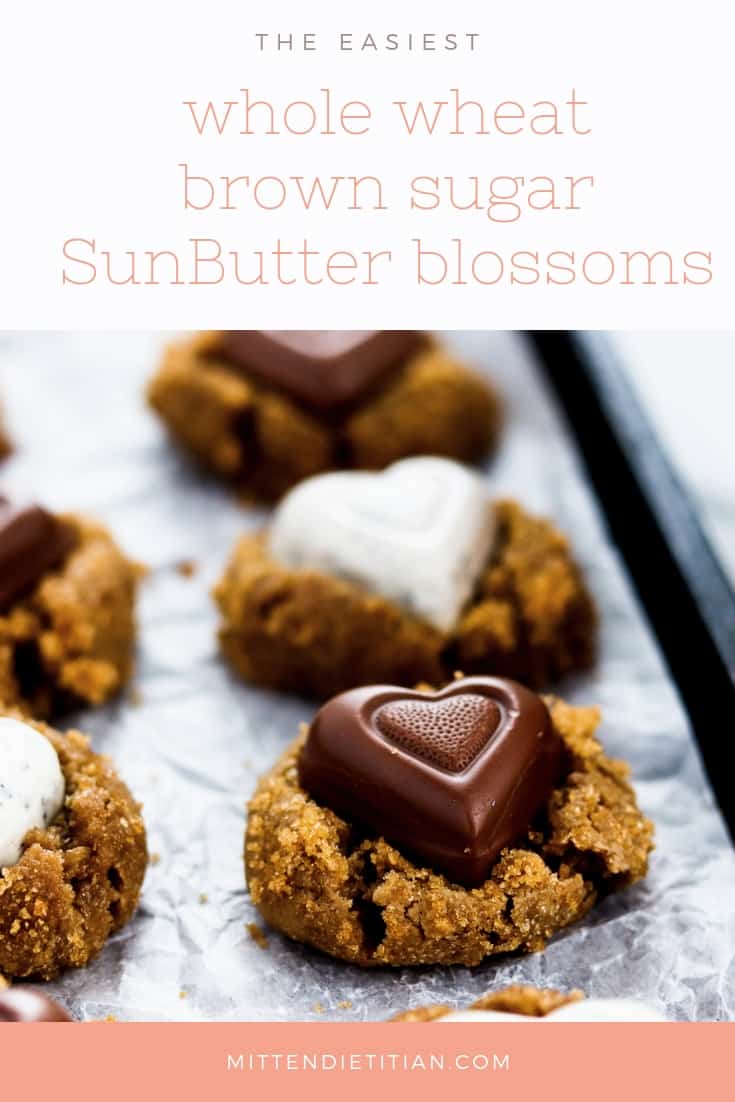 **This post has been sponsored by SunButter. However, all thoughts and opinions are my own*