I'm addicted to granola. I eat it in my yogurt daily, throw it on top of smoothie bowls, dip the big ol' clusters in nut butter and also scoop a handful straight outta the jar and into my mouth. Seriously though, there is NOTHING like a good batch of homemade granola. It's heaven. Each week I make a batch as part of my meal prep on Sundays and this week's recipe was On. Point. Ready for it? 5 Ingredient Maple Pecan Granola.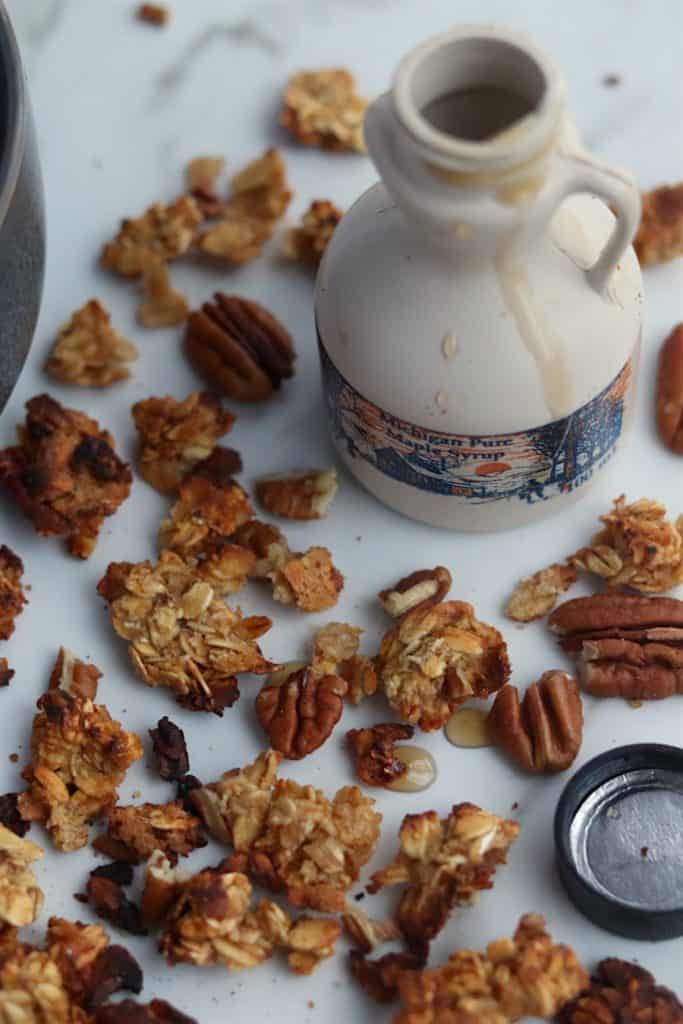 Guys, it's only Tuesday and I'm already making a preeeetty good dent in it. I keep telling myself that my husband is devouring it just as often as I am, but, let's be honest… it's all me! It's seriously that good.
There is something about the buttery-ness of pecans that just makes my heart sing. I don't have them around too often, mostly because I'd eat ten dollars worth in the matter of two days. Them babies aren't exactly cheap! However, I was recently at FreshThyme getting the almonds I needed for my almond butter twice baked sweet potatoes I made a while back (bookmark that recipe.. it's amaze!) and kinda went ham in the bulk aisle. I came home with quite a few bags of different goodies (pecans, pepitas, walnuts). PLEASE tell me that I am not the only one who has zero self control when it comes to bulk foods?! It's like I get a high off of the endless variety!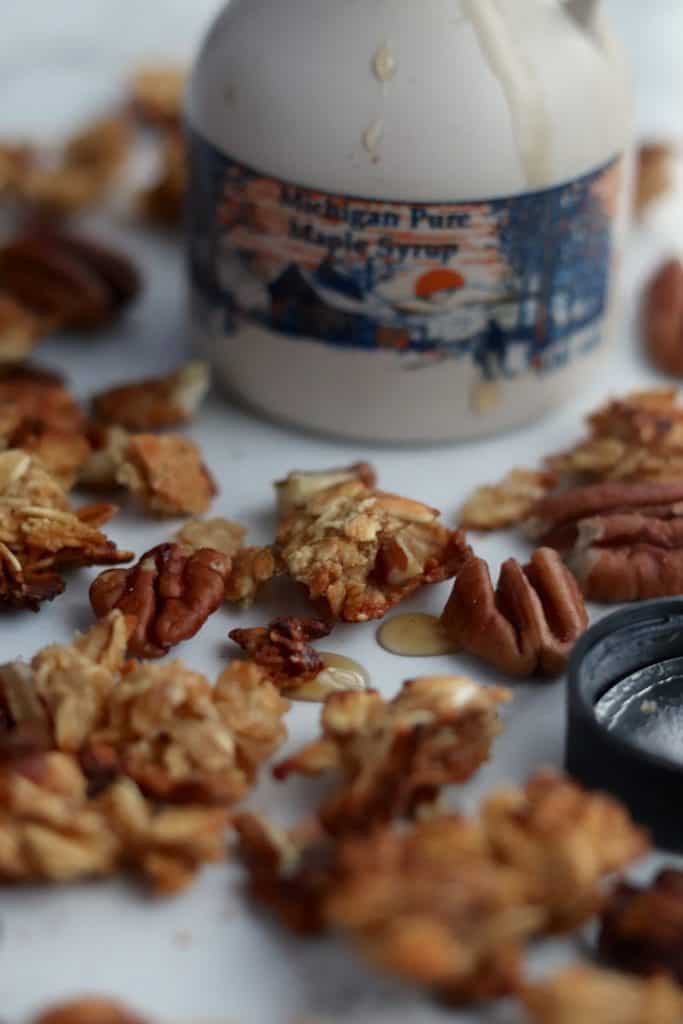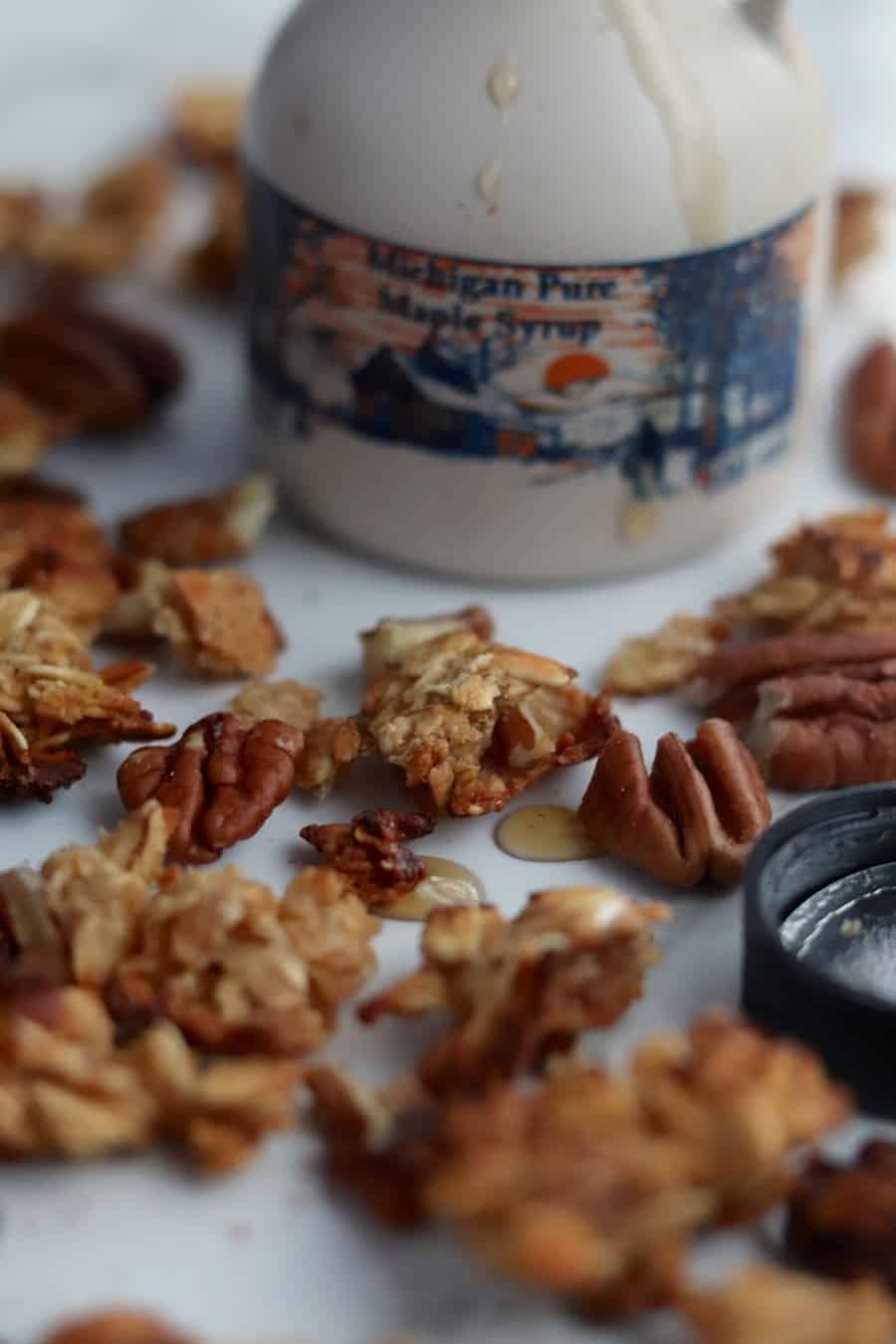 Anyway, so, yeah, I had pecans on hand and an itchin' to use them! I also had some Michigan pure maple syrup (AKA liquid GOLD!) that was dying to be opened. And boom, there you have it, 5 ingredient maple pecan granola came to be!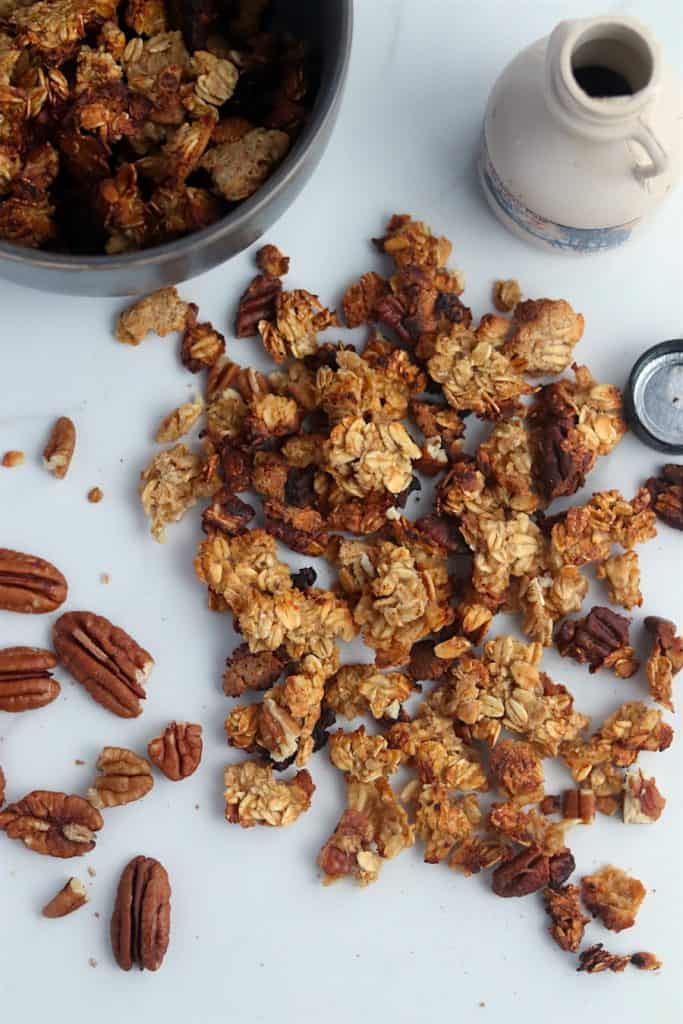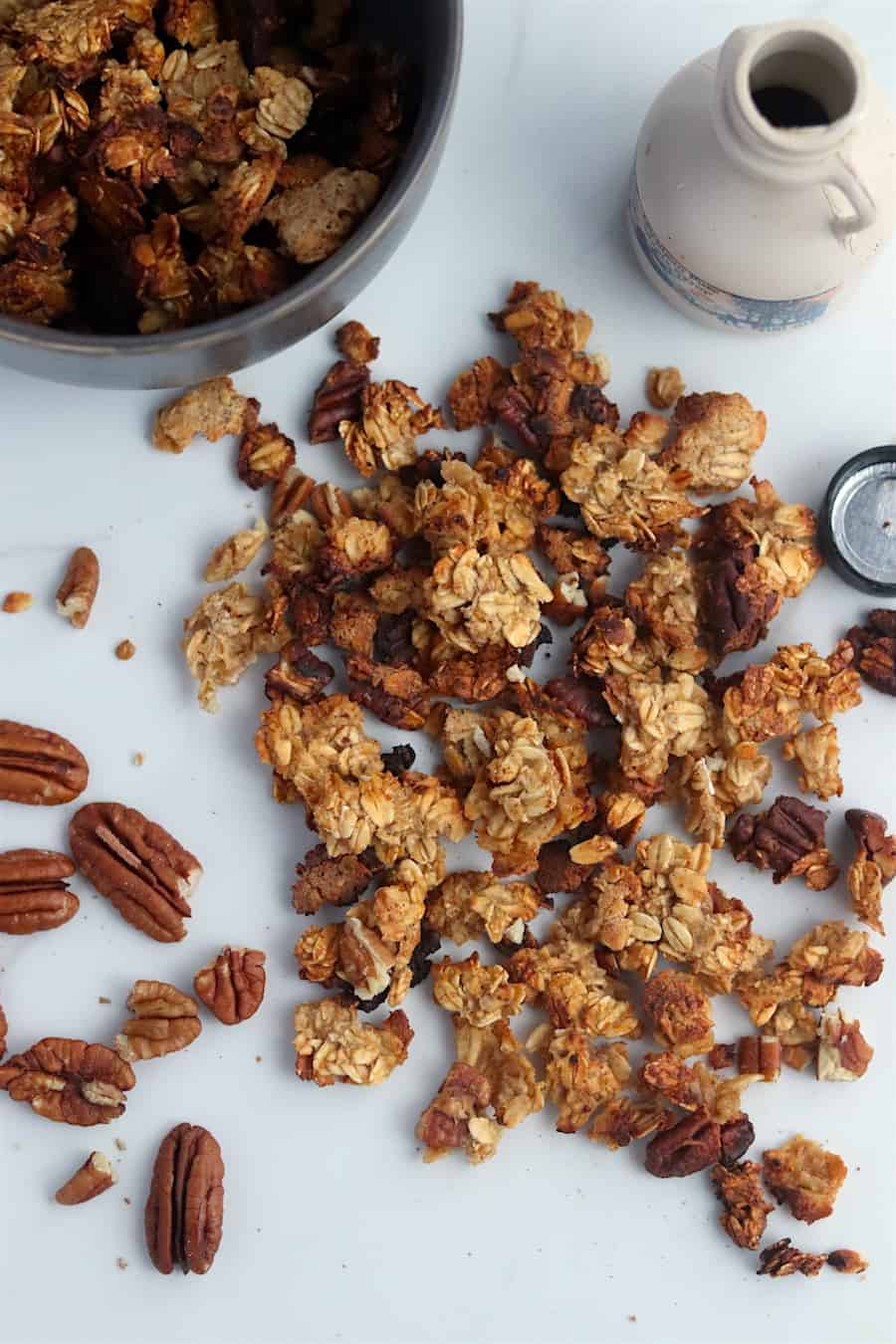 I love that this recipe is so in tune with the holiday season. I mean, it's basically a granola version of pecan pie. Ain't nobody mad about that!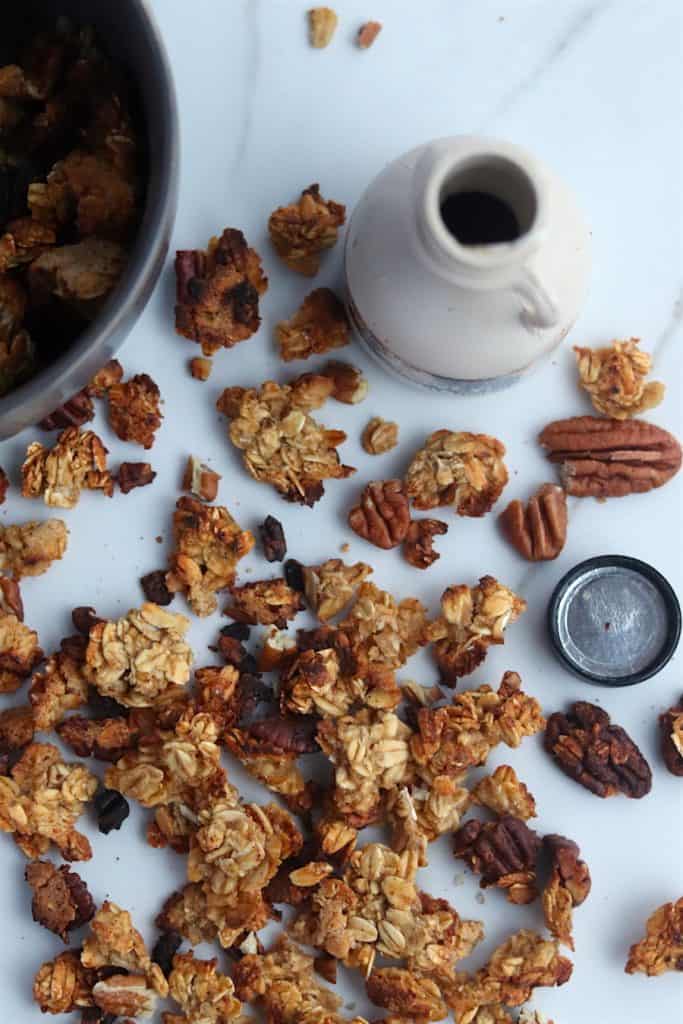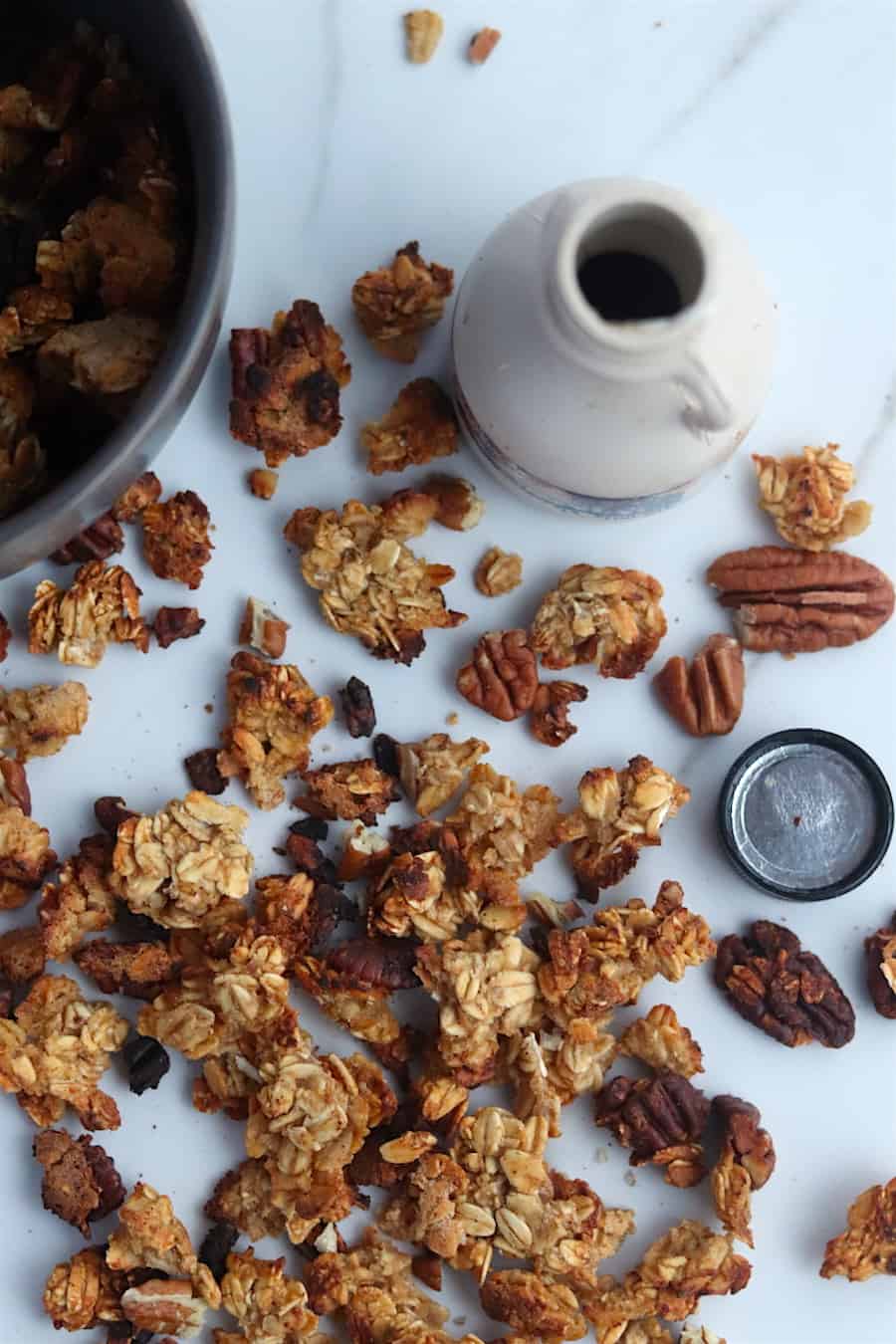 Give this recipe a go and then tell me you aren't devouring it at an insane rate, I dare you.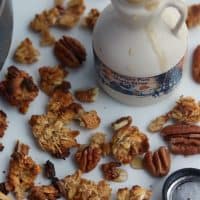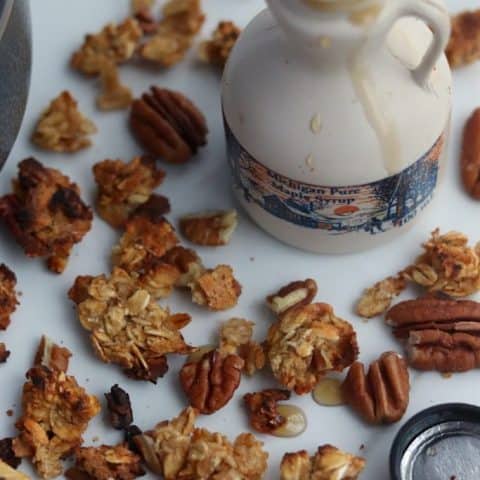 5 Ingredient Maple Pecan Granola
This 5 ingredient maple pecan granola is simple to make and tastes delicious on everything! It's the granola version of pecan pie!
PRINT RECIPE
Ingredients
2

cups

old fashioned oats

1

cup

applesauce

1/4

cup

maple syrup

2

tsp

vanilla

1/2

cup

pecans

chopped
Instructions
Preheat Oven to 375 degrees, lightly spray a baking sheet with non-stick spray and set aside.

In a large bowl combine oats, applesauce, syrup, and vanilla, coating evenly.

Fold in pecans.

Spread mixture onto prepared baking sheet, pressing firmly to form clusters.

Bake for 30-45 minutes, stirring and breaking up large pieces every 10 minutes.

Allow to cool thoroughly.

Store in an airtight container in a cool, dry place for up to one week.
click To display nutrition info
Nutrition Facts
Nutrition Facts
5 Ingredient Maple Pecan Granola
Amount per Serving
% Daily Value*
* Percent Daily Values are based on a 2000 calorie diet.
Happy eating,
Colleen
Don't forget to pin this recipe for your next meal prep sesh!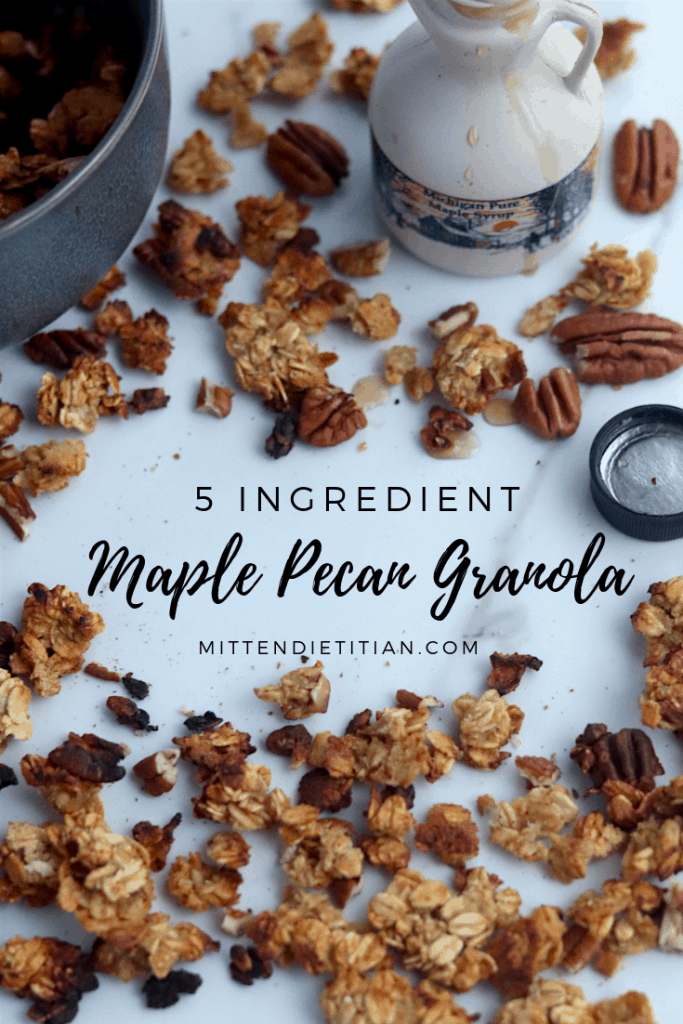 Want more granola recipes? You might like these!