I've been eating buckeye balls, sugar cookies, and chocolate covered pretzels around the clock for the past week straight and, dare I say it… I need a break! I was craving some veggies and knew my body would appreciate some lean protein so I whipped up these aloha chicken veggie wraps with soy ginger dipping sauce for my husband and I to have for lunch…. before we made Oreo truffles… hahaha! Tis the season, right?!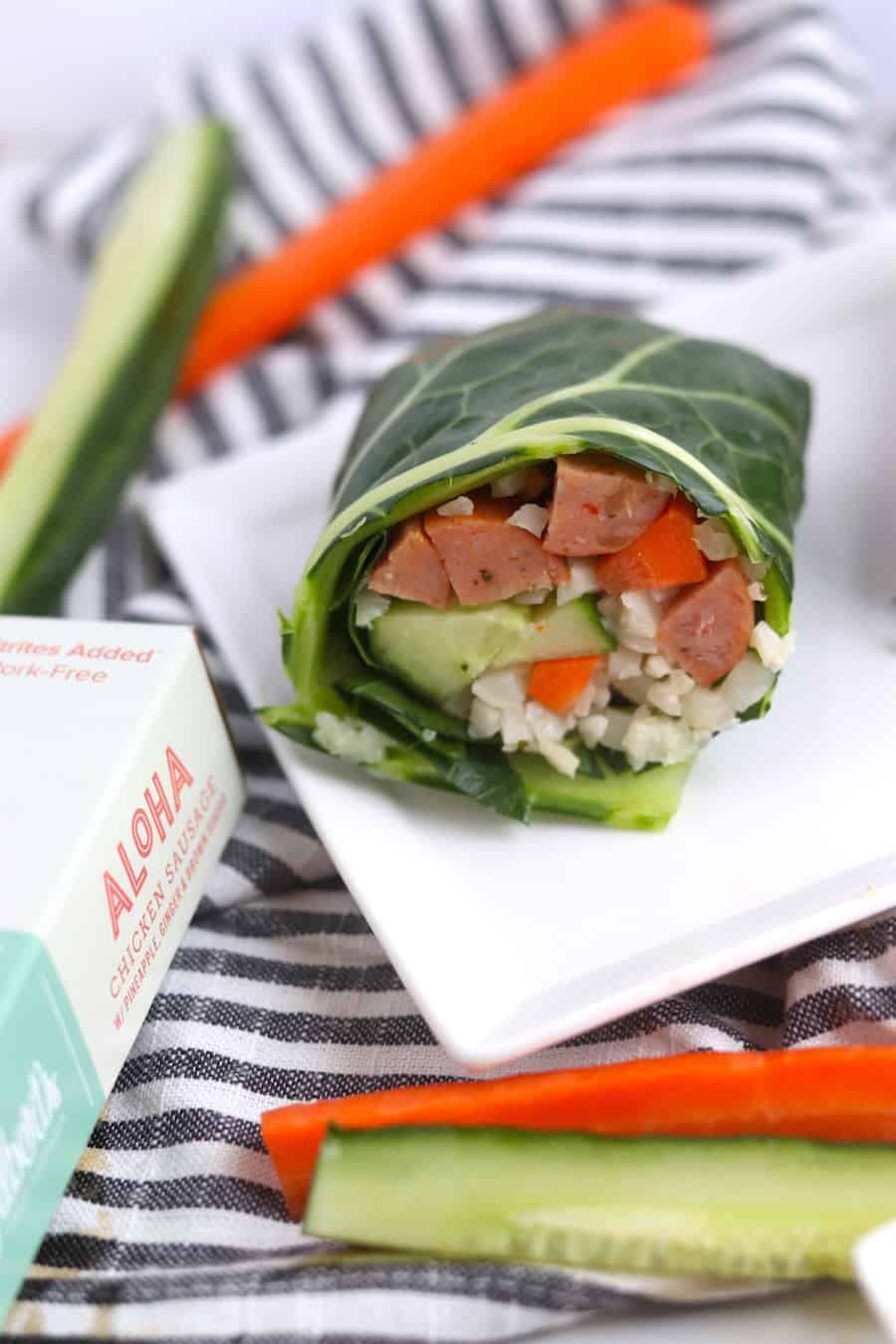 These wraps looks super fancy, but they're STUPID easy to make! Seriously. They take only a few simple ingredients and about ten minutes, max. You'll be eatin' the rainbow in no time.
For the wrap I used some giant collard green leaves from the produce section. I had actually never done this before and was a little skeptical about how they'd taste. The flavor was totally not what I was expecting, but in a good way! They were surprisingly neutral tasting, had a really great crunch and held everything together like a champ. I found them trimming down the thick spine to the leaf stem helped them roll a little better and also running them under hot water helped them to not crack. For the stem trimming I just took a sharp knife and ran it over the bulge of the stem, shaving it off to make it more of a flat surface. Super simple.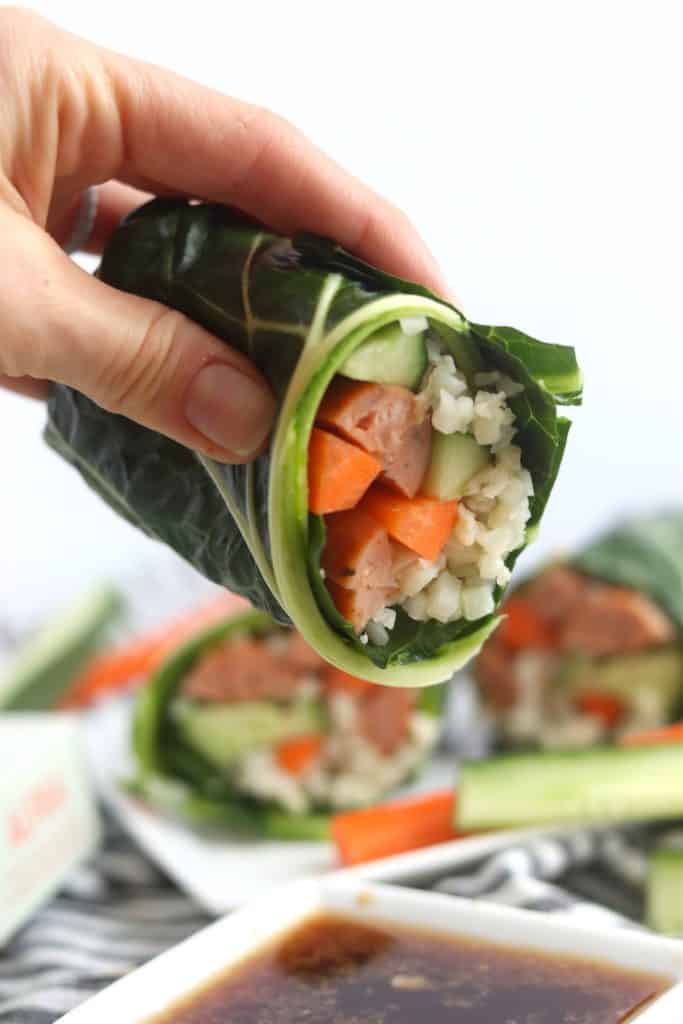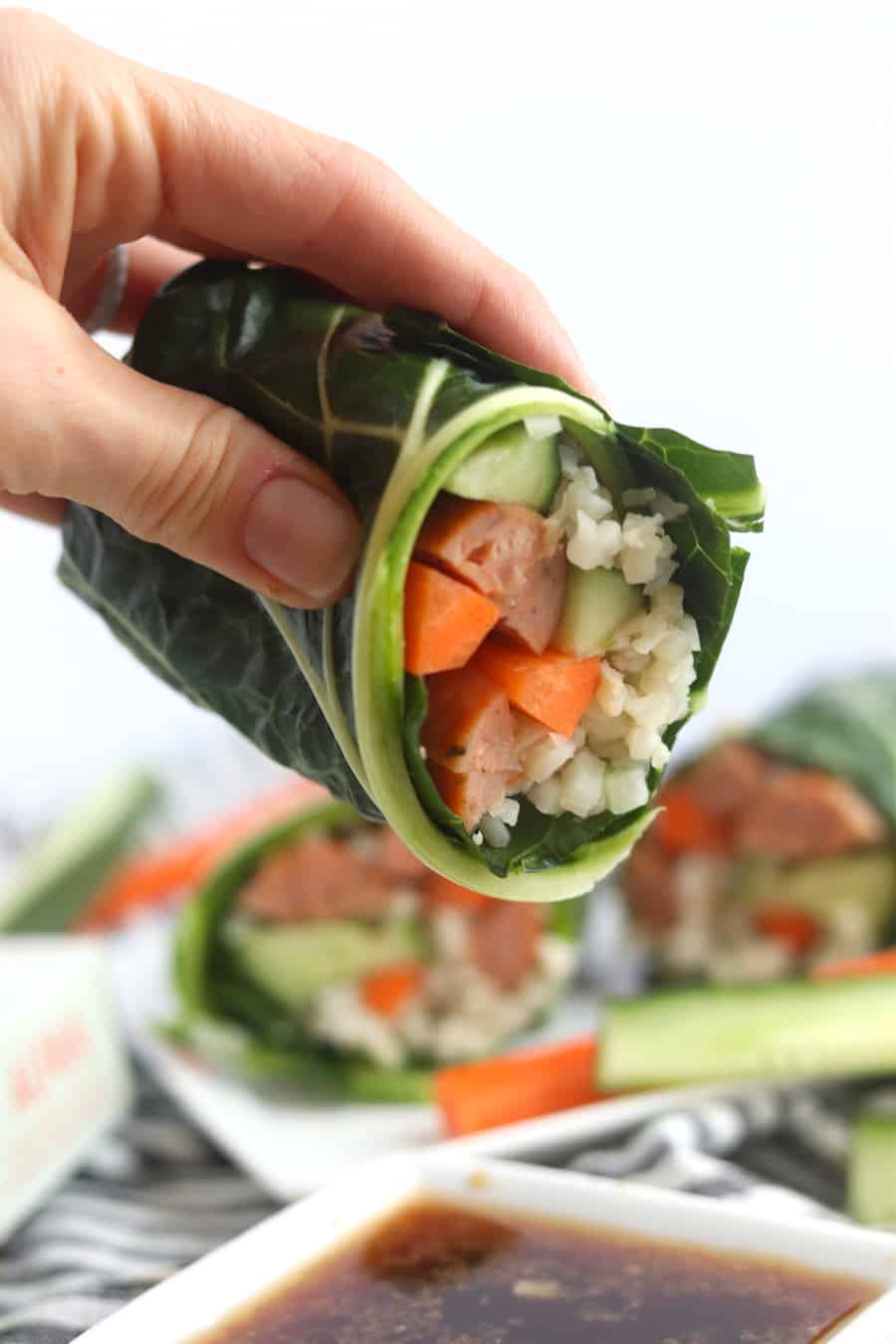 I used frozen riced cauliflower and simply sautéed that in a pan with a few tablespoons of water. You could also use fresh riced cauliflower, but may want to add a touch more water to get it to soften. I buy my riced cauli at Aldi, it's super affordable and so convenient.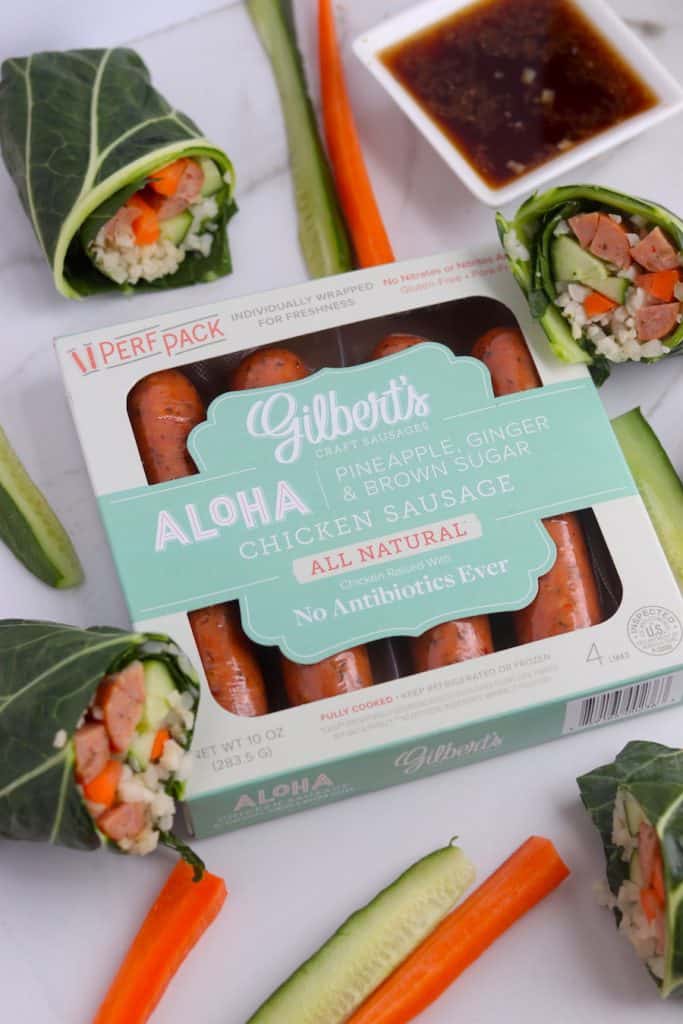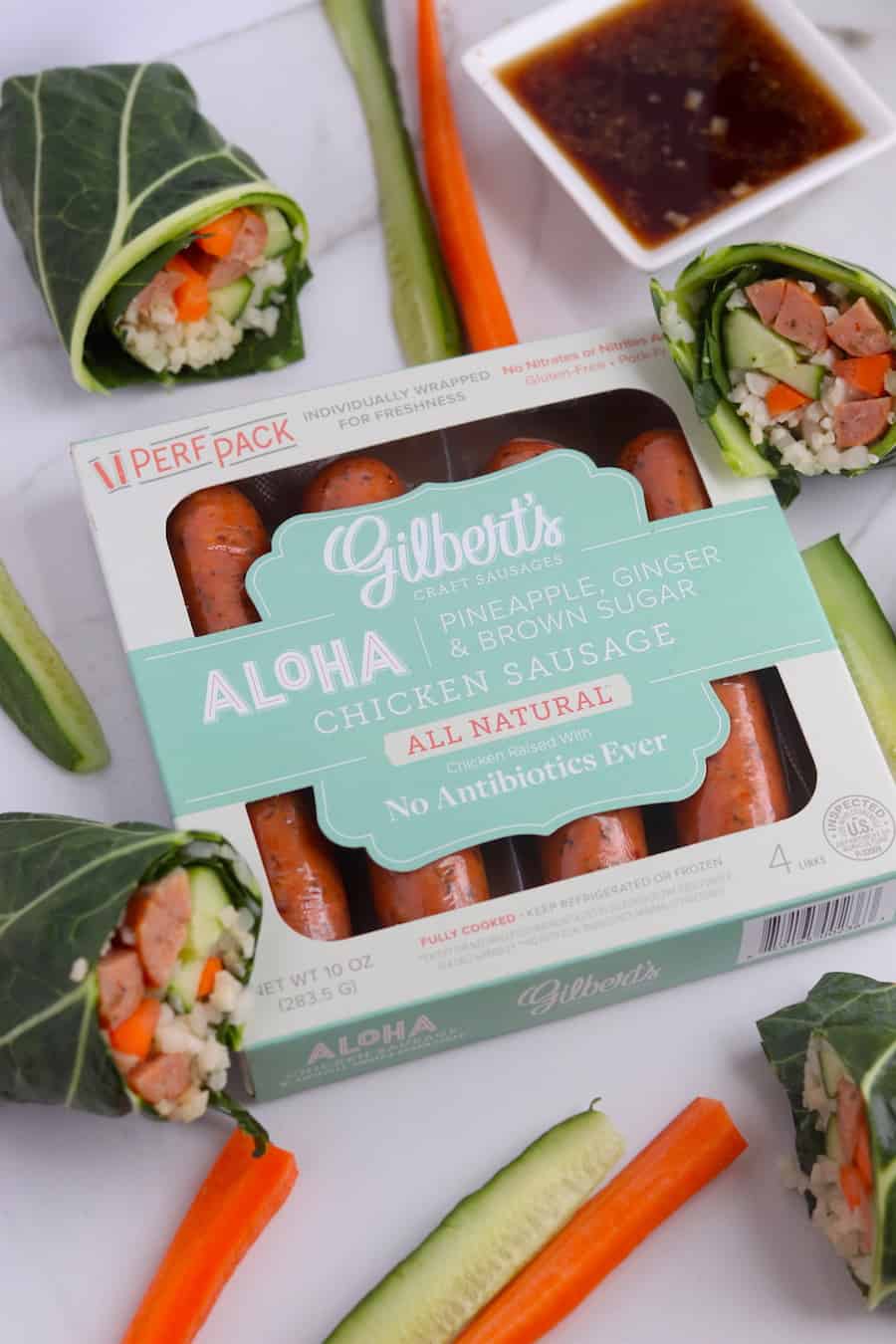 Lastly, the chicken sausage that I used was Gilbert's Craft Sausages Aloha Chicken Sausage. GUYS. I can eat this flavor like string cheese- straight outta the wrapper. I may or may not have done this while making these…. So. Good. You can find Gilbert's Craft Sausages in your area by using their store locator. These are the only sausages I have in my house! So flavorful.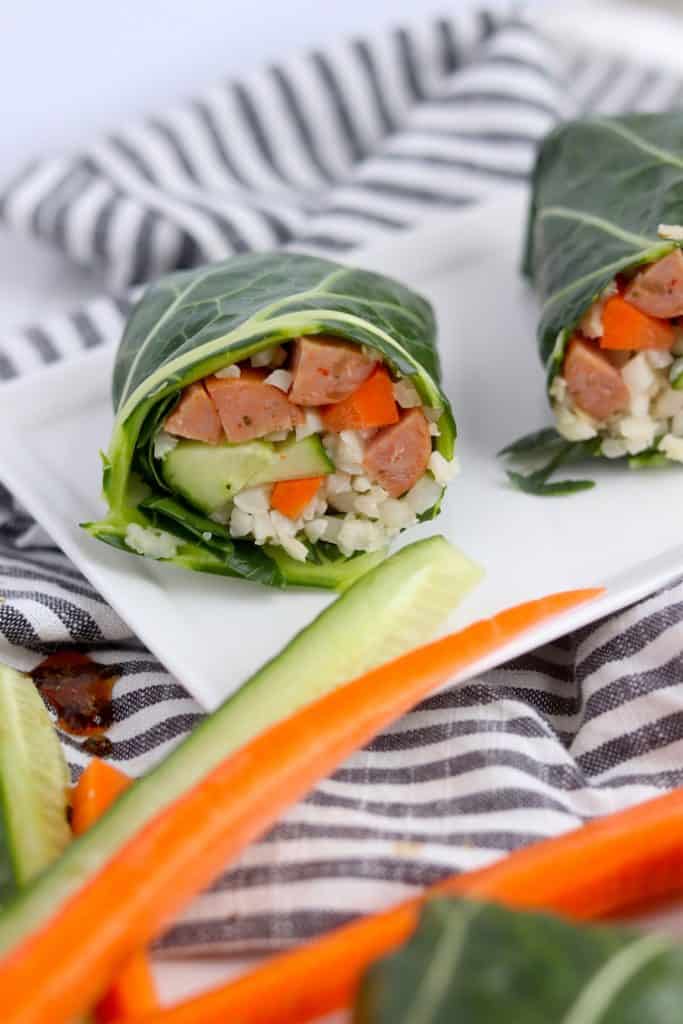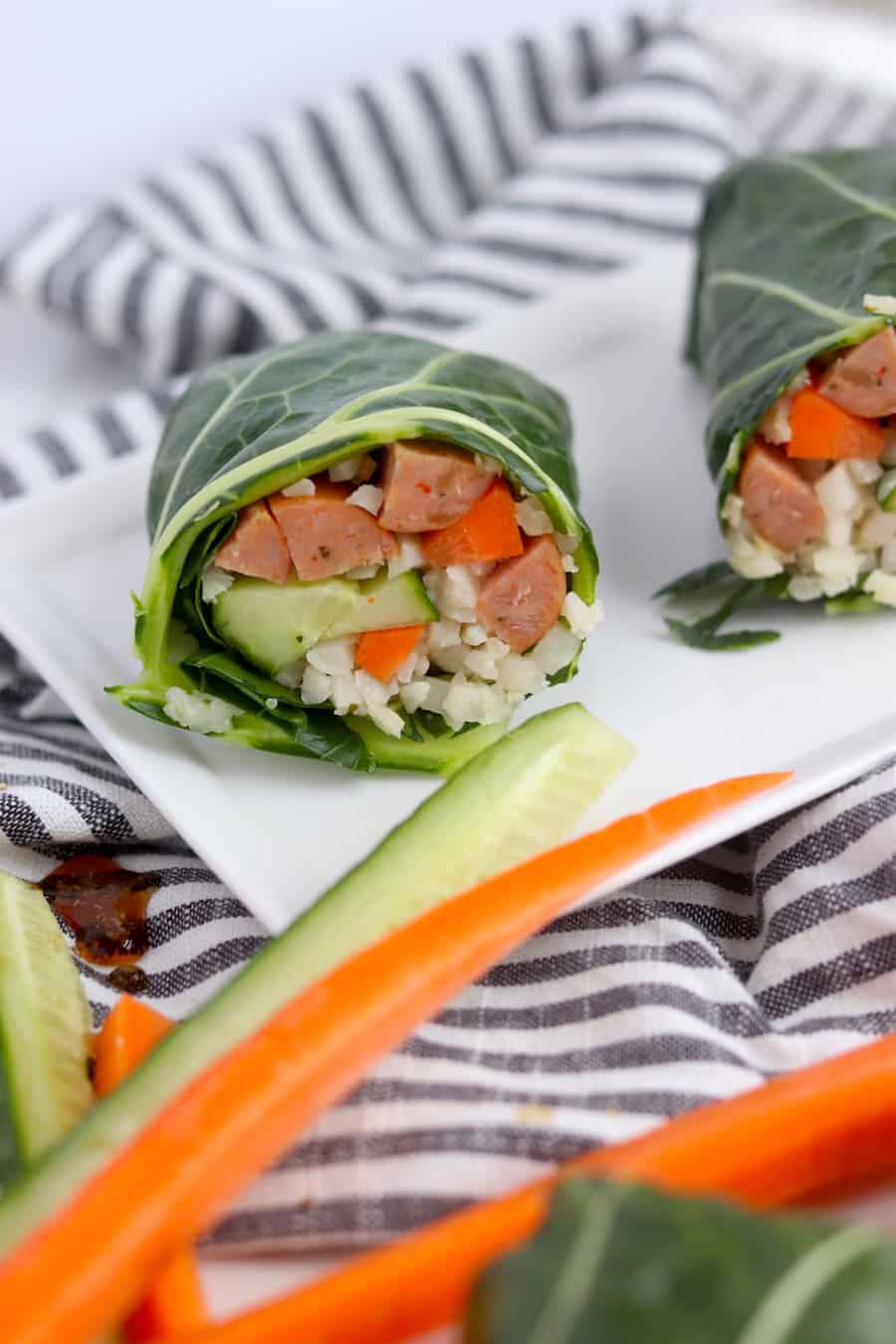 You can easily prep a bunch of these wraps and have them ready to go for your work week lunches. Since the dipping sauce is separate you really don't have to worry about anything getting soggy. Because nothing ruins a wrap like sog… am I right? Is sog even a word? If not, it is now.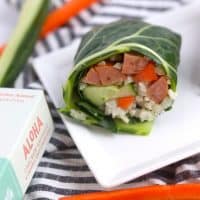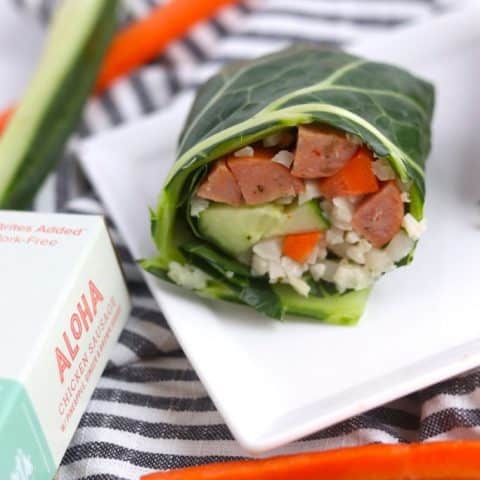 Aloha Chicken Veggie Wraps With Soy Ginger Dipping Sauce
These aloha chicken veggie wraps with soy ginger dipping sauce are the perfect mid-day meal!
PRINT RECIPE
Ingredients
1/2

cup

frozen riced cauliflower

1

large collard green leaf

1/2

of a large carrot

1/4

of a english cucumber

1

Gilbert's Aloha Chicken Craft Sausage

2

tbsp

soy sauce

1/2

tsp

freshly grated ginger

1

tsp

brown sugar
Instructions
In a saucepan sauté cauliflower with a few tablespoons of water for ~2 minutes until slightly softened.

Trim the stem/spine of the collard green with a knife, making it as flat as possible. Run the leaf under hot water to soften slightly.

Peel the carrot with a vegetable peeler and slice both the carrot and cucumber lengthwise, into spears.

Slice the sausage into quarters lengthwise, into spears.

To assemble the wraps place cauliflower rice, veggie spears, and sausage into one end of the collard green. Begin to roll up the collard green, tucking in the sides to keep the contents from spilling out.

Slice wraps in half, set aside.

In a small dish combine soy sauce, ginger and brown sugar.

Dip the wraps into the soy sauce before each bite and enjoy!
click To display nutrition info
Nutrition Facts
Nutrition Facts
Aloha Chicken Veggie Wraps With Soy Ginger Dipping Sauce
Amount per Serving
% Daily Value*
* Percent Daily Values are based on a 2000 calorie diet.
Don't forget to pin this recipe for later! You'll definitely want it on hand to spice up work week lunches, especially if you've got any healthy eating New Years resolutions in mind!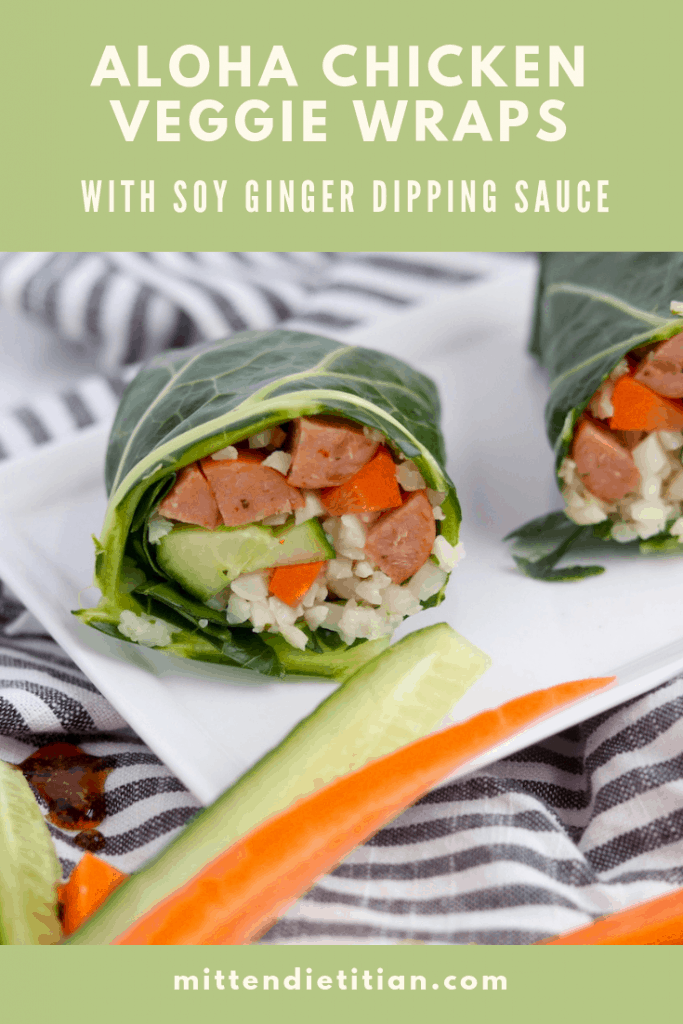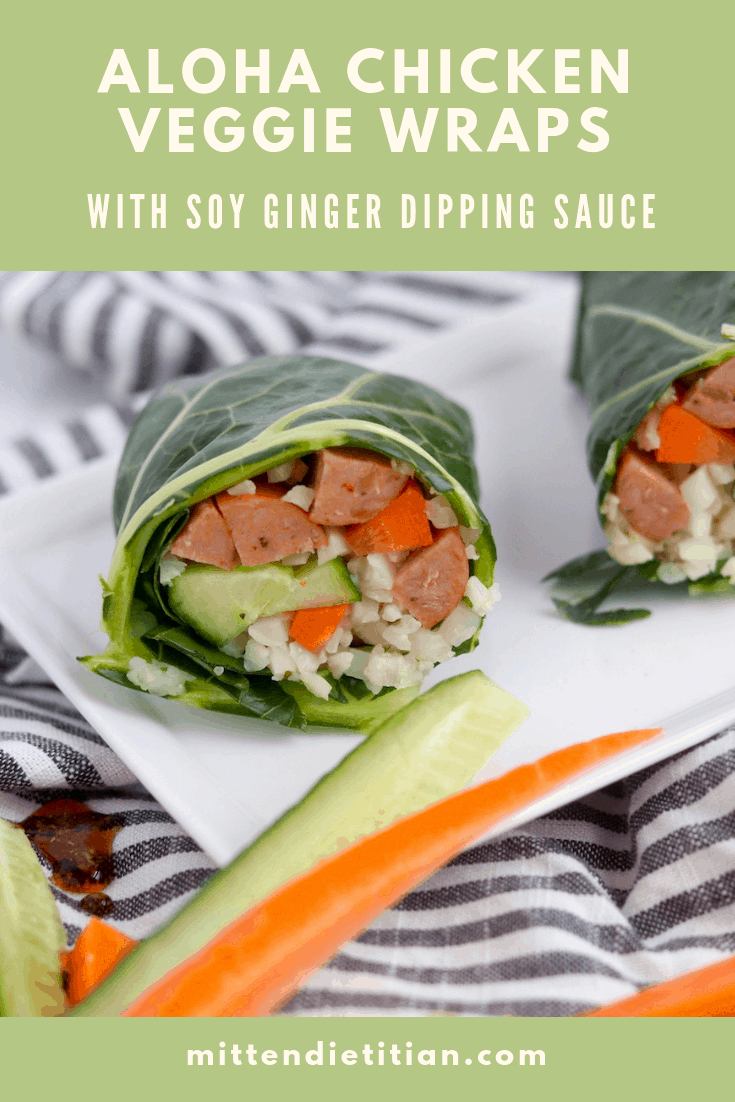 Give these a try and let me know what you think in the comments!
Happy eating,
Colleen
**This post has been sponsored by Gilbert's Craft Sausages. However, all thoughts and opinions are my own**