We're a full week into December and do you know what that means? PARTY TIME! My guess is that between now and the end of the year you're about to attend more parties than you have in the past six months combined. I'm totally right, aren't I?! It's fun and all, but, at least for me, it can get me a little stressed. I always feel like I have the bring the perfect dish or serve and amazing appetizer spread. That's a lot of pressure! BUT. I'm happy to say that I can help you out in that department with these bacon wrapped brussels sprouts with SunButter aoli dipping sauce!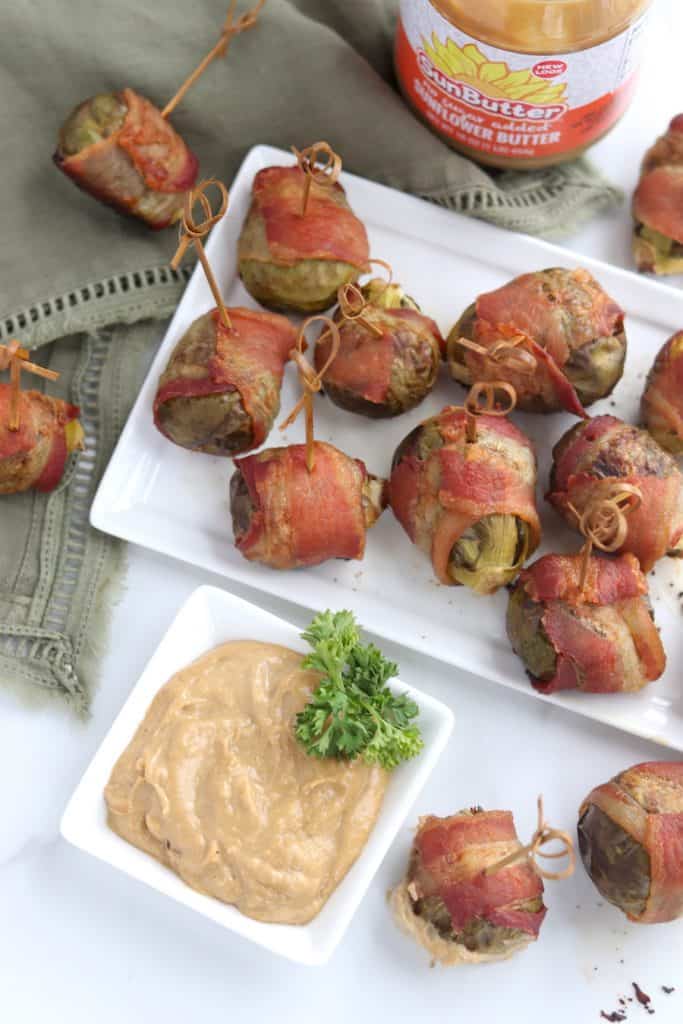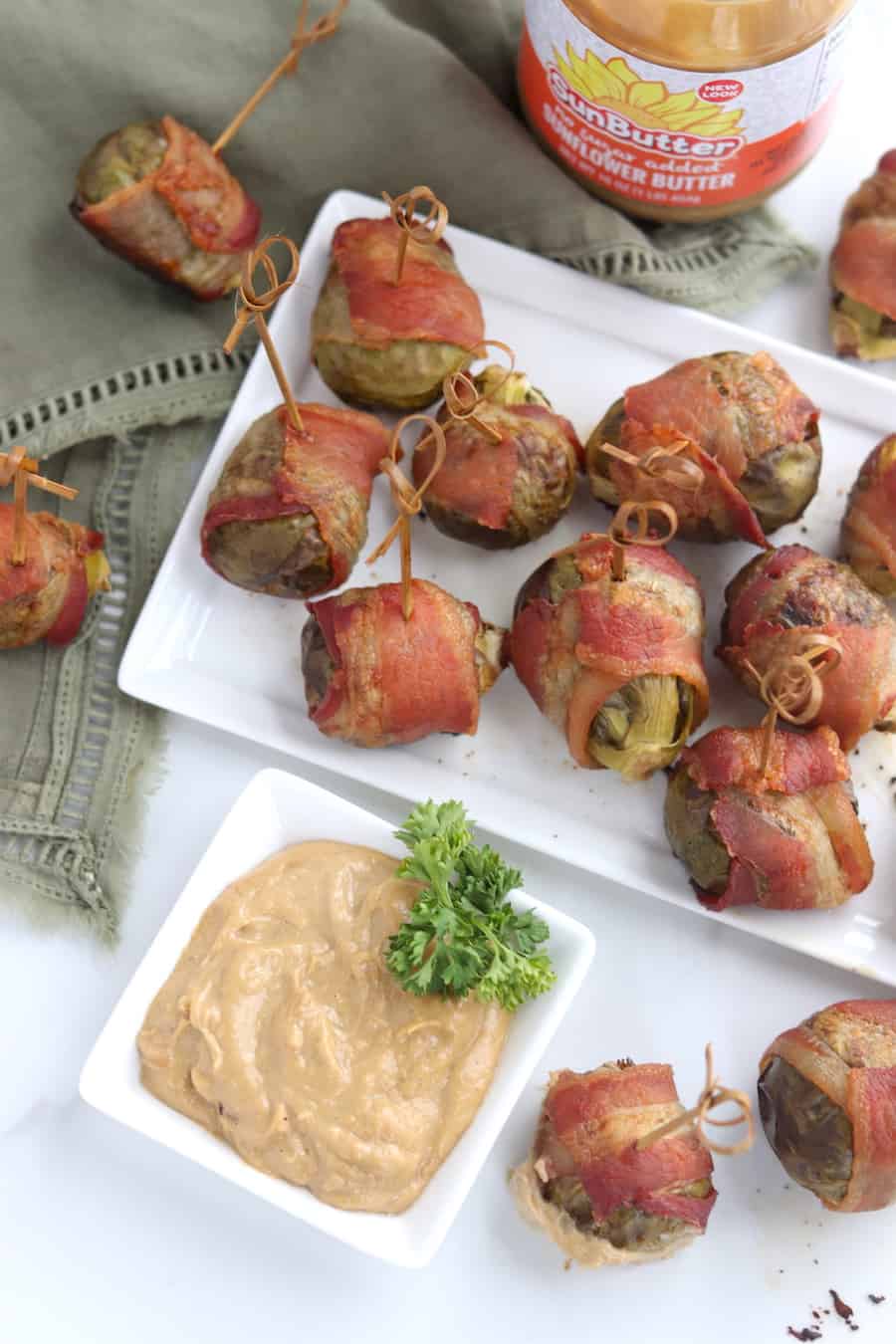 Okay, so, before you roll your eyes and think "Colleen, that does NOT sound easy!" here me out. The ingredients are minimal, prep work is nearly next to none, and these can be assembled in advance. And I haven't even talked about how they TASTE! I mean, really, does it get any better than things wrapped in bacon? That was a rhetorical question, the answer is always "no".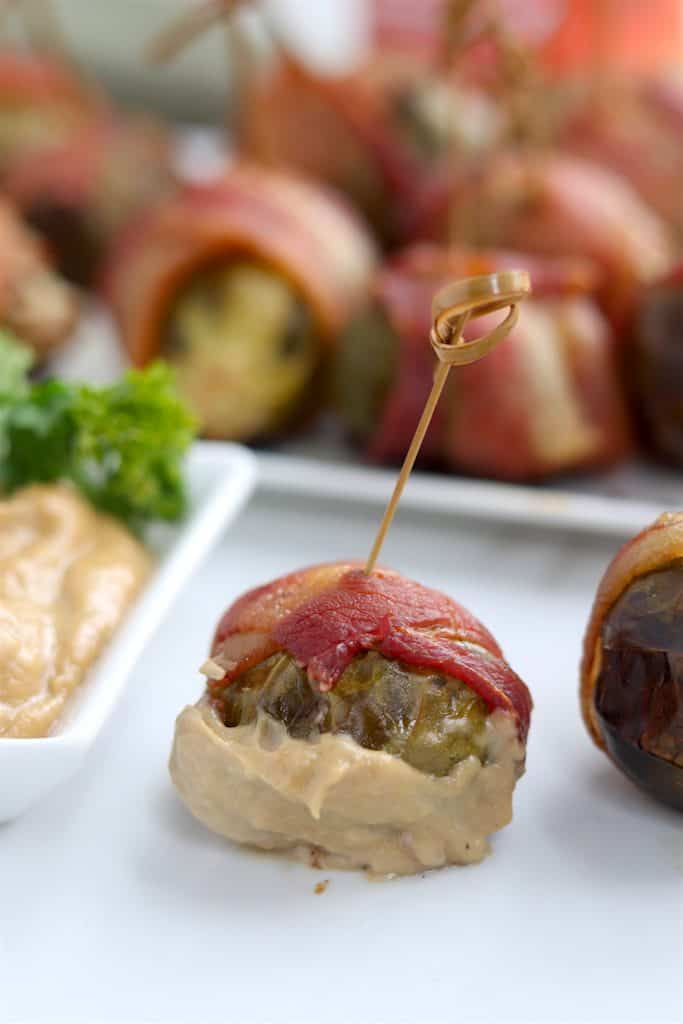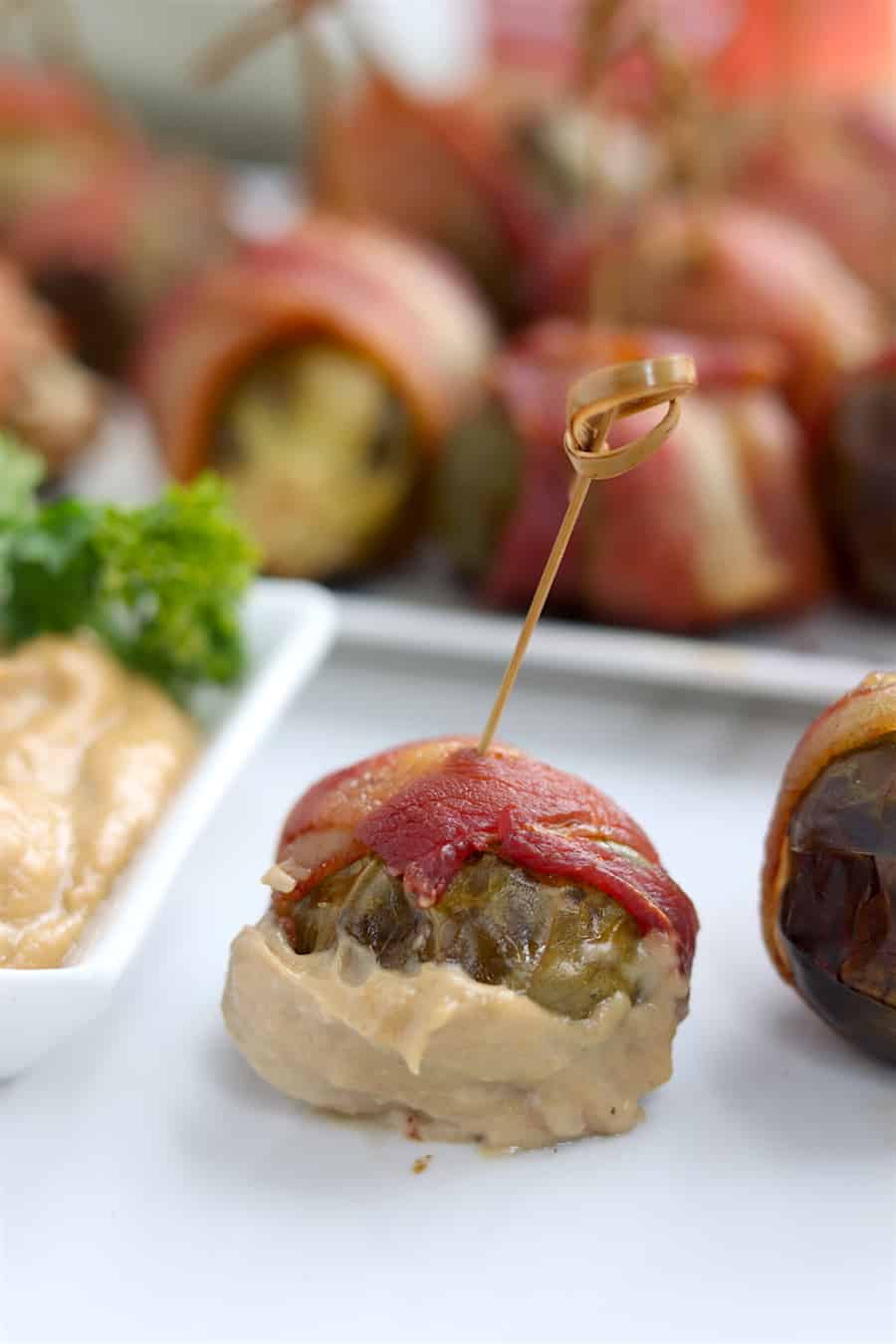 I chose to use Sunbutter's sunflower seed butter for this recipe for a few reasons. Firstly, whenever you bring something to a party or serve something to guests you want to be super cautious of anyone who might have food allergies. SunButter is free from all top 8 allergens: peanuts, tree nuts, soy, milk, eggs, wheat, fish and shellfish. SunButter also provides nearly half of your daily vitamin E needs in one serving and as no trans fats. Plus, the flavor is unlike any of the nut butters out there!
I don't personally have any food allergies and could very well eat any nut butter I want, but I find myself dipping my spoon into the SunButter jar like it's got a magnet in it! My husband has even started choosing it! And, you know how obsessed my dog, Theo, is with nut butter? Guy goes nuts. Well, this stuff takes that to a whole new level. Seriously, it's almost annoying because I can't open the jar without his little beady eyes staring up at me!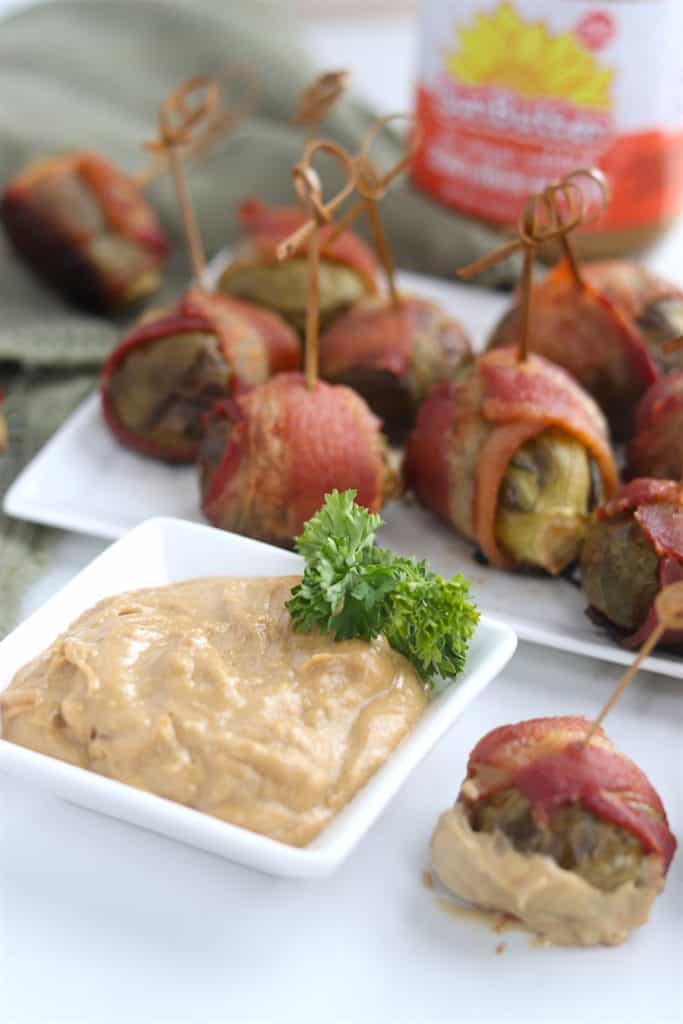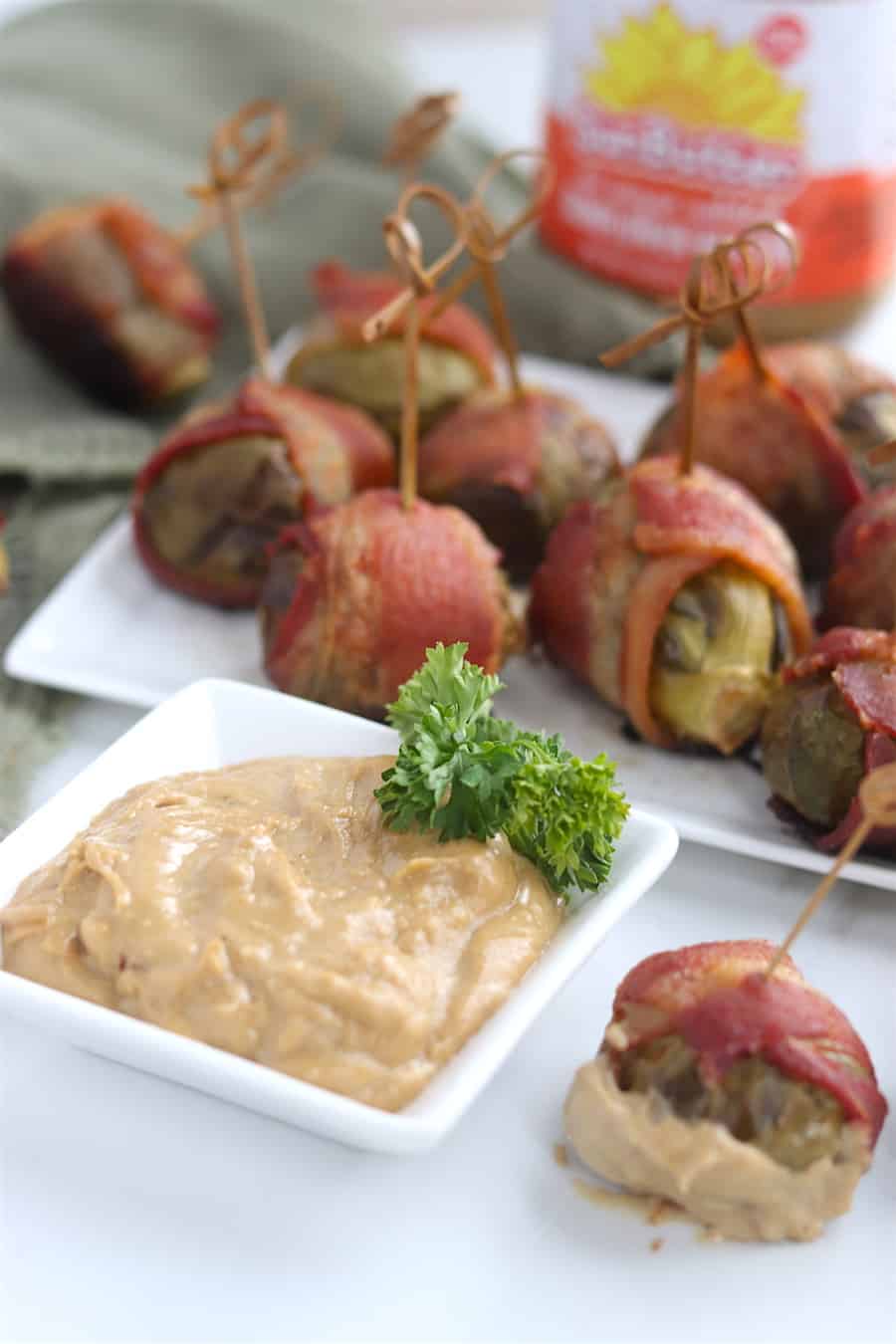 Excuse me while I go throw a party for my little family of three just so I have an excuse to make these again… BRB!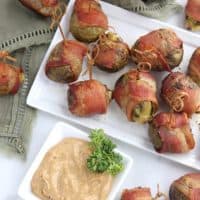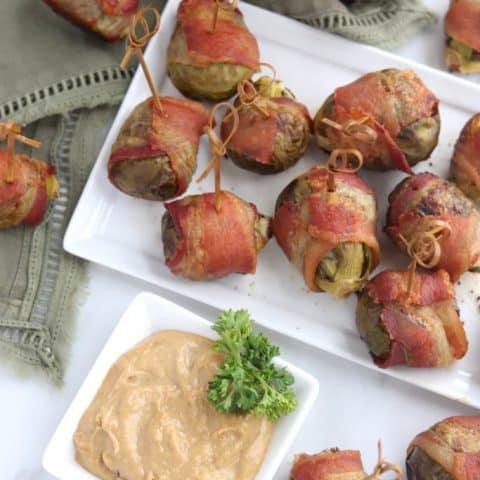 Bacon Wrapped Brussels Sprouts With Sunbutter Aoli
These will be the star appetizer of your next party! Plus, they're allergen friendly, so you can serve them with confidence!
PRINT RECIPE
Ingredients
1

package bacon

1

stalk of fresh brussels sprouts

1/4

cup

Sunbutter

1/4

cup

light Mayo

1

garlic clove

1

tsp

lemon juice

1

tbsp

water

dash of salt and pepper

Toothpicks of appetizer skewers
Instructions
Preheat oven to 350 degrees.

Rinse brussels sprouts, place in a large microwave safe bowl, cover with a wet paper towel, and microwave for 3 minutes.

Cut bacon in half (width wise) and wrap each half around one brussels sprout. Secure it by piercing with a toothpick/skewer. Set onto a baking sheet.

Repeat above step with remaining bacon and brussels.

Bake bacon wrapped brussels for ~30 minutes, until bacon is crispy.

While brussels are baking combine Sunbutter, mayo garlic, lemon juice, water, salt and pepper into a blender or small food processor. Blend until smooth and evenly distributed.

Serve cooked brussels sprouts along side of Sunbutter aoli for dipping!

Enjoy!
Notes
You can pre-wrap the brussels in the bacon and store in fridge prior to baking.
Aoli may also be made in advance and stored in fridge.
click To display nutrition info
Nutrition Facts
Nutrition Facts
Bacon Wrapped Brussels Sprouts With Sunbutter Aoli
Amount per Serving
% Daily Value*
* Percent Daily Values are based on a 2000 calorie diet.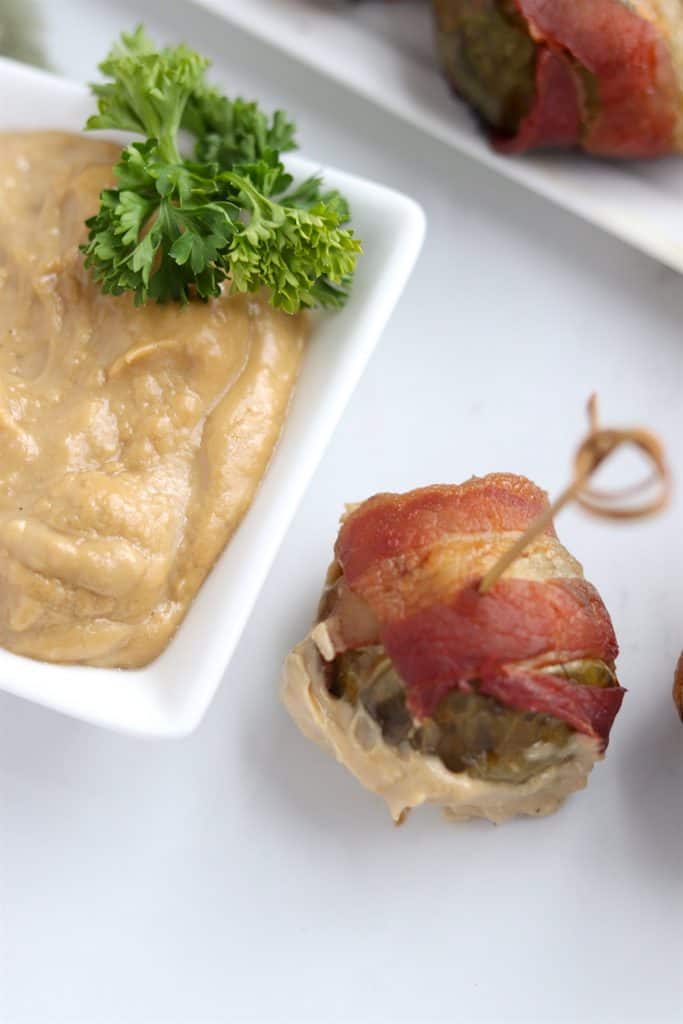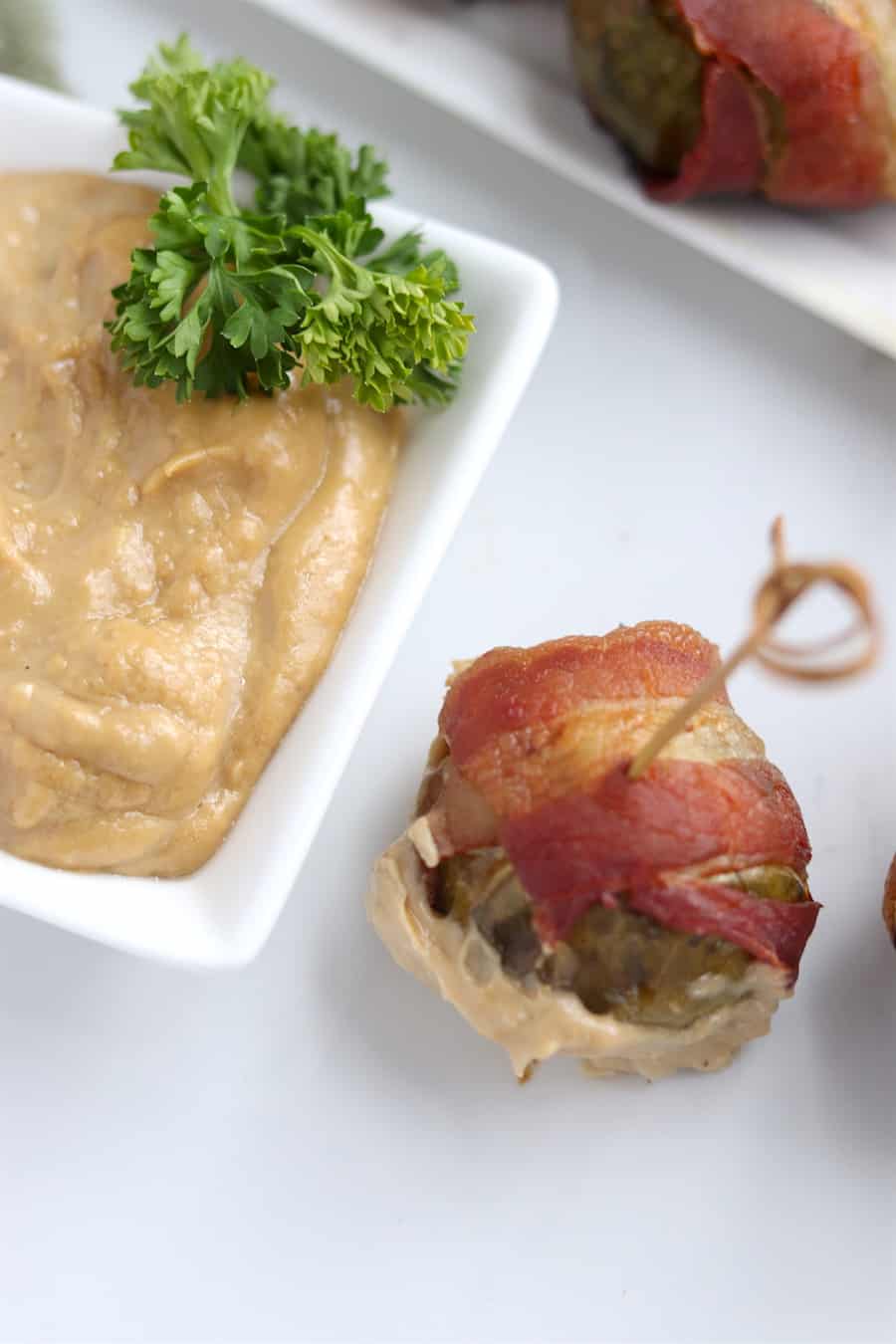 Is there a certain party app you always look forward to? My guess is it'll become these 😉 Let me know other ones you love by commenting!
Happy eating!
-Colleen