The perfect grab-and-go breakfast or snack! These blueberry protein muffins are packed with protein, use whole wheat flour, and no oil.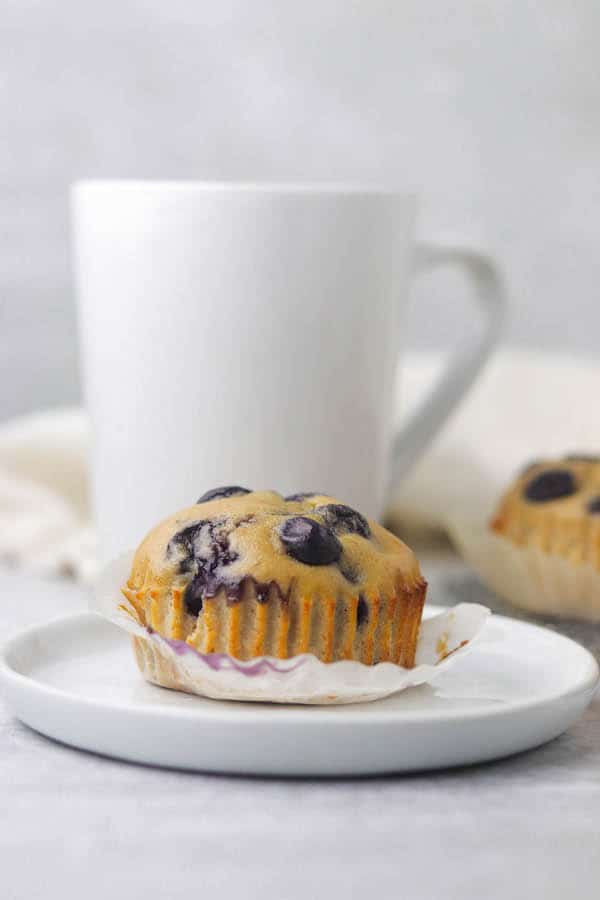 I'm a muffin wo(man), for sure. They just make me happy! So, when I was working on this recipe I knew it had to be perfect and I ended up testing it about 5 times! The result? Delicious, soft, nutrient packed perfection!
Why Blueberry Protein Muffins Instead Of Regular?
I don't discriminate when it comes to my muffins, or any food, really. My no food rules philosophy of food says no foods are good or bad. All foods are fab and all foods fit into a healthy diet. And while I love me a regular, delicious muffin straight from the bakery we have on the corner of our street I gotta be honest.. On the day to day, I usually FEEL better when I have a little protein punch in my morning- or snack- whatever! So, I created this recipe to get the best of both worlds. The delicious muffin-goodness AND that protein punch. Bonus points that this recipe gives you whole grains, too!
Ingredients In High Protein Blueberry Muffins
The ingredients are pretty simple for this protein muffin recipe.
White Flour: I personally like to still use white flour in my baking to prevent whatever I am baking from getting too "grain-y" tasting.
Wheat Flour: Subbing half of the flour a recipe calls for whole wheat is a super easy way to pump up the nutrition! Only doing half keeps it from tasting "healthy", you know what I mean!
Protein Powder: I tested this recipe with multiple different protein powders. I also did different flavors! Honestly, you can use whatever you have on hand! Vanilla works best, but even chocolate or cookies and cream can work!
Baking powder: Staple baking ingredient
Egg: I used a real egg for this recipe, however you could try an egg replacer if you're looking for a totally plant-based recipe
Plain Greek Yogurt: Greek yogurt is the key to creaminess and extra protein! You can find plant based greek yogurt alternatives pretty widely available now. I like to use full fat yogurt to add some fats to keep you full.
Sugar: This recipe doesn't use too much sugar. I find that the protein powders and applesauce add enough!
Applesauce: Now, you can totally sub oil here, no worries. I like to use applesauce in my baking if I'm going for a more "nutritious" item and keep it with regular oil when I'm going for decadence!
Vanilla: You could always try almond extract for a fun flavor change!
Blueberries: You can use fresh or frozen for this recipe. If using frozen, be sure they're all the way thawed and pat dry with a paper towel.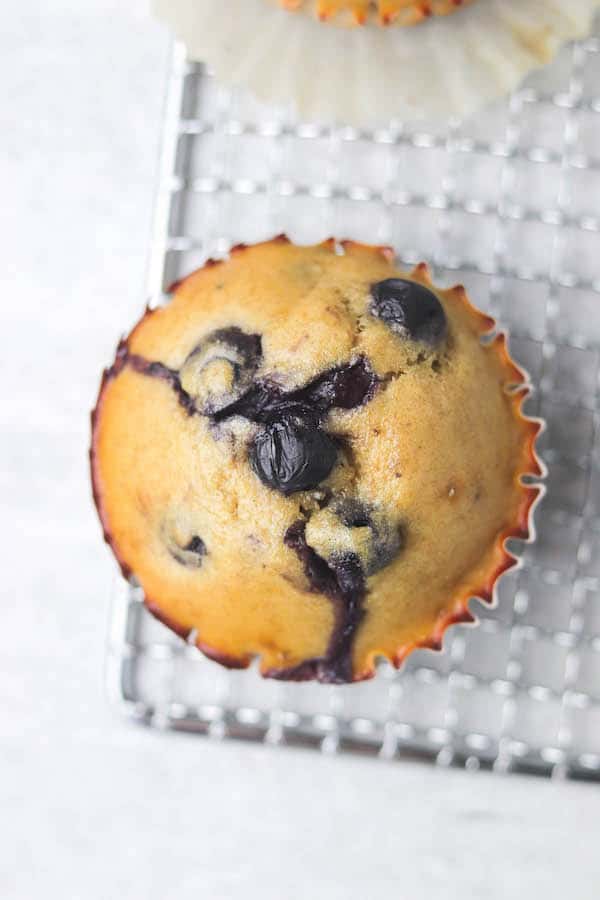 How To Make Blueberry Protein Powder Muffins
Preheat the oven to 400 degrees and either spray a muffin tin with non-stick spray or use high quality with muffin liners AND spray them lightly (this is key to them not sticking!) I'd recommend not using any liners, in all honesty.
First, in a large bowl mix together the flours, protein powder, salt, and baking powder. Set aside.
Next, whisk together the egg, greek yogurt, sugar, applesauce and vanilla in a medium sized bowl.
Pour the wet ingredients into the dry ingredients and mix until just combined. Be sure there are no lumps!
Take you blueberries and place them in a small bowl. Coat them with ~1 tbsp of flour (this can be whole wheat or white flour!)
Gently fold the flour coated blueberries into the batter.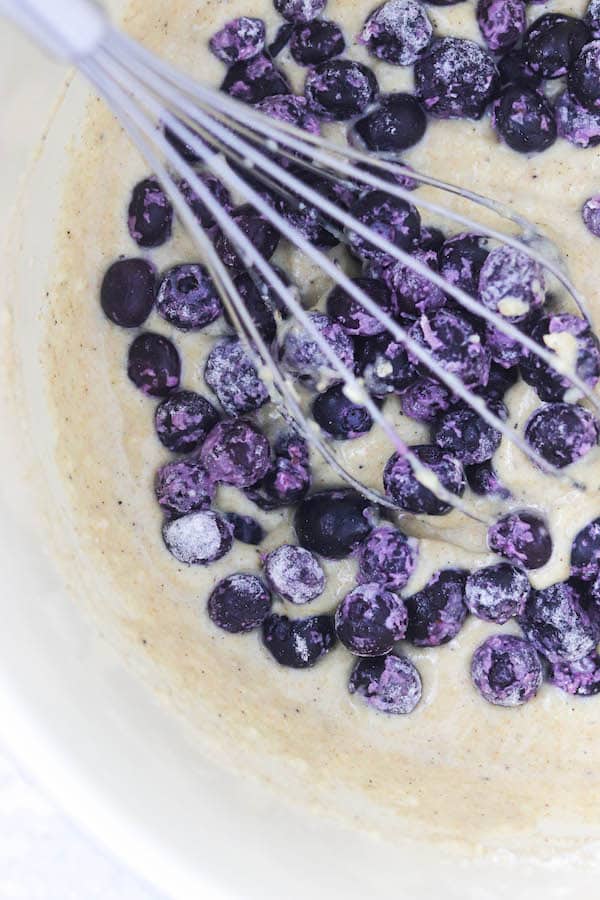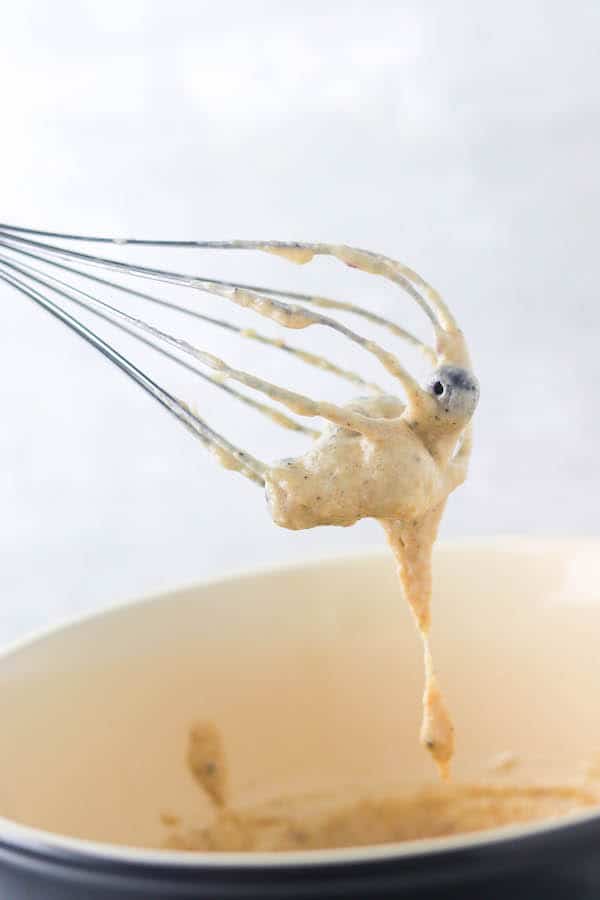 Fill each muffin tin just nearly full. The batter should make ~7 larger muffins.
Bake the muffins for 18-20 minutes. They are done when the tops are golden brown and a toothpick comes out clean when inserted.
Allow to cool and enjoy! Store in an air tight container for up to one week. If storing longer, freeze!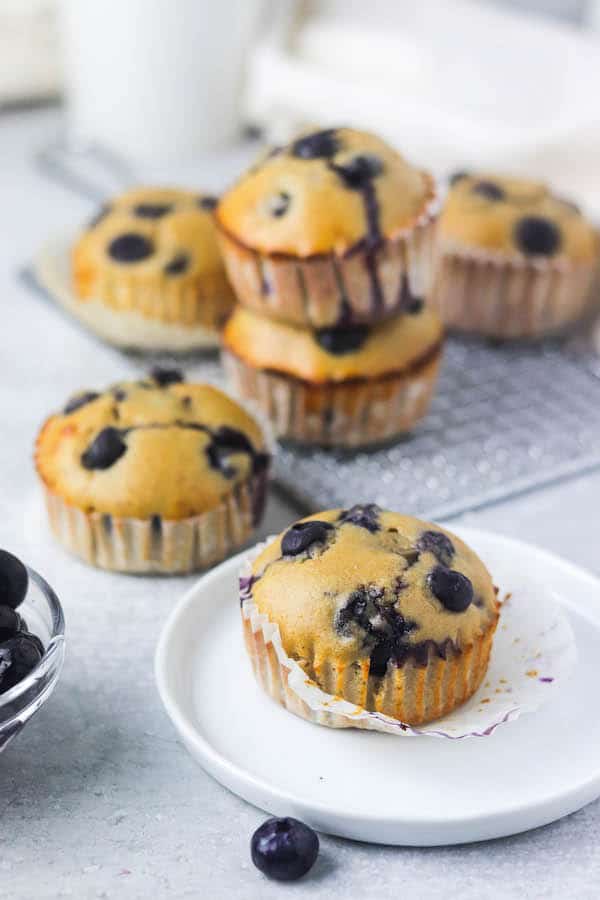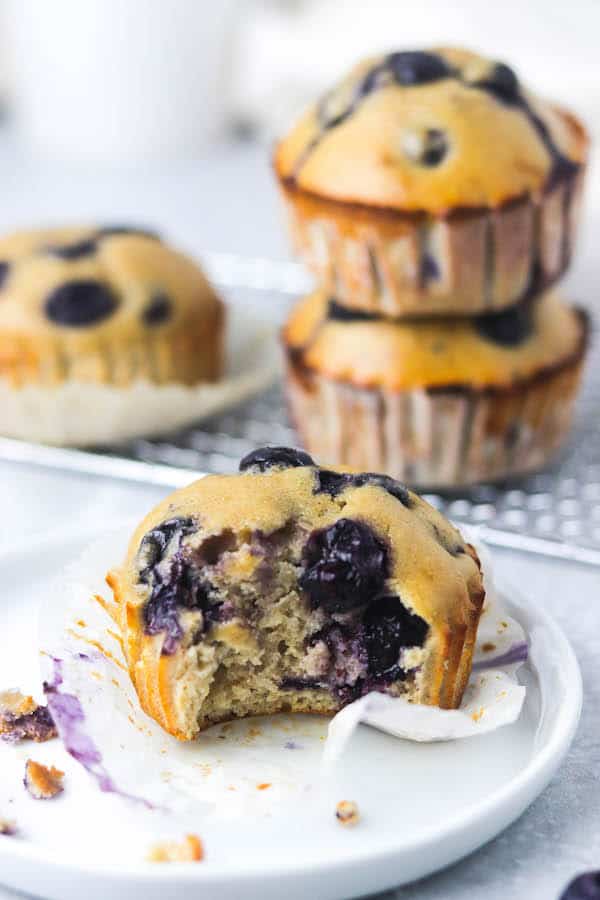 High Protein Blueberry Muffins FAQ
Can I Use Any Protein Powder?
You can use whatever protein powder you have on hand! Even if it's flavored, like chocolate/cookies & cream/etc. It'll still work! I used a cinnamon one and it was actually really good! My protein powders are whey, but plant based should work just fine.
Can I Use Something Other Than Blueberries?
Yes! Get creative! I've made these with chocolate chips and cherries, too!
Can I Use Different Flours?
You can totally use all white flour or all whole wheat. Obviously, those will change the flavor/texture slightly. If you're using alternative flours, like almond or coconut, I'd recommend checking out this flour substitution chart.
Can I Freeze This Protein Muffin Recipe?
Totally! Cook them as usual and allow them to cool fully. Then, place them in a freezer bag and freeze! They can be kept in the freezer for up to 2 months.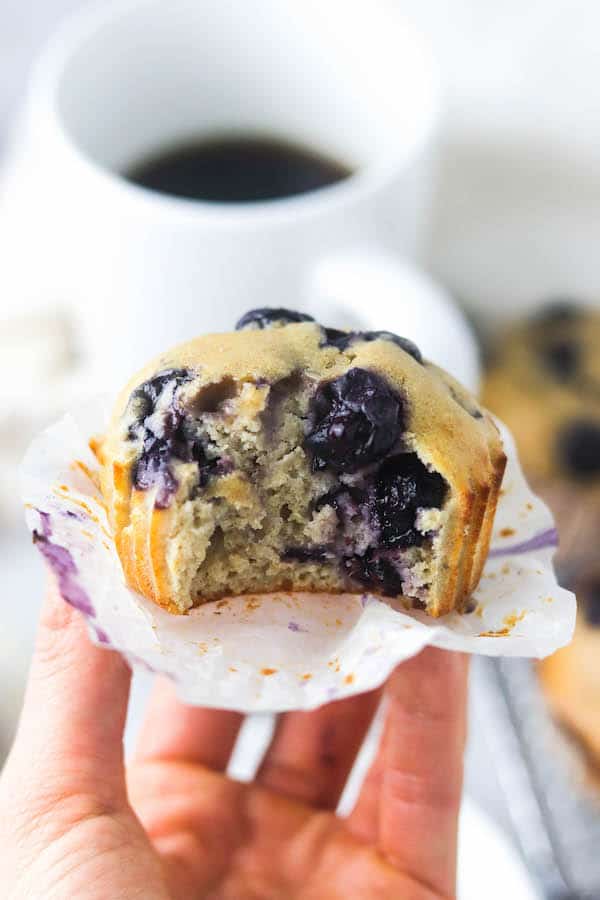 Give these blueberry protein muffins a try and I think you'll love them just as much as I do! They've totally become a meal prep staple in our house!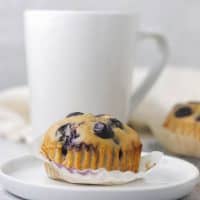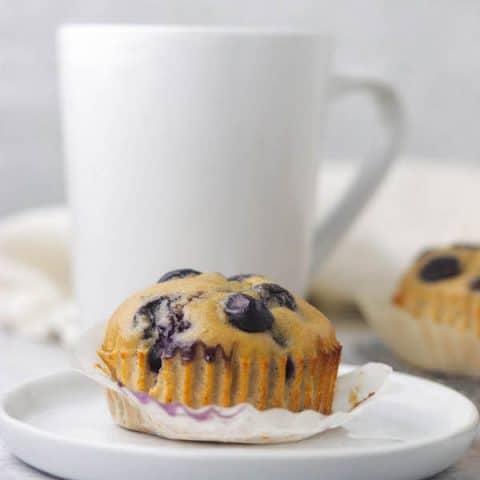 Blueberry Protein Muffins
These protein packed, whole grain muffins are an easy grab-and-go breakfast or snack that will keep you nice & full!
PRINT RECIPE
Ingredients
1/3

c

white flour + 1 tbsp

reserved

1/3

c

wheat flour

2/3

cup

protein powder

any flavor will work, but vanilla or another mild flavor is suggested

1/2

tsp

baking powder

1/4

tsp

salt

1/2

cup

plain whole milk greek yogurt

1

egg

1/2

cup

applesauce

1/3

cup

sugar

1

tsp

vanilla

1

cup

blueberries

fresh or frozen (See notes for frozen)
Instructions
Preheat oven to 400 degrees. Line a muffin tin with liners or use non-stick spray.

In a large bowl combine flours, protein powder, baking powder and salt.

In a medium sized bowl whisk together yogurt, egg, applesauce, sugar and vanilla.

Add wet ingredients to the flour mixture and mix until just combined.

Place blueberries in a small bowl and coat with reserved 1 tbsp flour.

Gently fold blueberries into batter.

Fill the prepared muffin tin, nearly filling each muffin to the top. This should make ~6 or so muffins, depending on the size of your muffin tin.

Bake muffins at 400 for 18-20 minutes until golden brown and a toothpick inserted comes out clean.

Allow to cool fully and enjoy! Store in an airtight container for up to 1 week or freeze for up to 2 months.
Notes
Any flavor protein powder will do!
I used whey protein, but plant based should work as well.
Feel free to use all whole wheat or white flour. If using other flours see the link I provided in the FAQs for conversions.
Feel free to swap out fruit or use other mix ins like chocolate chips, nuts, dried fruit, etc!
I'd recommend only use high quality liners and spraying them with non-stick spray. Or use no liners and a silicone "tin"
click To display nutrition info
Nutrition Facts
Nutrition Facts
Blueberry Protein Muffins
Amount per Serving
% Daily Value*
* Percent Daily Values are based on a 2000 calorie diet.