Granola is a pantry staple in my house. Partially because it is straight DELICIOUS and partially because when you make it your entire house smells like you've just walked into Yankee Candle (i.e. heaven). I hardly ever make the same granola recipe twice. That's the other beauty of it! You can tweak and adjust it to whatever type of mood you're in. Chocolatey, fruits, nutty, grain-free. The possibilities are endless! This week's edition was inspired by the upcoming fall season: Cinnamon Date Granola.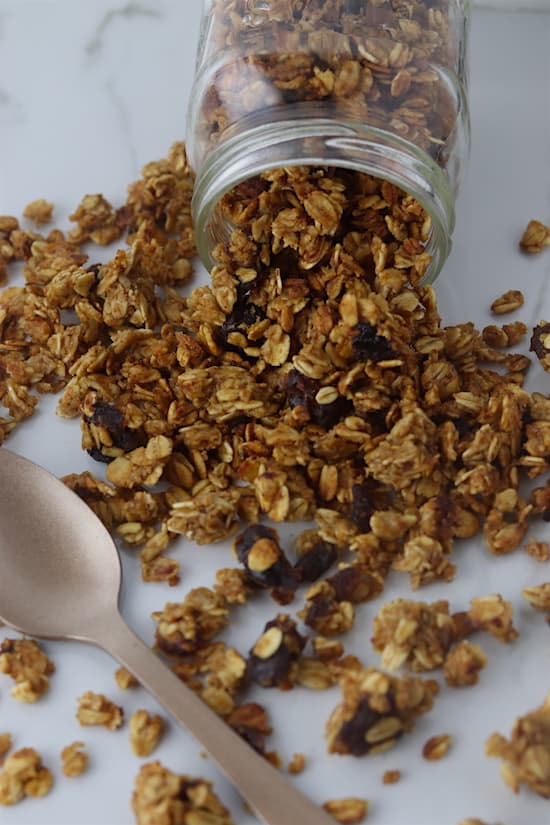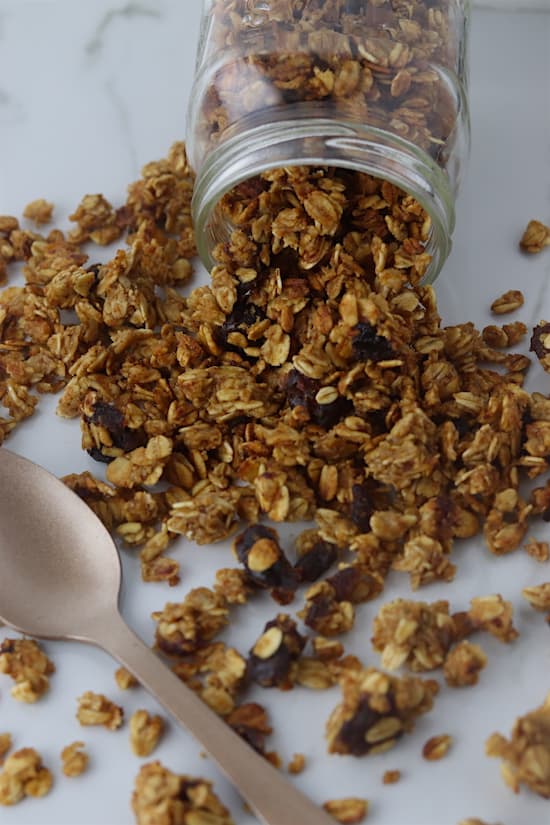 I'm still weary of fall flavors over here. It's not officially fall (September 23rd! All of my newsletter friends know that 😉 Be sure to sign up, too!) and I don't want to rush summer ending, because it's my favorite. Also, find of because I get married in the fall (October) and if I start swimming in pumpkin spice lattes that means that the wedding is about here, and I just need a little more time okay?! Not that I don't have it all planned, I'm just super Tye A and there is never enough double/triple/quadruple checking! Ya girl got issues.
Anywho, so, fall. The one fall flavor that I've let weasel it's way in is cinnamon. You all saw that debut in my cinnamon peach baked oatmeal, which is phenom! Snag that recipe here. This cinnamon date granola is another great fall transition recipe. The chopped dates dd such a nice chewy texture, a great contrast to the crunchy oat clusters!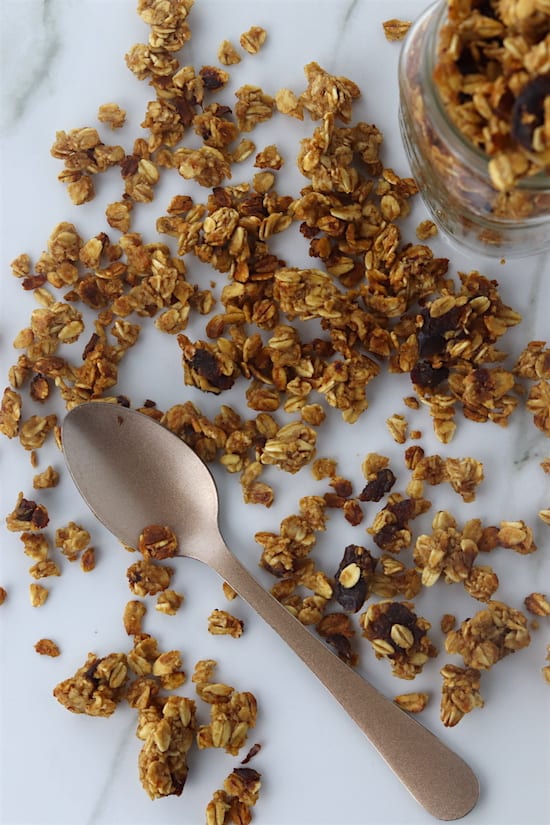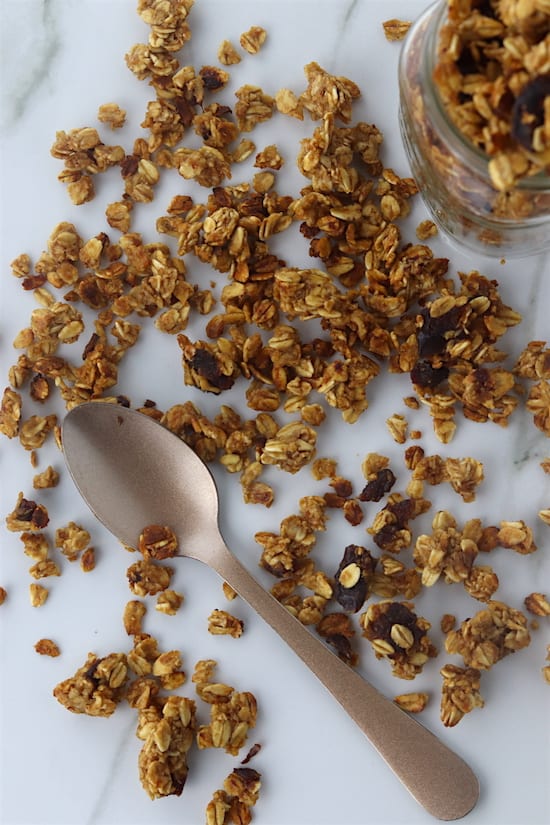 As with all of my granola recipes I use my (not-so) secret ingredient: Applesauce. I SWEAR by applesauce granola. It keeps it low fat, adds sweetness (meaning less added sugar!) and you can get GIANT clusters! Or, if you prefer the smaller, more broken up stuff you can totally do that too. It's really whatever your little heart desires, my dears! If you haven't tried applesauce granola- DO IT. You'll be just as hooked on this hack as I am!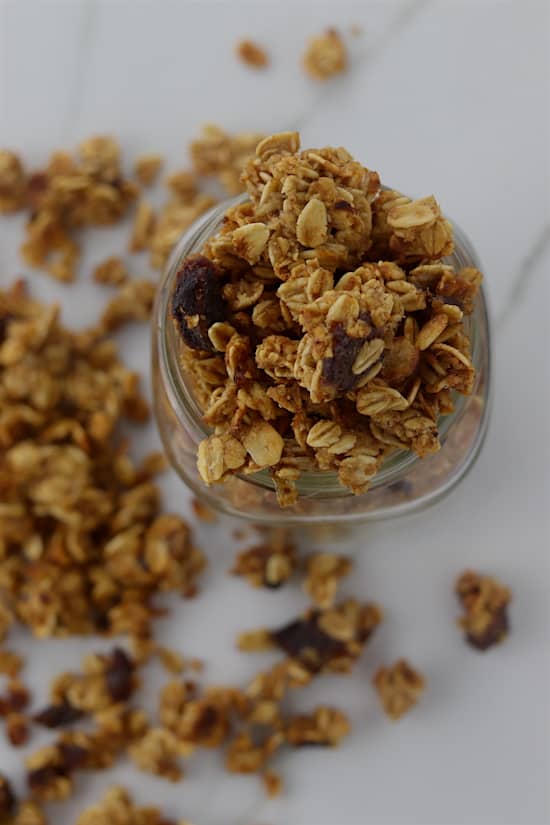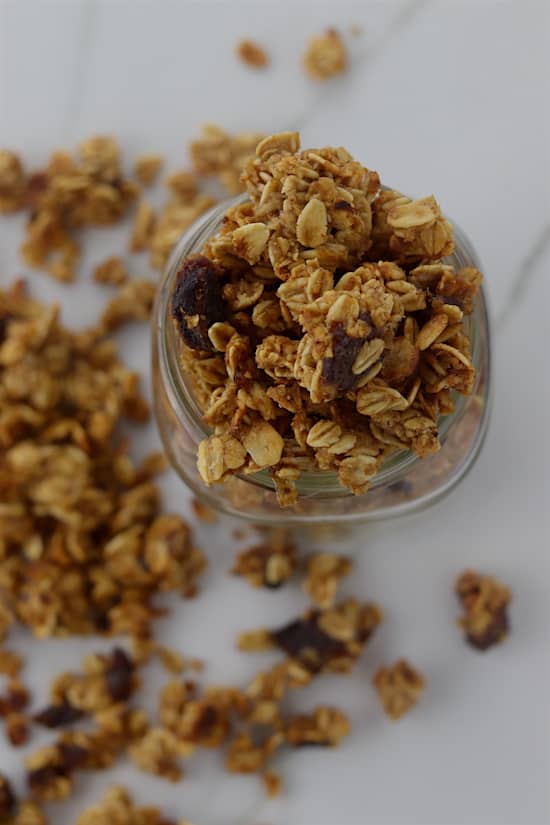 Here are some of my favorite ways to eat granola:
Mixed with yogurt. Such a classic, right?
Dipped in peanut butter. I loooove taking a big chunk and dipping it RIGHT into the peanut butter jar. I'm obsessed with doing this before a good, long run.
Sprinkled on yogurt toast. Greek yogurt spread on toast, or on rice cakes, are my JAM. The granola adds such a nice little crunch factor.
Topping off a smoothie bowl. We recently got the Ninja we registered for and I'm in LOVE. The thickest, creamiest smoothie bowls all day, every day. I always add frozen riced cauliflower- check out this post to find out why you should be too!
With chopped fruit and a splash of milk. I mean, it's cereal, right?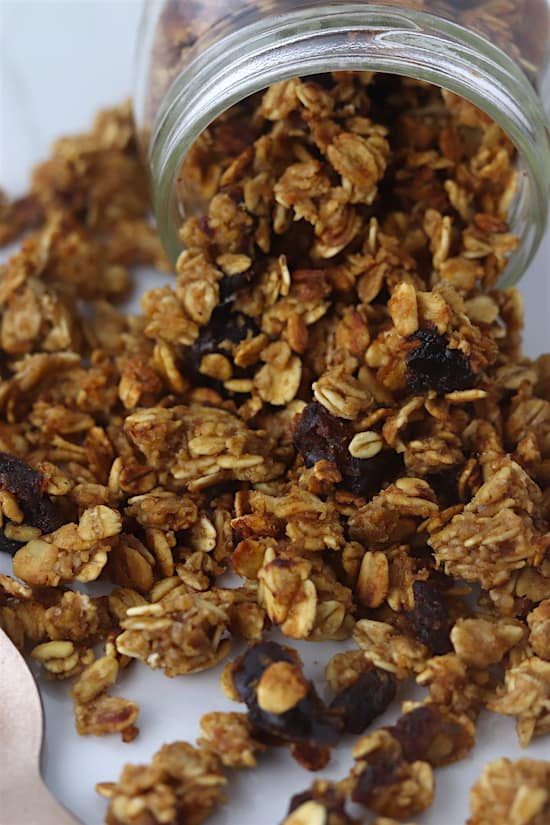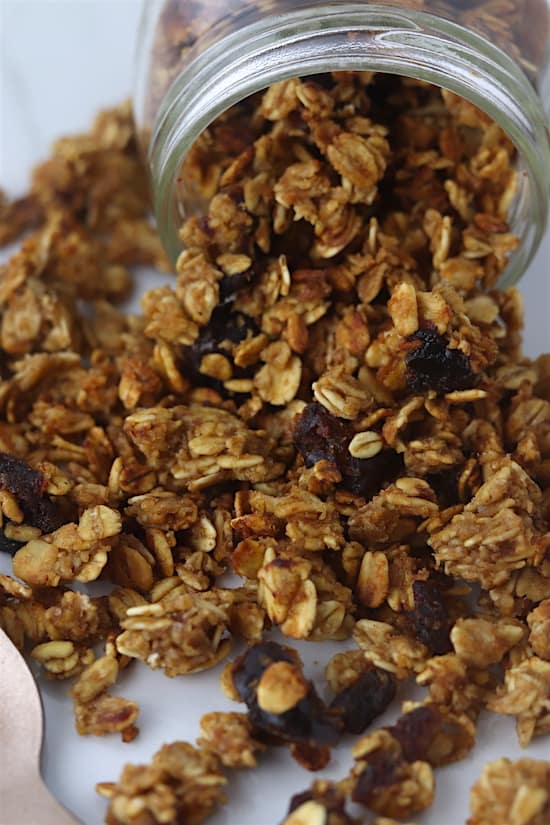 I'm obsessed with this recipe and can't wait for you to be too!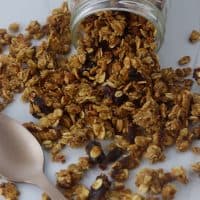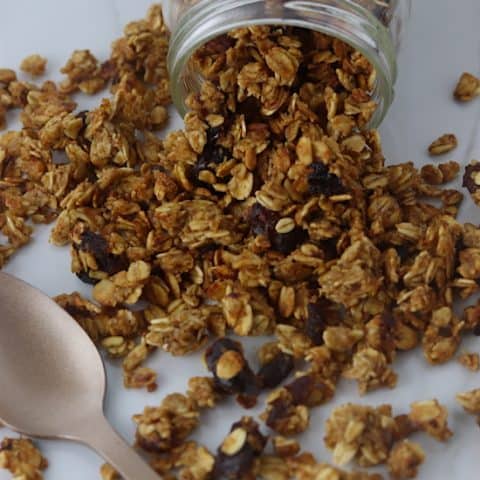 Cinnamon Date Granola
This cinnamon date granola is the perfect pantry staple! It's low fat, oil-free, and low added sugar!
PRINT RECIPE
Ingredients
3

cups

Old fashioned oats

1/2

cup

Brown sugar

1.5

tsp

cinnamon

1/4

tsp

salt

2

tsp

vailla

1

cup

unsweetened applesauce

1/3

cup

chopped dates
Instructions
Preheat oven to 400 degrees. Lightly spray a 13x9" pan with nonstick spray and set aside

Combine all dry ingredients (Oats through salt)

Add in vanilla and applesauce until evenly coated. Fold in dates.

Spread evenly into 13x9" dish, pressing down slightly (this forms chunks)

Bake for ~45 minutes, stirring every ~10 minutes.

Enjoy!
Notes
Store in an airtight container for up to 1 week.
When stirring, you can break up the clusters as much or as littler as you like!
click To display nutrition info
Nutrition Facts
Nutrition Facts
Cinnamon Date Granola
Amount per Serving
% Daily Value*
* Percent Daily Values are based on a 2000 calorie diet.
Happy eating,
-Colleen
Be sure to pin this recipe for later!