I did it. I've joined the pumpkin team! Since it's technically fall now I figured it was about time. I tried to hold out as long as I could because I knew that once I went at it with the pumpkin, there was ZERO turning back. Pumpkin oatmeal, pumpkin cookies, pumpkin pasta, pumpkin smoothie bowls (yup, those are season-less to me!) Don't all of those things sound FAB? Yeah? Good! Because over the next few weeks I've got ALL of that comin' atcha. And then some!
So, let's dive in! First up today is a quick, delicious, recipe for five minute pumpkin pie oatmeal. I ate zucchini oatmeal (Zoats, if you will) pretty much ALL summer long, and now this is what is taking its place. I love adding extra fruit and veggies into my oatmeal in the mornings for a few reasons:
adds extra vitamins and minerals
helps to keep your tummy full
takes advantage of in-season flavors
That being said, take a second and pin this to your pinterest board. You'll want to keep it handy!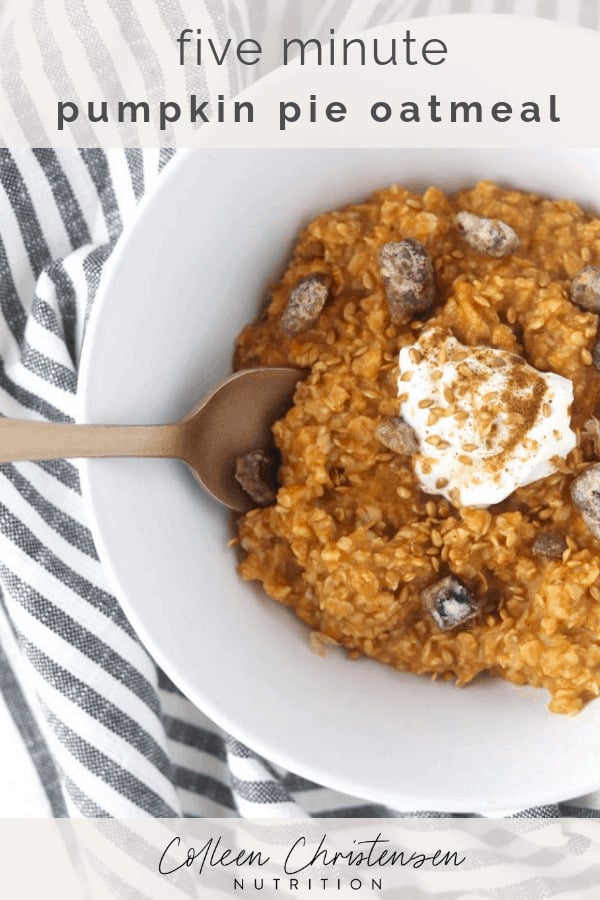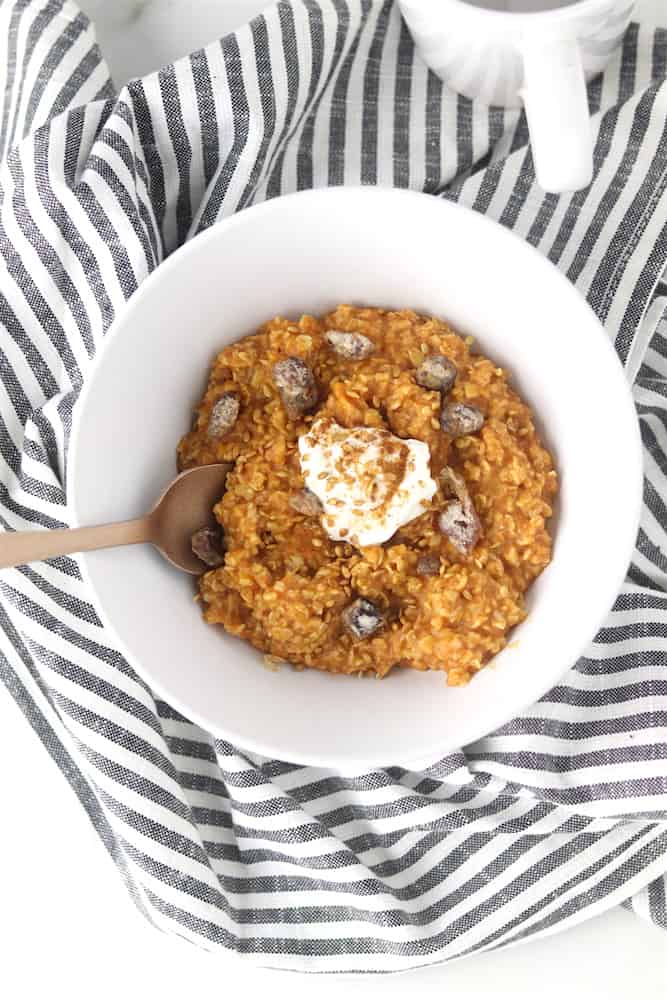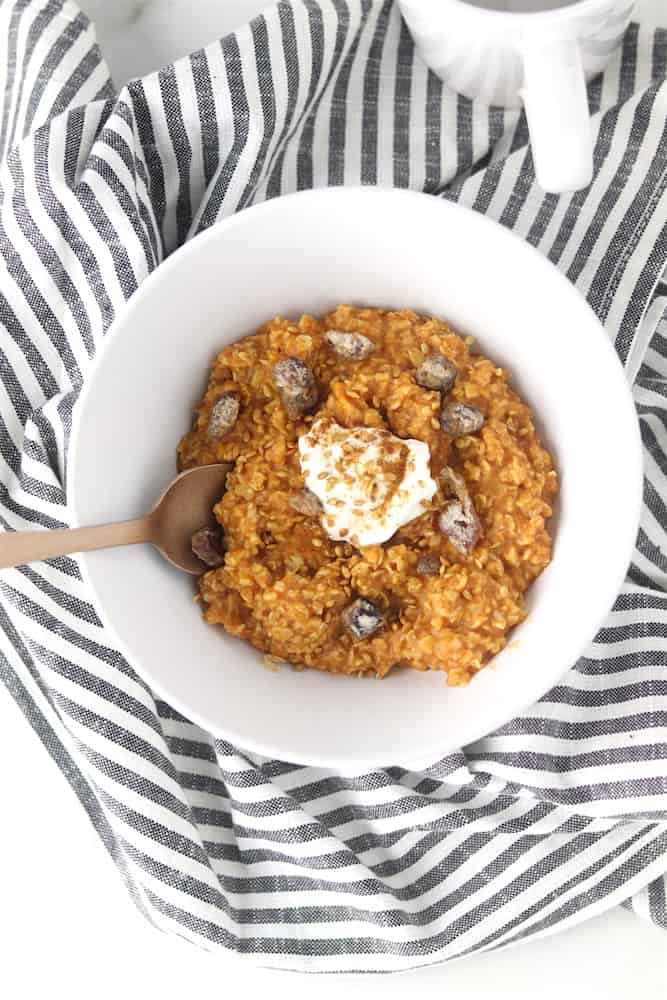 Let's talk about those extra nutrients for a second. Firstly, when you want to add pumpkin and reap health benefits be sure that you're using pumpkin puree NOT canned pumpkin pie mix. I've been guilty of grabbing the wrong can off of the shelf once or twice, so do yourself and favor and double check. There is a pretty big difference, one is just pumpkin and one is legit like eating a pumpkin pie. Nothing wrong with that, but ya' might sugar crash in the AM if you have it daily. When you add pumpkin puree here's what you're getting:
Vitamin A, a whopping 250% of the daily value per 1/2 cup!!
3g of fiber, hello feeling full!
More potassium than a banana per 1 cup puree. This can help restore electrolyte balance after a workout.
Now I bet you'll be like me and start adding pumpkin to ALL of the things! Delicious and healthy. My two favorite things!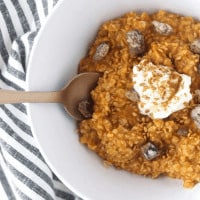 Five Minute Pumpkin Pie Oatmeal
This five minute pumpkin pie oatmeal will become your morning staple! Healthy and packed full of delicious fall flavors!
PRINT RECIPE
Ingredients
1/2

cup

quick oats

dry

1/4

cup

pumpkin puree

1/3

cup

almond milk

unsweetened

1

tbsp

maple syrup

1/2

tsp

vanilla

1/4

tsp

pumpkin pie spice
Instructions
Combine all ingredients in a bowl, mix thoroughly.

Microwave for 2 minutes.

Remove and add extra water as needed until it reaches the consistency of your liking (1/4-1/2 cup)

Microwave for an additional 1 minute.

Remove from microwave and top with any additional toppings of your choice, enjoy!
click To display nutrition info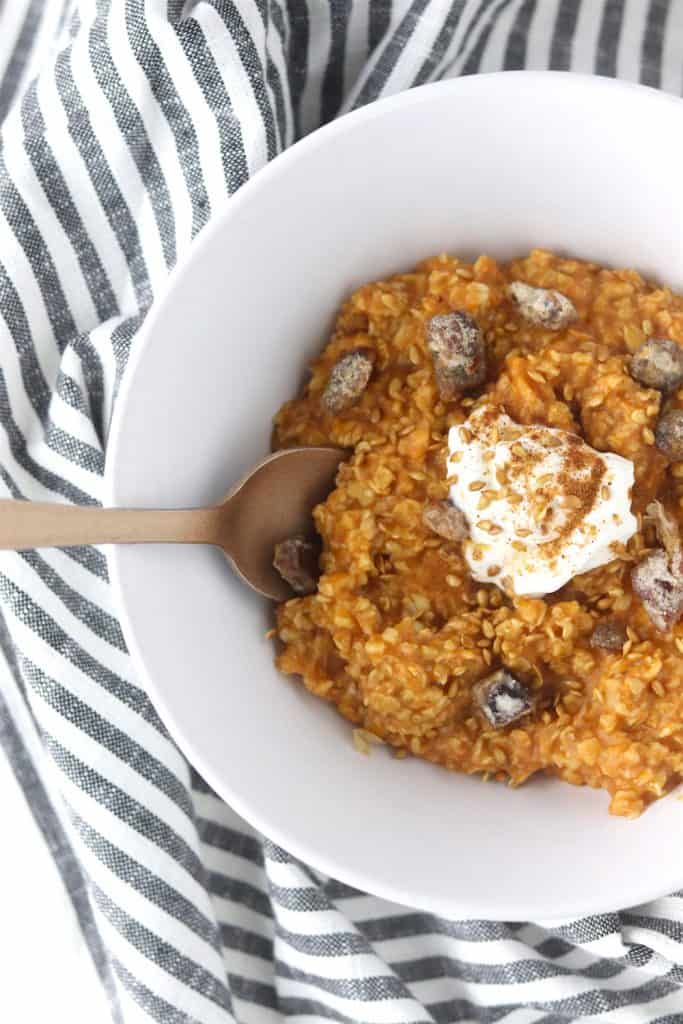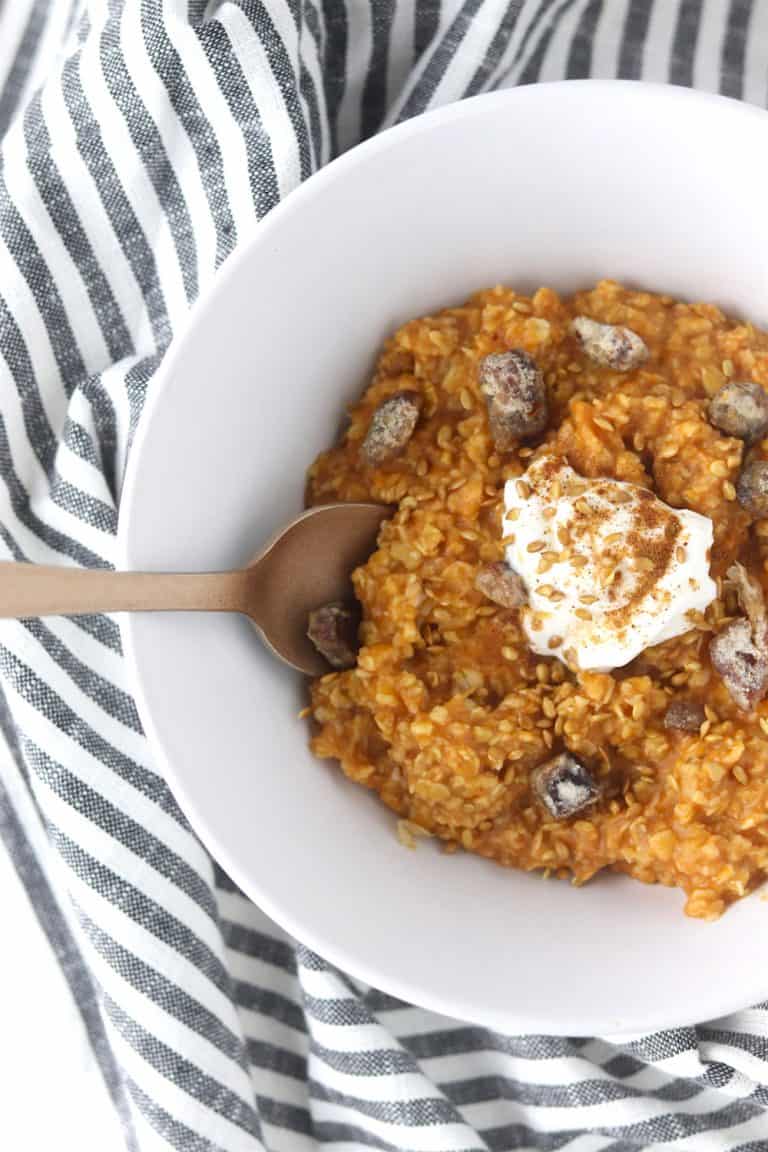 Want more pumpkin recipes? You might like this one bowl pumpkin bread or this crockpot pumpkin turkey chili!
Happy eating,
Colleen