I'm not going to lie to you guys… when it comes to football I'm kinda the worst. I've tried super hard to be all about it, but I'm just not. If I am actually AT the game it is a little different, I can stay attentive the whole time, but at home? Meh. But the tailgating? Now that I can get down with. Tailgate food gets a bad rap for being super unhealthy, which, to be honest, most times it is. BUT, it totally doesn't have to be that way. Let me prove it to you with this crockpot pumpkin turkey chili!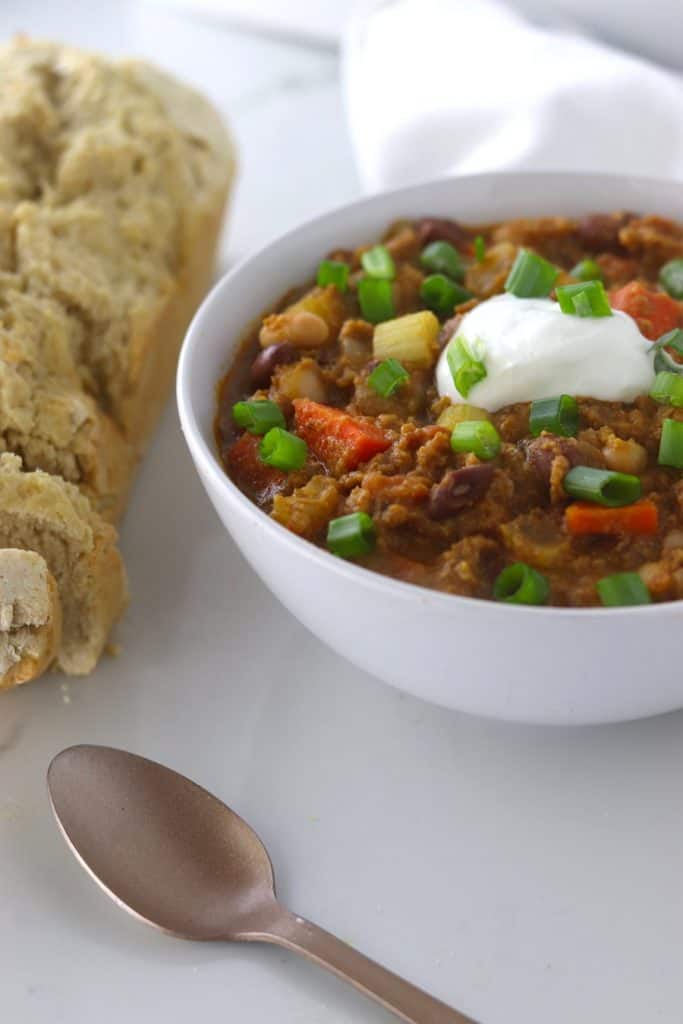 This past weekend was a big weekend here in Michigan with the University of Michigan VS Michigan State University game and my sister invented the whole fam over. She went to U of M and I went to MSU, so we've got a little house divided action going on. That lady gets a liiiiittle (lot) more heated about football than I do. So, I decided to bring a peace offering with me of this crockpot pumpkin turkey chili. Guess what? Worked like a charm!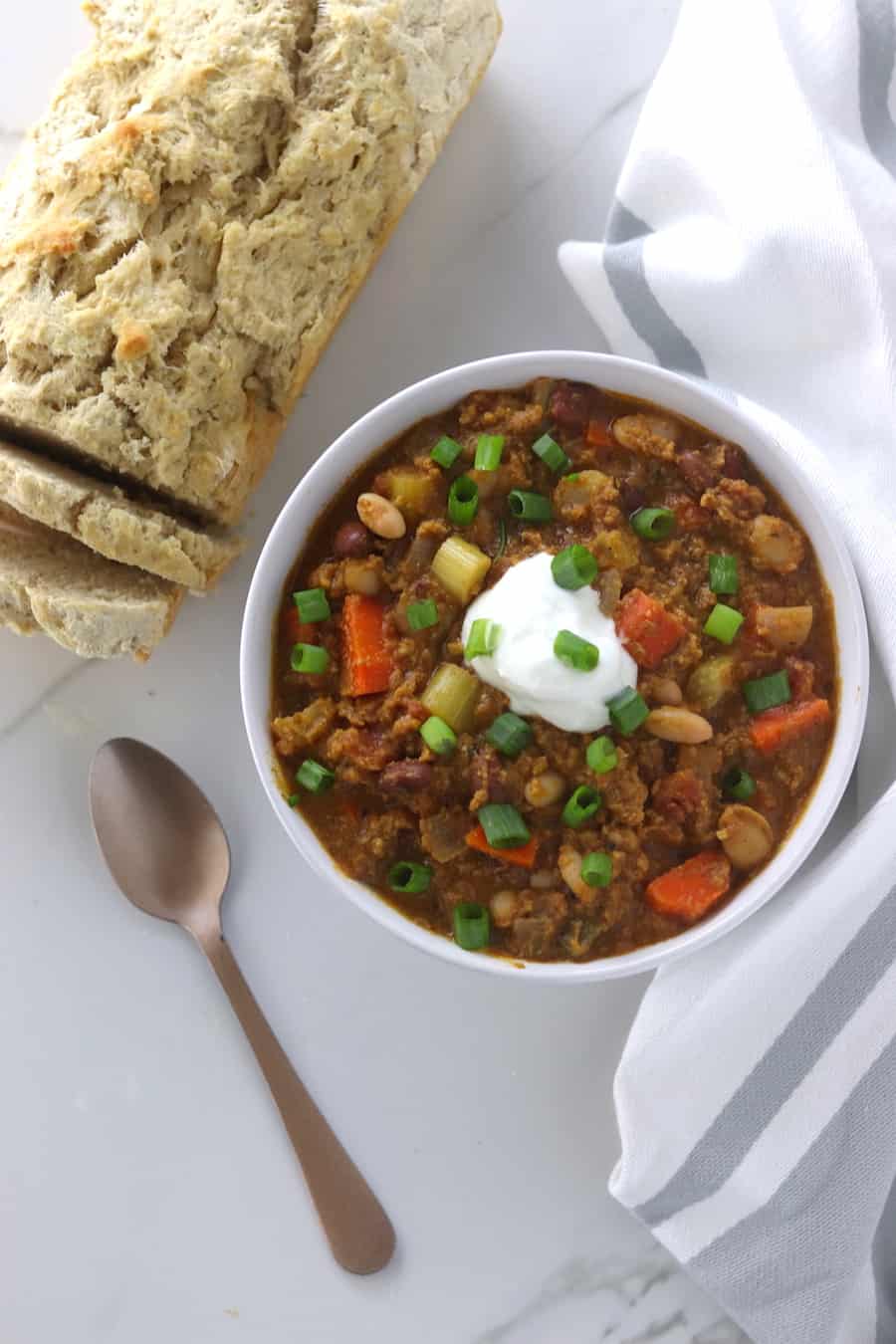 The weather was totes suboptimal- super windy and stormy- and there ended up being an hour delay due to thunder. Sounded like a huge bummer, but once we dove into this chili no one seemed to mind.
This crockpot pumpkin turkey chili is LOADED with veggies- meaning it's packed with a variety of nutrients. One of my top healthy cooking secrets? Always double the veggies. It is a great way to add bulk to dished without adding loads of calories. I'm a volume eater, as are many Americans, so this tip is GOLD.
Here are some of the All-Star ingredients of this recipe that make it super healthy and deserve a little recognition:
Pumpkin: Pumpkin is most known for being packed with Vitamin A (that's what gives it its vibrant orange color!) This vitamin helps keep eyesight sharp and can help to improve immunity.
Beans: Beans are a fabulous way to increase both fiber and protein content of a dish. Protein and fiber both work to keep you full, which can help with weight management. Plus, I'm just going to lay it out there that fiber is super important for keeping you regular… If ya know what I'm saying..
Lean ground meat: In all honesty, there is nothing wrong with using lean ground beef VS lean ground turkey in this recipe. I simply have better access to the turkey where I shop. Heck, sub lean ground chicken if you want! The key here is choosing a lean meat which will reduce the fat content, in turn keeping caloric content reasonable.
I know, sounds like all fabulous stuff, right? And I haven't even talked about how it TASTES. Let's just say my oldest (and pickiest) nephew downed it. Along with a massive slice of the Mr.'s famous beer bread. That is a true testament to how delicious it is.
Two other things to note about this recipe:
It's SO easy to throw together.
You are left with NO HALF CANS! I absolutely hate when recipes call for "1/2 can of beans", then I'm stuck trying to find a way to use the other half. Nope, not this one!
Take a second to pin this recipe to your Pinterest board so you don't lose it, because trust me, you'll want it for the next tailgate you go to or even just a on a chili night! Ya' see what I did there? So punny.

Crockpot Pumpkin Turkey Chili
Prep time:
Cook time:
Total time:
This crockpot pumpkin turkey chili will be the hit of your next tailgate! It's easy to throw together and is sure to be a crowd pleaser!
Ingredients
3 medium to large carrots
3 stalks of celery
½ sweet onion
1 can great northern beans
1 can milk chili beans
1 can pumpkin puree
1 lb lean ground turkey
1 can tomatoes with green chilis
1 can low-sodium chicken stock
2 cloves garlic
1.5 tsp cumin
1.5 tsp chili powder
1 tsp oregano
1 tsp salt
½ heaping tsp pumpkin pie spice
¼ tsp nutmeg
dash of red pepper flakes
Instructions
Peel carrots.
Dice carrots, celery and onion. Place in a 6-quart crockpot.
Add all canned goods to crockpot.
Add turkey to crockpot, use a spoon to break it up to avoid large chunks.
Either use a garlic press or finely mince garlic and add to crockpot.
Add all spices.
Mix all ingredients together until just combined.
Cook on low for 6-8 hours or on high for 4 hours.
Serve hot, may top with cheese, plain greek yogurt, and/or green onion if desired.
Nutrition Information
Serving size:
~ 1⅔ cup
Calories:
162
Fat:
6g
Carbohydrates:
14.8
Protein:
13.3
Happy eating,
Colleen