Soft, fluffy and SO simple! These gluten free pumpkin muffins made with almond flour take only minutes to put together and give you that delicious pumpkin spice fall taste we all crave!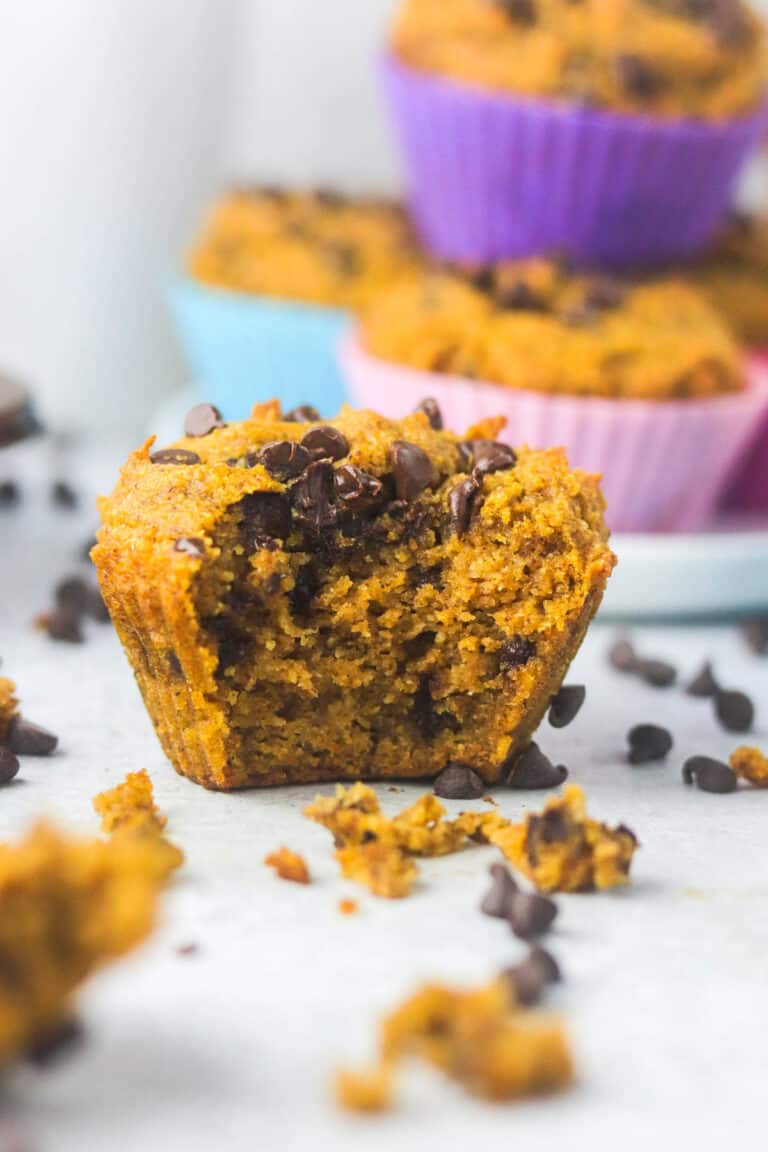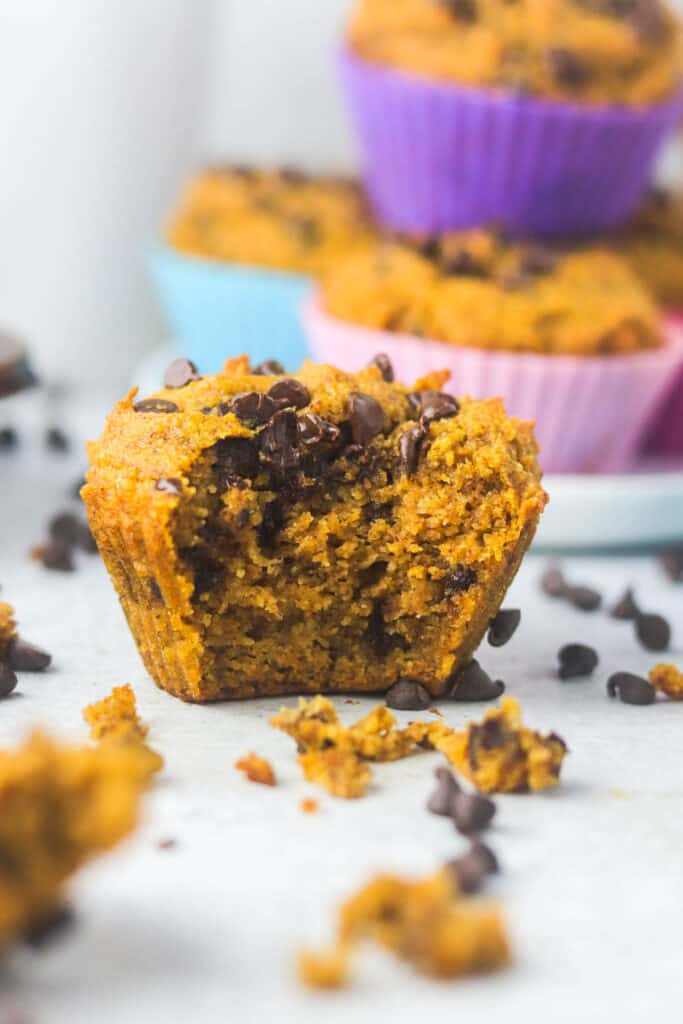 Every year I ask myself when the right time to start posting new pumpkin recipes is and every year I find myself saying "it's never too early!" To be totally honest with you, I started testing this recipe in AUGUST! That sounds crazy, but I wanted to make sure I had time to perfect it for you and… by golly that's what I did. These. Are. PERFECTION!
I do have to thank my lucky stars that my husband agrees that every day is suitable for consuming pumpkin because otherwise, we'd have an issue! Meaning, like I'd be eating all of the muffins for breakfast, lunch and dinner in order to prevent food waste (huge pet peeve!) and then probs not feeling so great!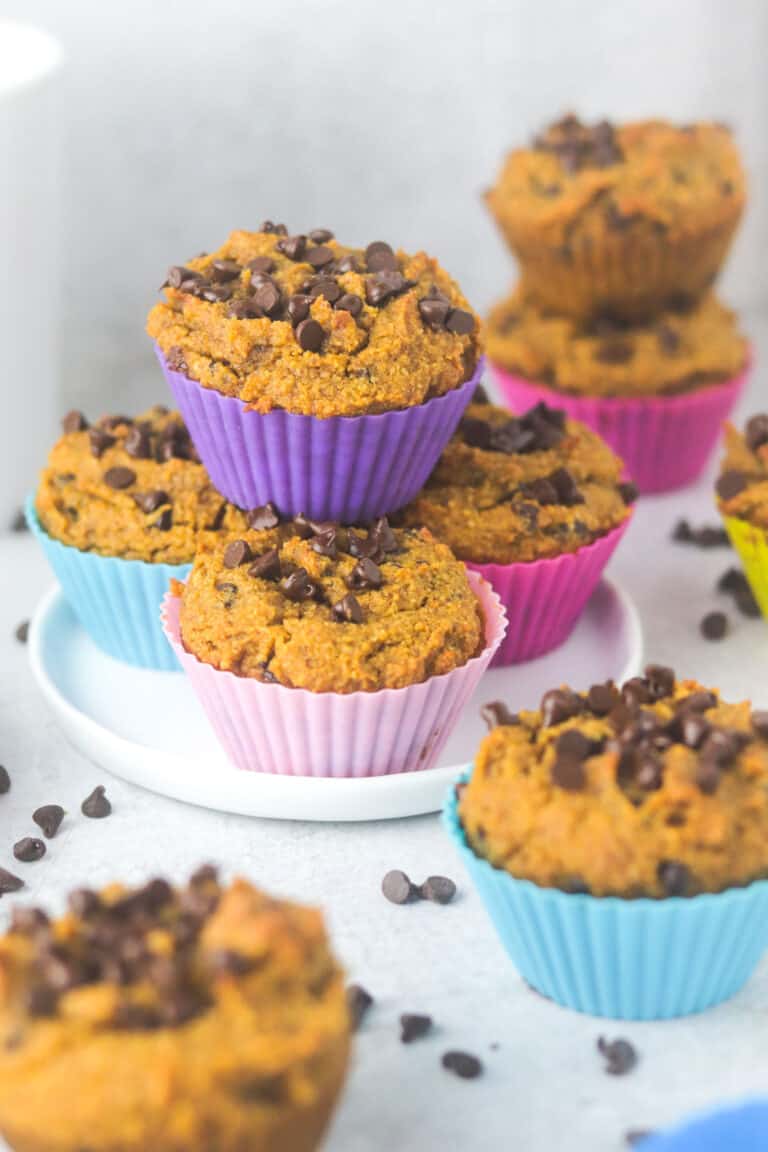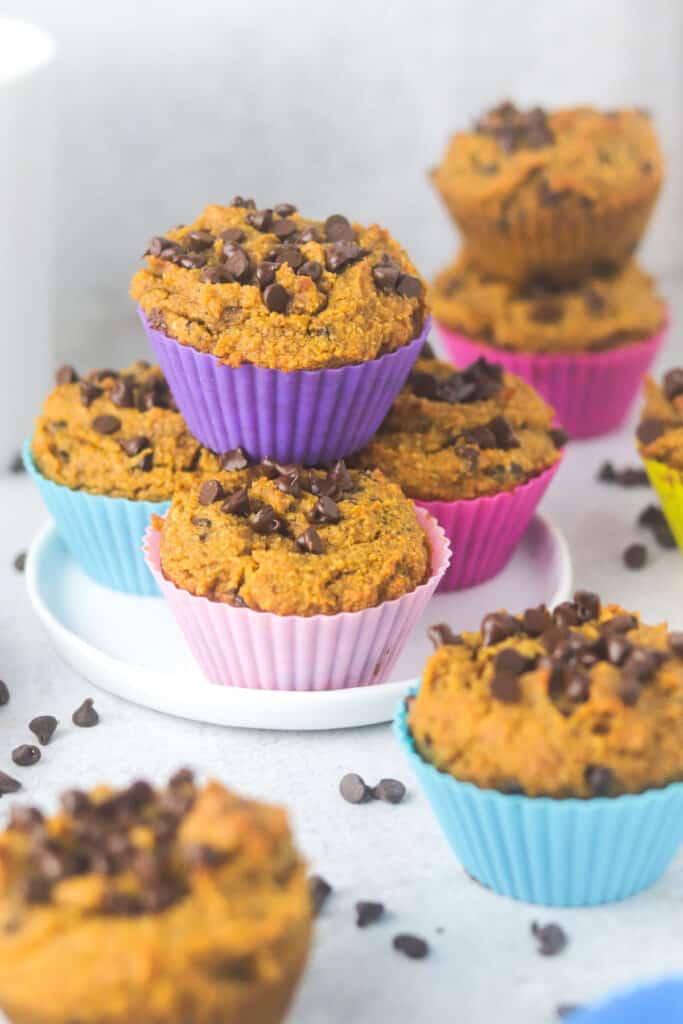 Why I Make Gluten Free Muffins With Almond Flour
When I make gluten free recipes you'll notice that I usually make them with almond flour. You can see this in my recipe for almond flour peanut butter cookies and also almond flour banana muffins.
The reason I use almond flour is for a few reasons:
I love that it adds a slightly nutty taste
The Registered Dietitian in me loves that it adds some protein and fat to the recipe, which can help keep you full and satisfied
Another nutritional benefit is that consuming almonds can also improve health status, like lowering cardiovascular disease risk
It's just fun to change things up and try new flours!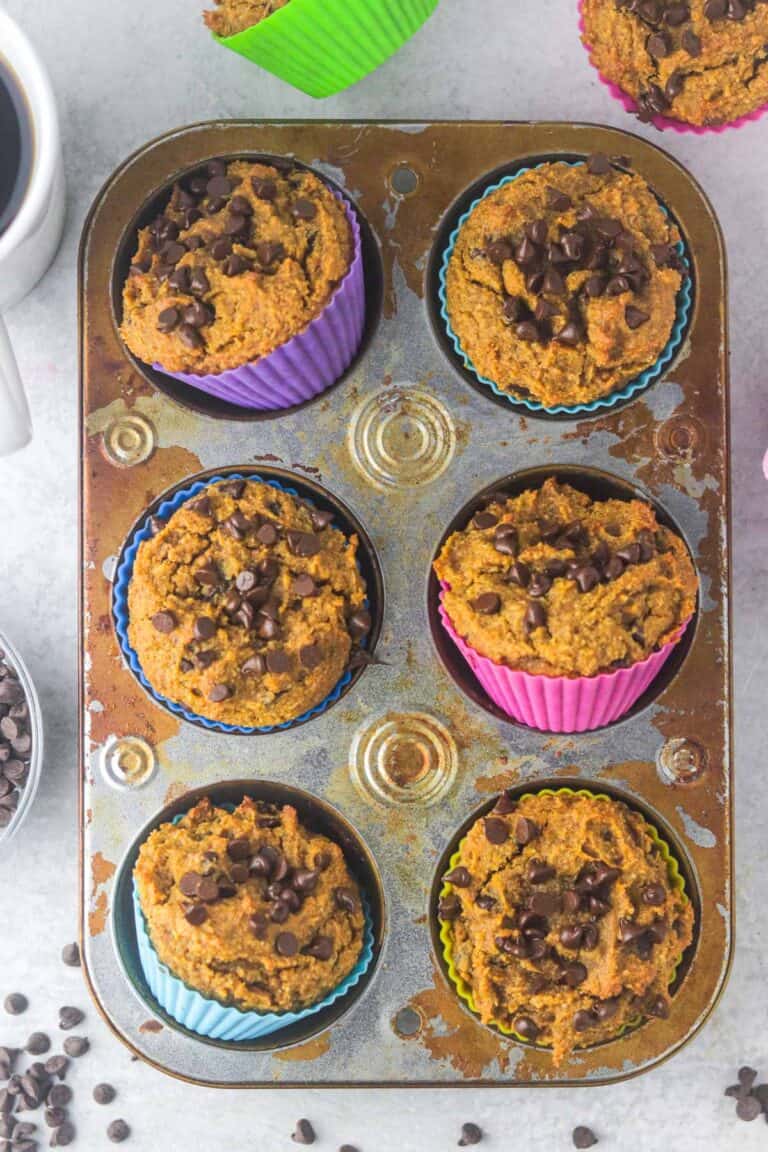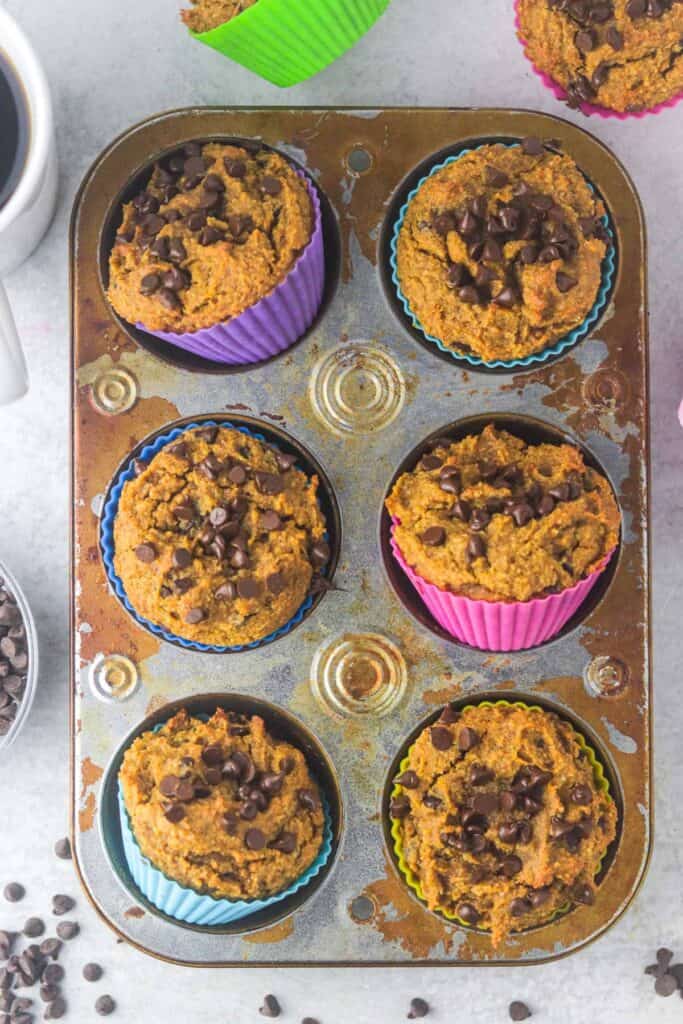 Does It Matter If You Use Fresh Or Canned Pumpkin For Muffins?
You can totally make your own pumpkin puree, it's super easy (you have learn how to make pumpkin puree from scratch here!), but honestly? I mostly just buy it. It's super convenient and I go through a LOT of pumpkin puree in the fall. I.e. I'd be roasting pumpkins to make puree like on the daily!
When buying pumpkin puree for these gluten free pumpkin muffins, or any baked good really, just be sure to get canned pumpkin PUREE not canned pumpkin PIE mix.
Canned pumpkin pie mix, or sometimes it's called canned pumpkin pie filling, will have added ingredients like sugar. If you use this AND add the sugar the recipe calls for you're going to have one SWEET end result! And, sometimes? Too much of a good thing (like delish sugar) is just too much of a good thing!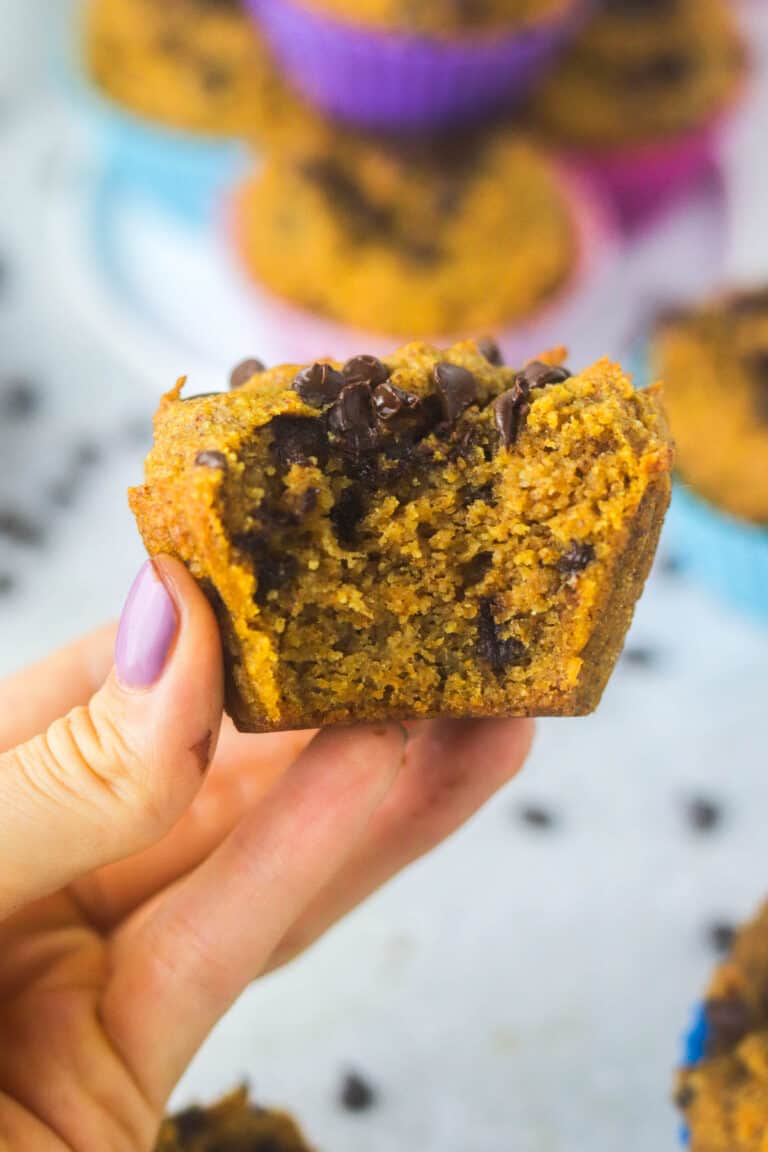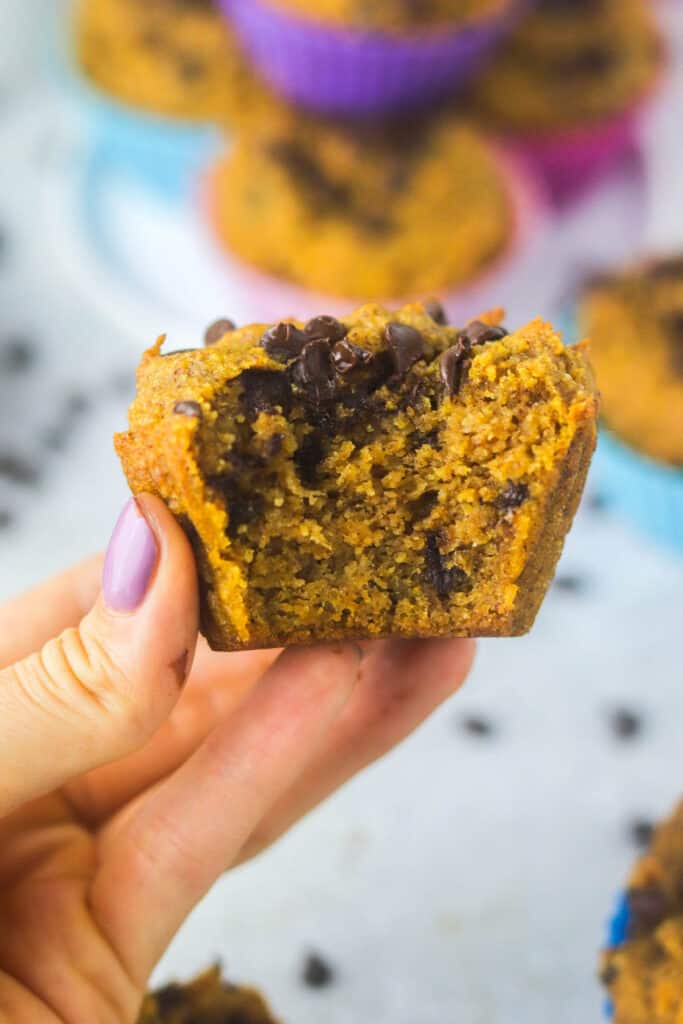 Are Pumpkin Muffins Healthy?
I don't really like to use the word "healthy" because I believe that all foods are healthy, I really do. Some are more nourishing for our bodies, some for our mind and soul. However, these pumpkin muffins are pretty nutrient dense, meaning they've got a lot of goodness in them that our bodies will love. So, yes, these may fall under the "healthy pumpkin muffin" category.
Gluten Free Muffins Without Butter
I've already talked about the almond flour and the health benefits of that, but this gluten free pumpkin muffin recipe also uses almond butter, which also packed even more of those almond health benefits. I also chose to use almond butter for these almond flour pumpkin muffins to really amplify that slightly nutty taste and create the creamiest, softest texture!
Pumpkin itself also has a lot of health benefits like providing vitamin C, vitamin A and fiber. All of these help your body run in tip-top shape by protecting your cells from things like oxidative damage, assisting in your immunity and keeping this moving along in terms of digestion… if ya know what I mean! (Fiber helps you poop. There, I said it.)
So Are Gluten Free Pumpkin Muffins With Almond Flour Better?
But these are not in any way morally superior to a pumpkin streusel muffin from the corner bakery. One day I might want one of these, one day I might want one of those. You do you and what you're craving in the moment! Both are fab choices.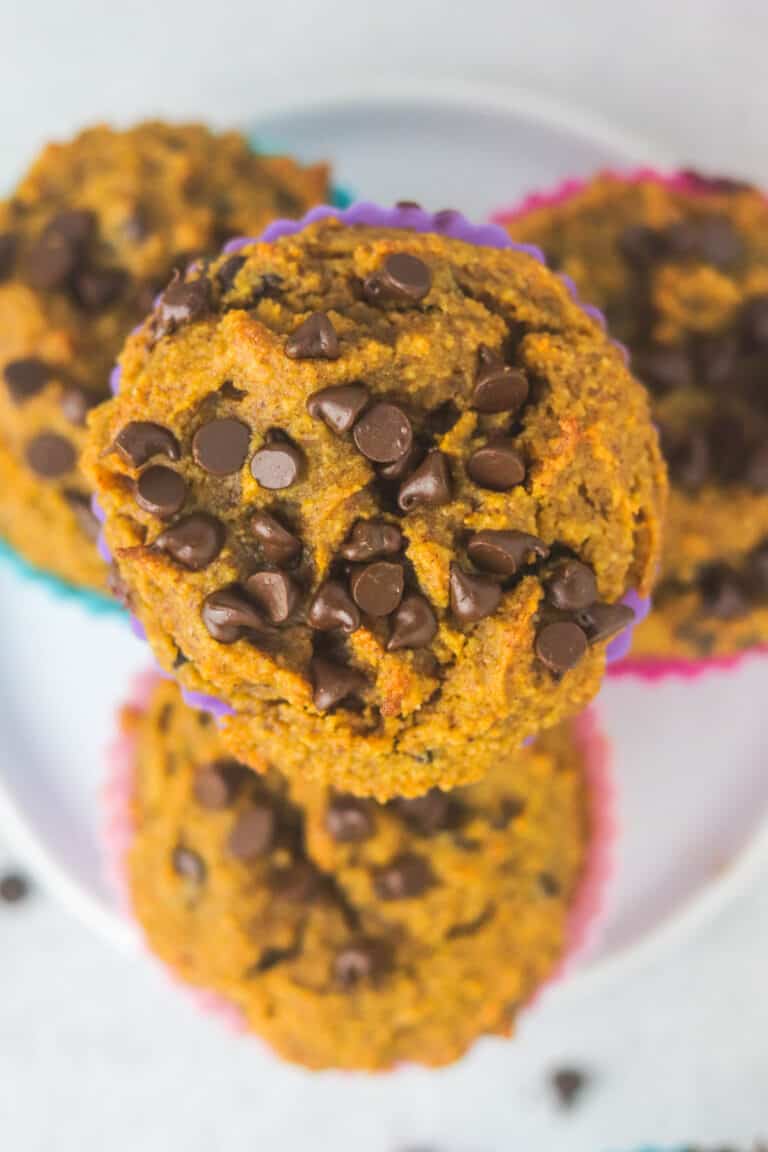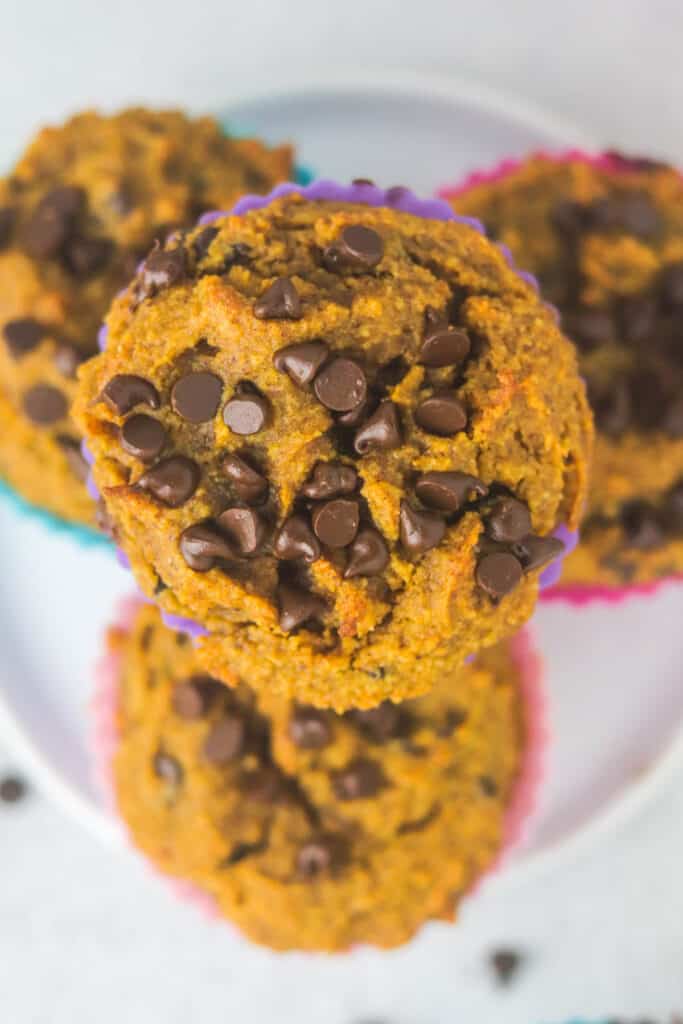 Ingredients For Almond Flour Pumpin Muffins
Here is the full list of ingredients you're going to want to round up to make these muffins:
pumpkin puree
almond butter
eggs
vanilla
sugar
almond flour
baking soda
pumpkin pie spice
salt
Tools Needed For Making Gluten Free Pumpkin Muffins
Here are the kitchen items you'll have to have on hand when making these muffins:
silicone muffin liners (obsessed with these!)
a large mixing bowl
measuring cups & spoons
a can opener
a spatula or large spoon
How To Make Pumpkin Muffins From Scratch
First, preheat your oven to 350 degrees and line a muffin tin with either muffin liners or lightly spray it with non-stick spray.
Then, in a large bowl combine pumpkin puree, almond butter, eggs, vanilla and sugar. Stir well until it's thoroughly mixed.
Add the almond flour, baking soda, pumpkin pie spice and salt to the mixed wet ingredients and continue to mix until uniformly combined.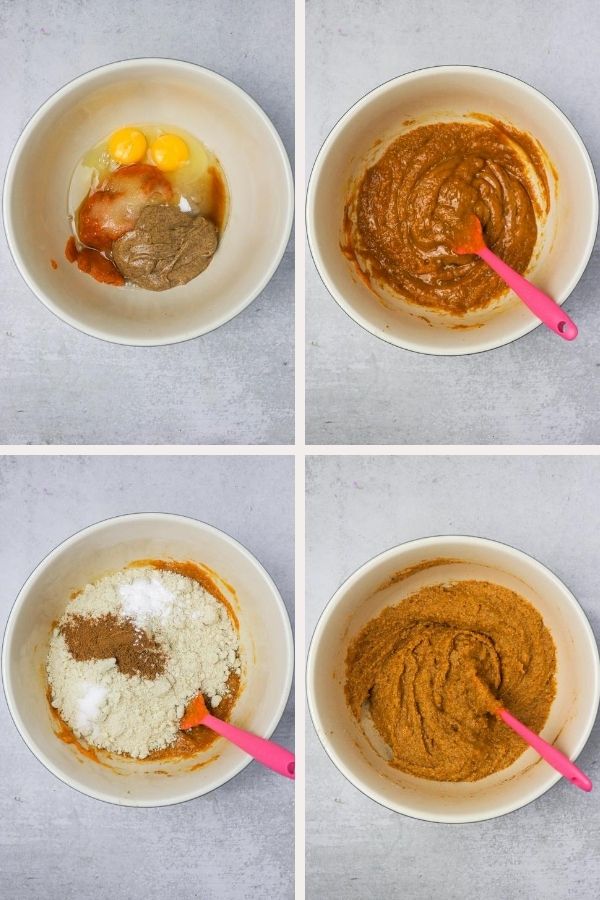 If you want to add some chocolate chips, go ahead and fold some in now!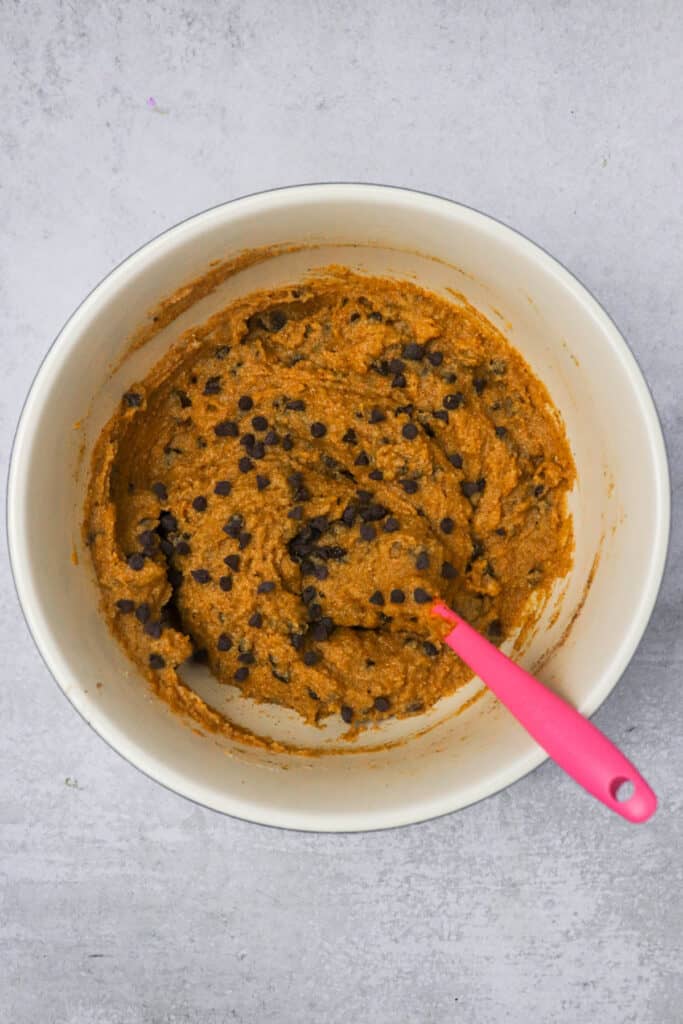 Scoop your batter into your prepared muffin tin. I like to use an ice cream scoop to make sure all of my muffins are the same size.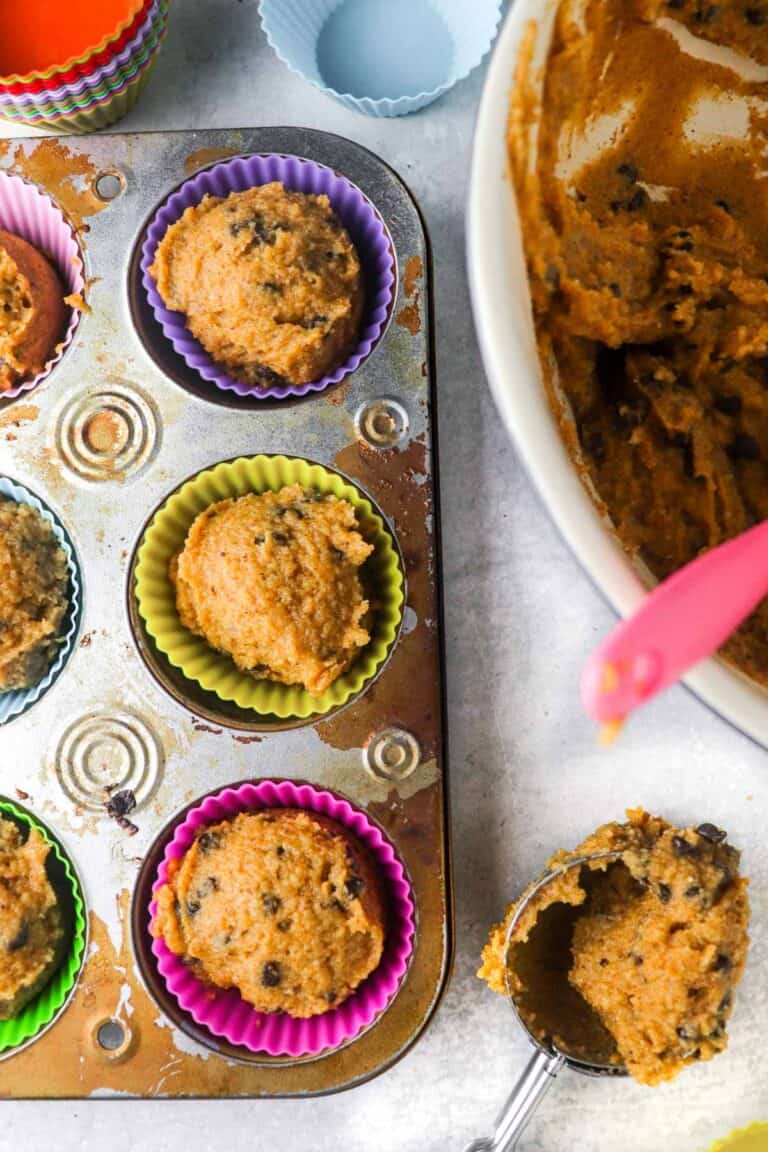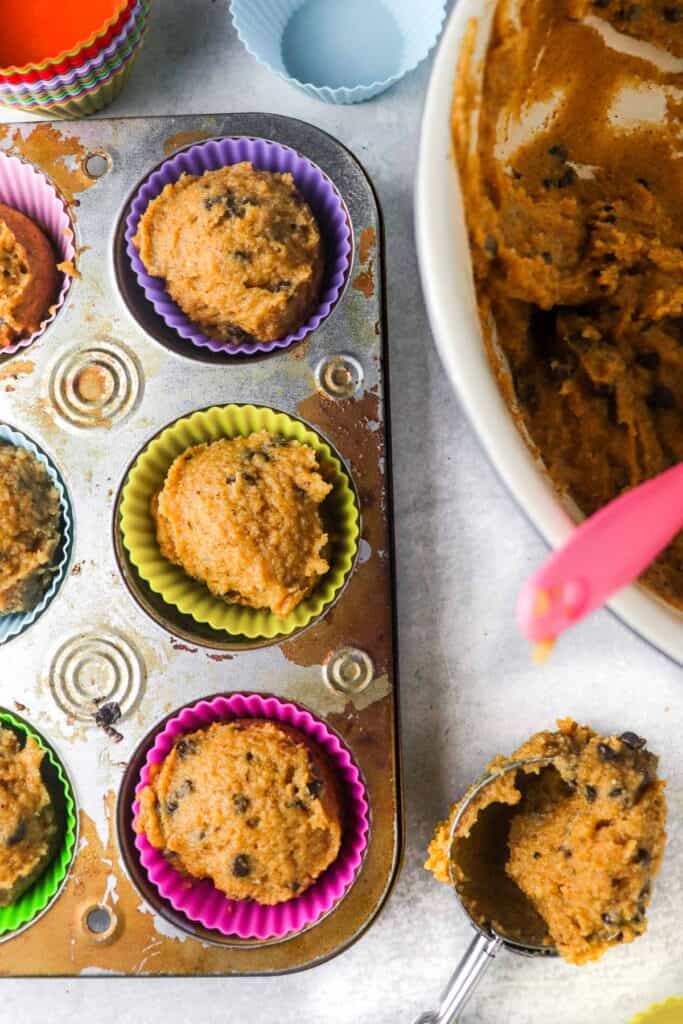 Bake your muffins for 25-30 minutes, or until the tops are golden brown and a toothpick inserted comes out clean.
Enjoy!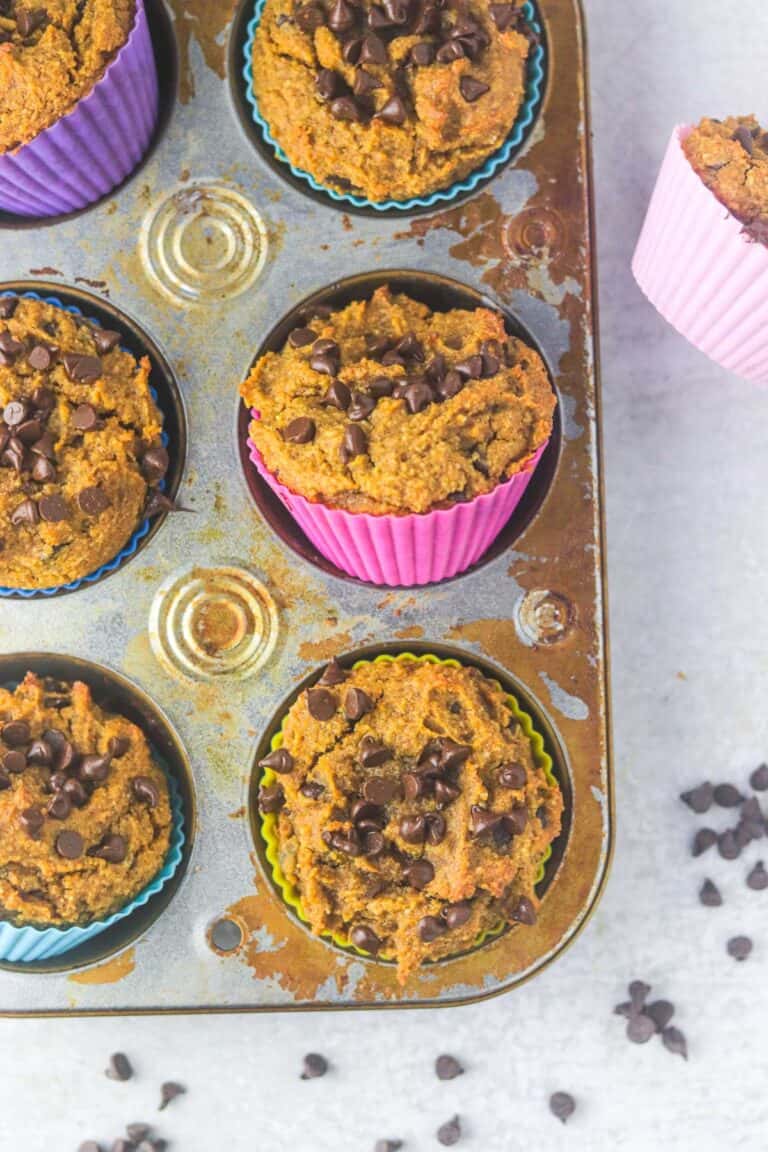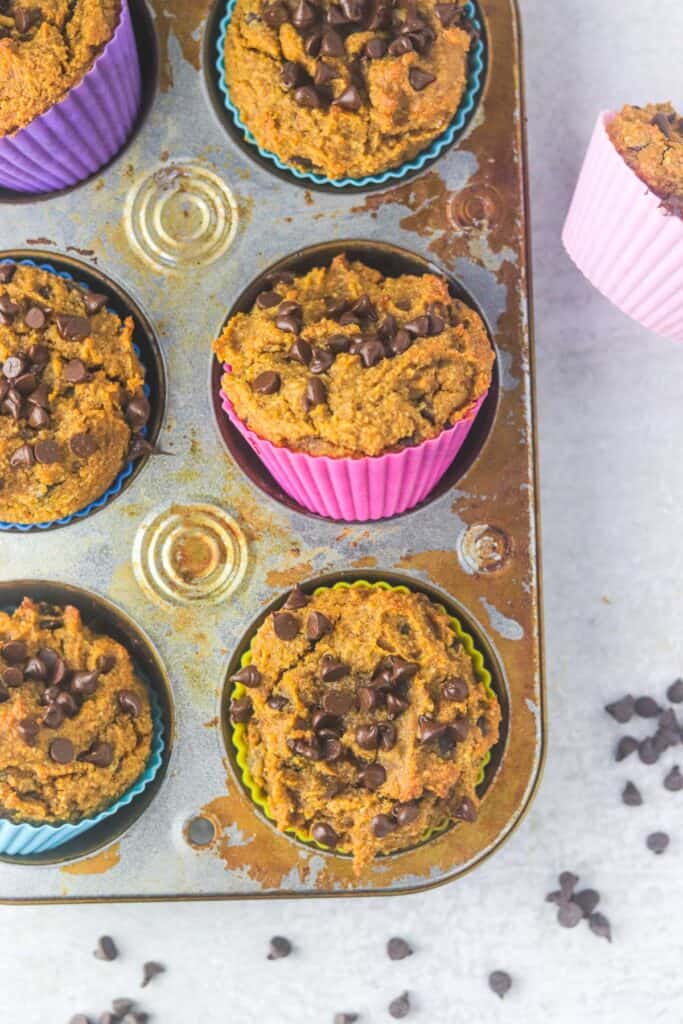 Do Pumpkin Muffins Need To Be Refrigerated? How To Store Pumpkin Muffins
When it comes to storing these muffins you have a few options:
Storing On The Counter: These will keep well just in a container on the counter for 3-5 days.
Storing In The Fridge: You can extend the life of these by a few days simply by putting them in the fridge. I'd give them about a week here!
Storing In The Freezer: This will allow you the longest storing time. You can keep these in the freezer for up to 2-3 months. I'd recommend freezing them individually THEN putting them into a freezer bag, removing all of the air. This will keep them from sticking together in the bag! Which, would be so sad.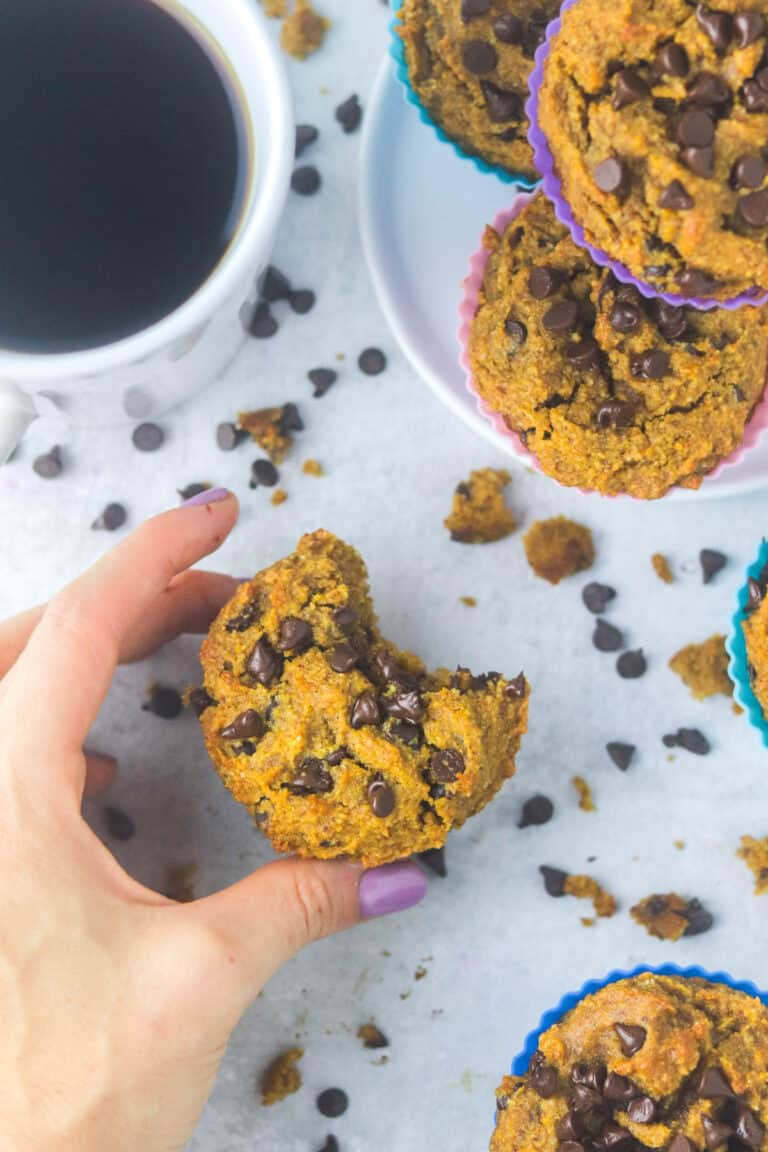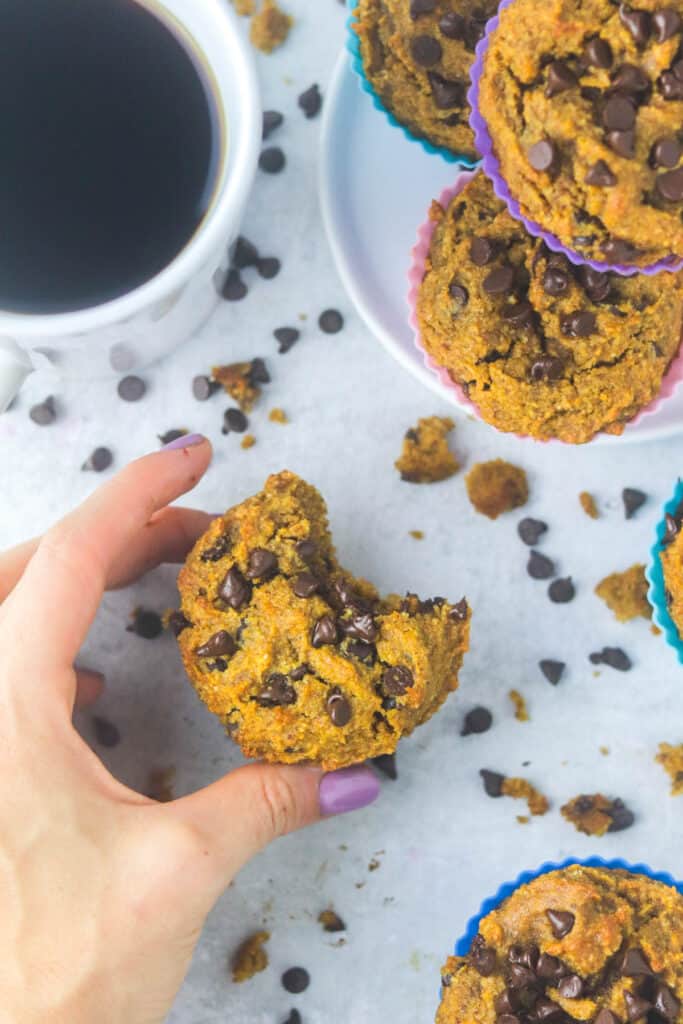 Gluten Free Pumpkin Muffins With Almond Flour FAQ's
Can you use other flours for this recipe?
I've only tested this recipe with almond flour. Usually almond flour isn't a 1:1 sub for regular flour, as it is much more dense. If using regular flour you'll likely need to reduce the amount of flour used.
Can I make these vegan?
Sure thing! Swap out the eggs for your fave egg replacement, like a flax egg, and you've got some vegan gluten free pumpkin muffins!
Can I add chocolate chips to these muffins?
Absolutely! Go for it! Really, the sky is the limit when it comes to adding mix-ins. You can add some chocolate chips, chopped nuts, coconut flakes or heck, add some sprinkles for a little pop of color!
Can I use a different nut butter?
Totally. If all you have is peanut butter on hand, do it. It'll work just fine. You'll have a slightly different flavor but the recipe will work! You can also use cashew or sun butter.
When it comes to the TYPE of nut butter I recommend 100% almonds/peanut/etc. The drippy consistency of those nut butters will work better than the ones with hydrogenated oil or palm oil. You can lean more about the different types of nut butters in my blog post on palm oil in peanut butter.
Want More Pumpkin & Fall Flavored Recipes? You Might Like These:
You know that saying "Can't have just one?" Well, this recipe is like that, but with muffins! Ya can't make this recipe just once! So, be sure to pin it to your Pinterest board so you can come back to it again and again!
If you love this recipe I'd so appreciate you leaving a star rating on the recipe card and a comment!
Happy eating!
XOXO
-Colleen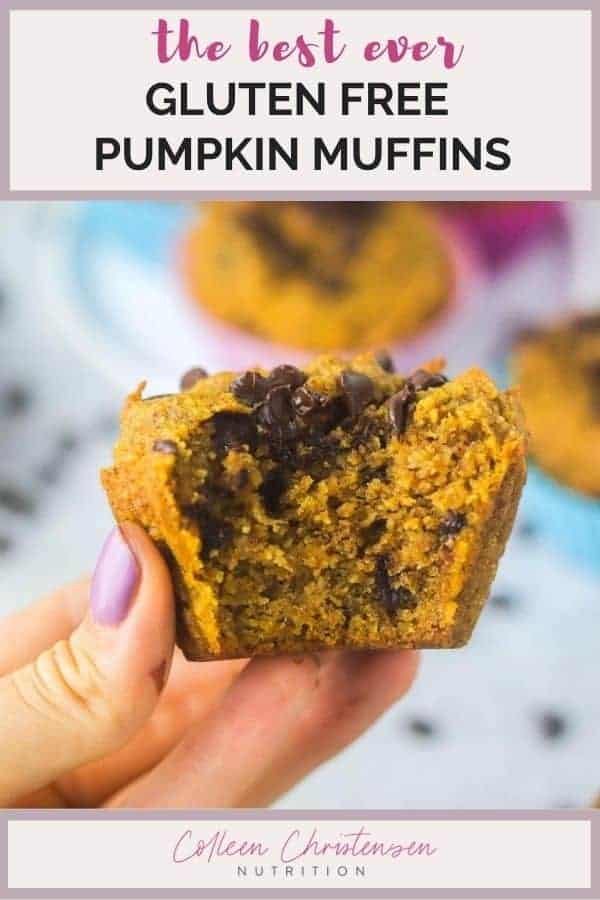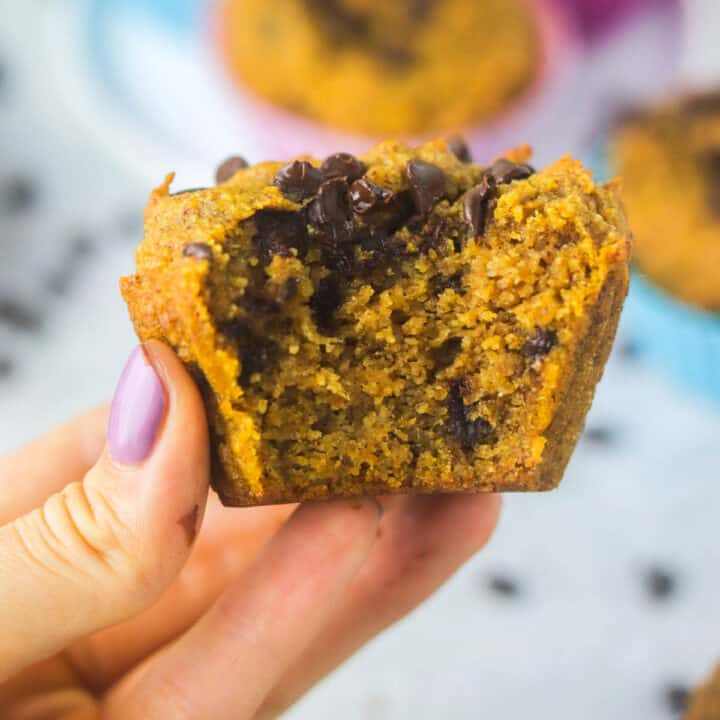 Simple & Quick Gluten Free Pumpkin Muffins
The softest and fluffiest pumpkin muffins ever! You'd never know these were gluten free pumpkin muffins made with almond flour!
Ingredients
1 cup pumpkin
2 eggs
1/2 cup almond butter
1 tsp vanilla
2/3 cup sugar
2 cups almond flour
2 tsp pumpkin pie spice
1 tsp baking soda
1/4 tsp salt
Instructions
Preheat oven to 350 degrees and line a muffin tin with liners (I like the silicone ones) or use non-stick spray. Set aside.

In a large bowl combine pumpkin, eggs, almond butter, sugar and vanilla. Mix well.

Now, add almond flour, pumpkin pie spice, baking soda and salt. Stir until just combined & uniform.

Add in chocolate chips, if desired!

Pour batter into muffin in and bake for 25 minutes, or until a toothpick when inserted comes out clean.

Allow to cool and enjoy!
Notes
I like to use an ice cream scoops to make evenly sized muffins.
May also add nuts, if desired.
Store in a container of the counter for 5-7 days or in the fridge for ~1 weeks.
May store in the freezer for 2-3 months.
Recommended Products
This blog post contains affiliate links, which means that if you click on a product link, I may receive a commission. All opinions are my own, and all brands featured represent what I personally like and support. This blog is a participant in the Amazon Services LLC Associates Program, an affiliate advertising program where I earn advertising fees by linking to amazon.com.
Nutrition Information:
Yield:

12
Serving Size:

1
Amount Per Serving:
Calories:

233
Total Fat:

16g
Saturated Fat:

1g
Trans Fat:

0g
Unsaturated Fat:

13g
Cholesterol:

31mg
Sodium:

167mg
Carbohydrates:

18g
Fiber:

4g
Sugar:

13g
Protein:

7g