These fluffy gluten free pumpkin muffins take only 5 minutes to prepare and are cooked to perfection in under 30 minutes! Made with almond flour and almond butter, these muffins are packed with nutrients that make for a great snack or part of a nourishing breakfast!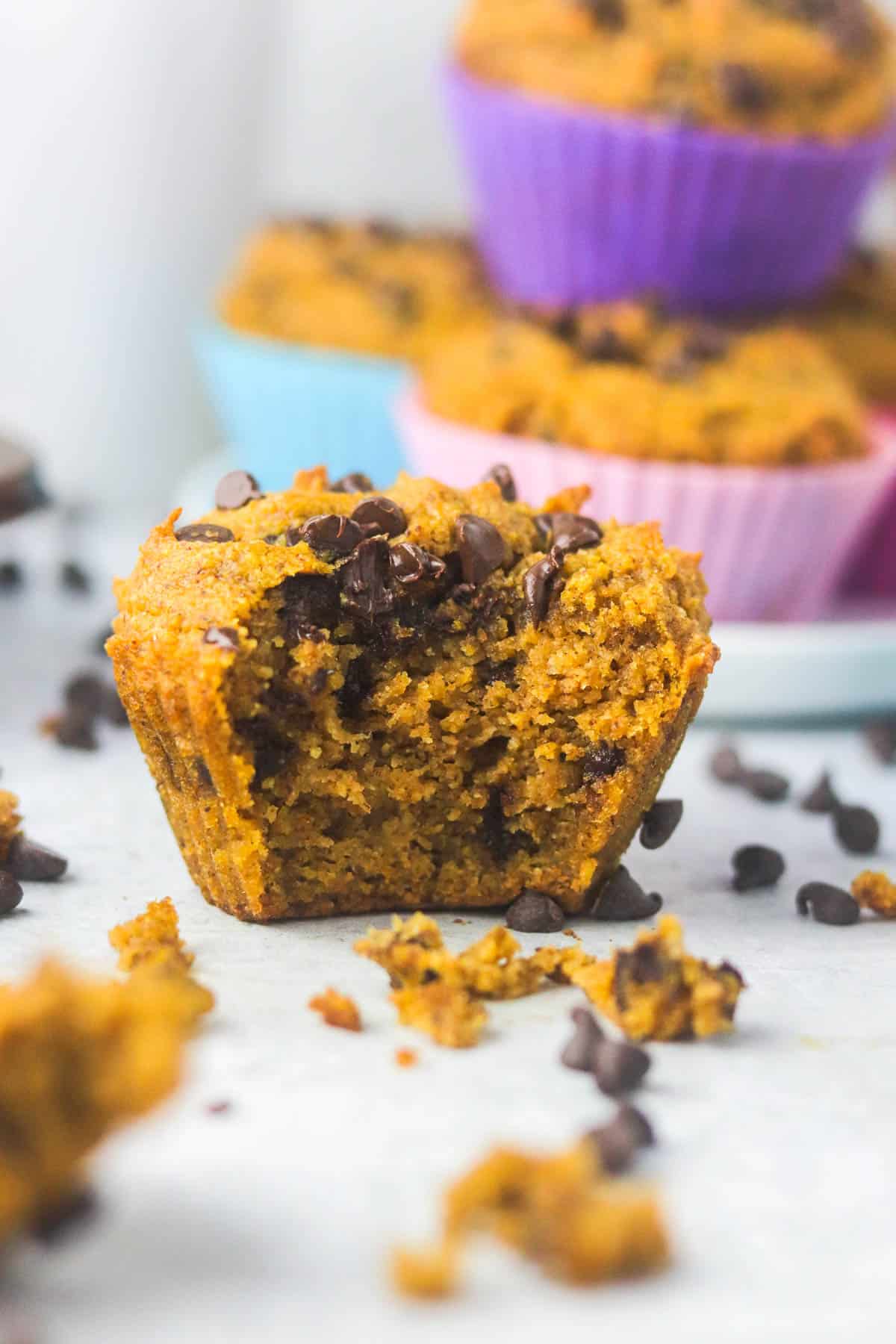 Why This Recipe Is Great
I am not gluten free (I don't follow any food rules!) but I LOVE that these are gluten free pumpkin muffins with almond butter and almond flour. Almonds are packed with nutrition providing a dose of health promoting fats and protein in addition to their delicious, nutty flavor. Plus,
A couple of my other favorite recipes using almond flour are my almond flour peanut butter cookies and also almond flour banana muffins!
The pumpkin in this recipe also has a lot of health benefits like providing vitamin C, vitamin A and fiber. All of these help your body run in tip-top shape by protecting your cells from things like oxidative damage, assisting in your immunity and keeping this moving along in terms of digestion… if ya know what I mean! (Fiber helps you poop. There, I said it.)
Ingredients Needed
Here is the full list of ingredients you're going to want to round up to make these muffins: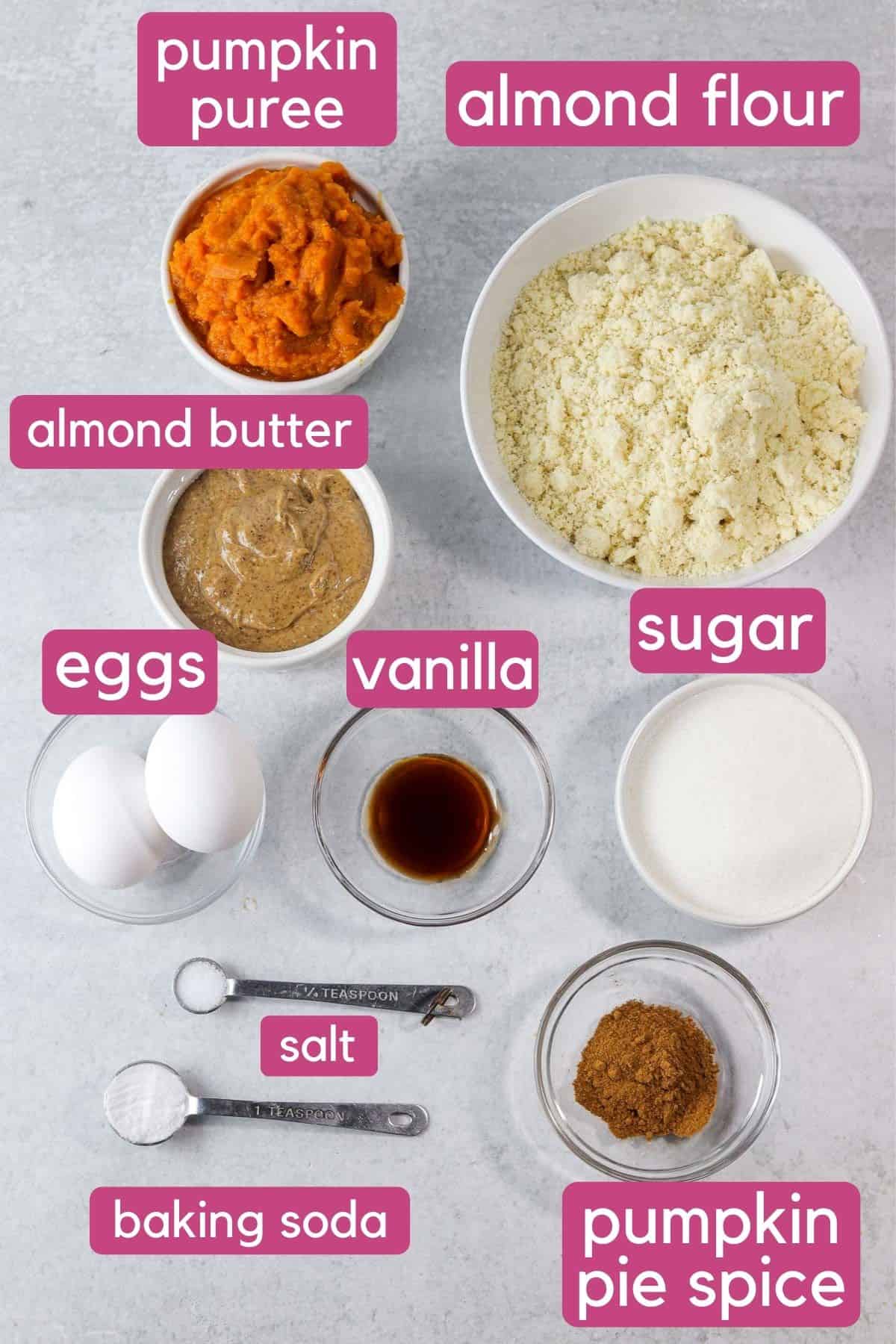 Almond flour. The almond flour allows this recipe to be gluten free and also adds a slightly nutty taste. The Registered Dietitian in me loves that it also adds some protein and fat to the recipe, which can help keep you full and satisfied. Plus, even if you aren't gluten free it's just fun to change things up and try new flours!
Pumpkin Puree. Be sure to grab pumpkin puree VS pumpkin pie mix. They're quite different and if you use the mix your gluten free pumpkin muffins will be SUPER sweet!
How To Make This Recipe
First, preheat your oven to 350 degrees and line a muffin tin with either muffin liners or lightly spray it with non-stick spray.
Then, in a large bowl combine pumpkin puree, almond butter, eggs, vanilla and sugar. Stir well until it's thoroughly mixed.
Now, add in the remaining dry ingredients.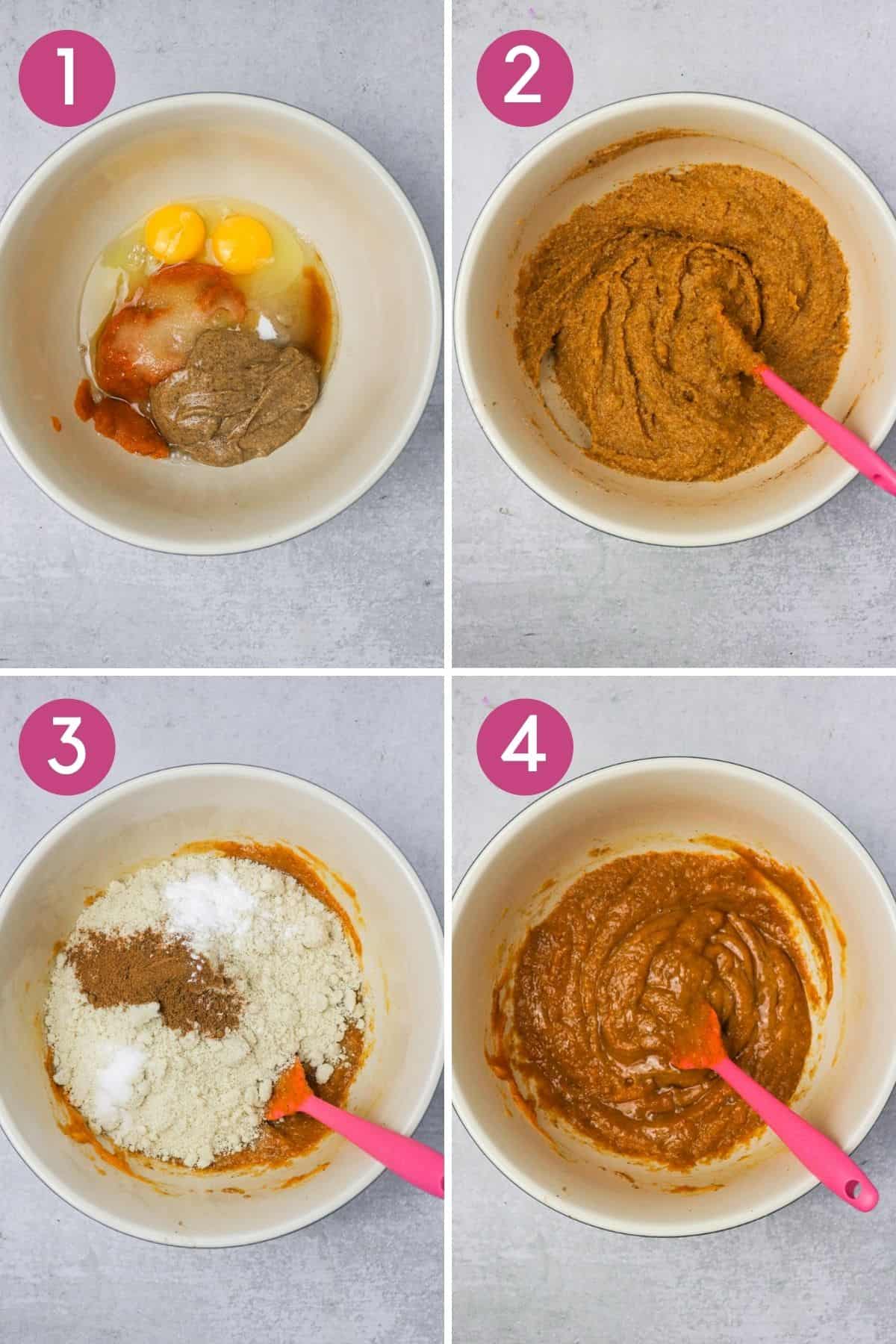 If you'd like, you can fold in chocolate chips or nuts! Then, scoop the batter into your prepared muffin tin.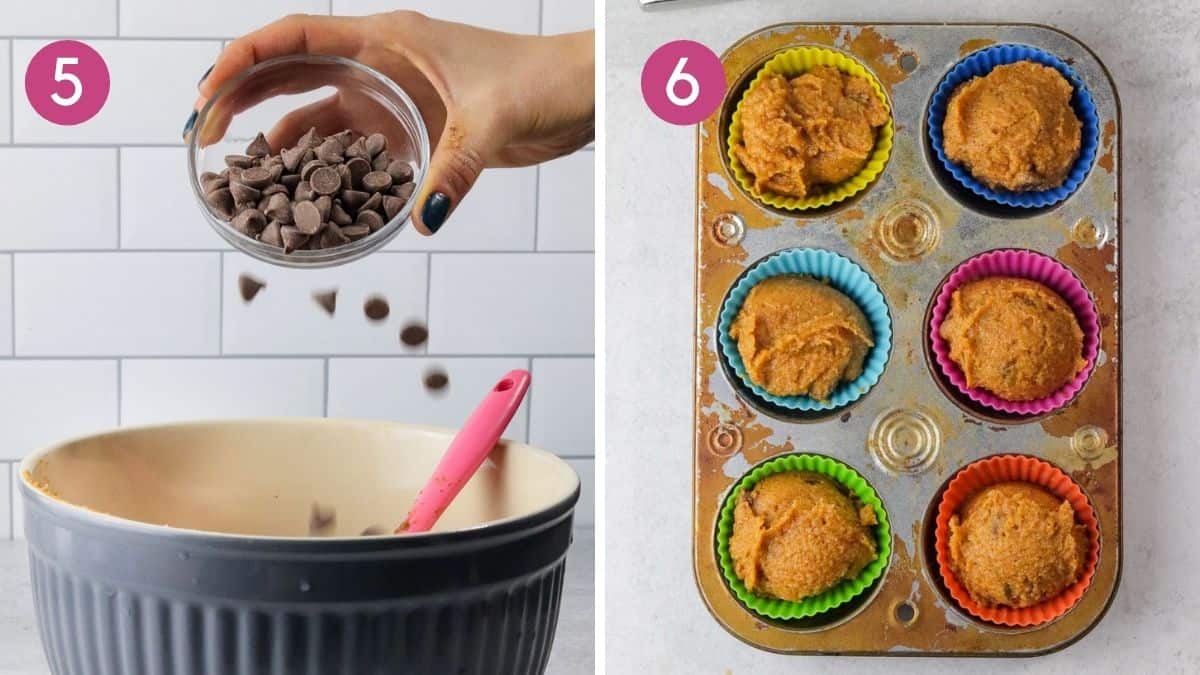 Bake your muffins for 25-30 minutes. You'll know they are done when tops are golden brown and a toothpick inserted comes out clean.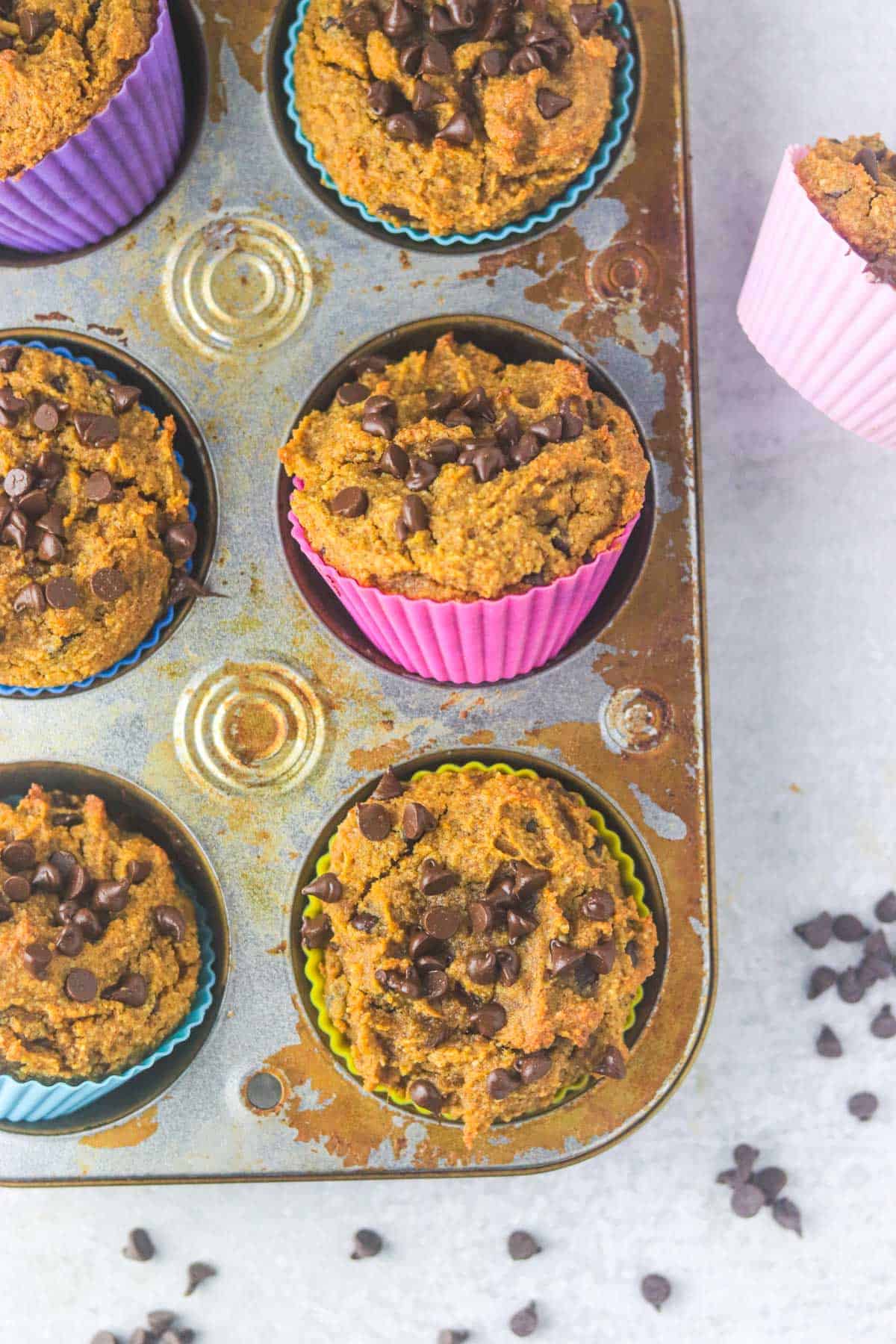 Recipe FAQ's
Can I use a different nut butter other than almond?
Totally. If all you have is peanut butter on hand, do it. It'll work just fine. You'll have a slightly different flavor but the recipe will work! You can also use cashew or sun butter.

When it comes to the TYPE of nut butter I recommend 100% almonds/peanut/etc. The drippy consistency of those nut butters will work better than the ones with hydrogenated oil or palm oil. You can lean more about the different types of nut butters in my blog post on palm oil in peanut butter.
Can I make these vegan?
Sure thing! Swap out the eggs for your fave egg replacement, like a flax egg, and you've got some vegan gluten free pumpkin muffins!
Can I make my own pumpkin puree?
You can totally make your own pumpkin puree, it's super easy (you have learn how to make pumpkin puree from scratch here!), but honestly? I mostly just buy it. It's super convenient and I go through a LOT of pumpkin puree in the fall. I.e. I'd be roasting pumpkins to make puree like on the daily!
How do I store these muffins?
Storing On The Counter: These will keep well just in a container on the counter for 3-5 days.

Storing In The Fridge: You can extend the life of these by a few days simply by putting them in the fridge. I'd give them about a week here!

Storing In The Freezer: This will allow you the longest storing time. You can keep these in the freezer for up to 2-3 months. I'd recommend freezing them individually THEN putting them into a freezer bag, removing all of the air. This will keep them from sticking together in the bag! Which, would be so sad.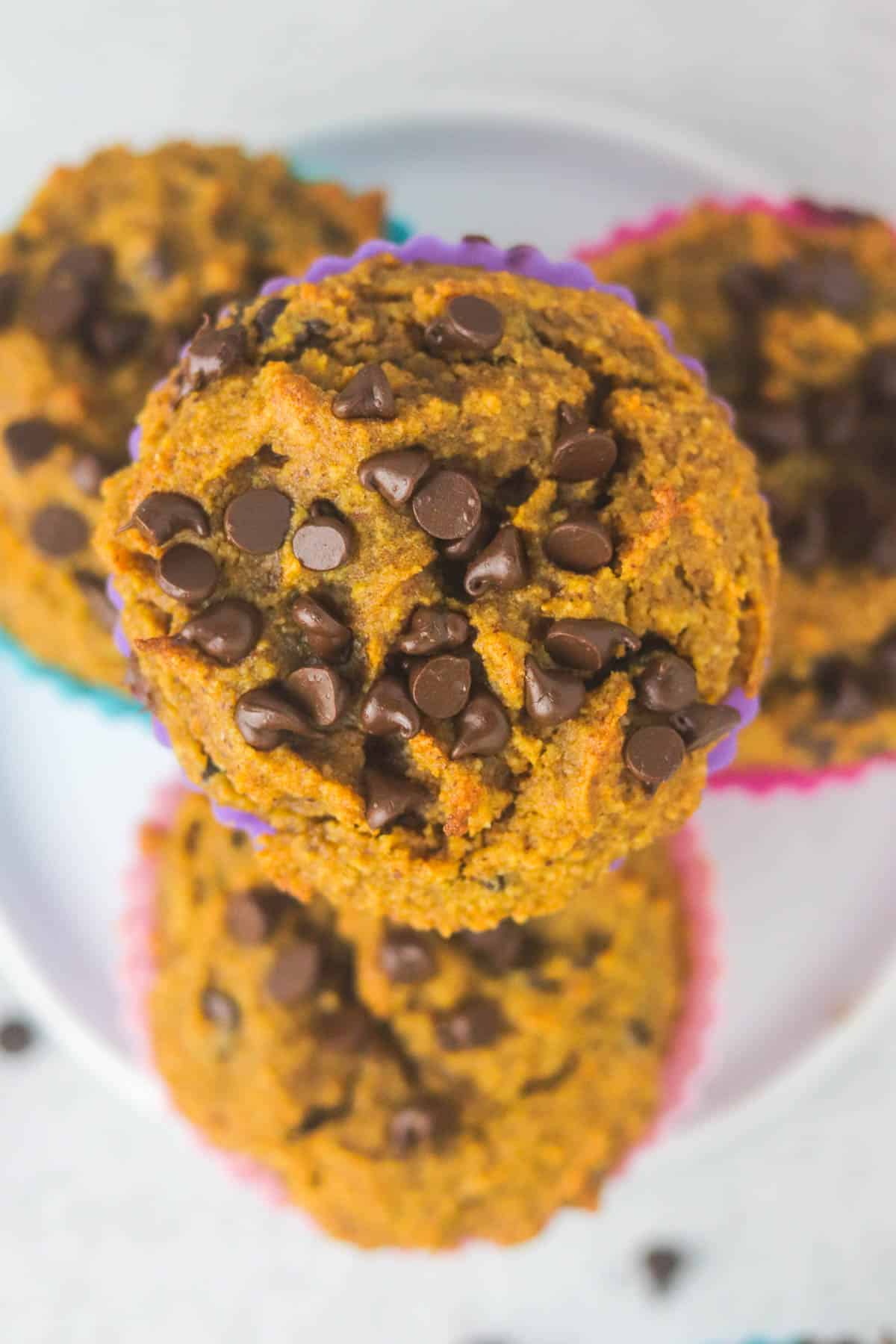 Expert Tips
I recommend using silicone muffins liners. I bought some off of amazon for about $12 and it was the BEST decision ever! Not only does it save money on buying liners but the muffins slip right out of them!
Using an ice cream scoop to scoop your muffin batter into the tin will allow your muffins to not only be the same size but to cook evenly, too.
Other Fall Inspired Recipes:
If you love this recipe, be sure to leave a star rating on the recipe card and leave a comment below!
Don't forget to pin it on your Pinterest board for later, or tag me on IG @no.food.rules if you try the recipe and love it!
XOXO
-Colleen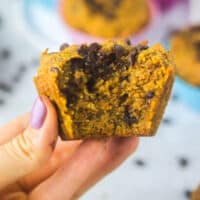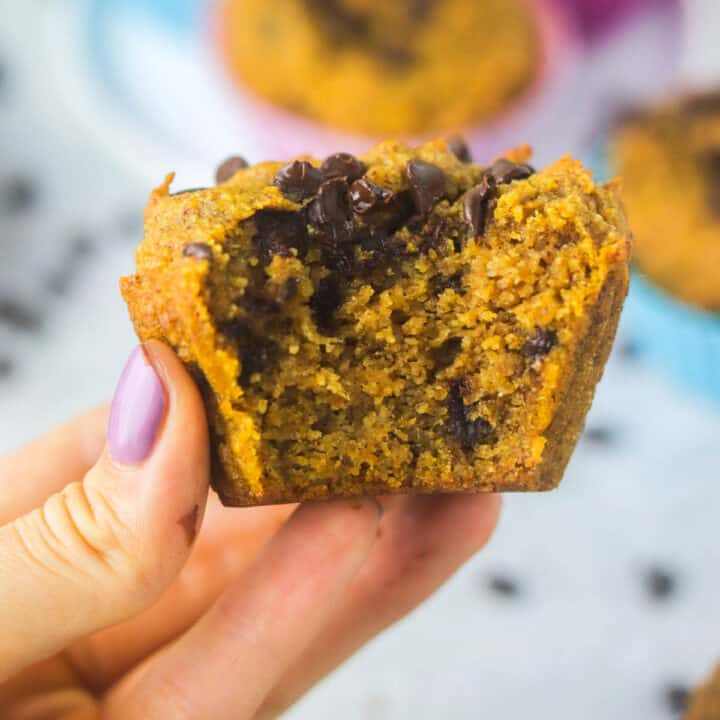 Simple & Quick Gluten Free Pumpkin Muffins
The softest and fluffiest pumpkin muffins ever! You'd never know these were gluten free pumpkin muffins made with almond flour!
PRINT RECIPE
Ingredients
1

cup

pumpkin

2

eggs

1/2

cup

almond butter

1

tsp

vanilla

2/3

cup

sugar

2

cups

almond flour

2

tsp

pumpkin pie spice

1

tsp

baking soda

1/4

tsp

salt
Instructions
Preheat oven to 350 degrees and line a muffin tin with liners (I like the silicone ones) or use non-stick spray. Set aside.

In a large bowl combine pumpkin, eggs, almond butter, sugar and vanilla. Mix well.

Now, add almond flour, pumpkin pie spice, baking soda and salt. Stir until just combined & uniform.

Add in chocolate chips, if desired!

Pour batter into muffin in and bake for 25 minutes, or until a toothpick when inserted comes out clean.

Allow to cool and enjoy!
Notes
I like to use an ice cream scoops to make evenly sized muffins.
May also add nuts, if desired.
Store in a container of the counter for 5-7 days or in the fridge for ~1 weeks.
May store in the freezer for 2-3 months.
click To display nutrition info
Nutrition Facts
Nutrition Facts
Simple & Quick Gluten Free Pumpkin Muffins
Amount per Serving
% Daily Value*
* Percent Daily Values are based on a 2000 calorie diet.