Perfectly crisp brown sugar oat crumble on top of sweet, soft baked apples with only 15 minutes of prep time! This old fashioned skillet apple crisp is a fool-proof alternative to making an apple pie. Top is with a scoop of vanilla ice cream for the ultimate dessert!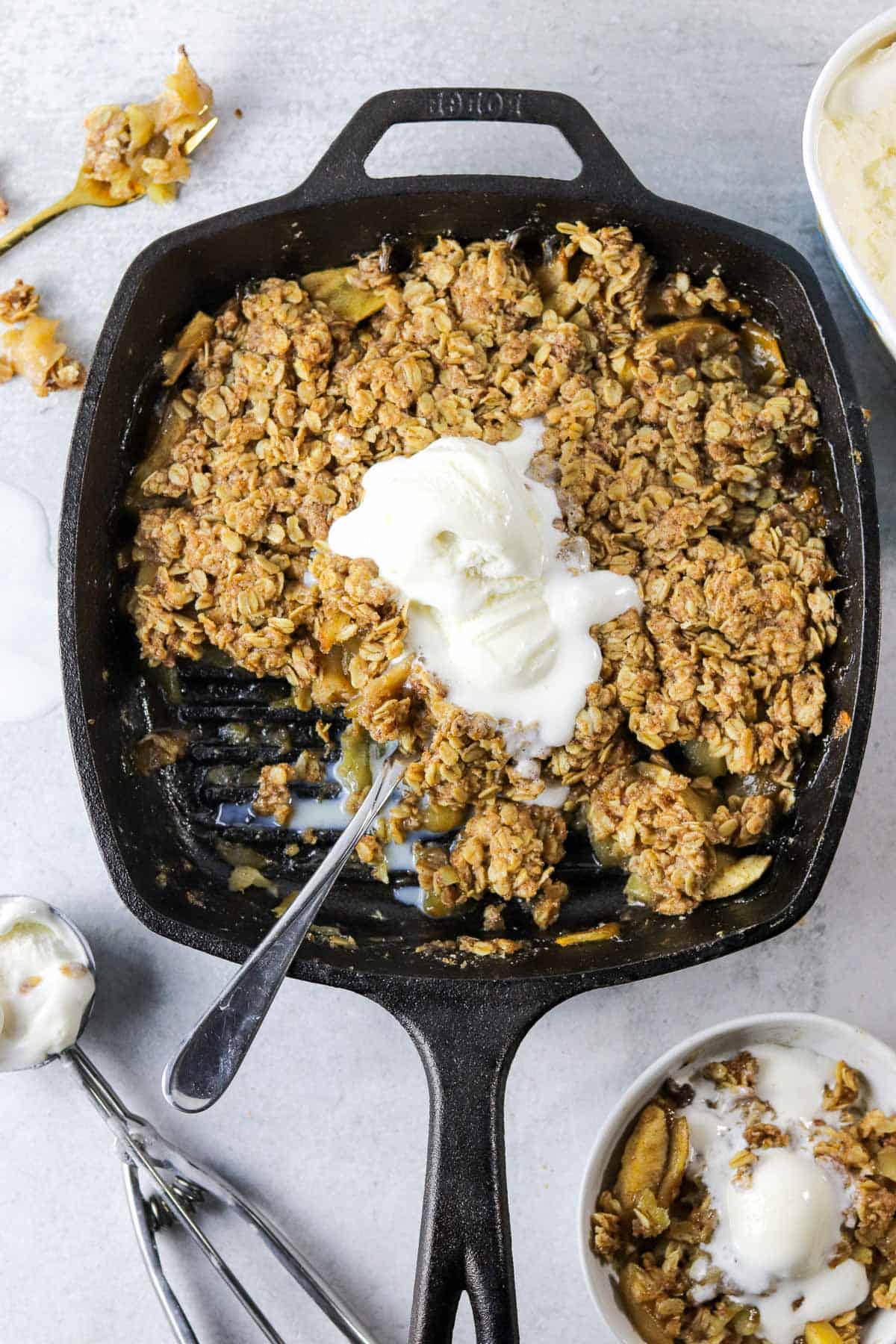 Why This Recipe Works
I love apple pie (especially during the fall!) but have zero patience to work with pie crust which is why I LOVE this skillet apple crisp recipe! You make the entire thing right in the skillet and then throw it in the oven.
This recipe uses brown sugar and old fashioned oats for the topping which really gives it that old fashioned taste adds a nice warm flavor.
While I love this recipe for dessert with a scoop of vanilla bean ice cream (my husband is very particular about the bean part!) I've also been known to eat it on multiple occasions for breakfast. No shame…those baked apples are just so delicious!
I also love making pumpkin protein muffins for a little more nourishing of a breakfast while still getting those fall vibes!
Recipe Ingredients
The ingredients for the crisp topping are very basic. All you need is: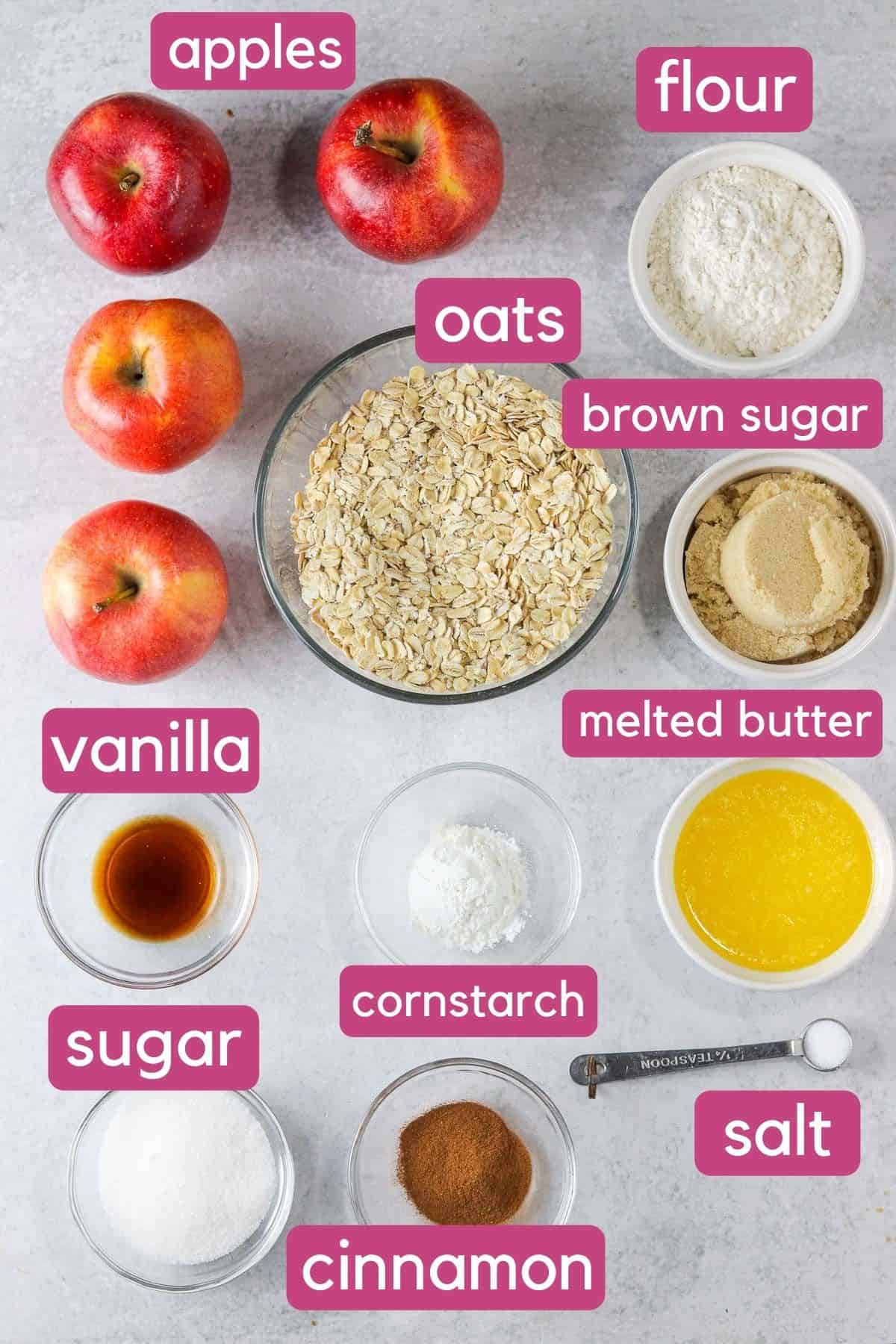 Old Fashioned Oats. Not all apple crisp recipes use oats, but I find this is KEY in truly creating and old fashioned taste and texture.
Flour. You can use whatever flour you like best like regular all-purpose, whole wheat or even almond flour. The almond flour actually adds a nice, nutty flavor!
How To Make This Recipe
First, peel and slice your apples. If you're really feeling lazy you can skip the peeling step, but honestly I recommend it!
Next, toss your apples with sugar, corn starch, cinnamon and vanilla.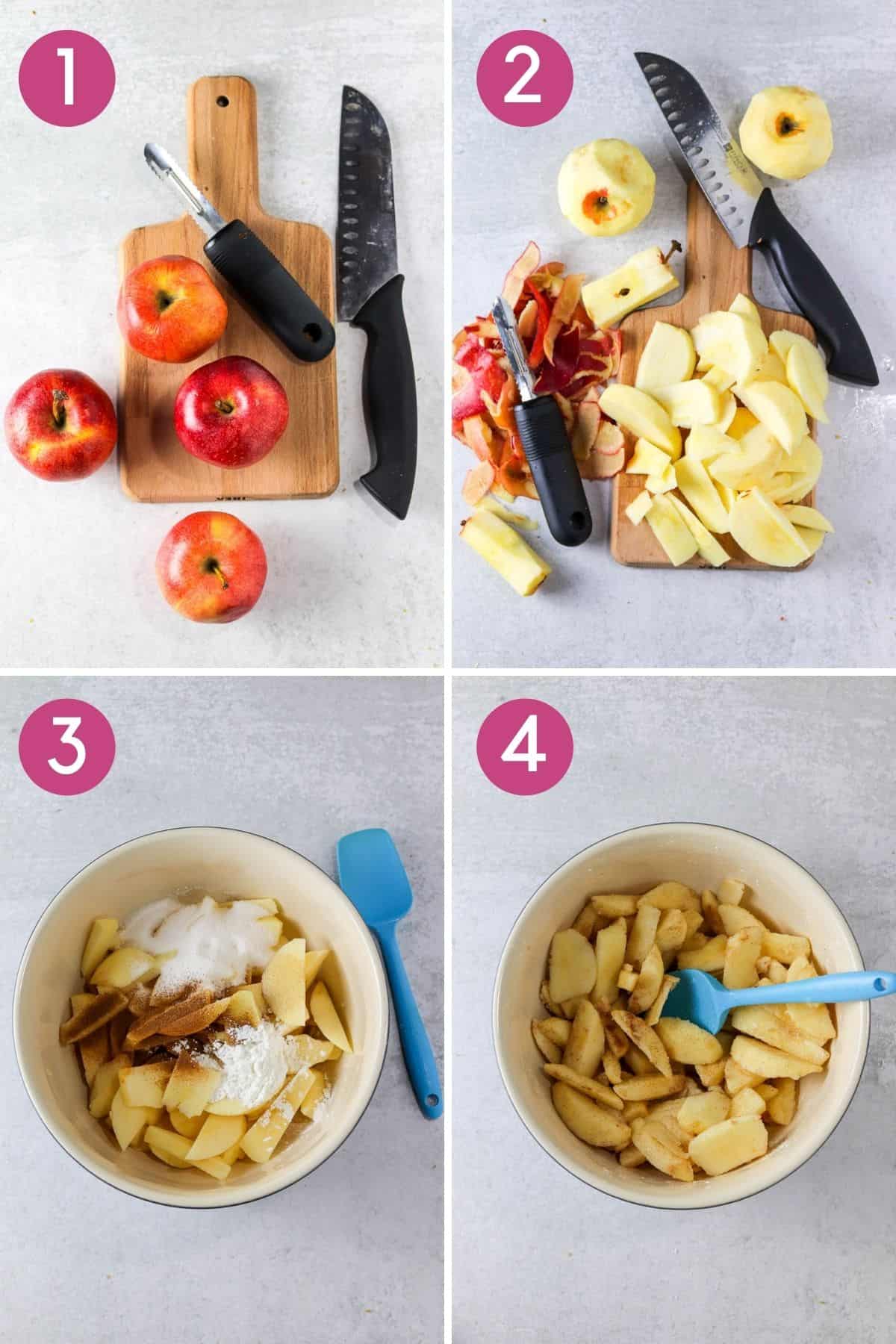 Sauté your apple mixture in a skillet pan for ~5 minutes until just slightly softened. I used this Lodge 10.5″ square skillet! Such a good investment I've had it for years! Plus, it's super affordable actually!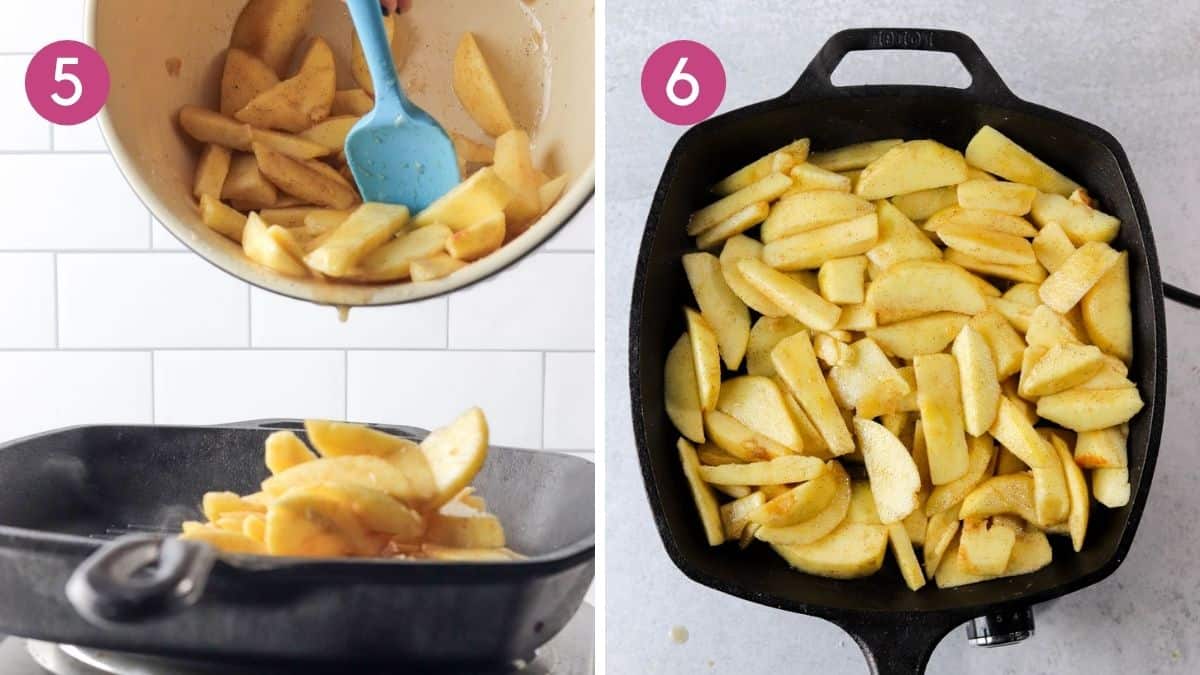 If you're cooking your apple crisp in the skillet, like I do, you can keep your apples right where they are. If you aren't, transfer them to your baking dish. I recommend a pie pan or an 8×8 baking dish or a pie pan. Dish-wise, I like this glass baking dish that also comes with a lid!
In a large bowl mix together oats, flour, brown sugar, melted butter and salt. Mix it up really well!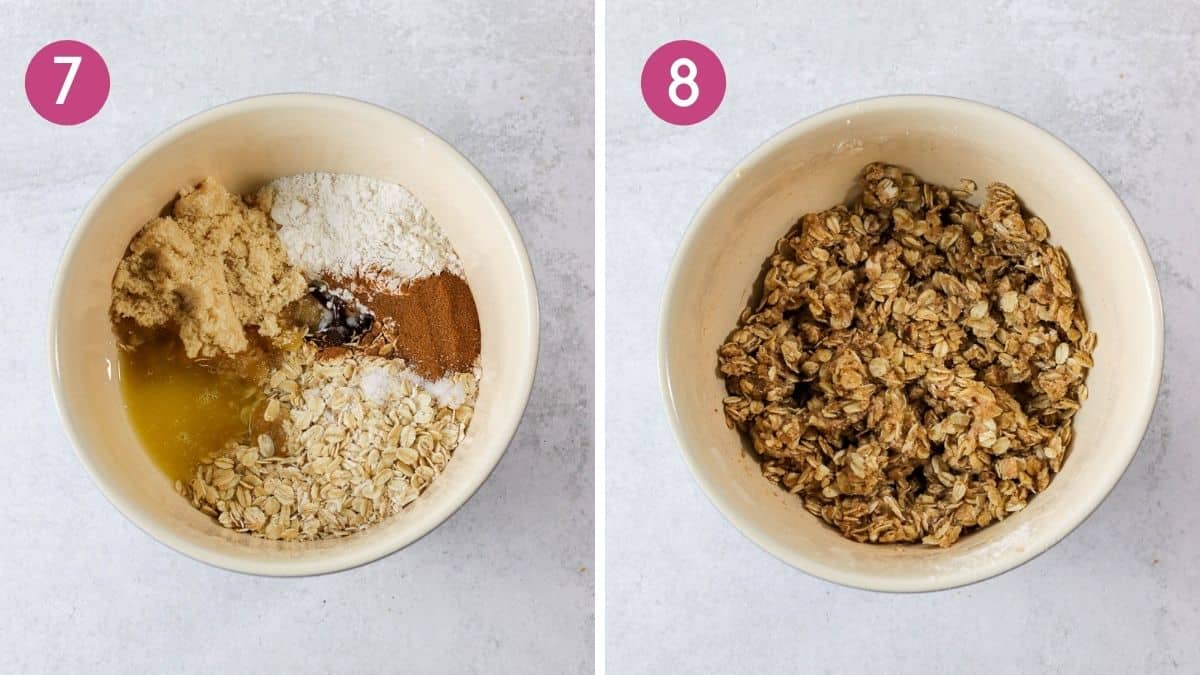 Pour your oat mixture over the apples and press down gently.
Cover your skillet apple crisp (or just apple crisp in a baking dish!) with aluminum foil and bake at 350 degrees for 15 minutes. After 15 minutes remove the foil and bake for an additional 15-20 minutes.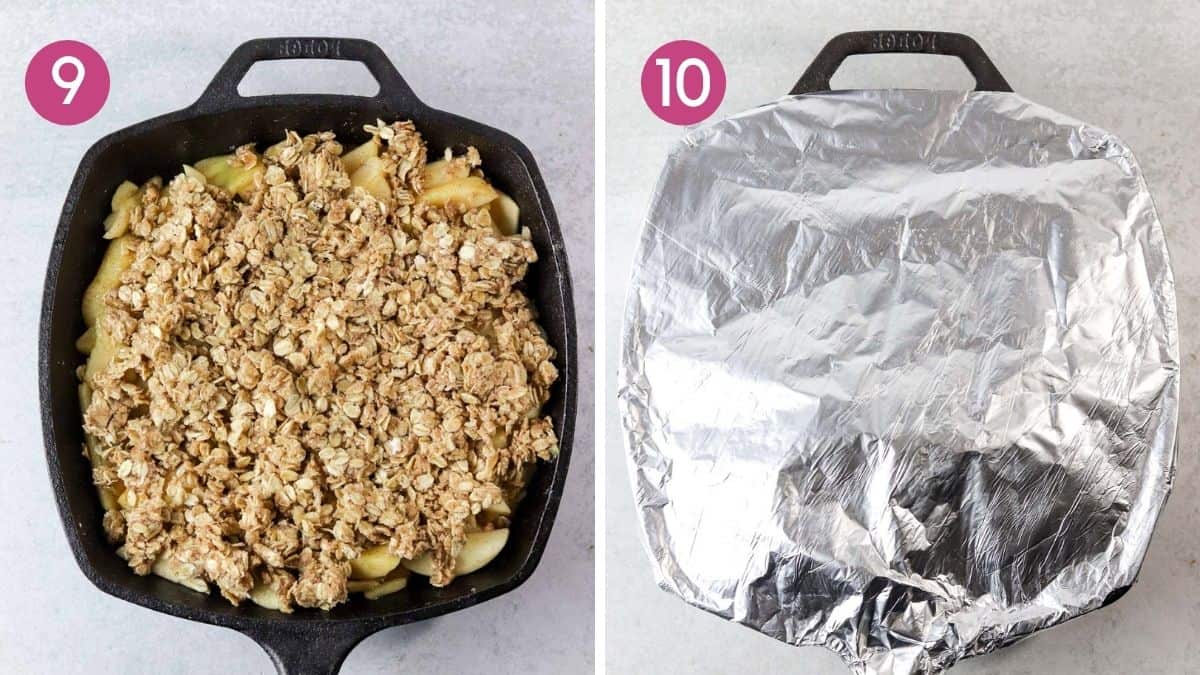 Your apple crisp is done when you see the apples bubbling and the crisp part is golden brown (and smells AMAZING!)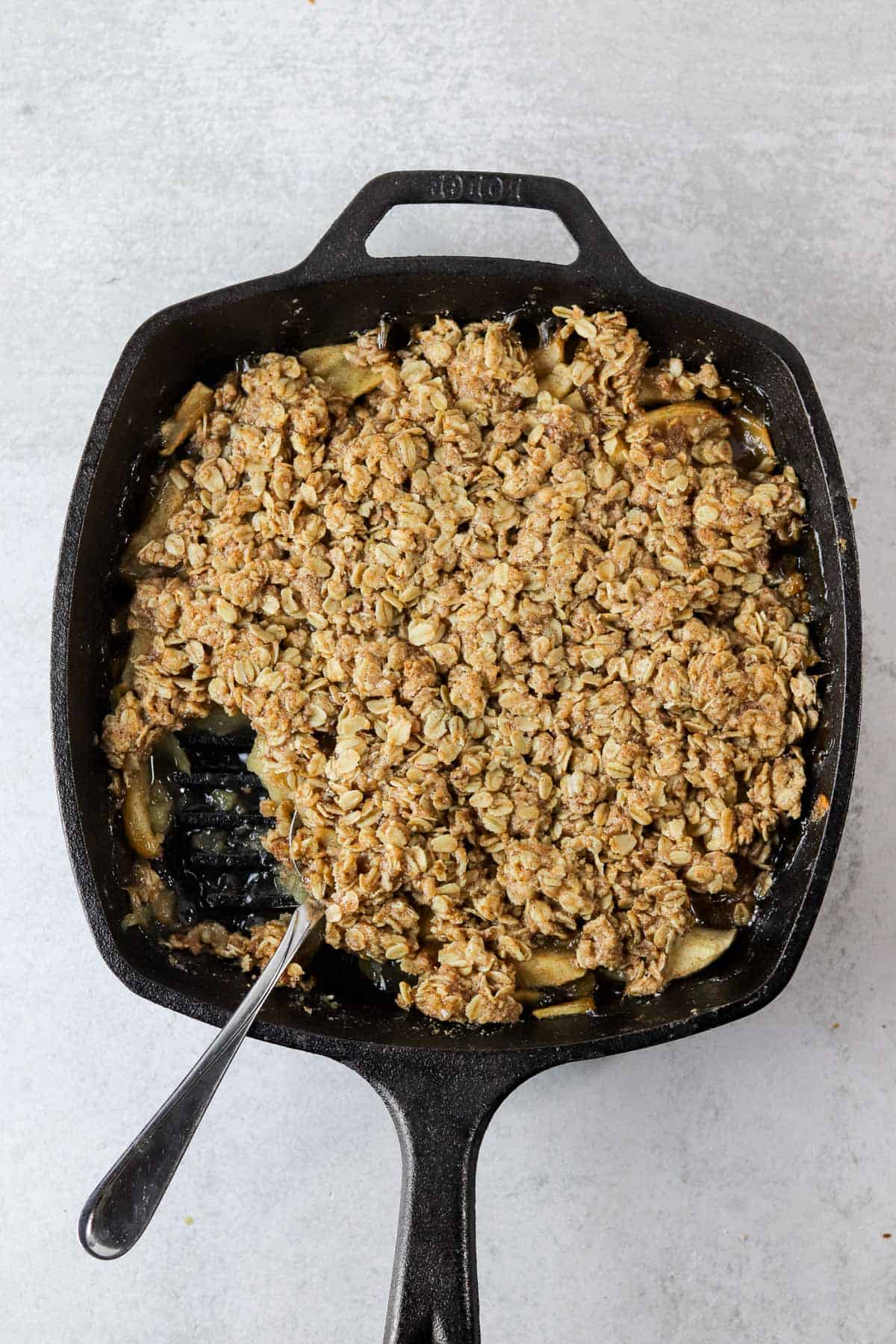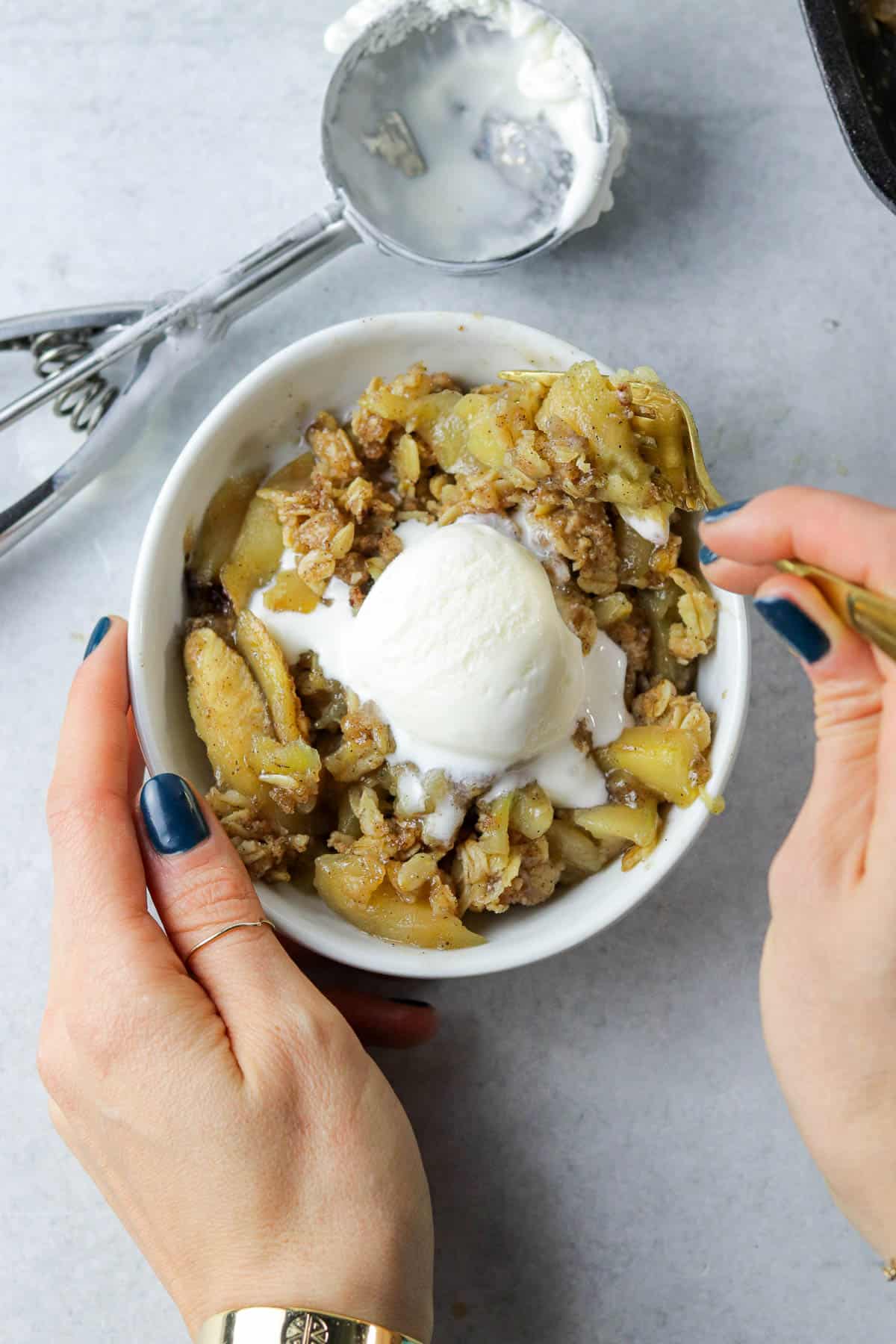 Recipe FAQs
Which apples are best for apple crisp?
You can really use any apple and this skillet apple crisp recipe will still turn our fabulously. However, using an apple that is crisp and a little tart is best! My favorite is honeycrisp, pink lady or granny smith! Or, use a mix!
Why does apple crisp get watery?
In the past I've made apple crisp and it just got so watery! Basically, it turned to apple mush. Adding the cornstarch to this recipes helps to prevent your apple crisp from getting watery. Also, like I mentioned, store it in the fridge, this will help, too!
Can apple crisp stay out or should it be refrigerated?
I do recommend storing your apple crisp in the refrigerator. You can either cover your skillet with plastic wrap or transfer leftovers to an air tight container. This will help it stay fresher longer, rather than leaving it out on the counter.

I use these clear Rubbermaid brilliance containers for all of my leftovers. They have a super great seal, I'm obsessed!
How do you reheat apple crisp?
Usually, I just pop it in the microwave for 30-60 seconds because it's the easiest. However, if you're looking to get the crisp to stay it's crispiest self, I recommend popping it in the oven at 350 for 10-15 minutes. Honestly, I hardly do this because I can't wait that long usually! Just being honest!
Can you freeze this recipe?
I prefer to freeze apple crisp uncooked, then just pop it in the oven. You'll likely need to add about ~10 minutes to the cooking time. However, you can totally freeze cooked apple crisp or leftovers, too. Just follow the re-heating instructions, adding again about 10 minutes to the baking time.
Other Recipes You Might Like:
If you love this recipe, be sure to leave a star rating on the recipe card and leave a comment below!
Don't forget to pin it on your Pinterest board for later, or tag me on IG @no.food.rules if you try the recipe and love it!
XOXO
-Colleen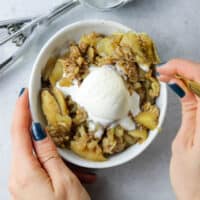 Old Fashioned Skillet Apple Crisp
This skillet apple crisp is an easier version of apply pie with only 15 minutes of prep time!
PRINT RECIPE
Ingredients
Apple Filling
4

large apples

1/4

cup

sugar

1

tbsp

cornstarch

1

tsp

vanilla

1/2

tsp

cinnamon
Crisp Topping
1 1/2

cups

old fashioned oats

1/2

cup

flour

1/2

cup

butter

melted

1/2

cup

brown sugar

1

tsp

cinnamon

1/4

tsp

salt
Instructions
Preheat oven to 350 degrees and place a skillet (I used an 10.5" square cast iron skillet) on the stovetop over medium high heat.

First peel and slice your apples, then place them in a bowl and toss with sugar, vanilla, cinnamon and corn starch.

Heat apples into hot skillet and cook for about 5 minutes until softened and sugar has dissolved.

In a separate medium-large bowl combine oats, flour, brown sugar, butter, remaining cinnamon and salt. Mix well.

Place oat mixture on top of apples in the skillet, or you can transfer the apples to a baking dish at this time if you prefer to make your crisp without the skillet. Press oat mixture down slightly to pack.

Cover your skillet or baking dish with aluminum foil at bake for 20 minutes with the foil, the remove and bake for an additional 15-20 minutes.

Crisp is done when the top is golden brown and the apples are bubbling!

Serve with vanilla ice cream, if desired, and enjoy warm!
Notes
Use any kind if apples you like best! I like honeycrisp, granny smith, or pink lady.
You can also use almond flour in place of regular all-purpose flour for a more nutty taste and to make it gluten free (be sure to check your oats!)
To make this vegan sub coconut oil for butter.
If you want to bake this in an 8×8 pan instead of a skillet you can, you will follow the same directions.
Topping with vanilla ice cream is optional but recommended!
click To display nutrition info
Nutrition Facts
Nutrition Facts
Old Fashioned Skillet Apple Crisp
Amount per Serving
% Daily Value*
* Percent Daily Values are based on a 2000 calorie diet.
This blog post contains affiliate links, which means that if you click on a product link, I may receive a commission. All opinions are my own, and all brands featured represent what I personally like and support. This blog is a participant in the Amazon Services LLC Associates Program, an affiliate advertising program where I earn advertising fees by linking to amazon.com.