Fall means one thing: everything you make MUST have pumpkin. It's basically law. And that goes for chocolate chip cookies, too! These easy pumpkin chocolate chip cookies are a fun fall twist on a classic cookie.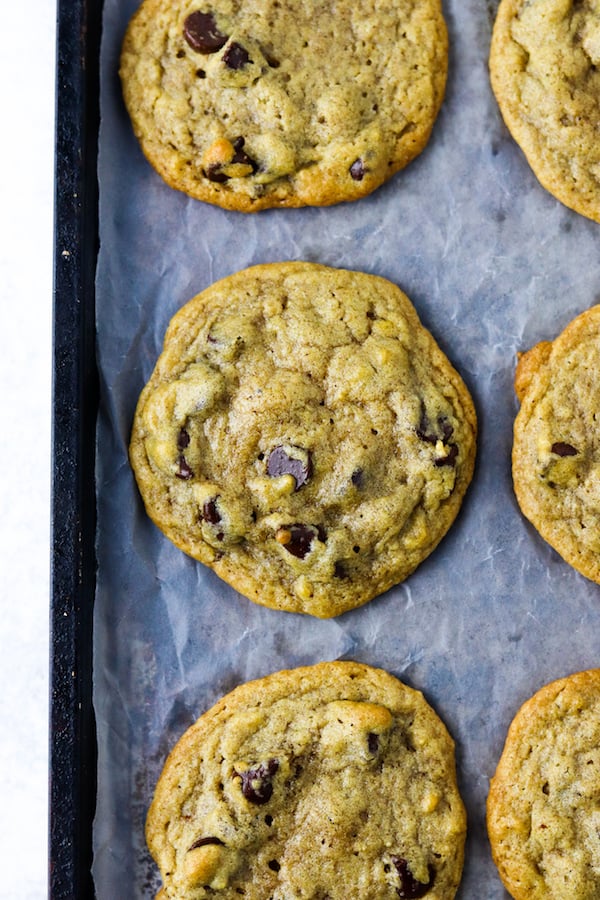 In the past week I've made five batches of cookies. Kid you not. (Plus two batches of my one bowl pumpkin bread) I've been perfecting my chocolate chip cookie recipe. Well, I'm taking my husband Joe's Grandma's recipe and making some adjustments to make it my own. Don't get me wrong, the lady made a MEAN chocolate chip cookie, but I like mind a little more chewy and a little more vanilla-y.
Take a second and pin this recipe to your Pinterest board. Cause, if ya like chewy, vanilla rich cookies like I do, you're going to want to keep this recipe handy.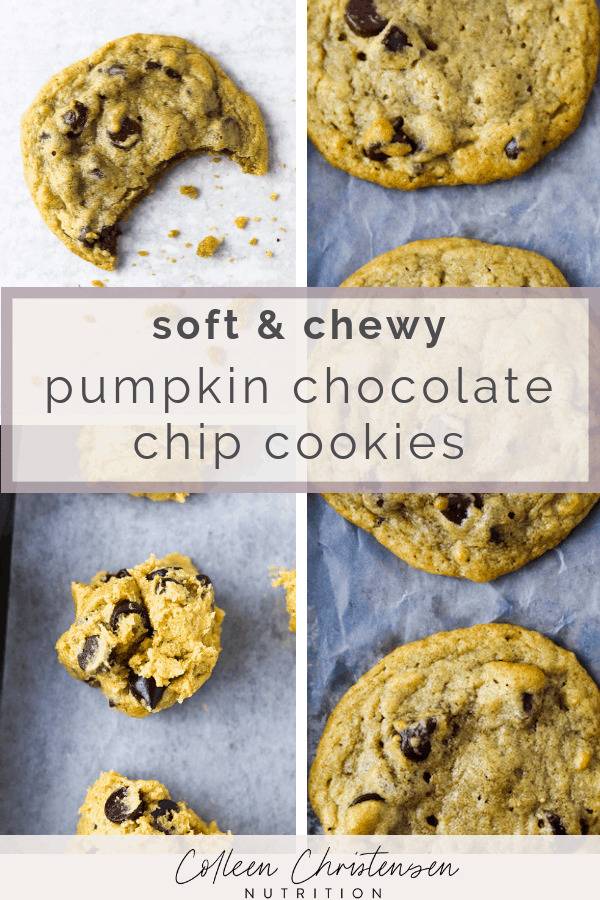 Pumpkin Spice Cookies With Chocolate Chips
So, the first four batches were plain chocolate chip. Needless to say, we had chocolate chip cookies coming out of our EARS. I needed a break. So, I decided to get a little fall vibes going with these pumpkin spice cookies. Granted, not a huge change, but it made a big difference!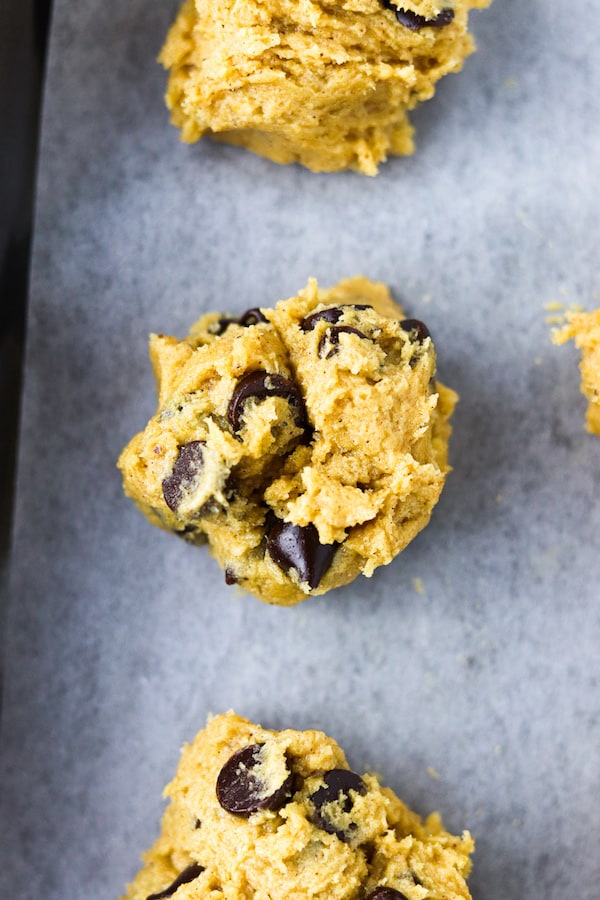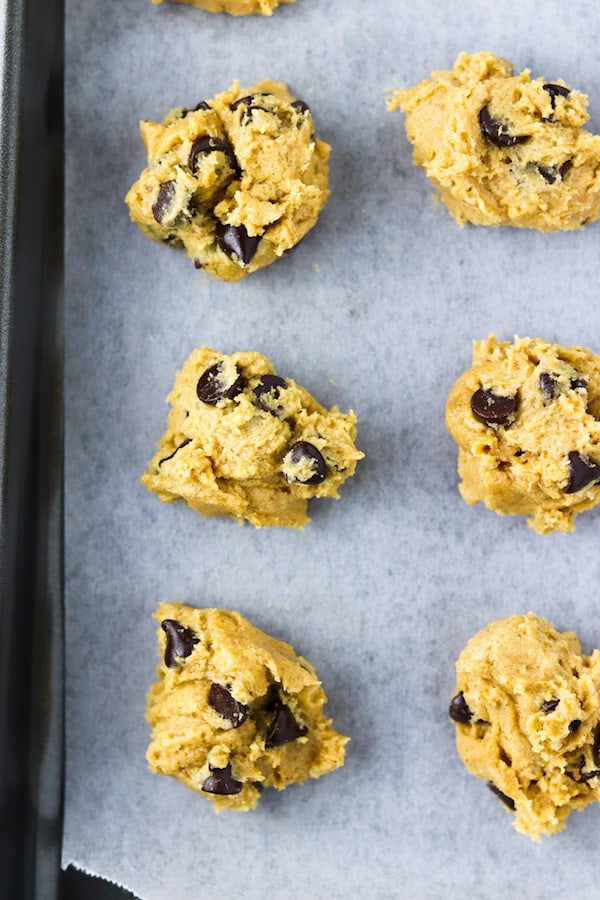 Immediately after I made these I went upstairs, grabbed my blue bin full of fall decorations and made it look like fall threw up in my living room. One year (the year that we first bought out house, so like 2 falls ago) I went a little overboard buying decorations.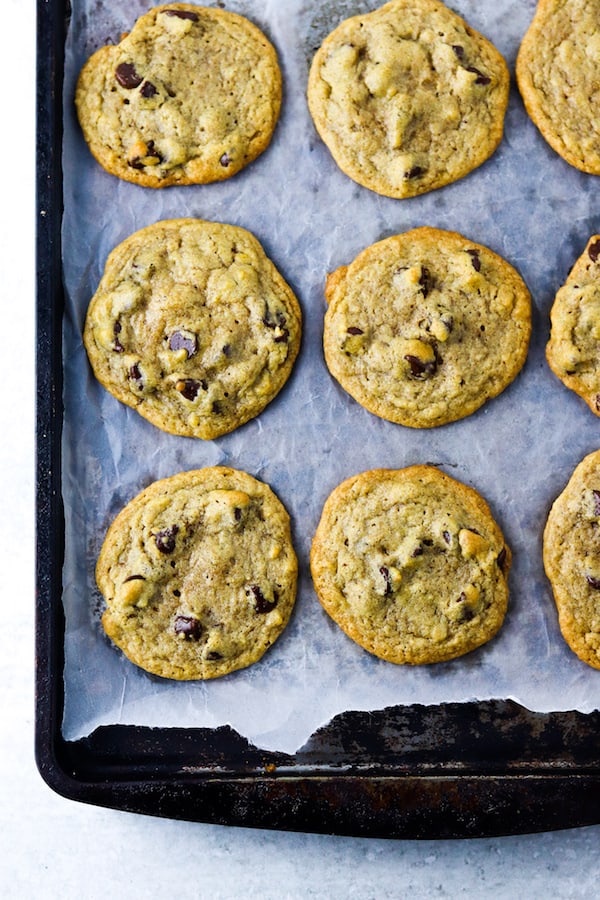 My husband told me that I had to wait until it was officially fall to decorate for it. I was a day early, but after making these cookies I couldn't NOT put up some decorations. They're THAT fabulous.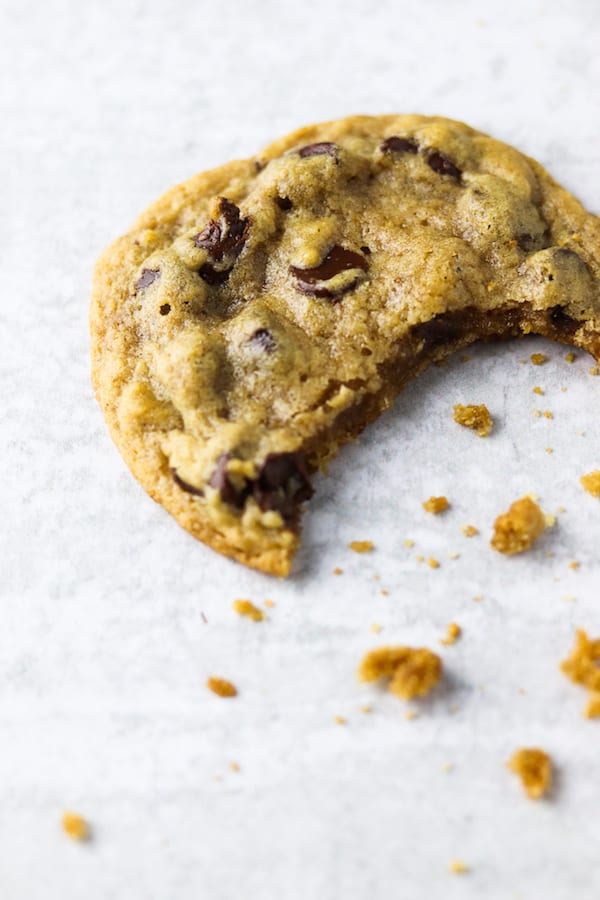 These easy pumpkin chocolate chip cookies are insanely chewy. And if you grab one warm out of the oven. Oh. My. Gosh. Straight up heaven.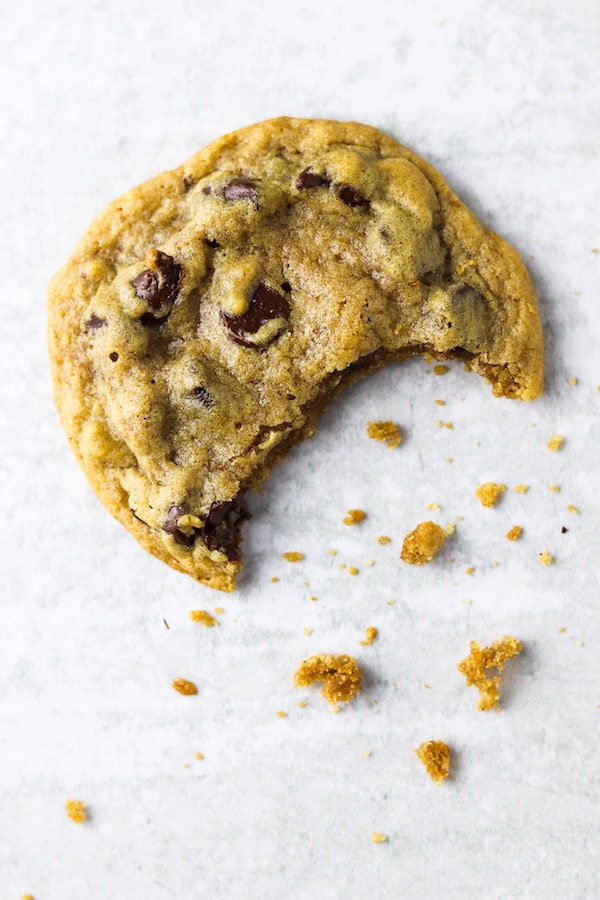 I used semi-sweet chocolate chips for these cookies but you can totally use whatever you like. Dark chocolate or white chocolate chips would be fab. Heck, throw some pecans in there if you want! White chocolate pecan combo? I can dig it.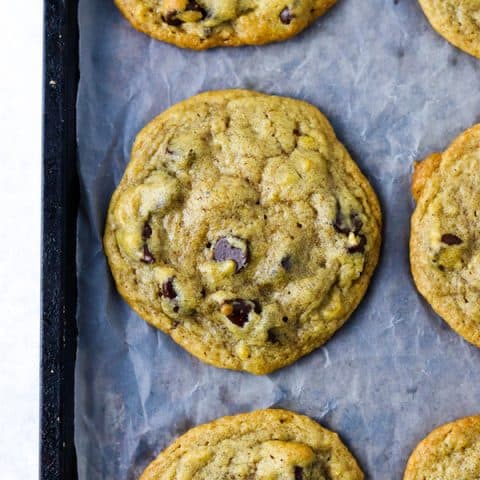 Easy Pumpkin Chocolate Chip Cookies
These easy pumpkin chocolate chip cookies are a fun fall twist on a classic cookie!
Ingredients
1/2 cup shortening
1/2 cup sugar
1/2 cup brown sugar, packed
1 tsp vailla
1 egg
2 tbsp pumpkin puree
1 1/3 cup flour
1/2 tsp baking soda
1/4 tsp baking powder
1 1/2 tsp pumpkin pie spice
1/4 tsp cinnamon
1/4 tsp nutmeg
1/8 tsp salt
1/2 bag chocolate chips
Instructions
In a stand mixer or a large bowl using electric beaters cream shortening and sugars.
Add in vanilla, egg and pumpkin. Continue to beat until well combined.
Add in remaining ingredients and mix until uniform and smooth, well combined.
Fold in chocolate chips.
Put the dough in the fridge for at least 30 minutes.
Preheat oven to 375 degrees and line a baking sheet with a spill mat or parchment paper.
Drop rounded tablespoons of dough about 2 inches apart on the lined baking sheet.
Bake for ~12 minutes, until golden brown.
Allow to cool fully, ideally on a cooling rack.
Enjoy!
Notes
Use whatever chocolate chips you like!
May also add nuts.
Recipe has not been tested with gluten free four.
May use butter, however cookies may be more flat. Additional flour may be needed.
Store in an air tight container for up to 5-7 days or store in the freezer.
Enjoy these easy pumpkin chocolate chip cookies, girlfriend!
XOXO
-Colleen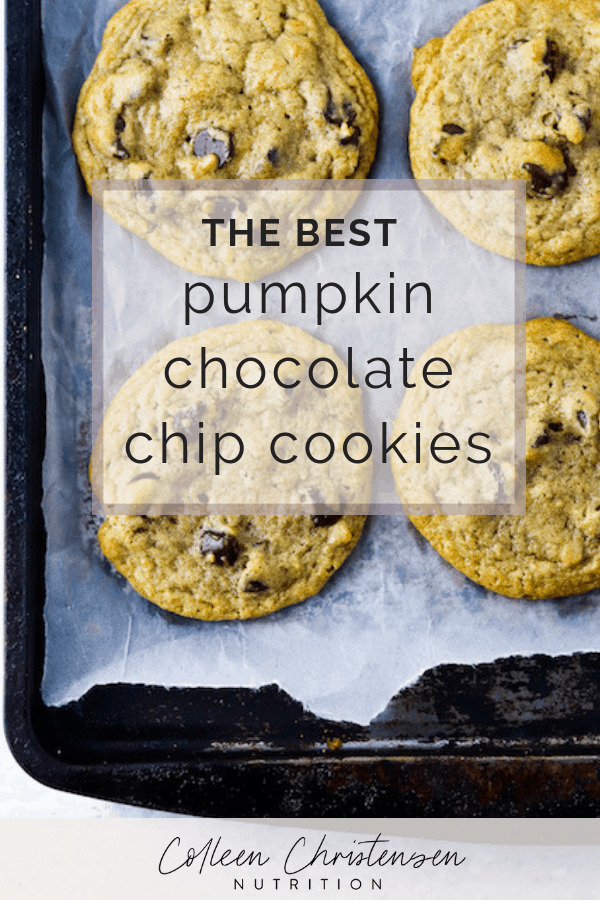 Want more recipes like this? You might like these!