Soft, chewy, and full of peanut butter flavor! These small batch peanut butter cookies make only ~10 cookies and are done in 20 minutes!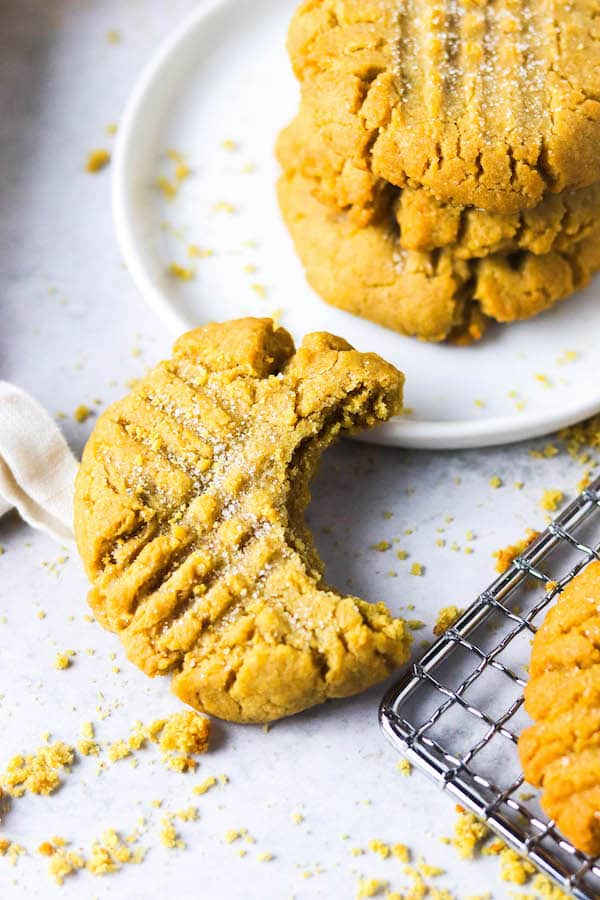 In my house it's just myself and my husband, Joe. Due to that, sometimes we don't need 3 dozen cookies laying around! It's not that I fear we will eat them for breakfast, lunch and dinner. It's actually the opposite, I'll have to throw them in the freezer because they'll go BAD.
If you guys follow me you know I'm all about having no food rules and ditching dieting for good. That being said, I COULD have cookies all day long, but I legit don't want to. That wouldn't feel good. By giving myself permission to eat all foods whenever I want, I am able to listen to what makes my body feel good... and usually that's eating "healthy" most of the time. Crazy, huh? (You can learn more about how you can do this too here!)
Okay, back to these peanut butter drops of heaven. I love to bake and, well, it's kind of my job to keep baking and cooking as a food blogger. So, this recipe is perfect! I get to scratch my baking itch and avoid having our freezer over flow with cookies 24/7!
How To Make Small Batch Peanut Butter Cookies
Making these a little less than 1 dozen peanut butter cookies is so easy. All you have to do is mix together the peanut butter, sugar, and egg in a stand mixer or with electric beaters.
Then, add in the remaining dry ingredients. Add in 2 tsp of water if needed (this will depend on how thick your PB is, if you're using drippy peanut butter you might not need it!) Your cookie dough will seem dry, but trust me, it works! Shape the cookies into balls and press them into disk shapes. With a fork make that typical peanut butter cookie pattern by pressing in and "x" shape. You can dip your fork in sugar before pressing if you like! Then, bake them up for 9 minutes! How easy is THAT?!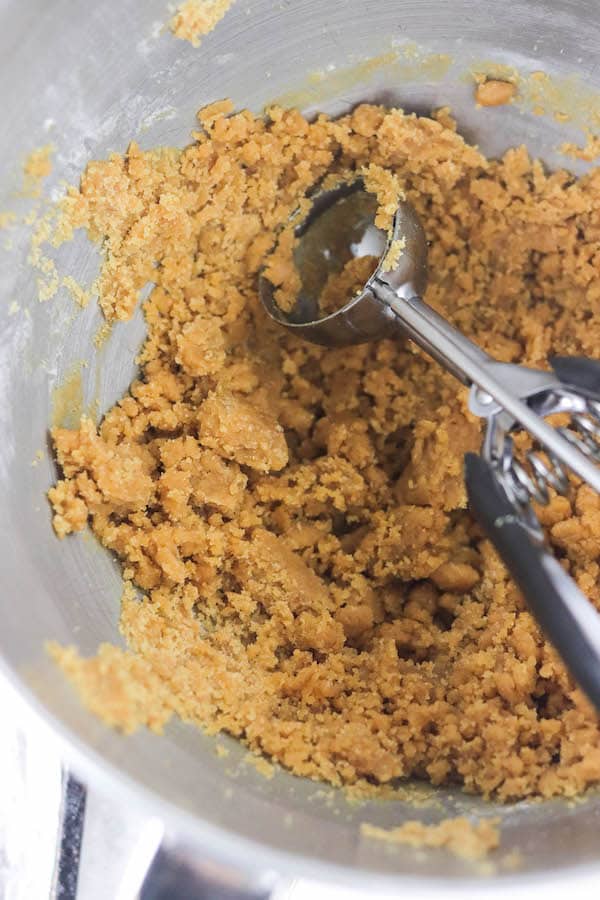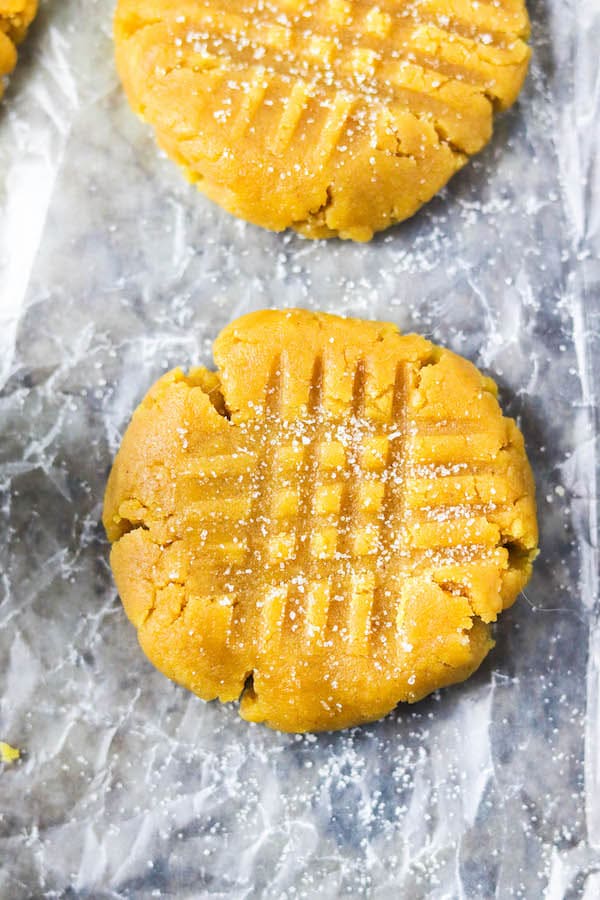 Smooth Or Crunchy For This Peanut Butter Cookies Small Batch Recipe
You can make this small batch peanut butter cookies recipe with either smooth or crunchy PB! Sometimes I'll make both. That's part of the joy of this recipe being a small batch cookie recipe. With small batch cookies you can change it up!
Heck, you could make one batch with smooth, one batch with crunchy and one batch with some added chocolate chips! Amaze! That's still only about the amount of cookies you'd get from a regular batch of peanut butter cookies. So this small batch peanut butter cookies recipe for person two household's and is perfect. It's also the perfect peanut butter cookies recipe for one person households! Or maybe you live in a large household and just not a lot of people like peanut butter cookies. I'm not sure I know many people like that, but they probably exist! haha!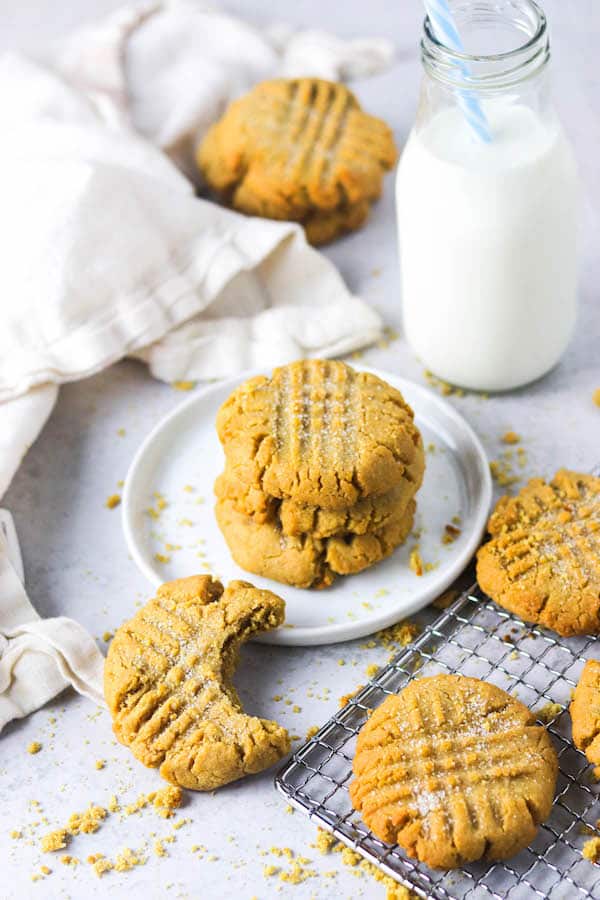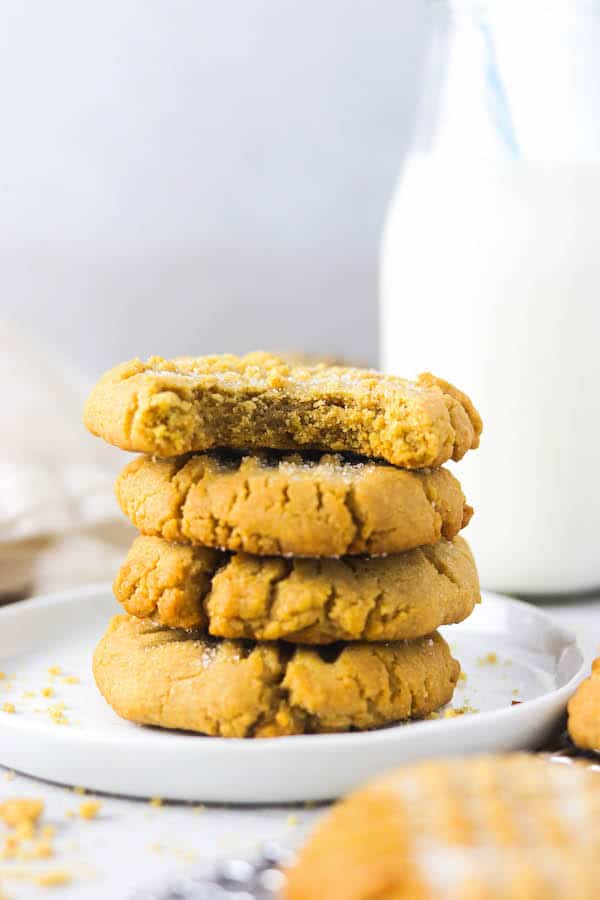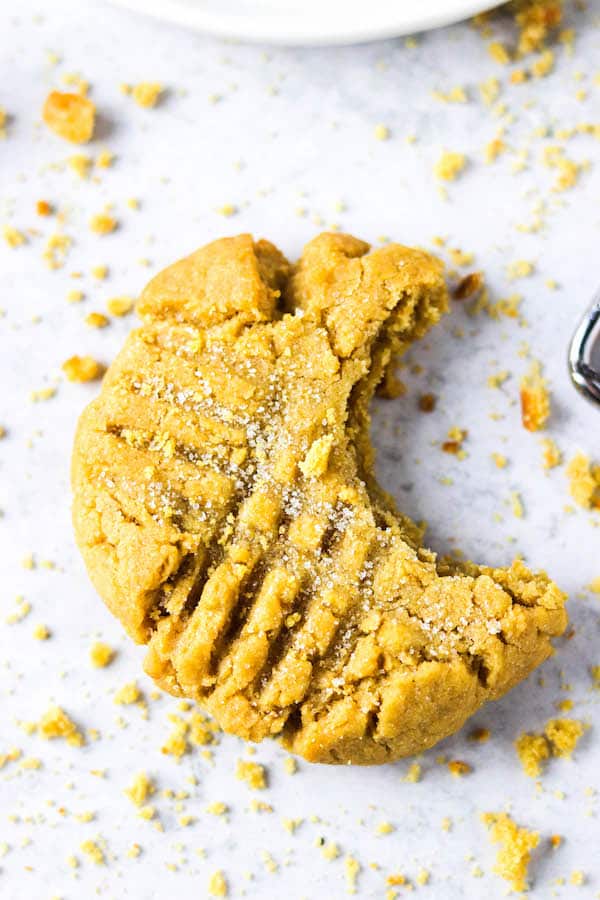 Small Batch Peanut Butter Cookies FAQ's
What if I want more than 10 cookies?
If you want more you can simply double or triple the recipe!
How do I store these small batch peanut butter cookies?
I store mine on the counter in an air tight container for about 5-7 days. If I am freezing them I will first freeze them on a plate or cookie sheet, THEN put them into a bag. This way they won't stick together!
Can I use a different type of flour?
I usually use all purpose flour for this peanut butter cookies small batch recipe but you can also use whole wheat or gluten-free flour. Making it with alternative flours like almond flour or gluten free would require some conversion. You can take a peek at this flour substitution chart if you're wanting to swap out other flours!
Can I use natural peanut butter?
Yep! I've used both regular ol' JIF style PB and also the natural stuff. Both work well and again, you can use creamy OR crunchy!
Any tips for measuring peanut butter? It's so sticky!
YES! So, if you spray your measuring cup with non-stick spray THEN fill it your peanut butter will slide right out. It's magical!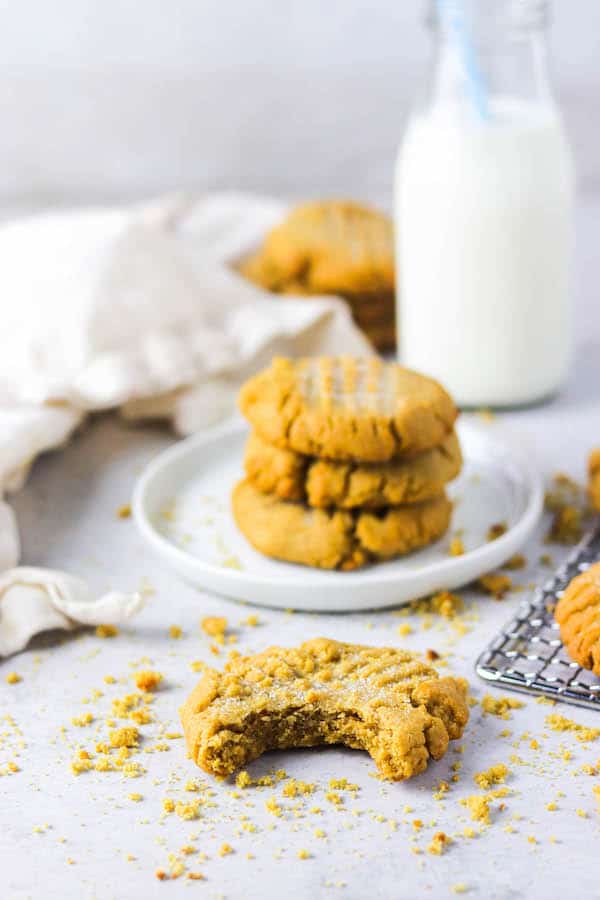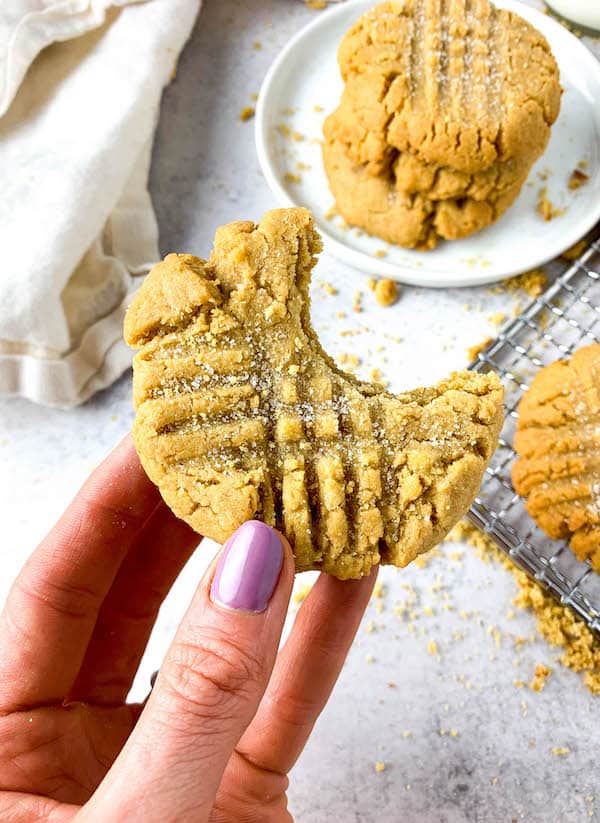 Give this small batch peanut butter cookies recipe a try and be sure to give it a star rating and leave a comment if you enjoyed it!
Happy eating!
XOXO
-Colleen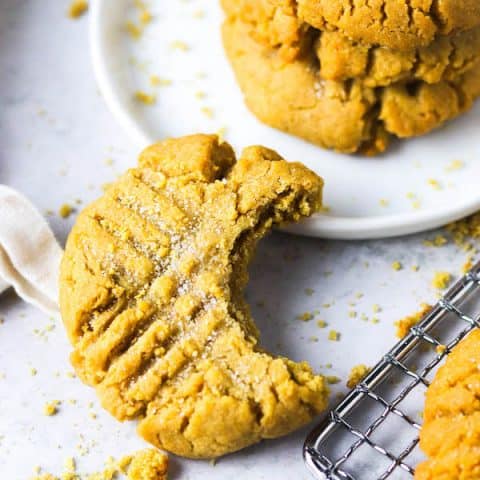 Small Batch Peanut Butter Cookies
Soft, chewy and packed with peanut butter! This fool-proof small batch peanut butter cookie recipe takes just 20 minutes to make and gives you the BEST cookies! Simply double the recipe for a larger batch.
Ingredients
1/2 cup peanut butter (crunchy or creamy)
1/4 cup brown sugar, packed
1/4 cup sugar
1 egg
3/4 cup flour
1/2 tsp baking soda
Instructions
Preheat oven to 375 and line a baking sheet with parchment paper/spill mat or non-stick spray
In a stand mixer, or using electric beaters, combine the peanut butter and sugars.
Next add in the egg and mix until combined.
Add flour and baking soda to the peanut butter mixture and mix well. The cookie dough will look dry and crumbly. Add up to 2 tsp of water to help it stick, if needed. It should be pretty dry though!
Using a cooke scoop, a tablespoon or a spoon, roll the cookie dough into about 1.5-2" balls, pressing flat into disk like shapes.
Place the balls on the prepared cookie sheet and using a fork press an "X" pattern on top.
Bake cookies for 8-9 minutes until golden brown. (8 minutes if you like chewier cookies)
Allow cookies to cool fully before storing in an air tight container for 5-7 days or freezing for 2-3 months.
Notes
You may roll the cookie dough balls in sugar before pressing with a fork if desired.
To make a larger batch, simply double.
May use all purpose, gluten free or whole wheat flour. Please seek a conversion chart for other flours.
For measuring peanut butter, lightly spray your measuring cup with non-stick spray before.
Nutrition Information:
Yield:

10
Serving Size:

1
Amount Per Serving:
Calories:

154
Total Fat:

7g
Saturated Fat:

1g
Trans Fat:

0g
Unsaturated Fat:

4g
Cholesterol:

19mg
Sodium:

133mg
Carbohydrates:

20g
Fiber:

1g
Sugar:

10g
Protein:

4g
Want more recipes like this one? You might like these:
CopyCat Panera Kitchen Sink Cookies