Soft, chewy, and full of peanut butter flavor! These small batch peanut butter cookies make only 1 baker's dozen and are done in under 15 minutes!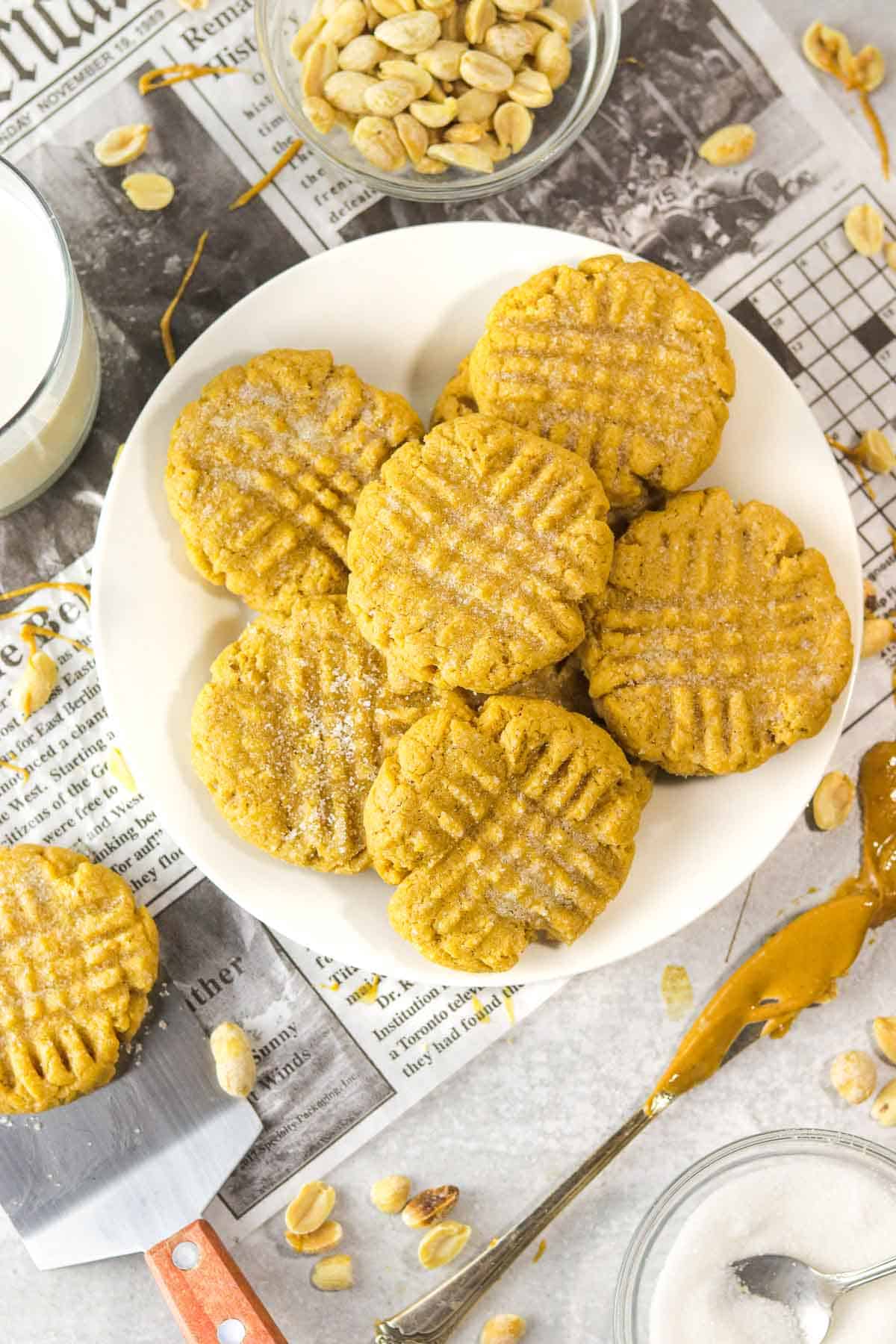 Why This Recipe Works
In my house it's just myself and my husband, Joe. So the need to have dozens of cookies on hand at any given moment isn't really necessary (our freezer is already stocked!) It's not that I fear we will eat them for breakfast, lunch and dinner. It's actually the opposite, I'll have to throw them in the freezer because they'll go BAD.
Now before you go thinking "Man, Colleen... you've got some serious self control!" know that self control is a FACADE! I talk about this in my blog post on food obsession and how the "cure" to a lack of self control is actually permission to EAT those foods! This is what's called intuitive eating and what I teach inside of The SociEATy.
The being said, sometimes I don't want to make a giant batch of cookies! So, my go-to recipe to make is this one for small batch peanut butter cookies!
Or, sometimes I'll pair them with half a batch of my chewy candy cookies or copycat Panera kitchen sink cookies for a little variety if I do want more cookies on hand!
Ingredients Needed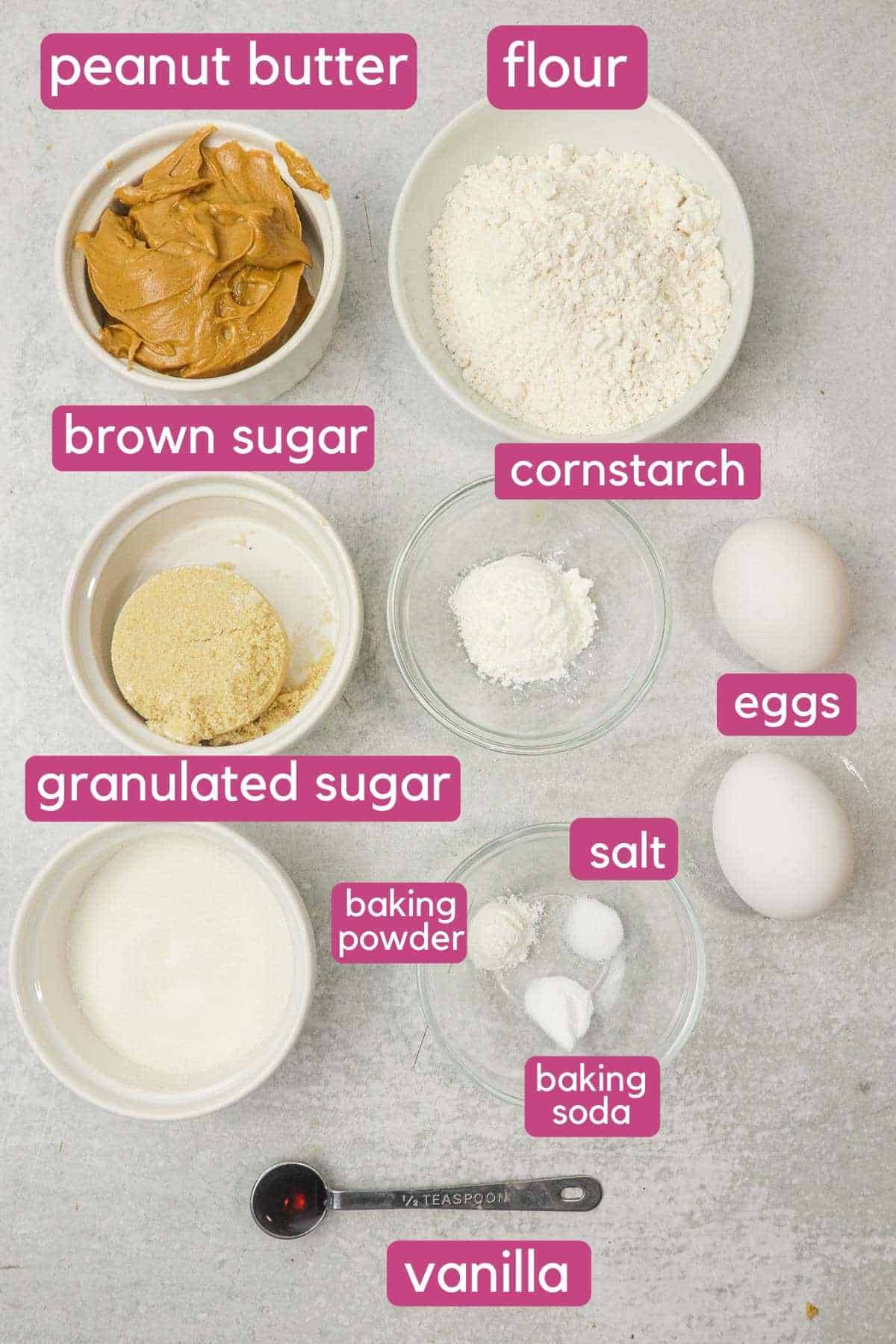 Peanut butter. I use regular "JIF style" creamy peanut butter most of the time. If you use all natural you may need to adjust the recipe a bit depending on how dry or runny your peanut butter is (every natural brand seems to be different). If it's too dry and crumbly add a touch of water or milk .
How To Make This Recipe
First, preheat your oven to 375 degrees and line a baking sheet with a silicone baking mat (you can find some silicone baking mats on Amazon for a super affordable price. SO worth it!)
Next, in a medium sized bowl combine flour, cornstarch, salt, baking soda and baking powder. Mix well and set aside.
In a large bowl or stand combine peanut butter and sugars. Cream them together for ~1 minute.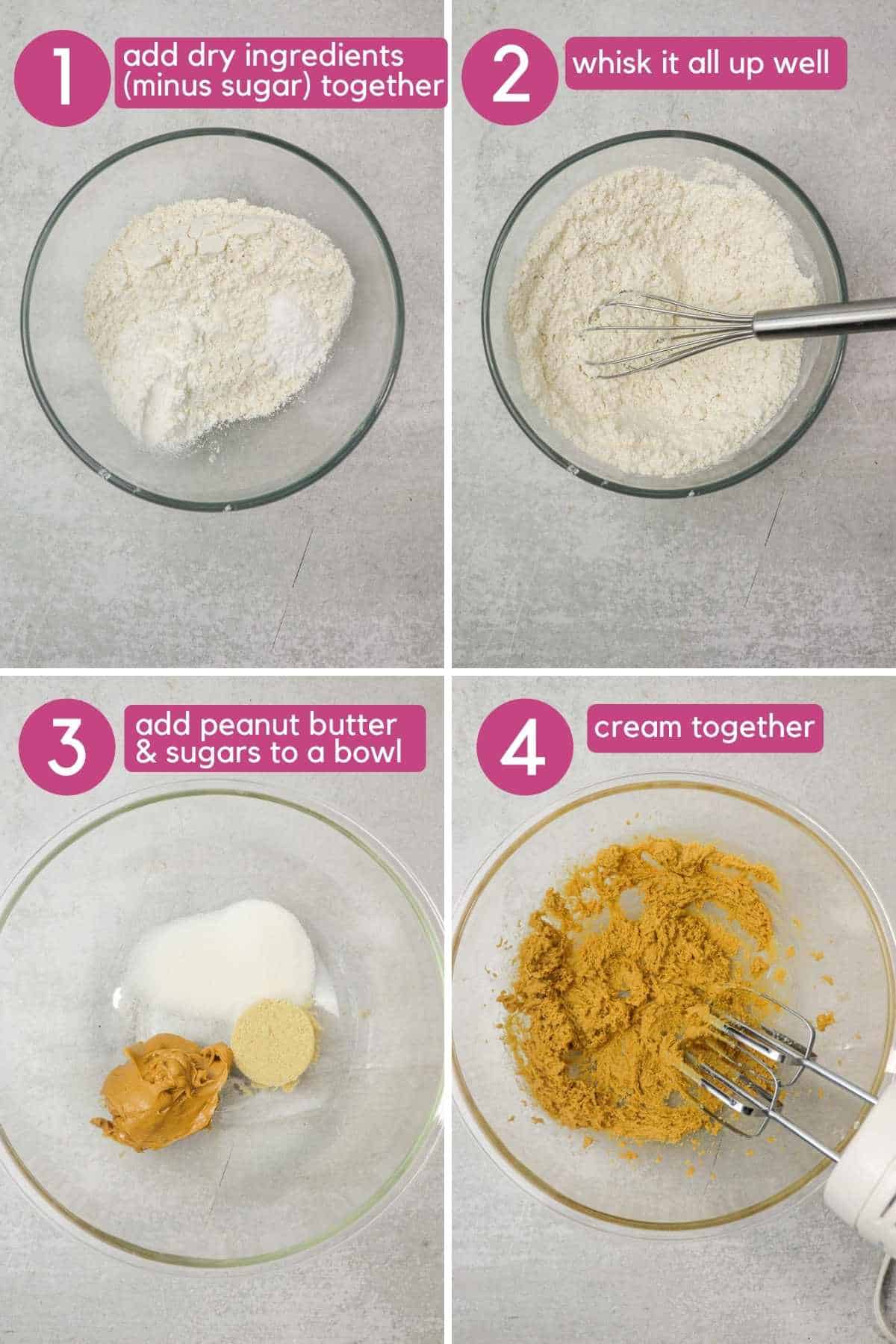 Now, add your egg, egg yolk and vanilla to the peanut butter mixture. Beat again until combined.
Add your flour mixture to the peanut butter mixture and mix well. Your cookie dough should be uniform and easily roll into a ball. It should seem a little greasy- this is good!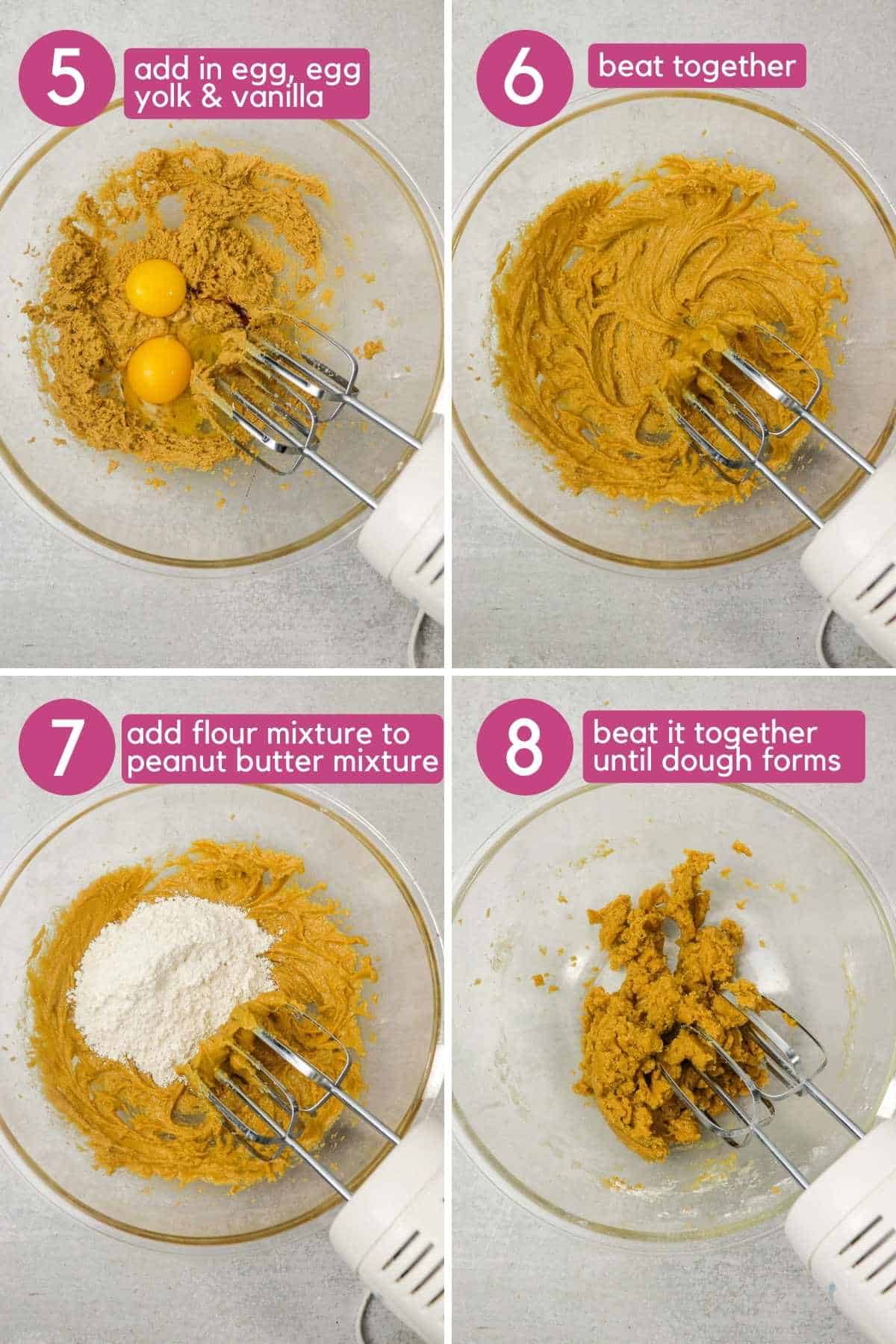 Take 2-3 tbsp of the dough and form it into a ball. Repeat this process for the remaining dough and place ~2" apart on a cookie sheet. You should have ~13 balls of dough (AKA a baker's dozen!)
Now, take a fork and dip it into a small bowl of sugar then press it on top of the balls of dough twice to create an X shape. Dip the fork back into the bowl of sugar between presses. Repeat for the remaining cookies.
Then, before baking, I like to add a quick addition sprinkle of sugar over all of the cookies.
Bake the cookie for 9 minutes, remove from the oven and allow to cool fully.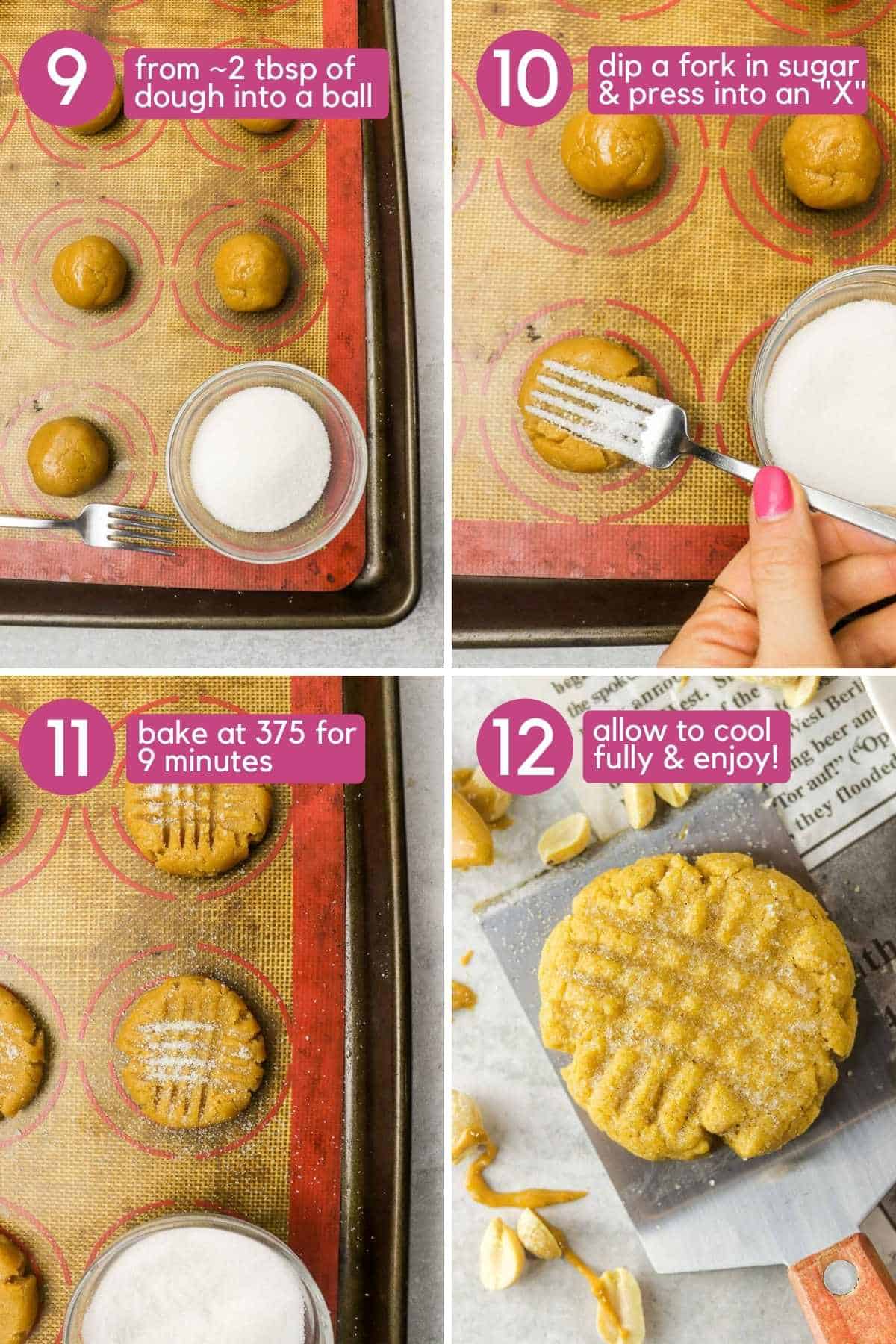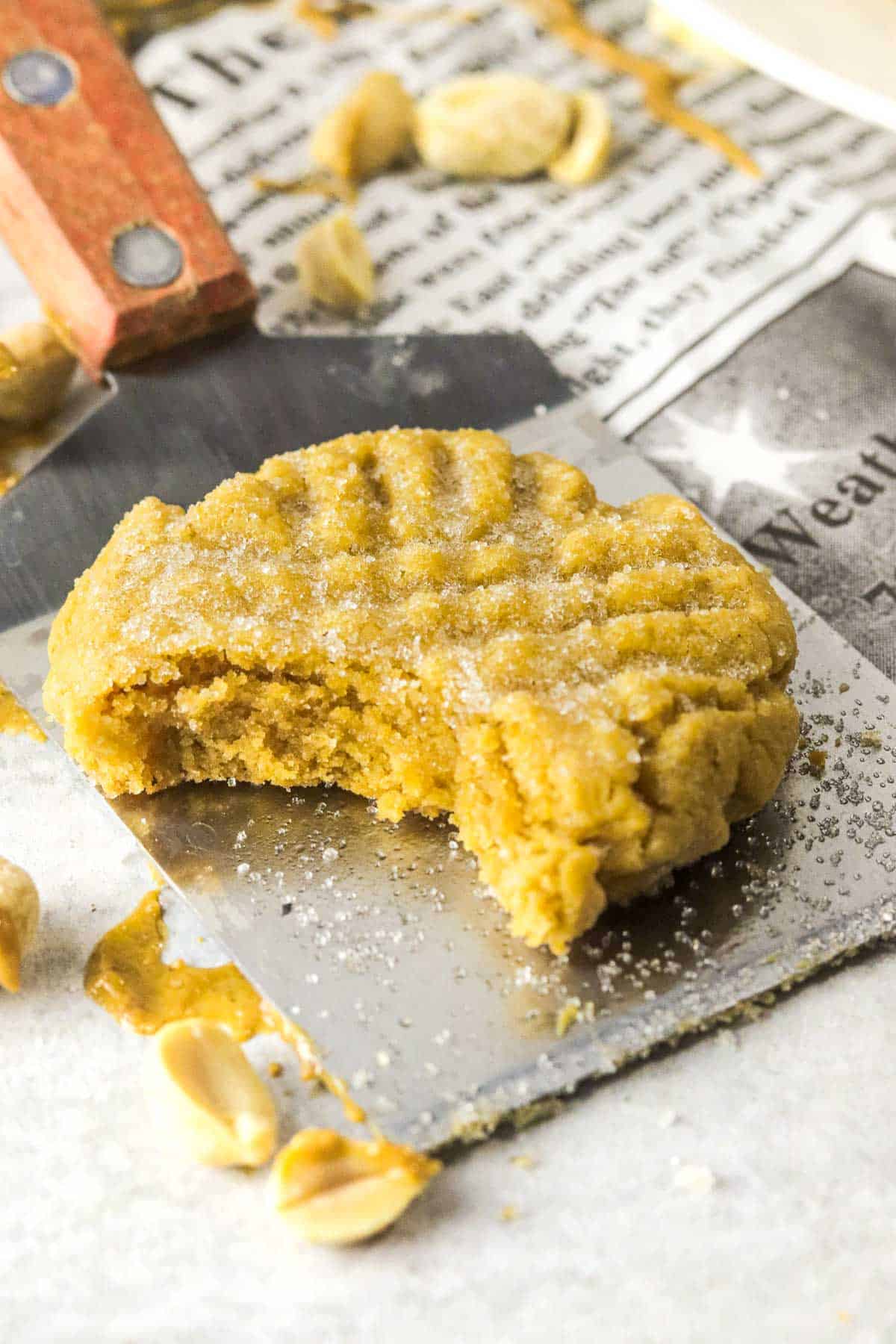 Recipe FAQs
Can I use crunchy peanut butter for these cookies?
I recommend smooth peanut butter but you can make this small batch peanut butter cookies recipe with either smooth or crunchy PB!
What if I want more than just a small batch of peanut butter cookies?
If you want more you can simply double or triple the recipe!
Can I use a different type of flour?
I usually use all purpose flour for this peanut butter cookies small batch recipe but you can also use whole wheat or gluten-free flour. I don't recommend alternative flours like almond flour or gluten free since they have different properties. Instead take a peek at my recipe for chewy almond flour peanut butter cookies!
How do I store my small batch peanut butter cookies?
I store mine on the counter in an air tight container for about 5-7 days. If I am freezing them I will first freeze them on a plate or cookie sheet, THEN put them into a bag. This way they won't stick together!
Expert Tips
To easily measure peanut butter for recipes WITHOUT it being a pain to remove from the measuring cup just spray your measuring cup with non-stick spray THEN fill it your peanut butter will slide right out. It's magical!
Other Cookie Recipes You Might Like:
If you love this recipe, be sure to leave a star rating on the recipe card and leave a comment below!
Don't forget to pin it on your Pinterest board for later, or tag me on IG @no.food.rules if you try the recipe and love it!
XOXO
-Colleen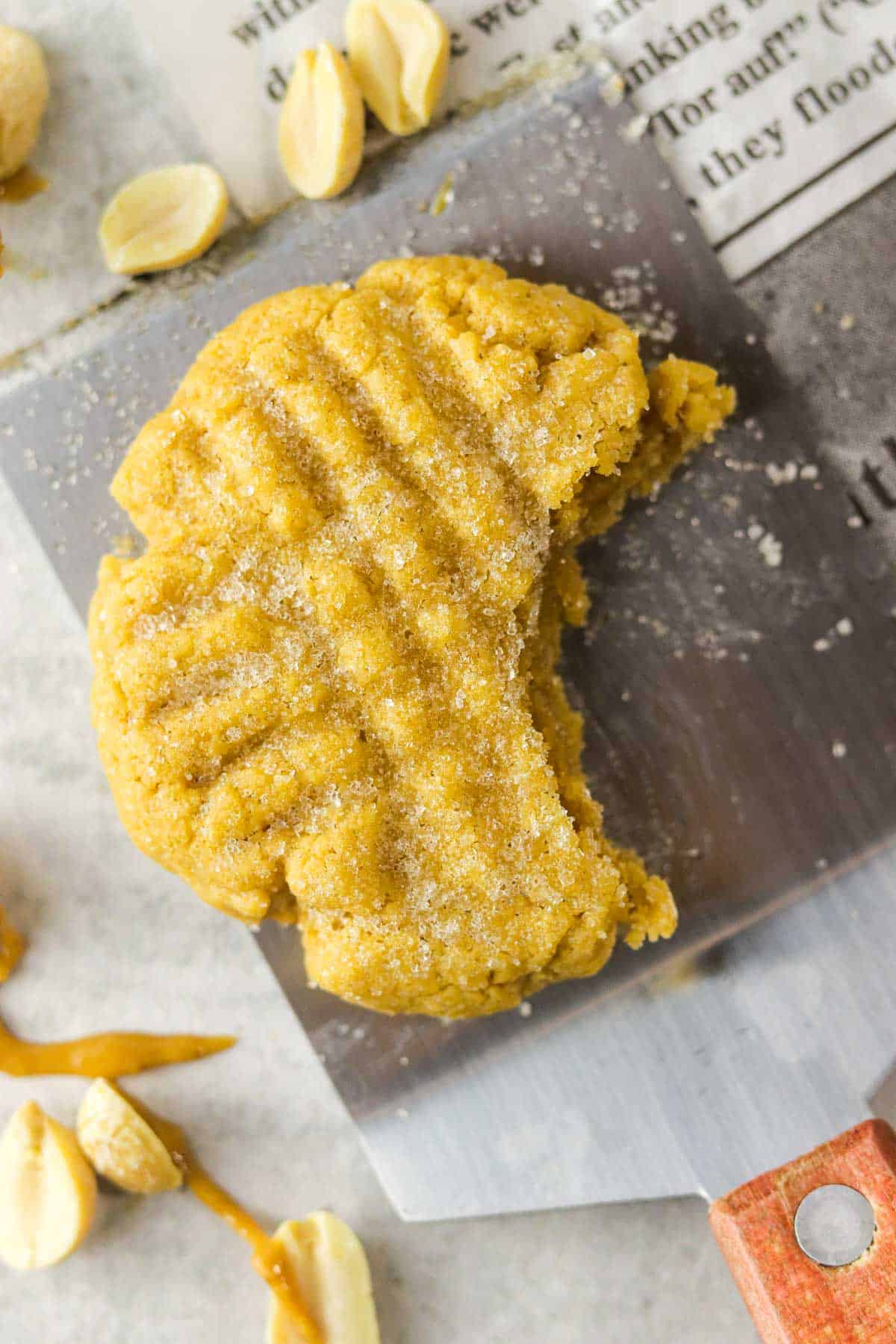 Small Batch Peanut Butter Cookies
Yield:
1 Baker's Dozen (13 Cookies)
Soft, chewy and packed with peanut butter! This fool-proof small batch peanut butter cookie recipe takes less than 15 minutes to make and gives you the BEST cookies! Simply double the recipe for a larger batch.
Ingredients
3/4 cup flour
2 tsp cornstarch
1/4 tsp baking powder
1/8 tsp baking soda
1/8 tps salt
1/2 cup peanut butter
1/4 cup brown sugar, packed
1/4 cup white granulated sugar (+ ~2 tbsp)
1 egg + 1 egg yolk
1/2 tsp vanilla
Instructions
Preheat oven to 375 and line a baking sheet with parchment paper/spill mat or non-stick spray
In a medium sized bowl combine flour, cornstarch, baking powder, baking soda and salt.
In a stand mixer, or using electric beaters, combine the peanut butter and sugars.
Next add in the egg, yolk and vanilla. Mix until combined.
Add flour mixture to the peanut butter mixture and beat together until uniform.
Take ~2 tbsp of dough and form it into balls. Place ~2 inches apart on a cookie sheet.
Dip a fork into a small bowl of sugar and then press an "X" pattern on top.
Bake cookies for 9 minutes.
Allow cookies to cool fully and enjoy!
Notes
You may roll the cookie dough balls in sugar before pressing with a fork if desired.
To make a larger batch, simply double.
May use all purpose, gluten free or whole wheat flour.
For measuring peanut butter, lightly spray your measuring cup with non-stick spray before.
Nutrition Information:
Yield:

13
Serving Size:

1
Amount Per Serving:
Calories:

125
Total Fat:

6g
Saturated Fat:

1g
Trans Fat:

0g
Unsaturated Fat:

4g
Cholesterol:

29mg
Sodium:

81mg
Carbohydrates:

16g
Fiber:

1g
Sugar:

8g
Protein:

4g