This copycat Panera kitchen sink cookie recipe makes the best chewy, sweet, and salty cookies! Save yourself a trip and make them at home with this recipe!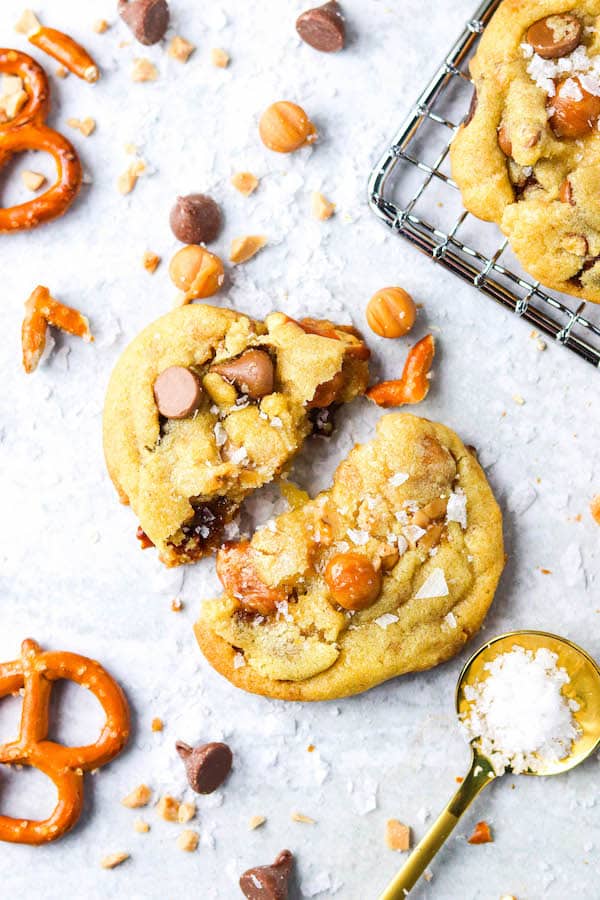 What Is A Panera Kitchen Sink Cookie?
Heaven. That's what's in them! Totally kidding…kind of. The kitchen sink cookie Panera has is loaded with:
milk chocolate chips
semi-sweet chocolate chips
toffee bits
pretzel pieces
caramel bits
flaky sea salt
You can totally add whatever you want to these cookies, but that is what Panera adds. Be sure to pin this recipe to your Pinterest board or share on Facebook so you can keep track of it. This is my go-to cookie base for ANY type of cookie. Totally customizable!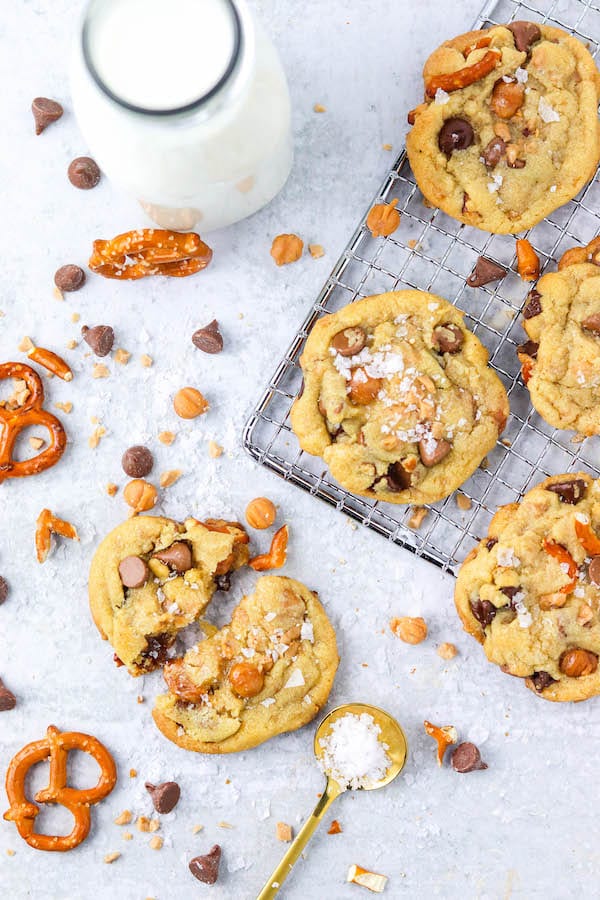 What You Need To Make A Copycat Panera Kitchen Sink Cookie
Electric hand mixer or stand mixer
Cookie sheets
Spill mats or non-stick spray
Cookie scoop or a tablespoon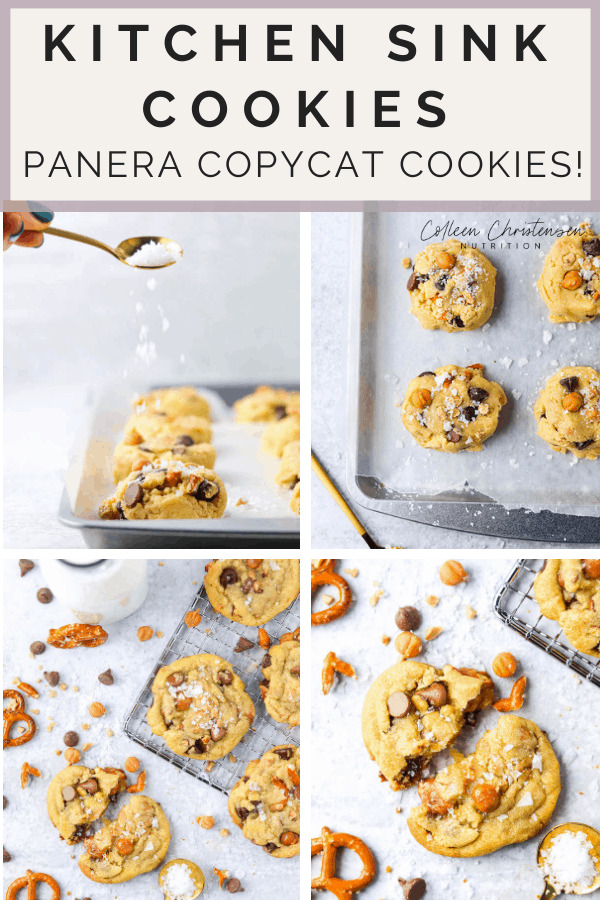 How To Make Kitchen Sink Cookies
First you are going to cream the butter and sugar, as you would a typical cookie recipe.
Then, add in the eggs and vanilla. Mixing until combined. You want to be careful to not over mix here. That can actually cause the eggs to start warming, meaning they start cooking, meaning… not good.
Then, add the flour and baking soda. Again, mix until well combined. The cookie dough will be pretty thick at this point. That's good!
Now, fold in all of your mix ins- the chocolate chips, toffee, pretzels, caramel and juuuuust a pinch of the salt.
Using a cookie scoop or tablespoon, scoop cookies onto the cookie sheet and press down on them gently. You don't want them to be total rounded balls, slightly pressed flat. Allow room for some spreading (about 1-2 inches)
Bake at 370 for 9 minutes.
Remove from oven and allow to cool entirely- enjoy!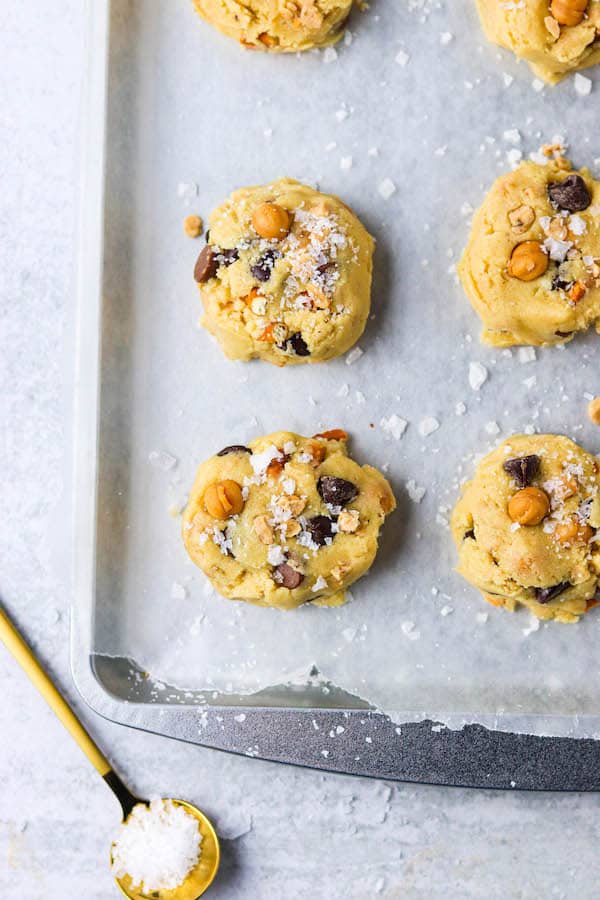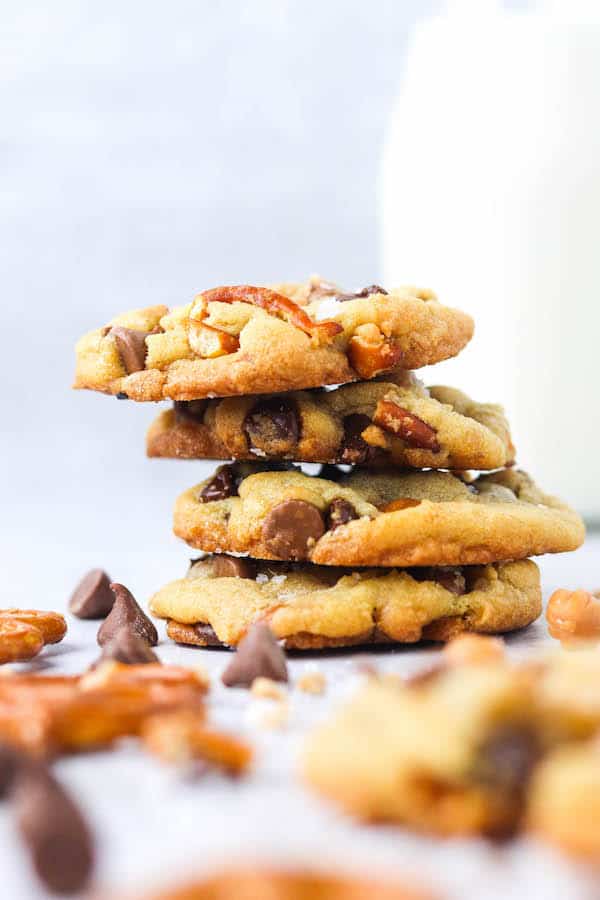 Tips & FAQ's For This Panera Kitchen Sink Cookie Recipe
I've made this cookie recipe SO many times trying to get it perfect. And, I am happy to say that I have! BUT, I did learn a few things along the way to make these cookies the best possible cookie! Here is what I learned:
Use a combo of shortening and butter. The shortening helps these cookies hold their shape but the butter gives them more flavor and keeps them gooey on the inside.
Flatten cookies slightly before cooking. This is going to most resemble the Panera kitchen sink cookies, they're more flat. But, you can totally decide not to flatten these. They'll have a bigger gooier inside and may need to be cooked an extra minute.
White flour works best, but you can sub. I usually sub for whole wheat flour if I do. But I did find this ingredient substitution list for baking that includes a guide for subbing different flour types!
You can totally adjust the mix-ins. Honestly? You can throw whatever the heck you want into these cookies. Do a little pantry clean our and just throw some things in there. M & M's? Sure. Potato Chips? Why not. Coconut flakes? Go for it!
You Can Freeze These Cookies. My husband actually prefers them frozen! You can keep them in the freezer for 1-3 months. But, lets be real, they never last that long! You can find a complete guide to freezing cookie dough and cookies here!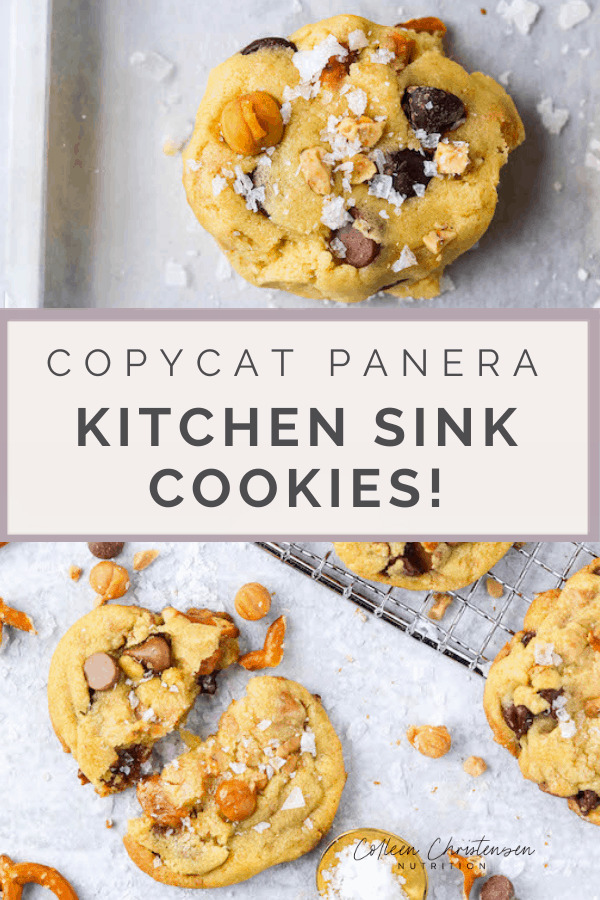 Give this recipe a try and leave a comment with your thoughts. Did you add in any other mix-ins? Did you swap flours? Are you team fresh or frozen cookie? Leave a comment!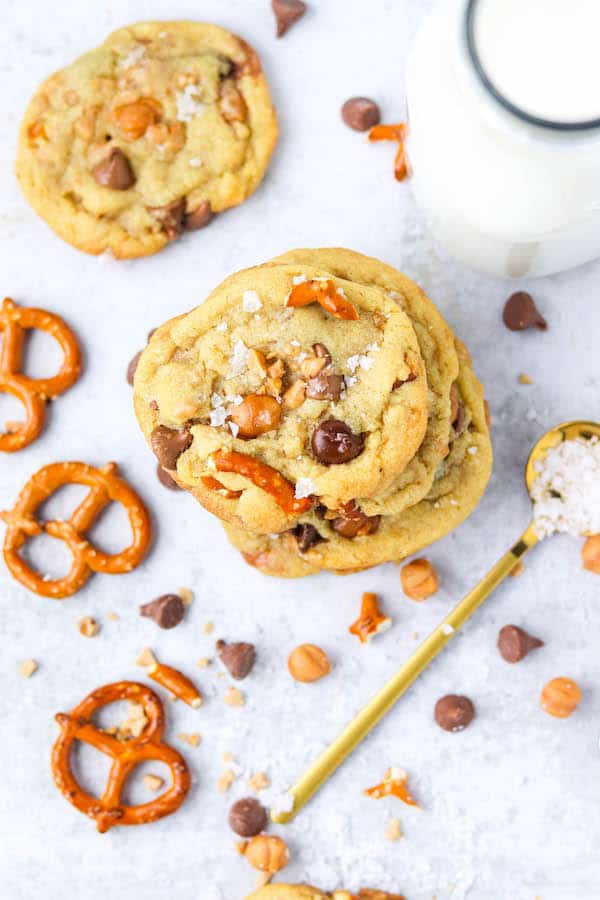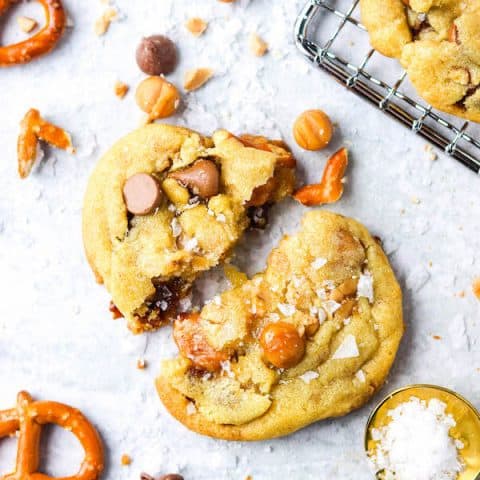 Copycat Panera Kitchen Sink Cookie
Yield:
2-2.5 dozen cookies
Sweet, salty and chewy these Panera kitchen sink cookies have it all! Filled with 2 kinds of chocolate chips, caramel pieces, toffee bits, pretzels and sea salt flakes they'll be the only cookie recipe you need!
Ingredients
3/4 cup butter flavored shortening
1/4 cup butter, softened
3/4 cup sugar
3/4 cup brown sugar
2 tsp vanilla
2 eggs
2 1/3 cup flour
1 tsp baking soda
1/4 tsp flake salt + extra for topping
1/2 cup semi-sweet chocolate chips
1/2 cup milk chocolate chips
1/2 cup caramel bits
1/2 cup toffee bits
1/2 cup crushed pretzels
Instructions
In a large bowl with an electric mixer or a stand mixer, cream together shortening, butter, and both sugars.
Add in vanilla and eggs, mix until just combined.
Add in flour, baking soda, and 1/4 tsp salt. Mix again until just combined.
Next, fold in remaining ingredients.
Place dough in the fridge (~20 minutes) and preheat oven to 375 degrees.
Once preheated line a cookie sheet with a spill mat or parchment paper of drop rounded tablespoons (or use a cookie scoop) onto the sheet 1-2 inches apart.
Gently press down the cookies just a touch, and sprinkle with extra flake salt.
Bake for 9 minutes.
Repeat this process with the remaining dough, placing it in the fridge between batches.
Enjoy!
Notes
You can swap out the mix ins for whatever you like!
May sub whole wheat flour for up to 1/2 of the flour.
Nutrition info is listed as it is needed for google, however may vary depending on ingredients/measuring. You get to decide the serving size that is right for you!
Nutrition Information:
Amount Per Serving:
Calories:

193
Total Fat:

10g
Carbohydrates:

24g
Protein:

2g
INSERT RECIPE HERE
Happy eating!
XOXO
-Colleen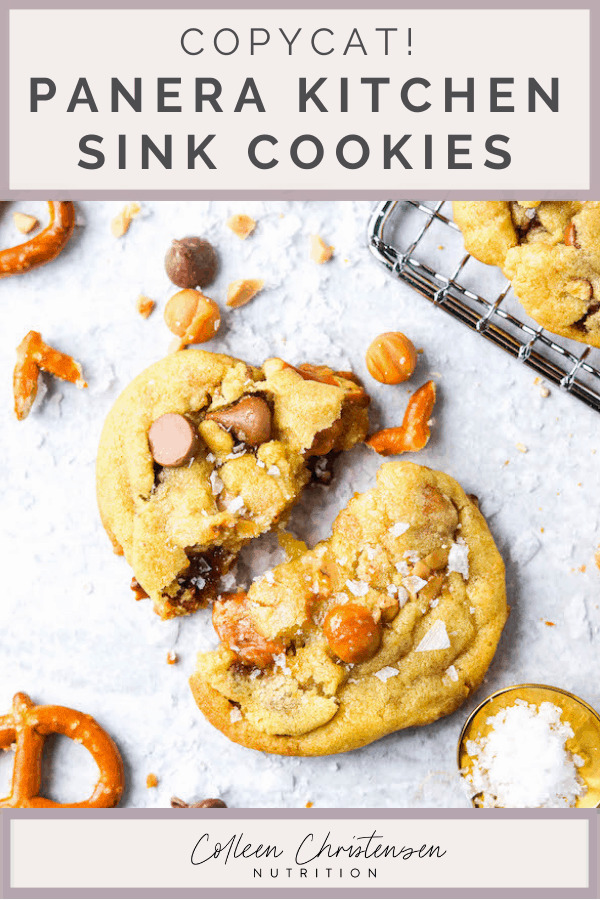 Want more recipes like this? You might like these: