Gooey, fool-proof vegan blondies are bursting with peanut butter flavor! They're a delicious treat that everyone will love- vegan or not!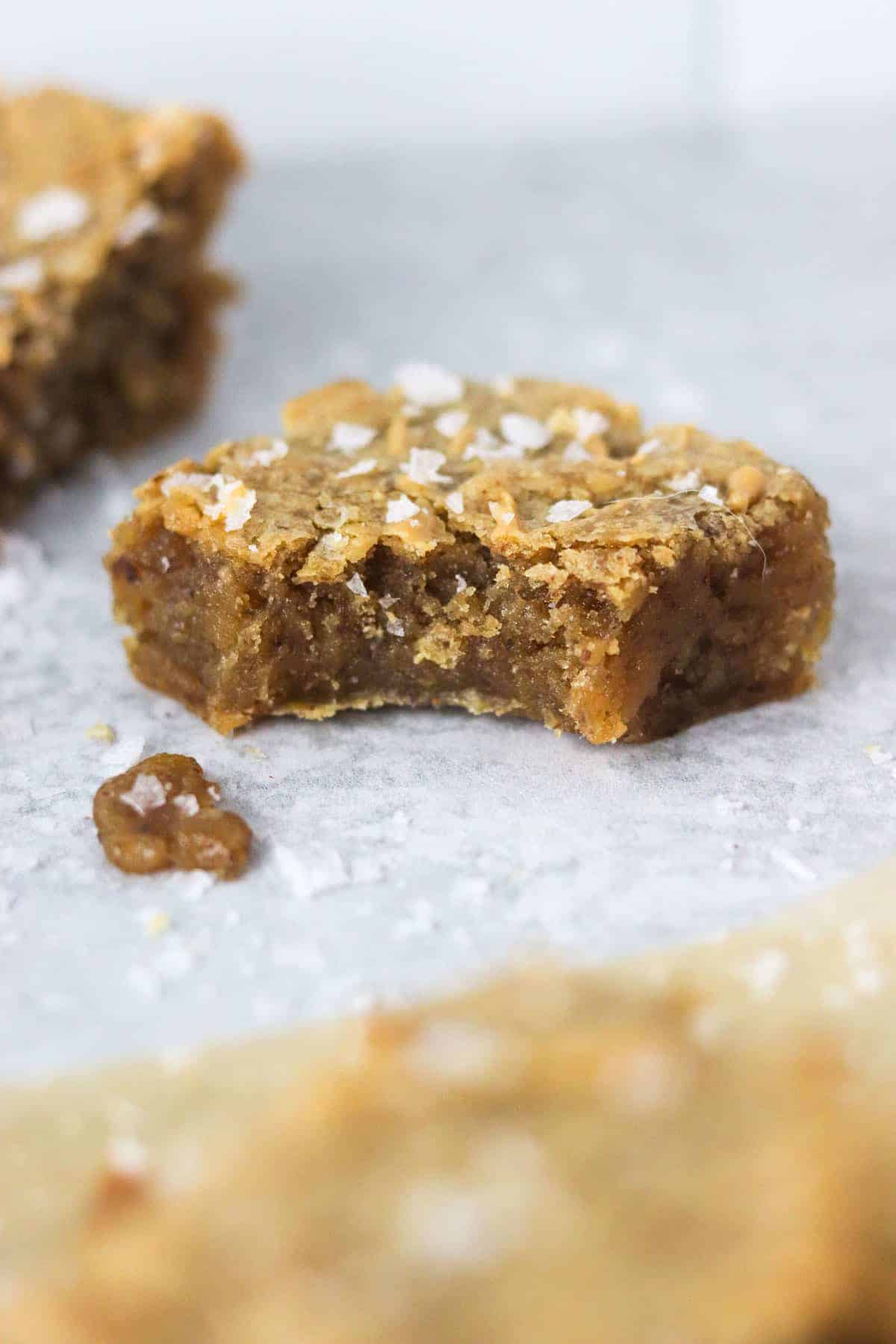 Why This Recipe Is Great
A blondie is essentially a "blonde brownie", meaning a brownie that isn't chocolate. In this case the flavor is peanut butter! These vegan blondies have the same chewy, gooey texture as a brownie that we know and love.
Now I'm not vegan, but I do love trying new things in the kitchen, like experimenting flax eggs in this recipe. The flax eggs work just like regular eggs and I think add a delicious nutty flavor that works so great with peanut butter in these vegan blondies!
Recipe Ingredients
Here is what you're going to want to gather up to make your peanut butter vegan blondies: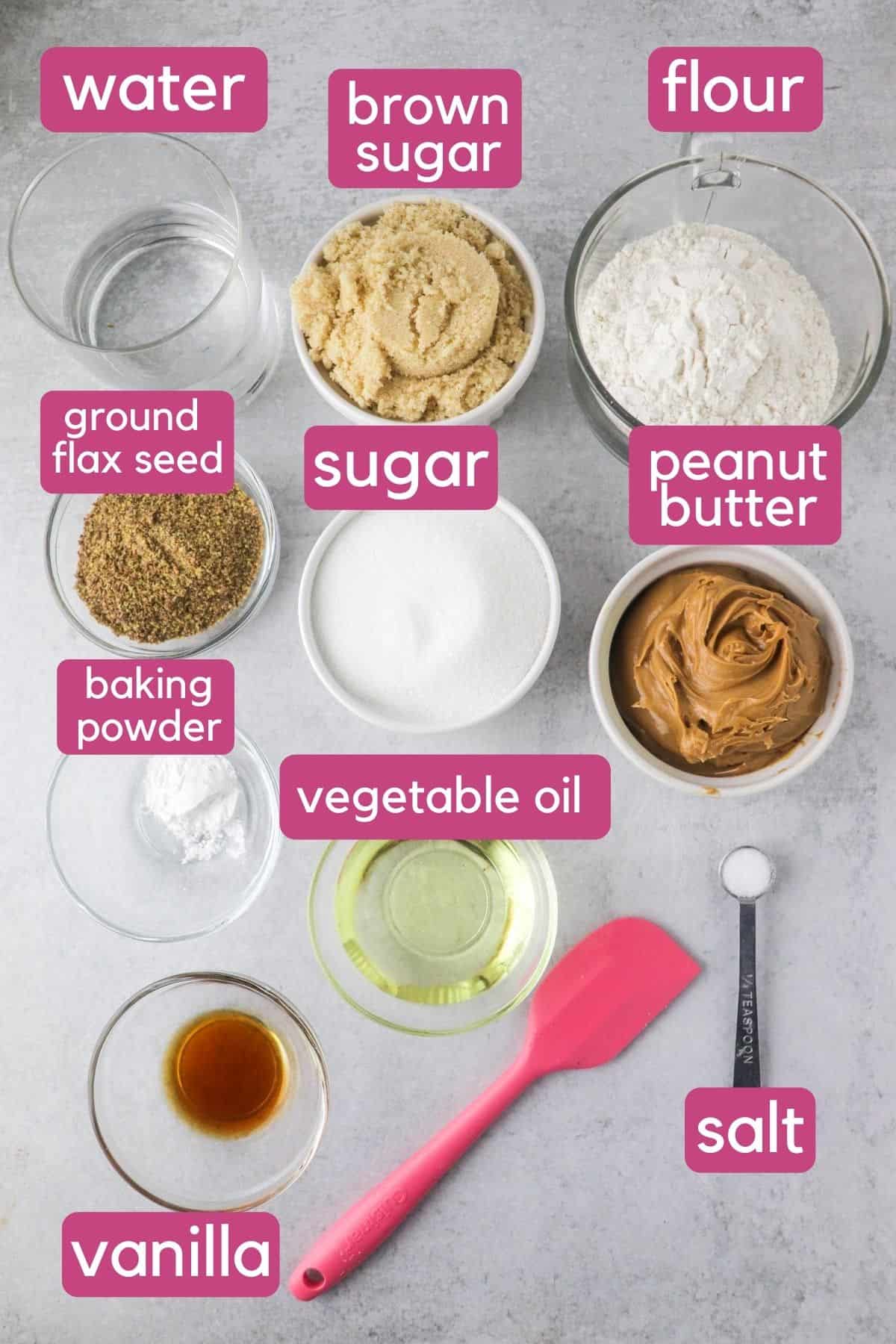 Ground/milled flax seed. You're going to mix this with water to create the equivalent to about 4 flax eggs. When the flaxseed sits in water it starts to gel and become an egg-like consistency. This works as the binder in your vegan blondies!
Flour. I used all-purpose flour but you could totally use gluten free flour or whole wheat flour. I have not tested this recipe with almond flour, coconut flour or oat flour.
Flaky Salt. I like to add a little extra flaky salt to the top in addition to what is in the recipe to really bring out that peanut butter flavor!
Peanut butter. Obviously, they're peanut butter blondies after all! This recipe will work with JIF-like peanut butter (that contains palm oil) and als natural PB that is just 100% peanuts. I have an entire post going over the difference, checkout that peanut butter post here!
How To Make This Recipe
First, preheat your oven to 350 degrees and line an 8x8 baking pan with parchment paper, then set aside.
In your small bowl/cup mix together the ground flaxseed and water then allow it to set for ~15 minutes while you prepare the rest of your blondies.
Combine the flour, baking powder and salt into your medium sized mixing bowl and set aside.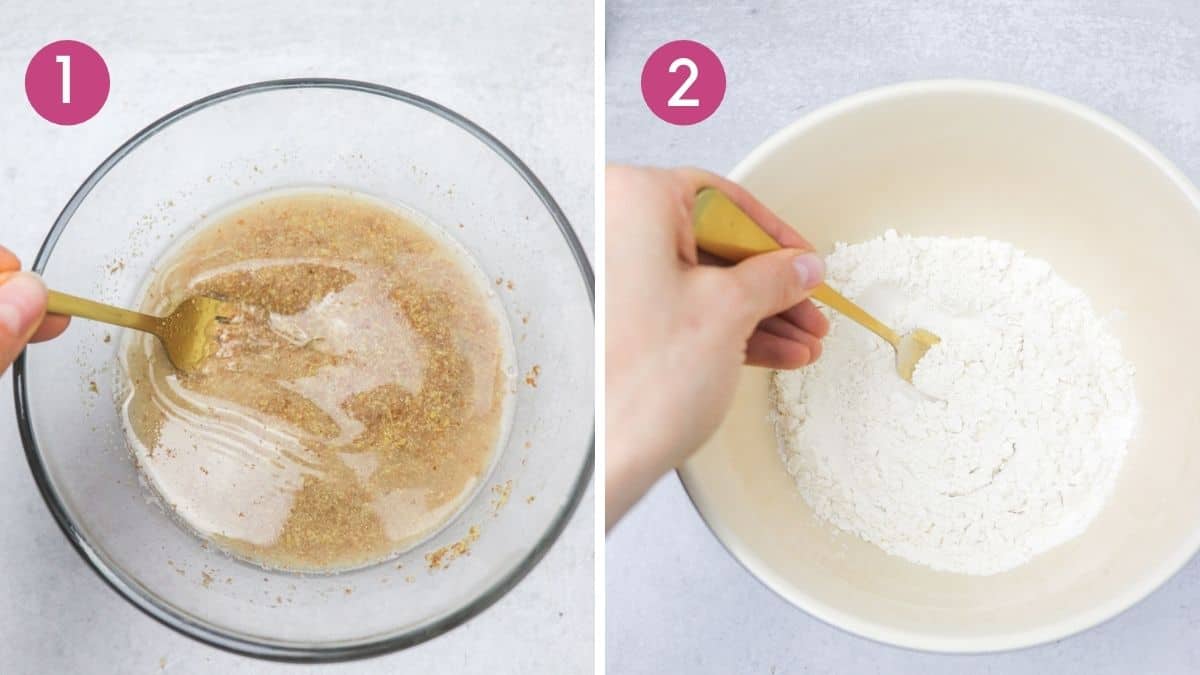 In a saucepan over low-medium heat combine peanut butter, oil, sugar, brown sugar, and vanilla. Slowly stir this until everything is melted together, be careful not to burn it! Allow this to cool.
Once your flax/water mixture has started to gel and your peanut butter mixture has cooled combine the flax mixture to the peanut butter mixture.
Now, add in the flour mixture and stir until just combined.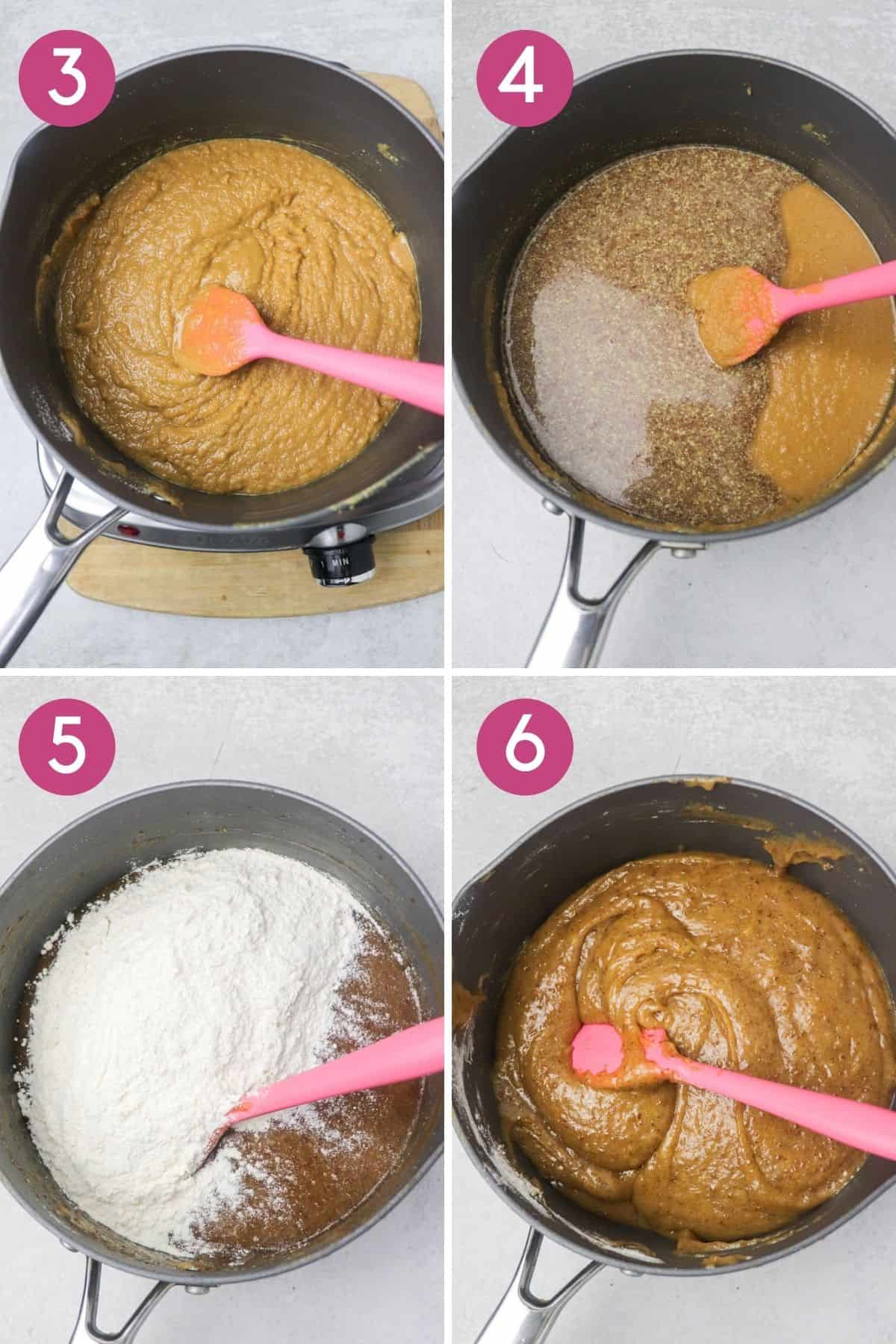 Pour your peanut butter blondie batter into the prepared baking pan, top with flaky salt if desired (highly recommend!) and bake for 30 minutes. They may look slightly undercooked, but that's okay! You'll know they're done when the top starts to "crackle" and the edges start to pull away from the pan.
Remove your blondies from the oven, drizzle them with additional peanut butter if desired and allow them to cool fully before cutting! (This is very important for clean lines!)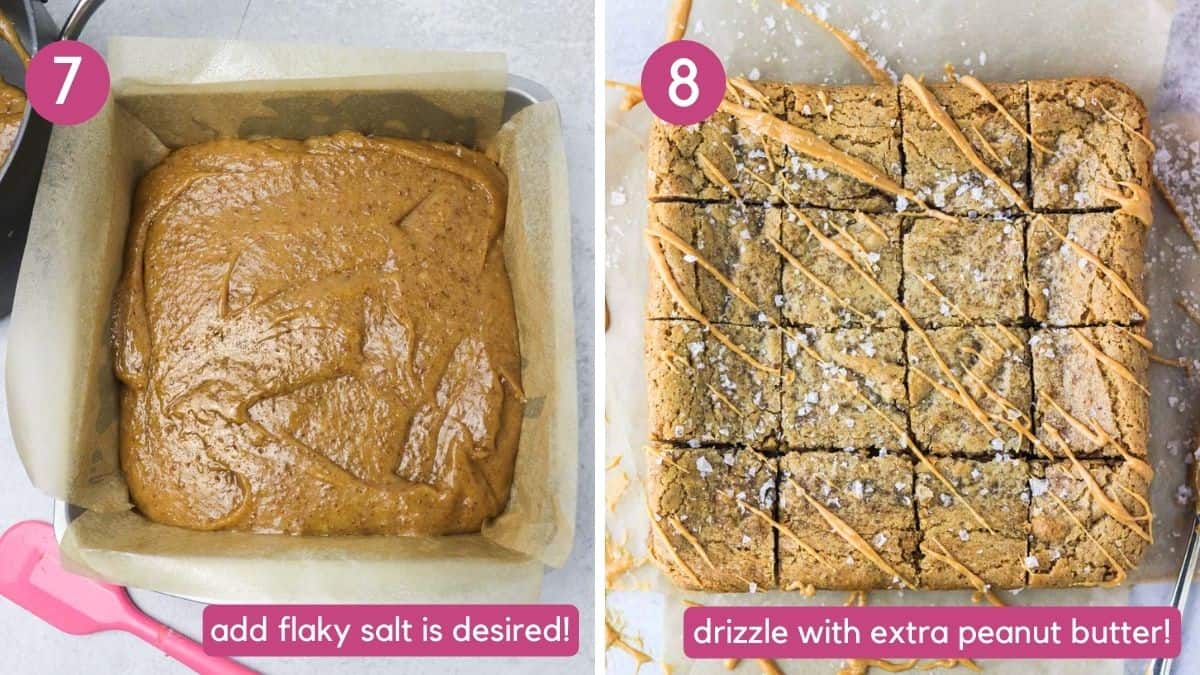 Now grab one of your peanut butter blondies and sink your teeth into them!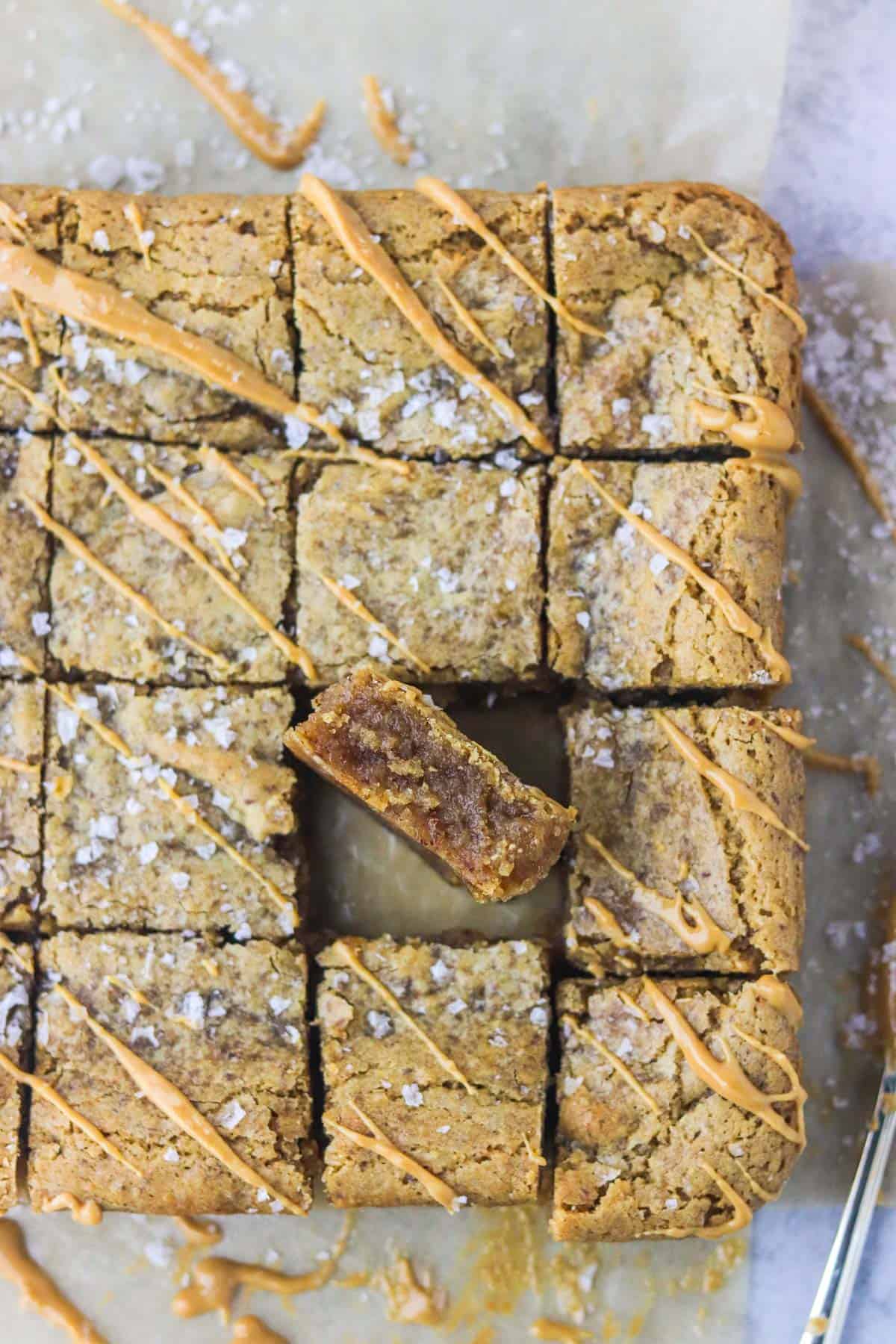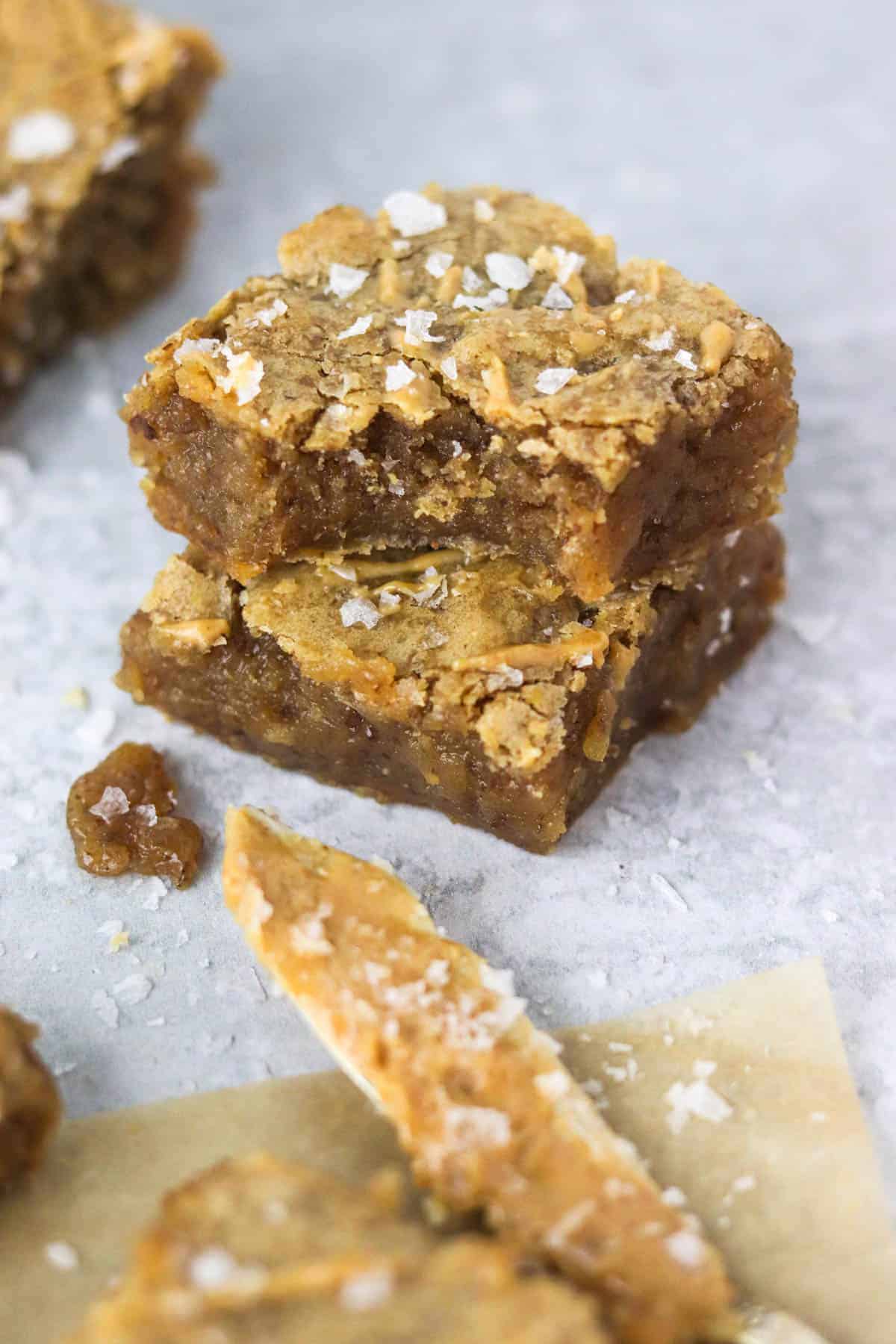 Recipe FAQs
Are Blondies Supposed To Be Gooey?
YES! Like brownies, you want your blondies to be gooey. Some people prefer them to be gooier than others, of course, but in general they should be gooey.
Can You Eat Undercooked Blondies?
Say you take your blondies out of the oven before they're fully cooked and are a little TOO. gooey... can you still eat them? Since these are vegan blondies that don't use eggs you can eat the batter, cooked or not.

Undercooked blondies will just be extra gooey, but you can always pop them back into a 350 degree oven for a few minutes to continue cooking.
Do Blondies Need To Be Refrigerated?
Nope! You can keep these babies right on the counter for about a week! Alternatively, you can pop them in the freezer and they'll keep for about 3 months!
Expert Tips
Be sure your blondies are FULLY cooled. I know this is hard but it's SO key in getting clean, crisp edges!
Use a plastic knife- really! The serrated edges really help with a clean cut.
Wipe off your knife after each cut. This will prevent the ugly edges that happen when excess gooey-ness builds up on the knife.
If you want to jazz up your vegan blondies try mixing in any of the following before cooking: chocolate chips, nuts, coconut, or crushed pretzels. You can also top with flaky sea salt!
Other Recipes You Might Like:
If you love this recipe, be sure to leave a star rating on the recipe card and leave a comment below!
Don't forget to pin it on your Pinterest board for later, or tag me on IG @no.food.rules if you try the recipe and love it!
XOXO
-Colleen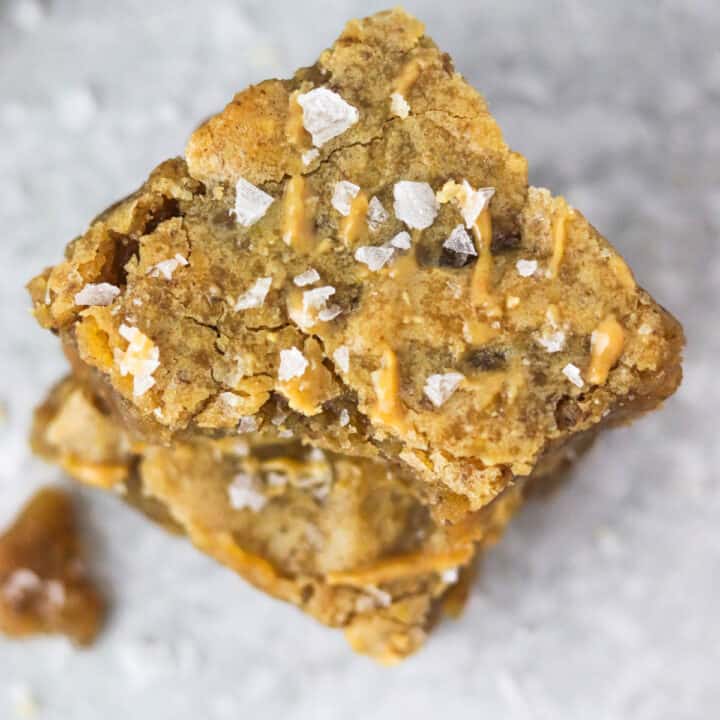 Gooey Peanut Butter Vegan Blondies
These gooey, fool-proof vegan blondies are bursting with peanut butter flavor! A delicious treat everyone will love- vegan or not!
Ingredients
1/4 cup ground flaxseed
2/3 cup water
1.25 cup flour
1 tsp baking powder
1/4 tsp salt
3/4 cup peanut butter
1/4 cup vegetable oil
3/4 cup sugar
3/4 cup brown sugar
1 tsp vanilla extract
Instructions
Preheat oven to 350 degrees.
Line an 8x8 baking pan with parchment paper and set aside.
Combine your flaxseed with the water and set aside.
In a medium sized mixing bowl mix together flour, baking powder and salt. Set aside as well.
In a medium sized saucepan over low-medium heat combine peanut butter, oil, sugar, brown sugar and vanilla. Be careful not to burn this and once it's melted and combined remove from heat and allow to cool.
Once peanut butter mixture is cooled add in your flax/water mixture and mix until combined.
Now, add in the flour mixture and mix until just combined.
Pour your peanut butter vegan blondie batter into the prepared pan and bake for 30 minutes. Your blondies are done when the top begins to crackle and the sided begin to pull away from the pan.
Allow your blondies to cool fully, then cut and enjoy!
Notes
You can sub whole wheat or gluten-free flour for purpose flour.
May sub any nut butter you like such as almond butter, sunflower seed butter, almond butter, cashew butter, etc.
May sub coconut oil for vegetable oil.
If not vegan you can sub 4 regular eggs for flax eggs.
Be sure to cool your blondies fully before cutting.
Top with flaky salt before cooking or mix ing chocolate chips, nuts, or coconut.
Drizzle with additional peanut butter before serving, if desired.
Store on the counter in an air tight container for 7 days. If frozen they will last for 3 months.
Recommended Products
This blog post contains affiliate links, which means that if you click on a product link, I may receive a commission. All opinions are my own, and all brands featured represent what I personally like and support. This blog is a participant in the Amazon Services LLC Associates Program, an affiliate advertising program where I earn advertising fees by linking to amazon.com.
Nutrition Information:
Yield:

16
Serving Size:

1
Amount Per Serving:
Calories:

221
Total Fat:

11g
Saturated Fat:

2g
Trans Fat:

0g
Unsaturated Fat:

8g
Cholesterol:

0mg
Sodium:

128mg
Carbohydrates:

29g
Fiber:

2g
Sugar:

19g
Protein:

4g