These homemade vegan pop tarts are an easy way to recreate a childhood favorite. They're with simple ingredients you can find in your pantry and totally customizable to fill with whatever you have on hand!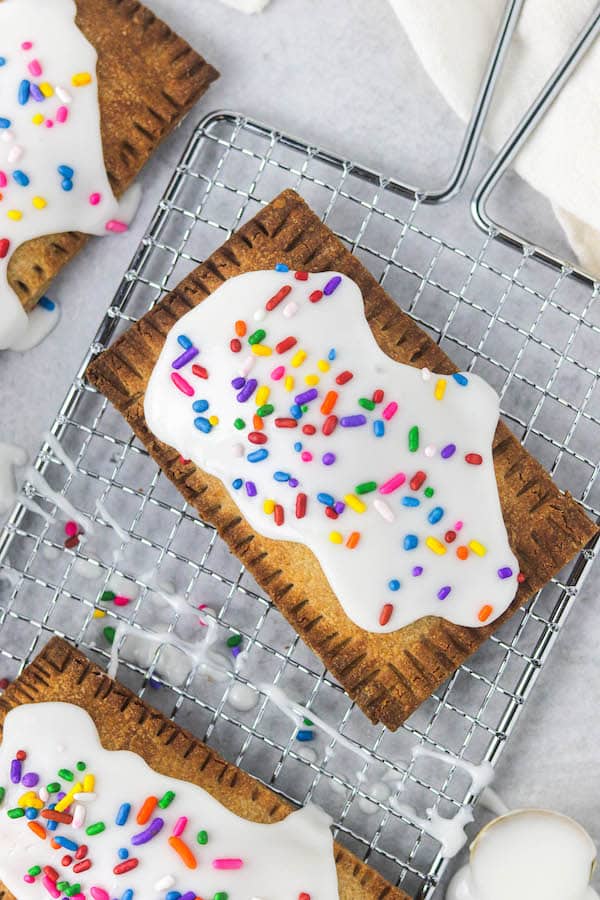 Why Make Vegan Pop Tarts?
When I set out to make this recipe I didn't actually intend for it to be vegan, in all honesty. I actually made a batch then asked myself… "are pop tarts vegan?" And, turns out, the unfrosted kind you buy at the store ARE actually vegan! Crazy! Now, I'm not a vegan by any means, but if the shoe fits!
Are These Healthy Pop Tarts?
Now, if you know me at all you know I don't classify food as "healthy" or "unhealthy". I believe that ALL foods fit! However, I'm a Registered Dietitian, I'm totes aware that some foods provide more of a nutrition punch than others. And some provide more of a mental health punch! These babies? I'd say they provide both.
For this vegan pop tarts recipe I used half white flour and half whole wheat. Now, you could use all whole wheat flour, but it would taste more grain-y. I find that using half and half gives the perfect result without being too "healthy" tasting. Ya know what I mean!
I also use my recipe for no added sugar blueberry jam as the filling. This jam is so easy to make (takes just minutes!) and has only 2 ingredients. Super nourishing and nutrient packed!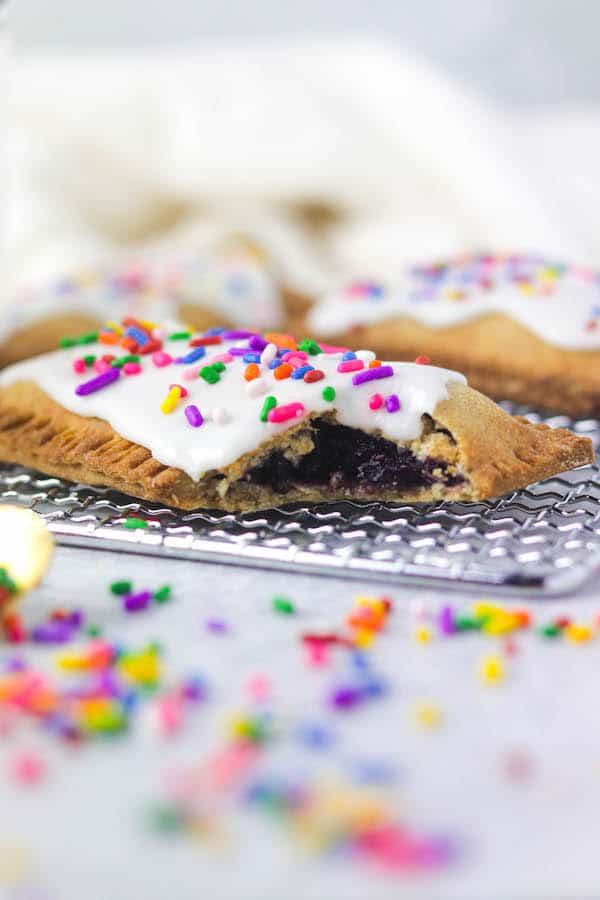 How To Make Vegan Pop Tarts
To make these vegan pop tarts you first need to make the pastry crust. For this all you have to do is combine the flour, salt, and very cold shortening into a bowl and cut it with a pastry blender until it looks crumbly. Then, you add in the maple syrup and water, continuing to cut with the pastry blender until it forms a dough. You don't want this dough to be overly wet and sticky, so add the water slowly.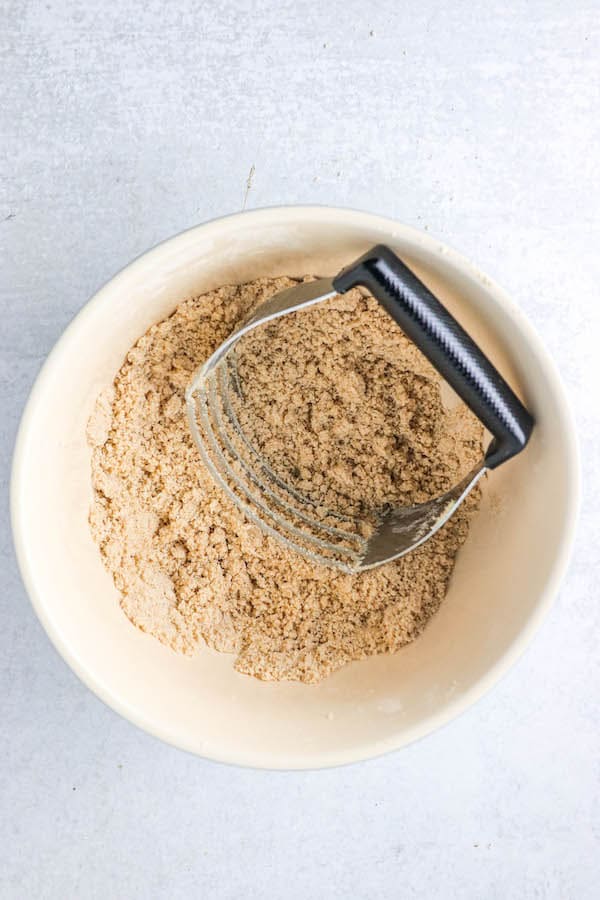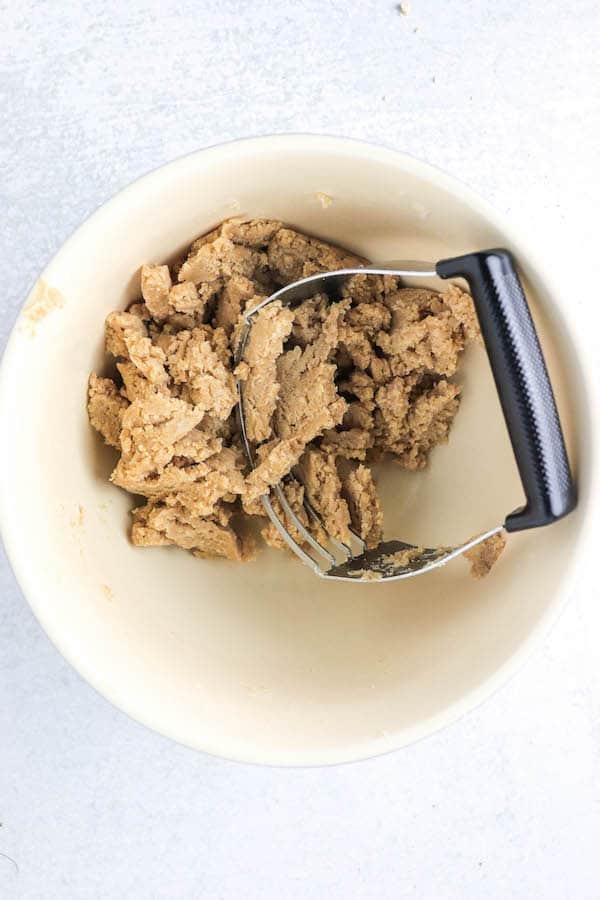 Next, you'll want to roll out your dough, pretty much as thin as possible. Then cut the dough into 2-3″ x 4-5″ rectangles. The dough should make about six, but you can always make these larger or smaller pop tarts, too!
Now, place ~ 2tbsp of jam (or filling of choice!) onto the dough rectangle. Wet your finger with water and run it along the outside edge of the dough rectangle. Place another rectangle on top and use a fork to press the edges together.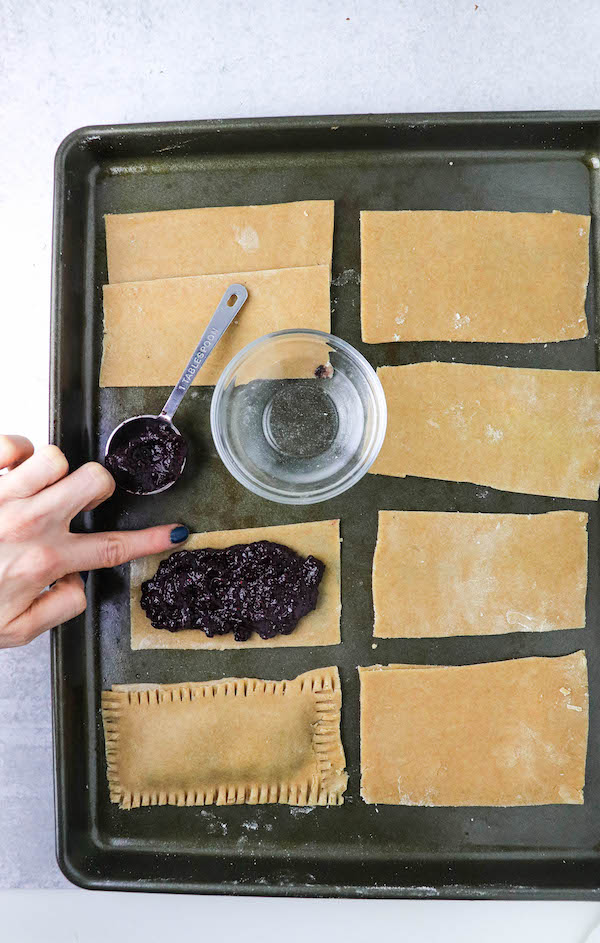 Now, bake your pop tarts in the air fryer at 370 for 9 minutes, or in the oven at 375 for 20-25 minutes. I highly recommend air fryer pop tarts! They create a much flakier result!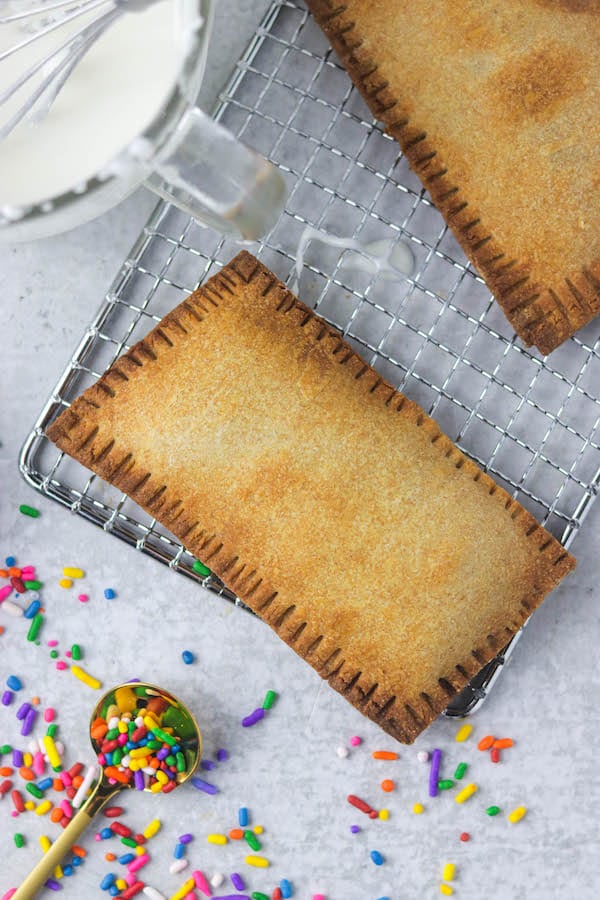 Once your vegan pop tarts are finishing baking and completely cooled you can add the frosting. Simply mix together powdered sugar and milk (I used non-dairy almond milk) and pour over the pop tarts. Add sprinkles if you like. And, obviously, I LIKE!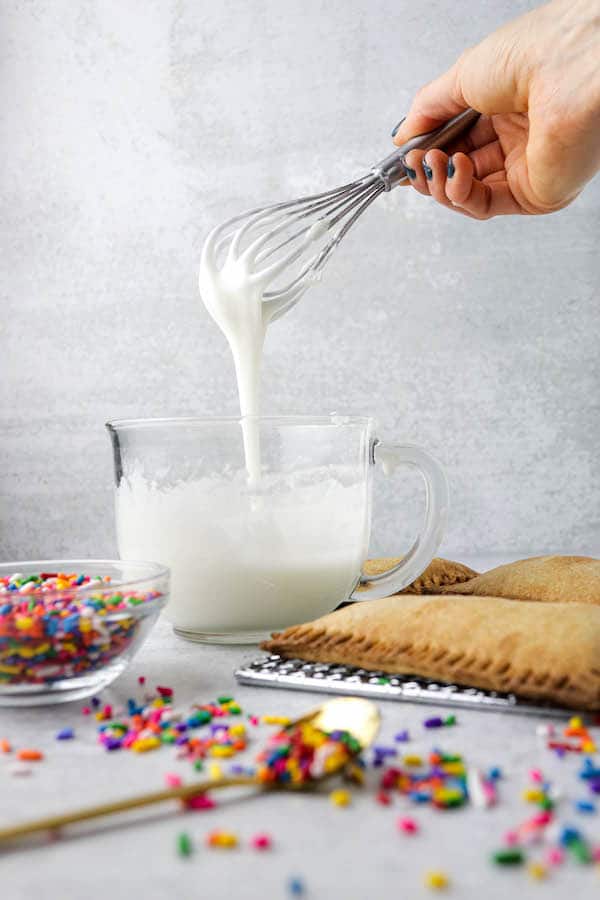 Why Make Air Fryer Pop Tarts?
I tested this recipe in both the air fryer and in the oven. The air fryer gave me a much more flaky vegan pop tart. The air in the air fryer circulates, which helps to make the pastry nice and flaky. If you have a convection setting in your oven you can also use that VS regular baking. This will help to circulate the air, making your pop tarts more flaky. You may need to reduce the time by 5-10 minutes if using this setting on your oven.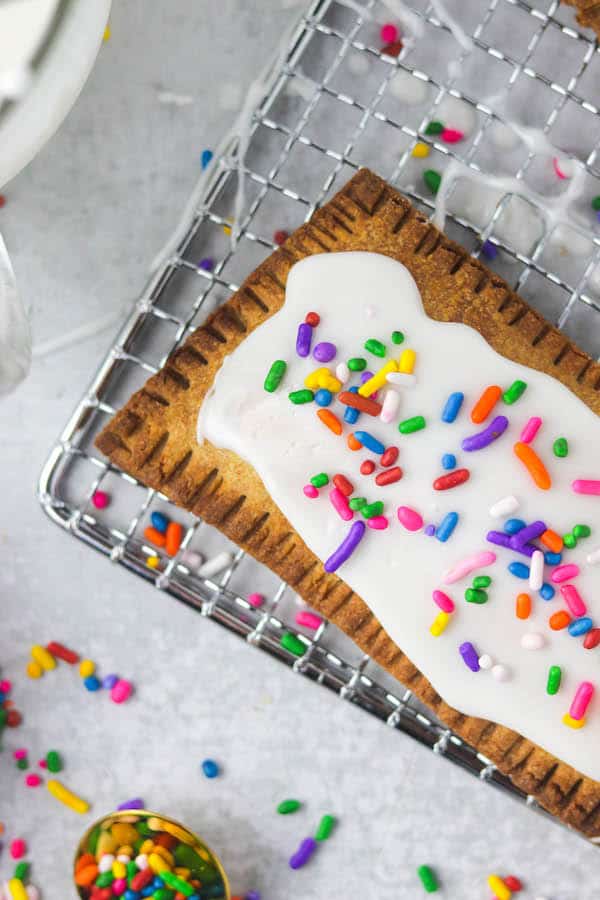 Homemade Vegan Pop Tart FAQs
How Long Do These Pop Tarts Last?
You can store these in an air tight container for ~1 week or freeze for a couple of months. I recommend NOT adding the frosting until you're ready to eat. The frosting may cause your pop tarts to become a bit soft and loose their delicious flaky, pastry goodness.
What Else Can I Fill These With?
Get creative! Use any sort of jam you like. Fill them with marshmallows and chocolate chips for a s'mores pop tart! Or, make a peanut butter and jelly filling! The possibilities are endless.
What If My Pastry Crust Is Too Wet Or Dry?
It's really important to make sure you're using ice cold shortening and water. Not doing so can cause your pastry crust to not come out right, either too wet or dry. It's also important to add the water very slowly to prevent adding too much. You can try adding a touch more water to make it less dry or a touch more flour to make it less wet.
Alternatively, you can also use a store bought pastry crust if you're not feeling like messing with making the crust yourself!
Can I Use Alternative Flours?
You can totally use all whole wheat flour or all white flour for this recipe. A standard gluten free flour should also work. However I have not tested it with alternative flours like almond, coconut, cassava, etc. My guess if that you would need a different pastry crust recipe.
Give this vegan pop tart recipe a try and leave a comment with what you decided to fill them with! Don't forget to give this recipe a rating if you enjoyed it!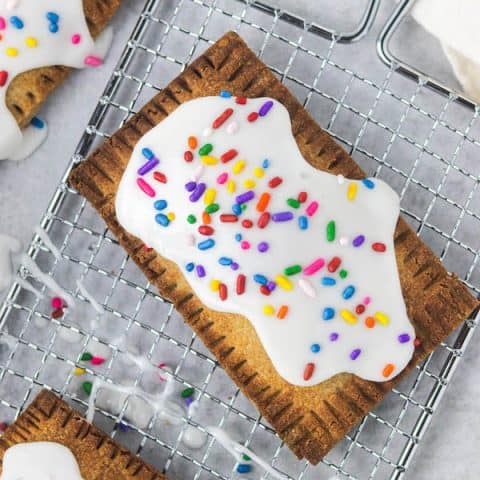 Homemade Vegan Pop Tarts
These easy vegan pop tarts are a grown up version packed with nutrition like antioxidants and whole grains, yet taste like a dessert!
Ingredients
Pastry Crust
1/2 cup white flour
1/2 cup wheat flour
1/4 tsp salt
1/3 cup butter flavored shortening, very cold
3 tbsp maple syrup
2-4 tbsp ice cold water
Filling
3/4 cup no added sugar blueberry jam
Frosting
1/2 cup powdered sugar
1 tbsp milk of choice
~1 tbsp sprinkles, if desired
Instructions
In a medium to large bowl combine flours, salt and shortening. Cut with a pastry blender until mixture is crumbly.
Next, add in maple syrup and 2 tbsp on the water. Continue to cut with a pastry blender. Add an additional 1 tbsp of water at a time if mixture appears too try and is not sticking together. Mixture should not be overly wet.
Lightly flour a work surface and roll out dough as thin as possible, ~1/8". Cut into ~12, 3"x5" rectangles, roughly.
Place 2 tbsp of the no added sugar blueberry jam onto 6 of the squares.
Wet your finger with water and run along the outside edge of the 6 rectangles that have the jam. Place remaining dough rectangles on top.
Using a fork, press down on the edges, sealing them together. Work your way around the entire rectangle.
For best results cook in an air fryer at 370 for 9 minutes. May also bake in the oven at 375 for 20-25 minute. Allow pastries to cool fully.
In a small bowl combine the powdered sugar and milk to make the frosting. Add more powdered sugar if your mixture becomes too watery. You want this to be quite thick.
Spread the frosting on top of the cooked and cooled pop tarts, add sprinkles on top if desired. allow them to sit for 10-15 minutes to harden.
Enjoy!
Notes
For best results, cook in the air fryer. This allows them to be much flakier.
Feel free to swap out fillings for whatever you like, get creative!
If not eating the pop tarts right away do not add the frosting until ready to eat to prevent them from getting soft.
Nutrition Information:
Yield:

6
Serving Size:

1
Amount Per Serving:
Calories:

364
Total Fat:

13g
Saturated Fat:

7g
Trans Fat:

0g
Unsaturated Fat:

5g
Cholesterol:

28mg
Sodium:

183mg
Carbohydrates:

61g
Fiber:

1g
Sugar:

43g
Protein:

2g
Happy eating!
XOXO
-Colleen
Want more recipes like this? You might like these:
Easy Blender Oat Flour Pancakes