The easiest way to make french toast that is golden crisp on the outside and light & fluffy on the inside, thanks to one secret ingredient! Air fryer french toast sticks take only 10 minutes to make and are the perfect solution to busy mornings. Plus? They're freezer friendly!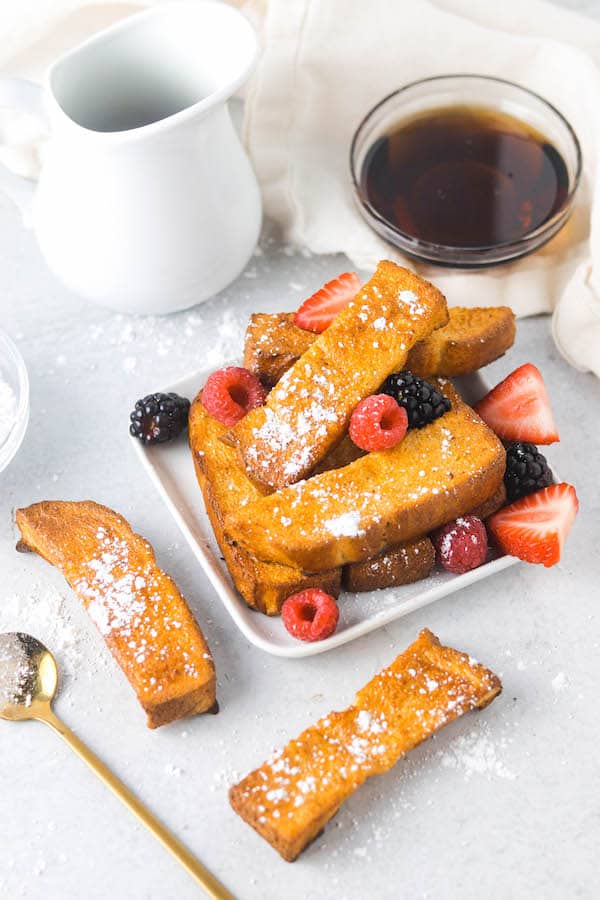 I'll admit, I'm not the greatest french toast maker. I'm much more of a waffle or pancake kinda gal (like these easy blender oat flour pancakes) those I can do! But, with the help of my air fryer and the secret ingredient in the recipe, I'm a PRO and you can be, too.
If you haven't yet snagged yourself an air fryer head here to find the one I recommend in my list of kitchen must haves! They're super affordable, you can find them under $70 and it'll be the best money you spend, seriously! I use mine daily.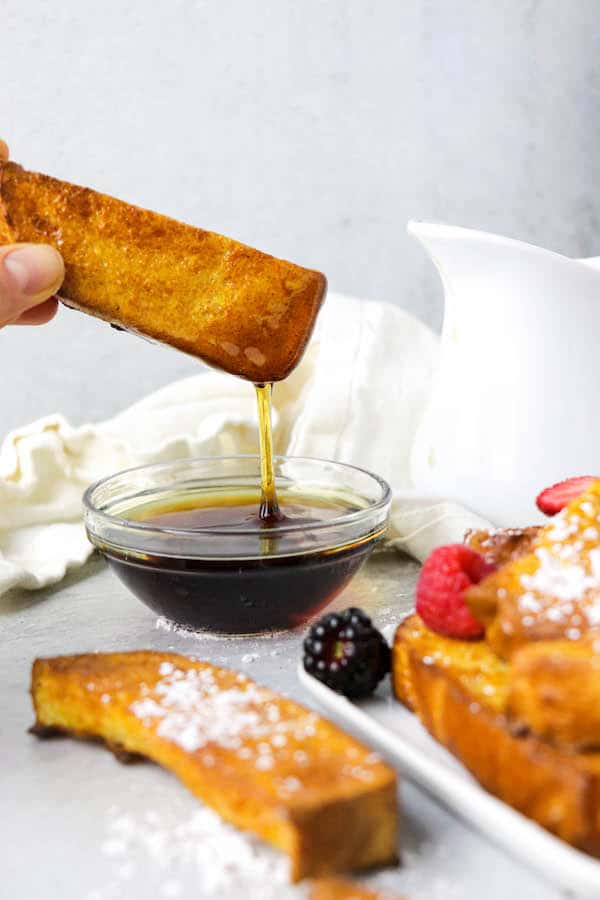 How To Make Air Fryer French Toast Sticks
Making these french toast sticks is so easy. All you have to do is:
Whisk together some eggs, milk, greek yogurt (secret ingredient!), vanilla, and cinnamon.
Take some nice, thick bread and cut it into 4ths.
Lightly coat your bread "sticks" in the egg mixture.
Place your french toast stick in your air fryer basket, which you want to spray well with non-stick spray.
Cook your french toast sticks in the air fryer for 10 minutes at 370, flipping once halfway through.
Now, take your french toast sticks out of the air fryer and enjoy!
One really important thing to note is that I highly recommend using a spatula to flip the french toast sticks, not a, say, fork. It's easy for them to stick to the air fryer basket and rip. So take the 2 extra seconds to grab a spatula so they wind up looking prettier! But, if they do rip, no biggie. They'll still taste fab!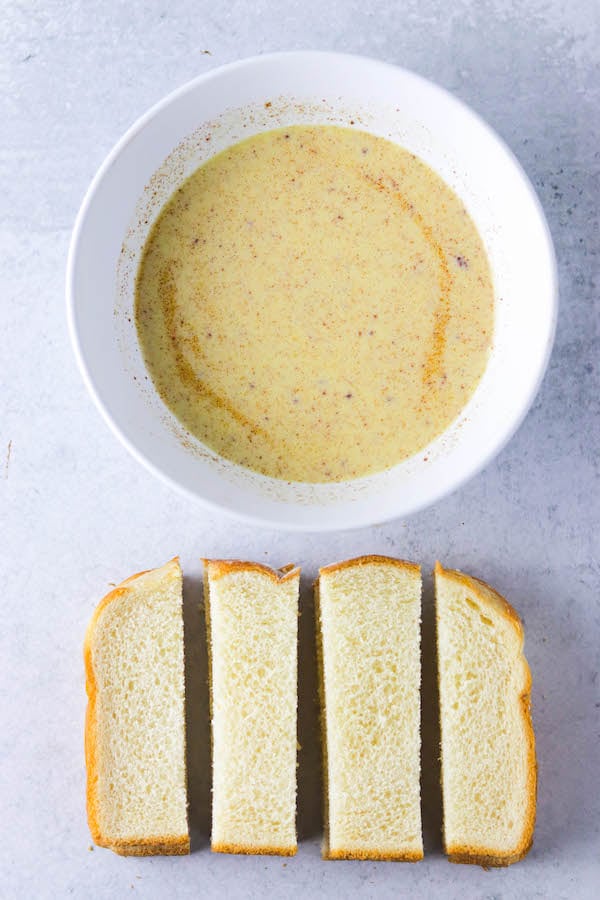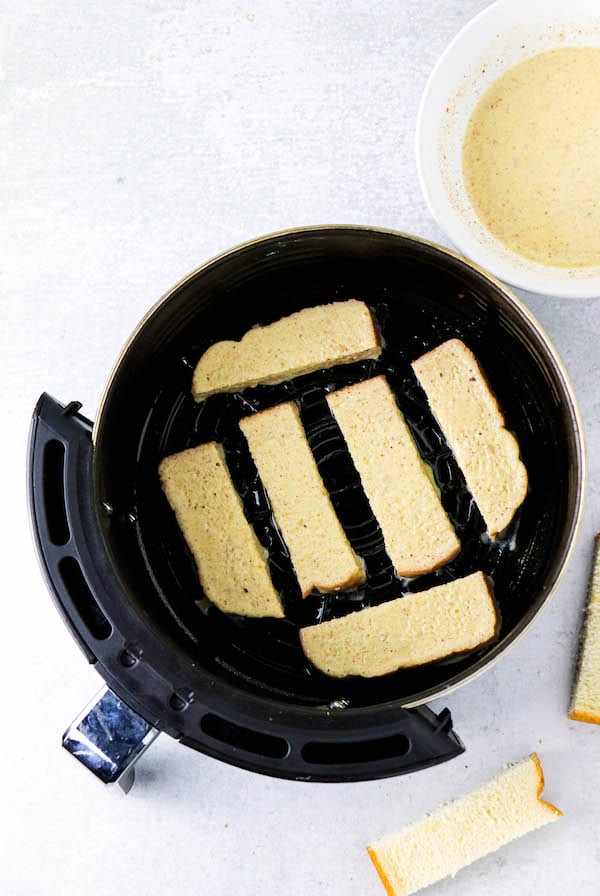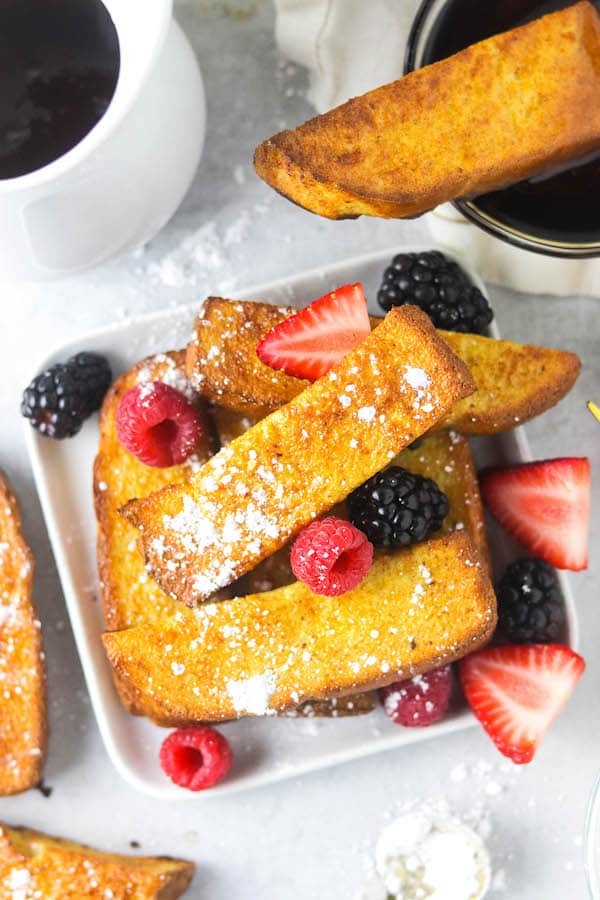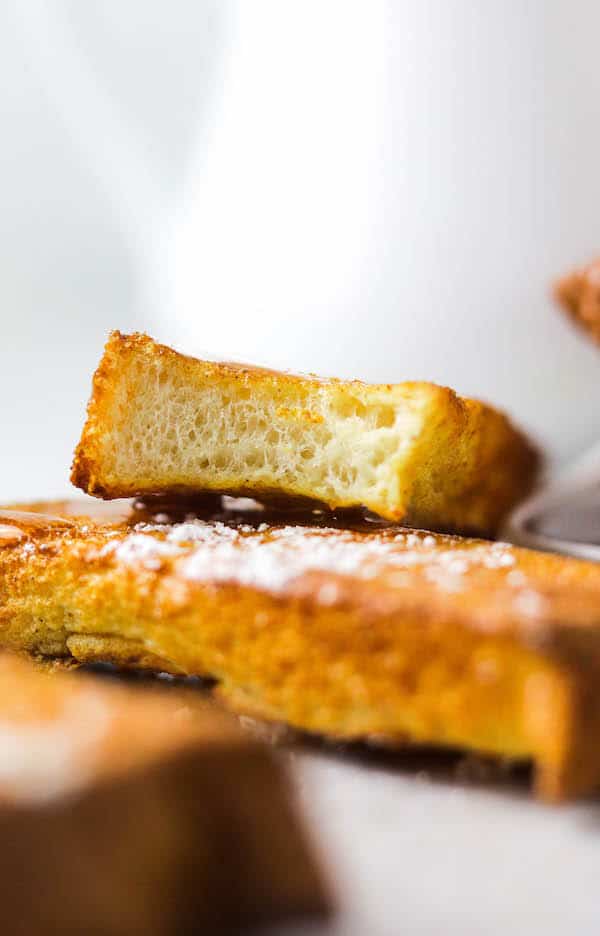 Air Fryer French Toast Sticks FAQ's
Can I use any type of bread?
I recommend using any type of bread that's thick. I'm a fan of using texas toast style bread, or something like that. You can totally use white bread, wheat bread, etc.
Why do you add greek yogurt?
I've tested this air fryer french toast sticks recipe multiple times and found that adding some greek yogurt helped create a more thick batter that stuck to the bread. Read: A nice, thick coating of crisp! You can totally leave out the greek yogurt if you're in a pinch and don't have any in the house, they'll still turn out! I'd just add a splash more milk.
Can I make these into cinnamon sugar french toast sticks?
Uh, totally!!! Simple make a small dish of cinnamon sugar and roll your egg batter coated sticks in it! The easiest cinnamon sugar french toast sticks!
Can I make full sized air fryer french toast?
Yup! You can make this into full sized sliced of air fryer fryer french toast. Follow the same directions but keep an eye on the time. Depending on the size of your bread it may need a little extra time, say a couple of minutes, to get the middle cooked so it's not soggy. You want nice crispy french toast! You can even make full sized cinnamon sugar french toast.
Are these freezer friendly?
Of course! You can easily make your own frozen french toast sticks! All you have to do is make these as the recipe states, allow to cool fully, and then what I like to do is freeze them in a flat flayer on a baking sheet, THEN add them to a freezer bag. This helps them to not stick together!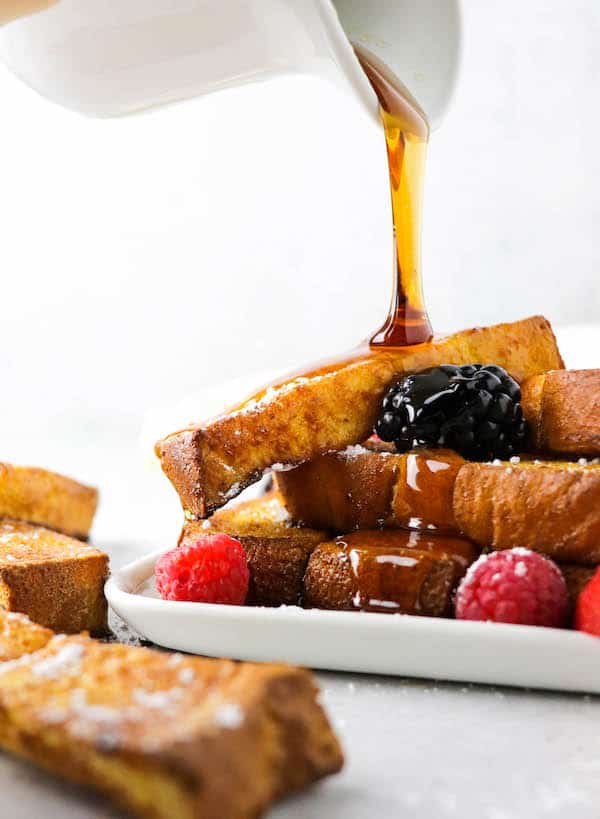 I love to dip my french toast in some warmed no added sugar blueberry jam. I'll usually just microwave it for a few seconds then swirl in some maple syrup. So good!
Give this recipe a try and be sure to pin it to your Pinterest board! Your friend will thank you. And, if you like this recipe I'd love it if you left a star rating and comment! Means the world to me!
Happy eating!
XOXO
-Colleen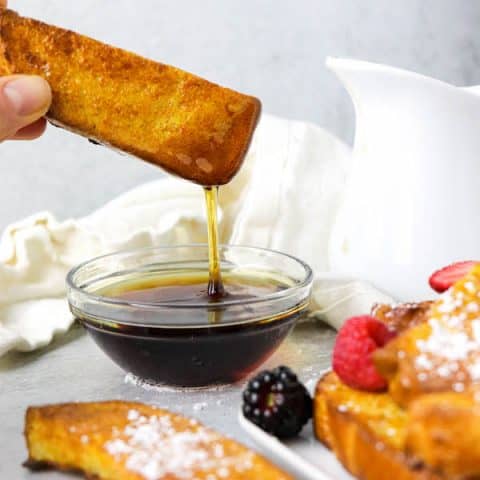 Air Fryer French Toast Sticks
Light & fluffy french toast sticks with a nice crisp outside. Air fryer french toast sticks are made in just 10 minutes and the perfect solution to any morning! They have a secret ingredient that makes these the BEST french toast sticks!
Ingredients
4 slices thick, crusty bread (ideally stale!)
2 eggs
1/4 cup milk (I used whole)
1/4 cup greek yogurt (plain or vanilla will work best)
1 tsp vanilla
1/4 tsp cinnamon
Instructions
If you can, allow your bread to sit out overnight or for a few hours to become stale. Stale bread works great for french toast, but you can also use fresh!
Spray an air fryer basket well with non-stick spray, set aside.
In a small bowl whisk together egg, milk, yogurt, vanilla and cinnamon, set aside.
Slice your bread into 4ths, so that you have long sticks.
Dip your bread into the egg mixture, being careful to not soak it too much. You just want to lightly dip it! Shake off any excess.
Place your french toast sticks into the air fryer and repeat with remaining pieces.
Cook for a total of 10 minutes in the air fryer at 370 degrees, using a spatula to flip halfway through cooking time.
Remove from air fryer and enjoy!
Notes
You can use any type of bread, I recommend thick, crusty bread.
If you don't have greek yogurt you can leave it out and add an extra splash of milk.
You can also make full sized air fryer french toast, however you may need to extend cooking time by a few minutes to prevent the middle from being soggy.
Feel free to roll these in cinnamon sugar before cooking or sprinkle with powdered sugar after!
To make frozen french toast sticks cook as usual, allow to cool fully, freeze in a single layer on a baking sheet, then place into a bag. Re-air fry or microwave to re-heat.
Nutrition Information:
Yield:

4
Serving Size:

1
Amount Per Serving:
Calories:

138
Total Fat:

4g
Saturated Fat:

1g
Trans Fat:

0g
Unsaturated Fat:

2g
Cholesterol:

95mg
Sodium:

201mg
Carbohydrates:

17g
Fiber:

1g
Sugar:

2g
Protein:

8g
Want more recipes like this? You might like these!
Easy Blender Oat Flour Pancakes