The BEST way to cook cinnamon rolls! Have your whole house smelling like a bakery and get perfectly gooey, delicious pastries in just 5 minutes with this air fryer cinnamon rolls recipe!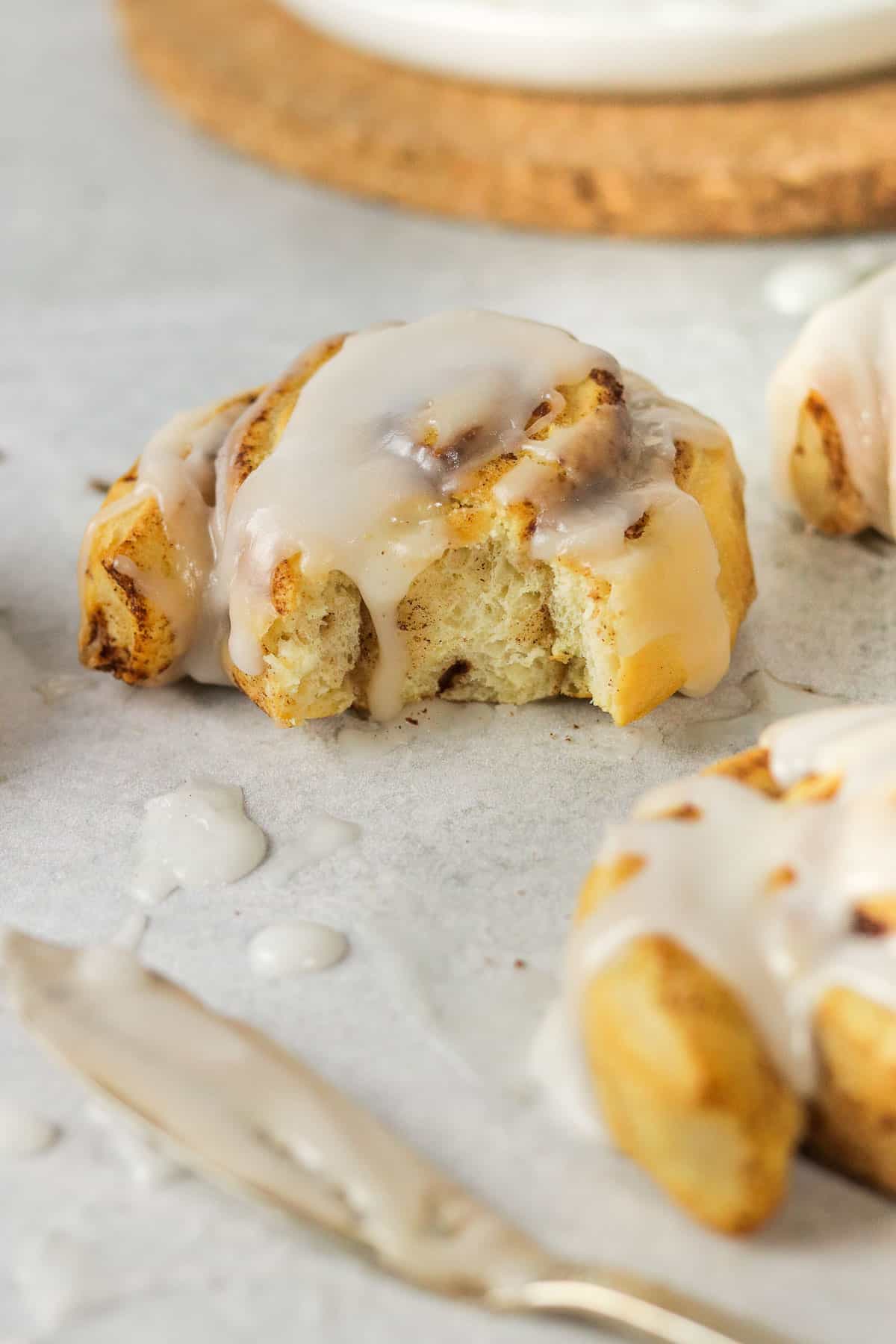 Why This Recipe Works
You might not think of using your air fryer (I have this 6qt Instant Pot air fryer that I love!) to bake things, like cinnamon rolls, but you can! It is actually a WAY faster way to cook them since the air circulates in the air fryer whereas the air is typically stagnant in the oven. Plus, they get the perfect little crispness to the outside!
These air fryer cinnamon rolls allow for every day to feel like a holiday since they are ready to eat in just 5 minutes! Everyone will think you're the hostess with the mostest- even if it's just your family on a random Tuesday!
If you're wanting to try other air fryer baking recipes give my of favorite recipes air fryer muffins a try- you can make then 3 ways: fruity, veggie packed or chocolate!
Ingredients Needed: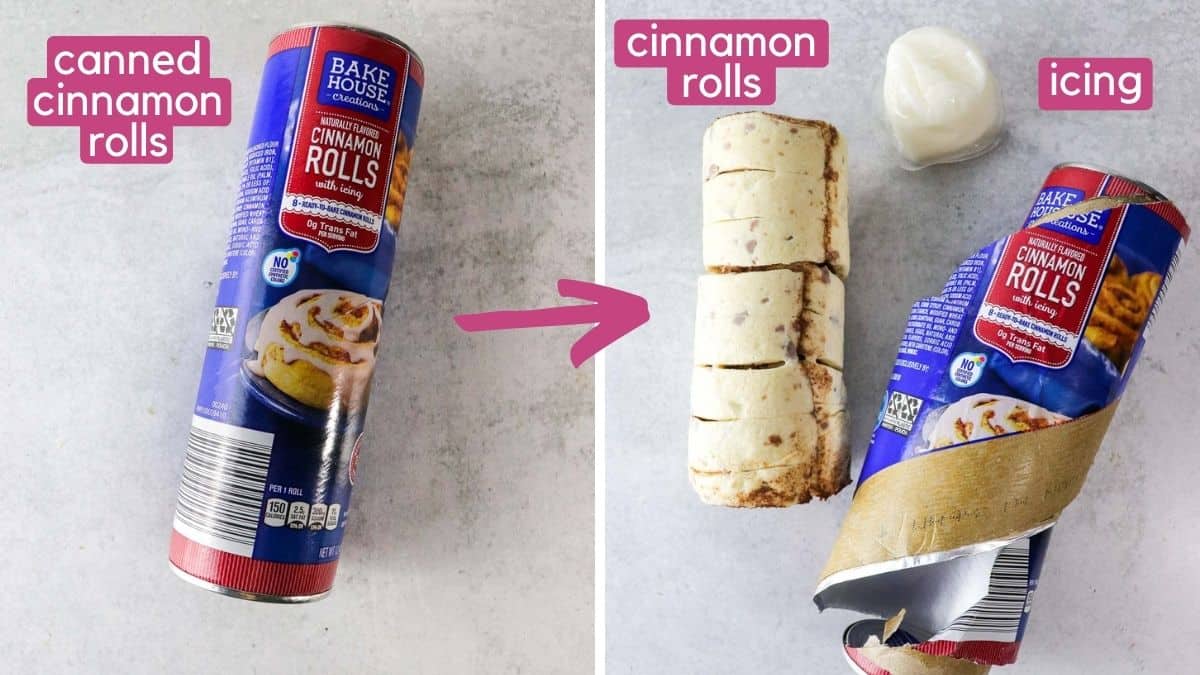 All you need to make this recipe is a can of cinnamon rolls! I used the standard size, not extra large or jumbo rolls. Any brand will work, you can make store brand or Pillsbury cinnamon rolls in the air fryer just the same.
You can use larger cinnamon rolls or even homemade cinnamon rolls in the air fryer with just a few adjustments to the cooking time. I'll include that info in the recipe card at the bottom of this post!
How To Make Cinnamon Rolls In The Air Fryer
You're going to want to cook your air fryer cinnamon rolls at 300 degrees F. Be sure to preheat your air fryer before adding the unbaked rolls. If you don't have a preheat function you can simply let it run at 300 degrees for about 5 minutes.
*Note: This is a lower temp than a lot of other recipe for how to make cinnamon rolls in the air fryer but trust me on this! Anything above this temp scorched the outside of the cinnamon rolls (making them rock hard) while the inside was mushy and undercooked. I tried it a million times (okay maybe 8!) at a higher temp and it's just not great, guys.
Once your air fryer is preheated add you cinnamon rolls and cook for 5 minutes. You won't need to flip them at all (mine beeps halfway through the time to remind me to flip, but that isn't necessary for this recipe).
Remove your cooked cinnamon rolls from the air fryer and top with the icing/frosting that comes inside of the can. Simply snip the corner and drizzle on as much as you like!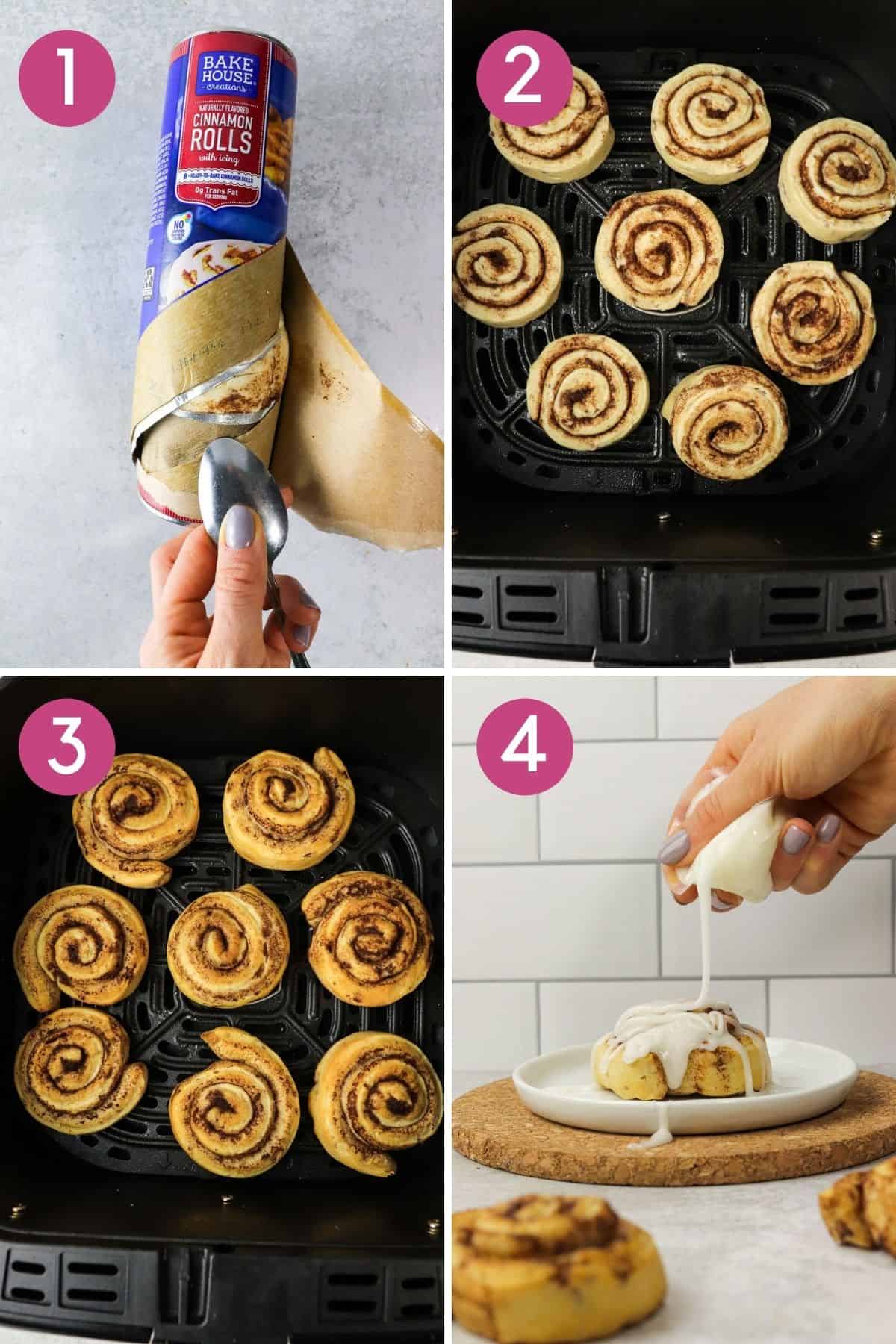 Grab yourself one of your delicious, gooey cinnamon rolls and take a nice, big bite! Enjoy!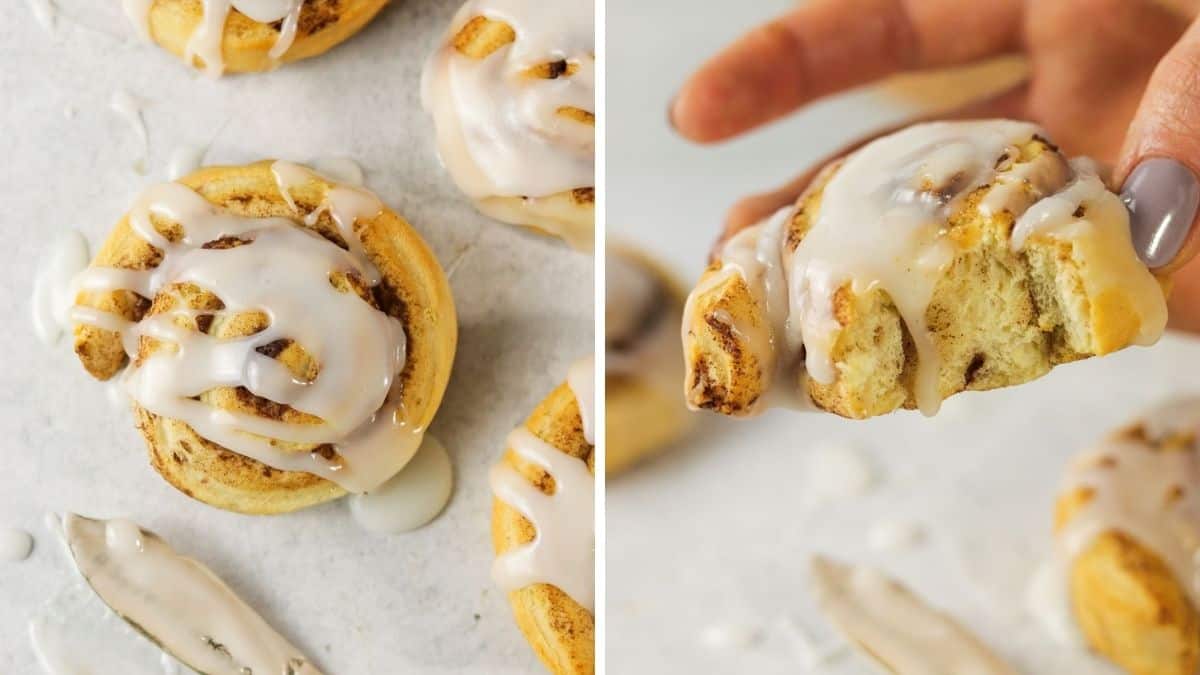 Recipe FAQs
Can you spray pam or non-stick spray in an air fryer?
Totally. I use non-stick spray 99.9% of the time when I use my air fryer to make clean up easier. The other 0.1% is when I forget!
Can you put parchment paper in an air fryer?
You can use parchment paper in the air fryer, just be sure it has holes in it. This will help with ventilation to the food, ensuring it cooks evenly. I recommend this parchment paper and putting some holes in it, or you can buy air fryer parchment paper that already has holes in it. It's pretty neat!
How do you keep cinnamon rolls from getting hard?
There is nothing worse than biting in to a rock hard cinnamon roll, am I right?! Be sure that your container is AIR TIGHT if you're keeping them on the counter and that there is no air in the bag if you're freezing them!
How should I store these?
There are a couple ways that you can store your air fryer cinnamon rolls. What method you pick depends on if you're planning to eat them now or later!

1. Counter Storage: If you're going to eat them within the next ~5 days you can keep them in an air tight container on the counter. Whether or not you choose to put the frosting on is up to you. If you eat them cold typically go ahead and. put the frosting on. If you want a warm. cinnamon roll I'd recommend waiting to put the frosting on. This way you can warm your cinnamon roll in the microwave and THEN put it on so it won't all slide off!

2. Freezer Storage: For the freezer I recommend firstly NOT frosting your air fryer cinnamon rolls. Freeze them first individually on a cookie sheet or cutting board and THEN place then into a freezer bag. Suck all of the air out of the bag and store in your freezer for 2-3 months. You can throw the frosting in there, too. When you're ready to eat simply thaw or pop in the microwave and then add frosting!
Expert Tips
Before you open your frosting be sure to warm it up in your hands first. This will help to give your a nice gooey, perfectly drizzled cinnamon roll!
Like I've mentioned before be sure to preheat your air fryer– this is key! If you don't have a preheat function simply let it run for about 5 minutes at the desired temperature, which in this case is 300 degrees F.
If you're using large or jumbo cinnamon rolls the time you cook them will change, I'd recommend adding just 1-2 minutes to start, depending on how large your cinnamon rolls are.
For homemade cinnamon rolls you'll likely also need to extend cooking time by a few minutes, this will again depend on the side of your cinnamon rolls.
Other Recipes You Might Like:
I hope you love this fast & easy way make freshly baked cinnamon rolls! Be sure to leave a star rating on the recipe card and a pin the recipe to your Pinterest board for later!
XOXO
-Colleen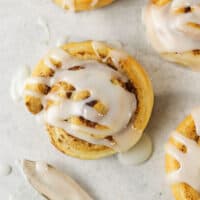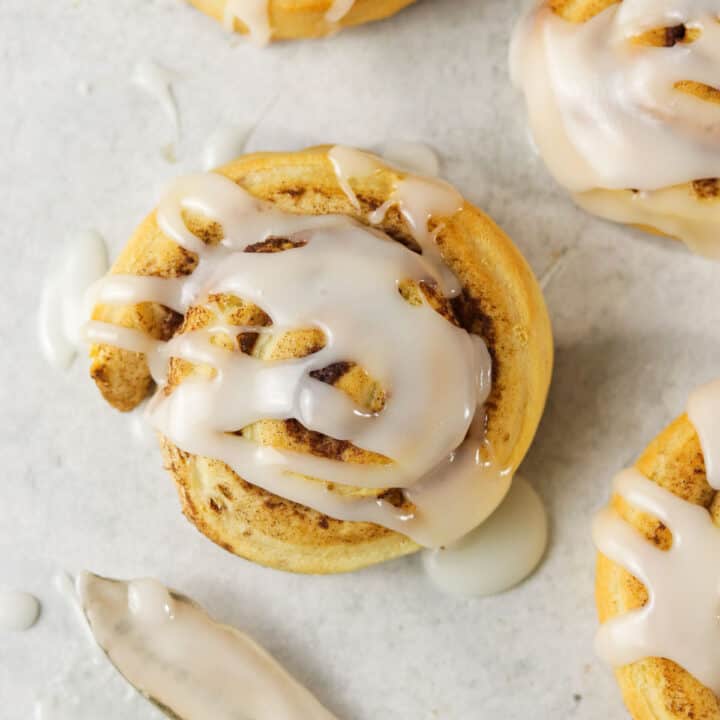 5 Minute Air Fryer Cinnamon Rolls
Freshly baked, gooey cinnamon rolls in just 5 minutes! Used canned or homemade for these fast air fryer cinnamon rolls.
PRINT RECIPE
Ingredients
1

can of cinnamon rolls

or your favorite homemade recipe

non-stick spray or parchment paper
Instructions
Preheat air fryer to 300 degrees. If you don't have a preheat function you can run it for about 5 minutes at 300 to ensure it's up to temperature!

Spray the air fryer basket with non-stick spray and place your cinnamon rolls 1-2 inches apart.

Cook for 5 minutes.

Remove from air fryer, allow to cool slightly, then add your frosting!

Enjoy!
Notes
You can use canned cinnamon rolls or your favorite homemade cinnamon rolls recipe.
If using homemade cinnamon rolls you may need to extend cooking time, depending on the size. I recommend doing this 1-2 minutes at a time to prevent overcooking.
Warm the frosting packet in your hands before opening it to ensure easy frosting flow!
click To display nutrition info
Nutrition Facts
Nutrition Facts
5 Minute Air Fryer Cinnamon Rolls
Amount per Serving
% Daily Value*
* Percent Daily Values are based on a 2000 calorie diet.