Crispy on the outside yet perfectly juicy on the inside, these air fryer drumsticks cook in just 20 minutes! A great high protein addition to any meal that is bursting with honey soy flavor!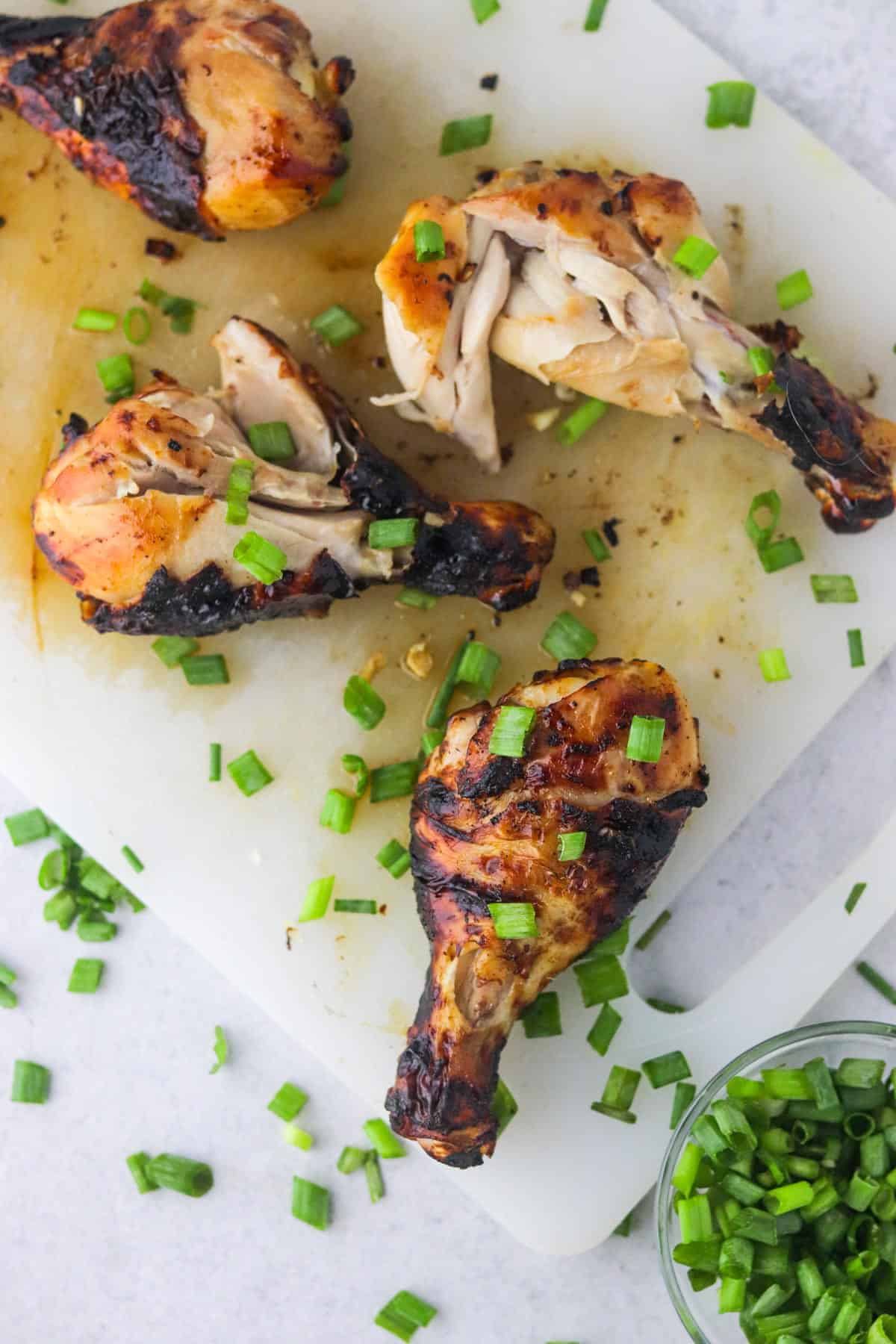 Why This Recipe Works
These honey soy air fryer drumsticks are literally MOUTHWATERING! I love to make a big batch of these and then use the meat throughout the week in salads, sandwiches, omelettes… you name it!
The air fryer is by far my favorite cooking method for a few reasons but mostly because it's so freaking FAST! Air fryers circulate the air VS the conventional oven that doesn't. (Loads more reasons why I love it in this air fryer blog post!)
Plus, these air fryer drumsticks make my body FEEL better on the daily VS deep fried ones… a little gentle nutrition for ya!
If you don't yet have an air fryer grab yourself one- you won't regret it! I have this 6qt Instant Pot air fryer one and loooove it! (I tested a lot of them and this was the best)
Ingredients For This Recipe: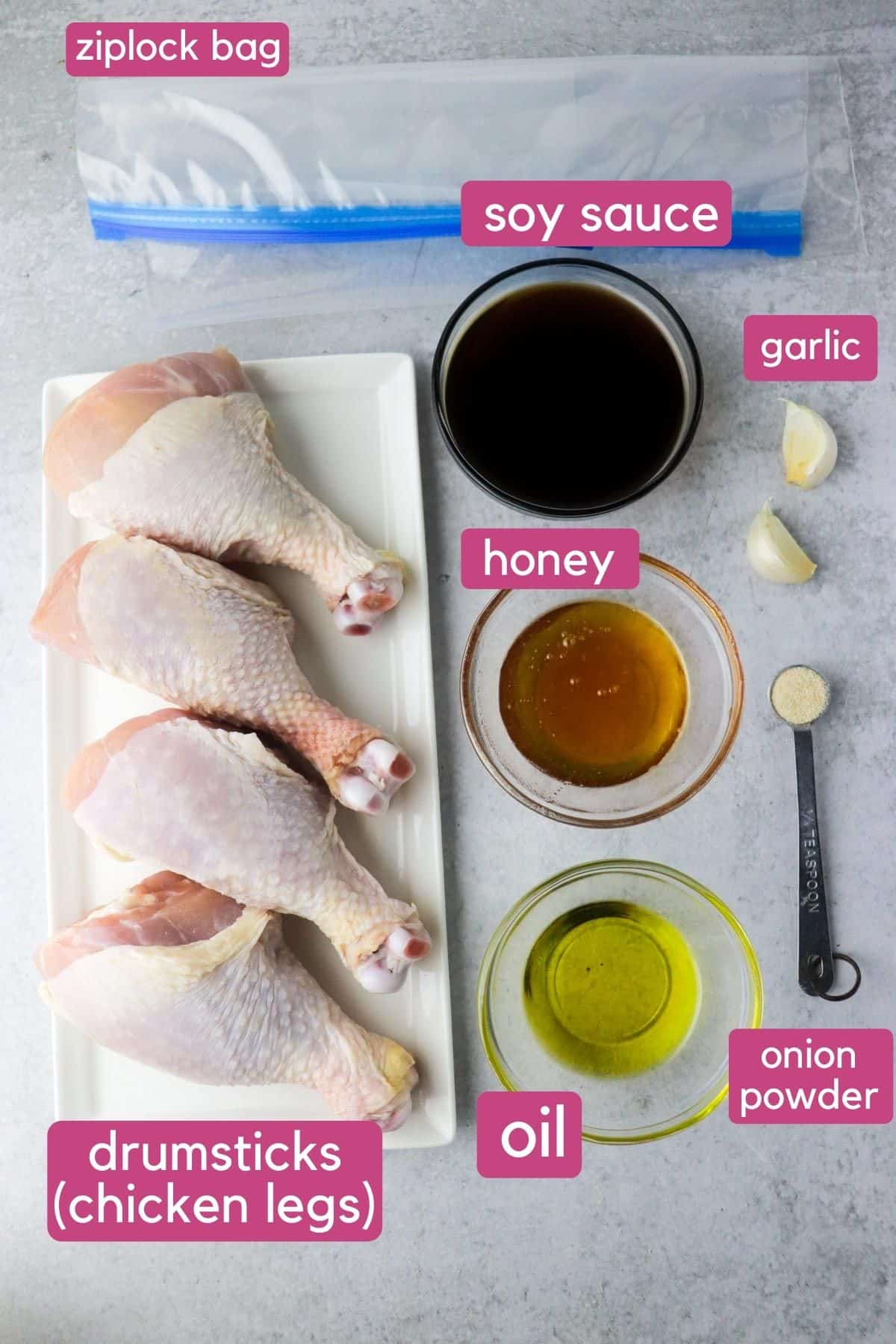 Olive oil. If you don't have olive oil you can use coconut oil. Different oils carry different properties and health impacts when heated, and some oils like grapeseed or walnut oil shouldn't be heated. I talk about this more in my post on the whole foods, plant based diet. Be sure to give that a read if you want to learn more about what oils are best and safest for what purposes.
Garlic. You can use either fresh minced garlic or garlic powder in this recipe. I do both and it works great. Sometimes I have fresh on hand and sometimes I don't!
How To Prepare Your Air Fryer Chicken Legs
First, you're going to want to combine all of the ingredients for your sauce. You can do this either in a bowl or in a blender, both are great!
Now, place your sauce in either a large plastic bag or a container and place your chicken legs/drumsticks inside as well. Shake it up a bit so that the sauce gets over all of the chicken!
Let your chicken sit and marinate in the honey soy mixture for about a few hours (1-2 minimum I'd say!) After your chicken has had time to take its honey soy bath it's time to get cooking!
When cooking drumsticks in the air fryer (aka air fryer chicken legs) you'll want to set your air fryer to 370 degrees F. I'd recommend doing the preheat before cooking, if your air fryer has that function. I know it's a pain to add a couple extra minutes to the time, but it's worth it!
Cooking drumsticks in the air fryer will take a total of 15 minutes. One key thing to remember is to flip them halfway! My air fryer has a reminder that goes off halfway through cooking time to remind me to flip the food. This is SO helpful because, let's be real, I am ALWAYS multitasking!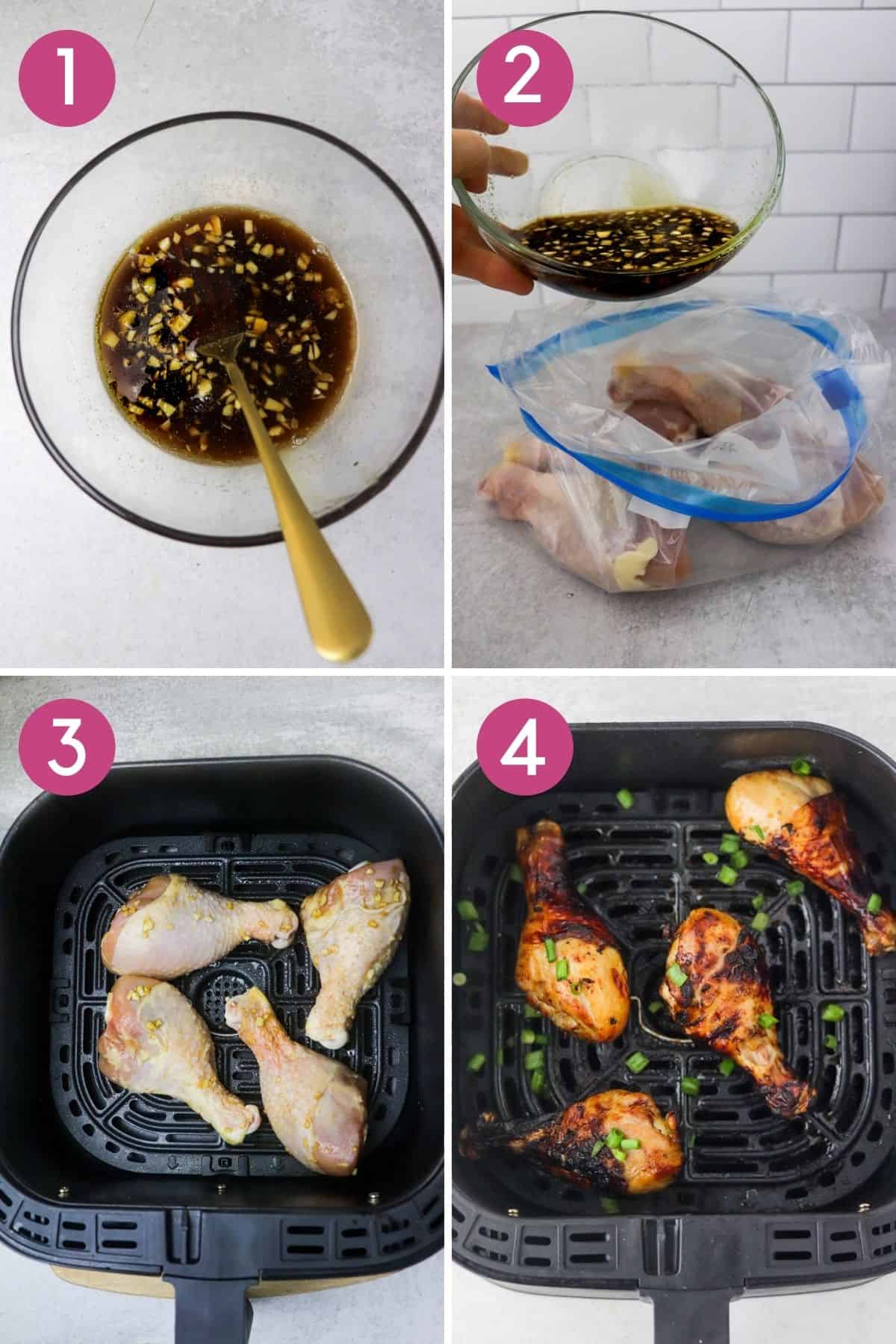 Recipe FAQs
Can You Stack Drumsticks In An Air Fryer?
No. One key thing about the air fryer is that you do not want to over crowd it. The whole concept of how it works is by circulating air. So, if you're not letting that air circulate all around the food (like when foods are touching) it won't give you the result you want.
Can You Cook Frozen Drumsticks In An Air Fryer?
Yes! You just need to extend the cooking time by 5-10 minutes. So, instead of cooking them for 15 minutes cook them for 20-25.
Can I Cook These In The Oven?
Totally! Cook them at 375 degrees for ~30 minutes. Just like you do in the air fryer flip them over halfway through cooking time!
Can I Use A Different Kind Of Chicken?
Absolutely! Cooking time will be a little different. Chicken breasts and thighs will be closer to 15 minutes, depending on how big your pieces are. You can checkout my recipe for air fryer bbq chicken breasts for more details!
Can I Use A Different Kind Of Marinate/Sauce?
Absolutely! You can use BBQ sauce in place of the honey soy. Maybe try some honey mustard or buffalo sauce. The sky is the limit, folks!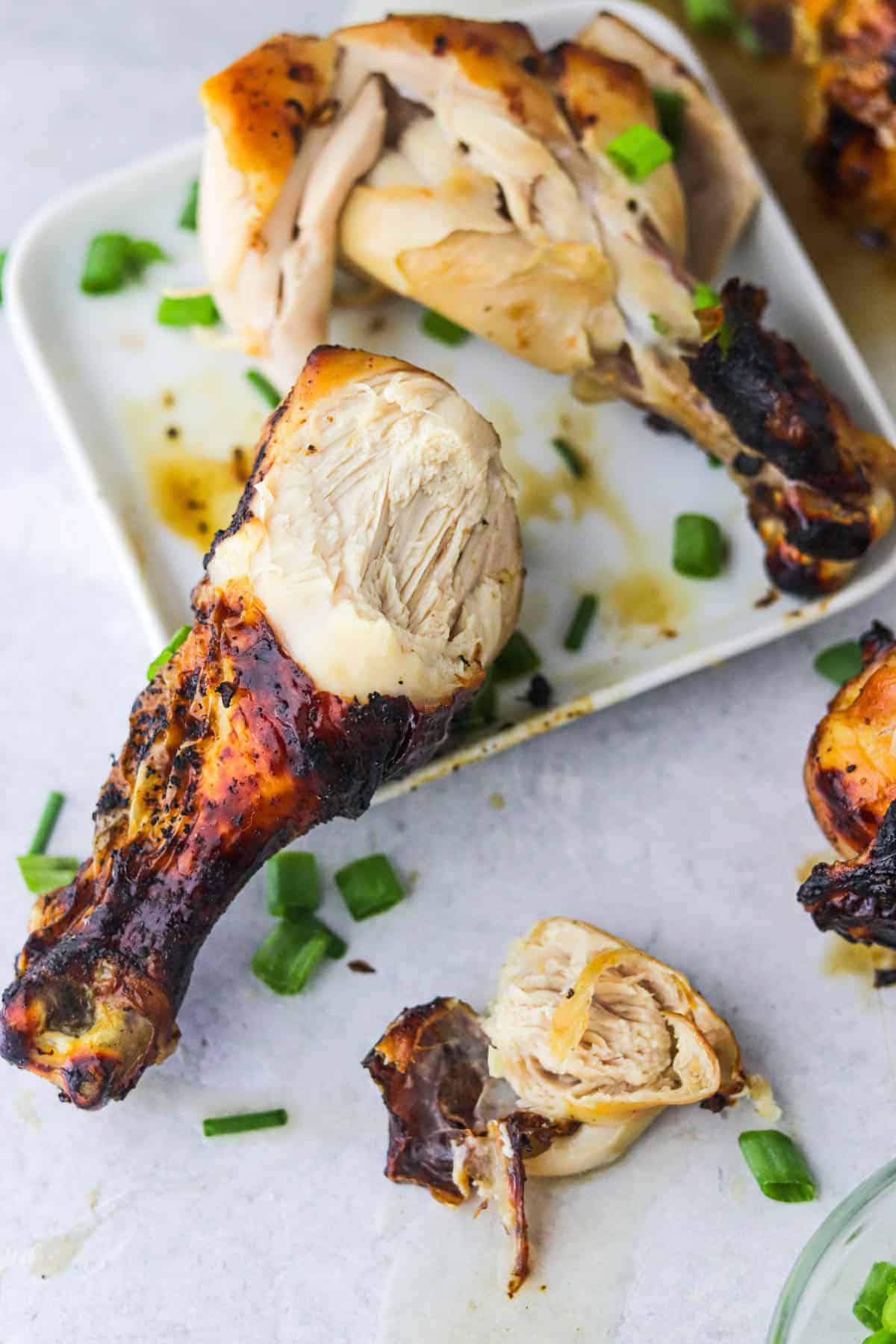 Expert Tips
Store air fryer drumsticks in the fridge in an air tight container for 5-7 days. Keep them on the bone or not, choice is yours! Obviously if you take it off the bone you'll need less storage space, which I'm all about.
You can store air fryer chicken legs in the freezer for closer to 4 months. Again, you can do this on the bone or not.
Alternatively, you could freeze them in a freezer bag with the sauce, uncooked. Then, when you're ready just pop then out of the freezer and either cook frozen with the additional cooking time or allow them to thaw. You can store these uncooked honey soy chicken legs in the freezer for 2 months.
Other Delicious Air Fryer Recipes:
If you love this recipe be sure to leave a star rating on the recipe card and a comment!
XOXO
-Colleen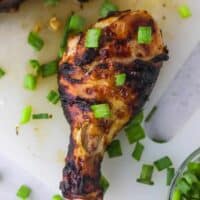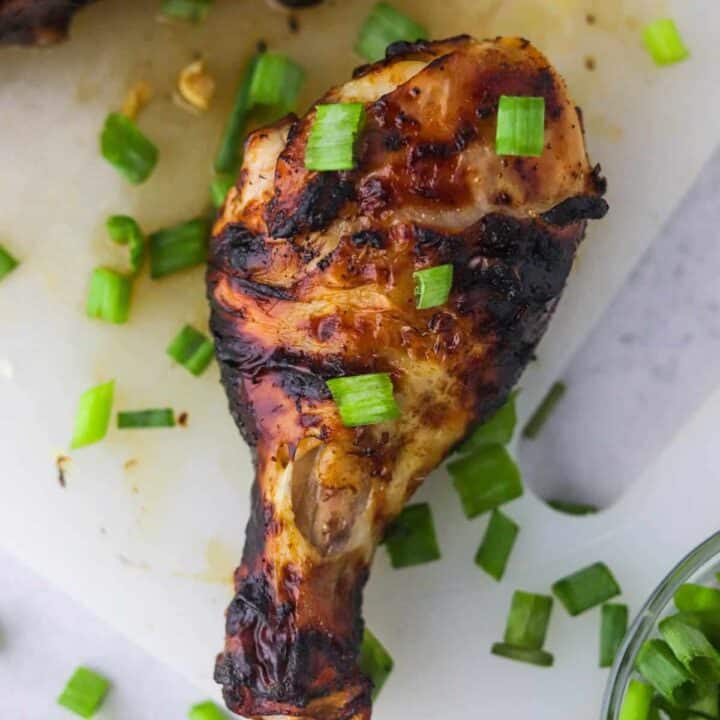 Honey Soy Air Fryer Drumsticks
Extra crispy, perfectly juicy air fryer drumsticks in just 20 minutes! Delicious & high protein. Oven directions included!
PRINT RECIPE
Ingredients
1/3

cup

soy sauce

2

tbsp

honey

1

tbsp

olive oil

2

cloves

of garlic

or 1/4 tsp garlic powder

1/4

tsp

onion powder

4

chicken drumsticks
Instructions
First, combine the soy sauce, honey, olive oil, garlic/garlic powder, and onion powder into a small bowl.

Place your prepares sauce and the chicken drumsticks into a container or a ziplock plastic bag and be sure to shake it to coat evenly.

Allow your chicken to marinate in the sauce for at least 1-2 hours or up to overnight.

When ready to cook your air fryer chicken legs preheat your air fryer to 370 degrees.

Spray the basket with non-stick spray and place chicken inside, making sure it does not touch.

Cook chicken for a total of 15 minutes, flipping once halfway through.

Remove your chicken from the air fryer and enjoy!
Notes
May sub any sauce.
Check the internal temp of your chicken to ensure it reaches 165 degrees F.
May use chicken breast or thighs and reduce cooking time to 15 minutes and temp for 370.
If cooking in an oven bake at 375 degrees for ~30 minutes. Ideally, use the convection setting if your oven has one.
click To display nutrition info
Nutrition Facts
Nutrition Facts
Honey Soy Air Fryer Drumsticks
Amount per Serving
% Daily Value*
* Percent Daily Values are based on a 2000 calorie diet.