Using the air fryer is the BEST way to cook sausage! This recipe takes less than 20 minutes to cook and it includes a side of veggies! Air fryer sausage and peppers is also a great option for easy meal prep.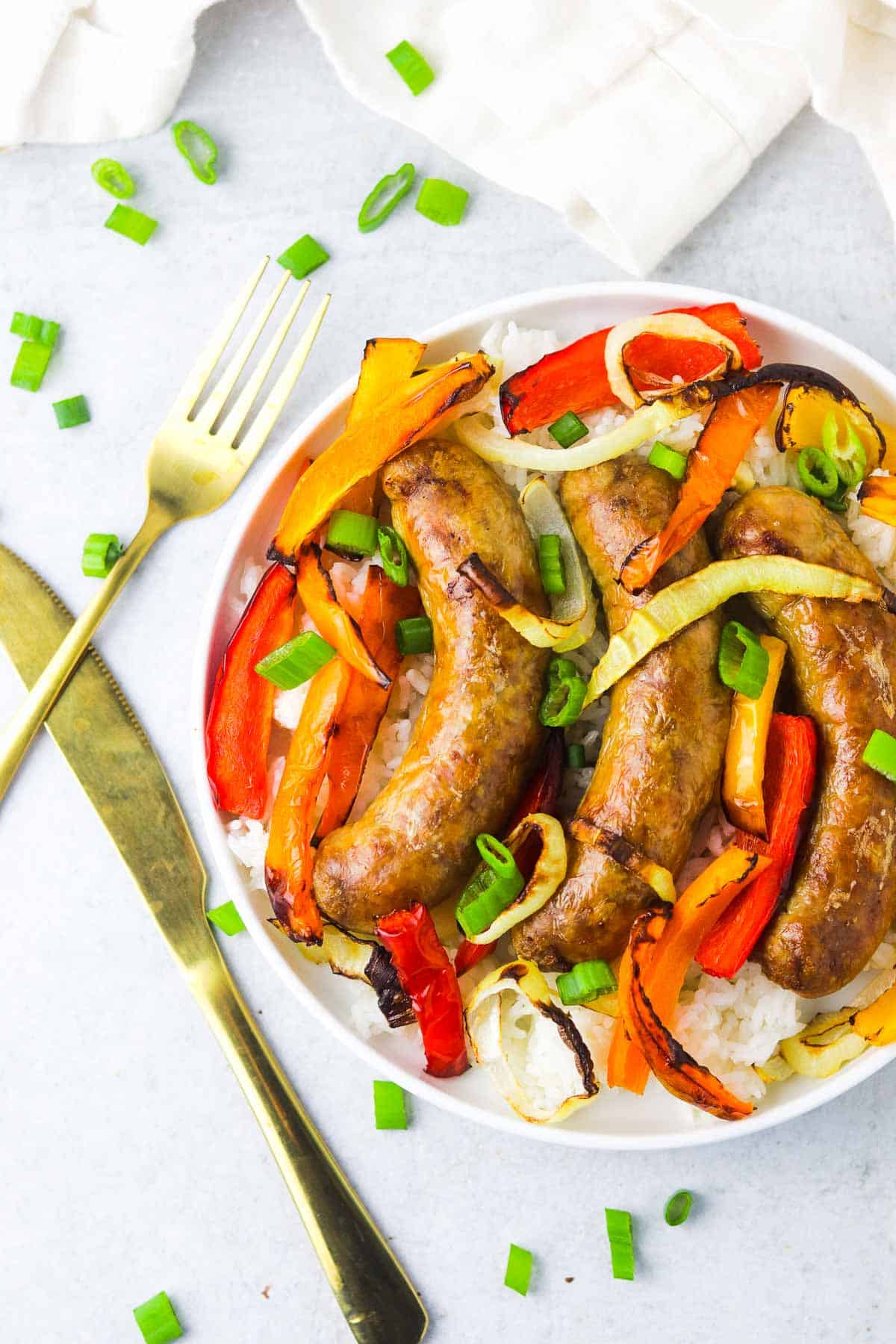 Why This Recipe Works
Whenever I need a dinner FAST I like to make air fryer Italian sausage and peppers. I can make the protein source for dinner (the sausages!) and a side of veggies at once… yay for multitasking!
Air fryer sausage is also my go-to protein source to add to pasta, like spaghetti. I always make a couple extra to have on hand to make a super fabulous omelette and breakfast potatoes! Leftover air fryer sausage is perfect for this!
Ingredients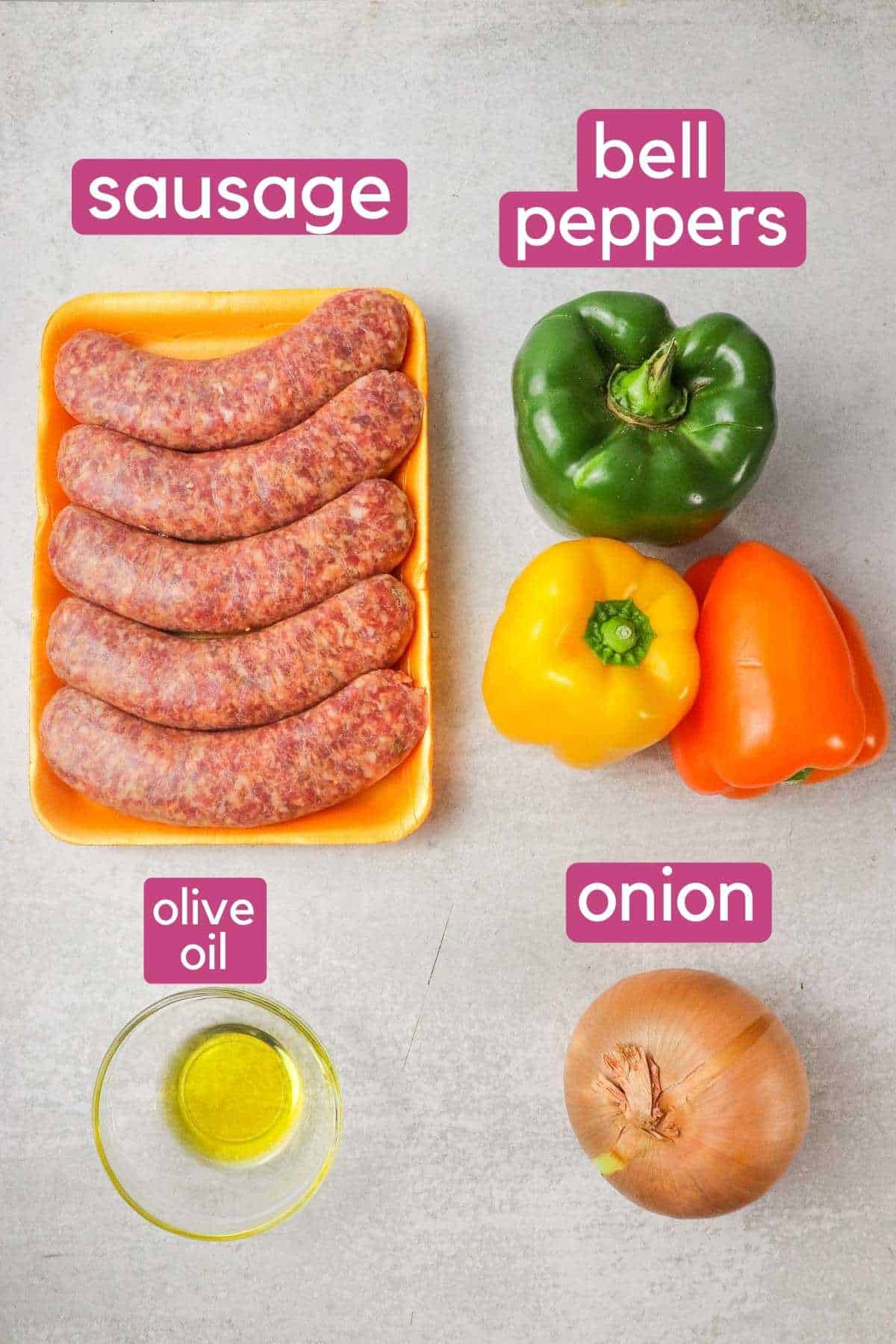 Sausage. I like to use Italian sausage usually but there are SO many unique flavors of sausage so feel free to use whatever you like! You could even throw some beer brats in here and make air fryer brats!
Peppers. You can choose whatever colors you like best. I enjoy a combination of colors for both presentation and flavor.
Oil. Air fryers don't need a lot of oil, however I find that adding a smidge helps the peppers and onions cook and not burn. You could also spritz them with non-stick spray to be honest!
How to Make Italian Sausage and Peppers
The first thing you're going to want to do to preheat your air fryer to 370 degrees F. If your air fryer doesn't have a preheat setting you can set it to 370 degrees F and let it run for ~5 minutes to get up to temperature.
Then, cut you are going to want to slice your peppers and onion. An easy way to prep your peppers to do this is to cut your peppers is to first slice off both ends, then make a slit all the way down the side of the pepper, and go around it with the knife to cut out the center. (See below for pictures!)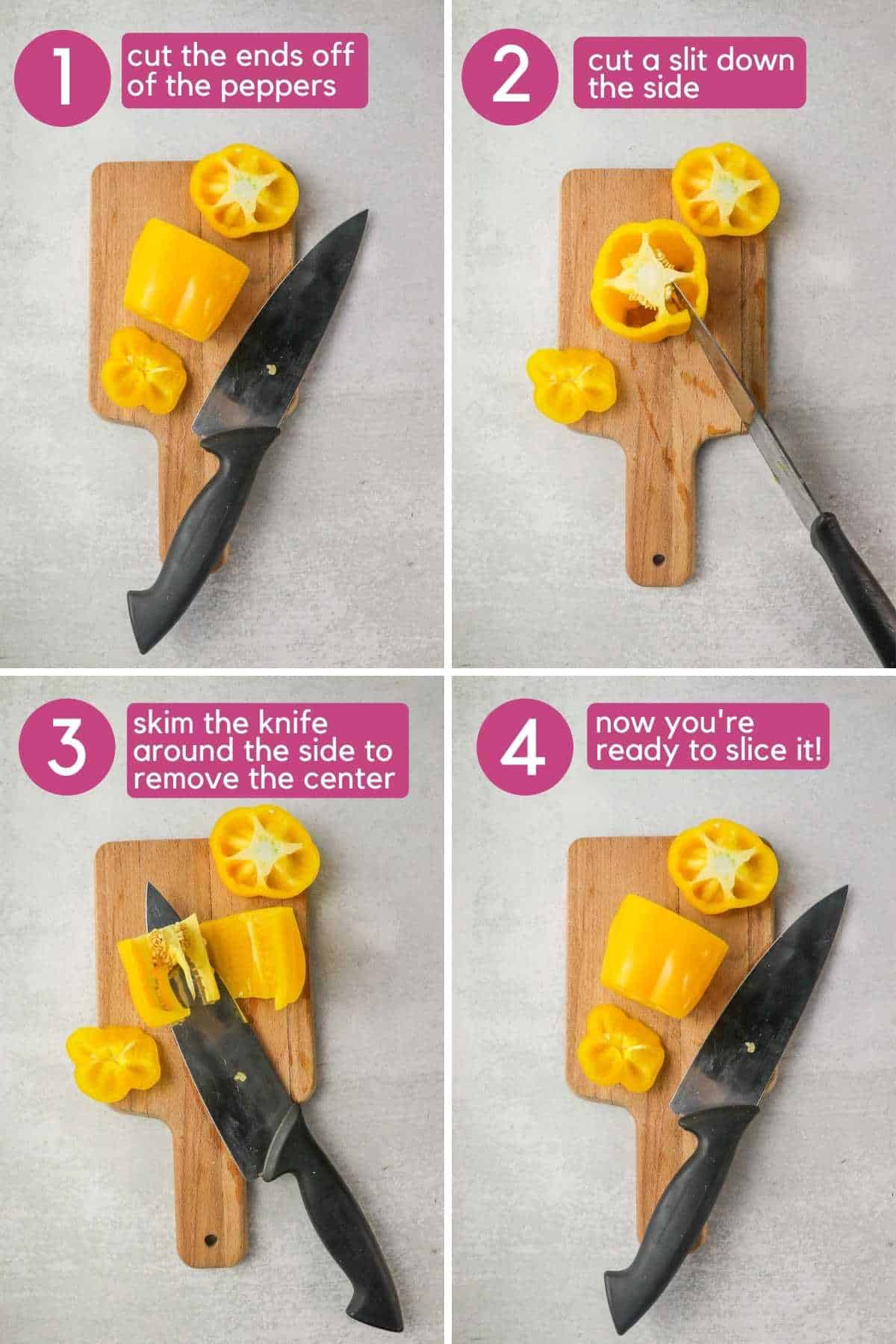 Now, slice your pepper and onion into ~1/4-1/2″ slices.
In a large bowl toss the peppers and onion with olive oil.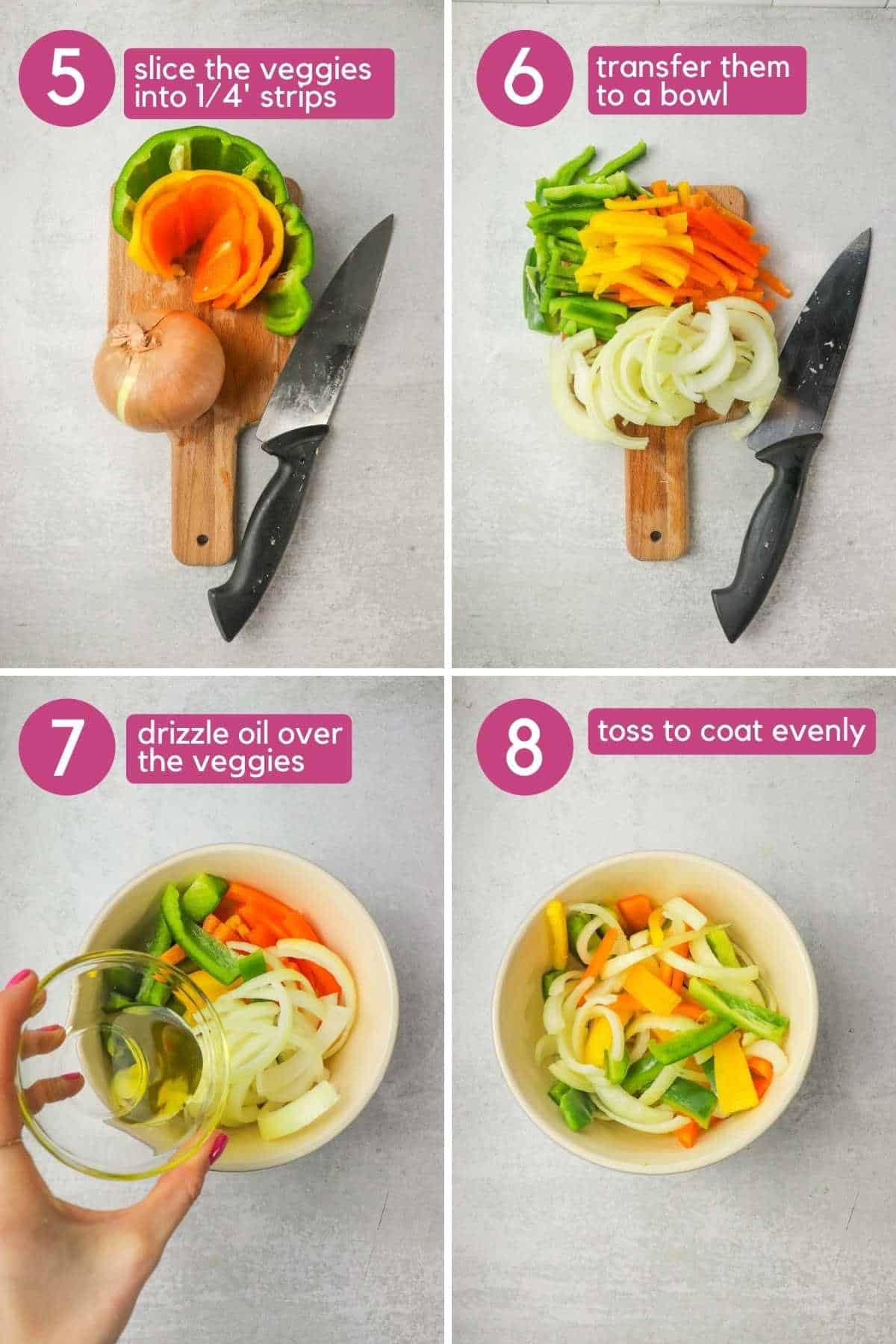 Spray your preheated air fryer basket with non-stick spray. First place your sausages in and cook for 10 minutes.
Then, flip the sausages and add the peppers and onions. Cook for an additional 8 minutes.
NOTE: Cooking time will depend on how large your sausages are. Smaller sausages may take closer to 15 minutes and larger closer to 20. I'd recommend peeking at about the 15 minute mark to see how they're doing!
Be careful not to overcrowd your air fryer basket. If you are making a lot of sausage it's better to do 2 batches. If you overcrowd your air fryer basket they won't cook properly. My 6 qt Instant Pot Vortex fits 4 max.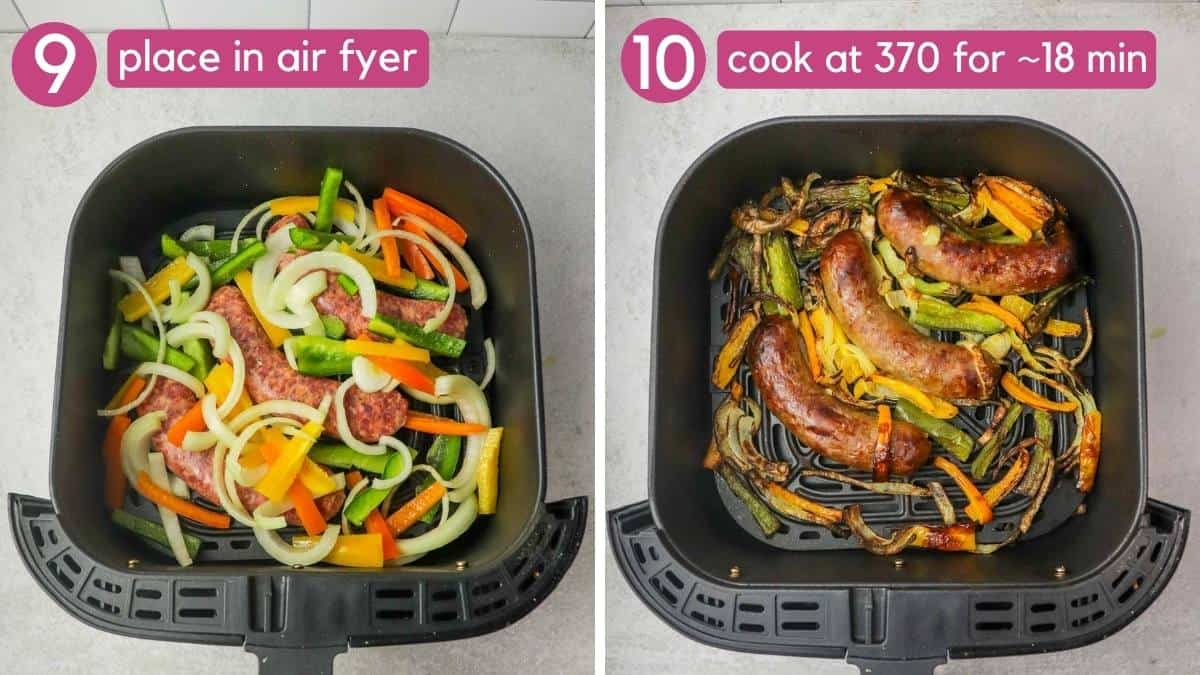 Now, enjoy! I like to serve mine with a side of rice, seasoned air fryer potatoes or air fryer sweet potato fries!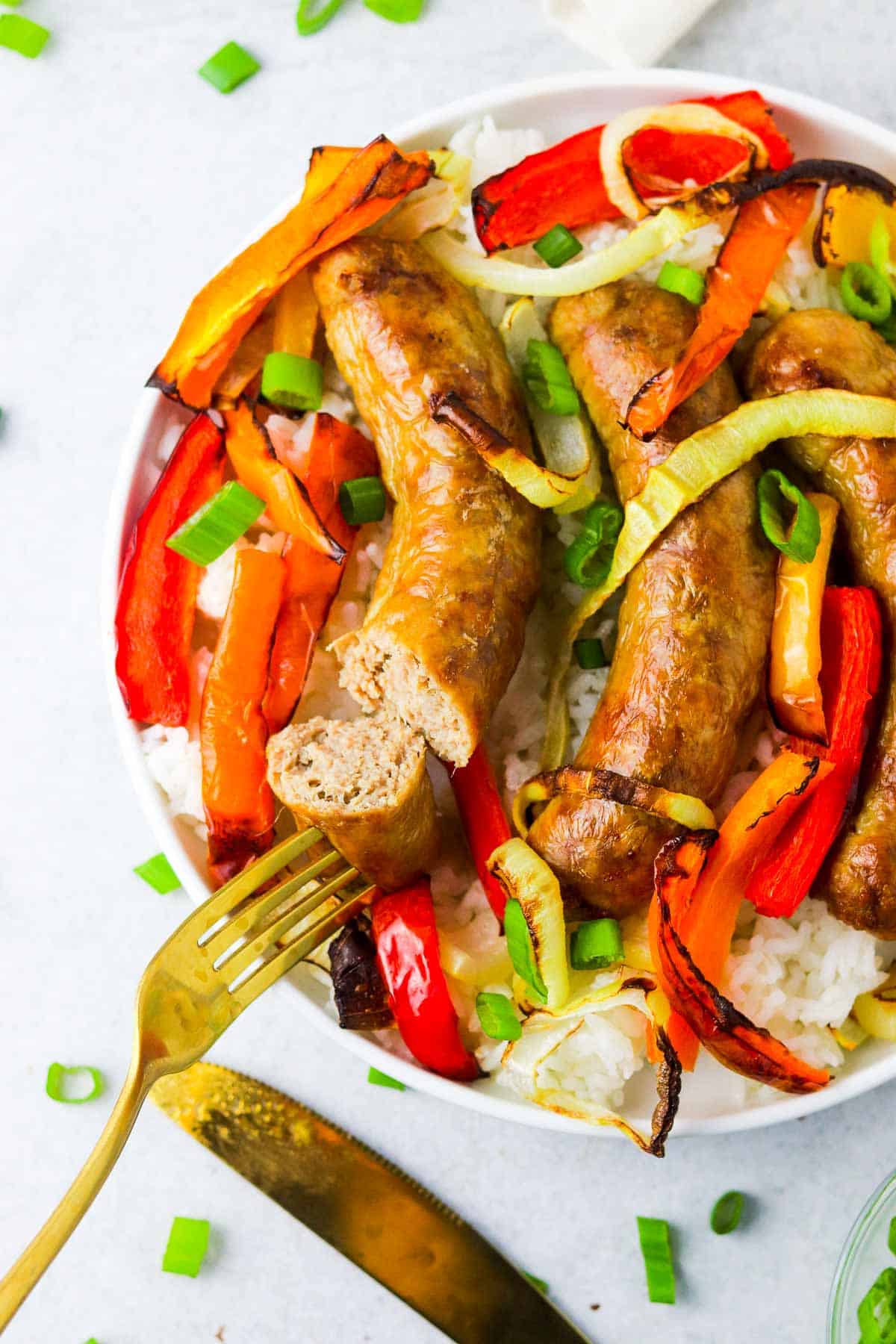 Expert Tips
If your peppers a cut on the smaller side they may take less time to cook. Peek in the air fryer at ~18 minutes and see how they're doing. You may need to remove the peppers if they're getting over cooked.
Different brands will have different sizes sausages. Take a peek every few minutes towards the end of the cooking time (starting at ~15 minutes). Once you know how the sausages you like cook you won't need to do this.
Substitutions and Variations
Sausage Options: Give your air fryer sausage and peppers a personal twist by using your favorite type of sausage. While I use Italian sausages, you can easily substitute them for your favorite kind. Plain pork, chicken, and turkey sausages all work well.
Air Fryer Sausages: If you want to skip the peppers and just make air fryer sausages, go ahead! If you don't want to add the peppers or don't have any on hand, feel free to skip them. Follow the same cooking instructions to cook the sausage thoroughly.
Frequently Asked Questions
Can you cook sausages in an air fryer?
Yes you can! Sausages cook easily in the air fryer, and are perfectly cooked through in less time and with less mess than using a skillet or an oven. All you need to do is add your sausages to the air fryer basket and cook until evenly browned and cooked through.
Can you cook frozen sausages in an air fryer?
Yes, you can cook frozen sausages in an air fryer. Simply add 5 minutes onto the cook time of fresh sausages, and check for doneness by using an internal thermometer.
Can you put Italian sausage in the air fryer?
Yes you can! Italian sausage work the same in the air fryer as any other type of sausage. Simply follow the recipe instructions, using Italian sausage, and cook until an internal temperature of 160F is reached.
How long does it take to cook sausage in an air fryer?
Depending on the size of the sausage, it can take anywhere from 10 minutes (for breakfast sausages) to 18 minutes (for large brats). To be sure, check the internal temperature to ensure a minimum temperature of 160F is reached.
More Air Fryer Dinner Recipes:
If you love this recipe, be sure to leave a star rating on the recipe card and leave a comment below!
Don't forget to pin it on your Pinterest board for later, or tag me on IG @no.food.rules if you try the recipe and love it!
XOXO
-Colleen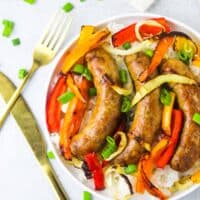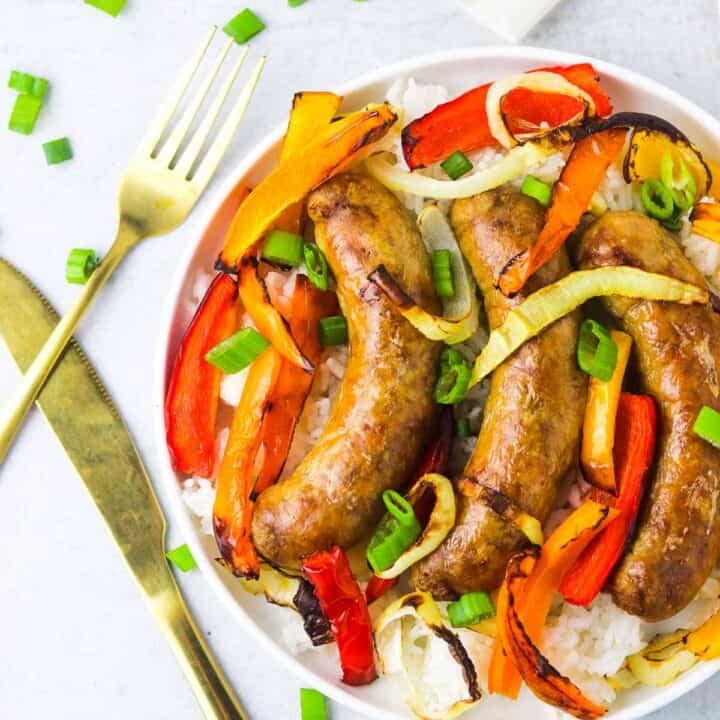 Easy Air Fryer Sausage and Peppers
These Air Fryer Sausage and Peppers are an easy weeknight meal with protein and loads of veggies. Ready in just about 20 minutes. Serve with a side of potatoes, rice, or over spaghetti or pasta!
PRINT RECIPE
Ingredients
4

Italian sausages

4

bell peppers

any color, sliced into strips

1

onion

sliced

1

tsp

olive oil
Instructions
Preheat your air fryer to 370F.

Place your sausages in the basket of the air fryer and cook for 10 minutes.

Flip sausages using a pair of tongs.

Add the sliced peppers and onion (if using) and cook for an additional 8 minutes.

Remove the basket from the air fryer and serve immediately.

Enjoy!
Notes
Check your sausages at 15 minutes. Smaller sausage will cook closer to 15 minutes and larger may be closer to 20 minutes.
If you notice at the 15 minute mark your peppers are getting over cooked simply remove them. This can happen with smaller cut veggies.
Be careful not to overcrowd your air fryer basket. If you are making a lot of sausage it's better to do 2 batches.
Sausage options: You can use any kind of sausage you like, including chicken or turkey sausages.
Oven Instructions: Place everything on a baking sheet or roasting pan, and bake at 350 for 20-25 minutes, then flip sausages & peppers and bake for another 20-25 minutes. It's a good idea to use a meat thermometer!
Frozen Sausages: If you would like to use frozen sausages in place of the fresh ones in this recipe, add 5 minutes onto the initial sausage cook time.
click To display nutrition info
Nutrition Facts
Nutrition Facts
Easy Air Fryer Sausage and Peppers
Amount per Serving
% Daily Value*
* Percent Daily Values are based on a 2000 calorie diet.