Busy week nights call for easy and quick recipes and these seasoned air fryer potatoes and my go-to! They're perfectly crispy on the outside, soft on the inside, and ready in 20 minutes. Win-win-win!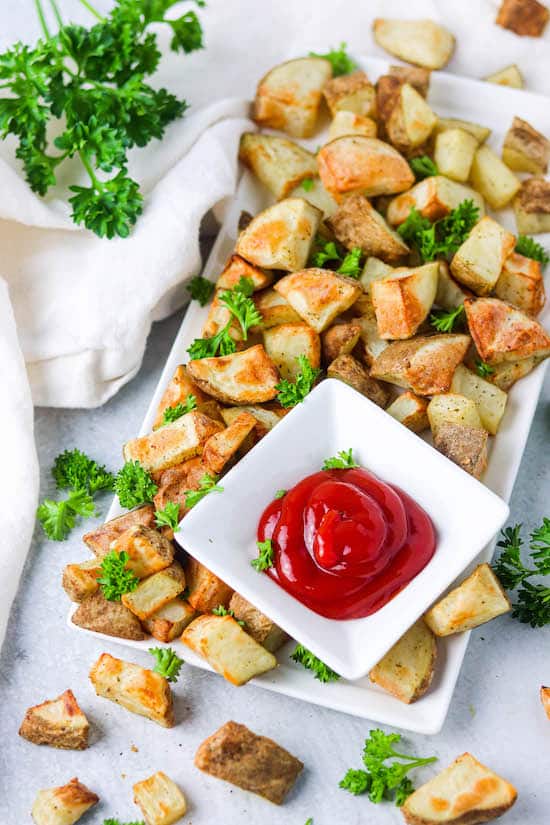 Why Air Fryer Potatoes?
If you know me at all you know I have a borderline obsessive relationship with my air fryer. It is KEY to making anything with a crispy outside. The warm air circulates, unlike the oven which keeps it stagnant and makes whatever you're cooking soggy. Not the air fryer! It gets those edges cuh-rispay! And keeps the inside that soft, potato-ey goodness we all know and love.
I have the a similar air fryer to the one I use and LOVE linked here. It totes won't disappoint and is a GREAT price! You can also find out more about how to pick an air fryer here, if you want to do some of your own research.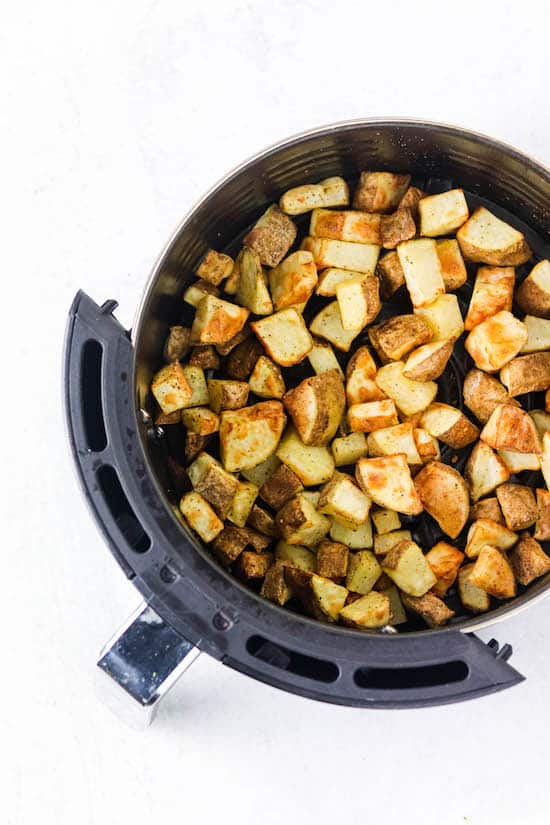 Take a second and be sure to Pin this recipe to your Pinterest board. It's a classic you're going to want to come back to. Plus? Your friends will thank YOU for sharing it!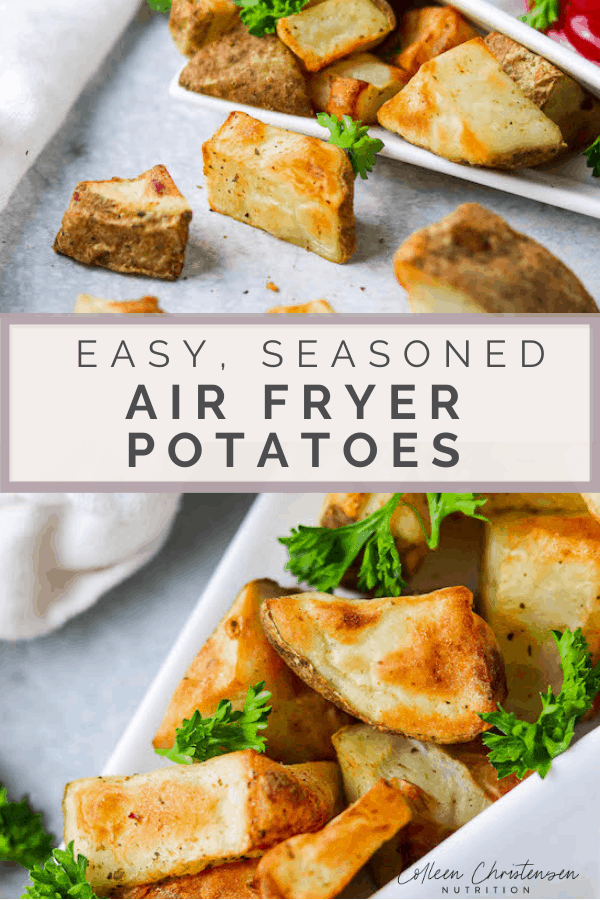 How To Eat Seasoned Air Fryer Potatoes
I love serving these with BBQ chicken, an easy pork tenderloin, or some baked tilapia. I usually always throw a bag of frozen veggies in the microwave and serve those with it, too. Seriously, those things save my life.
You can also sprinkle some parmesan cheese on top of these potatoes or drizzle come of my delish 5 minute butternut squash cheese sauce on top of them. Uh-Maze-Ing.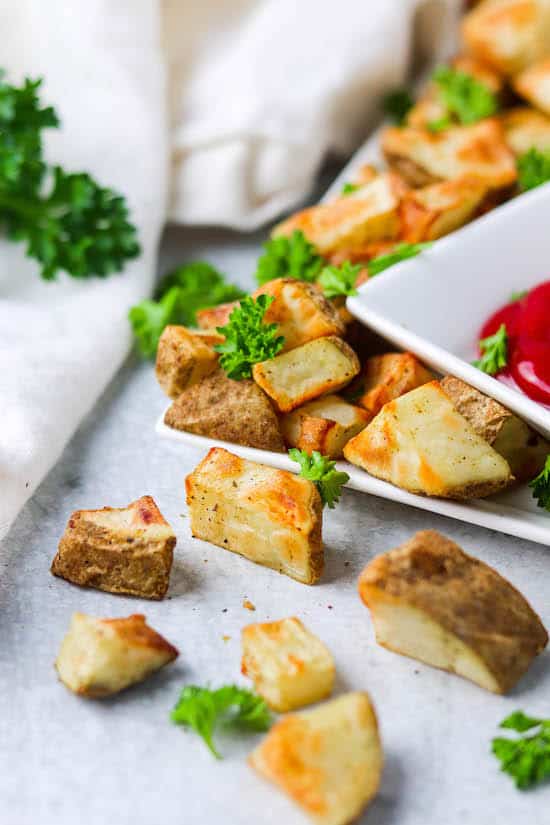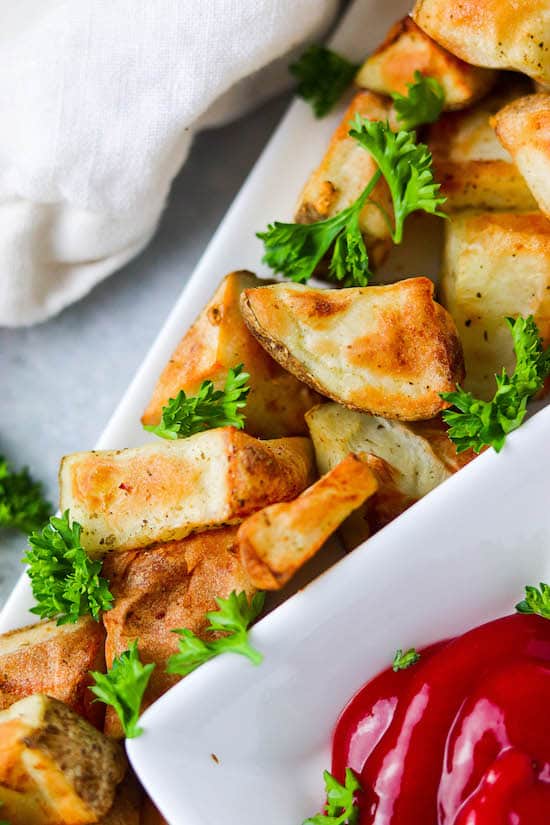 Serve As Air Fryer Breakfast Potatoes
I also LOVE making these for breakfast! They're the perfect home fry type potato to serve along side of omelets. Actually, they're also really great to serve INSIDE of Omelets!
To make these into air fryer breakfast potatoes ya really just gotta... serve them at breakfast. And change the spices to whatever goes with your other omelette fixins!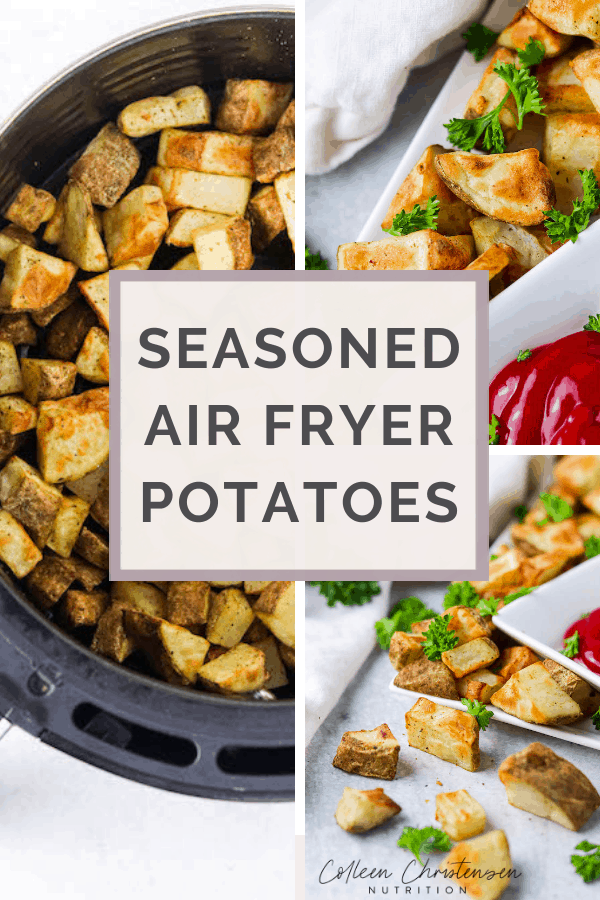 FAQ's
Can I use other types of potatoes?
Sure thing! You can make this recipe into air fryer red potatoes, sweet potatoes or baby potatoes! Use whatever you like.
Can I cut them differently?
Of course! My husband like the little cubes, but you could totally make this into air fryer sliced potatoes, wedges, or shoe-string potatoes.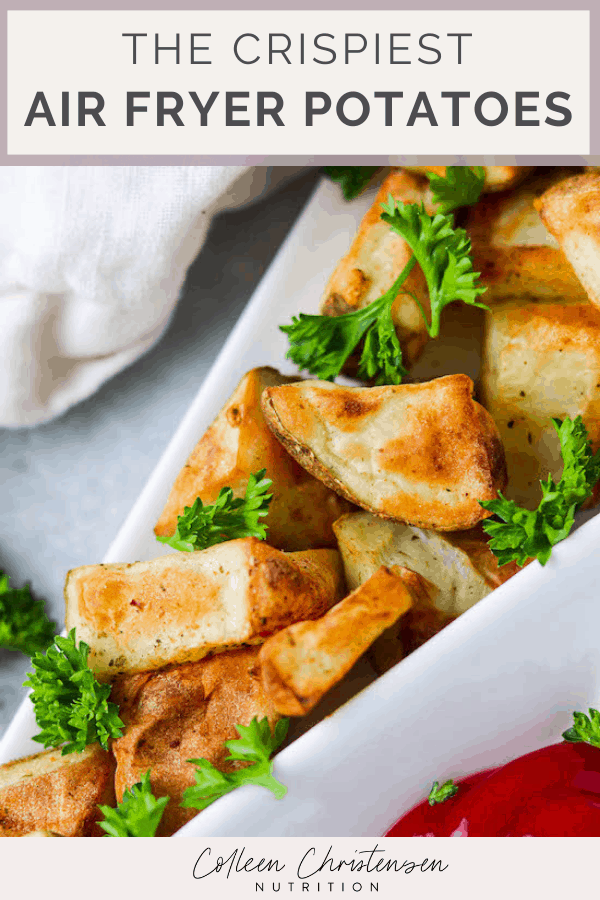 More Potato & Air Fryer Recipes
Give these super easy potatoes a try once and I thiiiiink they'll become a weeknight staple for your house, too!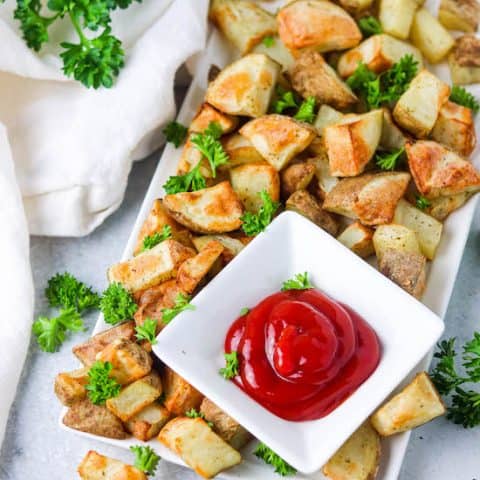 Seasoned Air Fryer Potatoes
Ingredients
2-3 potatoes (2 large, 3 medium-small)
1 tbsp seasoning of choice
Dash of salt (optional)
Instructions
Scrub potatoes and cut them into bite-sized pieces/cubes.
Let the cut potatoes soak in cool water for at least 30 minutes.*
Sprinkle seasoning of choice over potatoes, coating evenly.
Place potatoes in the basket of an air fryer and cook for 15-20 minutes at 370, shaking the basked 1-2x throughout.
Serve warm!
Notes
You can skip soaking the potatoes if you're short on time, but it makes them super crispy!
You can sub any sort of potato. Cooking time may need to be adjusted slightly.
Nutrition Information:
Amount Per Serving:
Calories:

116
Total Fat:

0.2g
Carbohydrates:

26g
Protein:

3g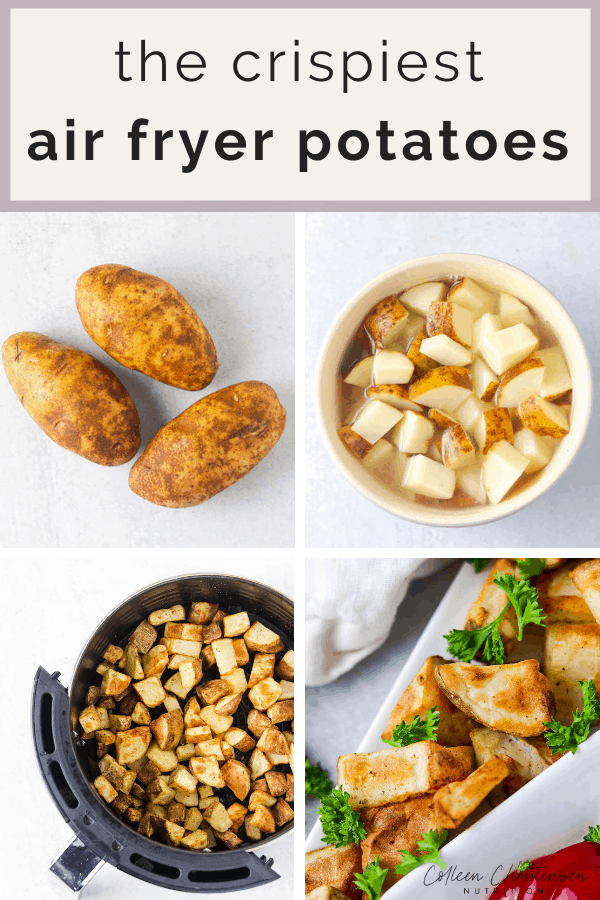 Happy eating!
XOXO
-Colleen
Want more recipes like this? You might like these!