Perfectly crisp air fryer potatoes in just 15 minutes! These potatoes are the perfect addition to any weeknight meal. They also make great breakfast potatoes made in the air fryer!!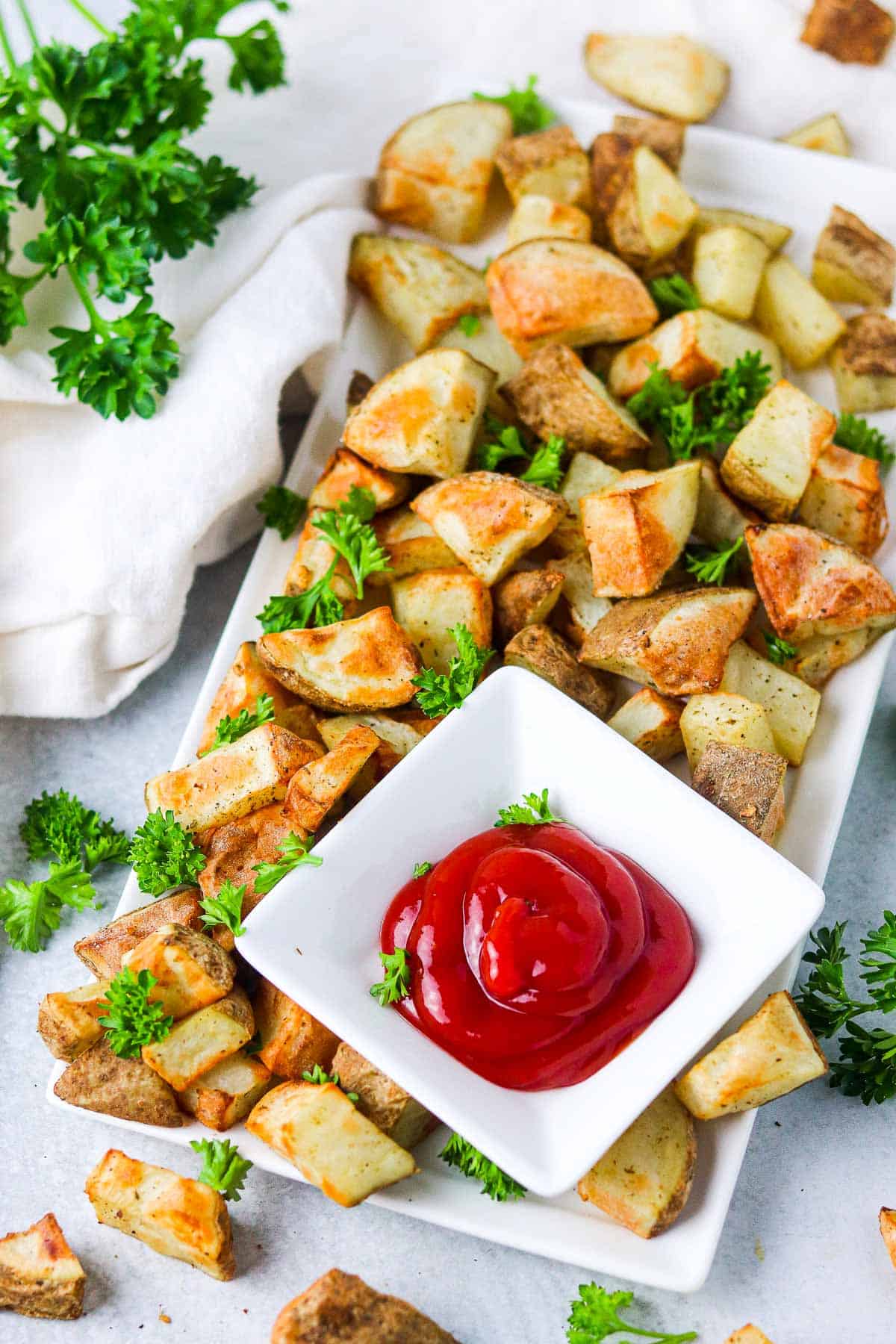 Why This Recipe Works
So long boring potatoes! Hello crispy, delicious, seasoned to perfection potatoes... in 15 minutes! Making air fryer potatoes in the ONLY way that I make potatoes now!
I love to make potatoes in the air fryer for quick weeknight dinners. And when I do I always made a big batch so that I have leftovers. I'll add them to salads, omelettes, or serve as breakfast potatoes! So versatile! Or, I can eat them plain with some air fryer boiled eggs for a super easy snack.
Plus? Potatoes are SO affordable! Key to my budget meal planning. If you haven't gotten into meal planning yet be sure to checkout my blog post on my top 5 tips for meal planning for beginners!
Ingredients Needed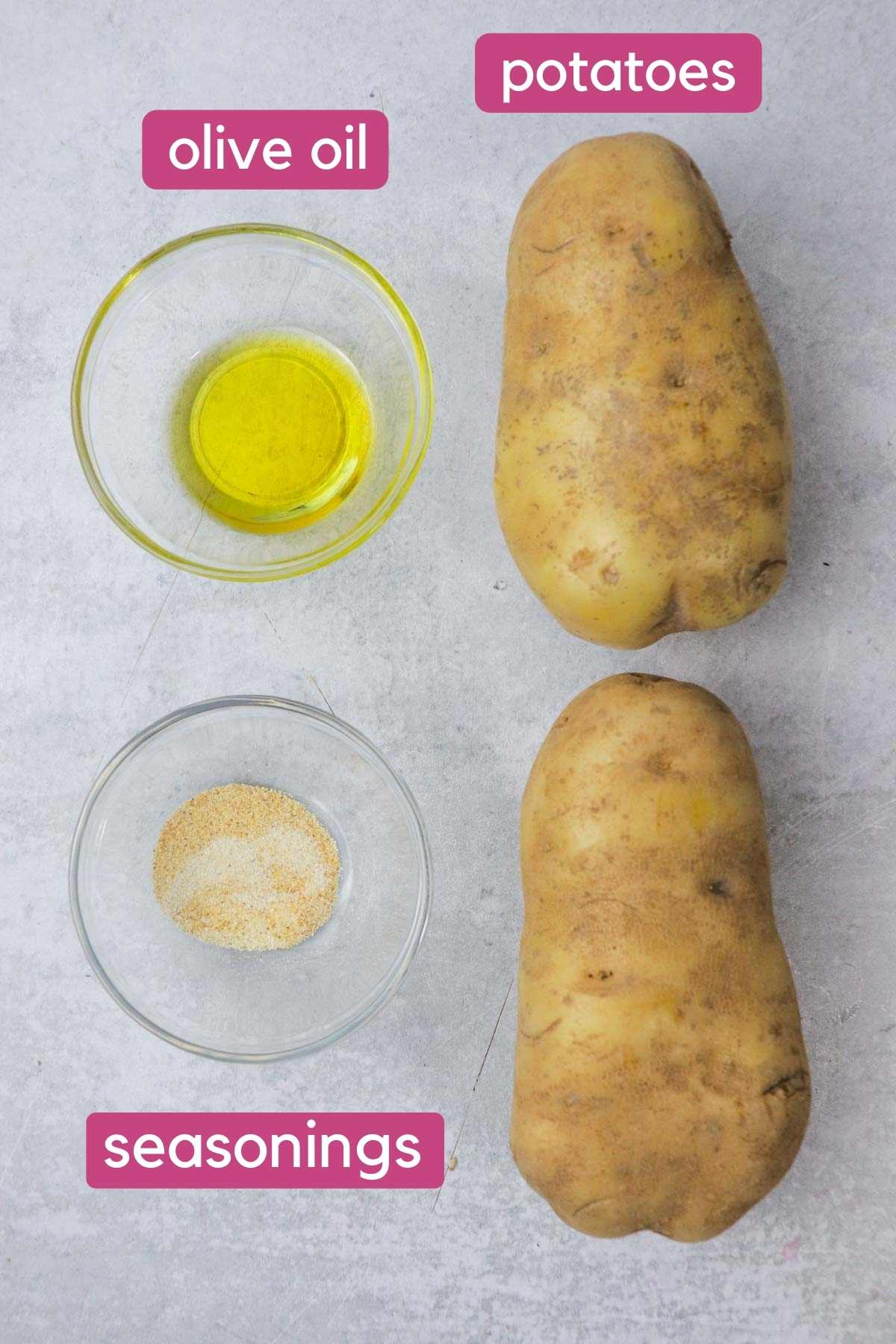 Potatoes. I use russet baking potatoes. You can sub other potato types if you like. The more moisture, like a red potato, the less cooking time they'll need. So just check in on them when you're cooking them if you're using a different type!
Seasonings. You can use whatever seasonings you like! You'll use about 1 tsp. I like to use a 50:50 mix of garlic and onion powder. You could also skip the seasonings and just use 1/4 tsp of salt!
Oil. Sub whatever oil you like! I also love using sesame oil.
How To Make This Recipe
First preheat your air fryer to 375 degrees. If your air fryer doesn't have a preheat function like my 6qt Instant Pot Vortex air fryer does you can set it to 375 degrees and let it run for ~5 minutes while you're prepping everything else! This will make sure it gets up to temperature.
Cut your potatoes into ~1" cubes and place into a medium to large sized bowl.
Toss your potatoes first with the oil, then with the seasonings.
Air fry for a total of 15 minutes, shaking them once halfway through cooking.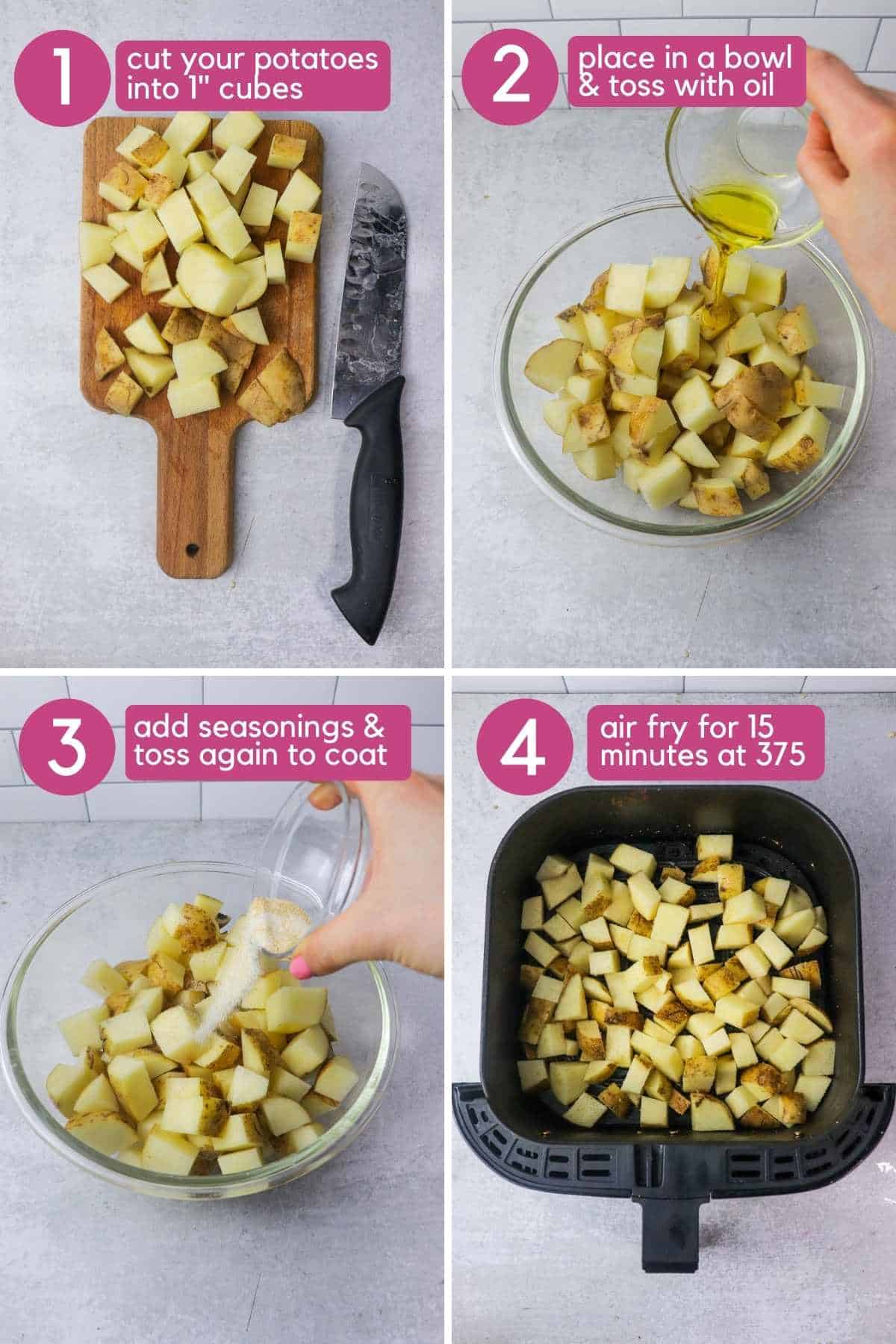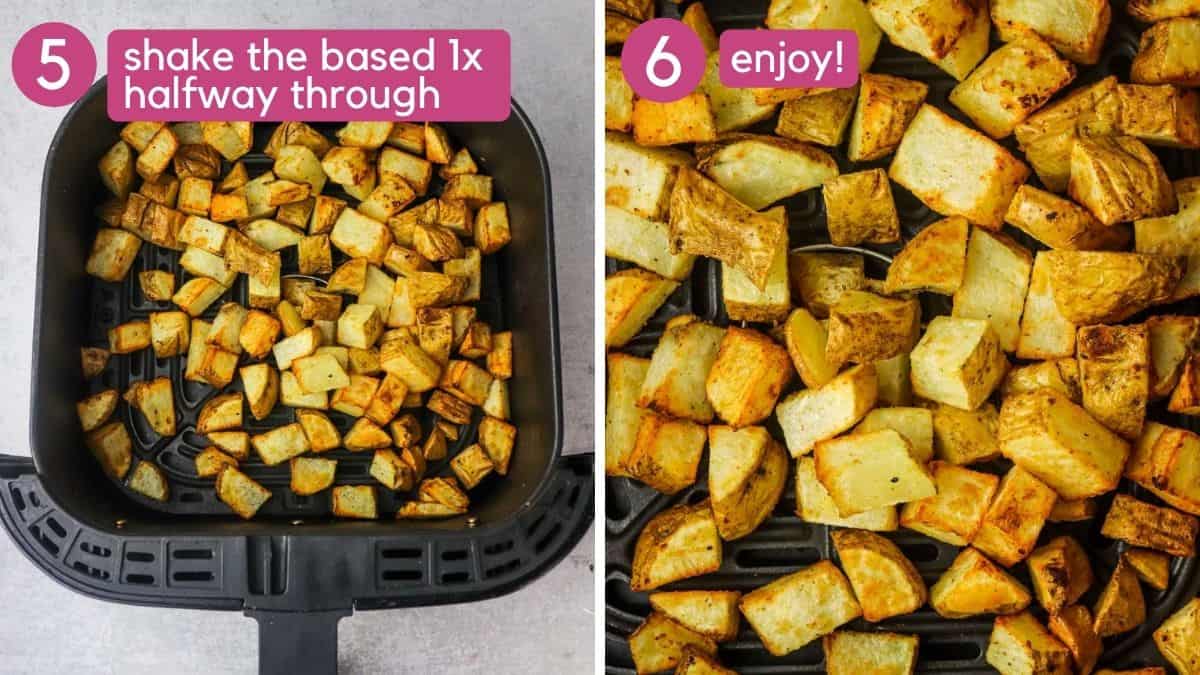 Enjoy!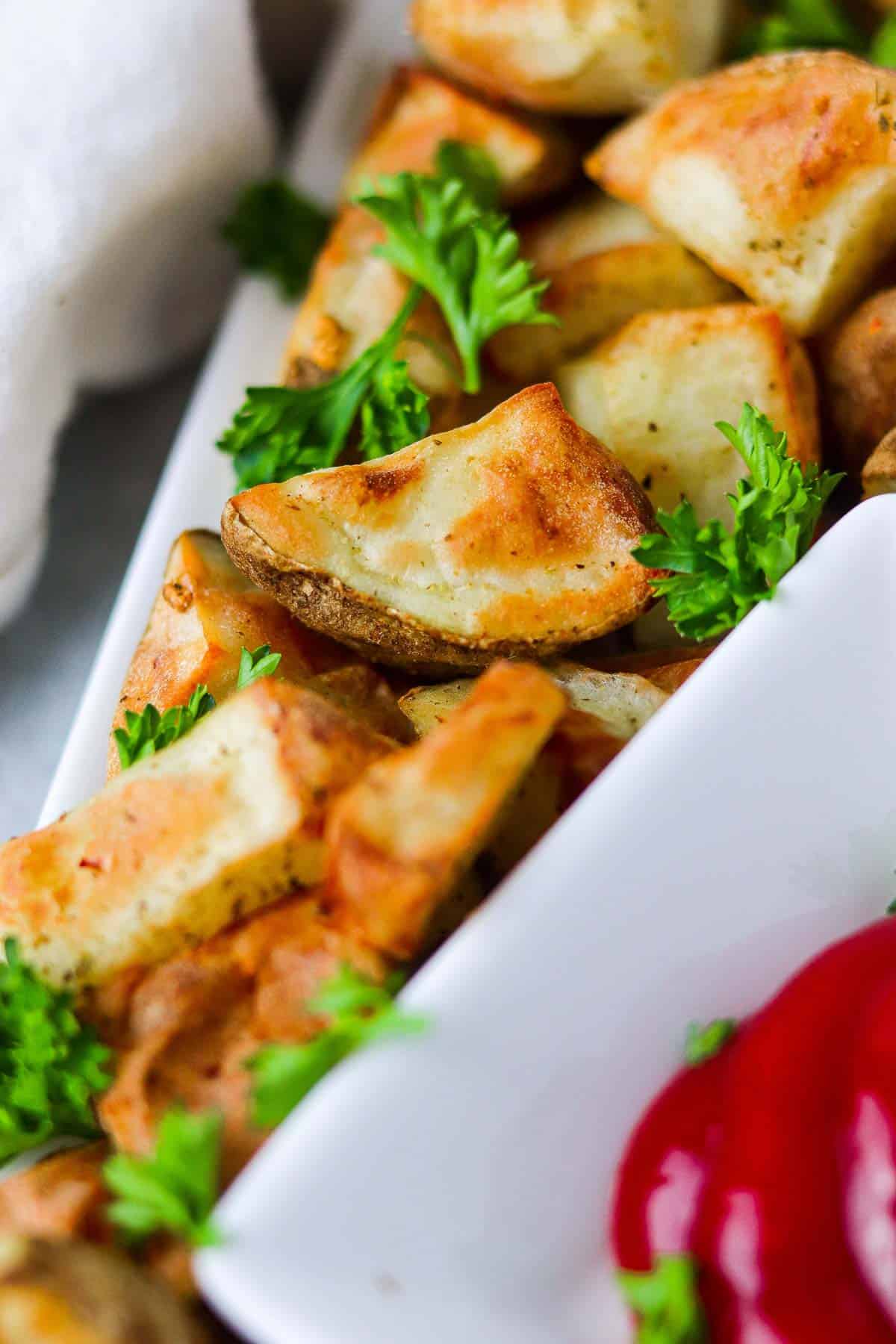 FAQ's
Can I use other types of potatoes?
Sure thing! You can make this recipe into air fryer red potatoes, sweet potatoes or baby potatoes! Use whatever you like. I found that red potatoes tend to cook faster, so you may want to check on them around 12-13 minutes.
Can I cut them differently, not into cubes?
Of course! My husband like the little cubes, but you could totally make this into air fryer sliced potatoes, wedges, or shoe-string potatoes. You may need to adjust the cooking time depending on how you cut them. Smaller pieces will cook faster and larger longer. Just keep an eye on them!Checkout my air fryer sweet potato recipe!
Can I reheat air fryer potatoes?
Yes! you can microwave them if you like but if you want them to get nice and crispy again you can pop them in the air fryer for ~3-5 minutes at 375.
Other Recipes You Might Like:
If you love these fluffy oat flour pancakes, be sure to leave a star rating on the recipe card and leave a comment below telling me what your favorite pancake topping is!
Don't forget to pin it your Pinterest board for later, or tag me on IG @no.food.rules if you try the recipe and love it!
XOXO
-Colleen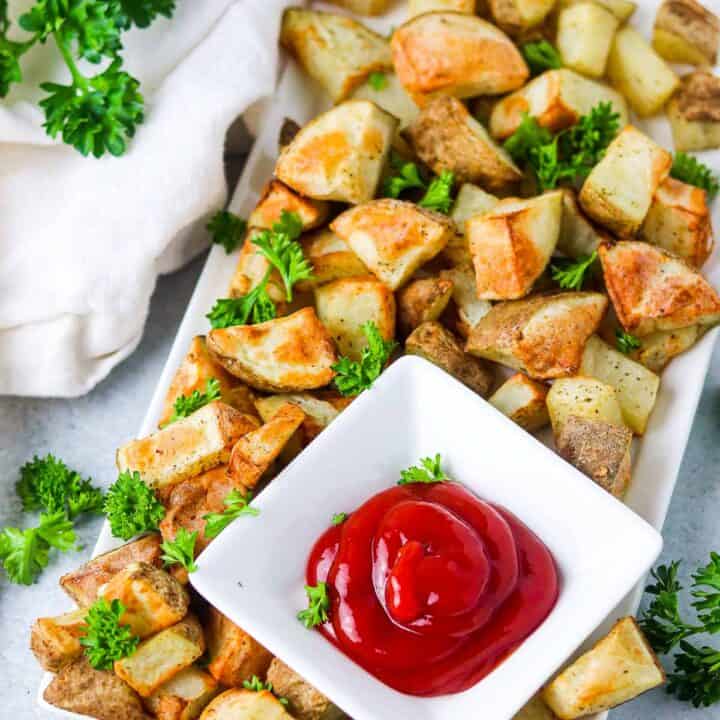 Seasoned Air Fryer Potatoes
Perfectly crisp air fryer potatoes in just 20 minutes! Great for any weeknight meal or as breakfast potatoes!
Ingredients
2 large potatoes
~2 tsp oil
1 tbsp seasoning of choice (I use 50:50 garlic and onion powder)
Dash of salt (optional)
Instructions
Preheat air fryer to 375 degrees. If you don't have a preheat function you can set your air fryer to the desired temperature and let it run for ~5 minutes.
Scrub potatoes and cut them into bite-sized pieces/cubes.
Place potatoes into a bowl and toss to coat with oil.
Sprinkle seasoning of choice over potatoes, coating evenly.
Place potatoes in the basket of an air fryer and cook for 15 minutes, shaking once halfway through.
Serve warm!
Notes
You can sub any sort of potato. Cooking time may need to be adjusted slightly.
Use any seasonings you like or just opt for salt!
Nutrition Information:
Yield:

4
Serving Size:

1
Amount Per Serving:
Calories:

151
Total Fat:

1g
Saturated Fat:

0g
Trans Fat:

0g
Unsaturated Fat:

1g
Cholesterol:

0mg
Sodium:

1193mg
Carbohydrates:

32g
Fiber:

4g
Sugar:

2g
Protein:

4g