If there is one appliance in my kitchen that I would marry it would be my air fryer. Too far? I don't think so (sorry to my husband, Joe!). In all seriousness thought, I use it daily 99.9% of the time. My favorite thing to make? Crispy air fryer sweet potato fries!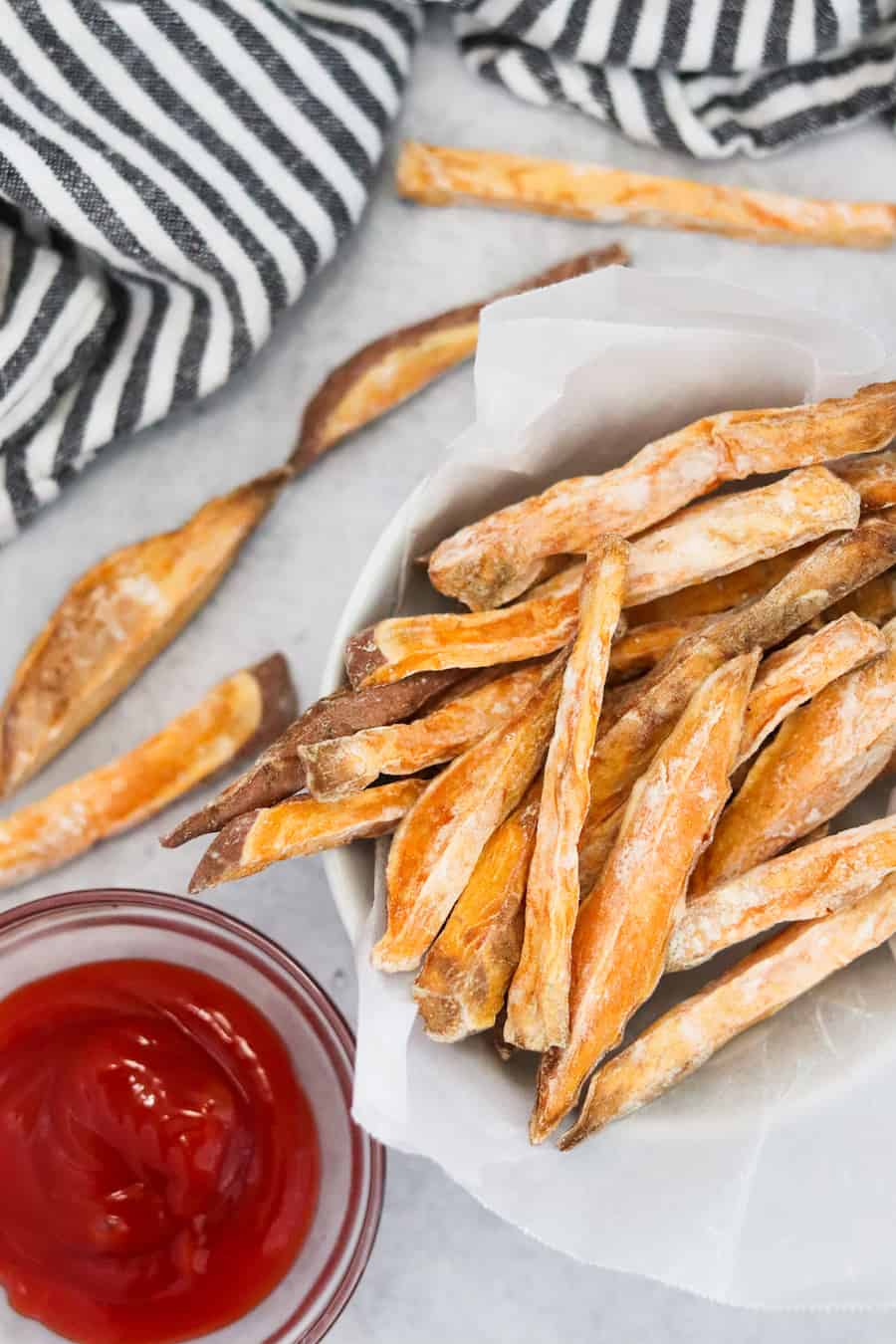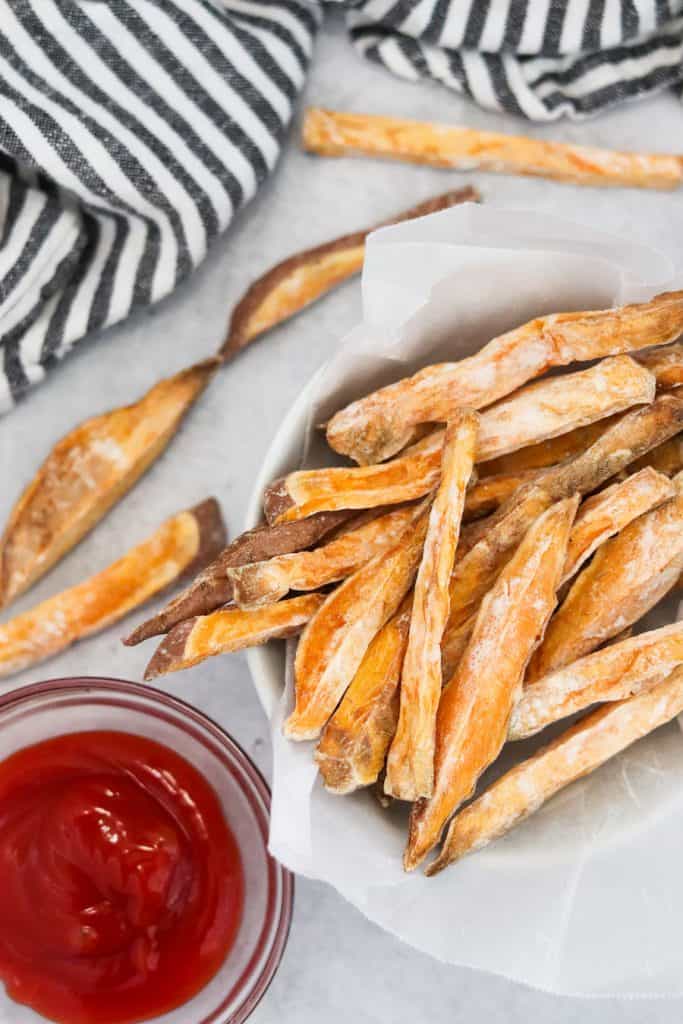 Now, if you don't have an air fryer to make these:
I recommend you get one
Don't worry, I have oven directions!
I got my air fryer about a year, maybe year and a half, ago at Costo (what DOESN'T Costco have?!) so it's an older model, but you can find a similar one here.
Take a second and pin this recipe to your Pinterest board- you'll want to be able to come back to it!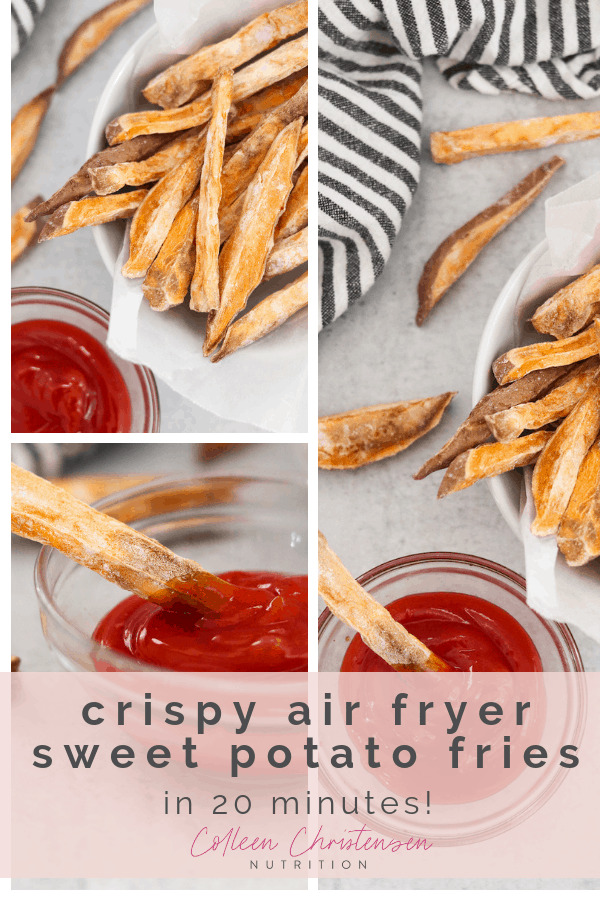 I make these crispy sweet potato fries multiple times per week. They're a super fabulous side dish for burgers, grilled chicken, fish or, heck, anything. I've also paired them with some eggs for a little homestyle breakfast. They're so versatile you'll love them! Make a big batch as part of your next meal prep and I guarantee you won't regret it!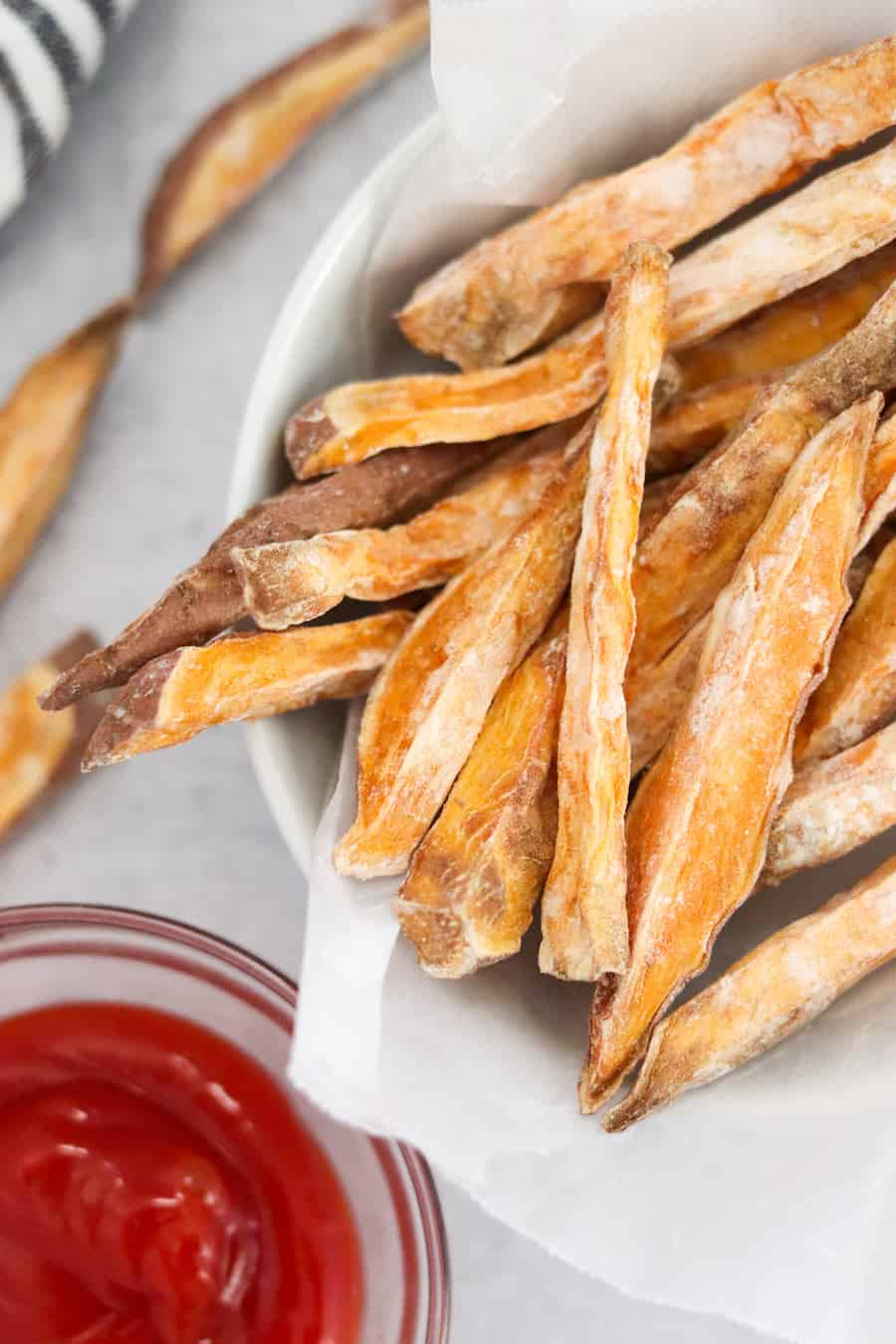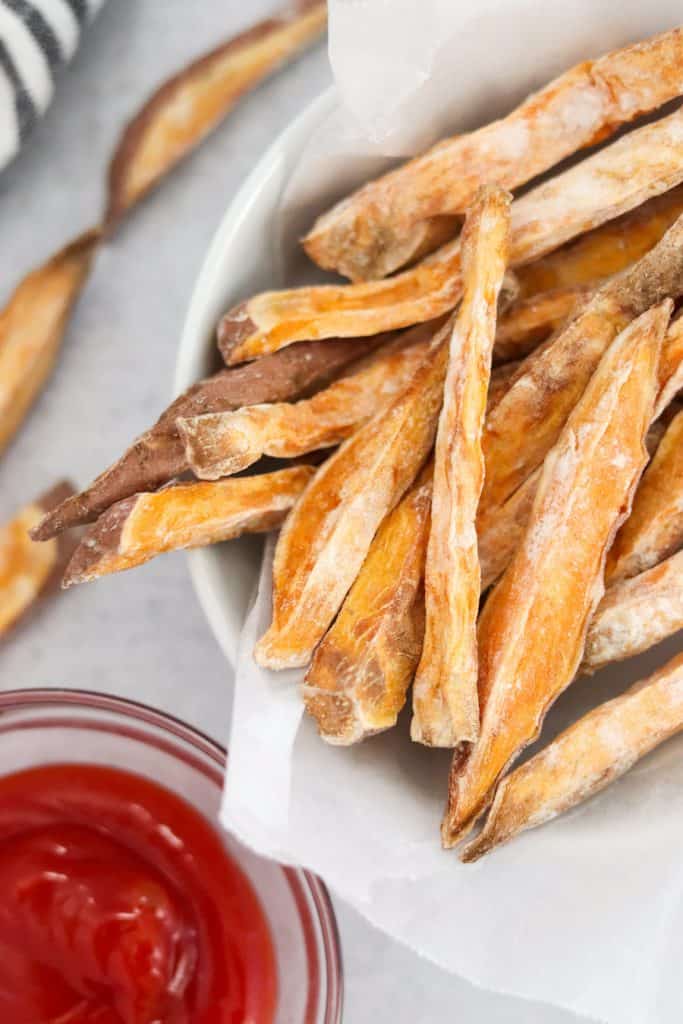 Now, WHY do you want to make fries in an air fryer VS oven or regular frying? Well here are my reasons:
Airy frying gets them crispier and not as soggy
They cook WAY faster
I tend to notice I feel better when not eating super greasy foods on the daily/weekly- so I don't
They'll have a nice, soft inside- the perfect combo
So, there you have it, why I love making these crispy sweet potato fries in the air fryer VS an oven or regular frying them. Have I sold you on the air fryer yet?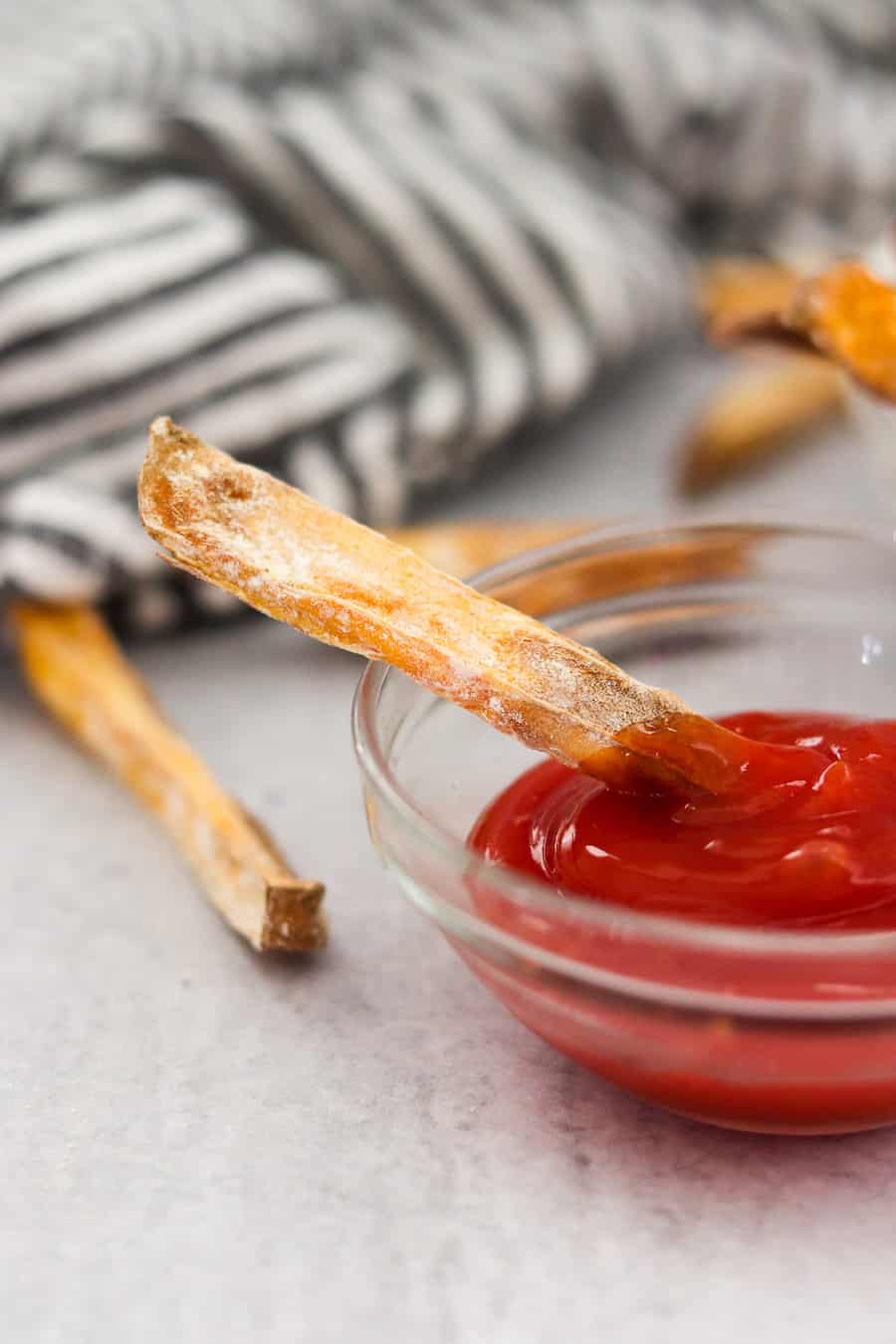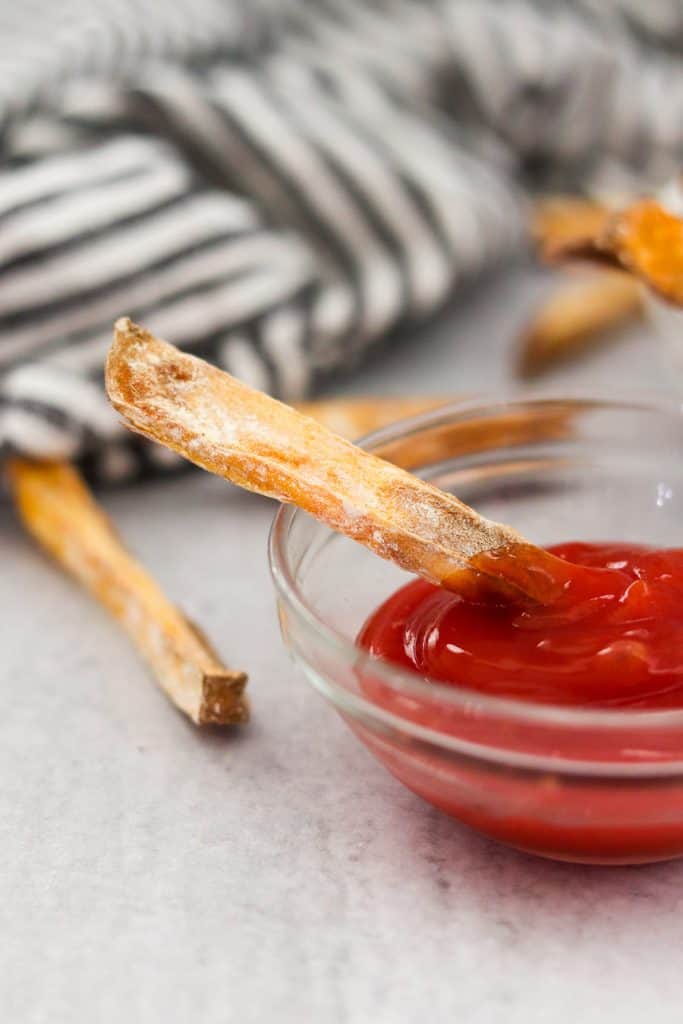 Like I said, don't worry if you don't have an air fryer for these crispy air fryer sweet potato fries I gotchu! See the notes in the recipe for oven directions. Just be sure to plan a little extra time for them to bake in there. If you prefer regularly fried fries, well, I don't gotchu because I don't have a regular fryer. Sorry.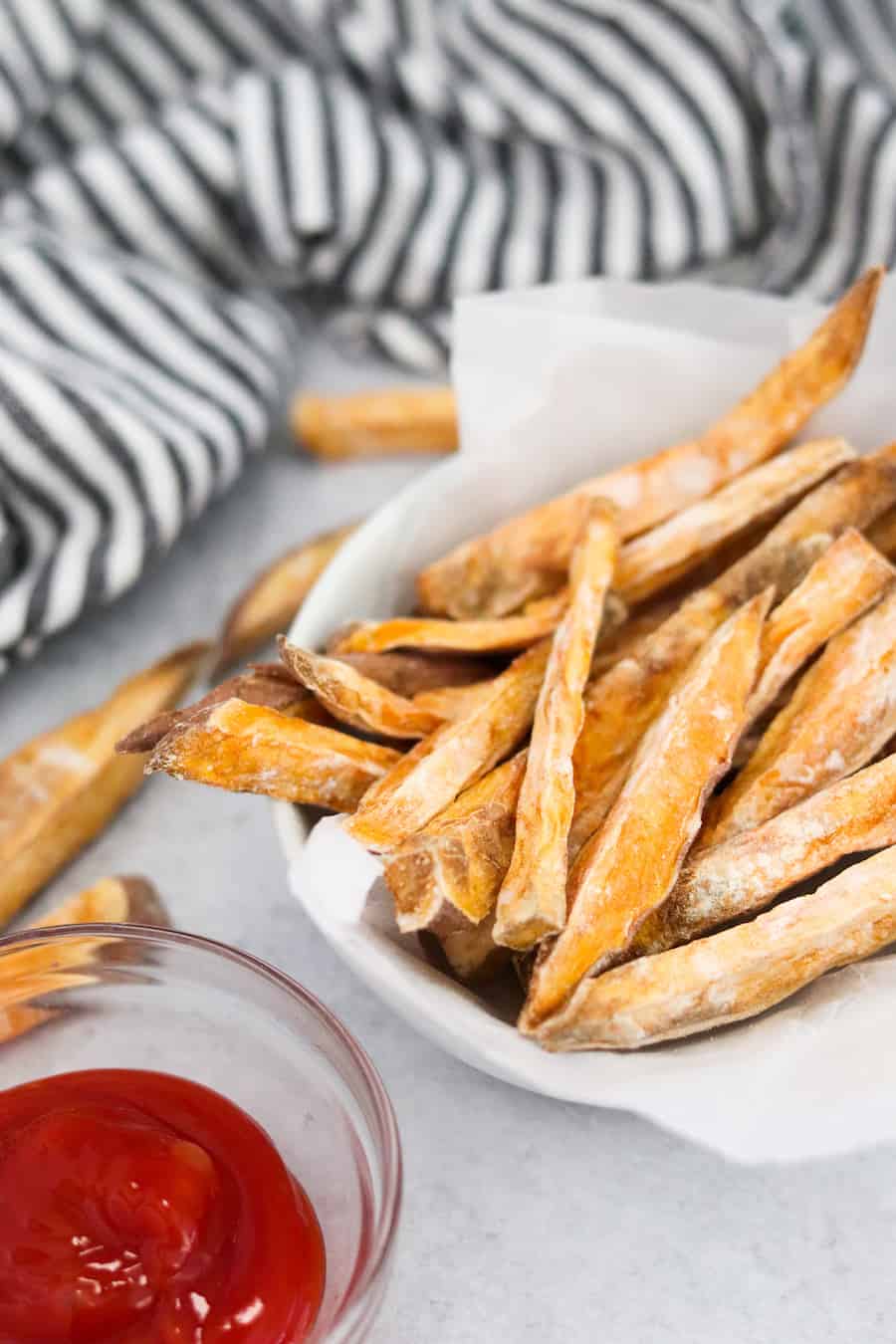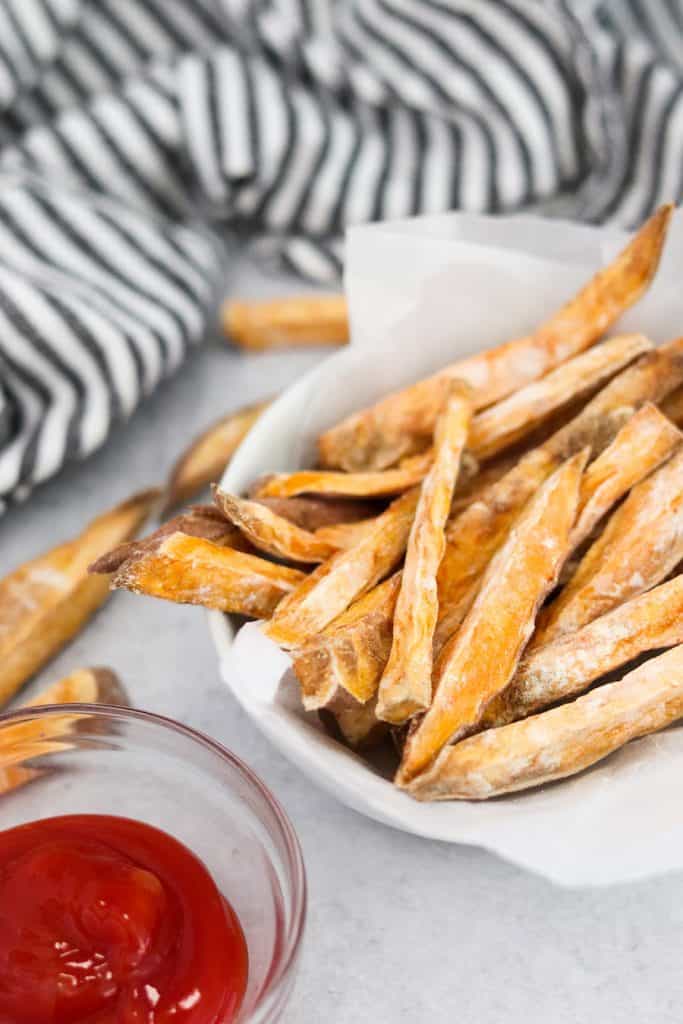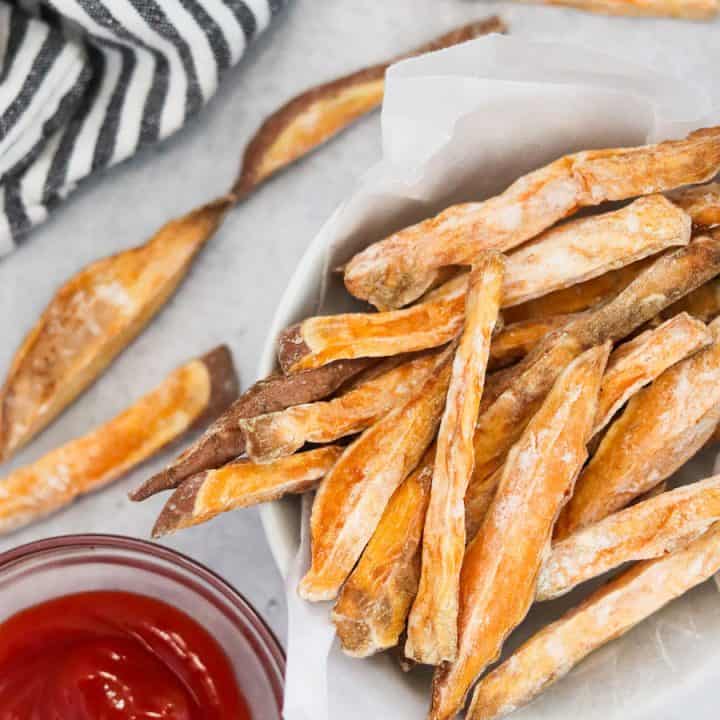 Crispy Air Fryer Sweet Potato Fries
These crispy air fryer sweet potato fries are my go-to side dish that takes less than 20 minutes to make!
Ingredients
2 medium sweet potatoes
2 tsp cornstarch
dash of salt
Instructions
Slice sweet potatoes in to ~1/4' strips
Place sweet potatoes into a large bowl and toss with cornstarch
Lightly spray an air fryer basket with non-stick spray and place fries into basket
Air fry for 15 minutes at 370 degrees, shaking the basket 1-2x in that time
Serve warm & enjoy!
Notes
To cook these in the oven: Preheat oven to 375. Lightly spray a baking sheet with non stick spray. Place fries in a single layer and bake for ~40 minutes, turning over once halfway through
Nutrition Information:
Yield:

2
Serving Size:

1
Amount Per Serving:
Calories:

113
Total Fat:

0g
Saturated Fat:

0g
Trans Fat:

0g
Unsaturated Fat:

0g
Cholesterol:

0mg
Sodium:

119mg
Carbohydrates:

26g
Fiber:

4g
Sugar:

7g
Protein:

2g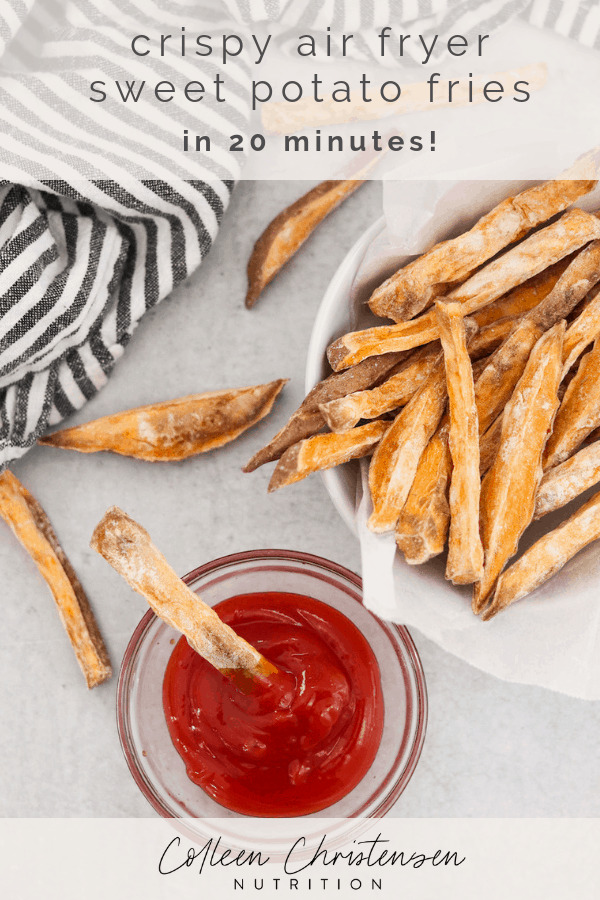 There you have it! My go-to quick, weeknight side dish. Give it a go and leave a comment with how they turned out!!
Happy eating!
XOXO
-Colleen
Want more recipes like this? You might like these: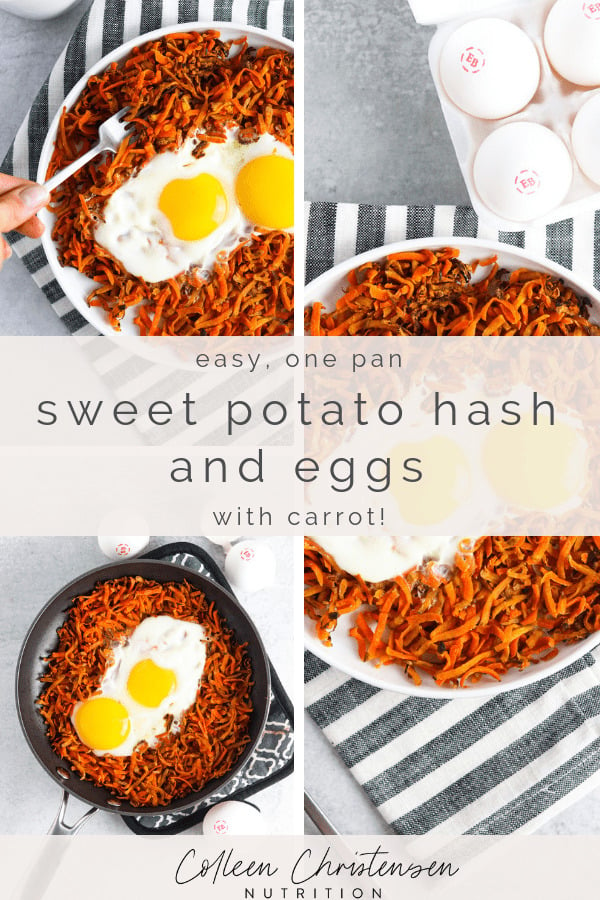 Sweet Potato Hash & Eggs