Your favorite pizza is cooked to perfection every time with a gooey top and crispy yet fluffy crust! It's great for a meal or snack when you're short on time since it only takes 10 minutes to cook!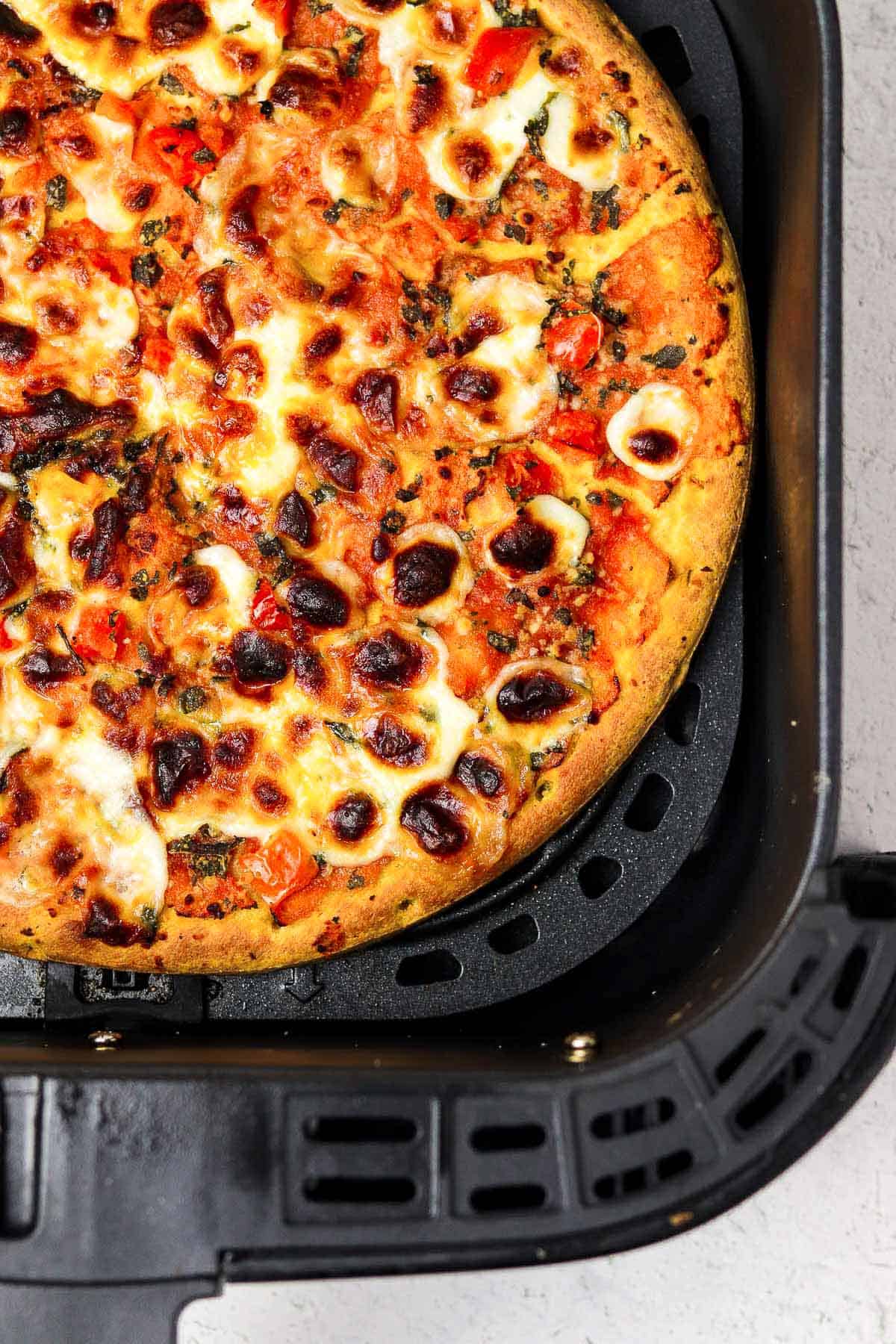 Why This Recipe Works
I love using my air fryer to cook basically everything, including frozen pizza! It's the fastest way to cook food because the air circulates rather than stays stagnant like in a conventional oven. Air fryer frozen pizza is great for a snack or a quick meal!
Plus, cooking pizza in the air fryer gives it the perfect little crisp on the outside while leaving the cheese still ooey and gooey, not at all over cooked!
If you love the air fryer as much as I do be sure to checkout my recipes for juicy air fryer burger patties, air fryer BBQ chicken and extra crispy spicy chicken nuggets! Pro tip: Put any of these ON your pizza to add a little boost of feel full protein… I am Registered Dietitian after all!
What You Need For This Recipe
All you need for this recipe is an air fryer and a frozen pizza!
You can use any size frozen pizza. If yours doesn't fit in your air fryer you can cut it into slices while it's still frozen and then put it in the air fryer to cook.
How To Make Frozen Pizza In The Air Fryer
Making your 'za in the air fryer is super easy and takes just about 10 minutes!
The best temperature to cook frozen pizza at is 370 degrees. I do highly recommend preheating your air fryer. The air fryer I have , an Instant Pot 6qt Vortex air fryer, has a pre-heat setting but if yours doesn't you can preheat it by setting it to the temperature you're planning to cook at and letting it run for ~5 minutes
Cook frozen pizza in the air fryer at 370 degrees for ~10 minutes. If you're using a thinner crust pizza you may want to check it closer for 8 minutes and if your pizza has a super thick crust you may need to add an additional minute or so.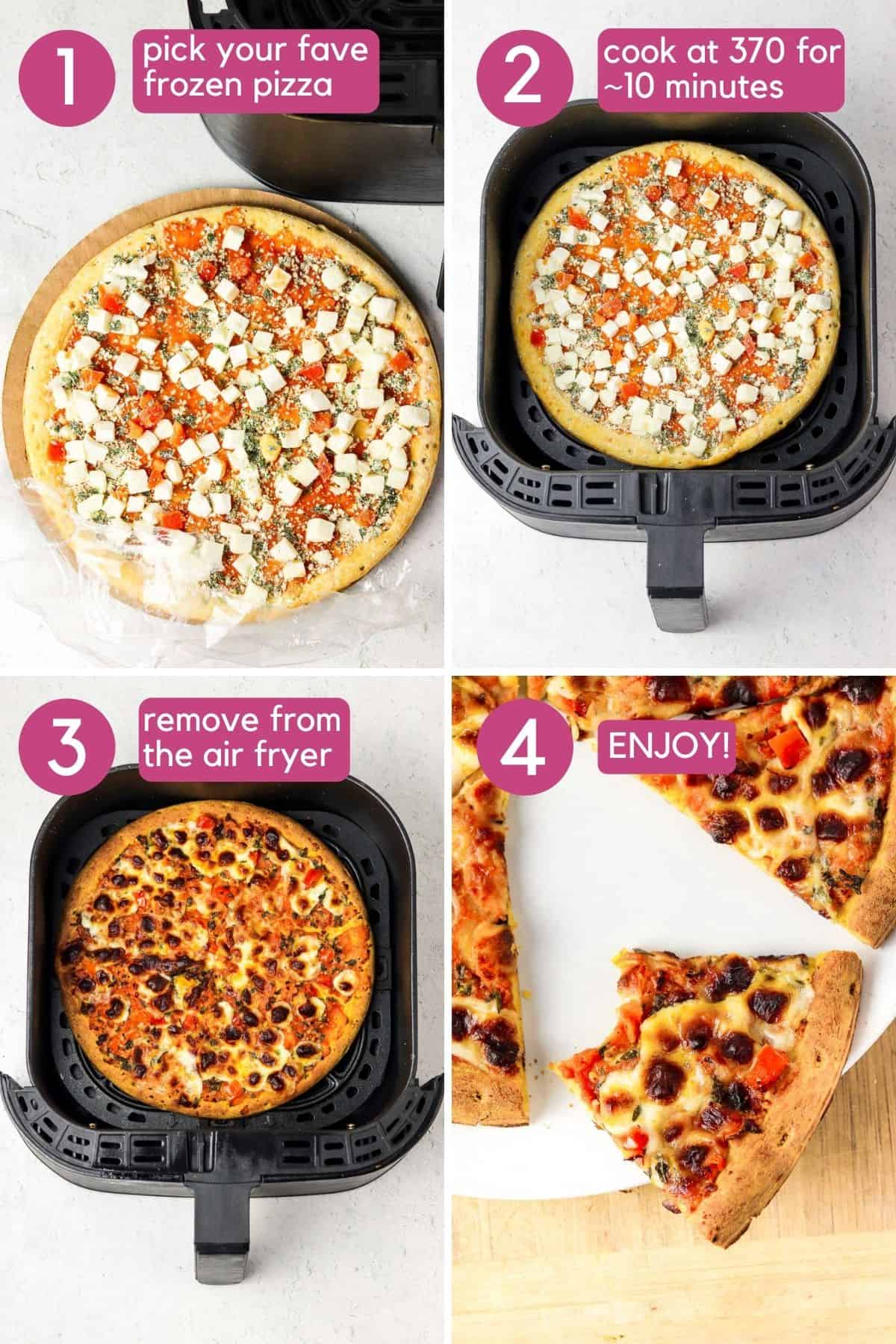 Usually when you air fry food you want to flip it halfway through to ensure even cooking but with a pizza you don't need to do this. I'm pretty sure your toppings would fall off and it would create a huge mess is your air fryer basket!
After your 10 minutes are up slice of that pizza pie and enjoy it!
Recipe FAQs
Can You Air Fry Leftover Pizza?
Totally! Cook at 370 degrees for ~5 minutes until pizza is warmed. If your pizza has a thick crust I'd recommend popping it in the microwave for ~60 seconds first to get the entire thing warm, when finish it off in the air fryer. Doing this will ensure your pizza is warm throughout the entire slice, but not overly cooked on the outside.
How Do You Cook Frozen Pizza Bites In An Air Fryer?
To cook frozen pizza bites in an air fryer you'll want to set your temperature to 370 degrees. Be sure to pre-heat your air fryer before adding the pizza bites! Cook the pizza bites for ~8 minutes. I'd recommend tossing them halfway through to ensure even cooking.

I have a recipe for homemade air fryer pizza rolls that is SO fun and easy to make! They use a surprising ingredient but it's KEY!
Can You Cook Frozen French Bread Pizza In Air Fryer?
Yes! Cook french bread pizza just as you would regular pizza, at 370 degrees for ~10 minutes. If your pizza is super thick it might need to go in for a few extra minutes.
Other Recipes You Might Like:
If you try making pizza this way be sure to leave a star rating on the recipe card and also let me know in the comments what your fave pizza topping is! Mine is mushrooms!
XOXO
-Colleen
This blog post contains affiliate links, which means that if you click on a product link, I may receive a commission. All opinions are my own, and all brands featured represent what I personally like and support. This blog is a participant in the Amazon Services LLC Associates Program, an affiliate advertising program where I earn advertising fees by linking to amazon.com.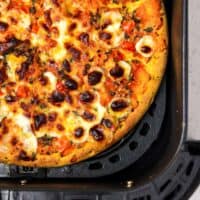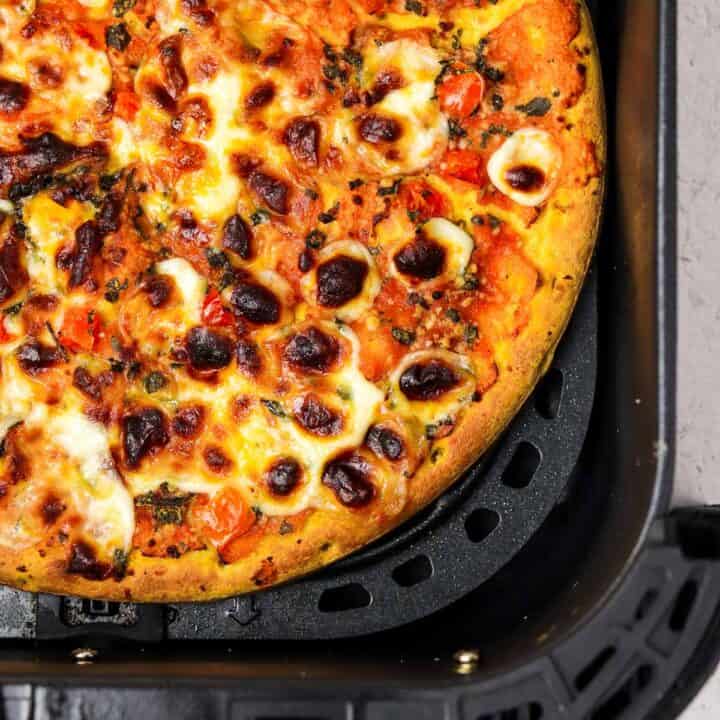 Perfectly Cooked Air Fryer Frozen Pizza
Air fryer frozen pizza is gooey on top yet has a perfectly crisp crust! A great meal or snack ready to eat in 10 minutes!
PRINT RECIPE
Instructions
Preheat oven to 370 degrees. If you don't have a pre-heat setting simply let your air fryer run for ~5 minutes.

Spray the air fryer basket with non-stick spray and place the pizza inside. If you pizza doesn't fit whole you can cut it in slices then insert.

Cook for ~10 minutes. I like to check it at ~8 minutes for thinner crust.

Remove pizza from the air fryer when finished cooking, cut and enjoy!
Notes
You can use any type of pizza you like!
If your crust is thin check it after 8 minutes. If it is thick it may need an additional minute or so.
If re-heating previously cooked pizza reduce time to ~5 minutes.
For pizza bites reduce time to 8 minutes.
French bread pizza will follow the same instructions.
click To display nutrition info
Nutrition Facts
Nutrition Facts
Perfectly Cooked Air Fryer Frozen Pizza
Amount per Serving
% Daily Value*
* Percent Daily Values are based on a 2000 calorie diet.