Air fryer pizza rolls is the best way to enjoy the pizza taste we all love. Crispy on the outside and gooey on the inside. Making these easy homemade pizza rolls in the air fryer will be your new favorite thing!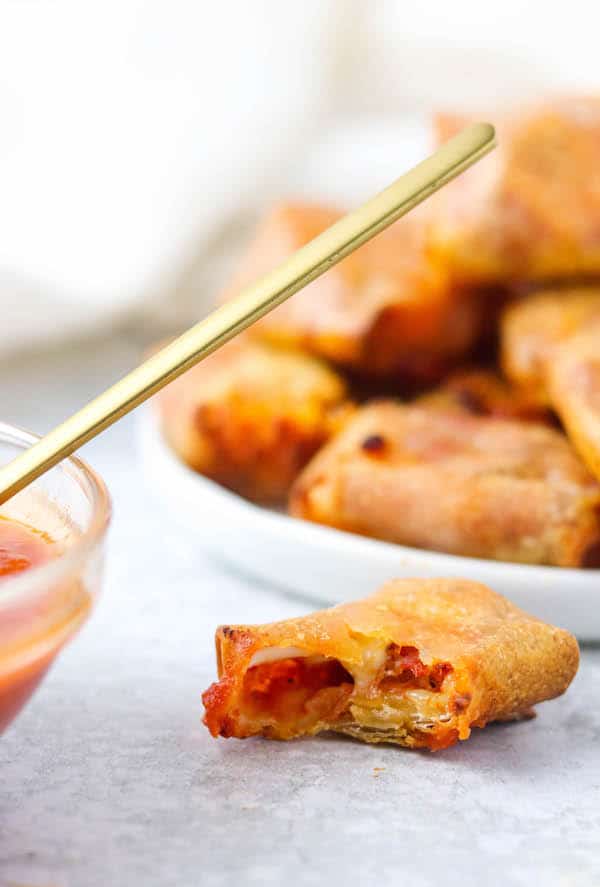 Can You Cook Pizza Rolls In Air Fryers?
Honestly? It's the only way I'd do it! I'm going to share with you my super easy homemade pizza rolls recipe- it's so good! But, you can totally use frozen pizza rolls in air fryers.
Both me and my husband loved these pizza rolls. We tested these multiple times in order to get them just right- which neither of us hated because, well, we got to eat a lot of pizza rolls! Besides being delicious, all of that testing means that I (well, WE) finally got the recipe perfect! Be sure to save this recipe to your Pinterest board- you're going to want to come back to it. Or, send it to some mom friends- nourishing pizza rolls the whole family will love!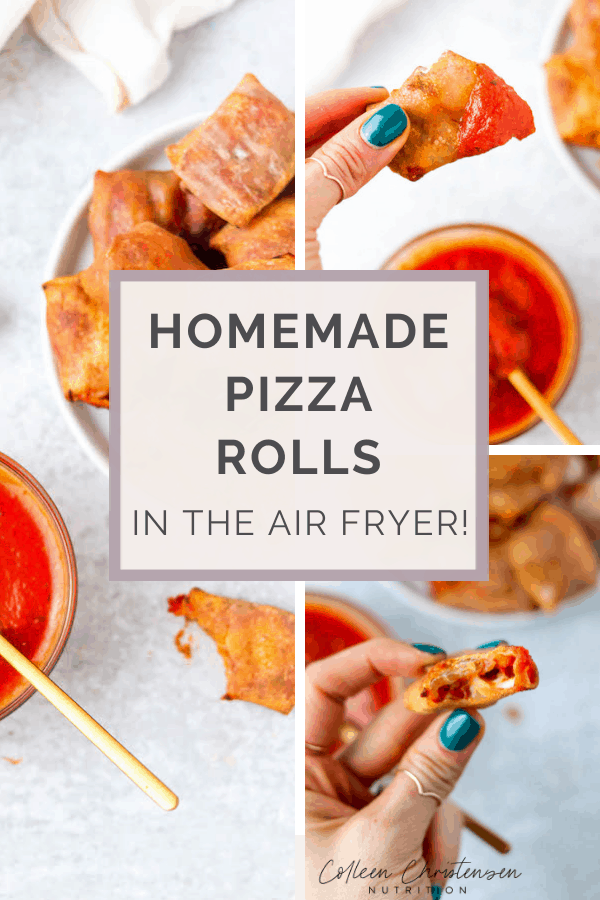 Wonton/Egg Roll Wrappers: The Secret Ingredient
Okay, before you go calling me crazy for basically making pizza egg rolls, hear me out. Wonton wrappers are the PERFECT crust for this pizza rolls recipe! It's really hard to get pizza dough thin enough and, honestly, look pretty enough to make a good pizza roll. Trust me, I tried! They give you the perfect crispy outside and keep the inside just the gooey pizza goodness. So, no. You won't feel like you're eating a pizza egg roll… unless you think about it hard enough!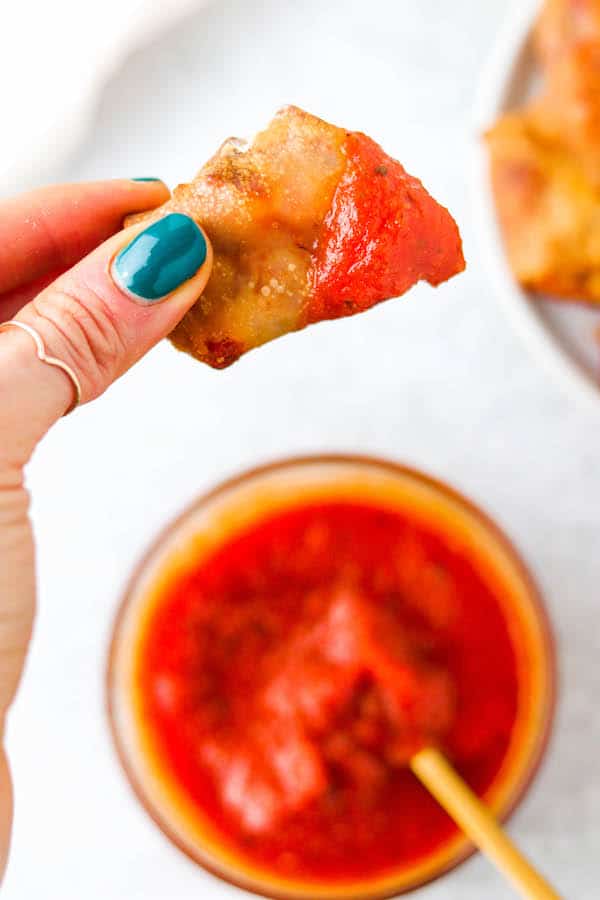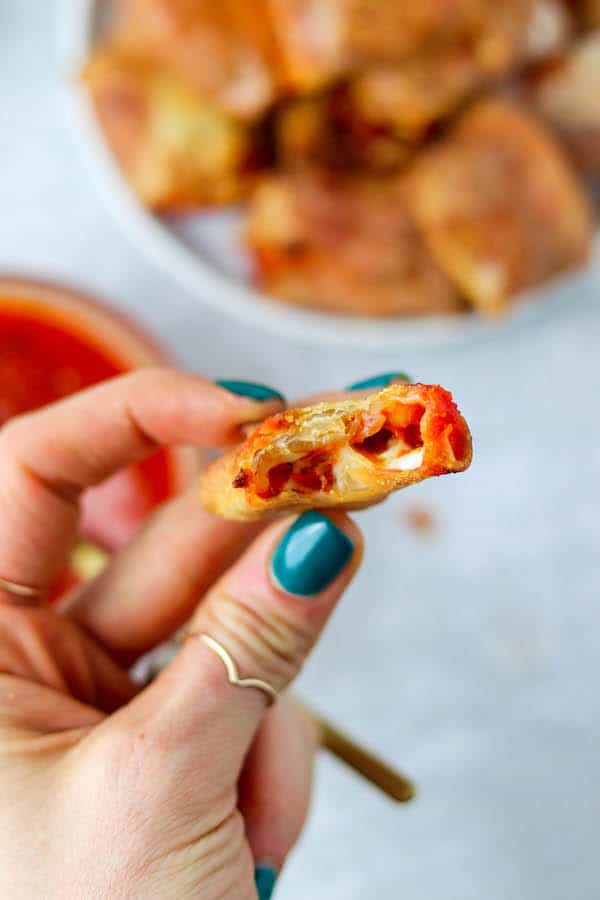 Are These Pizza Rolls healthy?
Oh, my favorite question! If you guys know me at all you know about my no food rules approach to nutrition and I'm a huge supporter of intuitive eating. No food is "good" or "bad" and no food is "healthy" or "unhealthy". Any times you put a certain food on a pedestal and kick others to the curb you're probably going to wind up binge eating the "bad" stuff. It's biology. Not a lack of will power.
BUT. I do believe that some foods are more nourishing for the body than other. Some are more nourishing for the mind and soul. These air fryer pizza rolls? They're on the more nourishing for the body said than the typical frozen kind, meaning: your body might feel a little better after these. But if you're craaaaaaving the frozen kind? Throw those frozen pizza rolls in the air fryer! You do you.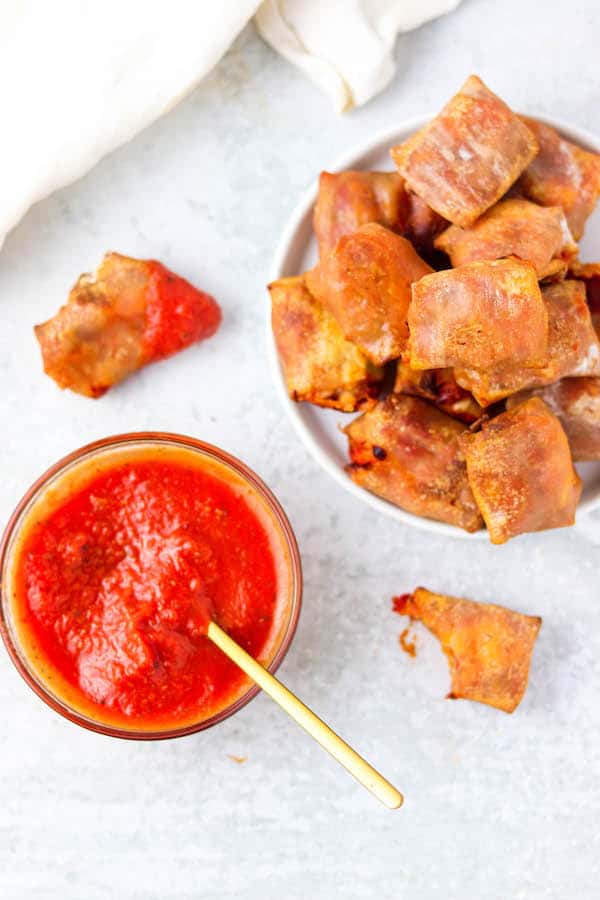 How To Make Air Fryer Pizza Rolls
Lay out a wonton wrapper and on one side (split the longest length in half) place a pizza sauce, mozzarella cheese, and pepperoni. (Or swap for whatever fillings you want!!)
Fold the naked side of the wonton wrapper over the pizza roll fillings and fold the sides over to create a pocket. Be sure to press the sides nice and tight so nothing falls out!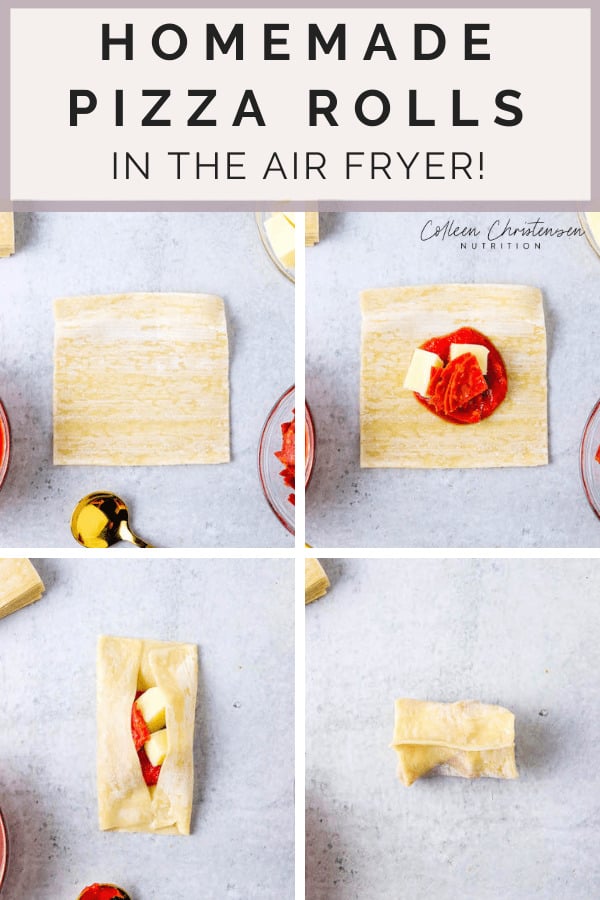 How Long To Cook Pizza Rolls In An Air Fryer
Cook your pizza rolls in the air fryer at 370 degrees for about 10 minutes. Be sure to stop them at the 5 minute mark and flip them over. It'll be roughly the same if you're using frozen pizza rolls in the air fryer!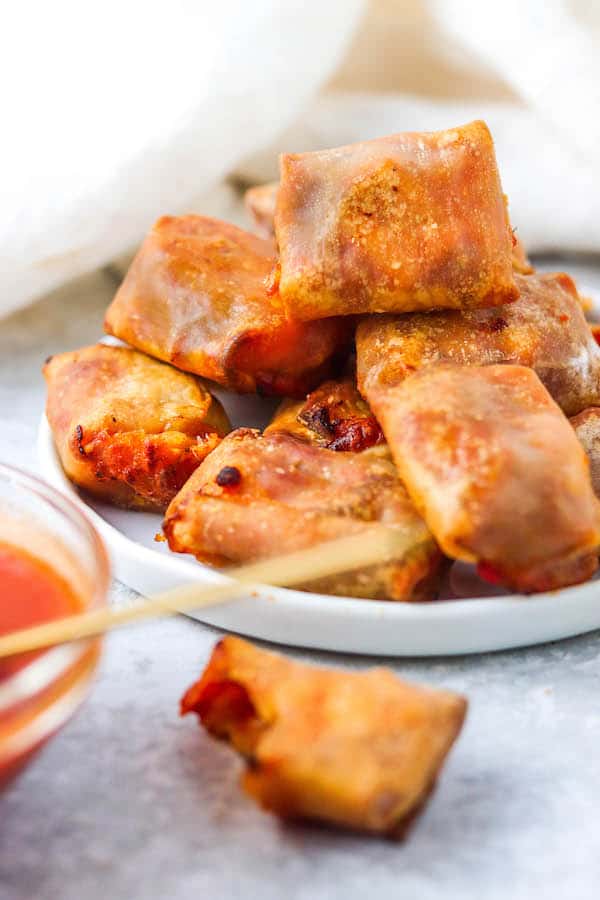 Can These Be DIY Frozen Pizza Rolls?
Totally! You can easily make these ahead for DIY frozen pizza rolls! Be sure to store them in a freezer bag with all of the air sucked out. You can freeze these uncooked or cooked!
If you're looking for an air fryer I have one that I recommend on my gift guide & must haves post. It's so affordable!
Give this recipe and try and leave a comment with what fillings you used! Pepperoni, sausage, 3 cheese, veggie… the possibilities are endless!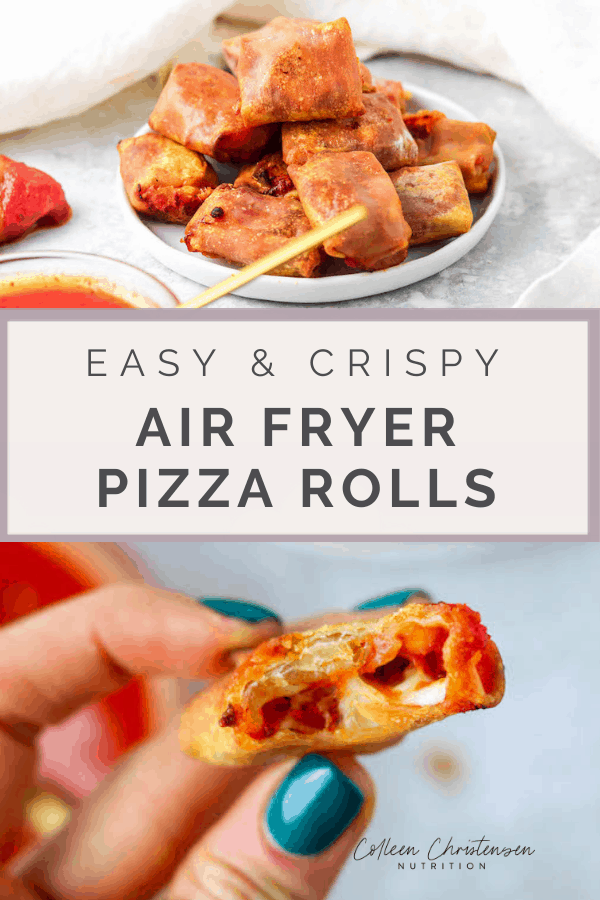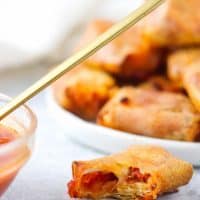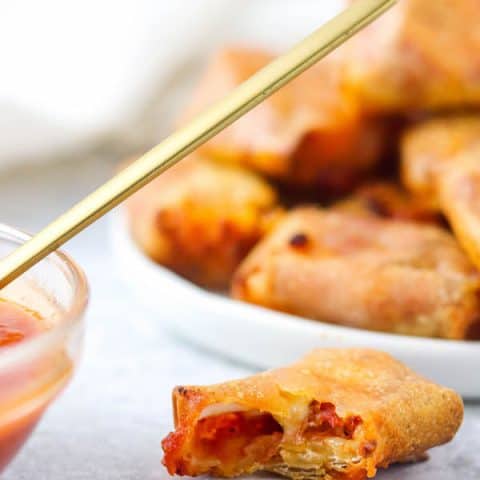 Air Fryer Pizza Rolls
Homemade pizza rolls in the air fryer are SO easy to make! This recipe for fryer pizza rolls have a crispy outside and gooey, cheese filled inside.
PRINT RECIPE
Ingredients
~15 wonton wrappers

1

jar pizza sauce

8-10oz

1

block of mozzarella cheese

8oz, cut into ~1/4" cubes

1

package pepperoni

~8 oz, diced

2

tbsp

water
Instructions
Place uncooked wonton wrapper on a cleared workspace and place 1 tsp pizza sauce, 1-2 cubes cheese and ~4 pepperoni pieces (roughly 1 whole pepperoni) in the center of the wonton wrapper

Wet your finger with water and outline the edges of the wonton wrapper

Fold the side inwards and press down firmly

Add a dab of water to both the top and bottom (see video and images for visual instructions) and pinch those inwards, creating a pocket, like wrapping a present

Put another dab of water on one side of the flap sticking up of the sides you just pressed together and fold down

Repeat this process with remaining wontons (can make as many or as few as you like!)

Lightly spray the basket of an air fryer with non-stick spray

Cook for a total of 10 minutes at 370 degrees, flipping over the pizza rolls after 5 minutes

Enjoy!
Notes
You can add in whatever fillings you like such as veggies, sausage, extra cheese, etc.
Nutrition information is provided as it is need for Google, however may differ based on ingredients used and you can choose whatever serving size your body asks for!
click To display nutrition info
Nutrition Facts
Nutrition Facts
Air Fryer Pizza Rolls
Amount per Serving
% Daily Value*
* Percent Daily Values are based on a 2000 calorie diet.
INSERT RECIPE HERE
Happy eating friends!
XOXO
-Colleen
Want more recipes like this? You might like these: