Perfectly crisp outside and a gooey, cheesy inside! This recipe for a crispy air fryer quesadilla makes a quick meal that both adults and kids will love!
If you guys hang around here at all you know that my air fryer is basically my favorite thing and if it were a person I'd probably marry it. (Don't tell my husband!) But seriously, I have SO many air fryer recipes on here from air fryer muffins to air fryer sausage and peppers, air fryer meatloaf, and even air fryer pop tarts! I love that it is SO fast at cooking and that it makes things SO deliciously crispy, making the PERFECT fryer quesadillas!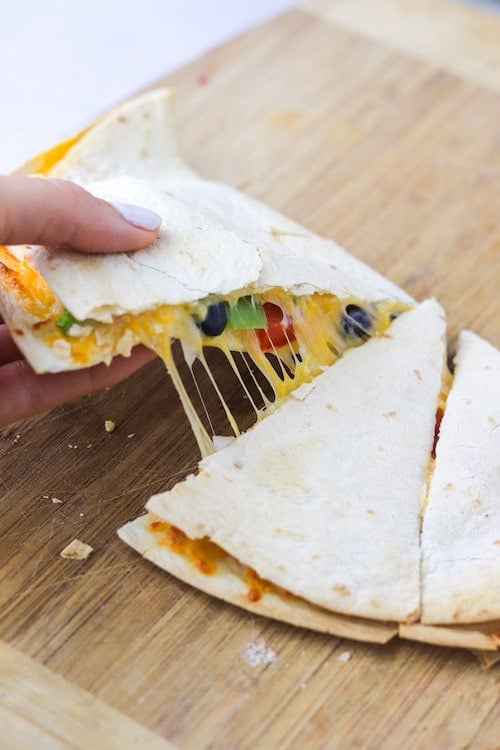 You can find the air fryer that I recommend on my fave things post!
What I love about this meal is that it is SO versatile for literally whatever you have on hand! You can use flour or corn tortillas, fill it with chicken/beans/tofus/veggies, and top them with whatever you like, like salsa or a batch of my legendary 2 minute avocado lime crema.
I mean really, chicken quesadillas, bean quesadilla, buffalo chicken quesadillas, veggie quesadillas… the possibilities are endless!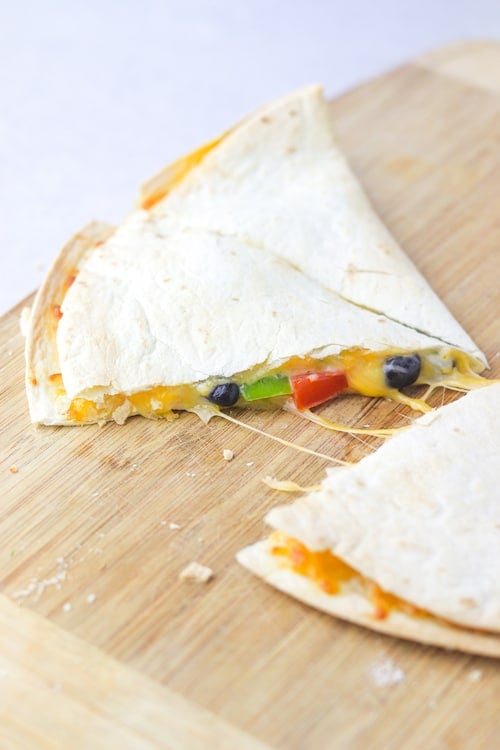 How To Make An Air Fryer Quesadilla
Assembling your air fryer quesadilla is pretty simple. All you have to do is take a tortilla, I recommend the big burrito size, and on half of it place HALF your cheese and any other fillings like:
shredded chicken
beans
tomatoes
peppers
onions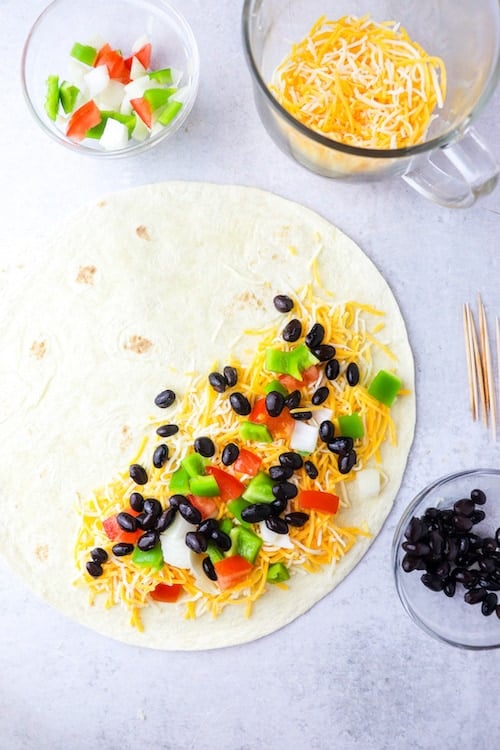 Like I said, the options are actually ENDLESS! Once you have those added add the second half of your cheese. This helps your quesadilla stay shut and not open and have all of your toppings fall out. TRAGIC!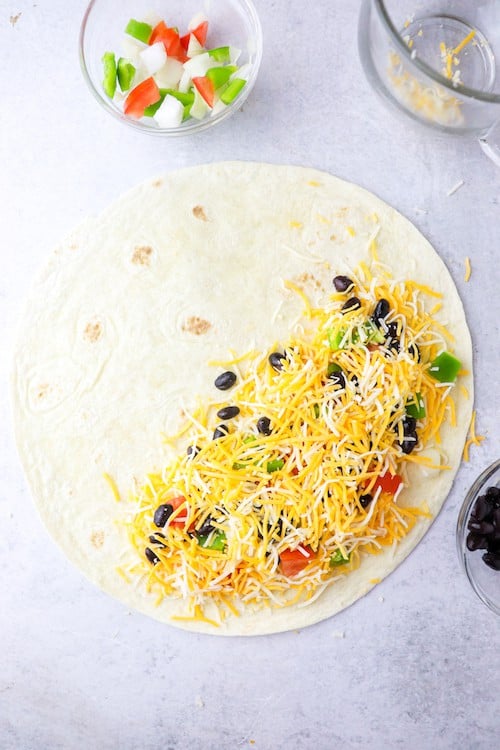 Once you have all of the fillings inside then fold the tortilla in half and press down. I'd recommend inserting a toothpick to help your air fryer quesadilla stay folded in half.
The reason that I recommend the toothpick is because air fryers circulate air, meaning it can be easy for the tortilla to lift up. I mean, this isn't BAD, but it'll leave you more with a flat, pizza like quesadilla and, well, that's just not the goal now is it?!
I also would recommend spraying both the air fryer basket and the outside of the tortilla with non-stick spray. It will prevent stick and also give you some amazingly crispy outside edges to your quesadilla!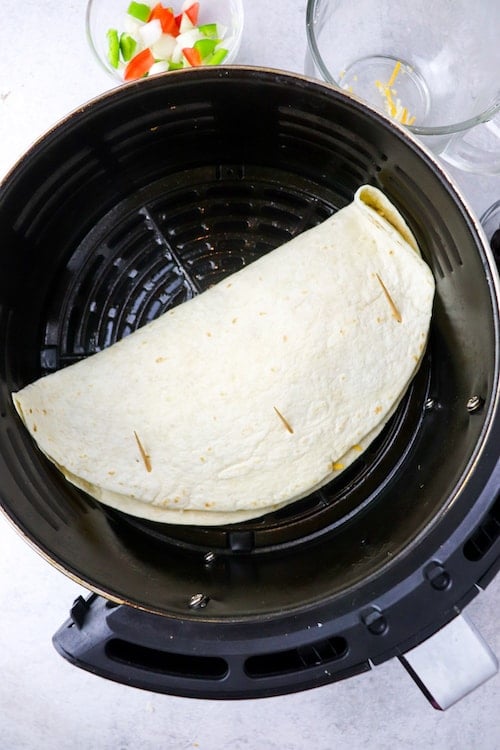 Now, place your quesadilla in the air fryer basket and cook at 370 for 5 minutes.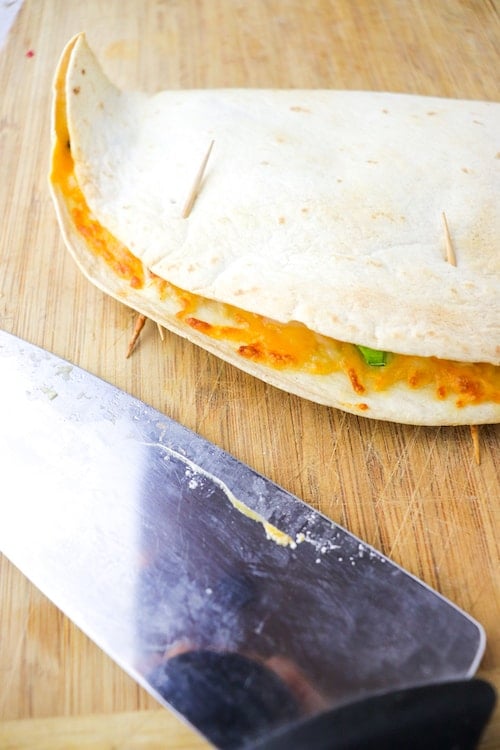 Remove your quesadilla from the air fryer basket and cut into triangles!
Now grab yourself a slice and DEVOUR! Bonus points if you get yourself a niiiiiiice instagrammable "cheese pull" as you snag your slice! Drool worthy.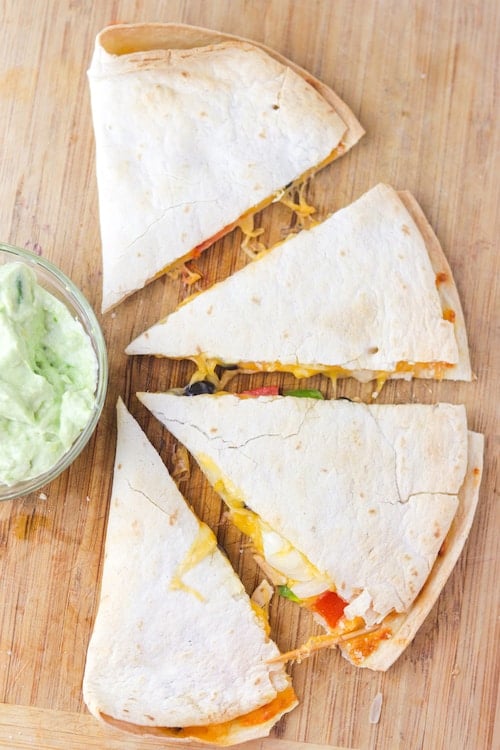 Best Tortillas For Air Fryer Quesadillas
I've tried this recipe with multiple types of tortillas and while you can us really any I find that flour tortillas tend to work better. I think this is because of their weight VS the corn tortillas, which tend to be lighter. The lighter weight tortillas tend to "flip up" like I kind of talked about.
If you do decide to go with a corn tortillas try to get one with some weight to it, use some toothpicks to keep it in place, and check it after about a minute to make sure it hasn't moved.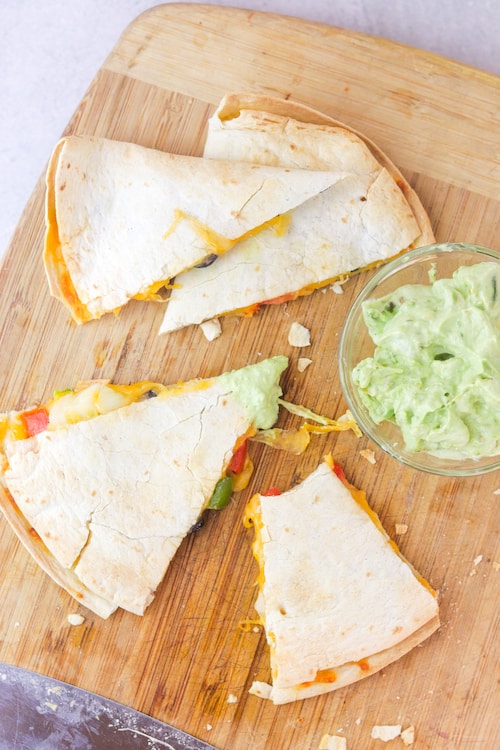 I also like to use the large, burrito size tortillas over the smaller taco size ones. I feel that these have a better chance of staying in place. Again, if you decide to use two smaller taco sized tortillas over a larger burrito size, use more toothpicks to help it stay in place.
I've also done quesadillas made in the air fryer with flatbreads. I really like the flatbreads from Aldi, they're like the Flatout flatbreads, but Aldi brand. They work really well.
I've also done these with some of the more "speciality" wraps, like protein enriched ones. Aldi has some of these, too.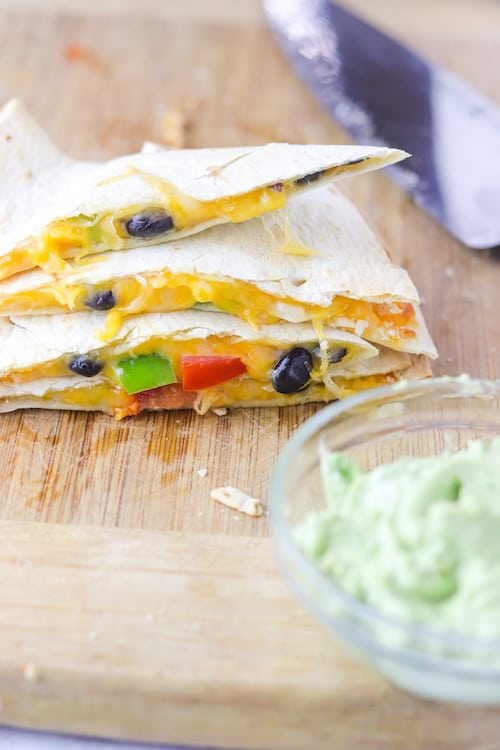 The Best Cheese For Homemade Quesadillas
For the cheese, I like to just use the Mexican blend shredded cheese. One thing to note is that the best cheese to use is one that is full fat. Reduced or fat free just doesn't melt as well.
Also, the more things that you add to your quesadilla, the more cheese I recommend adding. If you add too many fillings and not enough cheese your quesadilla won't stick together well.
Now the question is… what would YOU fill your quesadilla with?! Let me know in the comments, I'm always looking for new combos!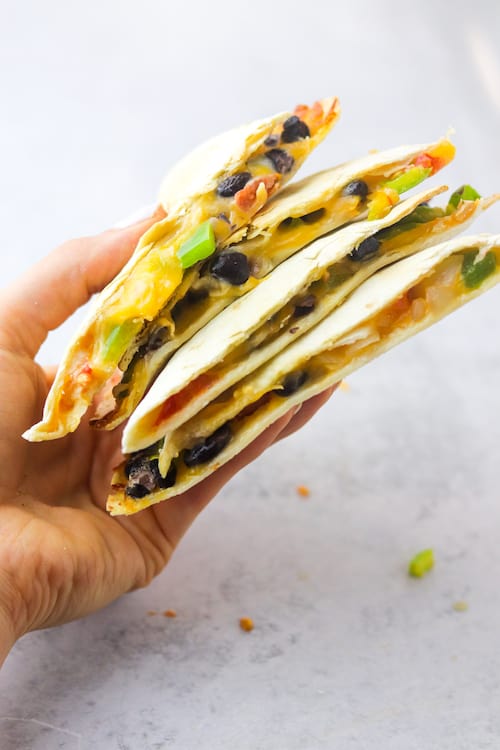 I hope you love this recipe as much as I do! Be sure to leave a star rating on the recipe card and save this recipe to your Pinterest board. I'd love you forever!
XOXO
-Colleen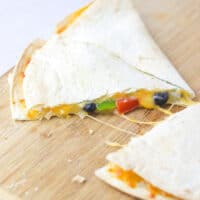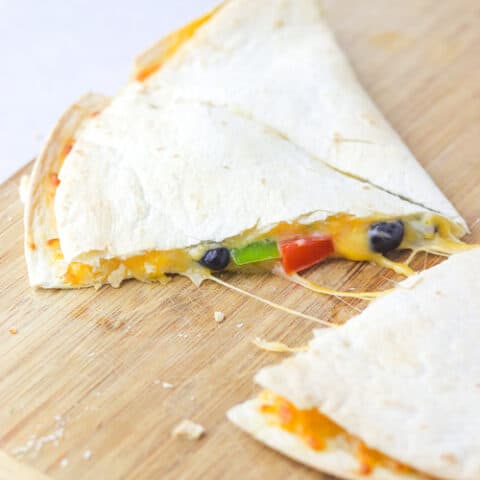 Crispy Air Fryer Quesadilla
Perfectly crisp outside and a gooey, cheesy inside! This recipe for a crispy air fryer quesadilla makes a quick meal that both adults and kids will love!
PRINT RECIPE
Ingredients
1

large flour tortilla

2/3

cup

full fat shredded cheese

I used Mexican blend

~1/4 cup veggies

optional; I'm using bell pepper, onion and tomato

~1/4 cup protein source beans/shredded or ground meat/ eggs /etc

optional, I am using beans

Toothpicks
Instructions
Take your tortilla and place 1/2 of the cheese on one side.

Then, place your veggies and protein (beans, chicken, etc) on top of the cheese.

Add remaining cheese on top and fold the tortilla in half, using a toothpick or two to close.

Place your quesadilla into your air fryer basket that has been lightly sprayed with non-stick spray. Optional: Place your air fryer rack on top to prevent it from opening, as well.

Cook at 370 for 5 minutes until cheese is melted thoroughly.

Remove from the air fryer, place on a cutting board and cut into triangles.
Notes
May use any type of tortilla, but I find flour works best.
May use smaller taco or fajita sized tortillas, but be sure to use toothpicks to keep the tortillas in place.
click To display nutrition info
Nutrition Facts
Nutrition Facts
Crispy Air Fryer Quesadilla
Amount per Serving
% Daily Value*
* Percent Daily Values are based on a 2000 calorie diet.