This avocado lime crema of the easiest, yet most impressive, recipes I make! Full of heart healthy fats and made with greek yogurt, this avocado crema will give you a sneaky protein punch to help keep you full!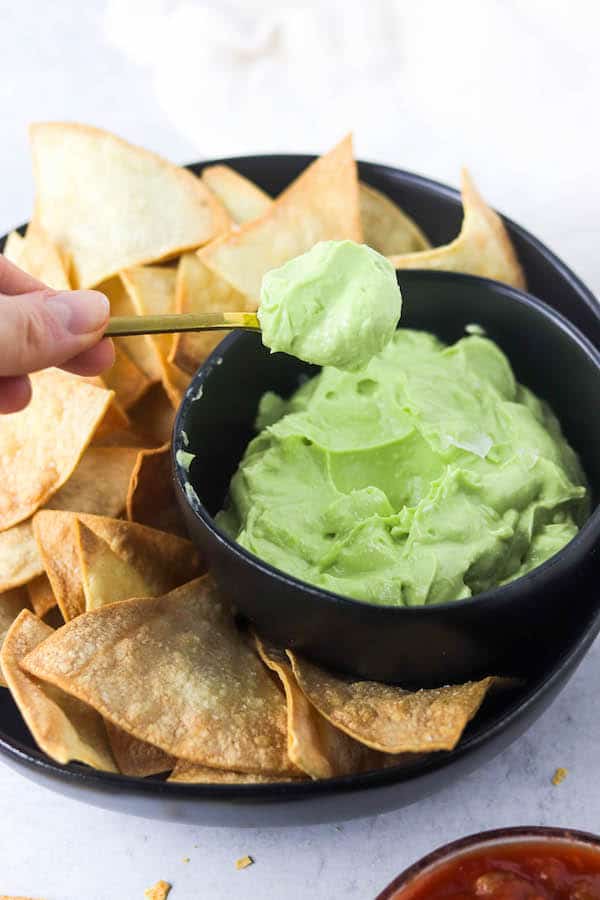 Every time I made this creamy, delicious green goodness my husband says "YES! You made it again!" which obviously never fails to make me smile. I make this easy avocado lime crema at least once a week to put on top of tacos or taco salads.
Easy Ways To Tell If An Avocado Is Ripe
Okay, let's start with first things first here. How the HECK can you tell if an avocado is ripe? The worst thing is wanting to make this avocado lime creme and realizing your avocado is rock hard or getting brown.
But, honestly? I'll still use the avocados even if they aren't perfectly ripe. That's kinda the beauty of this recipe. The greek yogurt and lime totally hide any imperfect-ness of the avocados.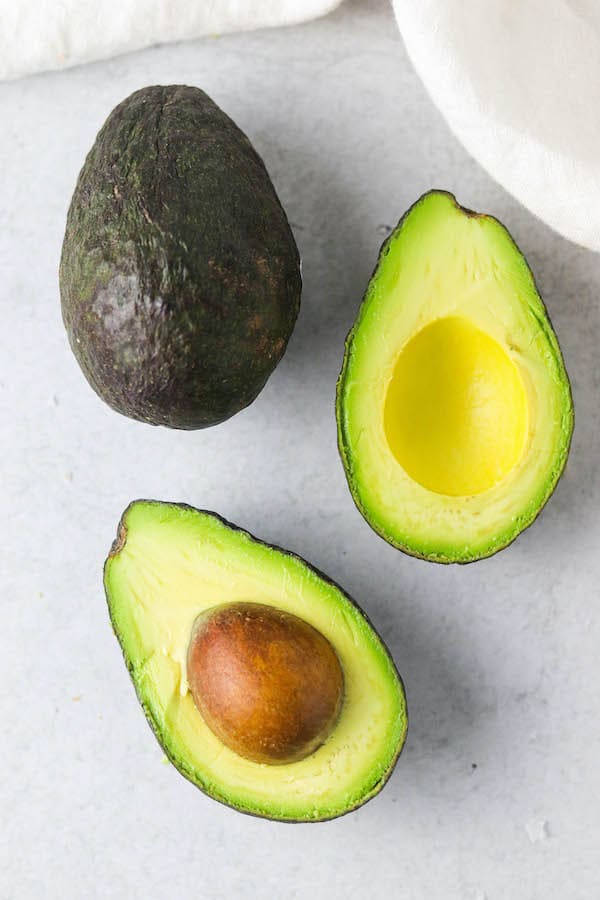 Basically, here is what you want to look for:
the stem (little brown piece) should come off easily & be green underneath (not brown)
no visible brown spots on the skin
have juuuust a little bit of give when you press on the side
Otherwise, if you need to ripen an avocado quickly, store it in a brown paper bag on the counter or in the pantry.
Rather, need to slow your avocados roll on the ripening front, throw it in the fridge!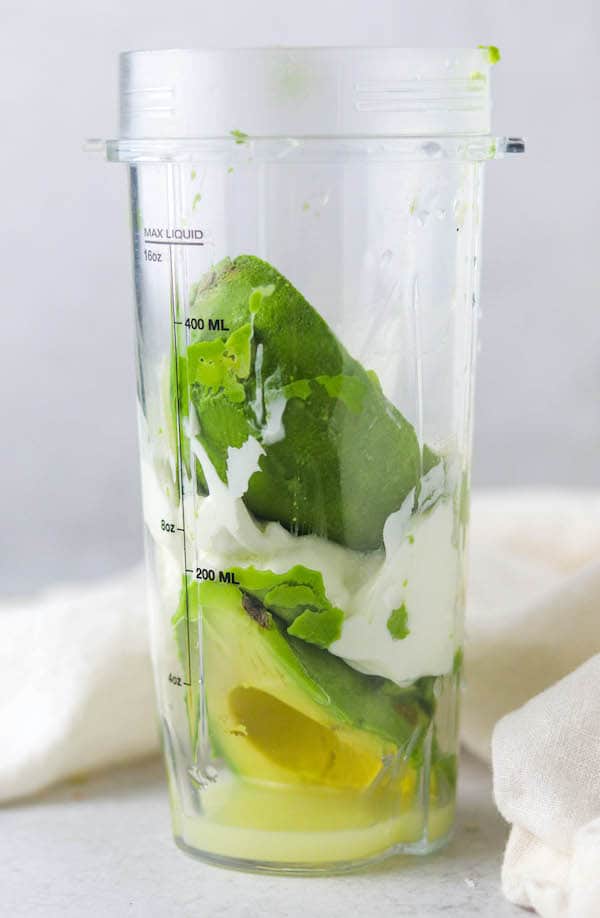 How To Make Avocado Lime Crema
Alright, friends. This is about to be short and sweet, ready?
Step One: Throw all ingredients into a blender & blend for ~1 minute
Step Two: Eat.
Yup, that's it! Takes you all of about 2 minutes to make this avocado lime crema! Now, if your avocado is on the hard side, not totally ripe, it might take you a little bit more blending time, but not too too much. I'd say you'd cap out at 3-5 minutes total. Still not freaking bad!
Also, if you need help on how to pit an avocado, checkout this handy little article!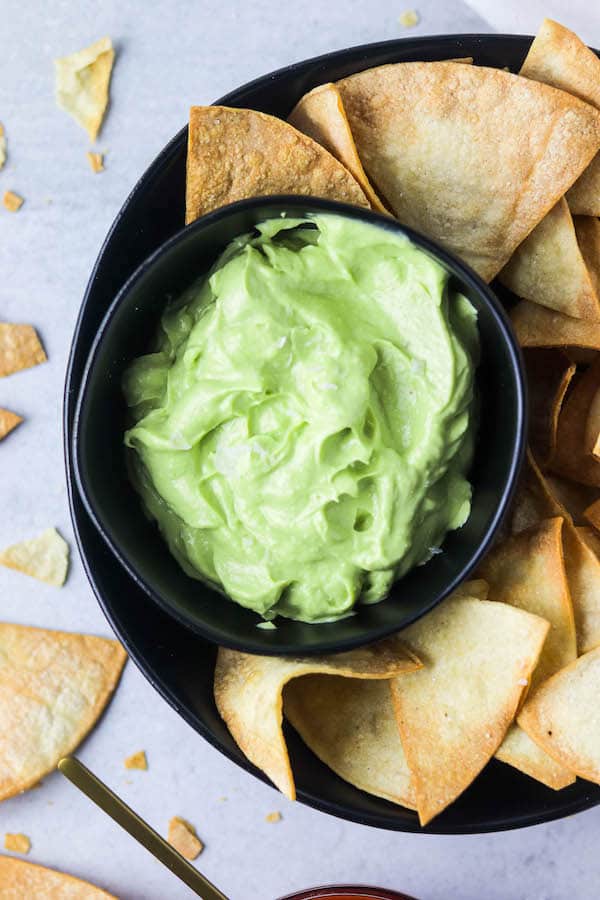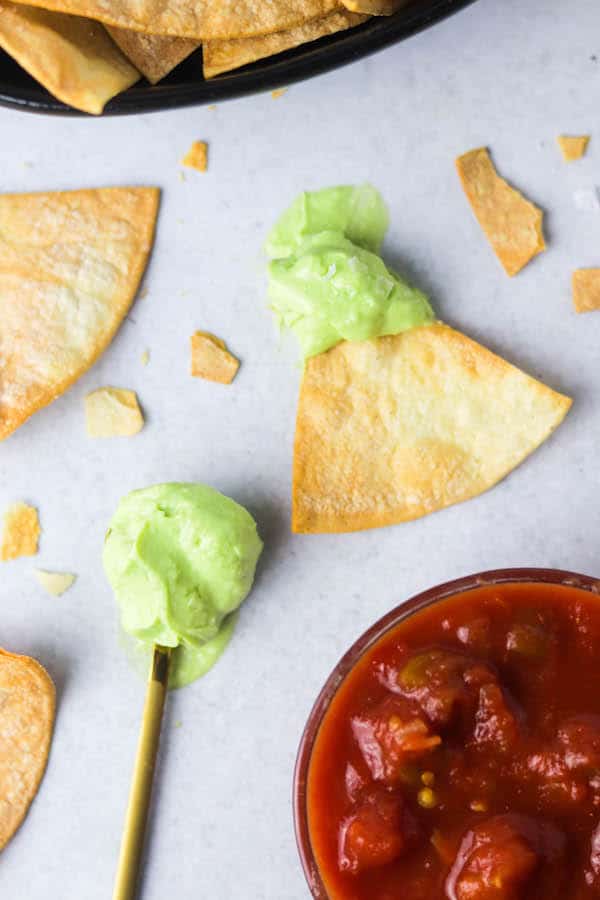 What To Serve Avocado Lime Crema With
Almost always I'll put a huge dollop with this goodness on top of tacos or taco salad, like I said. Also, we like to make a bowl of it and eat it with tortilla chips, like guacamole! Actually, my husband calls it "fancy guacamole"! If you haven't tried my air fryer tortilla chips recipe yet, ya GOTTA! Totally a copycat restaurant style tortilla chip made in 4 minutes!
Give this avocado lime crema a try and I think you're going to become just as obsessed with it as I am! If you like this recipe I'd love for you to give it a star rating and leave a comment!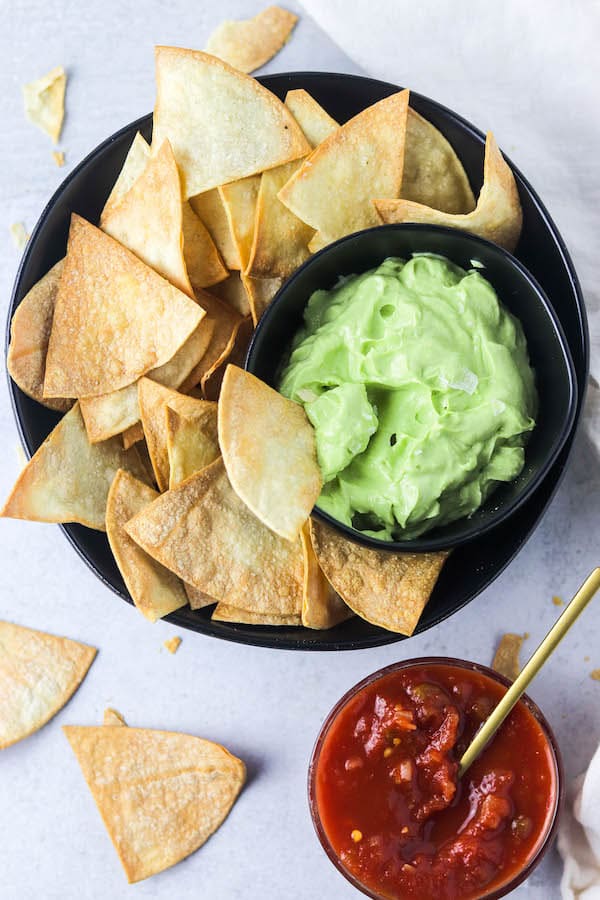 XOXO
-Colleen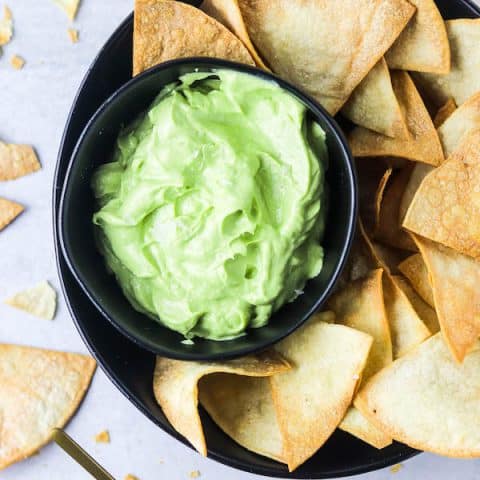 2 Minute Avocado Lime Crema
Smooth and creamy, this avocado crema has the perfect touch of lime and is made in only 2 minutes! Serve with chips as a "fancy" guacamole or dollop on top of tacos.
Ingredients
1 ripe avocado
1/3 cup plain greek yogurt
1 tbsp lime juice
1/2 tsp salt
1/2 tsp garlic powder
1/2 tsp onion powder
Instructions
Pit your avocado and remove the flesh from the skin.
Add all ingredients into a blender and blend for ~1 minute.
Enjoy with tortilla chips or on top of tacos or taco salads!
Notes
If your avocado is not quite ripe, you may need to blend for additional time.
You may use either fresh or bottled lime juice.
You can use whatever percentage fat yogurt you like.
To make this recipe vegan, use a plant-based yogurt in place of the greek yogurt.
Nutrition Information:
Yield:

4
Serving Size:

1
Amount Per Serving:
Calories:

95
Total Fat:

7g
Saturated Fat:

1g
Trans Fat:

0g
Unsaturated Fat:

6g
Cholesterol:

1mg
Sodium:

301mg
Carbohydrates:

6g
Fiber:

3g
Sugar:

1g
Protein:

3g
Want more recipes like this? You might like these!
2 Minute Turkey Avocado Sandwich