Delicious, creamy avocado lime crema made with Greek yogurt in just 2 minutes! Great for tacos, salads, fajitas or just to dip tortilla chips into!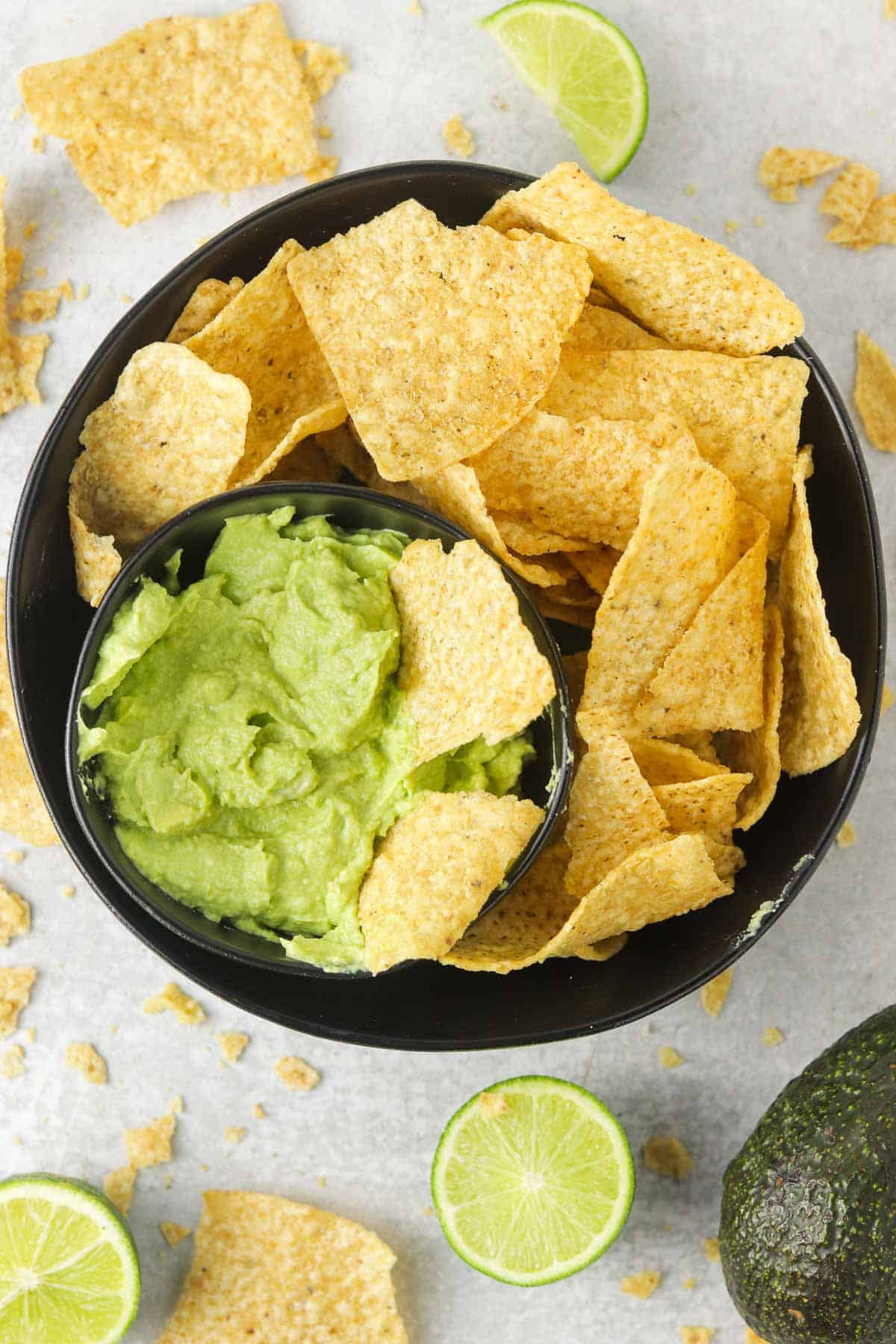 Why This Recipe Works
I'm a big fan of super easy things that you can add to a meal to make it next level delicious and this avocado lime crema does just that! Adding this to Taco Tuesday turns it from ordinary to extraordinary in just 2 minutes!
Another reason I love this recipe is because, let's be real, sometimes you won't always have a perfectly ripe avocado on hand but you still want some guacamole vibes going on. With this avocado lime crema recipe it's totally okay if your avocado isn't perfectly ripe because you're also adding Greek Yogurt which will make up for that and add creamy-ness.
We make this recipe about once a week in my house (usually for Taco Tuesday!) with either sweet pork barbacoa or Instant Pot carne asada but we also love to make a batch for snacking with some of my air fryer tortilla chips. That combo is out of this world!
Ingredients Needed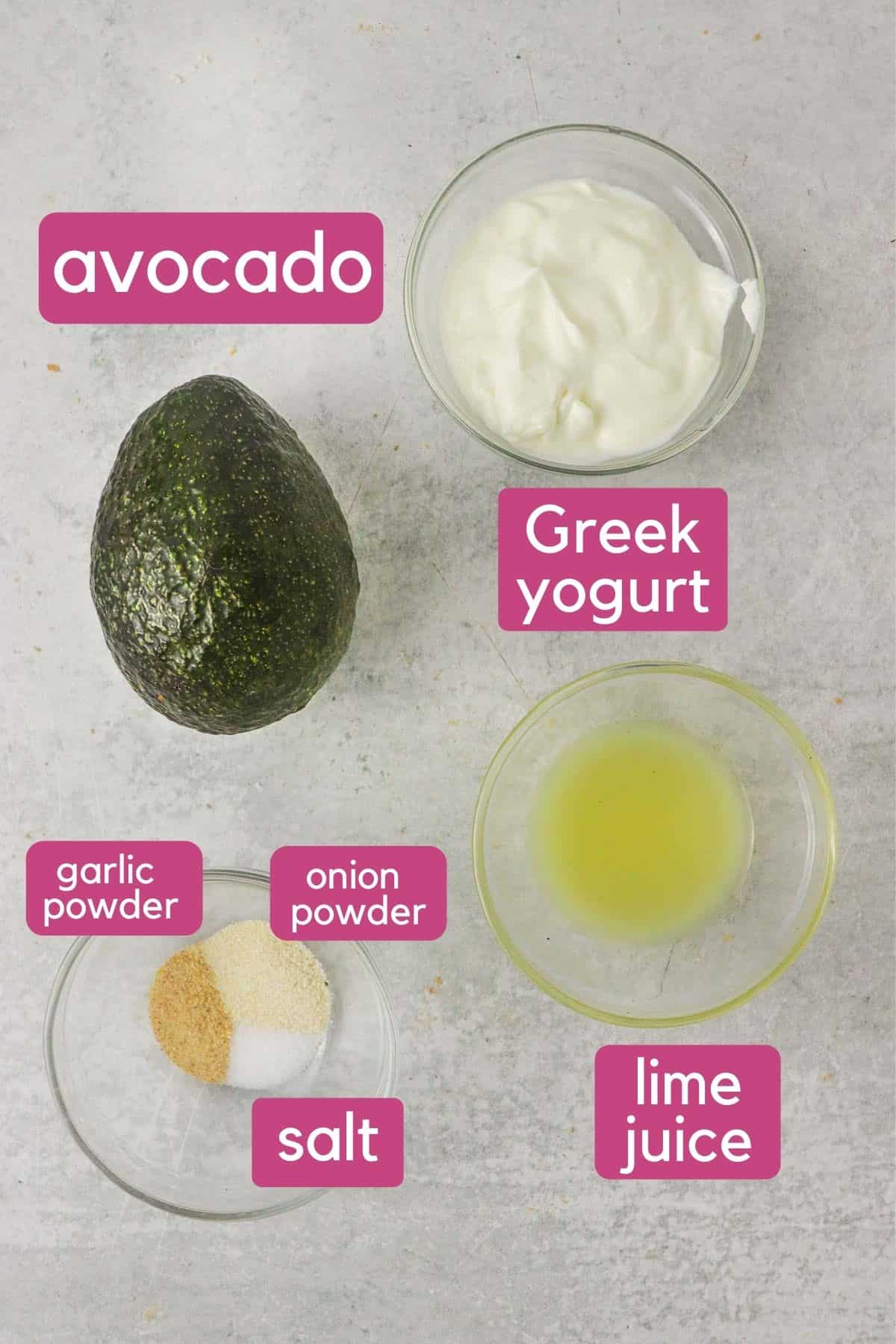 Greek Yogurt. I typically keep whole milk Greek yogurt on hand because the fat in it helps to keep me full and satisfied longer (a little gentle nutrition for ya!) but since the avocado will be adding some it's totally okay to use any kind of greek yogurt. I do recommend plain V a flavor like vanilla, obviously.
Lime Juice. You can use fresh or bottled. To be honest usually I use bottled because it's just easier and I'm the worst at remembering to buy fresh limes!
How To Make This Recipe
Alright, friends. This is about to be short and sweet, ready?
Step One: Throw all ingredients into a blender or food processor & blend for 1 minute.
Step Two: Eat!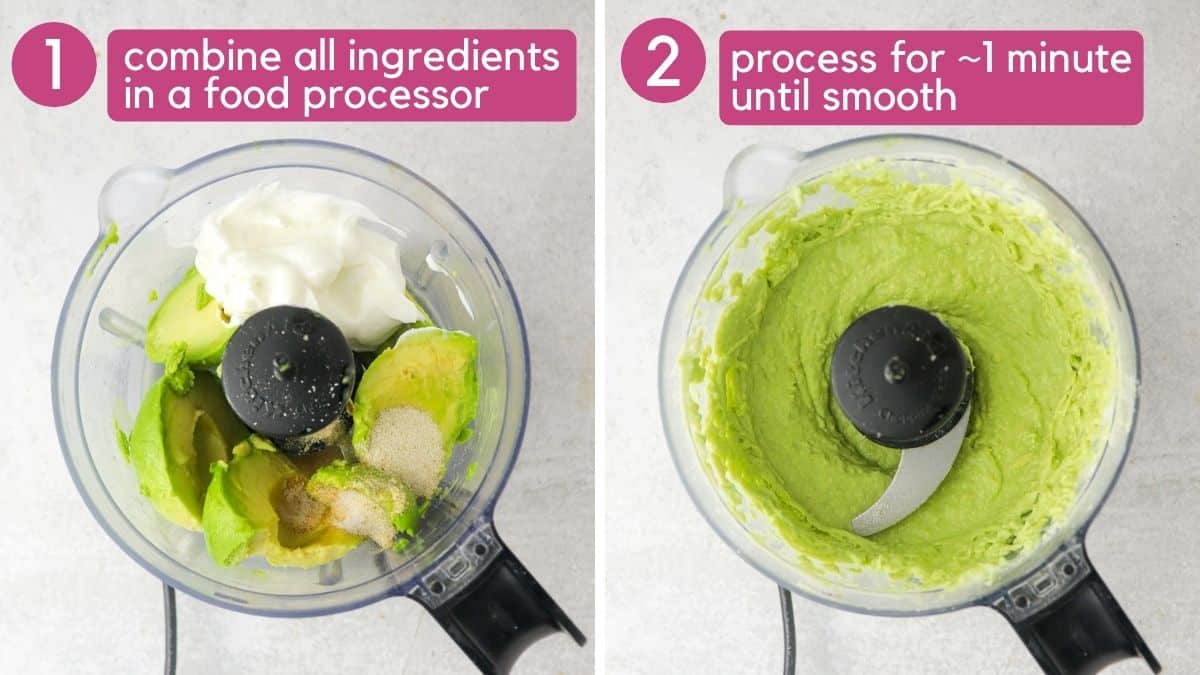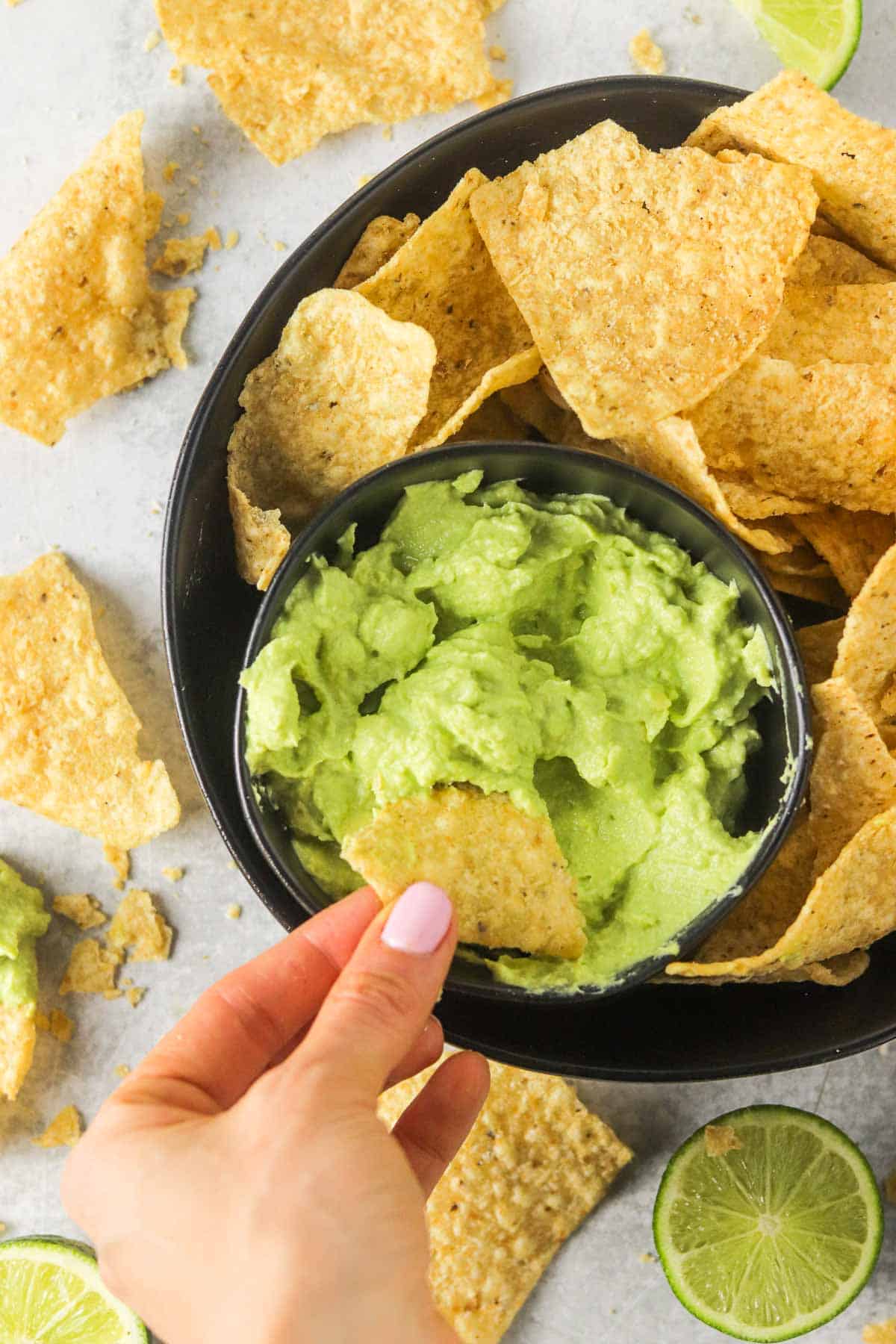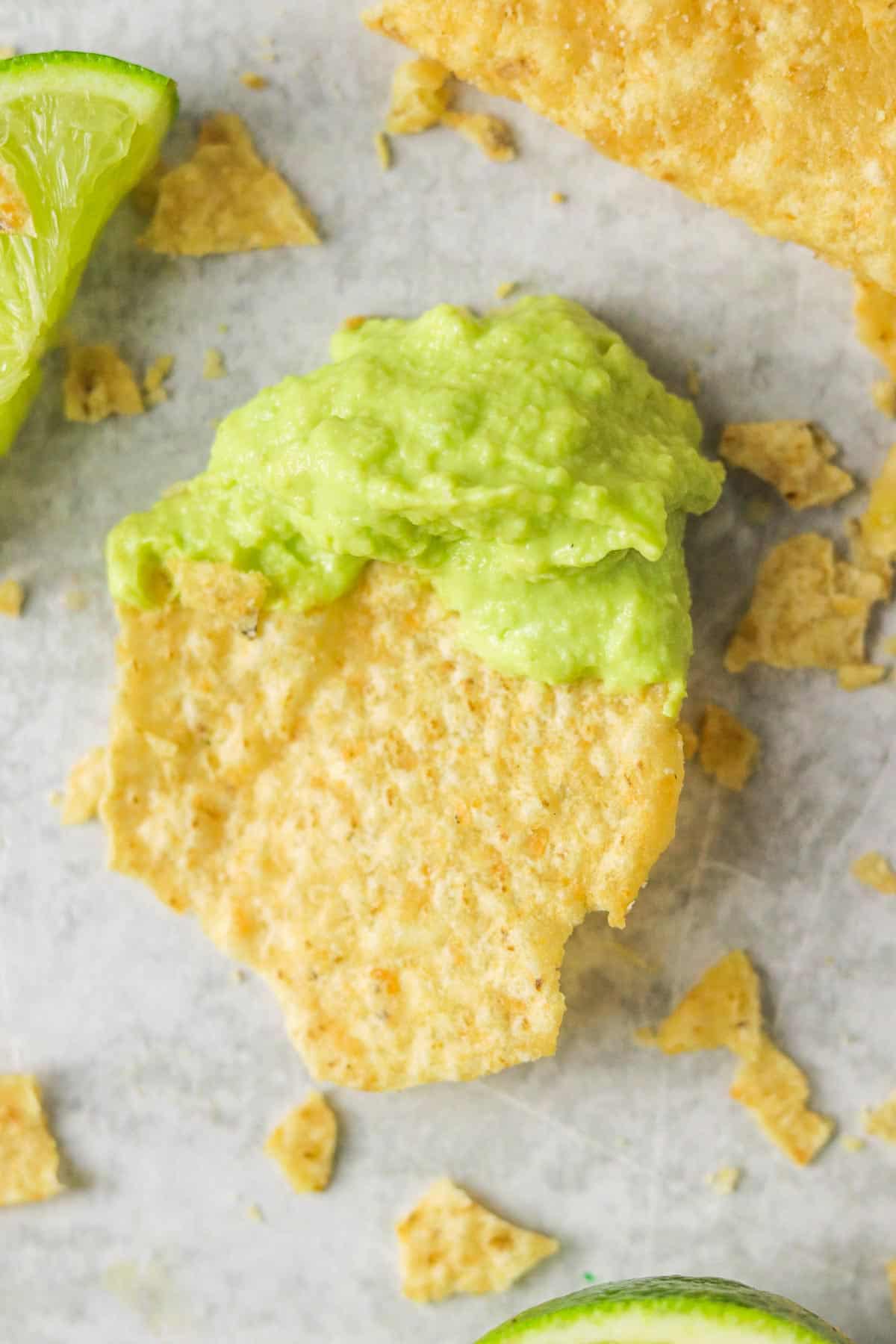 Recipe FAQs
How do I know if an avocado is ripe?
Here are a few things to keep in mind when picking an avocado: the stem (little brown piece) should come off easily & be green underneath (not brown), there should be no visible brown spots on the skin, it should have juuuust a little bit of give when you press on the side

Otherwise, if you need to ripen an avocado quickly, store it in a brown paper bag on the counter or in the pantry. Rather, need to slow your avocados roll on the ripening front, throw it in the fridge!
Can I save my avocado lime crema for later or will it turn brown?
You can keep your avocado cream around for ~5 days. The lime that's used in the recipe keeps it from getting super brown!
Can I freeze leftover avocado crema?
Absolutely! If you won't be eating this again in the next 5 days you can freeze it. I like to freeze mine in an ice cube tray that way if I just want some for, say, a sandwich or to add to a salad I can just pop out an ice cube of it to thaw!
Other Recipes You Might Like:
XOXO
-Colleen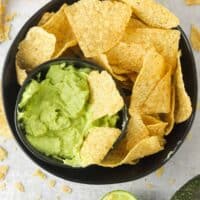 2 Minute Avocado Lime Crema
Smooth and creamy, this avocado crema has the perfect touch of lime and is made in only 2 minutes! Serve with chips as a "fancy" guacamole or dollop on top of tacos.
PRINT RECIPE
Ingredients
1

ripe avocado

1/3

cup

plain greek yogurt

1

tbsp

lime juice

1/2

tsp

garlic powder

1/2

tsp

onion powder

1/4

tsp

salt
Instructions
Pit your avocado and remove the flesh from the skin.

Add all ingredients into a blender or food processor and blend for ~1 minute.

Enjoy with tortilla chips or on top of tacos or taco salads!
Notes
If your avocado is not quite ripe, you may need to blend for additional time.
You may use either fresh or bottled lime juice.
You can use whatever percentage fat yogurt you like.
To make this recipe vegan, use a plant-based yogurt in place of the greek yogurt.
click To display nutrition info
Nutrition Facts
Nutrition Facts
2 Minute Avocado Lime Crema
Amount per Serving
% Daily Value*
* Percent Daily Values are based on a 2000 calorie diet.