Air fryer muffins are easy to make and perfectly fluffy! Enjoy them with your morning coffee, to satisfy an afternoon sweet tooth, or warmed up with a dollop of ice cream for dessert!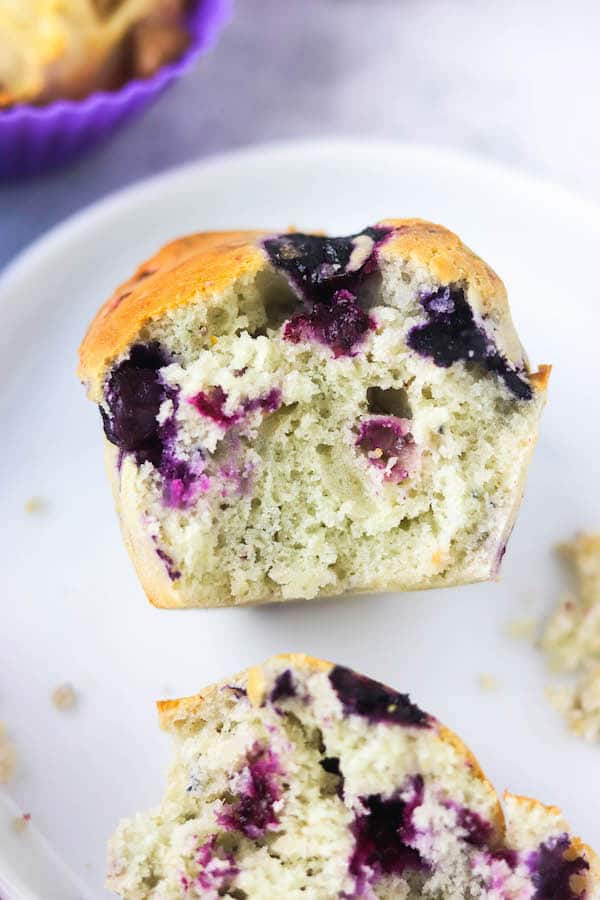 Why I Love Air Fryer Muffins
If you know me at all you know that I'm low-key in love with my air fryer. It makes everything perfectly crisp and it's SO fast at cooking! Plus, a huge bonus is that it doesn't heat up the entire house like the oven does- something I'm def keeping in mind as the temps have been reaching 90 here in Michigan!
I usually cook dinner in my air fryer like air fryer seasoned potatoes, air fryer sweet potato fries, air fryer tilapia, air fryer sausage and peppers, and to make chicken fajita tacos (and salads!). Sometimes I'll also use it in the mornings for air fryer french toast sticks- SO. GOOD. But haven't used it much for baking... until I made these air fryer muffins! To be honest, I'm not sure I'll want to go back to making muffins in the oven!
If you don't have an air fryer get.. get on that! You can find the one that I recommend here.
What You'll Need For Air Fryer Muffins
The ingredient list for this basic muffin recipe is quite short and I bet you have it all in your house right now! Here is what you'll need and tell me if I'm wrong:
flour
sugar
egg
milk
butter
baking soda
salt
1/2 cup mix in of choice: fruit, chocolate chips, or shredded veggies
How'd I do? Was I right? Do you have it all?! Bet you do.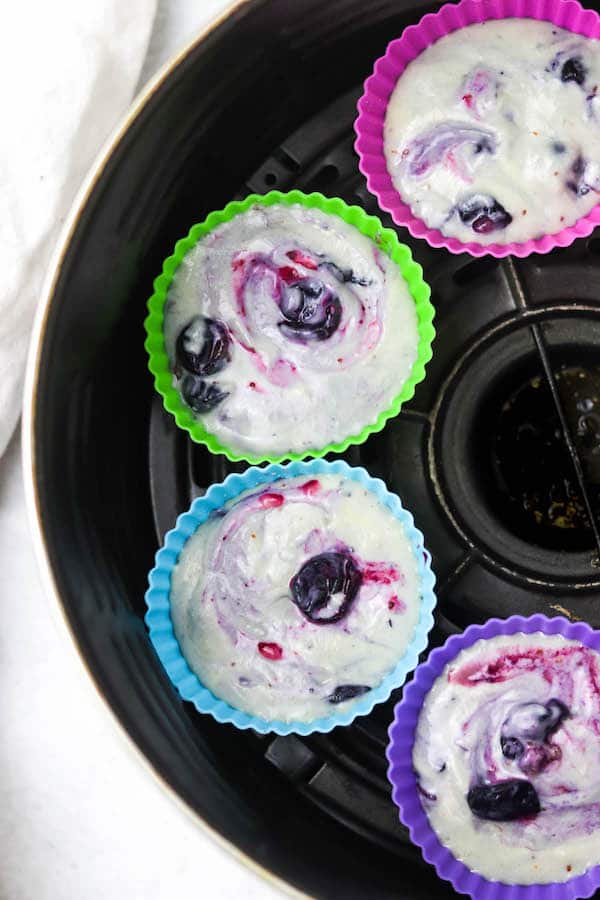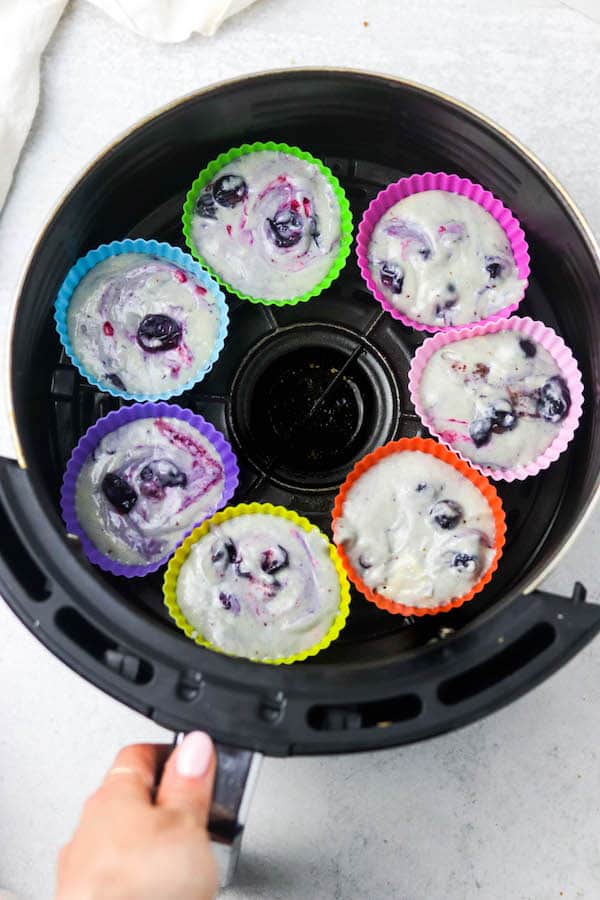 How To Make This Basic Muffin Recipe
To make these muffins first you'll need to snag some silicone muffin liners. I highly, highly recommend you use these because it will help your muffins stand upright in the air fryer so you don't end up with them falling over. Plus, they're good for the environment! Here are the ones that I ordered from Amazon that are super affordable: Silicone Muffin Liners.
After you've got your muffin liners in hand first mix together the flour, baking powder and salt. Then, set aside.
Next, in a large bowl or stand mixer combine egg, milk, sugar, melted butter and vanilla.
Once wet ingredients are mixed slowly add in the flour, mixing until well combined.
Then, fold in whatever mix-in you like! I like adding blueberries, shredded carrot, or some milk chocolate chips!
Pour your batter evenly into about 7 muffin liners, set them in your air fryer, and cook for a total of 12 minutes at 370. After cooking for about 5 minutes you'll want to rotate the muffins, This step is really optional but it helps them rise evenly and will give you less lopsided muffins. (The lopsided-ness comes from the air circulating and also if you basket isn't perfectly flat!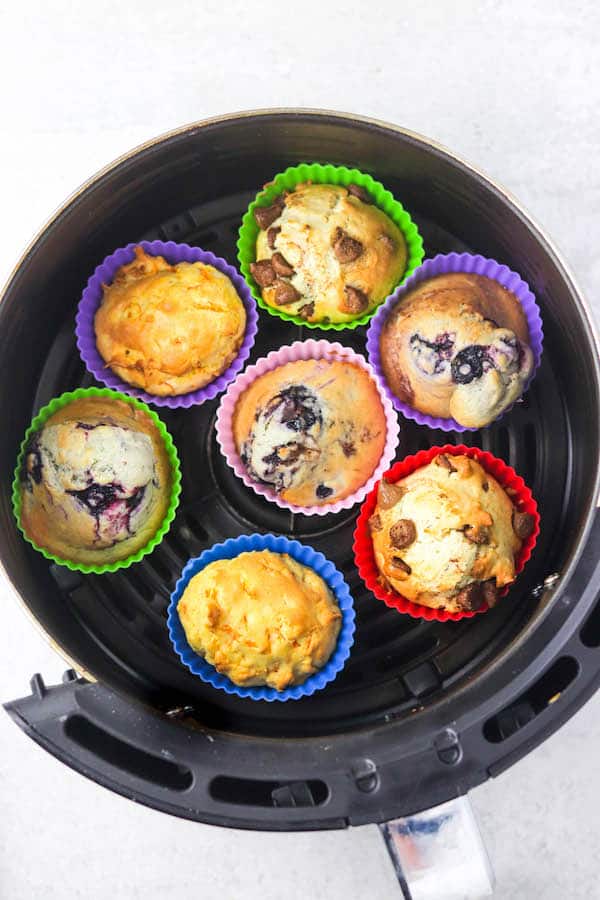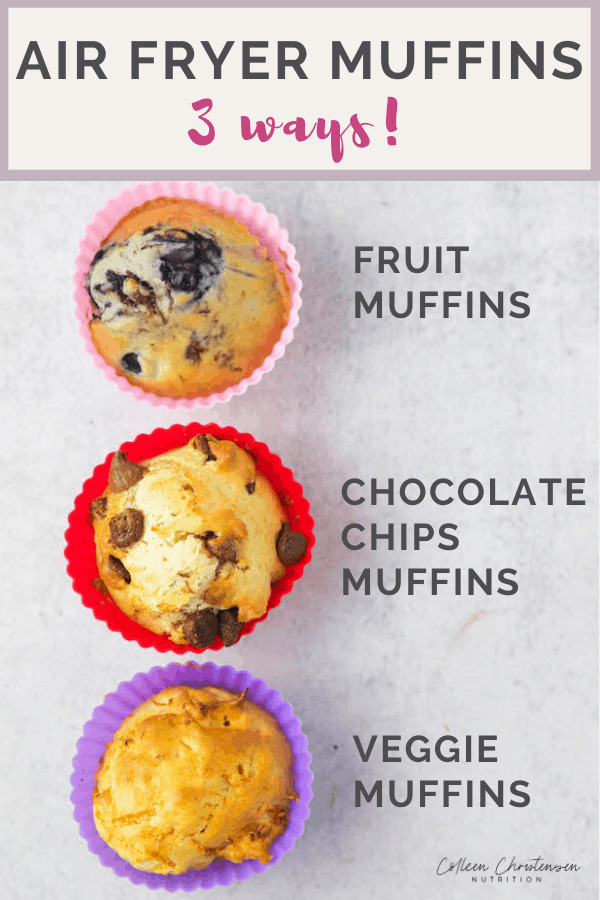 Air Fryer Muffin FAQ's
What fruits and veggies work best for a mix-in?
Berries like blueberries, raspberries, or diced strawberries work really well. You could also add dried or canned fruit if you don't have fresh. For veggies I recommend adding carrot or zucchini.
Can I use another type of flour?
You can totally use all purpose flour, wheat flour or gluten free flour. This recipe may not turn out if you use alternative flours like almond flour or coconut flour.
How long can I keep these muffins for?
These muffins will keep for 5-7 days on the counter or 2-3 months in the freezer.
Can I double the batch?
Absolutely! You may need to cook them in 2 separate batches, though in order to fit them all as air fryers have limited space.
Do I need to preheat my air fryer?
To be honest, I have never once preheated my air fryer. If your specific model calls for preheating I'd recommend following those directions, however I never have done so.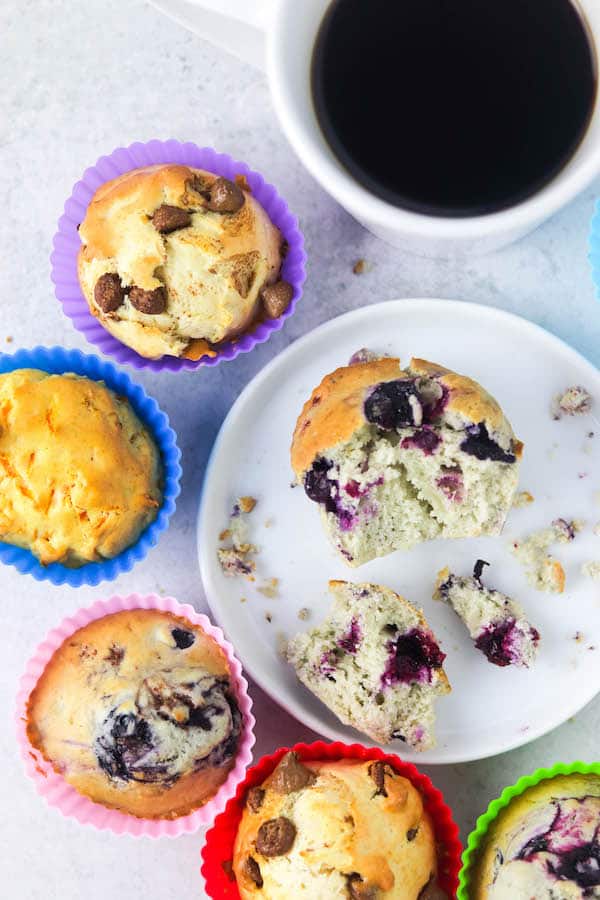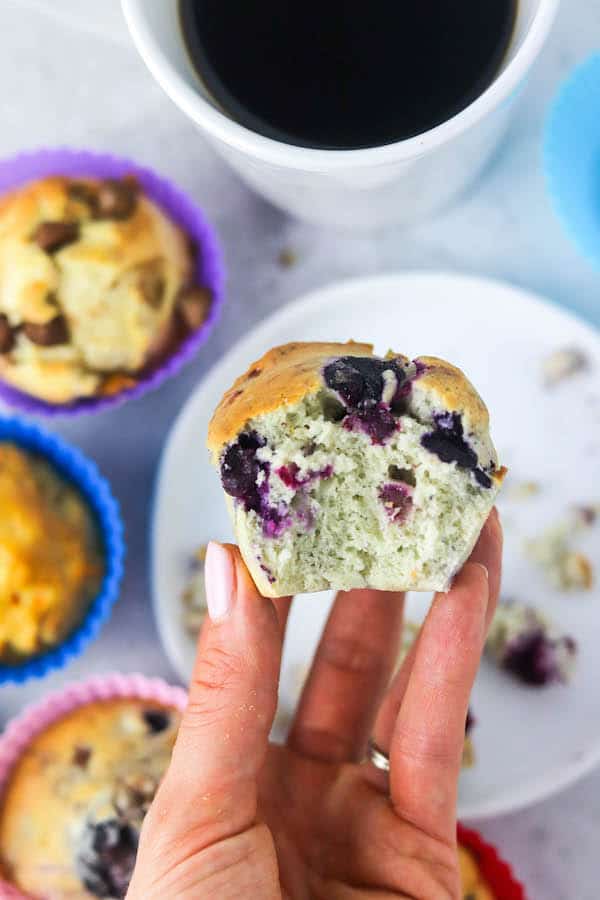 Give this recipe for air fryer muffins a try! If you love it be sure to leave a star rating on the recipe card and a comment with which mix-in you used!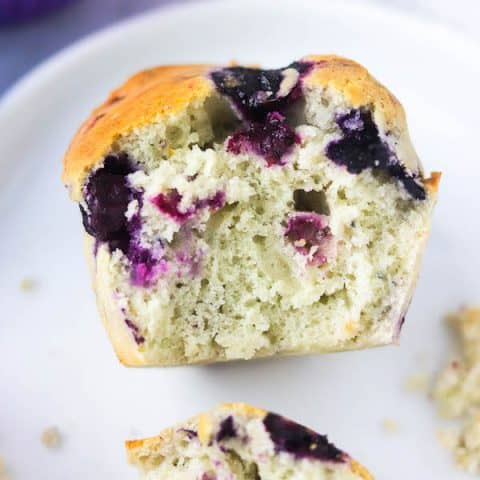 Easy Air Fryer Muffins
Easy, fluffy muffins in just 15 minutes! Use this basic air fryer muffin recipe to make fruit, veggie or chocolate chip muffins!
Ingredients
1 cup flour
1 tsp baking powder
1/4 tsp salt
1 egg
1/3 cup sugar
1/3 cup milk
1 tsp vanilla
2 tbsp butter, melted
1/2 cup mix-in of choice (fruit pieces, shredded veggies or baking chips)
Instructions
In a small to medium sized bowl combine flour, baking powder and salt. Set aside.
In a larger bowl or stand mixer combine egg, sugar, milk, vanilla and butter.
Slowly add in the flour mixture.
Next, fold in your mix-in of choice.
Pour batter evenly into 7 silicone muffin liners.
Cook your muffins at 320 for 12 minutes total, rotating the muffins after ~5 minutes to allow them to rise evenly (optional step if you don't mind possibly lopsided muffins)
Allow muffins to cool and enjoy!
Notes
Recommendations for fruit: blueberries, raspberries, diced strawberries, dried fruit, canned fruit (drained)
Recommendations for veggies: shredded carrot or zucchini
Recommendations for baking chips: milk chocolate chips, butterscotch chips, white chocolate chips, dark chocolate chips, peanut butter chips
I do not recommend using mashed banana or applesauce for the fruit, as this will be too moist and alter the batter.
Nutrition Information:
Yield:

7
Serving Size:

1
Amount Per Serving:
Calories:

149
Total Fat:

4g
Saturated Fat:

2g
Trans Fat:

0g
Unsaturated Fat:

2g
Cholesterol:

36mg
Sodium:

279mg
Carbohydrates:

24g
Fiber:

0g
Sugar:

10g
Protein:

3g
XOXO
-Colleen
Want more recipes post like this? You might like these:
Greek Yogurt Banana Slice Cake