These air fryer brownies are ultra- gooey on the inside with the perfect light crinkle on the top. They're super easy to make from scratch, and are ready in under 30 minutes!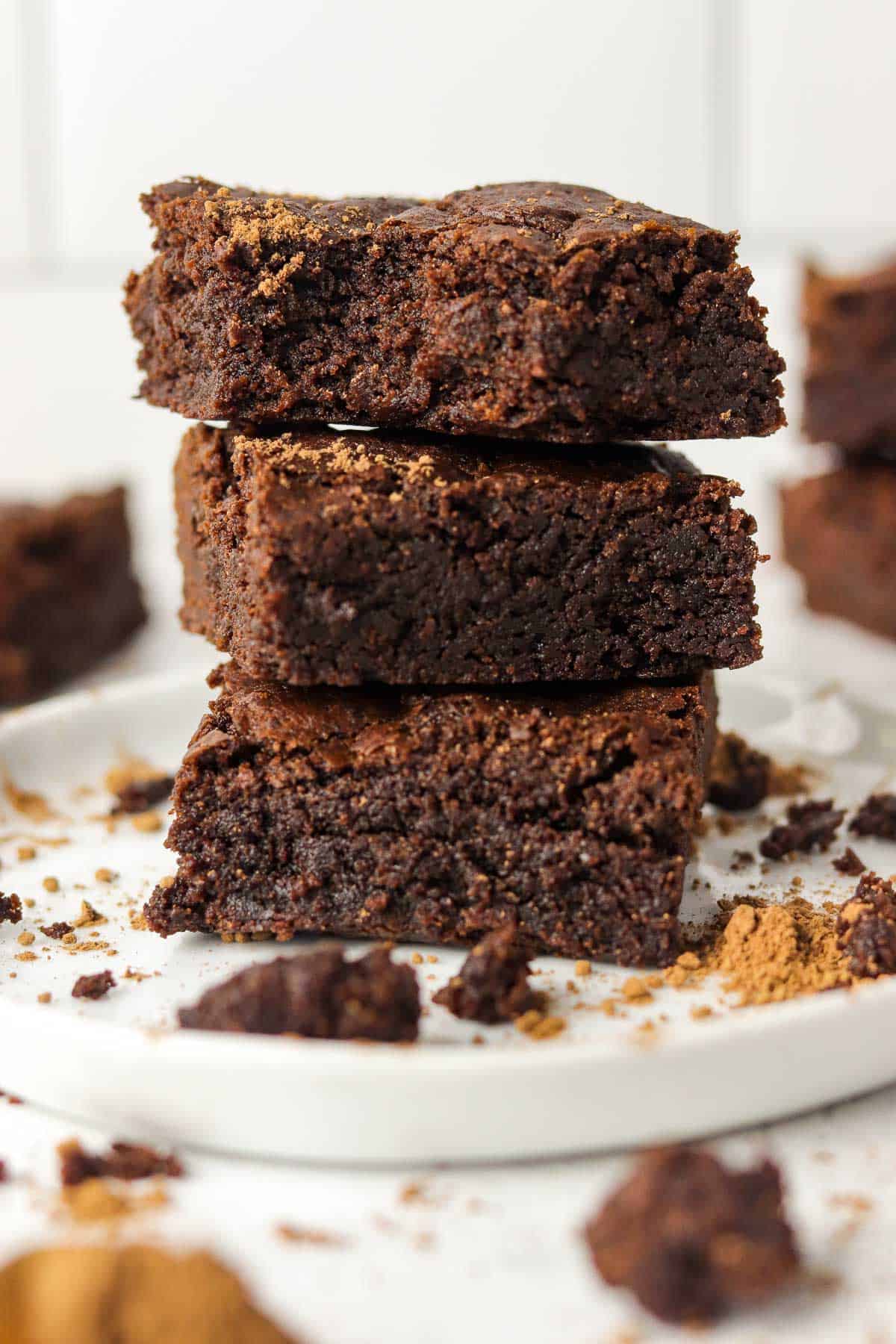 Why This Recipe Works
These brownies are my go-to recipe when I need a sweet treat FAST. Less than 30 minutes and they turn out perfectly every single time! They're seriously fool proof.
They're great to eat plain, as-is or you can warm them up a touch and serve them a la mode for a dessert that makes ya' feel fancy! Or, I'll use them as the base for my chocolate covered strawberry brownies! (I half the toppings since this pan of brownies is smaller)
I love love love baking in my air fryer because it is SO much faster than the oven! If you. like this recipe then be sure. to check out my air fryer muffins recipe, I've got 3 ways to make them: fruit loaded, veggie packed and chocolate chip!
Recipe Ingredients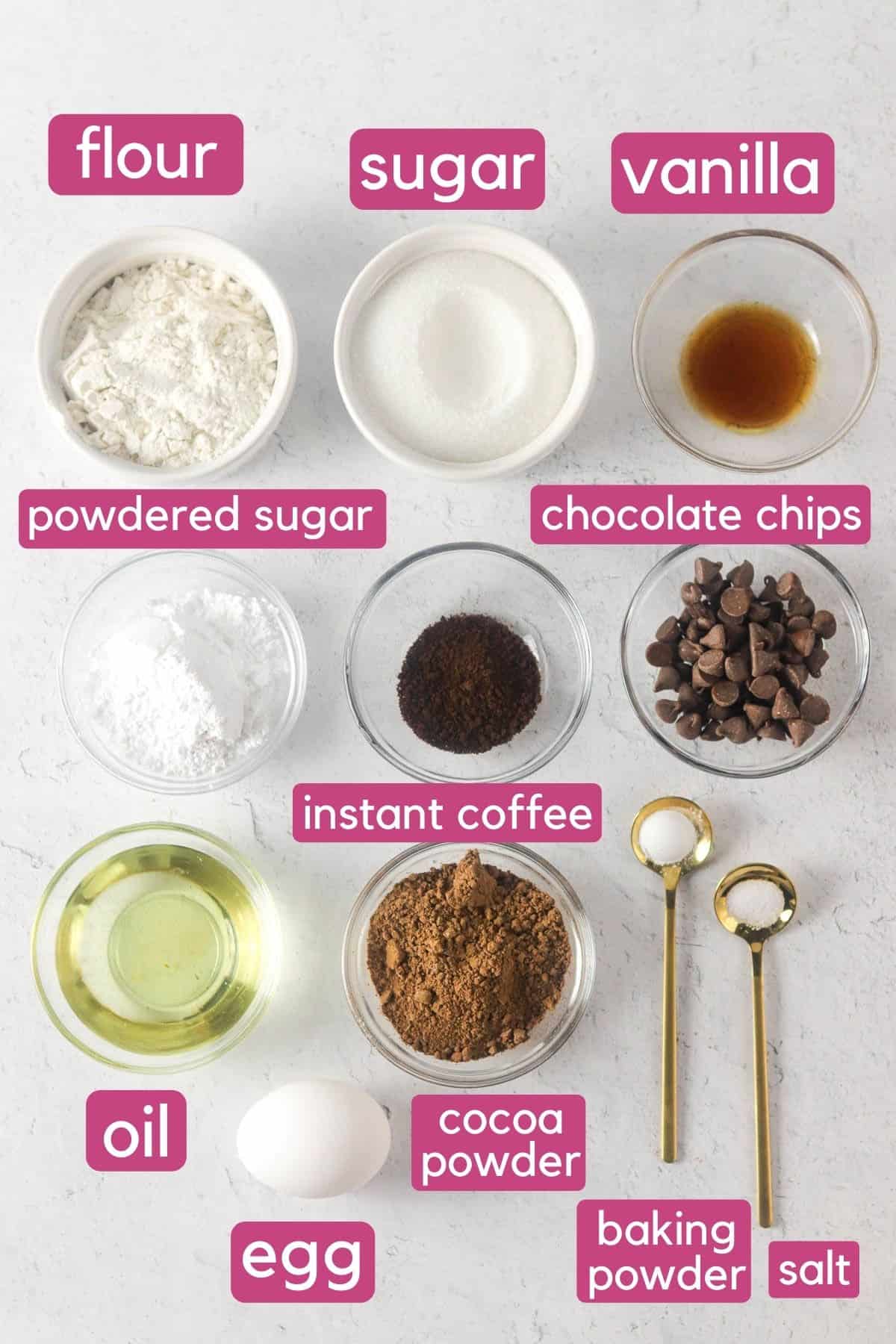 Flour. You can use all-purpose, whole wheat or gluten free! I wouldn't recommend alternative flours like almond or coconut flour.
Instant coffee. This is optional but HIGHLY recommended. It really brings depth to the brownies and gives them the most amazing chocolate flavor!
Powdered sugar. Another key ingredient here! This actually helps to thicken your brownies, as there is cornstarch in powdered sugar. Fun fact for the day!
Vegetable oil. You can also sub coconut oil here.
Chocolate chips: These add a little extra chocolate flavor, which makes for ultra gooey and delicious brownies.
" volume="70″]
How To Make Brownies in an Air Fryer
To start, prepare your baking dish (I used a 6×6 pan) by spraying it with non-stick spray and set aside. You can also line it with parchment paper (Use 2 pieces and create an "x" shape or "sling")
Whisk together flour, powdered sugar, cocoa powder, instant coffee, baking powder and salt into your medium sized mixing bowl. Set aside.
In your larger mixing bowl combine granular sugar, oil, chocolate chips and vanilla.
Microwave your large mixing bowl with the chocolate for ~45 seconds and stir until uniformly combined. Set aside to allow this mixture to cool fully.
Whisk in your egg until just combined.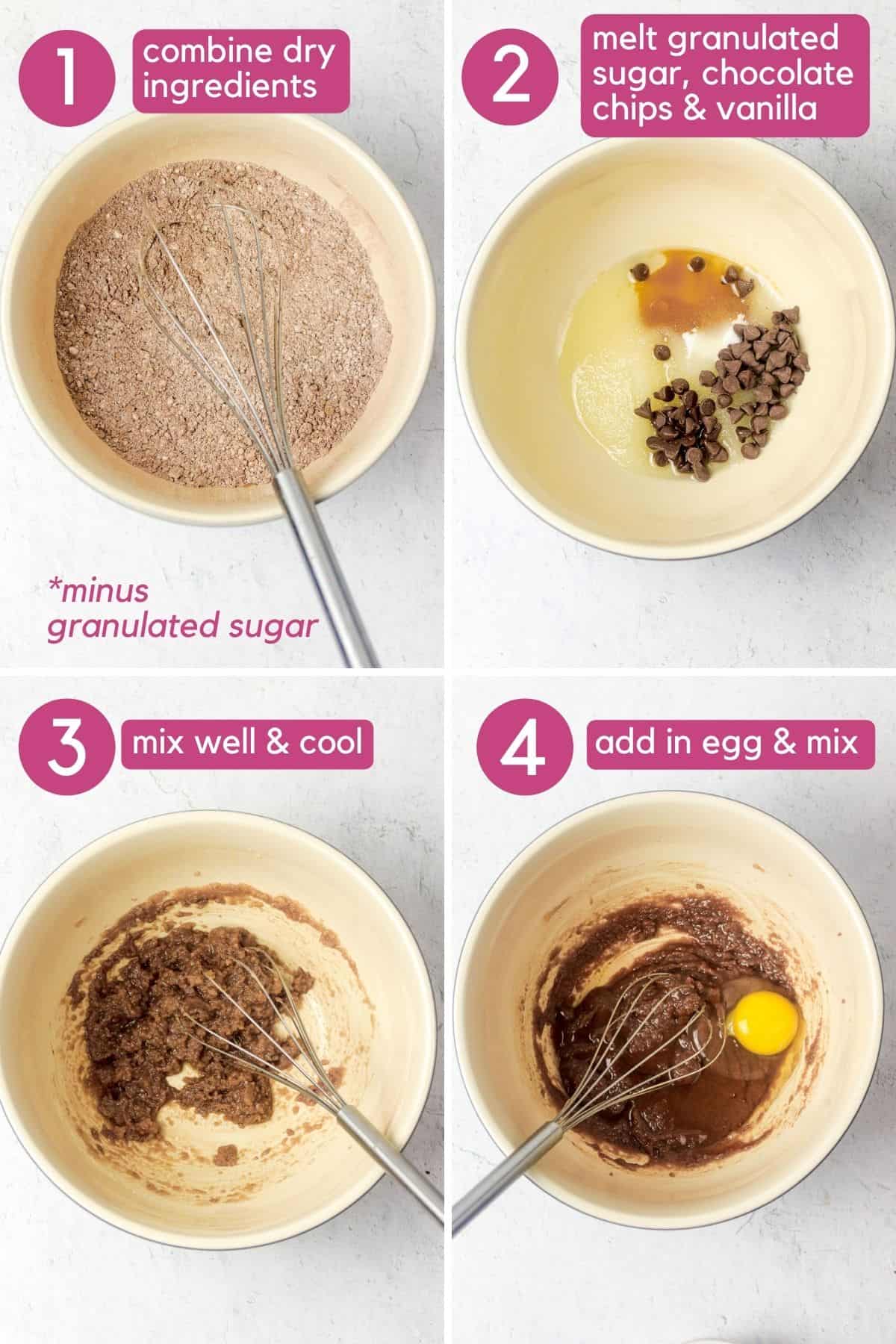 Now, slowly fold in your flour mixture, again mixing until just combined.
Pour your brownie batter into your prepared baking pan and top with aluminum foil.
Set your air fryer to 325 degrees and pre-heat. If you don't have a preheat setting you can run it at 325 for about 3-5 minutes to ensure it's up to temp!
Place your brownies into the air fryer and cook for a total of 20 minutes. Keep the aluminum foil on for the first 15 minutes and then remove for the last 5 minutes.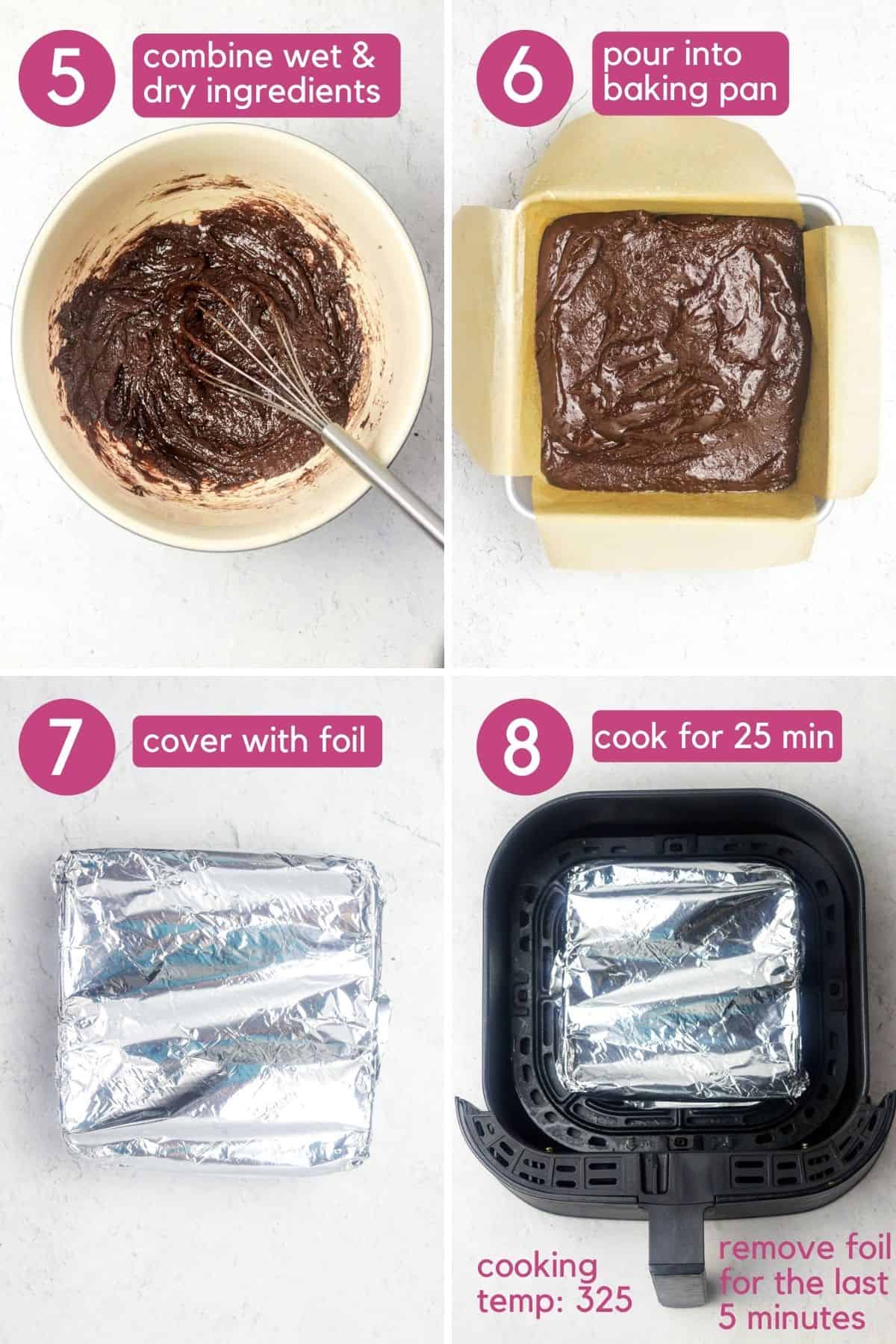 Remove your brownies from the air fryer and allow them to cool FULLY.
Once cooled, cut your brownies and grab one to enjoy!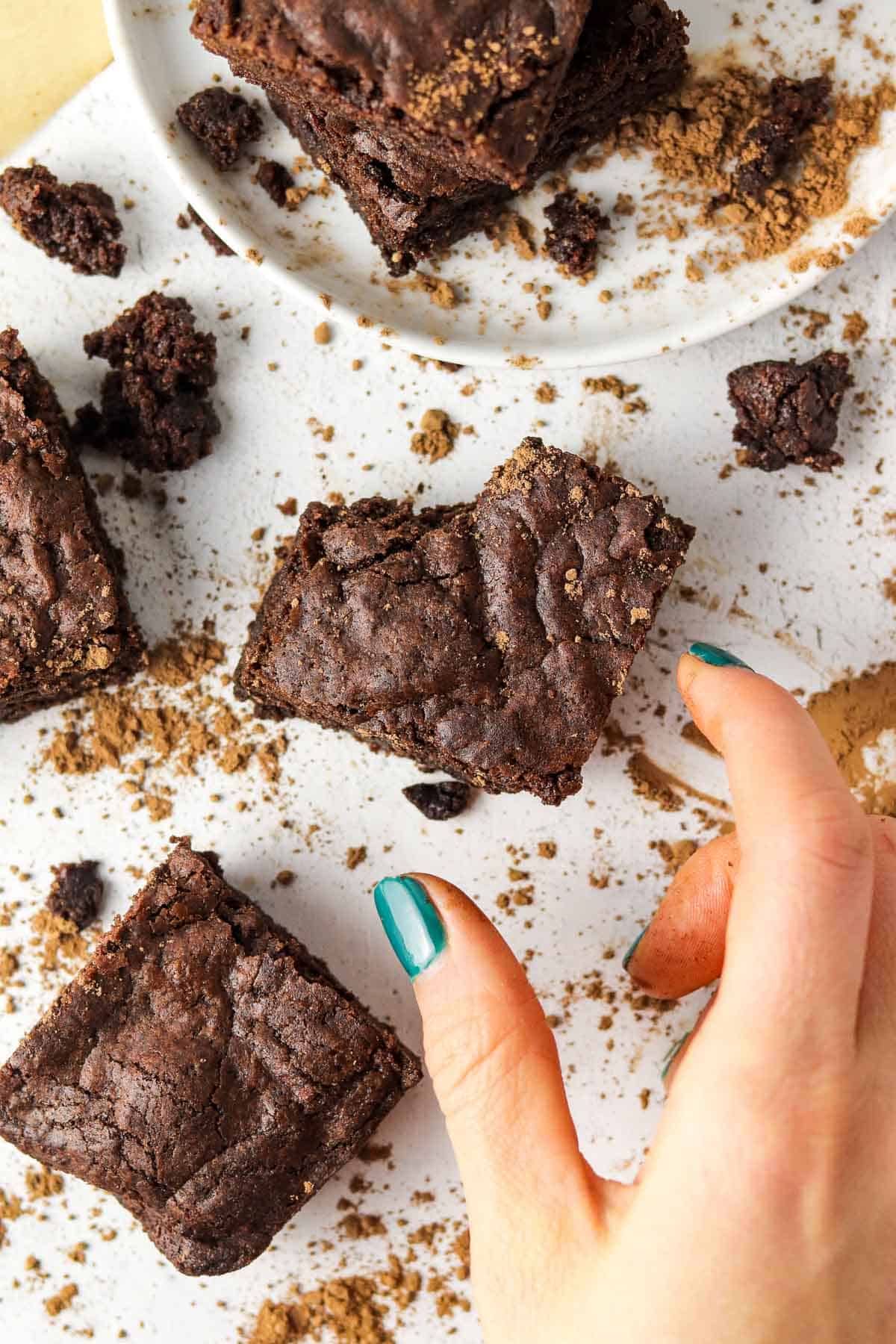 How to Make Air Fryer Brownies From a Box
Maybe you're in a rush and want a chewy and moist brownie right away, I get it! While my from scratch recipe is super simple, sometimes we need something a little less hands on and that's okay! If you want to make air fryer brownies using a box mix, I gotchu!
All you have to do is prepare a cake pan or spring-form pan by spraying it with cooking spray, and then get your brownie batter mixed up. Depending on the size of your air fryer, you may need to prepare 2 pans (working in batches) OR cut the recipe in half (using half of the box mix).
Follow the package instructions for preparing the brownie batter, and preheat your air fryer to 300F. Pour the brownie batter into the prepared cake pan(s) and cook in your air fryer for 28-32 minutes, or until a toothpick inserted into the middle comes out clean.
Note that some air fryers will cook a little faster than others, so it's important to check on your brownies often to avoid overcooking them. Keep in mind that smaller pans make for thicker brownies, which may require additional cooking time. Just keep an eye on them and everything will turn out great!
Recipe FAQs
What Pan Can You Use In An Air Fryer?
You can honestly use any pan that will fit inside of your air fryer. I have this 6qt Instant Pot air fryer (which I love and highly recommend!) and used a 6×6″ square pan for this recipe. As long as it's oven safe you should be good to go!

I you have a smaller air fryer you can try using a loaf pan, which may fit better. If you do this, however, you'll want to cut your baking time to 50-75%. I'll put directions inside on the recipe card below!

You can also make these air fryer brownies into air fryer brownie bites by using silicone mini muffin liners– best $7 purchase! For this, just air fry them for 6 minutes at 325 degrees! Easy as that. If you use full sized muffin liners, cook them for 12 minutes.
Can You Put Aluminum Foil In An Air Fryer?
Yes! Aluminum foil can go in the air fryer as long as it doesn't cover the entire basket. You want to make sure that air can still flow. I use aluminum foil a lot for baking in the air fryer, like for these air fryer brownies, to ensure even cooking. Without putting aluminum foil over the top of the pan your brownies will be way too cooked on the top and undercooked on the bottom!
Do I Really Need To Add Instant Coffee?
I add instant coffee to all of my brownie recipes (like these swirled peanut butter banana brownies!) because it really brings out the flavor/adds depth. However if you don't have any on hand you can skip it, they'll still turn out!
How do you store brownies after cooking?
On the counter: Brownies will keep for 5-7 days when stored in an air tight container on the counter.

In the freezer: Cut your brownies to size, and then freeze them on a cutting board or cookie sheet before placing them into a freezer bag. This will prevent them from sticking together! Once you do that you can pop your brownies in a freezer bag and they will keep for 2-3 months.
Can I reheat brownies in an air fryer?
Yes, you can! Select the reheat function (if your air fryer has one) and heat your brownies for 2-4 minutes, or until warmed through. If your air fryer does not have a reheat function, cook at 325F for 2-4 minutes, or until warmed through.
Can you put a cake pan in an air fryer?
Any type of pan that is safe for oven use, is safe for using in your air fryer! If your cake pan is made for oven use, go ahead and use it in your air fryer as well.
More Air Fryer Desserts:
If you love this recipe be sure to rate it on the recipe card & leave a comment!
XOXO
-Colleen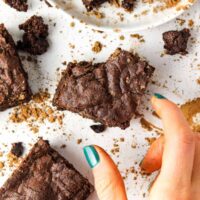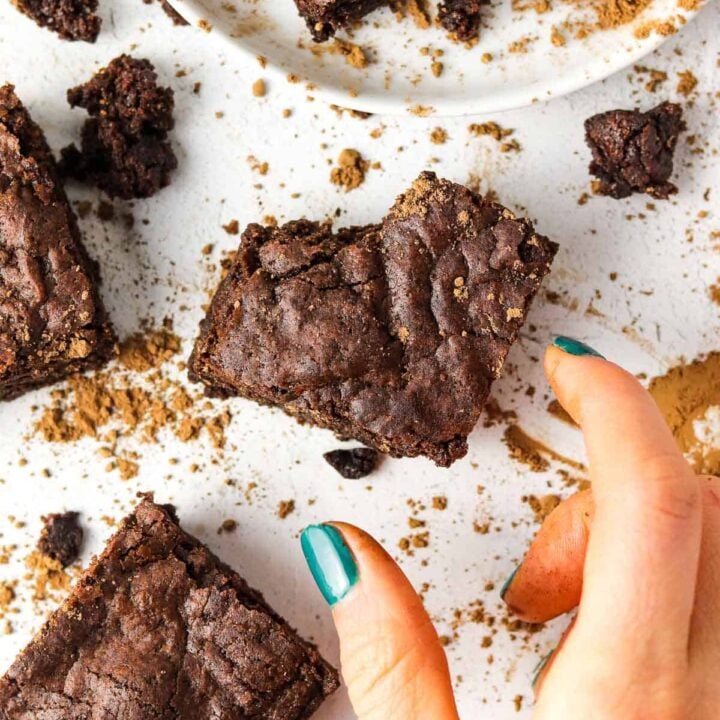 Air Fryer Brownies
Gooey, perfectly cooked brownies in under 30 minutes! Air fryer brownies are fast and give you the perfect crinkle on top!
PRINT RECIPE
Ingredients
1/2

cup

all-purpose flour

1/4

cup

cocoa powder

1/4

cup

powdered sugar

2

tsp

instant coffee

1/4

tsp

baking powder

1/8

teaspoon

salt

1/2

cup

sugar

1/4

cup

veg oil

1/4

cup

chocolate chips

1/2

tsp

vanilla

1

large eggs
Instructions
Line a 6×6′ pan with parchment paper and set aside.

Whisk together flour, powdered sugar, cocoa powder, instant coffee, baking powder and salt in a medium sized bowl.

In a large mixing bowl combine sugar, oil, chocolate chips, and vanilla.

Microwave your sugar and oil mixture for 45 seconds. Mix well and allow this to cool fully.

Once fully cooled whisk in your egg.

Slowly add in your flour mixture until just combined.

Pour brownie batter into prepared baking pan and cover with aluminum foil.

Preheat your air fryer to 325 degrees (or let it run at that temp for ~3-5 minutes if you don't have a preheat function)

Bake in the air fryer for a total of 20 minutes. Cook your brownies with the aluminum foil on top for the first 15 minutes, then remove the foil for the last 5 minutes.

Remove brownies from air fryer, allow to cool fully, cut and enjoy!
Notes
If you have a smaller air fryer you can use whatever pan will fit. I recommend reducing baking time by 50-75%, depending on how big your pan is. I'd also recommend doing this in 2 batches or cutting the recipe in half.
If using mini muffin cups, cook at 325 degrees for 6 minutes. If using full sized muffin cups cook at 325 for 12 minutes
You may use all-purpose flour, whole wheat, or gluten free flour.
Feel free to use coconut oil in place of vegetable oil.
click To display nutrition info
Nutrition Facts
Nutrition Facts
Air Fryer Brownies
Amount per Serving
% Daily Value*
* Percent Daily Values are based on a 2000 calorie diet.