Big fan of chocolate covered strawberries? Take out the tedious dipping and still get ALL of the deliciousness with this super simple fresh strawberry brownies recipes!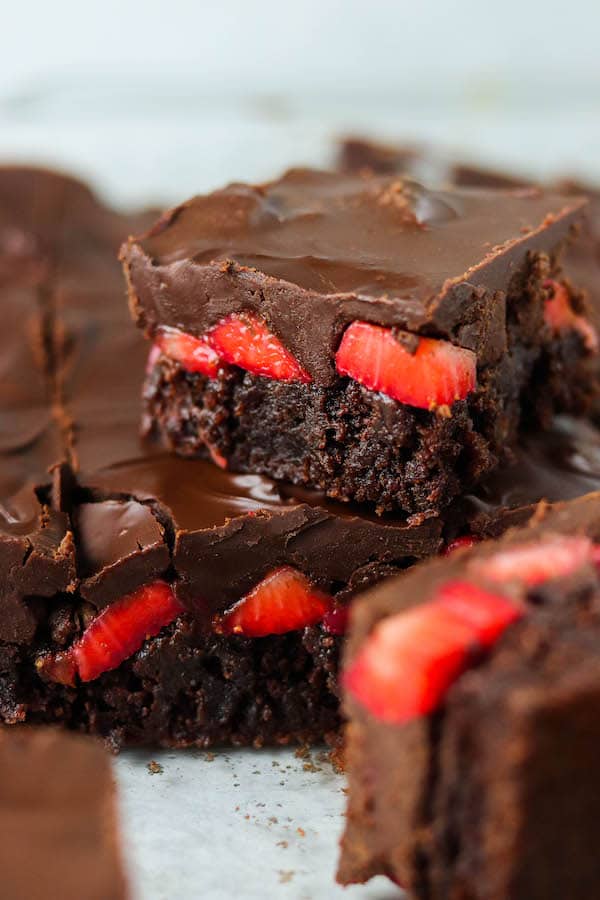 Easy Strawberry Brownies Recipe
This recipe seriously could not be easier. So easy, in fact, that I'm sure you could send this chocolate strawberry brownies recipe to any less than kitchen confident husband and get amazing results! You can use your favorite from scratch brownie recipe or a simple box mix. Not judgement here, take your pick! If you do pick the boxed route (I usually do!) take a peek at this post on how to make boxed brownie mix taste homemade.
I'm all about the easy brownies. Ain't nobody got time to spend hours on them! Same goes for these bourbon cream cheese brownies. Be sure to check those out if you're looking to stockpile your brownie recipe stash. Actually, creating a Pinterest board for just brownies is a really great idea.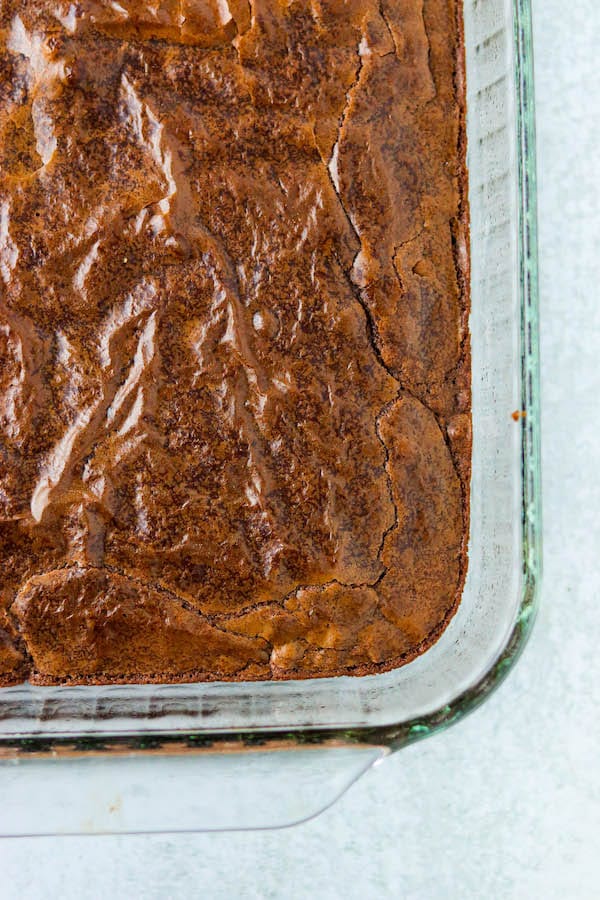 Brownies With Strawberries VS Strawberry Cake Mix Brownies
A lot of recipes you see for strawberry flavored brownies use strawberry cake mix. You'll know because they're bright pink! Now, totally nothing wrong with using them. They're actually delish! But, personally, I love the sweetness of a fresh strawberry. These strawberry brownies are just as simple to make and they're an easier way to get all of the deliciousness of chocolate covered strawberries without the hassle of dipping each one. And… let's be real, they never look as pretty as we want them to!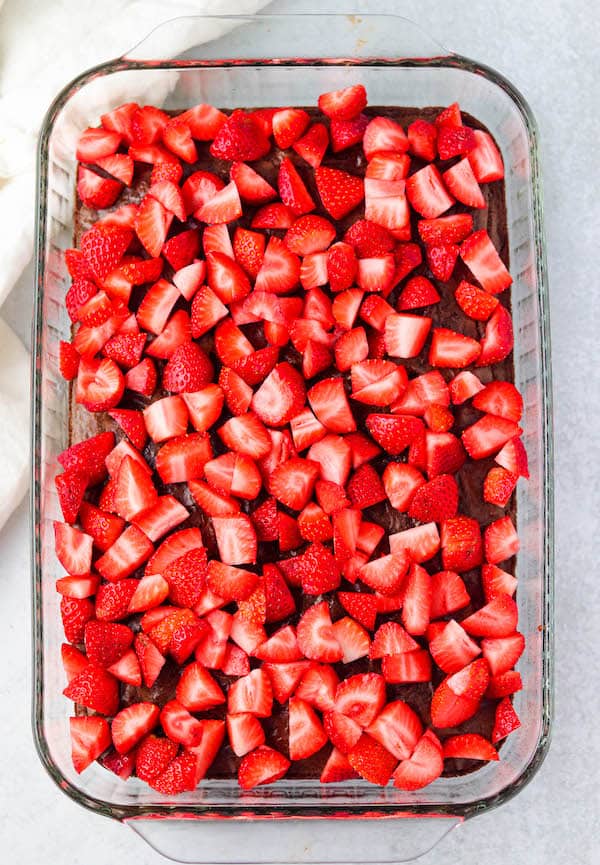 If you're looking to up your brownie making game take a look at these 10 simple tips for baking the best brownies every time!

How To Make Chocolate Covered Strawberry Brownies
To make these chocolate covered strawberry inspired brownies all you have to do is make a base layer of brownie batter in a 13×9 baking pan. Bake that up in the oven and then you're going to top the brownie layer with diced strawberries followed my a combo of melted chocolate and butter. Be sure to let them cool before cutting and digging in. This is key for those crisp, clean cuts! See, told you it was easy!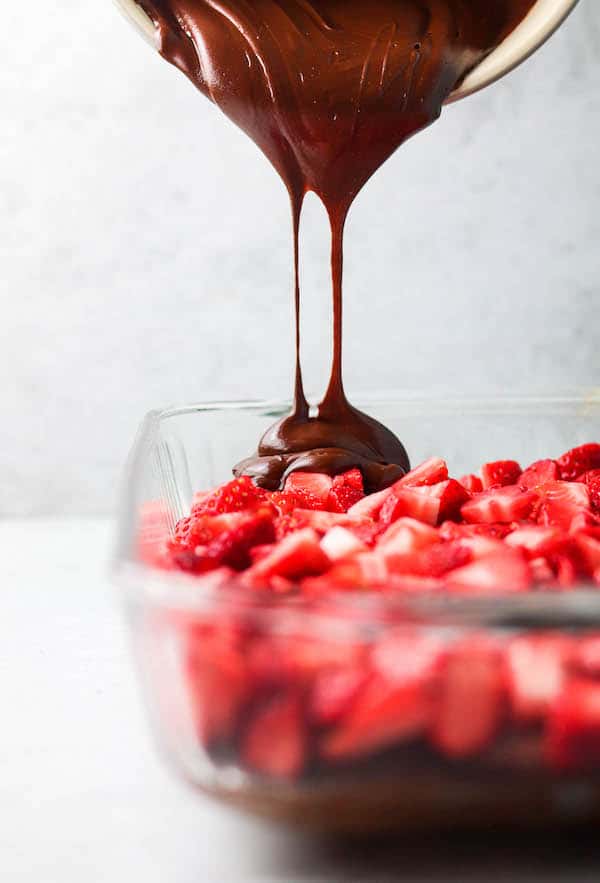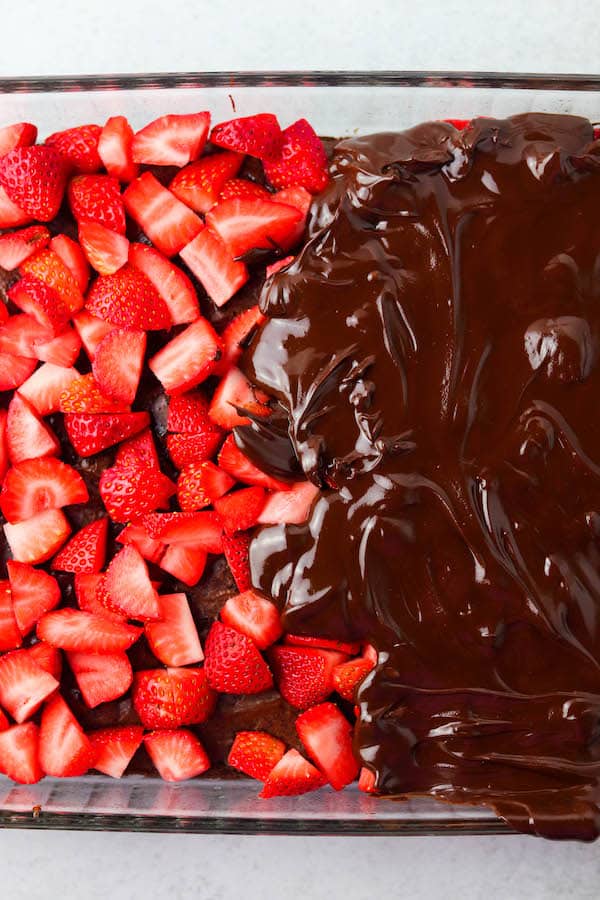 Here's the run-down in a little more depth:
Bake The Brownies: Spray a 13×9 baking pan with non-stick spray and preheat the oven to 350. Prepare your favorite brownie mix or use your favorite from-scratch recipe. Bake according to directions.
Add The Strawberries: Once the brownies are cooked and slightly cooled cover them with diced strawberries. You want these to be fairly small pieces. I don't recommend using slices because when you cut them many times they'll take entire slices from other brownies, leaving some naked. Not good!
Cover With Chocolate: Now that you have your combo of fresh strawberry brownies, go ahead and add butter and chocolate chips together into a medium sized bowl. Microwave them for ~1-2 minutes, stirring every ~30 seconds. Then, pour the melted butter-chocolate combo over the strawberry brownies.
Cut The Chocolate Covered Strawberry Brownies: To be sure to get really clean, even cuts that don't take the strawberries right off of the brownies be sure to let them cool FULLY! I know, I know. Nobody likes waiting! But pop them in the fridge to make it go faster. Also, be sure to wipe your knife off between each cut. Again, annoying, I know. But do it! You'll thank me later when they're all crisp, clean cuts.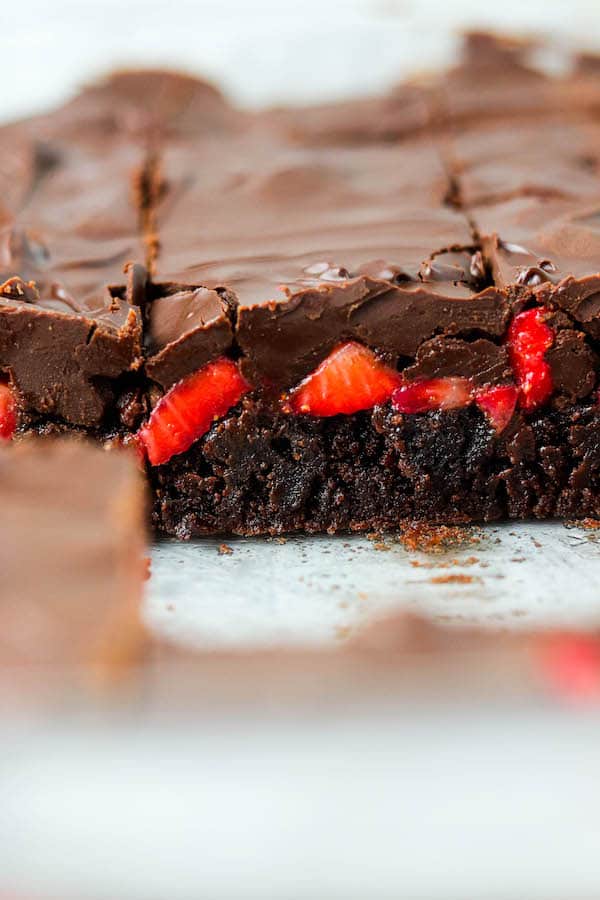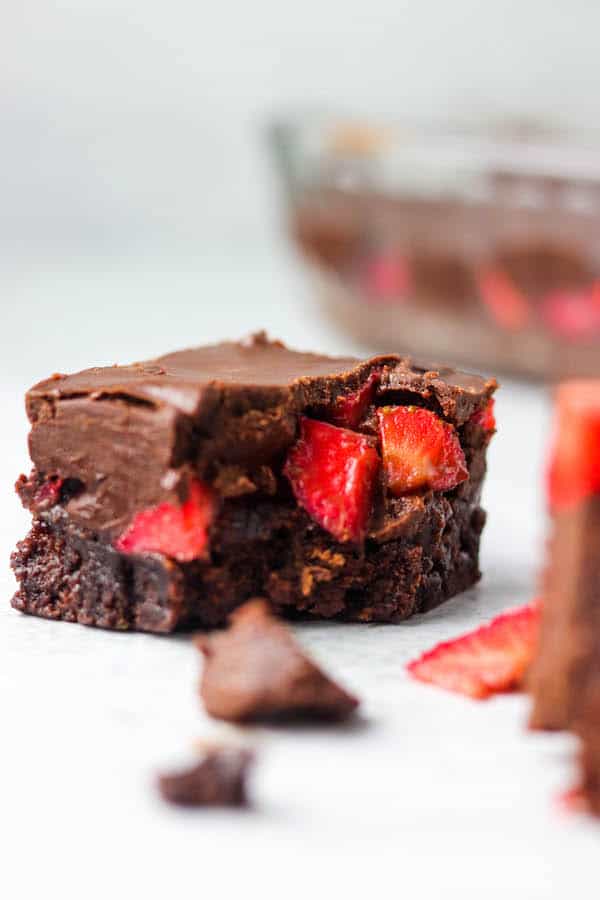 I like to use a glass 13×9 baking pan for these. I feel like it bakes more evenly and you get to see the layers! Here is a really affordable glass 13×9 baking dish off of Amazon (less than $20!) that has a lid. I highly recommend having one with a lid, it's no nice to just pop that bad boy on and throw it in the fridge VS trying to fight with saran wrap. That usually only ends in curse words, let's be real.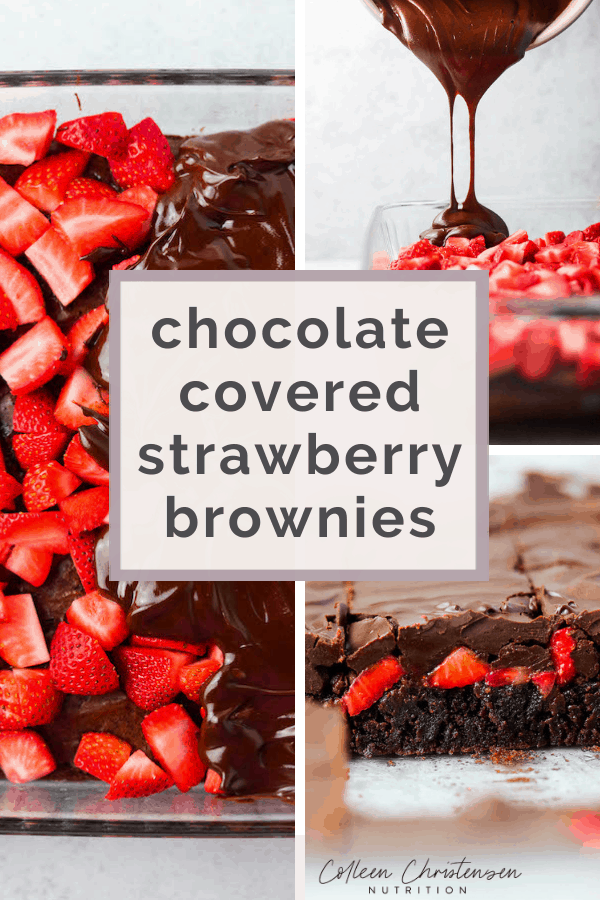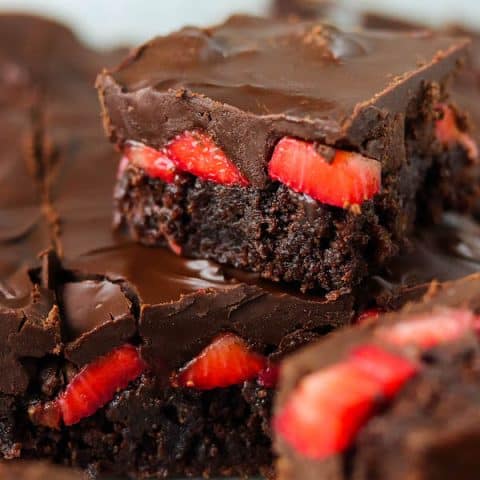 Chocolate Covered Strawberry Brownies
These easy chocolate covered strawberries give you all of the goodness you love from chocolate covered strawberries with none of the tedious work!
Ingredients
1 box of brownie mix
2 eggs (or as called for on the package)
1/2 cup oil (or as called for on the package)
2 tbsp water
2 cups fresh strawberries, diced
2, 12 oz bags of chocolate chips
1 cup butter
Instructions
Prepare brownies according to package directions.
Allow brownies to cool fully, then spread strawberries on top in one even layer.
In a microwave safe bowl melt together the chocolate chips and butter. This will take 2-3 minutes and be sure to stop and stir every ~30 seconds. Be careful not to burn!
Pour the melted chocolate over the strawberries topped brownies in one even layer.
Allow to cool fully before cutting.
Notes
Brownies are best eaten within a few days of baking.
Store brownies in the fridge after baking.
I like to freeze brownies slightly before cutting to get nice clean edges.
Nutrition info is provided as it is needed by google to correctly categorize recipe.
Nutrition Information:
Amount Per Serving:
Calories:

340
Total Fat:

22.6g
Carbohydrates:

32.9g
Protein:

3.3g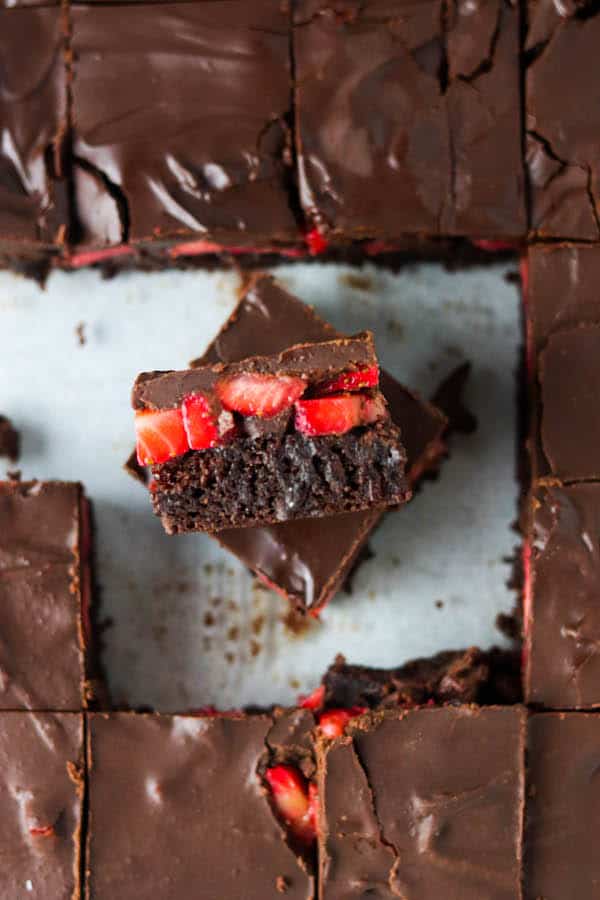 Give these super simple, super delicious chocolate covered strawberry brownies and try and leave a comment with your thoughts! You could even add in any other fun additions you like such as chocolate chips, coconut or nuts. The possibilities are endless!
Happy eating!
XOXO
-Colleen
This blog post contains affiliate links, which means that if you click on a product link, I may receive a commission. All opinions are my own, and all brands featured represent what I personally like and support. This blog is a participant in the Amazon Services LLC Associates Program, an affiliate advertising program where I earn advertising fees by linking to amazon.com.
Want more recipes like this? You might like these: