Juicy, fresh strawberries sandwiched between layers of fudge brownie and chocolate ganache. The taste and decadence of chocolate covered strawberries with none of the tedious work!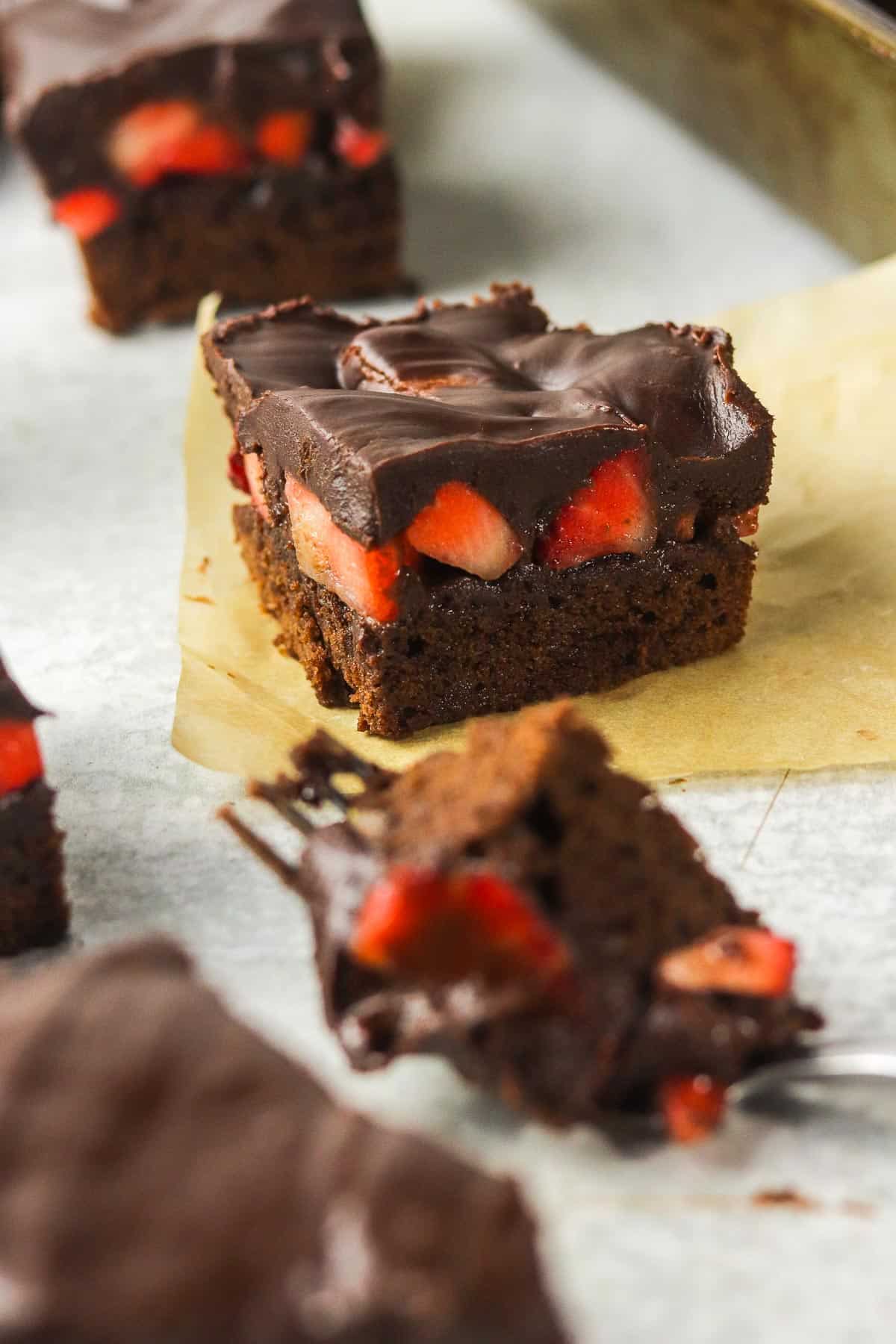 Why This Recipe Works
I love chocolate covered strawberries that have a thick brownie bottom, fresh strawberry center and chocolate ganache top! They're so delicious and luxurious but also SO tedious to make! These chocolate covered strawberry brownies give you the taste a decadence you're looking for with NONE of that tedious work!
These strawberry brownies are a MUST every Valentine's Day in my household but I also like to make them for guests to really impress them (little do they know they take all of about 30 minutes to put together and are totally fool-proof!)
Ingredients Needed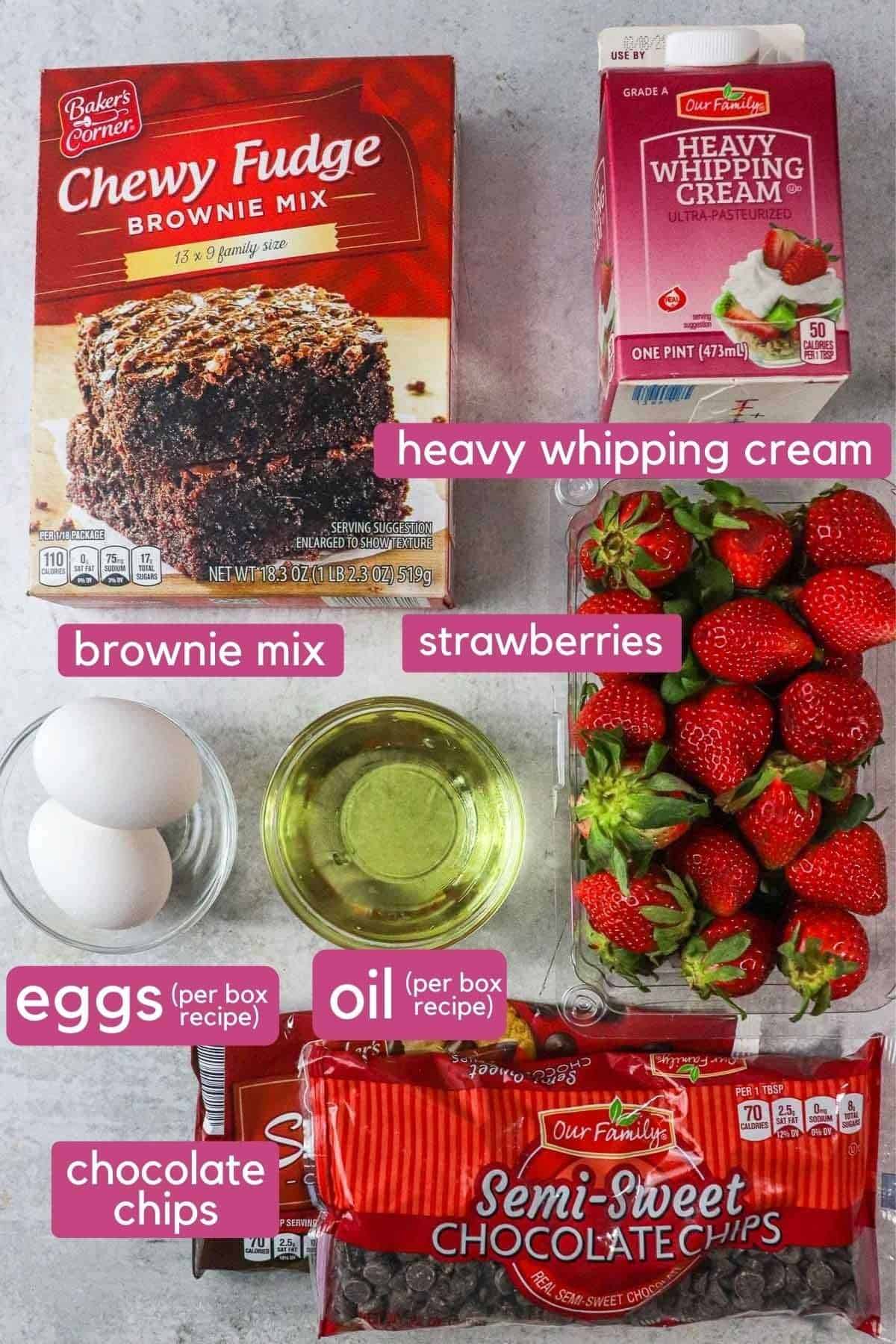 Brownie Mix: I usually use a brownie mix when I'm making these, to be honest. But feel free to use your favorite from scratch recipe, like these best ever bakery brownies!
Strawberries: I wouldn't recommend using frozen strawberries. Fresh will work best.
Heavy Whipping Cream: If you don't have this on hand you can sub milk and butter. See FAQs and recipe notes for substitution instructions.
How To Make This Recipe
First, grab a box of brownie mix (family sized) or your favorite brownie recipe (enough to make a 13x9 pan) and prepare and bake according to directions.
Once the brownies are cooked and slightly cooled (pop them in the fridge for ~10 minutes) cover them with diced strawberries. You want these to be fairly small pieces. I don't recommend using slices because when you cut the brownies into squares they'll take entire slices from other brownies, leaving some naked. Not good!
Now your fresh strawberry brownies are ready to get a chocolate bath!
Go ahead and add chocolate chips and heavy whipping cream together into a medium sized bowl and microwave them for ~60-90 secnods, stirring every ~15-20 seconds. **Be careful not to burn the chocolate! This is cause lumps and dry areas in your chocolate and it won't spread evenly. Watch it like a hawk!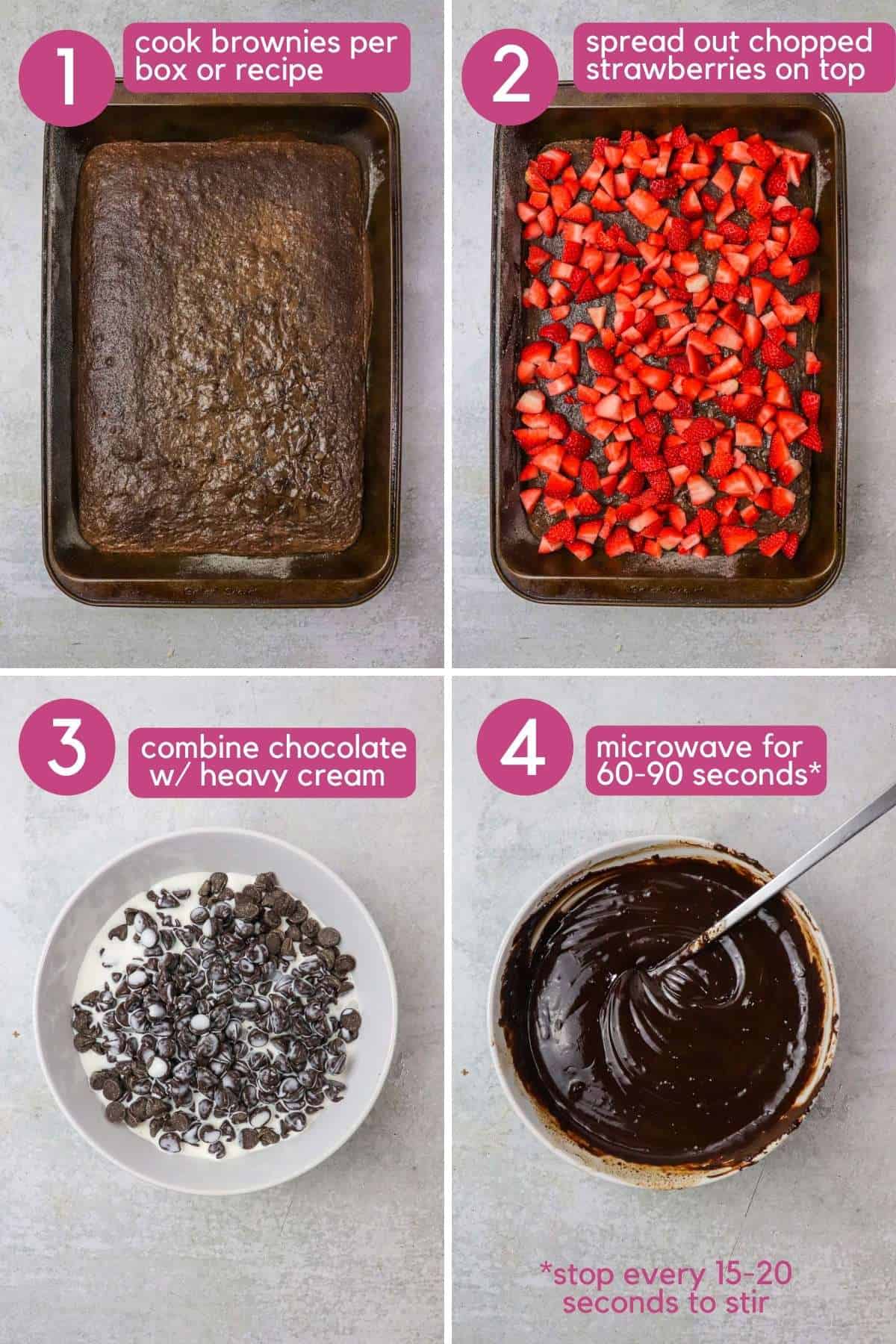 Once chocolate and cream are melted together, pour the melted chocolate mixture over the strawberry brownies and spread it out.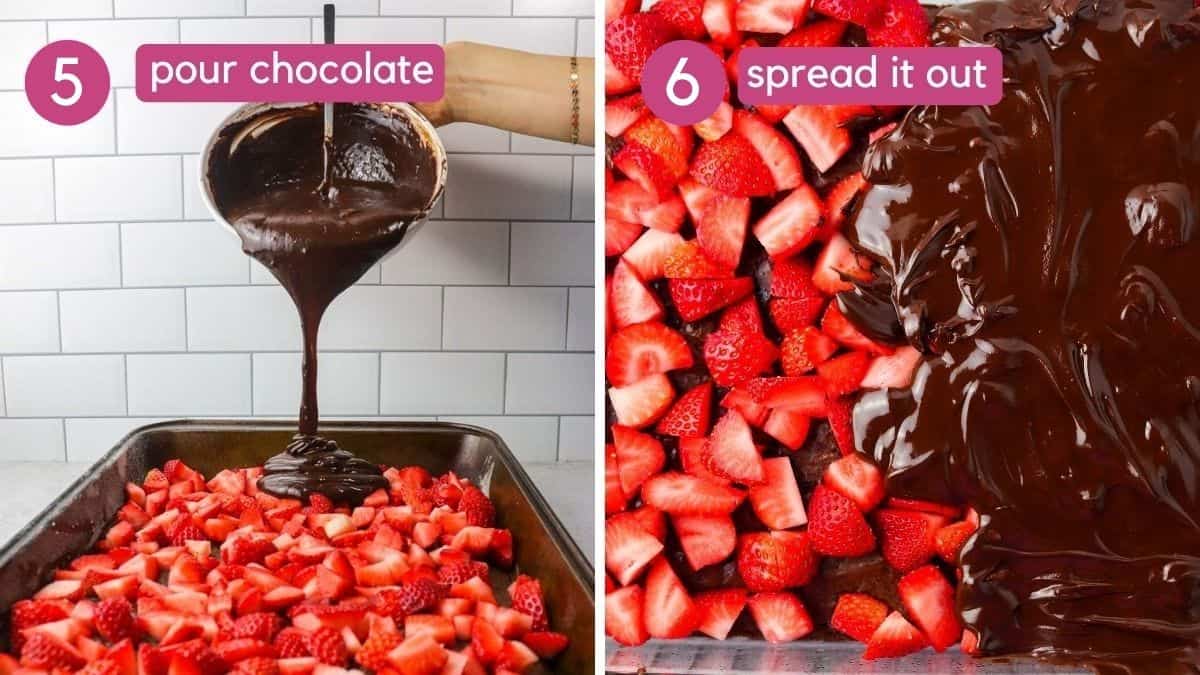 To be sure to get really clean, even cuts that don't take the strawberries right off of the brownies be sure to let them cool FULLY! Pop them in the fridge for another ~10 minutes to make it go faster. Also, be sure to wipe your knife off between each cut.
Grab yourself a square and enjoy!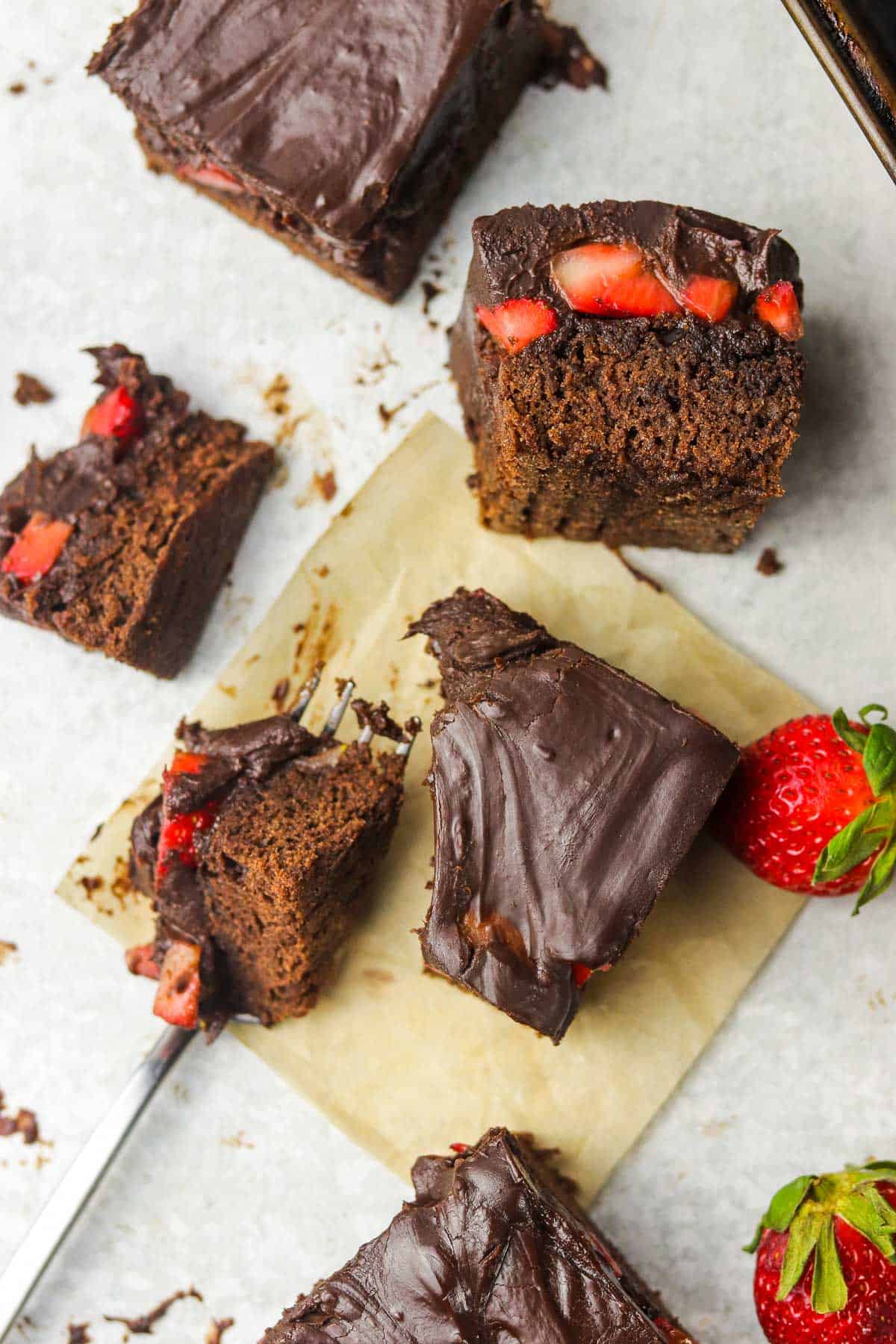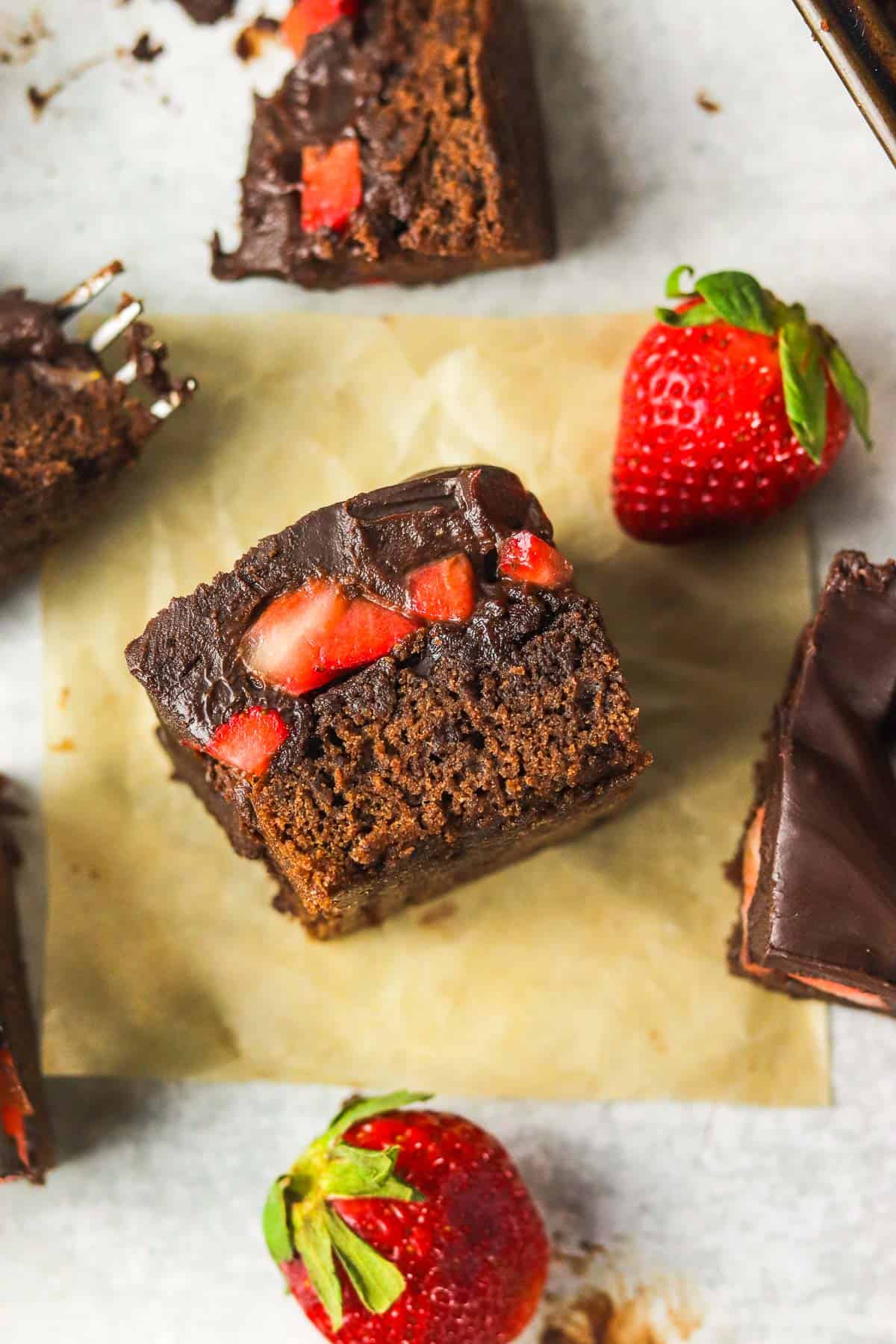 Recipe FAQs
Can I make a smaller pan size? Like an 8x8 or 9x9?
If you don't want to make a full 13x9 pan of brownies (that can be a lot!) you can use a regular (not family sized) box of brownies or a recipe that makes a smaller size like 8x8' or 9x9'. Then, just use half of the amounts of strawberries, chocolate chips and butter!
Why isn't my chocolate smooth and liquid?
If you over cook your chocolate ganache topping it will burn and make it seem dry and lumpy. If it's not too burnt you could try fix overheated or burnt chocolate but first cooling it as soon as possible (prevent it from being at a too high heat for too long) adding a splash of vegetable oil and using an immersion blender to try to get it smooth. If it's still kinda chunky, chuck it unfortunately.
Why are my brownies getting mushy?
Because fresh strawberries have a high water content these brownies are best eaten within 2-3 days. How fast your brownies will last depends on how ripe your strawberries are. If you use overly ripe strawberries your brownies may become mushy faster. I have had a batch of these for about a week though and they're still great despite being softer!
What can I use instead of heavy whipping cream?
If you don't have heavy whipping cream on hand you can use 3 tbsp butter and 1/3 cup of milk. This may end up a little softer VS a firm chocolate coating, more of a frosting, but it will work. I have only done this with cow's milk, not non-dairy.
Expert Tips
Use a very sharp, slightly serrated knife to cut these for nice clean cuts. A plastic knife actually works amazingly!
Be sure to allow these brownies to cool fully but don't cut them when they're overly cold (like if you put them in the freezer and forget about them) this might cause your chocolate coating to crack.
Wipe your knife between every cut! This helps get nice clean cuts.
Other Recipes Your Might Like:
If you love this recipe, be sure to leave a star rating on the recipe card and leave a comment below!
Don't forget to pin it on your Pinterest board for later, or tag me on IG @no.food.rules if you try the recipe and love it!
XOXO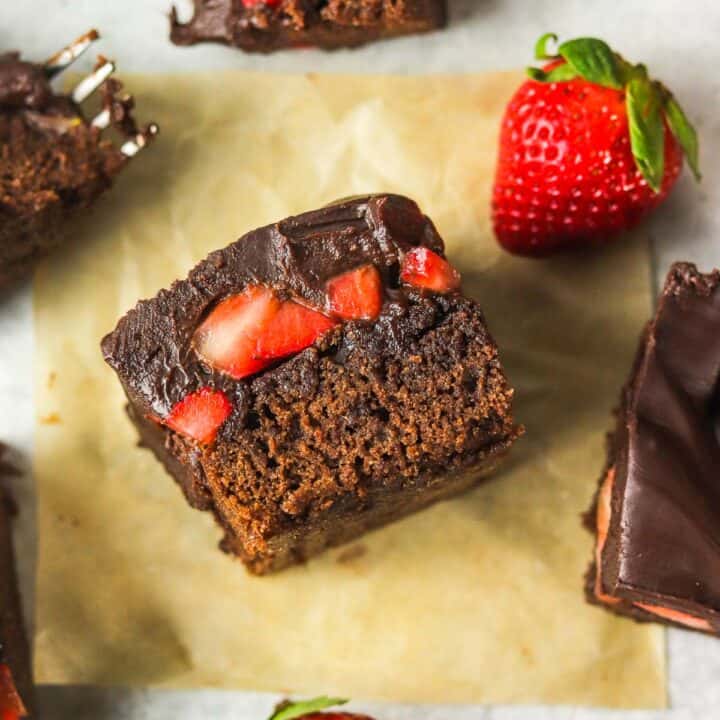 Chocolate Covered Strawberry Brownies
Additional Time:
20 minutes
Juicy, fresh strawberries sandwiched between layers of fudge brownie and chocolate ganache. The taste and decadence of chocolate covered strawberries with none of the tedious work!
Ingredients
1 box of brownie mix
2 eggs (or as called for on the package)
1/2 cup oil (or as called for on the package)
2 tbsp water
2 cups fresh strawberries, diced
2, 12 oz bags of chocolate chips (~4 cups total)
3/4 cup heavy whipping cream
Instructions
Prepare brownies according to package directions.
Allow brownies to cool fully, then spread strawberries on top in one even layer.
In a microwave safe bowl melt together the chocolate chips and heavy whipping cream. This will take 60-90 seconds and be sure to stop and stir every ~15-20 seconds. Be careful not to burn! It's done when it's just liquid- again, don't overcook!
Pour the melted chocolate over the strawberries topped brownies in one even layer.
Allow to cool fully before cutting.
Notes
Brownies are best eaten within a few days of baking.
Store brownies in the fridge after baking.
Heavy Whipping Cream Sub: If you don't have heavy whipping cream you can sub 3 tbsp butter 1/2 cup milk (I have not tested this with non-dairy milk)
You can use boxed or a homemade brownie base
If you want to make an 8x8 or 9x9 pan instead of a larger 13x9 just use half of what the recipe calls for for the strawberries and whipping cream
Nutrition Information:
Yield:

24
Serving Size:

1
Amount Per Serving:
Calories:

218
Total Fat:

16g
Saturated Fat:

7g
Trans Fat:

0g
Unsaturated Fat:

8g
Cholesterol:

24mg
Sodium:

15mg
Carbohydrates:

20g
Fiber:

2g
Sugar:

16g
Protein:

2g