Boozey brownies anyone?! Maybe it's me, maybe it's the Christmas spirit talking, the wintery weather… but I just really feel like throwing liquor into all of the desserts right now is a really good idea. So, today I'm bringing you the recipe for these AMAZE bourbon cream cheese brownies!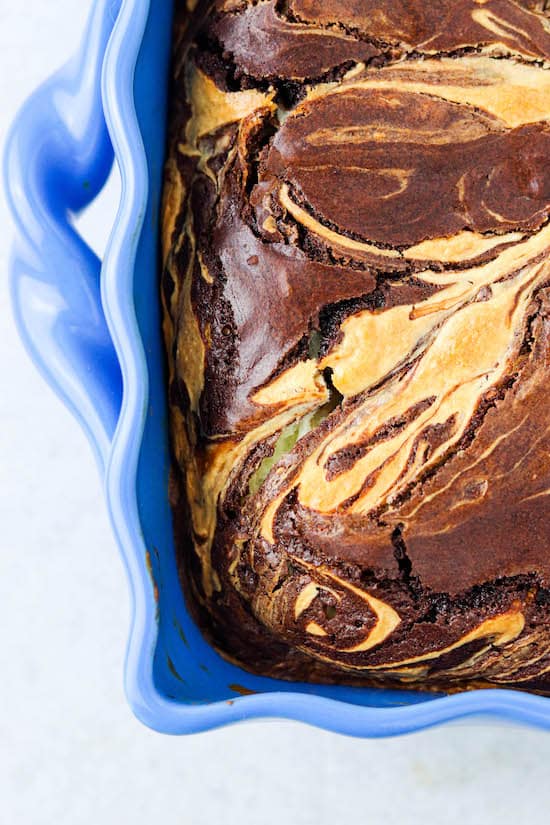 Why Bourbon Cream?
If I'm honest with you I do NOT like drinking bourbon. I'm much more of a vodka kinda gal when I do drink (which isn't often, not a big drinker). BUT, the flavor that the bourbon adds to the bourbon cream cheese frosting is UH-maze. It's like it warms you soul. So delicious. And, it gives the cream cheese swirl little more depth VS kinda tasting like you should be biting into an onion bagel rather than a bourbon chocolate brownie. Not ideal.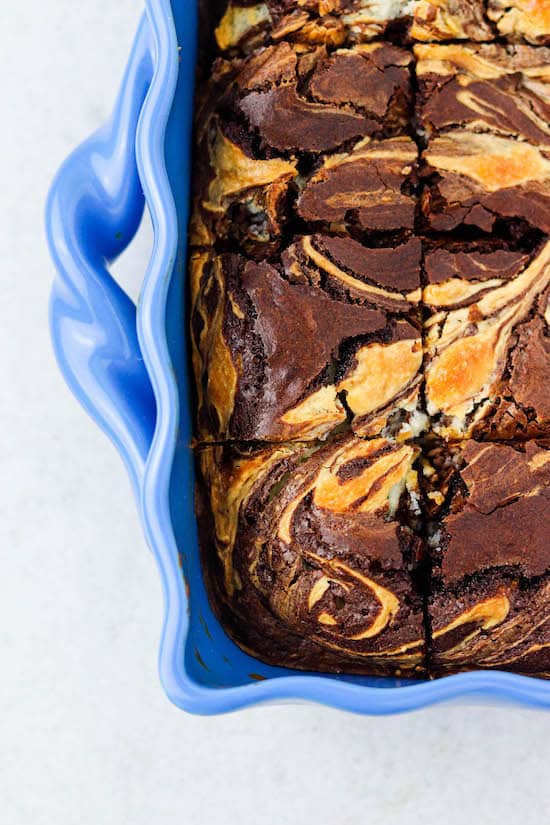 If you aren't a fan of the bourbon or want to have yourself a dry January (or whatever month) whatever floats your boat, you can just use vanilla extract. Totally works, I've done it!
If you're clueless (like me!) when it comes to buying bourbon, here is a good guide on what matters when it comes to buying bourbon!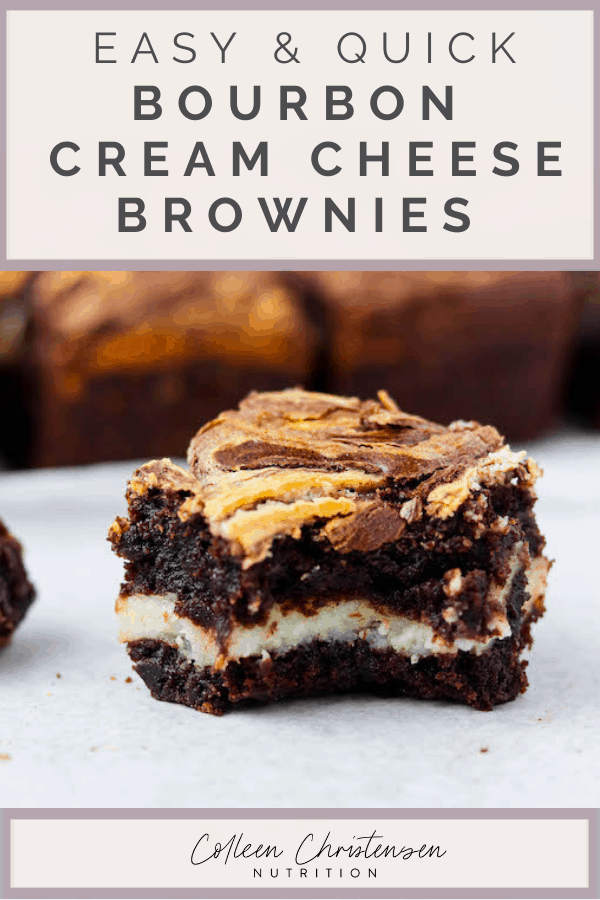 How To Make Fudgey Bourbon Chocolate Brownies
I usually opt for brownie mix when making brownies. I haven't yet put the time into perfecting a brownie recipe. (Side note: I DID perfect these chocolate chip cookie bars though… you NEED.) But I am honestly never super impressed with how the boxed mix turns out. I feel like I always have to bake it for WAY longer or they end up like soup. Can you relate?! Here are my tips for making these chocolate bourbon brownies super fudgey when using a boxed mix:
Add LESS oil than what it calls for. Just by a splash!
Add LESS water. Again, just by a splash!
Bake them in an 9×9 pan VS a 13×9. I feel like they always turn out way better and have less of those rock hard crusty corners. (could also sub an 8×8 pan- but it might cook a little longer)
Bake them LONGER. Expect to bake brownies for, like, at least 20 extra minutes. Especially these ones with the bourbon cream!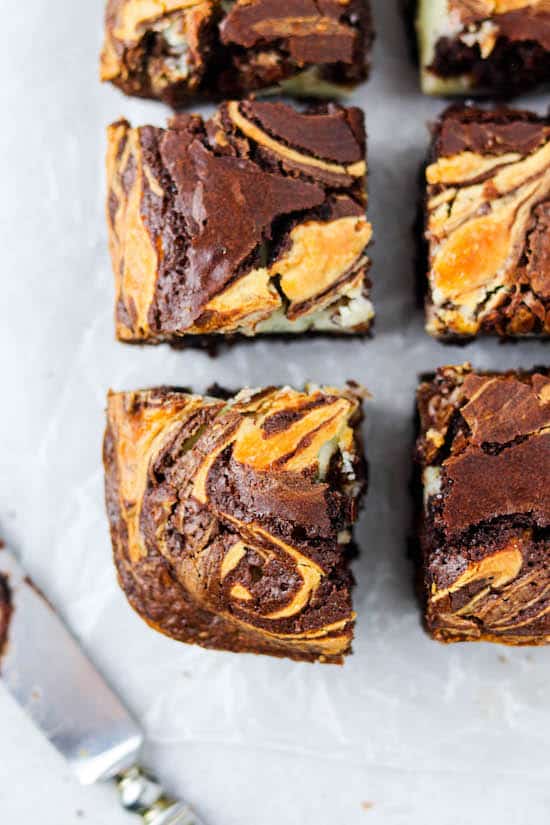 I feel like it's easy to get overwhelmed when walking down the baking aisle and seeing ALL of the different brands of brownie mixes. Here is a great guide I found on the best brownie mixes out there. Leave a comment with your fave!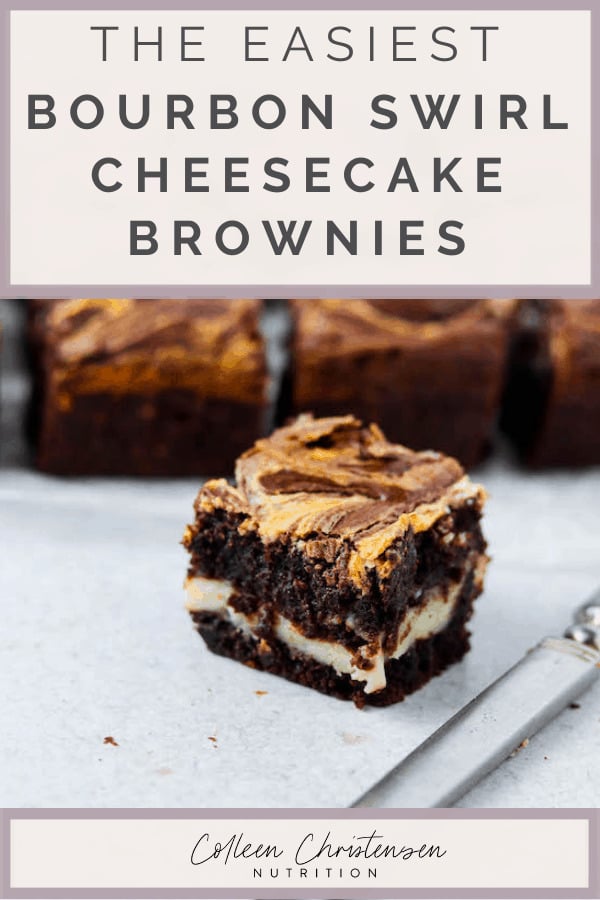 How To Make The Bourbon Cream Swirl
Making the bourbon cream swirl is actually super easy. You just cream up the cream cheese reaaaaaal nice. This step is super important, cream it for, like 2 minutes longer than you think. If you don't you'll likely wind up with chunks of cream cheese in your brownies. Not bad, but not ideal.
Then, once the cream cheese is supa creamy, add in powdered sugar, bourbon (or vanilla) and again, cream it. Then once that is creamed and lump-free, add in the eggs. Beat until it's uniform.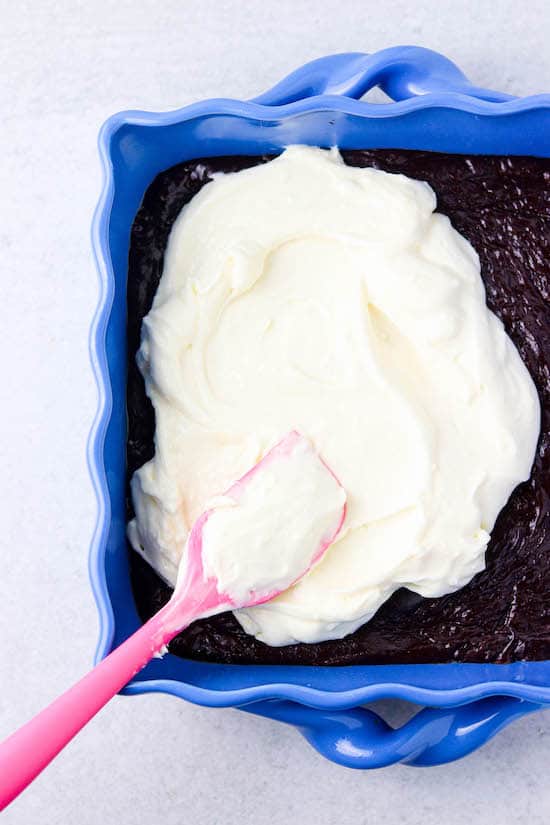 Pour your prepared brownie mix into the pan, reserving about 2/3-1 cup of the batter. Next, pour your bourbon cream layer on, followed by the reserved brownie batter. When adding the last bit of brownie batter I usually just dollop it. Make it ugly. The uglier the dolloping the prettier the swirls you get!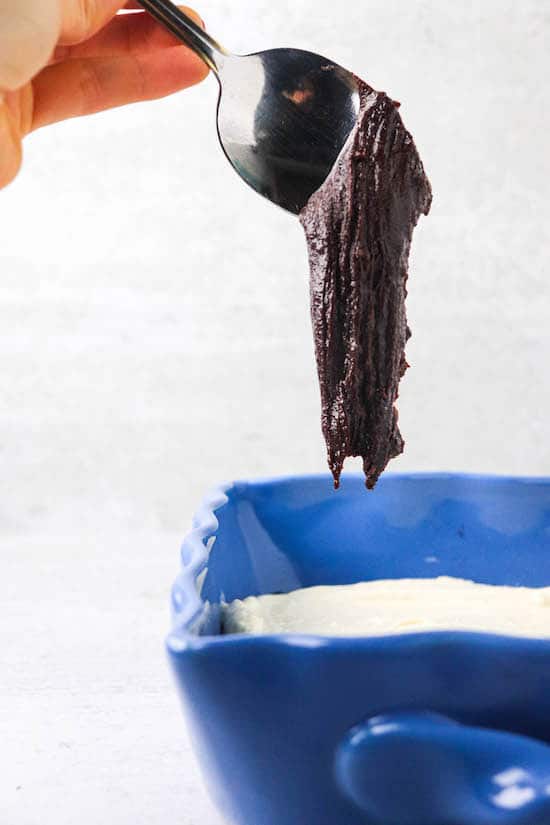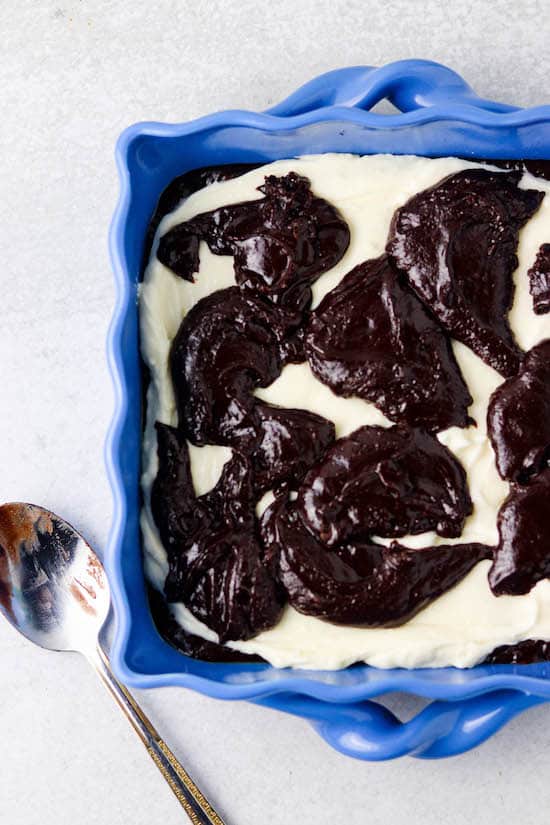 Run a knife through the the pan in an "s" shape, creating the swirls! And Voi-a! You've got a gorgeous bourbon cream cheese swirl!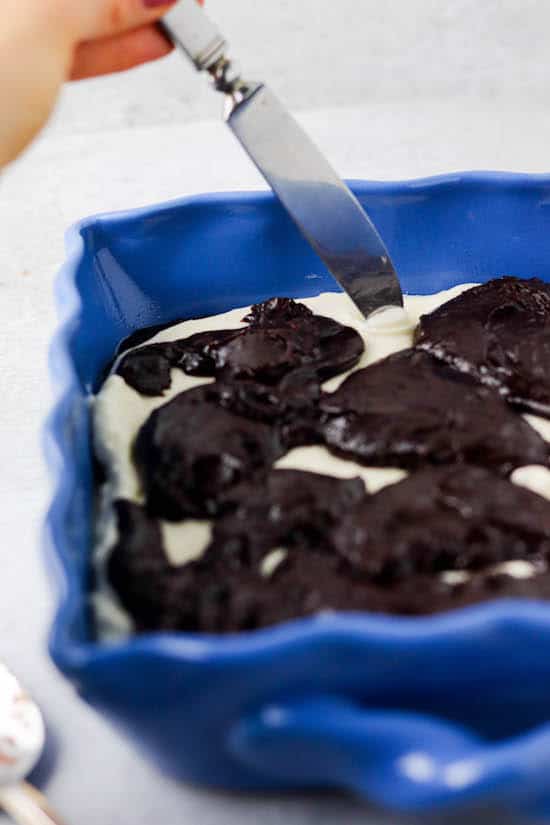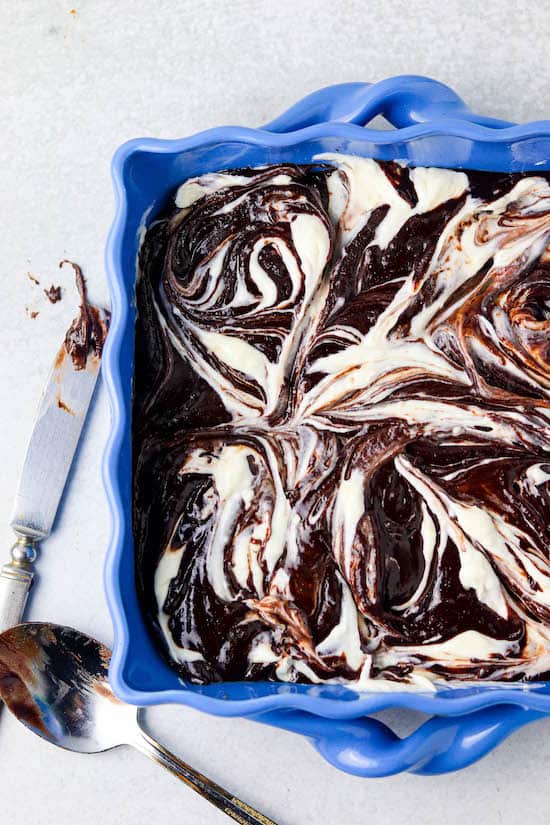 These bourbon cream cheese brownies will impress ANYONE. Not only are they super pretty looking with that swirl, but they're filled with power couples:
Bourbon chocolate
Cream cheese brownie
Bourbon cream
Heaven.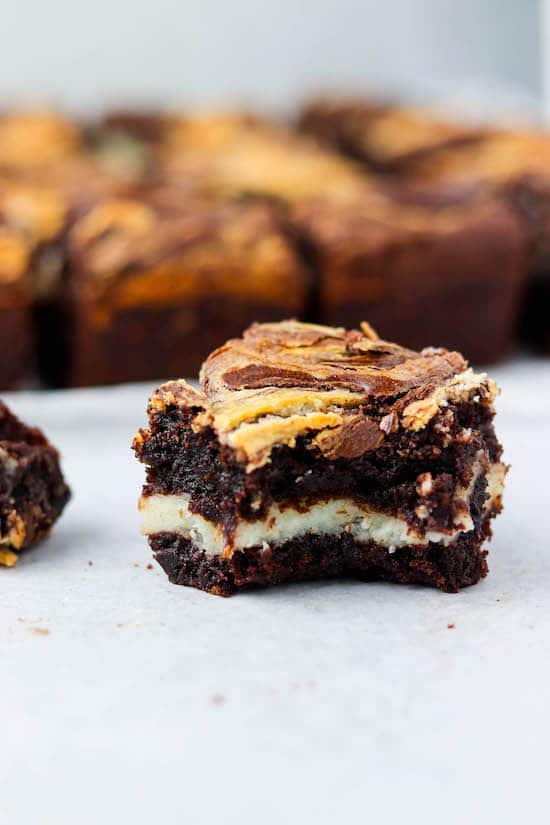 Give this recipe a try and leave a comment with your thoughts!!! Did you use bourbon or vanilla? Let me know!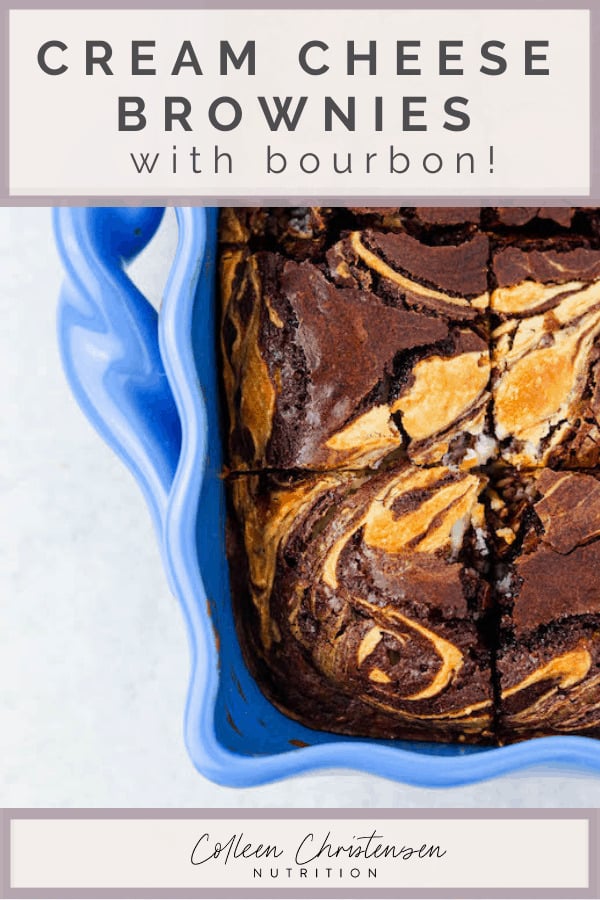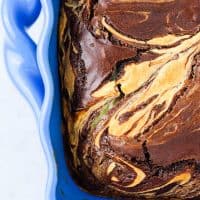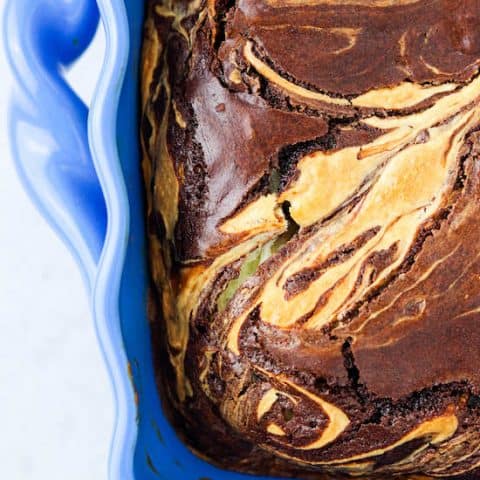 Bourbon Cream Cheese Brownies
Dense and fudgey these brownies have a swirl of bourbon cream running through them that will have your mouth watering! These bourbon cream cheese brownies will be your new go-to.
PRINT RECIPE
Ingredients
1

box of brownie mix

3

eggs

divided into 2 eggs and 1 white

1/2

cup

+ 1 tbsp canola oil

8

oz

cream cheese

softened

1

cup

powdered sugar

2

tbsp

bourbon
Instructions
Preheat oven to 350 degrees and lightly grease a 9x9" baking dish, set aside

In a large bowl combine brownie mix, 2 eggs, and oil. Mix until just combined.

In a stand mixer or another large bowl with electric beaters cream together the cream cheese and powdered sugar.

Next, add the egg white and bourbon into the cream cheese mixture, mixing well.

Pour ~3/4 of the brownie mix into the prepared baking dish, then top with cream cheese mixture.

Drop the remaining brownie mix onto the cream cheese layer in rounded heaps.

Using a knife, drag it through the brownies in an "s" shape to create the swirl.

Bake for ~45 minutes until bourbon cream swirl is golden and brownies are set. When you insert a toothpick it will come out clean!
Notes
If you're subbing vanilla, use 1 tsp vanilla + 1 tbsp & 2 tsp milk in place of bourbon
click To display nutrition info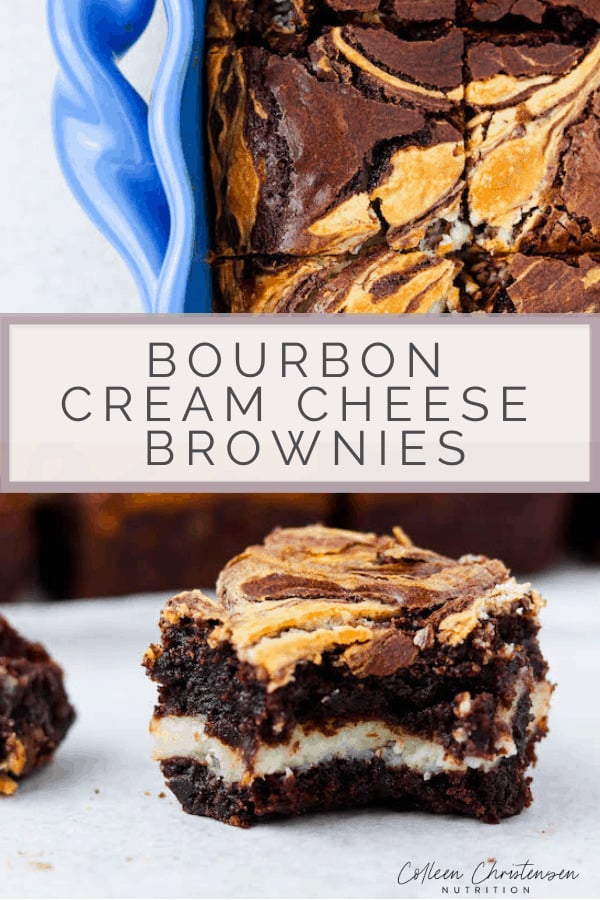 Happy eating & food rule breaking!
XOXO
-Colleen
Want more recipes like this? You might like these: