These blow your mind chocolate chip cookie bars are adapted from a long-standing secret family recipe and are certainly about to become your sweet treat go-to!
My husband's grandma always made the BEST chocolate chip cookies. And when I say the best chocolate chip cookies I'm talking out-of-this-world, hoard them in the back of the freezer for later GOOD.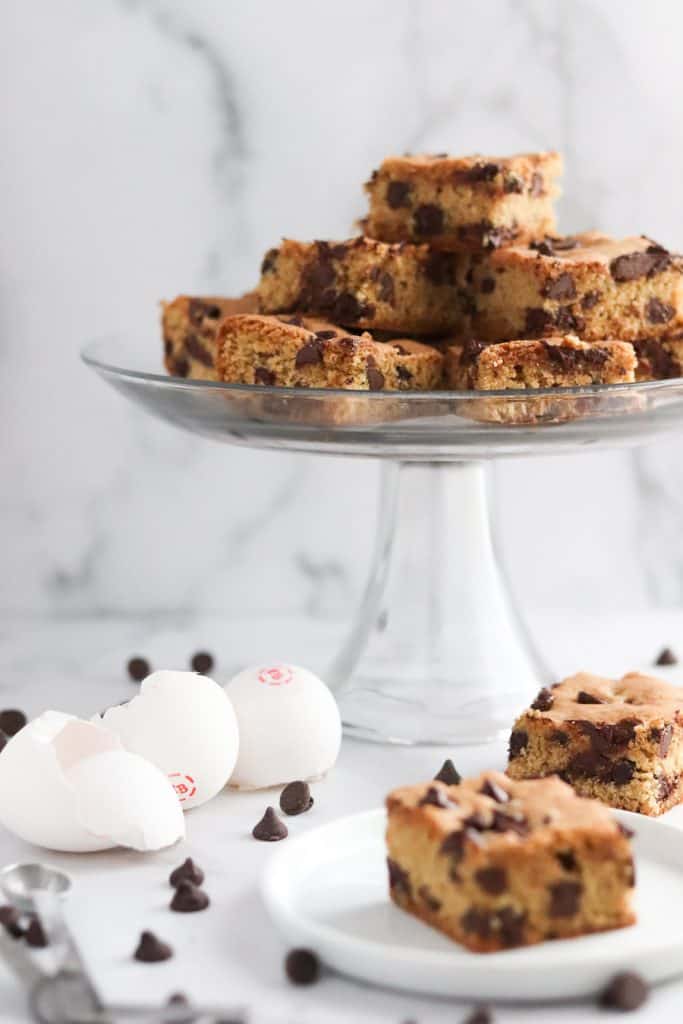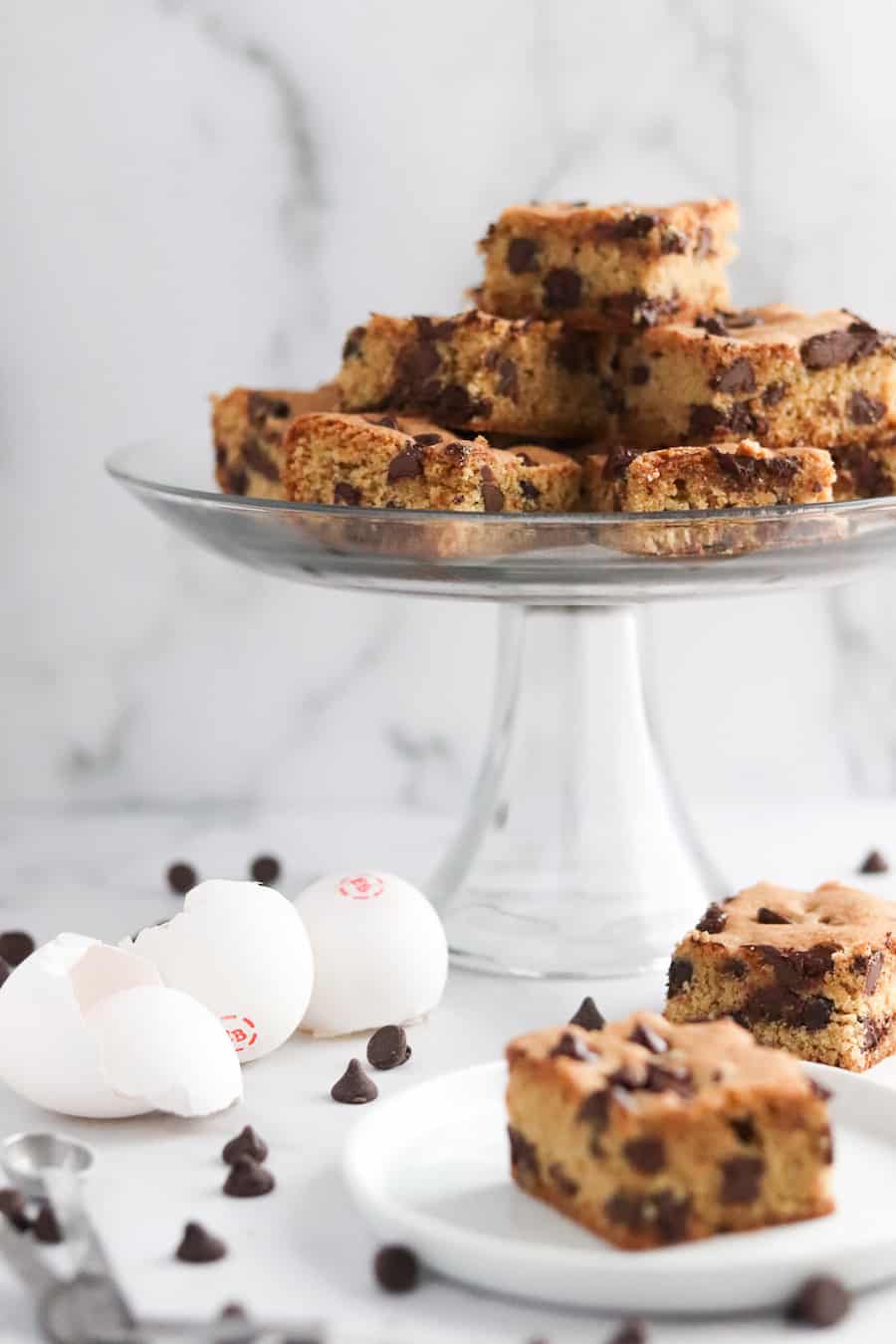 I remember when my husband, Joe, and I were dating I HATED seeing these cookies. Sounds strange, right? Here I am going on and on about how freaking GOOD they are, yet I hated seeing them. That's correct. The reason I hated it was because the cookies were SO good, but they broke by "you must eat perfectly "clean" ALL of the time" rule, which obvi meant no cookies for Colleen. So, every time we got a giant, gallon size zip-lock back full of them from Grandma Mary to throw in our freezer (is that just a Christensen thing, or do other people keep freezer cookies, too?!?) I sat there feeling tortured as everyone else was chowing down on the buttery, chocolatey, slightly salted GOODNESS!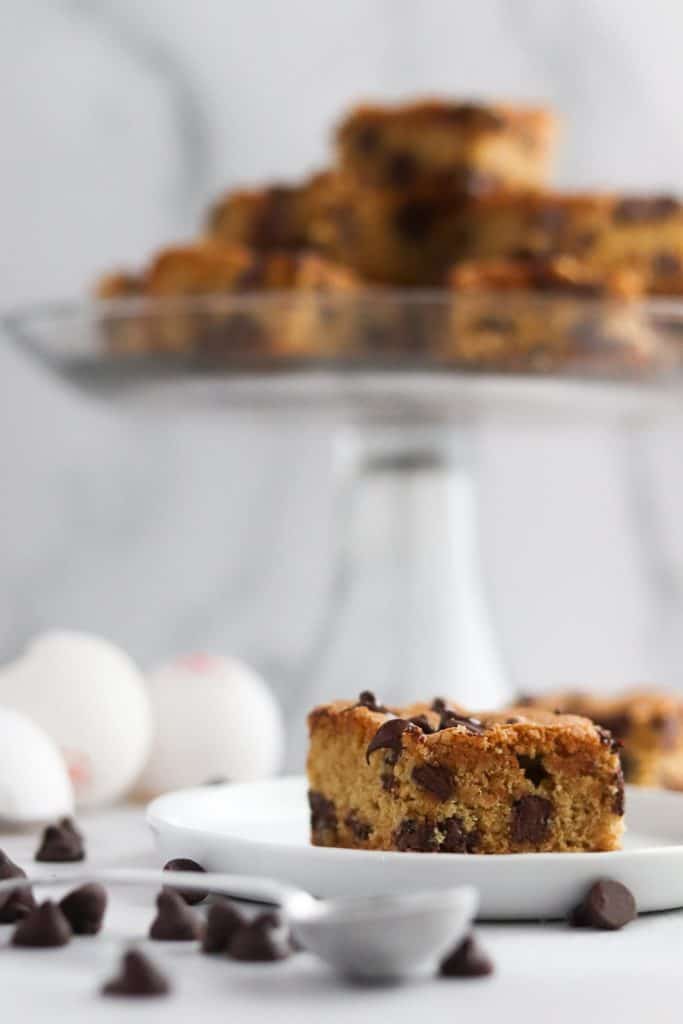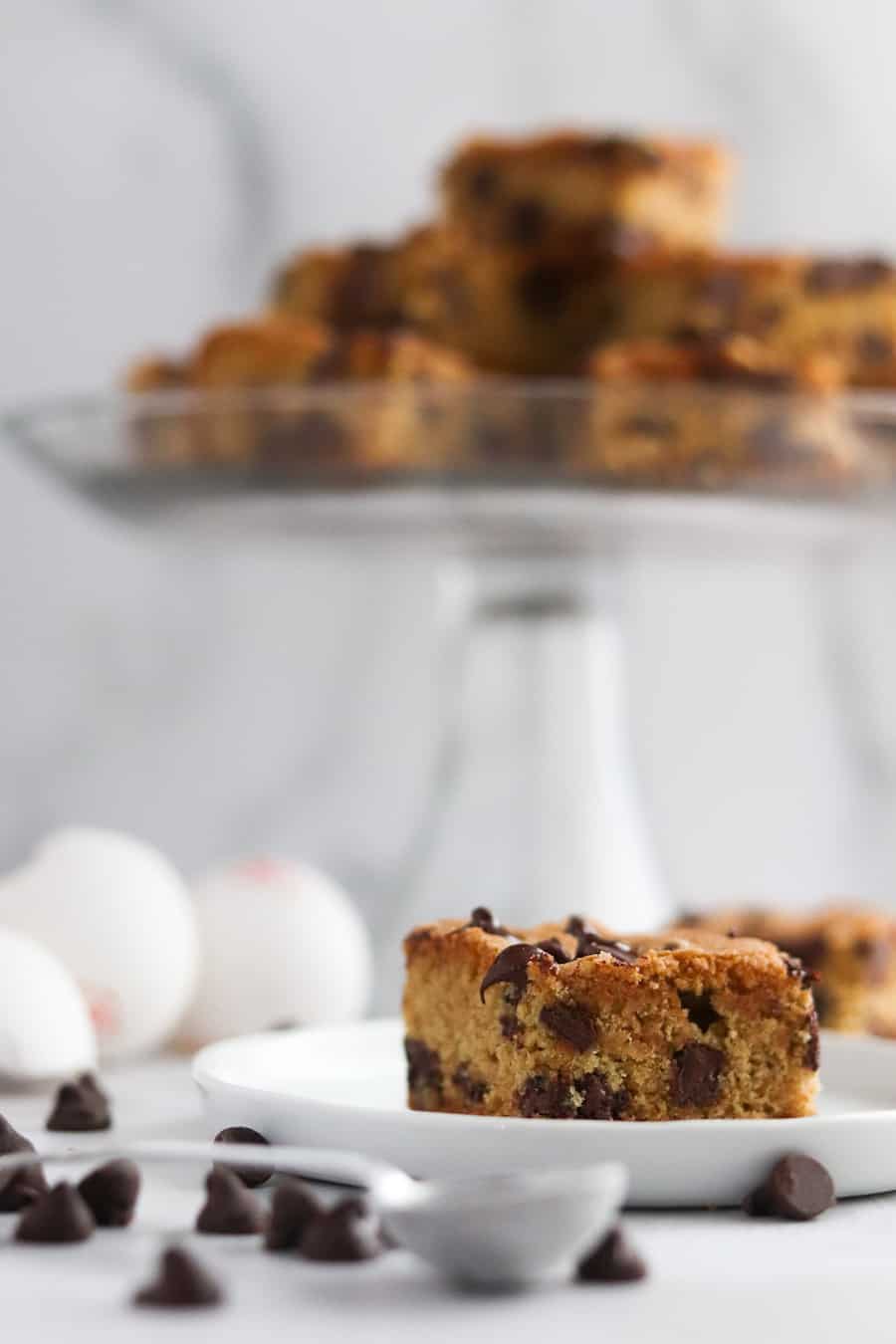 Man, I missed out on SO much deliciousness because of those food rules. Now, after overcoming ALL food rules and no longer seeing food as "good" or "bad" I can gladly enjoy these cookies whenever, where ever. You can get your own step-by-step guide to break your food rules too, I'v compiled all of that for you here in a free e-book!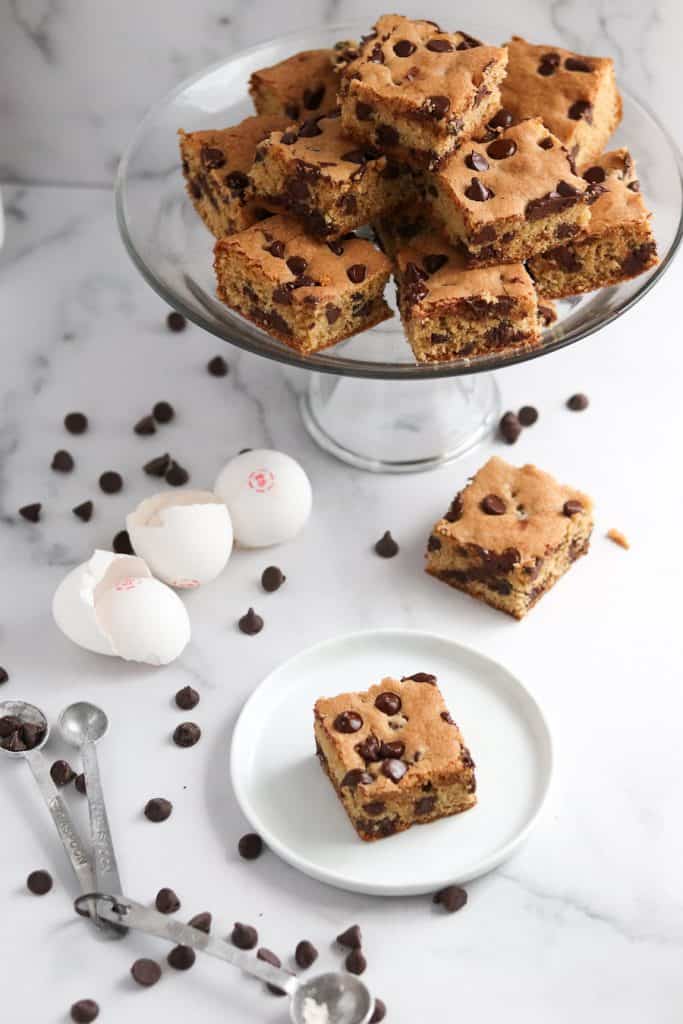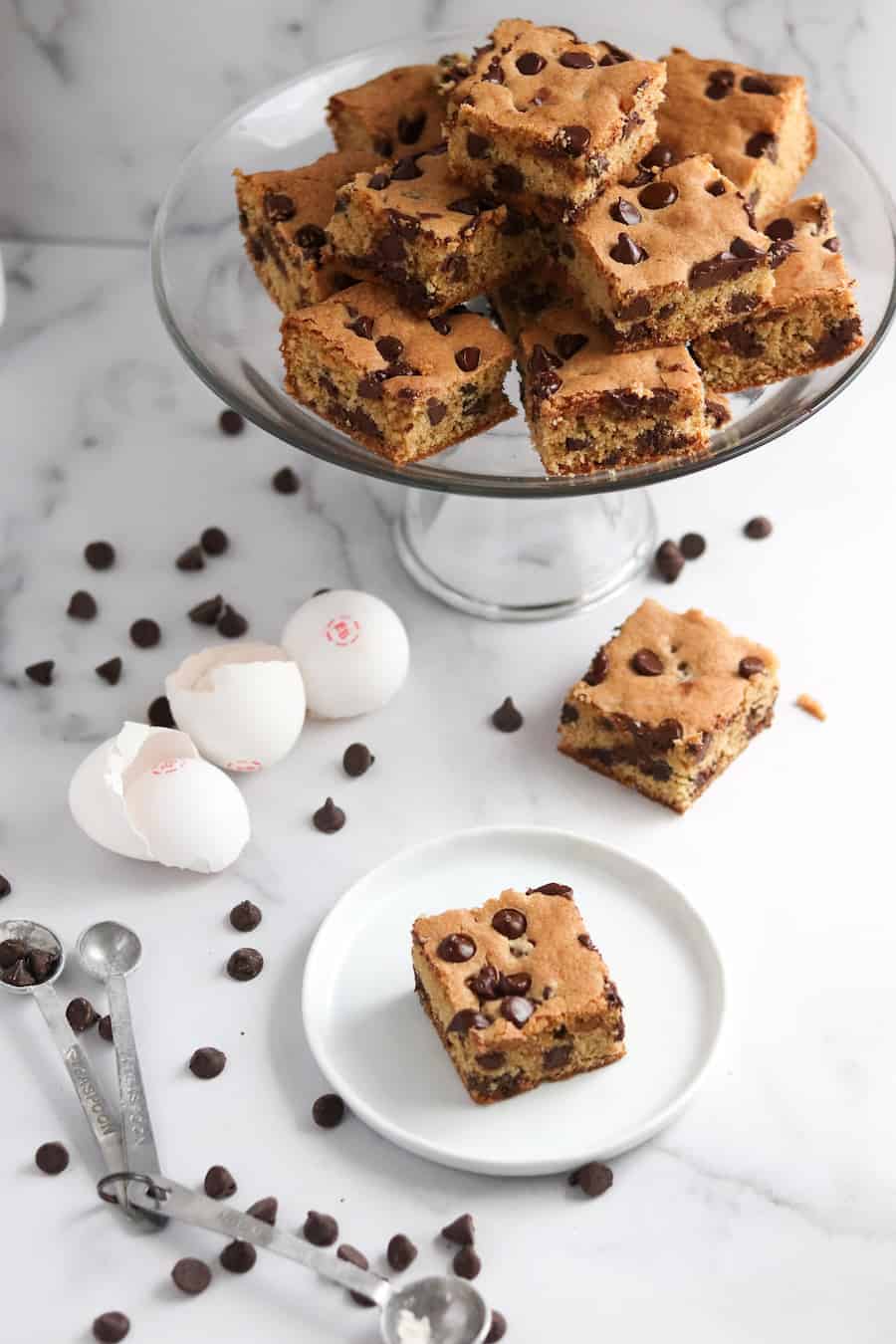 Grandma Mary passes away a few years ago, but her recipe still lives on and my father-in-law, Tom, makes the cookies on the regular, so we all (including me now!) are still able to enjoy them often.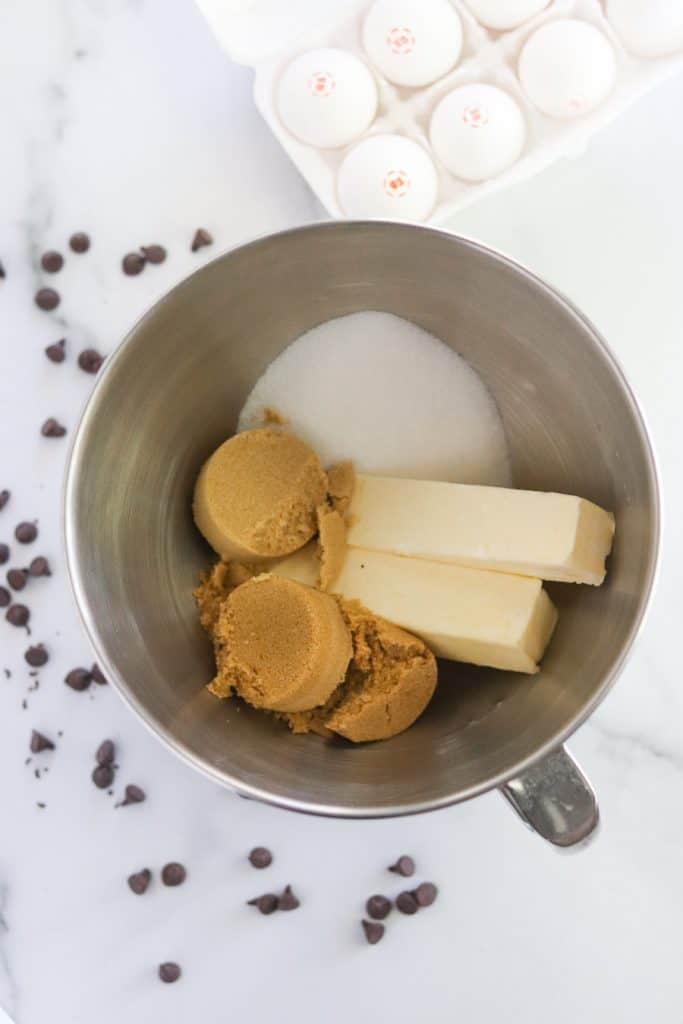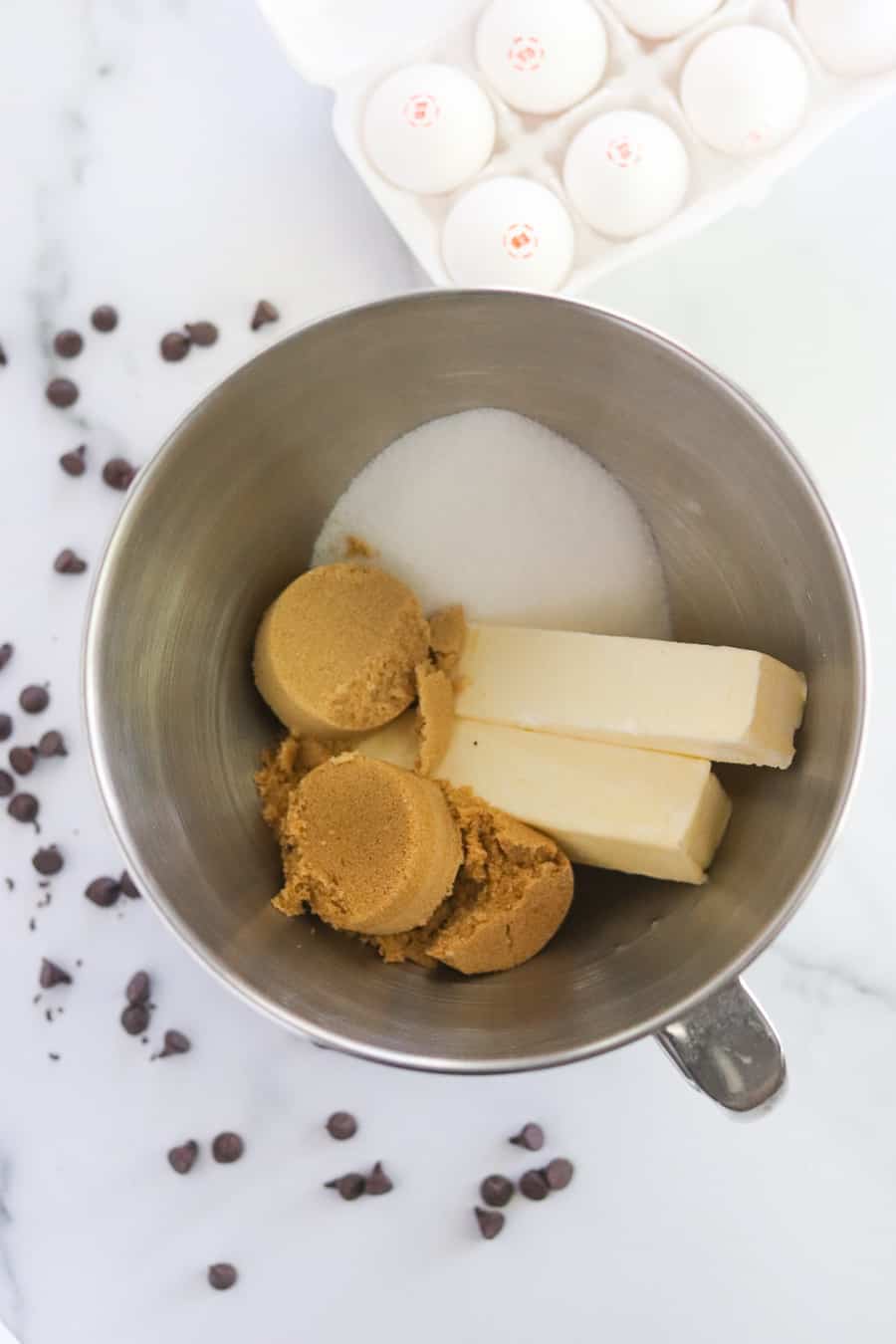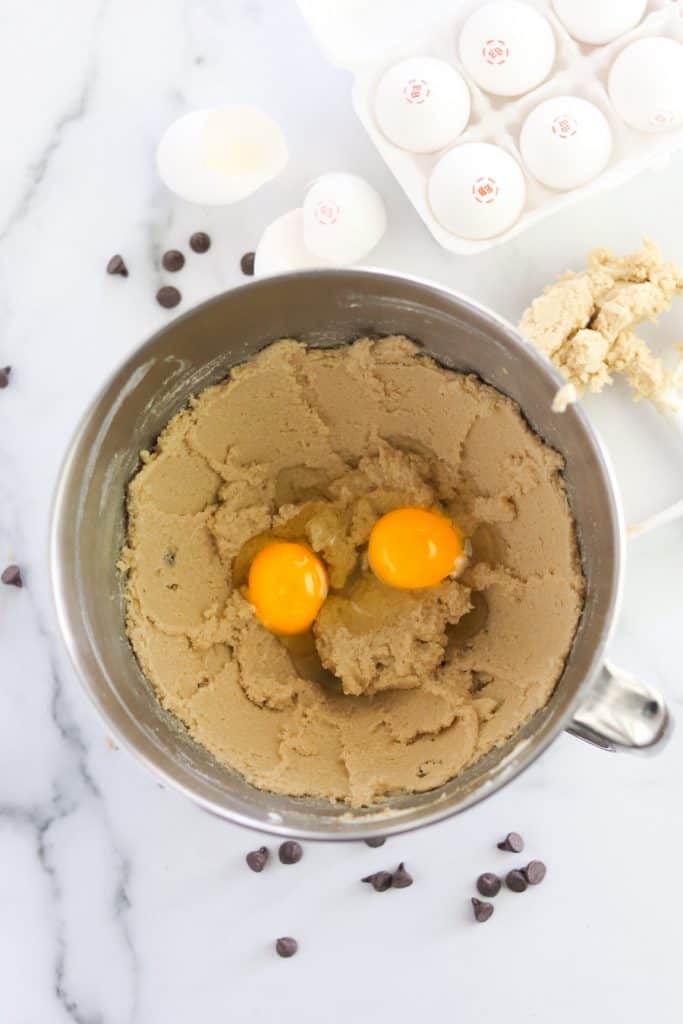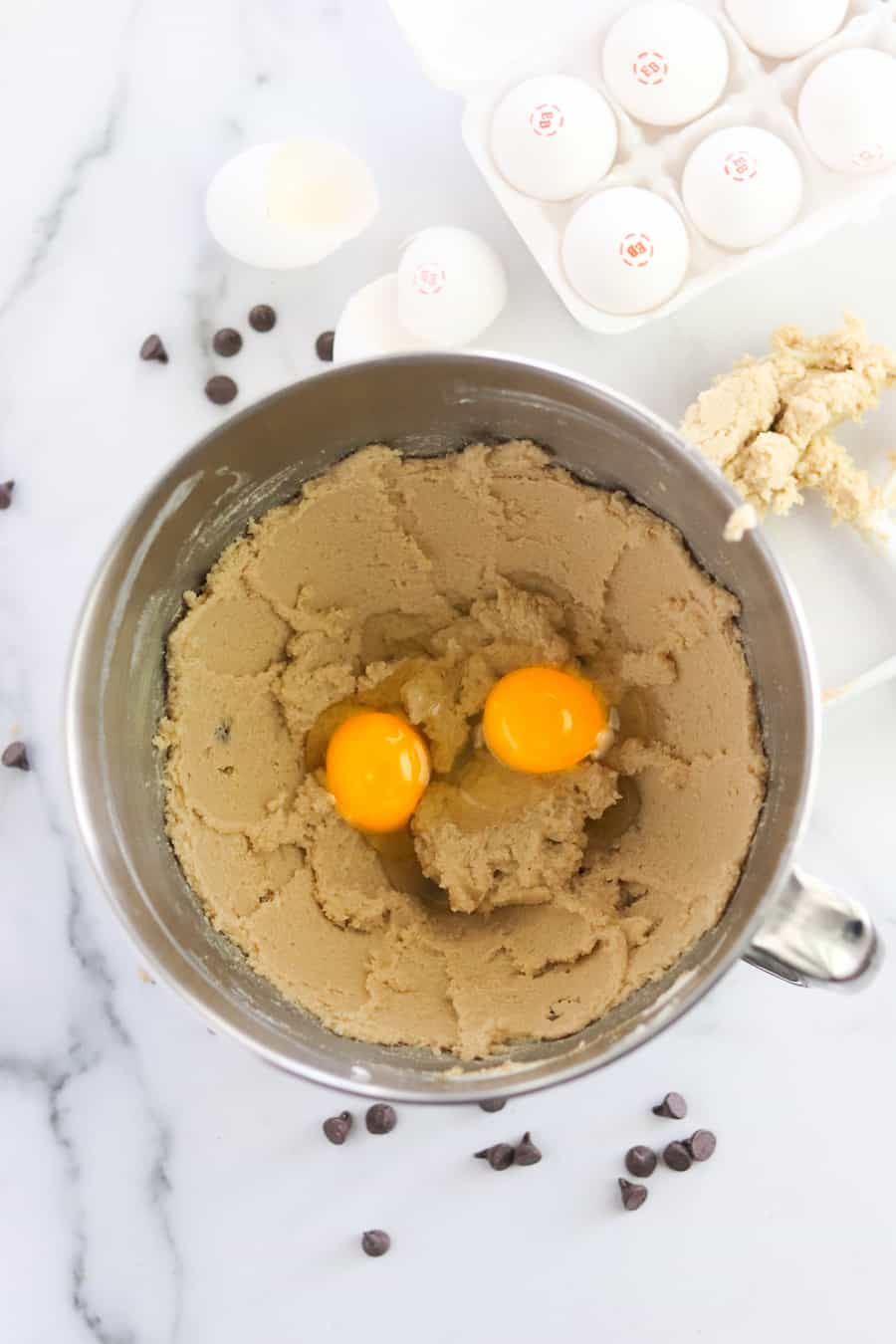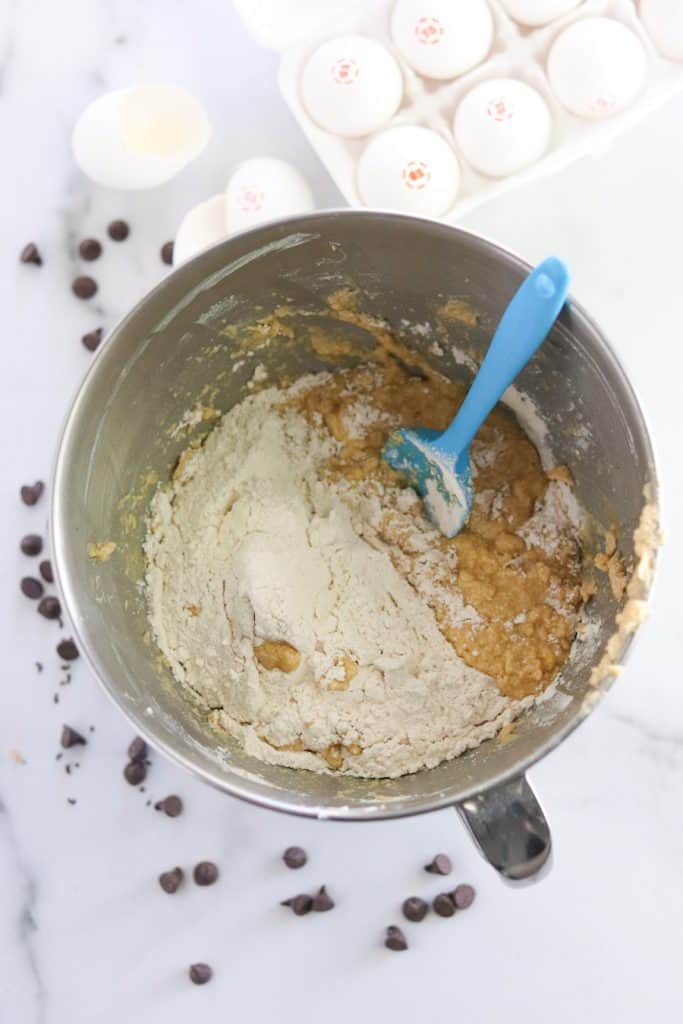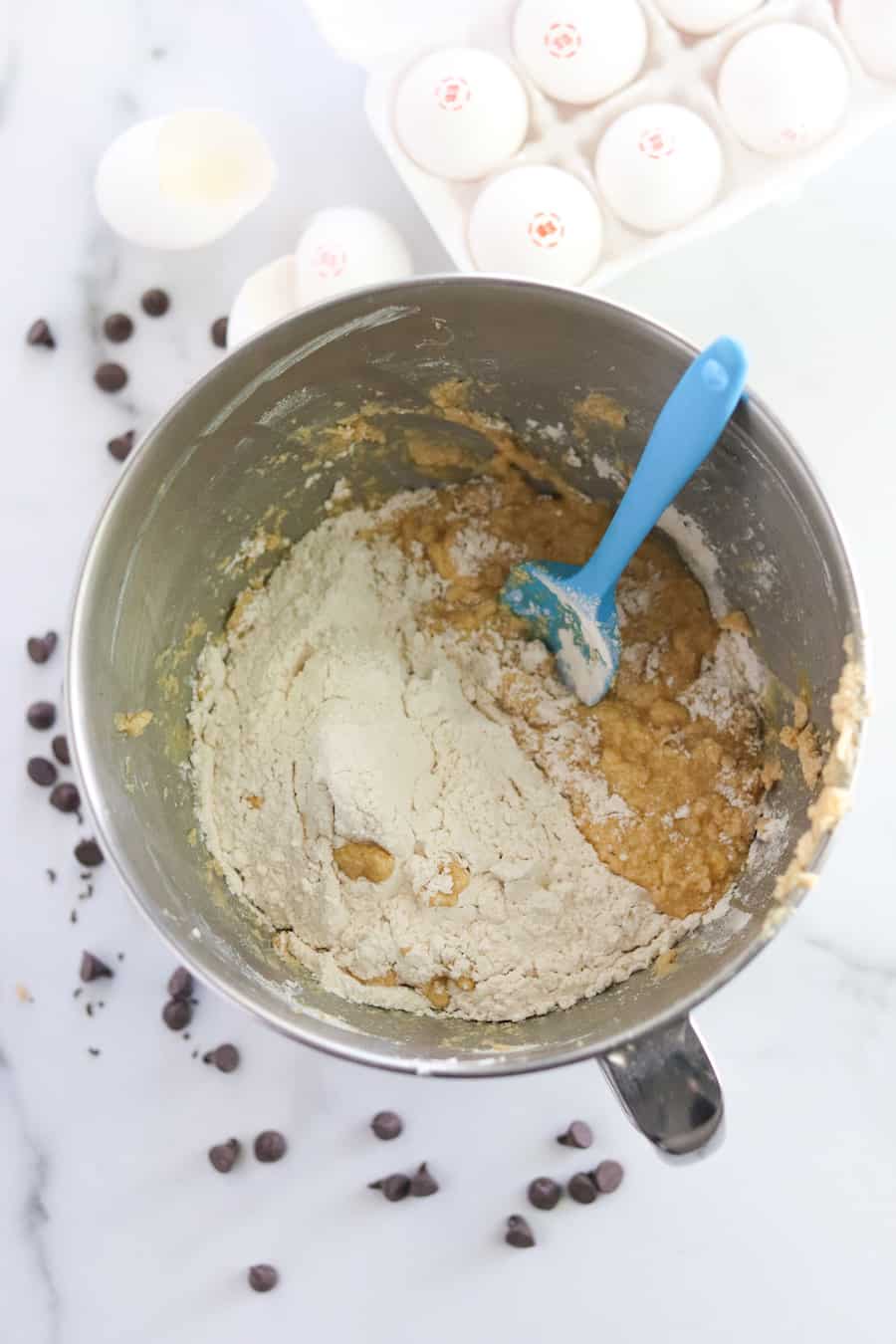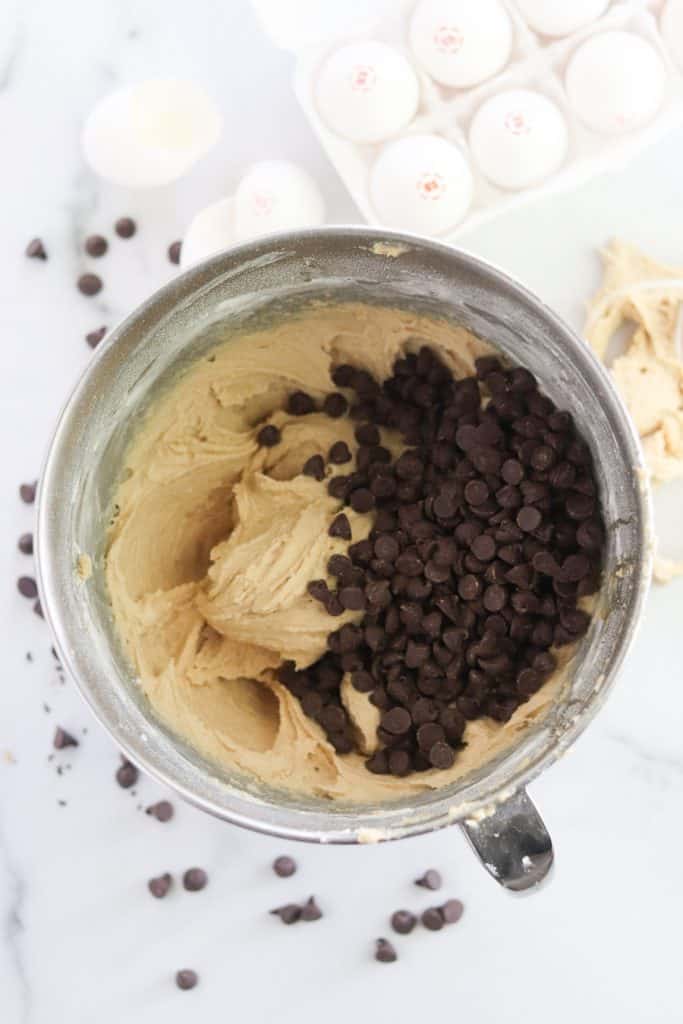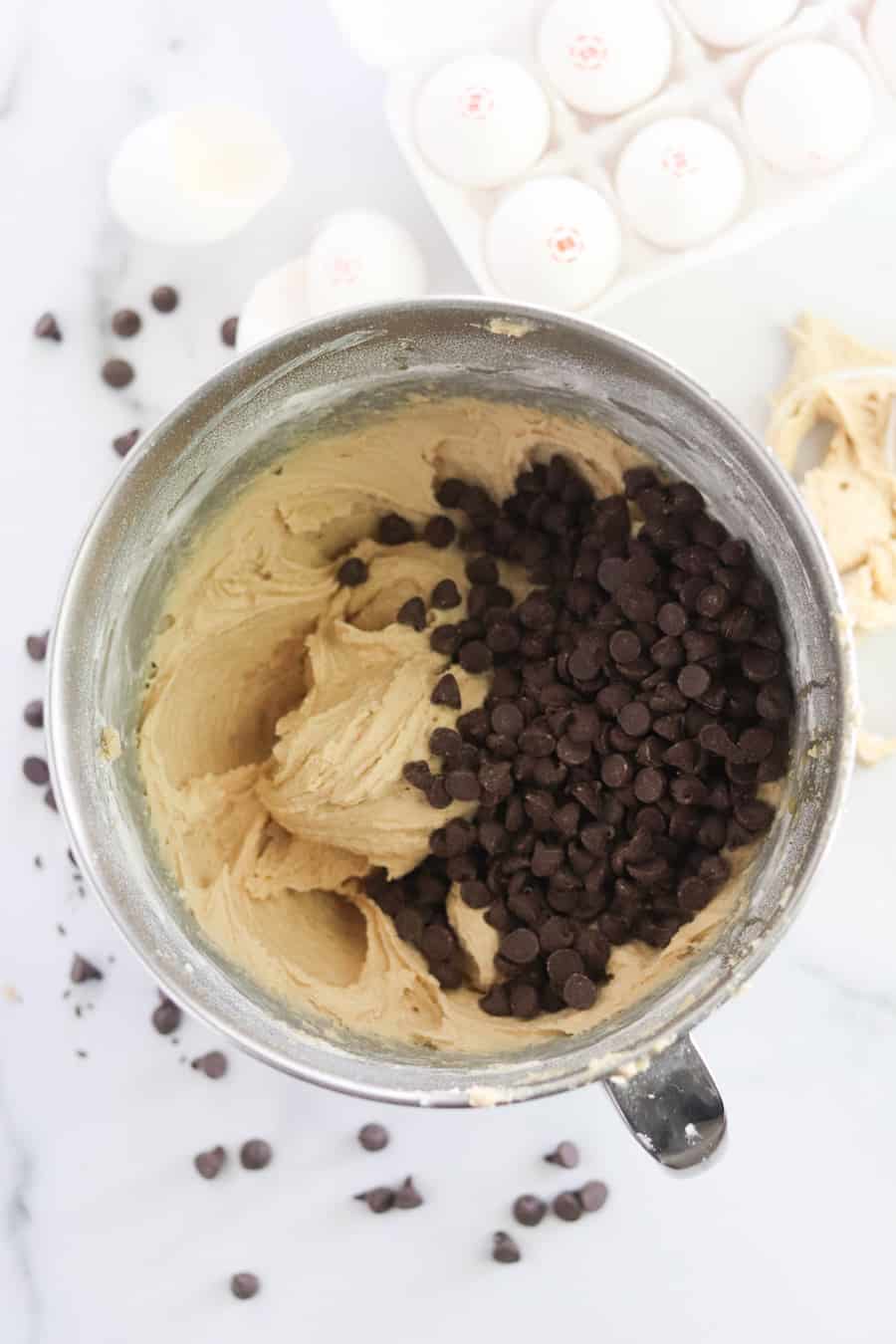 Since ol' Tommy body has taken ownership of the cookies I decided I needed to find a way to make it my own. Grandma Mary's recipe deserved to continue it's like, and I was on a mission to make that happen.
The result? These INSANELY delicious chocolate chip cookie bars.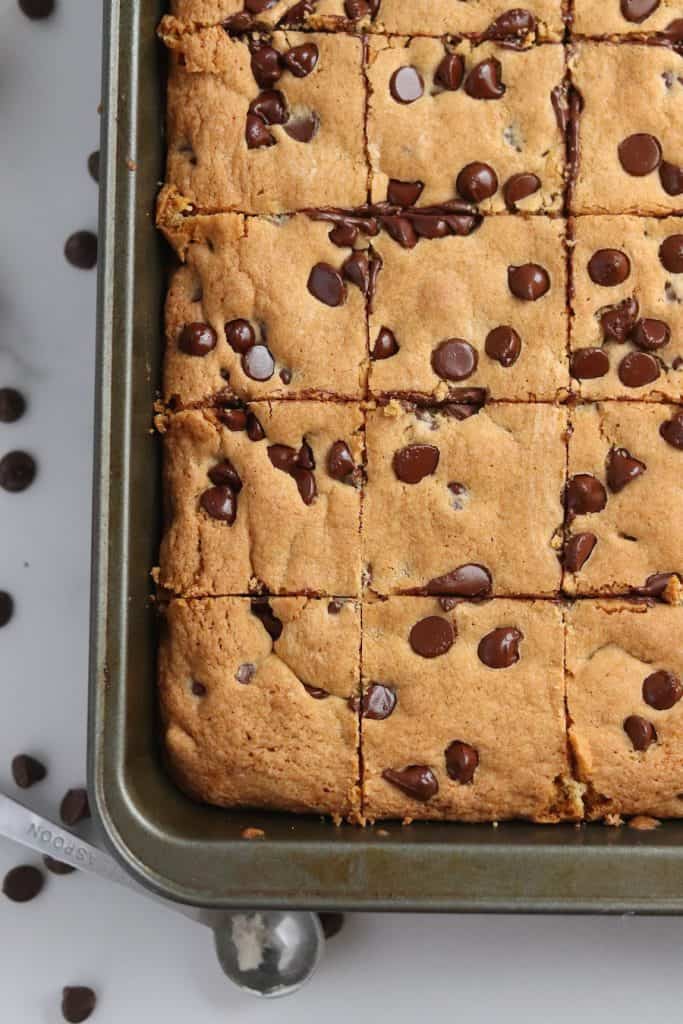 Honestly? I can NOT stop making these. I've seriously made them every week for the past month and always have people asking for the recipe. So, here it is!
Be sure to save this recipe to your Pinterest board, cause you're going to want this on hand when you get the next invite to a potluck, birthday party, baby shower, etc. that says "bring a dish to pass". This will be that dish. Or, I mean, if it's just a Tuesday you can totally use that as your excuse to make them, too. I'm here for it!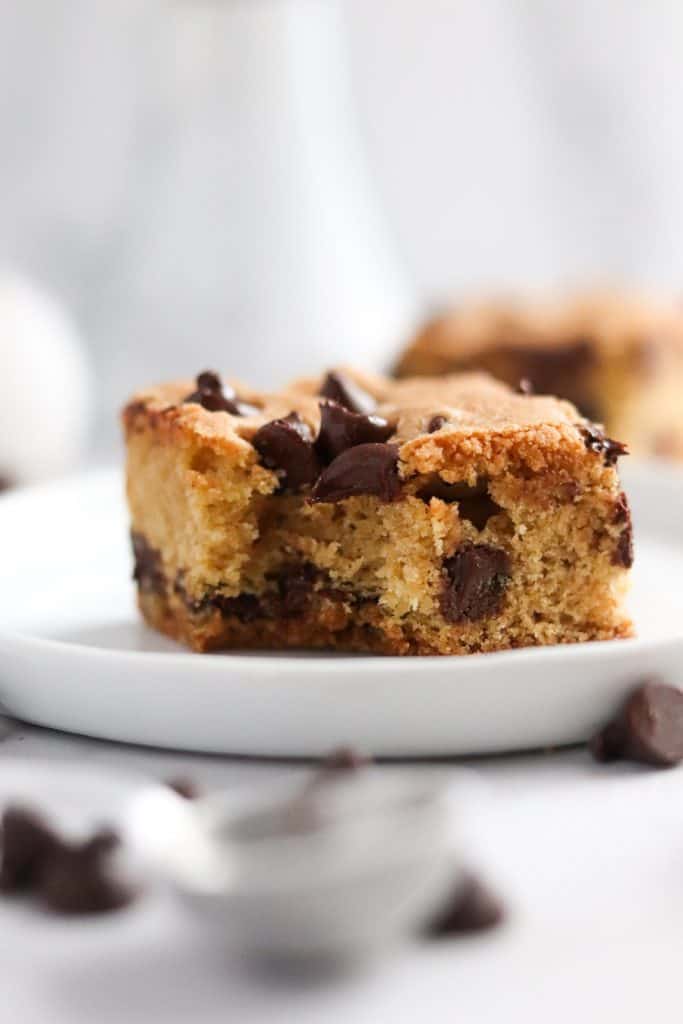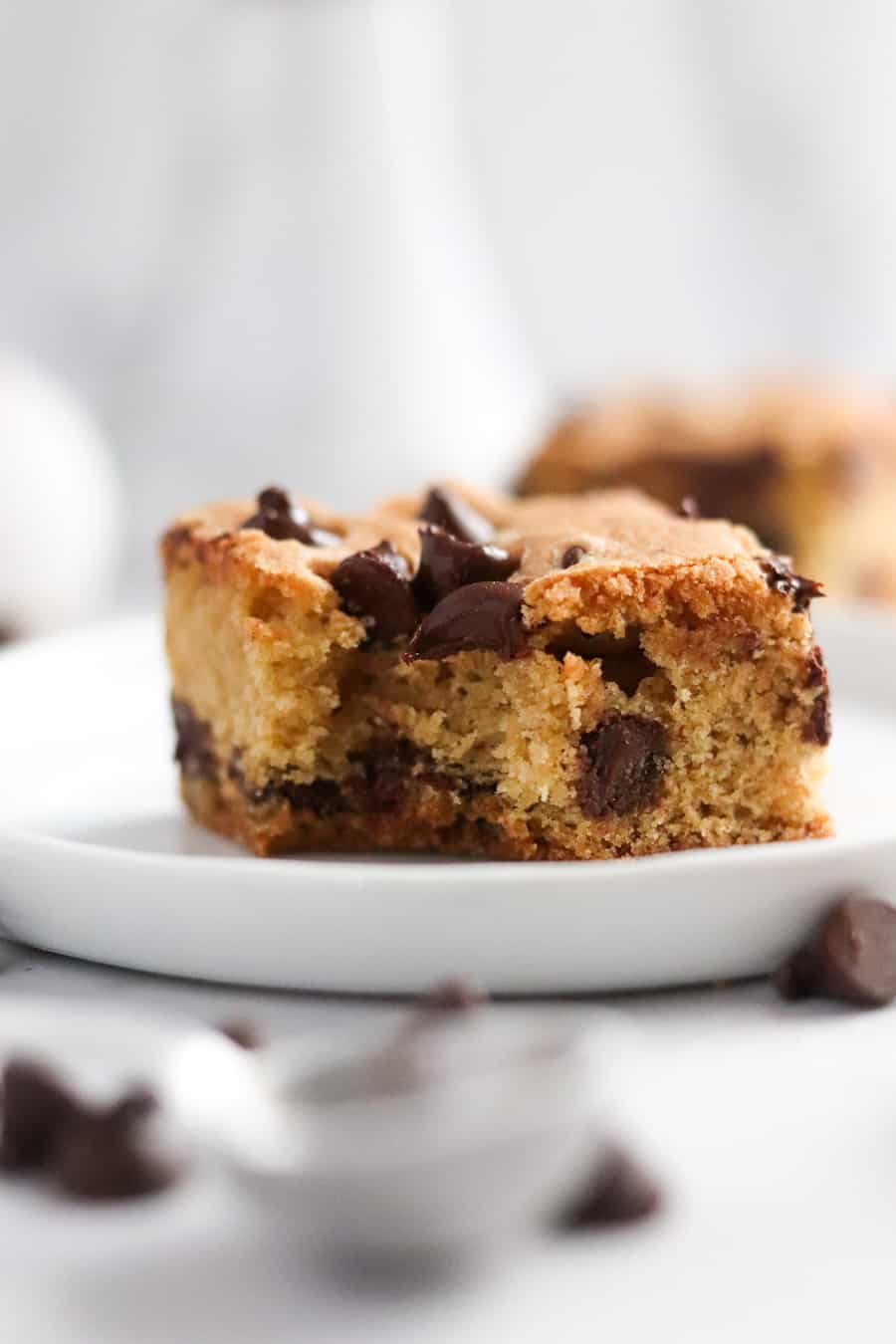 One quick tip for making these bars consistently delicious is to use high quality eggs. Whenever I am baking ANYTHING i use my go-to, Eggland's Best Farm Fresh Eggs. I can't tell you how much of a difference this makes in the outcome of any baked good! The flavor of these eggs can't even be compared to store brand eggs.
Plus, Eggland's Best Eggs are actually loaded with MORE nutrition than store brand eggs, which as a Registered Dietitian I totally don't hate. Let's take a look at that for a second:
10x more vitamin E: FAB for helping protect skin from sun damage
More than double the omega 3's: Great for keeping your heart healthy
38% more lutein: Necessary for keeping those eyes sharp
6x more Vitamin D: Maybe my fave one- it can actually boost your mood!
The fresh taste combined with the superior nutrition is why I always choose Eggland's Best Eggs. Do myself and your reputation as BOMB ass baker a favor and go grab some of these eggs before making these, okay? You can thank me later.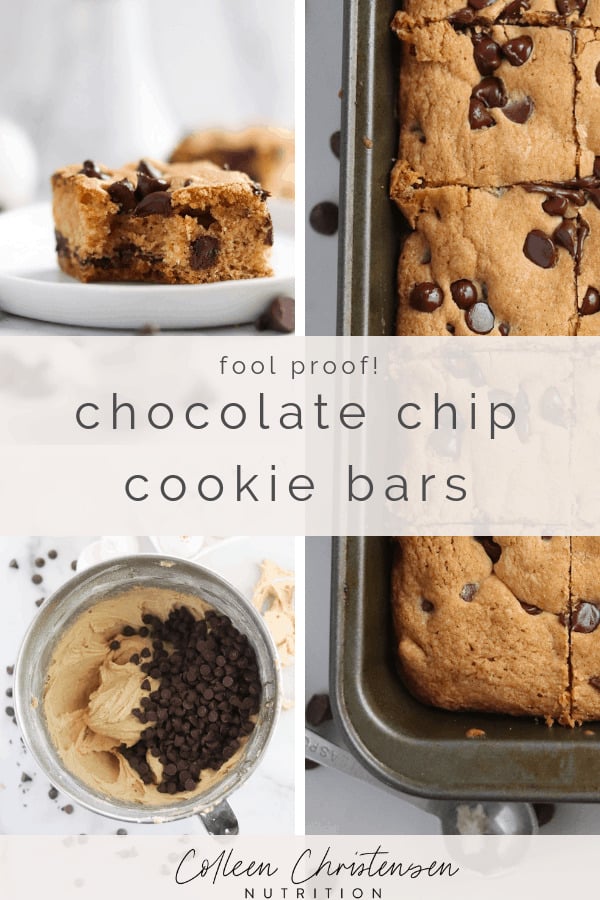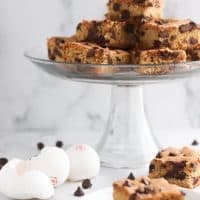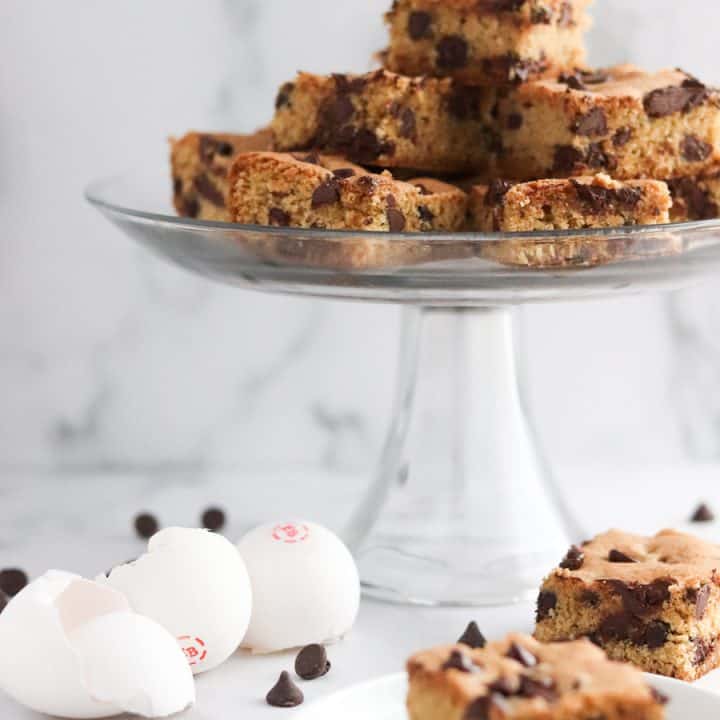 Chocolate Chip Cookie Bars
These easy chocolate chip cookie bars will be your new favorite recipe! They're a fool proof twist on the chocolate chip cookies!
PRINT RECIPE
Ingredients
1

cup

butter

3/4

cup

brown sugar

packed

3/4

cup

sugar

2

tsp

vanilla extract

2

Eggland's Best Eggs

2 1/3

cup

flour

1

tsp

baking soda

1/2

tsp

cream of tartar

1/4

tsp

salt

1, 12

oz

bag of chocolate chips
Instructions
Preheat oven to 350 degrees, lightly grease a 13x9 baking pan and set aside

In a large stand mixer combine butter and both sugars until creamed

Next, add in vanilla and eggs.

In a medium-large bowl combine flour, soda, tartar and salt.

Slowly add the flour mixture to the wet ingredients. Be careful not to over mix, beat until just combined.

Fold in chocolate chips, reserving ¼- ½ cup to sprinkle on top.

Pour batter into prepared 13 x 9 pan. Batter will be thick and you may need to use your hands to spread evenly.

Sprinkle batter with remaining chocolate chips.

Bake for 30-35 minutes until golden brown.

Remove from oven and allow to cool before cutting.

Enjoy!
click To display nutrition info
Nutrition Facts
Nutrition Facts
Chocolate Chip Cookie Bars
Amount per Serving
% Daily Value*
* Percent Daily Values are based on a 2000 calorie diet.
Alright girlfriends, don't forget to download that free guide and then head to the kitchen and get baking these babies! Leave a comment with how they turned out! Can't wait to hear!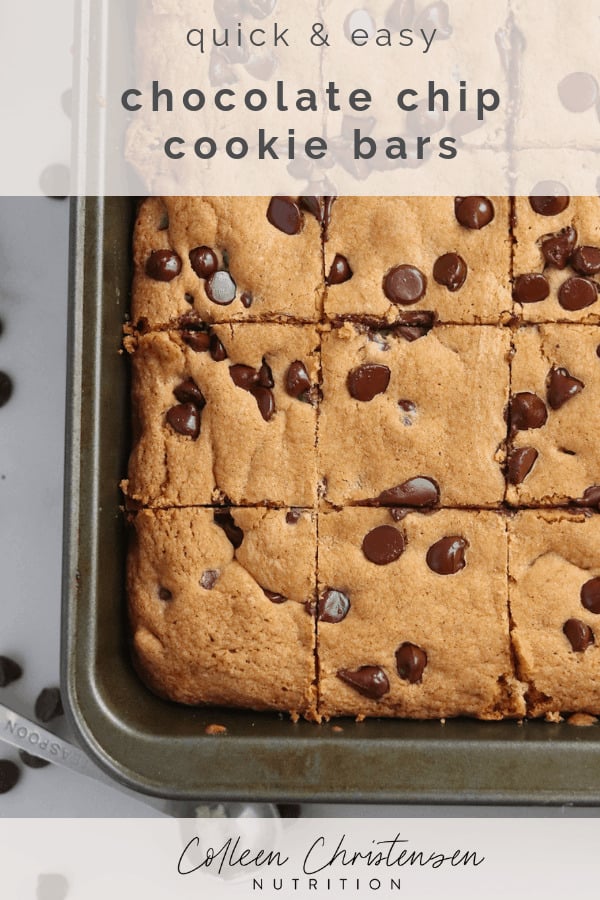 XOXO
-Colleen
Looking for more recipes like this one? You might like these!
2 Ingredient Cherry Cashew Bites
**This blog post has been sponsored by Eggland's Best Eggs. However, all thoughts and opinions are my own**