Please tell me that I am not the only one who bakes cookies solely so that they can eat some of the dough.... No? I'm not? Good! Didn't think so! I mean, I get it, raw eggs and salmonella. Probably not the best thing to be ingesting in large quantities. But it's too darn good not to! Sometimes, life is too short, ya know? But there are times when I want more than just a little taste. Times when I want a big ol' school! So, I created a little solution to avoid the whole vomiting/diarrhea thing: Chickpea cookie dough!
Before you go rolling your eyes and saying "Colleen, you're SUCH a dietitian. Trying to get me to eat chickpeas for dessert. HA. Fat chance." hear me out. This chickpea cookie dough does NOT taste like chickpeas. Or hummus. Or whatever it is you're thinking it does. It tastes like straight up chocolate chip cookie dough.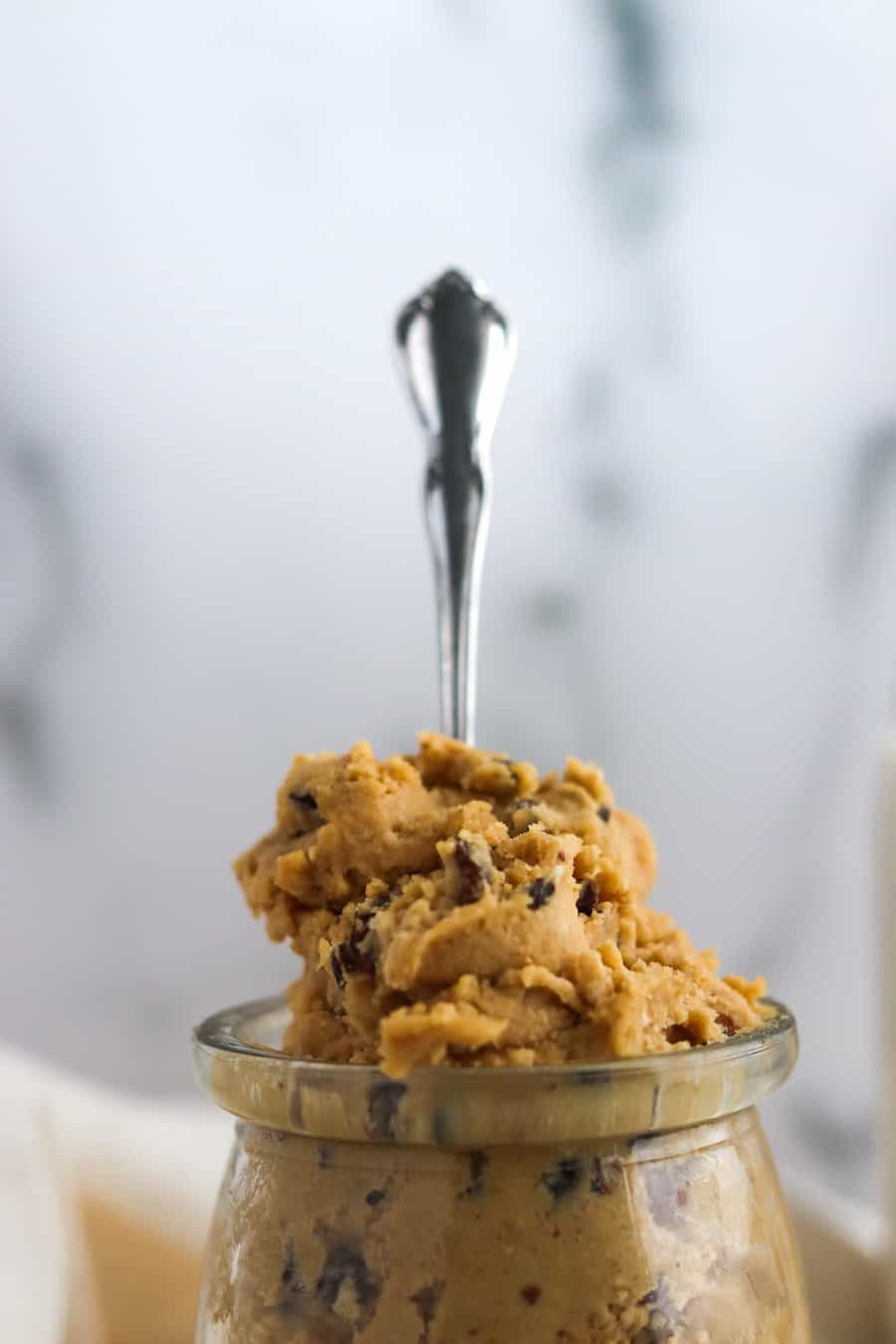 The key to getting this stuff super creamy is to peel the skins off of the chickpeas. It's kind of an annoying process, but here is how I do it:
Rinse the chickpeas and allow them to drain/dry a touch.
Grab a handful of them and lightly "rough them up" between your fingers.
You'll notice a clear film come off of them, that's the skin! Take that and throw it in the trash. Or compost. Or whatever it is what you do.
Repeat this process for the majority of the chickpeas.
Now, don't get too consumed with getting EVERY single little skin off. I would just say do this to the MAJORITY of them. This can be tough if you're a super type A person, like myself. But just go with it. It will be fine.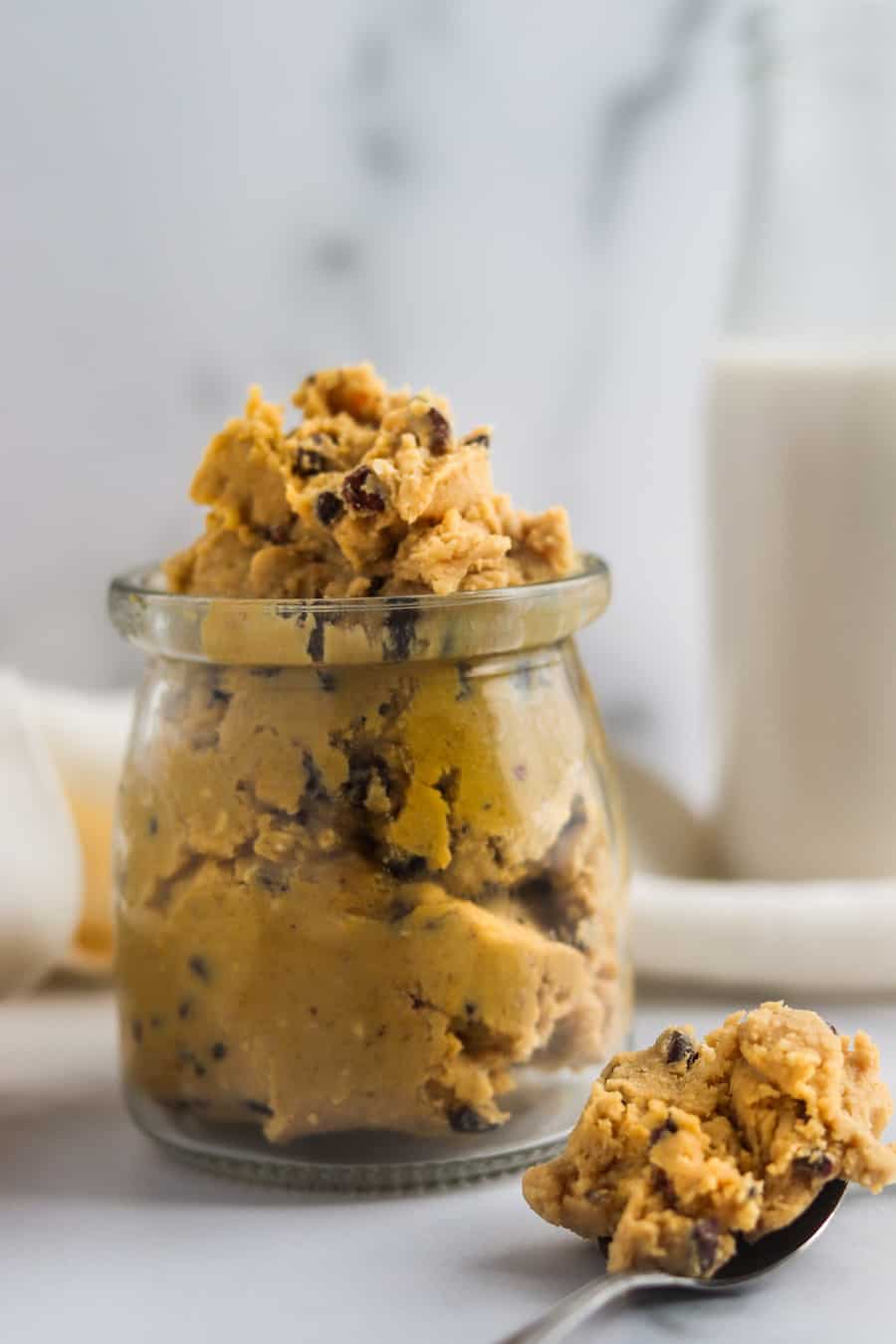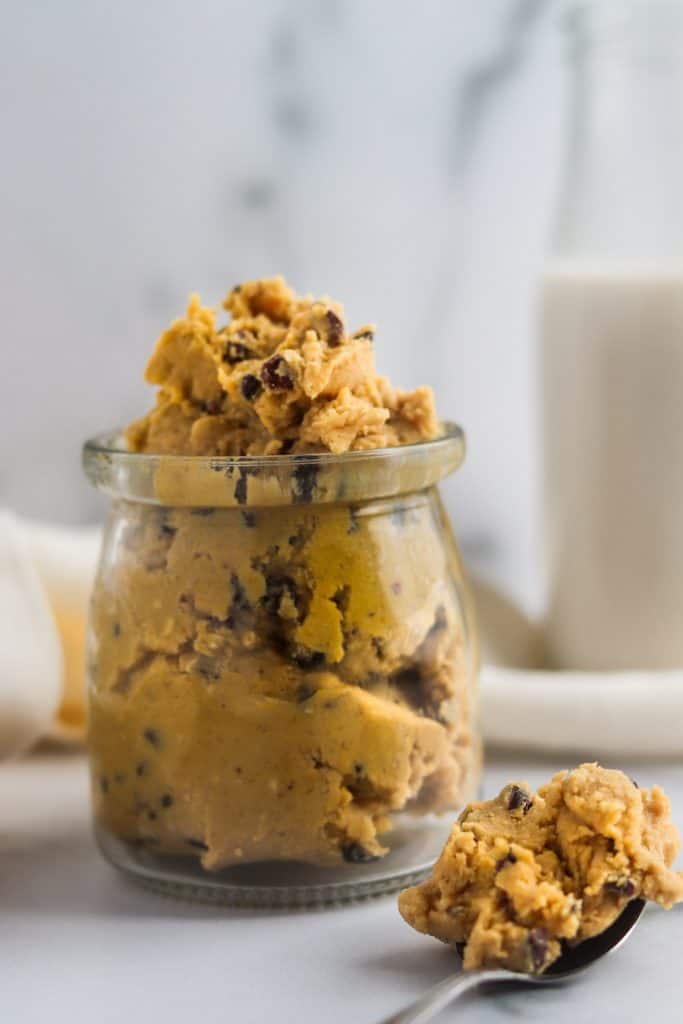 Another key step here is letting this stuff process thoroughly. I know, you're, like, super jacked to get to eatin' this stuff, but let it process for the full 5 minutes. It totally makes a difference in how creamy and cookie-dough-like it is. If you jump the gun and stop early because it "looks fine", there is a chance you will actually taste some chickpea. So, I've warned you! Don't. Stop. It. Early.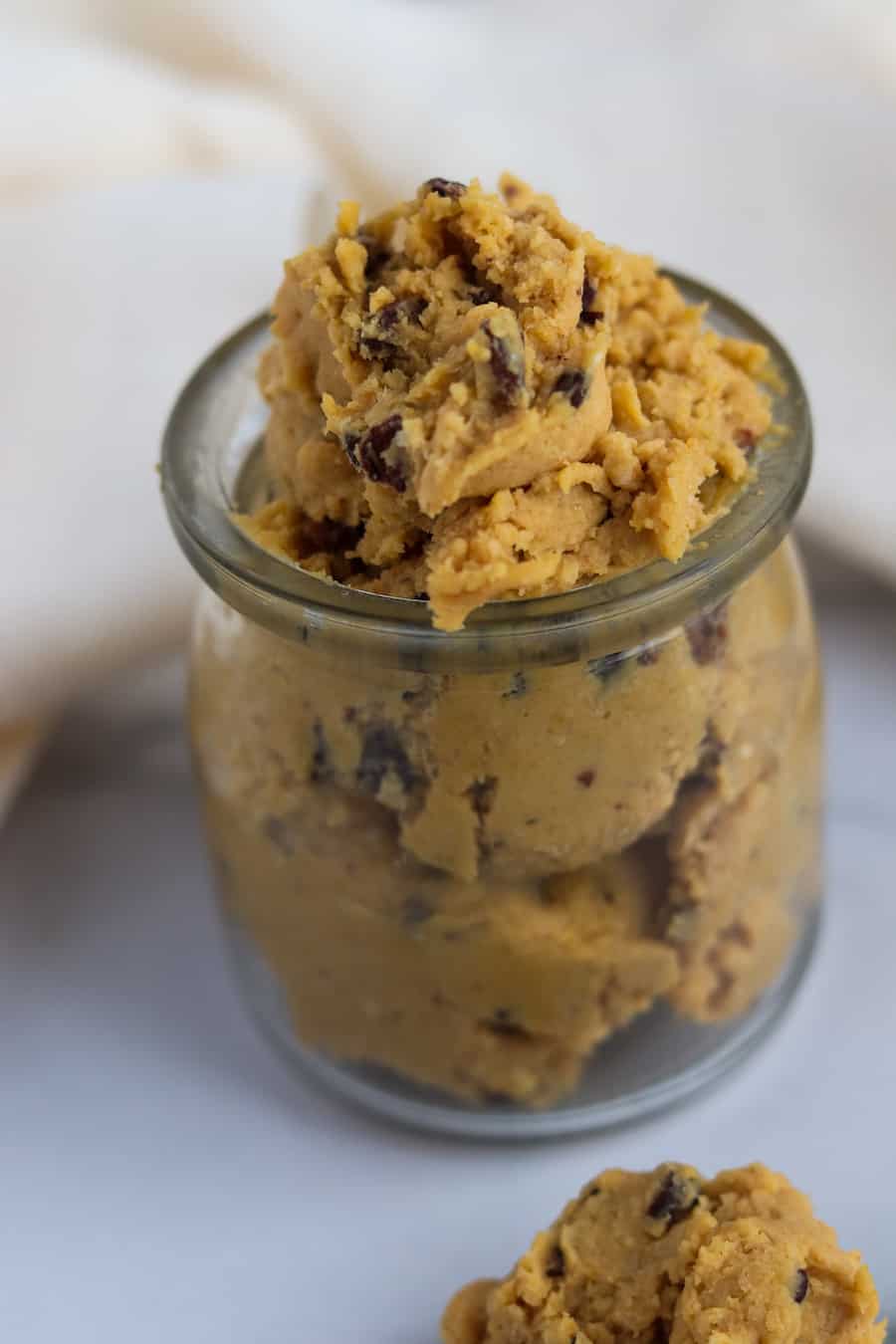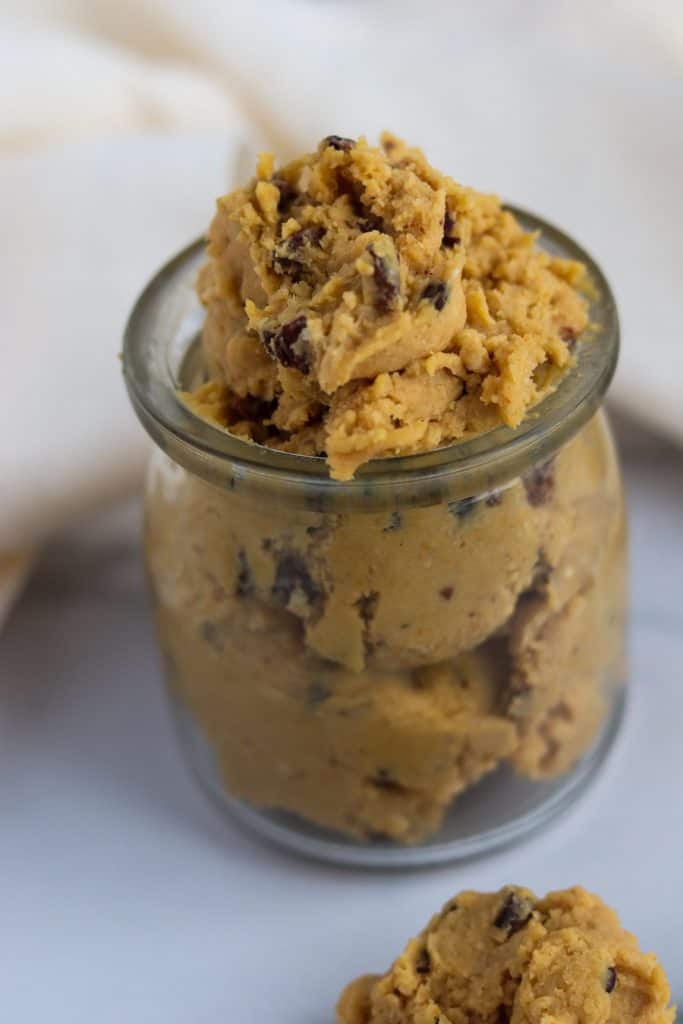 Lastly, I've made this chickpea cookie dough multiple times in the past few weeks (slightly on a food jag with this RN....) and I've found that it tastes best when you let it sit overnight in the fridge before diving in. Now, obvi you'll have some when you make it. I dare you to try not to. But, I think that the flavors and texture are SO much better from day 2 onward. They just have a chance to mix and mingle, ya know?
The best part? I mean besides it being cookie dough that you can eat with a spoon and NOT get diarrhea as a result. You probably have all of the ingredients in your kitchen right now!
So, what are you waiting for? Get into the kitchen STAT!
And don't forget to pin this recipe for later- you're going to want to make this again...trust me 😉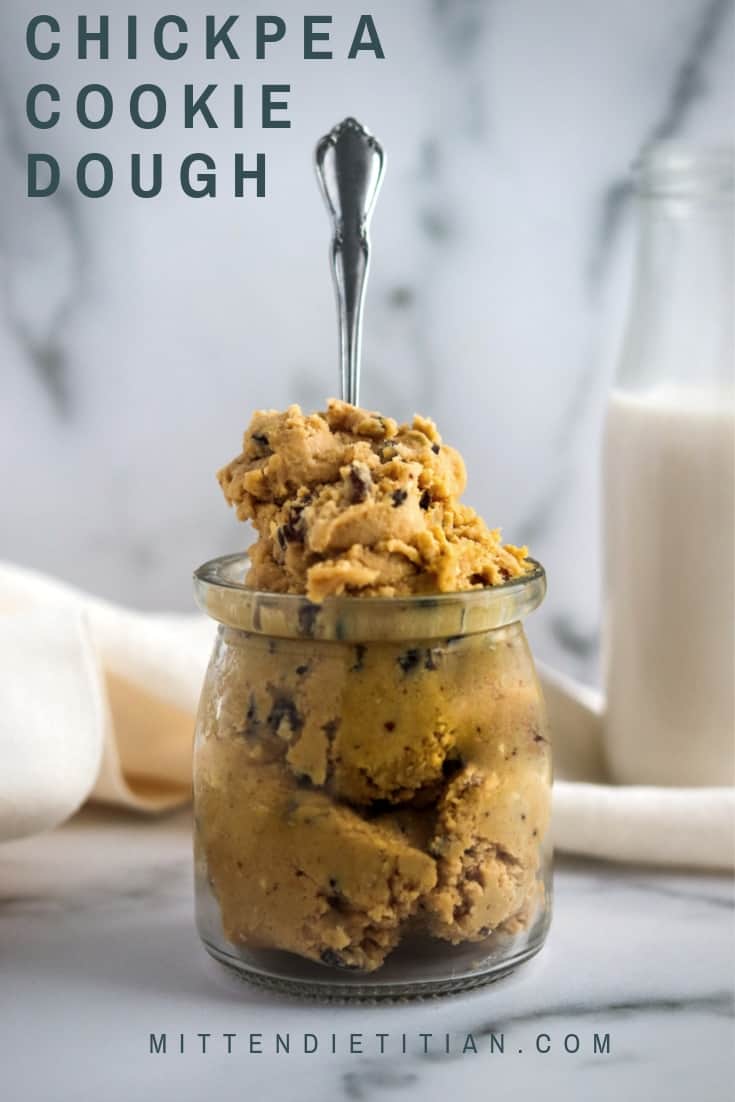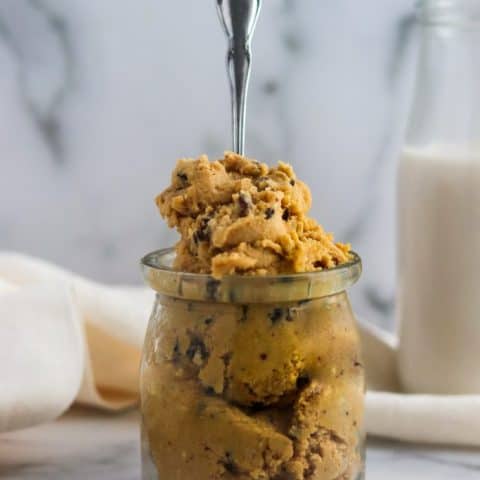 Chickpea Cookie Dough
This Chickpea Cookie Dough will be your new favorite dessert and snack! It only takes 10 minutes to make with ingredients you probably already have!
Ingredients
1, 15oz can chickpeas
1/4 cup peanut butter
1/4 cup maple syrup
1/4 cup quick oats
1 tbsp vanilla
pinch of salt
3 tbsp cacao nibs
Instructions
Remove the skins from the majority of the chickpeas.
Combine all ingredients except cacao nibs into a food processor and process for 5 minutes.
Add cacao nibs and pulse a few times in order to evenly disperse them into the dough.
Dig in!
Notes
Store in an airtight container in the fridge for up to one week
See above for directions on how to remove chickpea skins
Give this a try and let me know what you think by leaving a comment!!
XOXO
Happy eating,
Colleen