A delicious peanut butter cake packed with protein in just 60 seconds! This protein mug cake recipe is great for a snack or post-workout!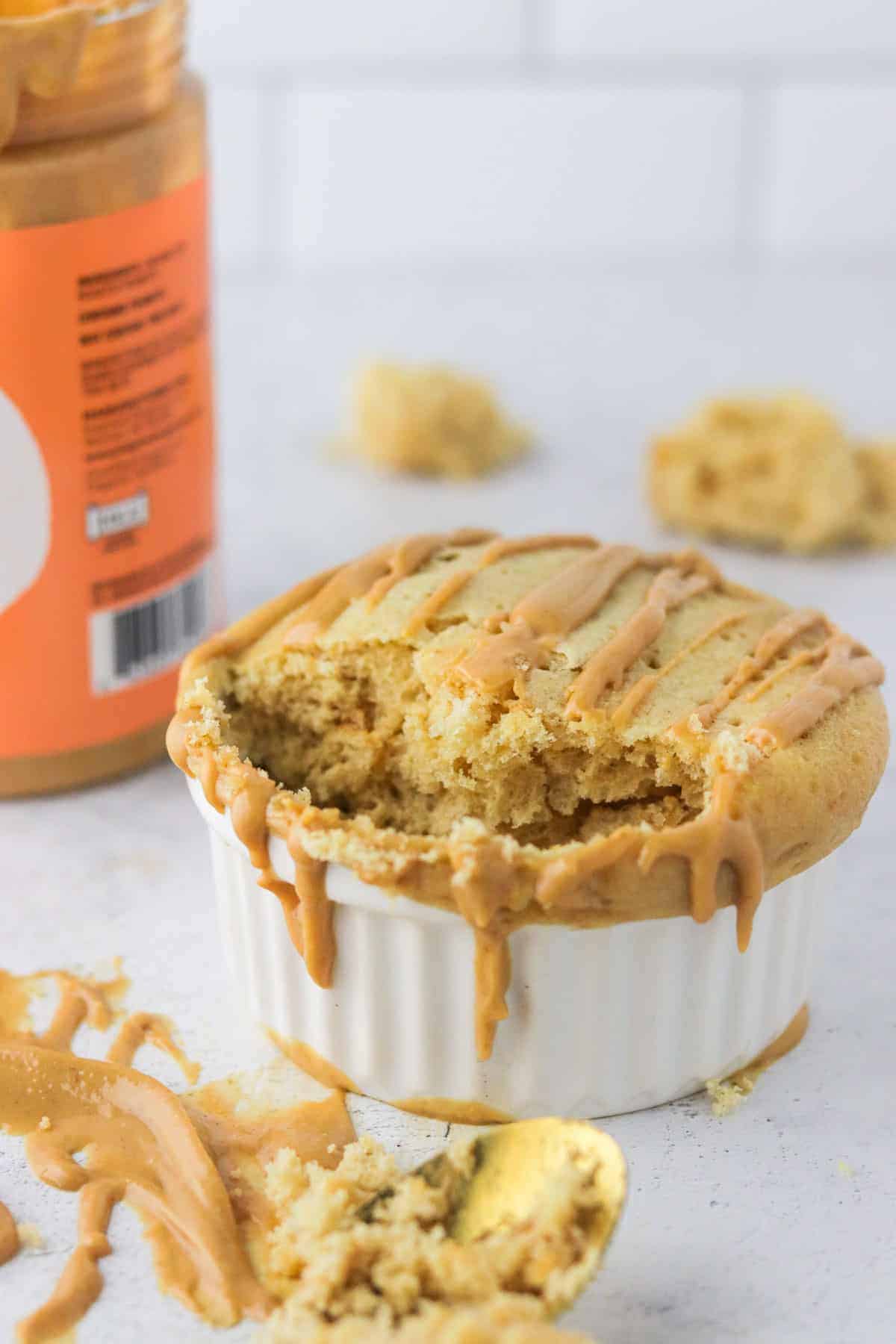 There are two types of people in this word: those who prefer sweet things and those who prefer savory. I? Am in the sweet camp. Actually, I'd be the freakin' camp director!
I am also a registered dietitian thought and know that eating cake all day long every day, probs wouldn't make my body feel good! So? Enter this protein mug cake recipe!
Why I Love To Make Protein Mug Cakes
I love all cake equally, but some days having one with a protein punch is what my body asks for. The dose of protein helps to keep our bodies full and satisfied, plus our muscles love it! This peanut butter protein cake in a mug is such a great afternoon snack to power you through until dinner, or after a workout (the protein helps our muscles recover and become stronger!)
I also love that this cake takes only 60 seconds to cook… SCORE. 'Cause sometimes ya just need something FAST, right?!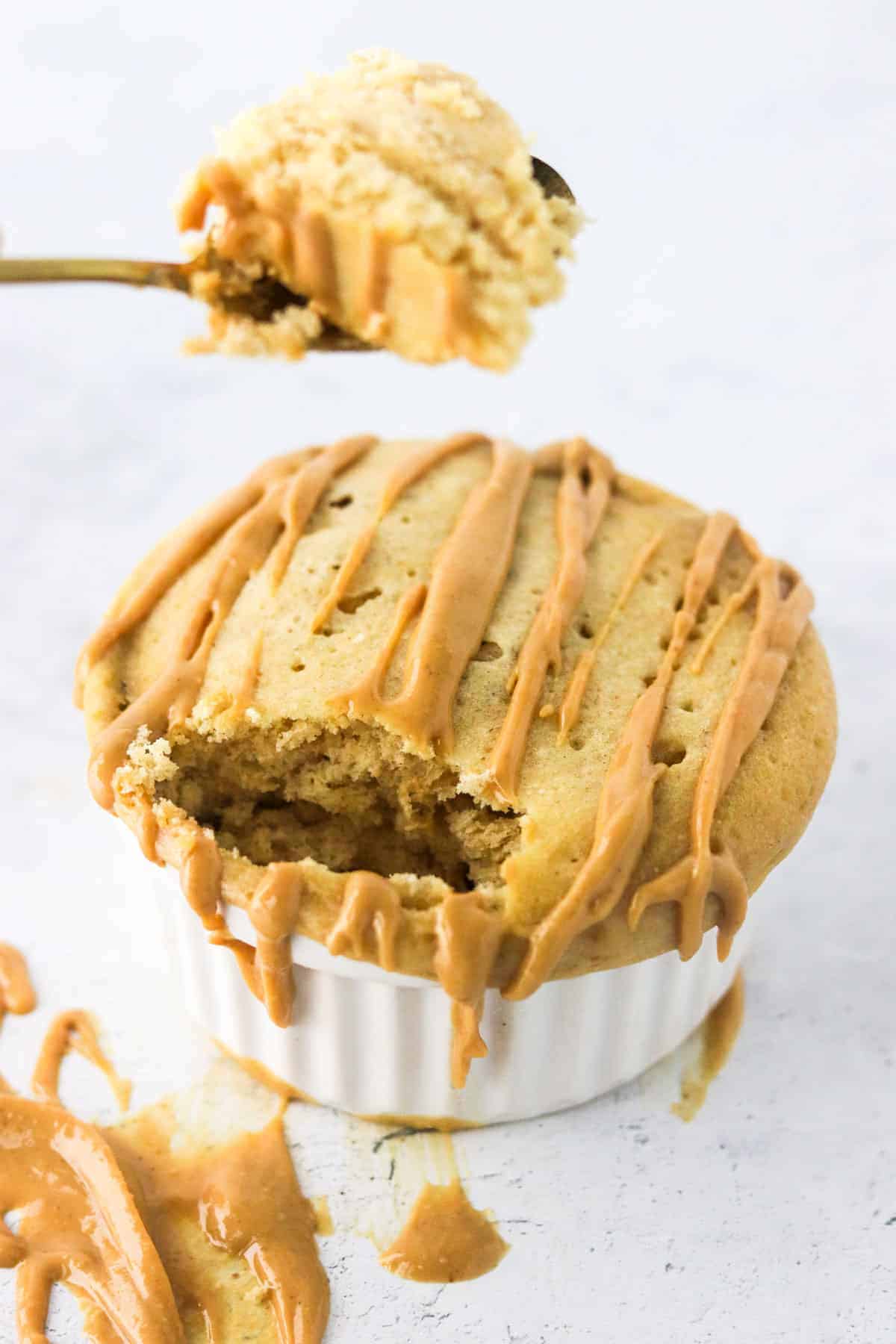 Ingredients For Peanut Butter Protein Cake In A Mug
You only need a few ingredients for this delicious protein cake, here they are:
Protein powder. You can use whatever protein powder you like, whey based, plant based, vanilla, peanut butter, chocolate, etc! They'll all work.
Flour. Using a mix of protein powder plus traditional all-purpose flour keeps this cake from being too protein-y (ya know, chalky) and it keeps it nice and fluffy!
Peanut butter. Obviously!! You could sub any nut butter you like best or have on hand though!
Maple Syrup. Because all cakes need a little sweetness! I used maple syrup VS sugar to add a little more liquid, since the peanut butter is very thick. You could also sub honey here.
Vanilla. This adds a little more cake-y flavor!
Baking powder. The ability for your cake to go from batter to fluffy cake is due to this wondrous ingredient, which works as a leavening agent.
Milk. I used soy milk because it's what we have on hand, but you can use any milk you like. (Take a peek at my ultimate plant based milk comparison blog post to help you decide which one is best for you!)
Supplies Needed For This Protein Mug Cake Recipe
How To Make This Protein Powder Mug Cake
First, I like to spray my mug with a little non-stick spray. This is optional but I like to think it helps keep your cake from sticking. If you forget, no biggie, it shouldn't stick too bad.
Now, measure out your protein powder, flour, and baking powder. Put it right into the mug and mix it up.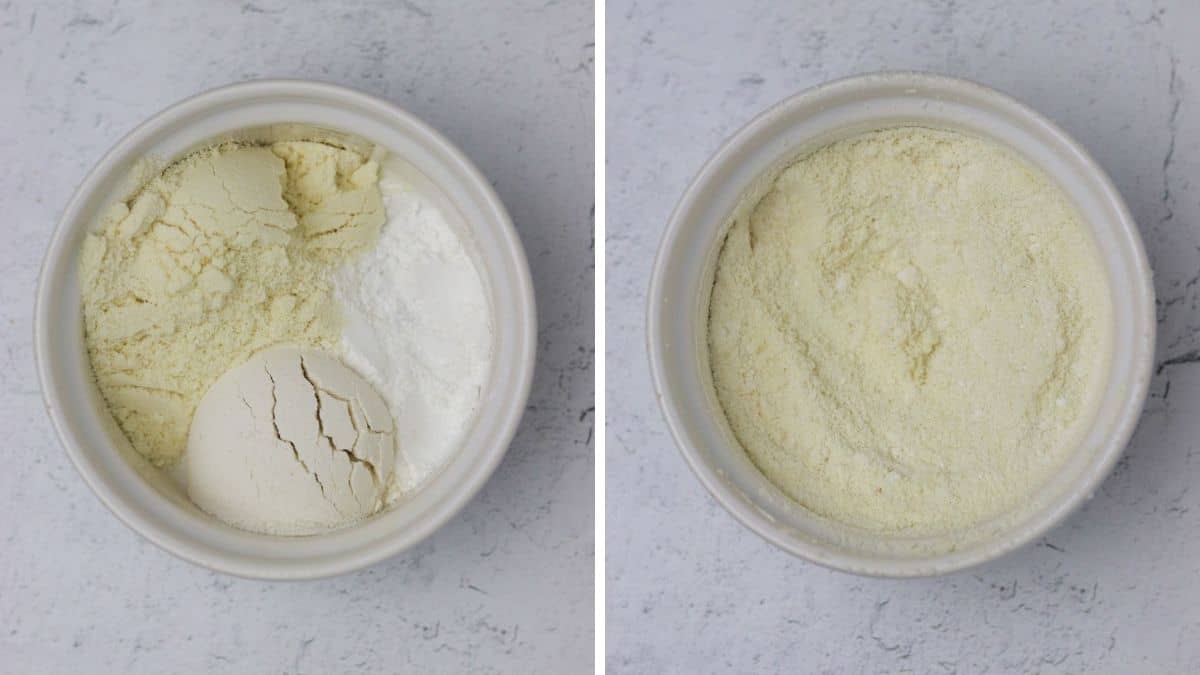 Now add the peanut butter, maple syrup, vanilla and milk.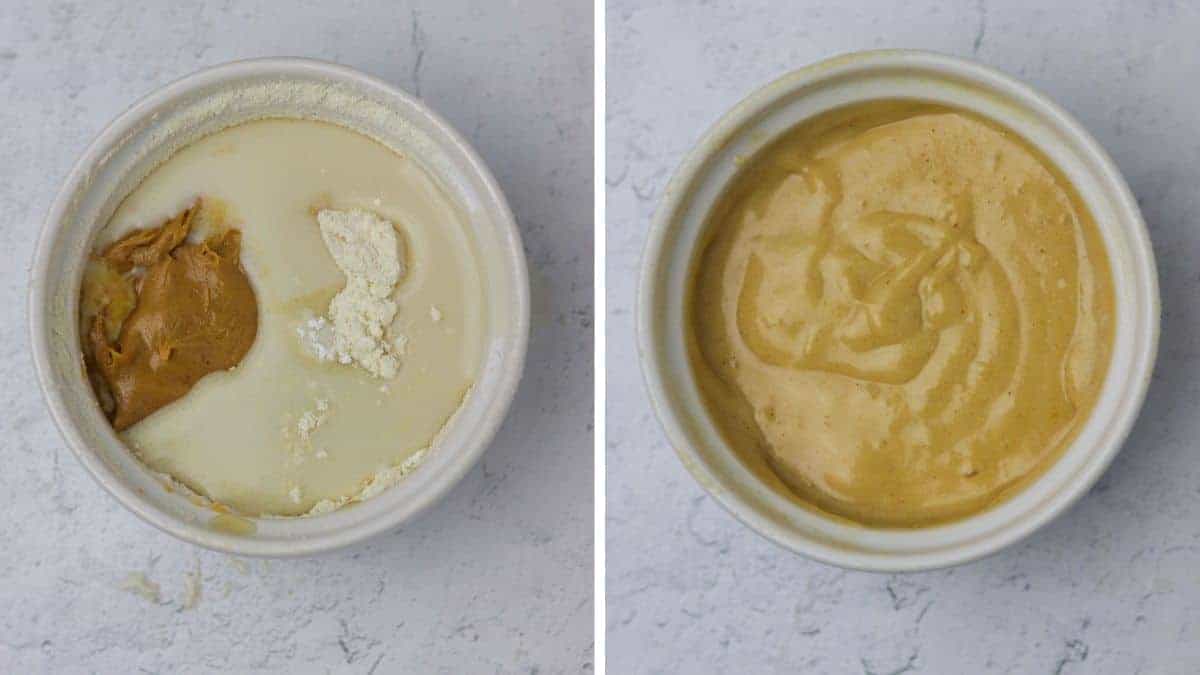 Pop it in the microwave for 60 seconds.
Remove it from the microwave and let it cool for a minute or two (it will be VERY hot!) and then dig on it!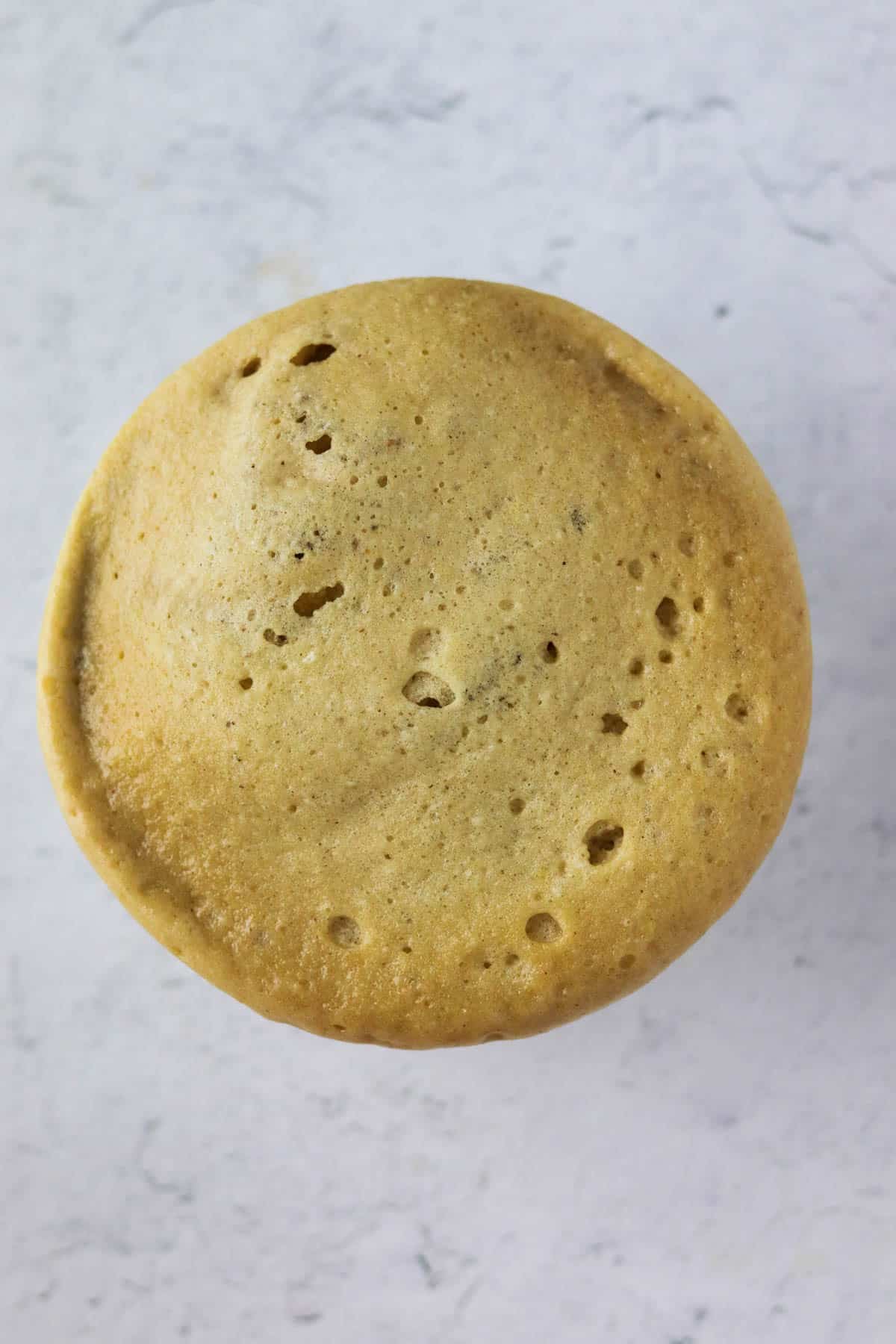 *Optional: If you want to be a little extra you can add chocolate chips, sprinkled or even nuts into the batter before cooking or top with some extra peanut butter!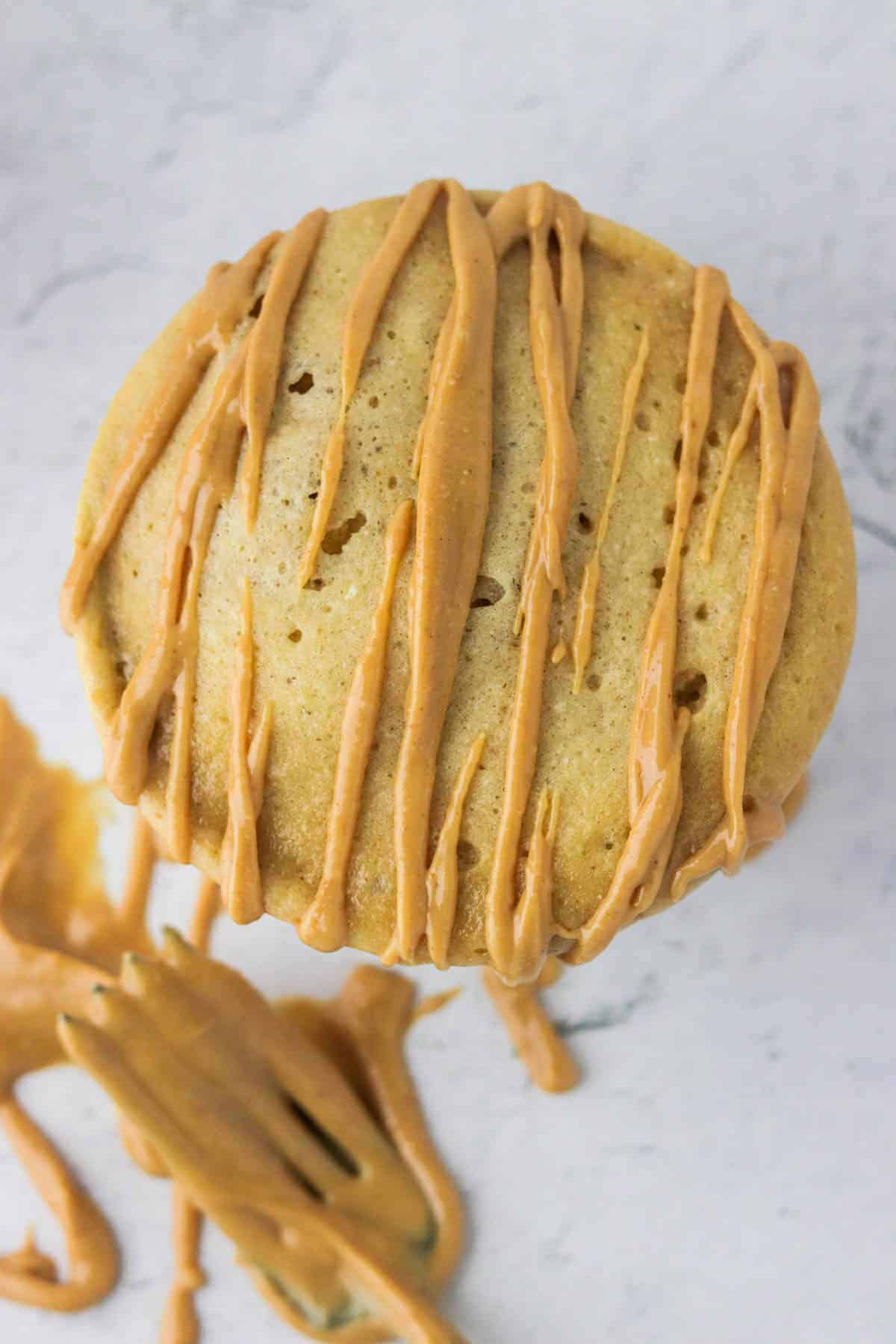 What Protein Powder Is Best For Baking?
This questions is highly individual and depends on your taste and texture preferences. I typically use Optimum Nutrition Gold Standard Whey (I used the vanilla ice cream flavor for this recipe) but have also used NOW pea protein and also Garden Of Life raw protein. All of them worked great but the plant based proteins gave almost a more silky texture where the whey based was more of a sturdy cake. Does that make sense?!
Here is a quick run down of how different protein powders bake:
Whey Protein: This can result in a more firm baked good with structure to it. This is my preference for baking!
Plant Based Protein: A great option if whey protein makes your tummy hurt or for vegans. It create a more moist, almost silky final product. I find these to usually be less sweet, but it depends on the brand.
Collagen Protein: This newer type of protein is a pretty solid middle ground of the two. I find that it gives the structure of whey, but more of the taste of plant based, typically less sweet as well.
Different protein powders will also have different levels of sweetness. This will impact the end result of your protein mug cake. Obviously a less sweet protein powder will result in a less sweet cake. For this I'd recommend adding some granulated sugar if you want a sweeter cake, not more maple syrup. Your batter will be too liquid-y if you do that and the cake won't cook right.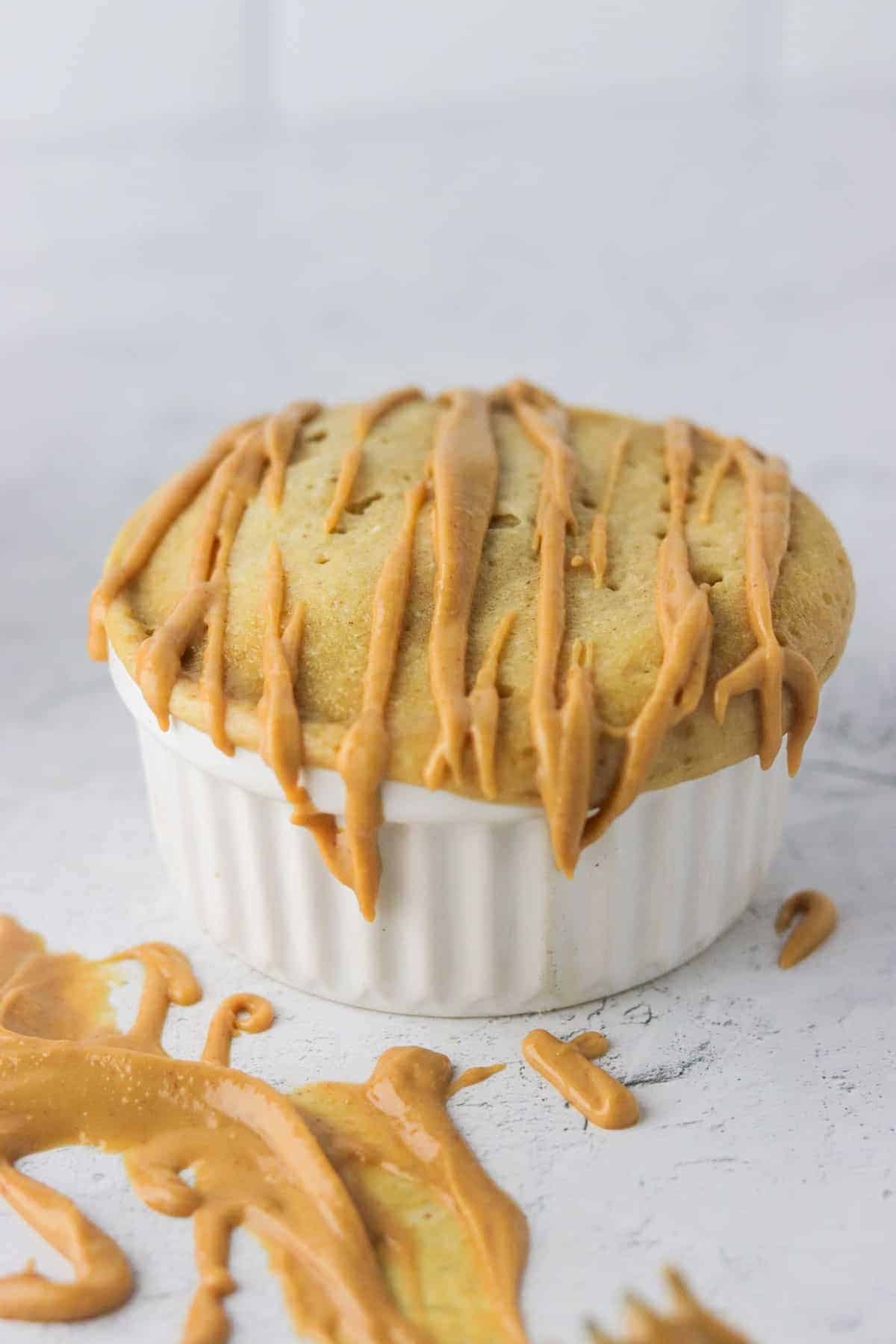 Can Protein Powder Be Microwaved?
Obviously if you're reading this, you know the answer if yes, but let's clarify that a little bit more. When you heat protein powder, specifically above 167 degrees fahrenheit, the availabilities of certain amino acids can go down. Now that is the actual temperature of the protein powder, not what you set the baking temperature to.
Talking about this brings me back to my days as a metabolic dietitian in the hospital where I worked with kiddos who had inborn errors of metabolism. They had to be on very specific protein formula drinks with one or more specific amino acids taken out, the amino acids that would become essentially toxic to them. We always told them not to heat their protein formula because it can change the amino acid availabilities.. which their lives depended on.
Now, this is an entirely different situation, my guess is that your life doesn't depend on eating this one protein mug cake. So, for the average person, I wouldn't worry about the changes to specific amino acids, you'll still get usable protein for your body, it doesn't all just disappear.
You should also be sure that you're eating a well rounded diet though and protein powder, specifically baked protein powder, isn't your only source.
More Mug Cake Recipes You Might Like:
If you love this recipe be sure to leave a comment and a star rating on the recipe card!
XOXO
-Colleen
This blog post contains affiliate links, which means that if you click on a product link, I may receive a commission. All opinions are my own, and all brands featured represent what I personally like and support. This blog is a participant in the Amazon Services LLC Associates Program, an affiliate advertising program where I earn advertising fees by linking to amazon.com.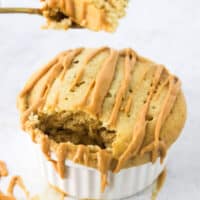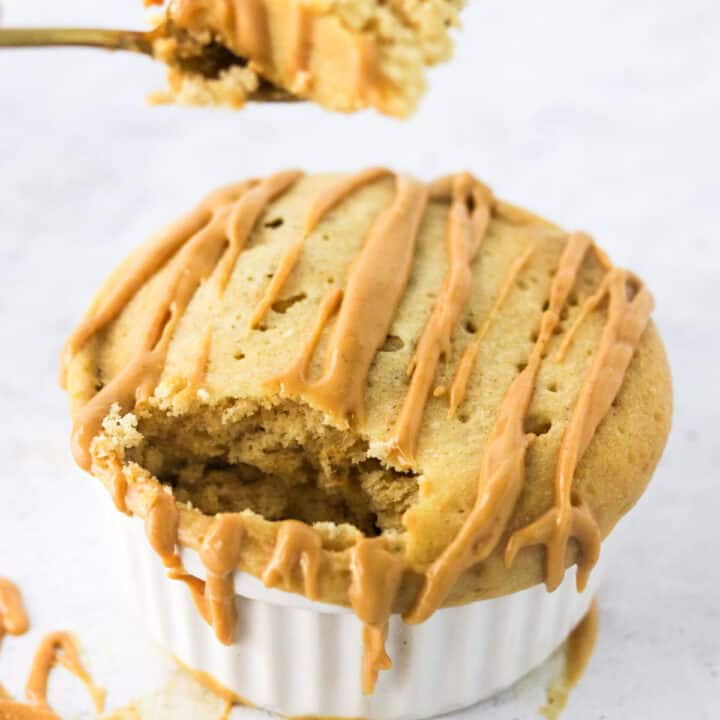 60 Second Peanut Butter Protein Mug Cake
A delicious peanut butter cake packed with protein in just 60 seconds! This protein mug cake recipe is great for a snack between meals or post-workout!
PRINT RECIPE
Ingredients
2

tbsp

protein powder

1

tbsp

flour

1/4

tsp

baking powder

1

tbsp

peanut butter

2

tsp

maple syrup

1/2

tsp

vanilla

2

tbsp

milk of choice
Instructions
Spray a mug/ramekin with non-stick spray.

Combine protein powder, flour and baking powder in your mug/ramekin.

Add in the peanut butter, maple syrup, vanilla and milk. Mix it up well!

Microwave for 60 seconds.

Allow to cool and enjoy!
Notes
You can use any protein powder you like. Please see the above post for how different protein powders change the taste/texture.
Feel free to add any mix-ins you like! Chocolate chips, nuts and sprinkles are all great.
Tip with additional peanut butter, if desired (I desire!)
click To display nutrition info
Nutrition Facts
Nutrition Facts
60 Second Peanut Butter Protein Mug Cake
Amount per Serving
% Daily Value*
* Percent Daily Values are based on a 2000 calorie diet.