Packed with 15 grams of protein and made in just 5 minutes! These cookie dough protein bars are made with just a few simple ingredients that will give you a boost of fuel AND satisfy your sweet tooth at the same time!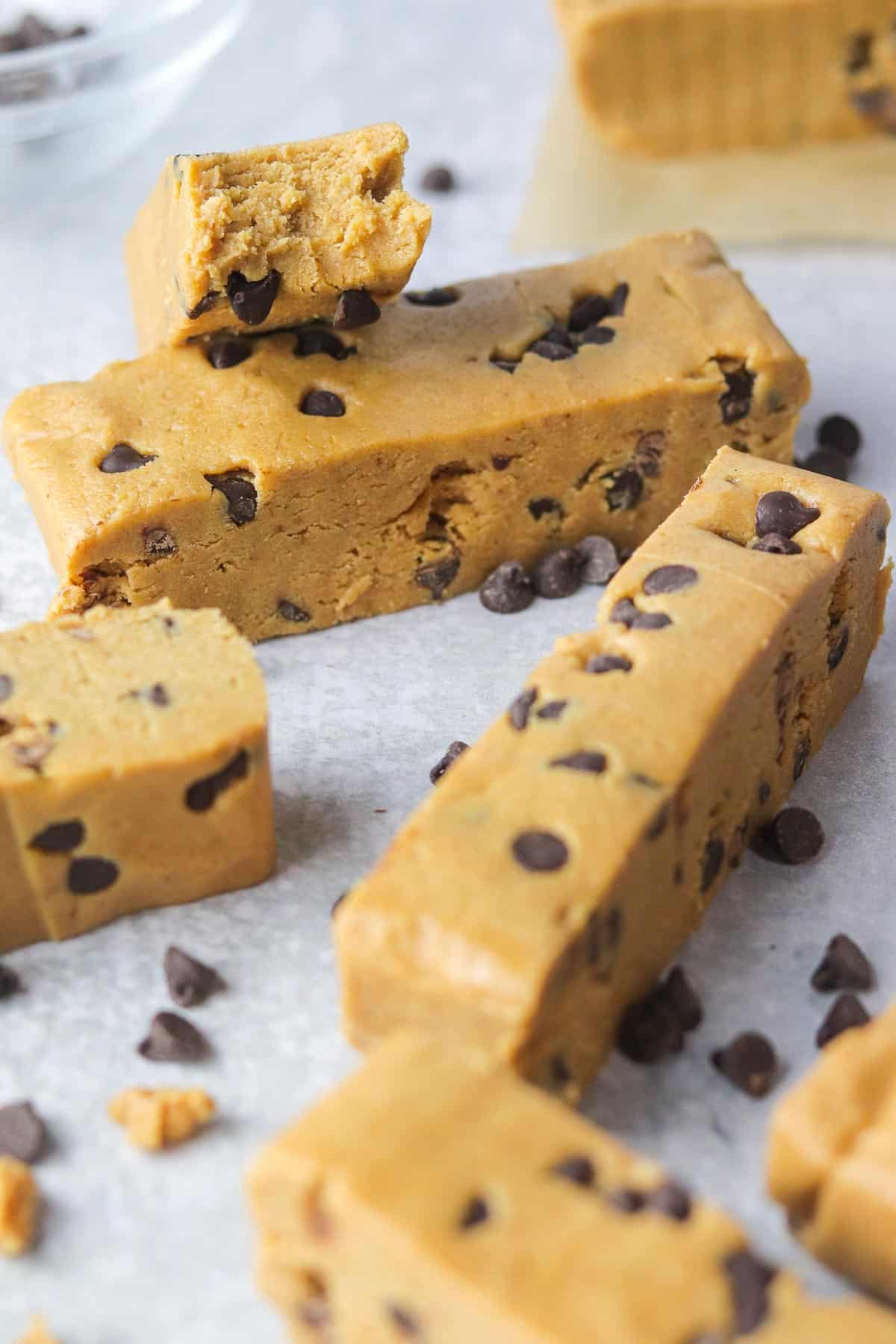 Why This Recipe Works
I LOVE all things cookie dough and could eat a log of the Tollhouse stuff on the daily. Now, with intuitive eating I have FULL permission to do that…but… that wouldn't feel great so I have no desire to do that!
These cookie dough protein bars give me those Tollhouse vibes while using some gentle nutrition and providing my body with protein, health promoting fats, carbs for some serious nourishment.
These chocolate chip cookie dough protein bars are fabulous for meal prep since they store super well in the fridge and make for easy, delicious & nourishing snacking. Or? Crumble them up into yogurt or on a smoothie!
If you're a cookie dough lover too be sure to checkout my other cookie dough recipes like my easy cookie dough bites and chickpea cookie dough!
Ingredients Needed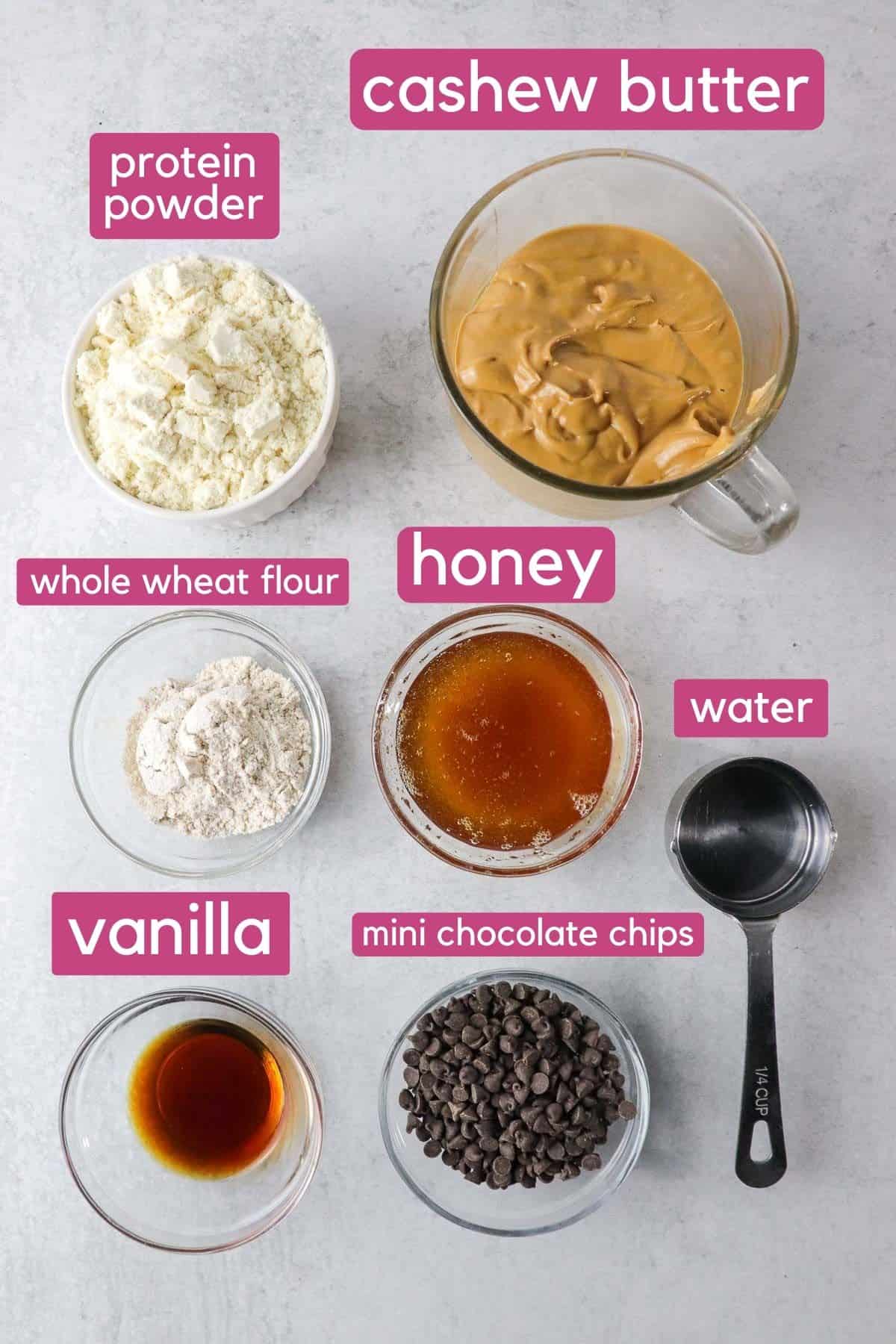 How To Make This Recipe
Mix together all of the ingredients, minus the water, in a large mixing bowl. Mix this together well, it should be on the dryer side.
Slowly add in your water, the "dough" will become more wet and start to stick together. I recommend using your hands to really get in there!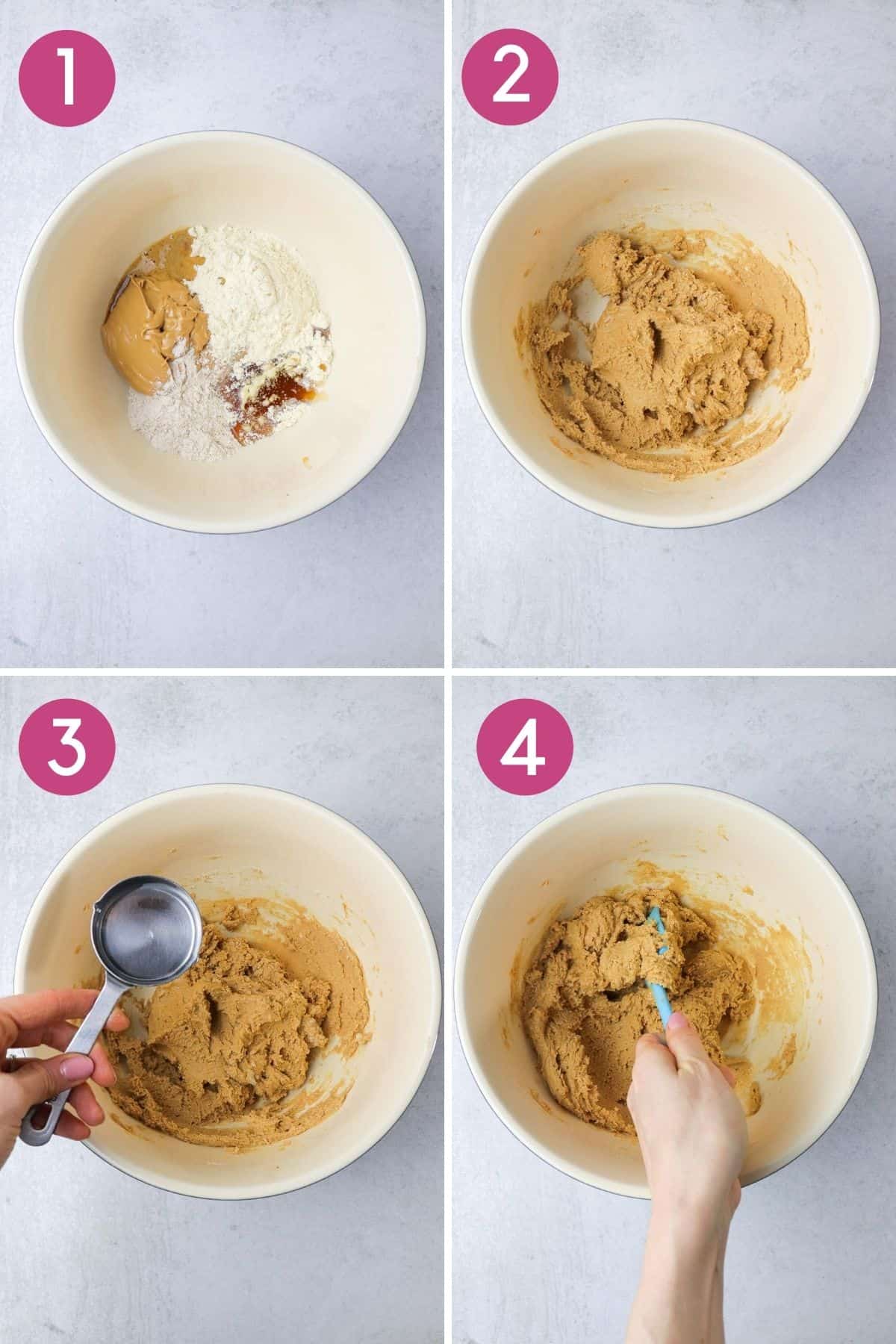 Fold in any of your mix-ins, like chocolate chips to make these chocolate chip protein bars. Knead it with your hands until it starts to stick together.
Press into a loaf pan lined with parchment paper and then place in the fridge.
After a few hours of firming in the fridge, cut into ~8 bars and DEVOUR.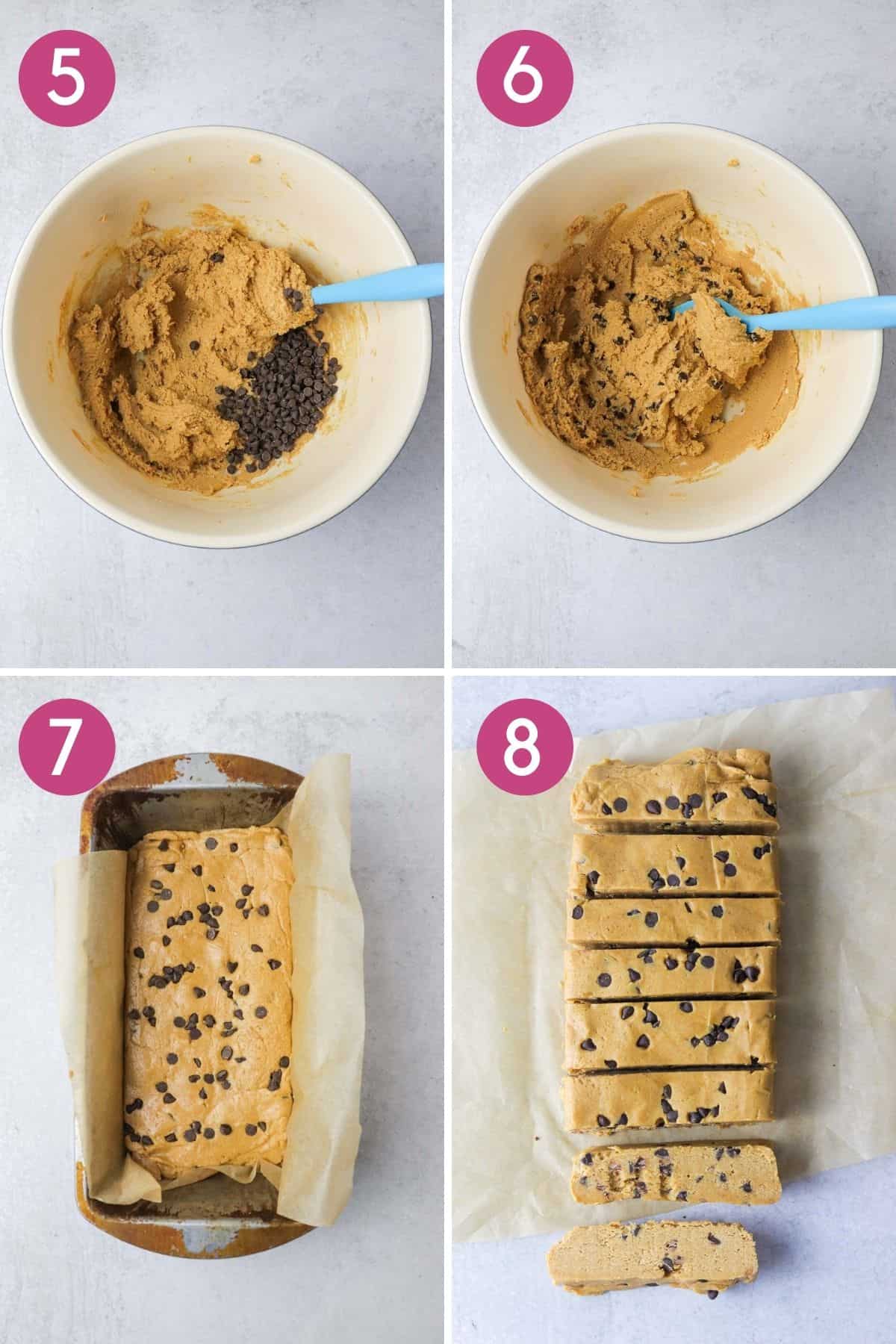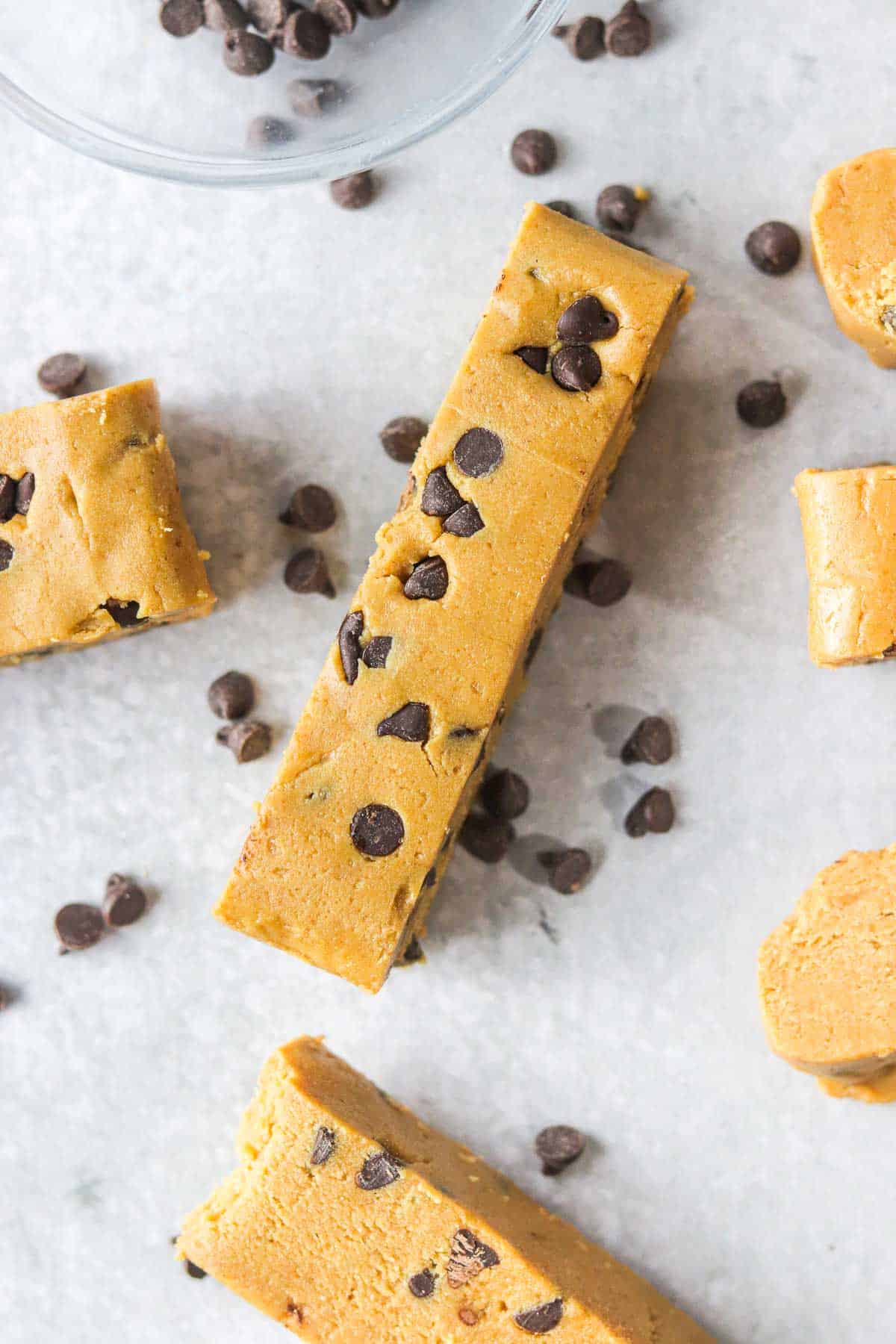 High Protein Cookie Dough Bar FAQ's
What kind of protein powder should I use?
Like I mentioned, I usually use Optimum Nutrition Gold Standard Whey. However I have also tried Garden Of Life Raw Protein Powder, which is a plant-based option. I find that a lot of protein powders give different textures, and the Garden Of Life one was very, hmmm, silky? Where as the Optimum was more firm and chewy. Both great, just depends what you're wanting! Adjust the water as needed, always start with less and slowly add more.
Can I use another nut butter, like peanut butter?
Certainly! I use cashew butter when I make this recipe because the flavor is the most buttery and mild, closely matching cookie dough's flavor. However totes go for it with peanut butter, almond butter, sunflower seed butter, etc! Your flavor will just obviously be a little different! But, hey, not a bad thing!
Can I make these into cookie dough protein balls?
Sure! Simply take 1-2 tbsp of the dough and form it into a ball! Voila! Cookie dough protein balls!
How do I store these cookie dough protein bars?
After I cut the bars I place them back in the fridge. I usually keep them in there for 5-7 days, or you can throw them in the freezer for a couple months. If you want a chewier cookie dough protein bar let them sit out for, oh, 5-10 minutes before eating!
Expert Tips
Try adding different mix-ins like a sprinkles, nuts, white chocolate chips, etc. These are super customizable so get creative!
Sprinkle a little flaky salt on top for a super fancy and delicious vibe.
Other Recipes You Might Like
If you love this recipe, be sure to leave a star rating on the recipe card and leave a comment below!
Don't forget to pin it on your Pinterest board for later, or tag me on IG @no.food.rules if you try the recipe and love it!
XOXO
-Colleen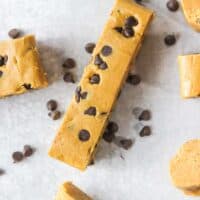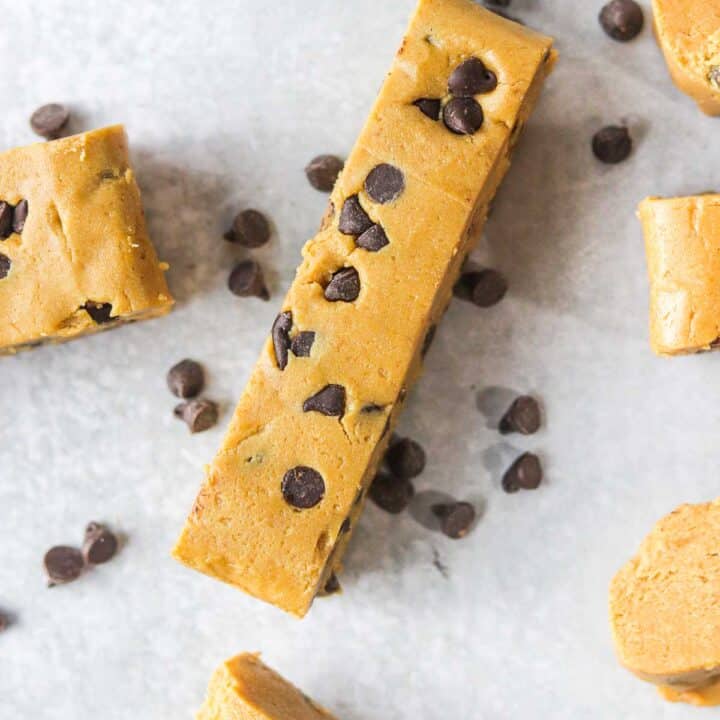 Cookie Dough Protein Bars
Packed with protein 15g of protein and ready in just 5 minutes! These cookie dough protein bars are a copycat homemade Perfect bar recipe!
PRINT RECIPE
Ingredients
1

cup

cashew butter

2/3

cup

vanilla protein powder

2-3 scoops total

3

tbsp

honey

3

tbsp

whole wheat flour

heat treated, see notes

2

tsp

vanilla

2

tbsp

water or milk

1/4

cup

mini chocolate chips
Instructions
Prepare a loaf pan by lightly spraying with non-stick spray then lining with parchment paper. Set aside.

In a large bowl combine all ingredients, minus the water & chocolate chips and mix until well combined. The mixture should be pretty thick and dense.

Slowly add in your water (amount will depend on your cashew butter and protein powder density), mixture will become more wet and start to stick together. When it sticks together stop! I recommend going very slow, you do NOT want it to be too wet. You can use more if you need!

Knead the dough with your hands if needed until it sticks together.

Add in any mix ins, like the chocolate chips, sprinkles, etc.

Take the dough and press it into your prepared loaf pan. Press HARD. Use all your might! You want these to be very firm and dense!

Place in the fridge for 1-3 hours before cutting into 8 bars and enjoying!
Notes
May sub other nut butters.
May use whatever type of milk and flour you like best or have on hand.
Store in an air tight container for 5-7 days in the fridge, or place in the freezer for a few months.
Get creative and mix in whatever things you like! Try using sprinkles for a funfetti type of protein bar, or add some nuts!
Flour Note: You're going to want to heat treat your flour so it's safe to eat raw. To do this just bake it at 350 for about 5 minutes on a baking sheet!
click To display nutrition info
Nutrition Facts
Nutrition Facts
Cookie Dough Protein Bars
Amount per Serving
% Daily Value*
* Percent Daily Values are based on a 2000 calorie diet.
This blog post contains affiliate links, which means that if you click on a product link, I may receive a commission. All opinions are my own, and all brands featured represent what I personally like and support. This blog is a participant in the Amazon Services LLC Associates Program, an affiliate advertising program where I earn advertising fees by linking to amazon.com.